Hi Kat,
I have a question about wedding dresses and I am super curious if you could help me out. My friend is getting married and she is having a really difficult time finding a dress. I mentioned to her how frustrated I would be if I were her because it feels like 95% of wedding gowns are "tube top" style. I find this incredibly weird considering MOST of my girlfriends hate their arms, yet all of them ended up wearing a tube top dress for their wedding. My friend flipped out (in a good way) when I said that because she said that is exactly the problem she is running into.
My question is….do you know of ANYYYYY websites/blogs/companies that sell UNIQUE, FUN DRESSES THAT are short, long, medium length, has sleeves, off the shoulder style………….JUST DIFFERENT! I feel like if I can help her find the perfect dress then the universe will be friendly to me when it's my turn….and helping her is SO MUCH FUN 🙂
Love,
Deanna
I get emails like Deanna's all the time to this week I thought I'd tackle the problem head on and share some of my favourite non-traditional wedding dress companies with you all. I have to apologise in advance that I've gone a little over the top here…I enjoyed fantasy wedding dress shopping a little too much!
Fur Coat No Knickers (UK)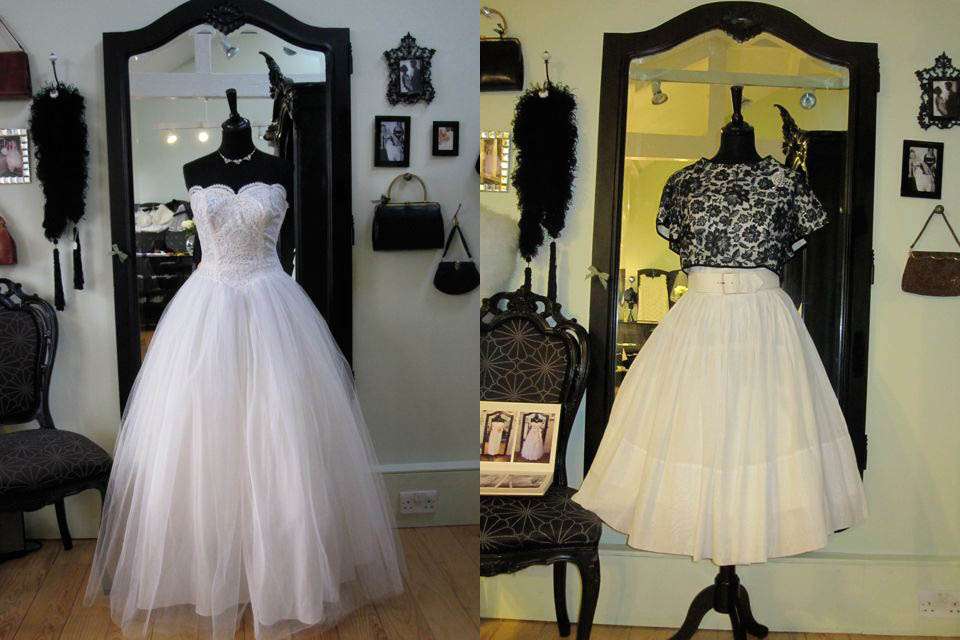 Based just off Carnaby St, London, Fur Coat No Knickers is my 'go-to' shop for all things gorgeous and vintage. Dresses are one-off vintage piece and Emma & Laura will customise each gown to your requirements, including adding or altering straps/necklines. Check me out in one of their dresses here and here!
You can see more of Fur Coat No Knickers on the blog here
Jacqueline Byrne (UK)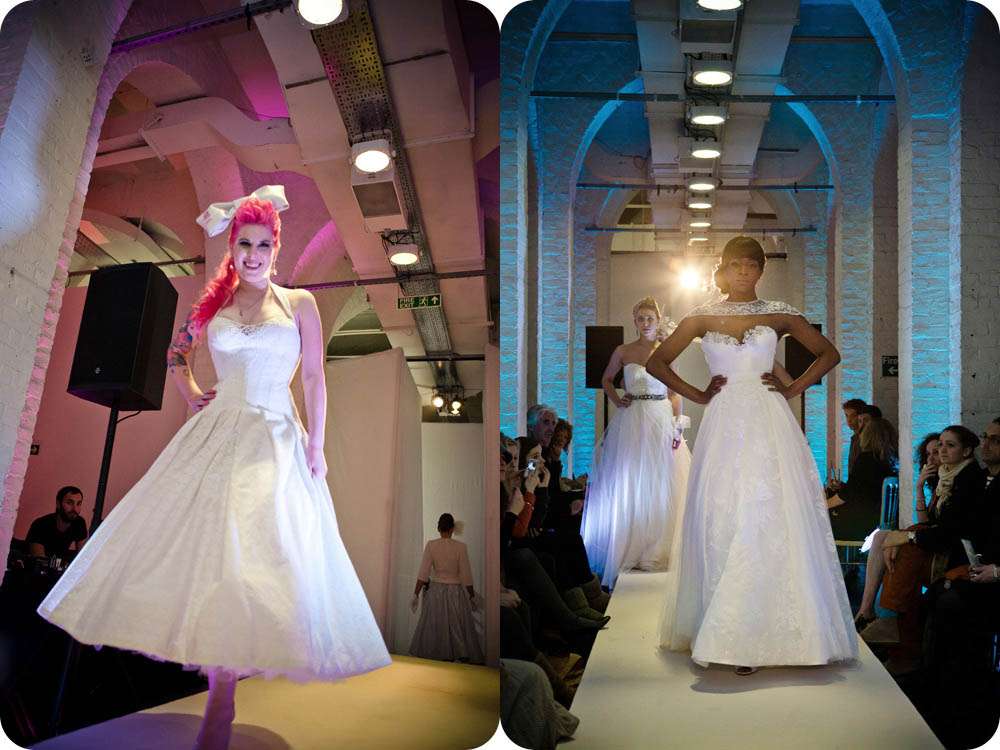 Photography Credit: Shell de Mar Photography
I fell in love with Jacqueline's designs when I was lucky enough to wear one down the catwalk at the Luella's Boudoir Wedding Fair. Based in Islington, North London, Jacqueline's gowns can be custom made to your exact requirements.
Unique Vintage (US & Online)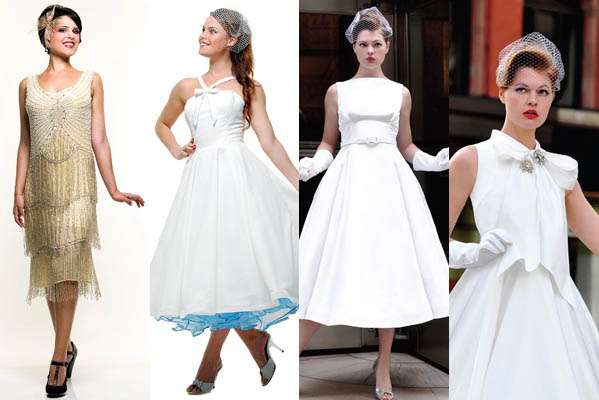 Unique Vintage have a vast selection of both authentic vintage and vintage-inspired wedding dresses to suit every budget. Prices start from just $68!
You can see more on Unique Vintage on my blog right here.
Vivien of Holloway (UK & Online)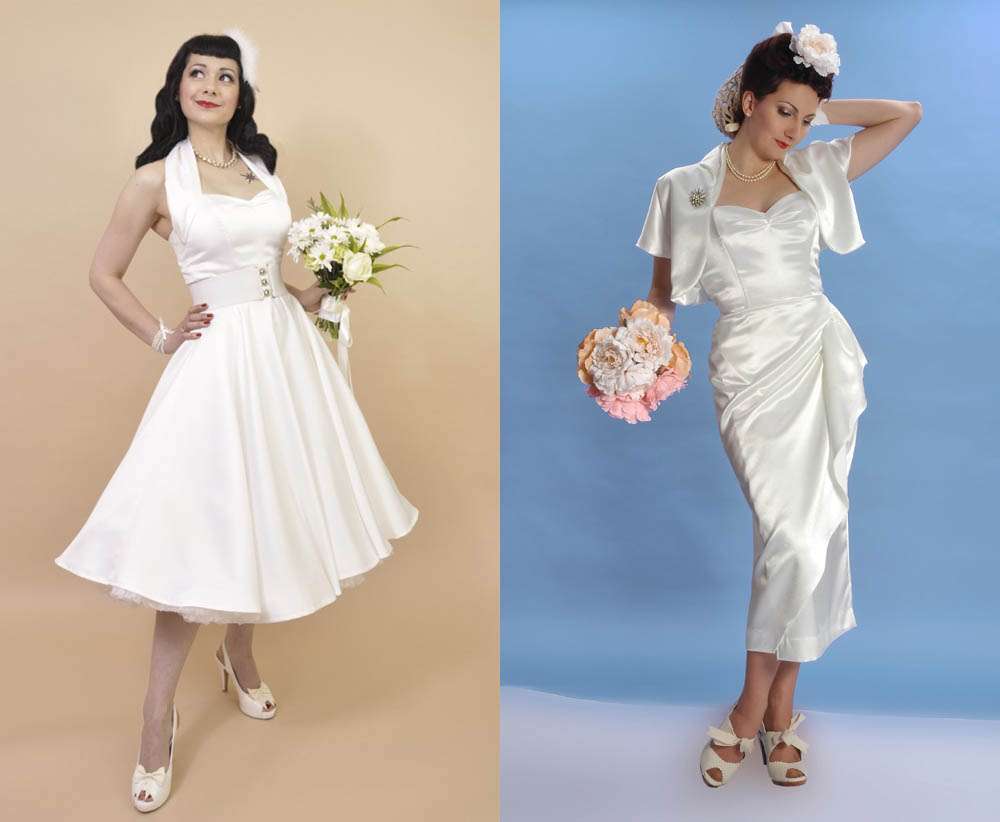 Based in Holloway, North London but doing a roaring trade online, Vivien of Holloway offer vintage-style dresses at fantastic prices. Their iconic 50's halterneck swing dress is always popular with Rock n Roll Brides! each style comes in a huge variety of fabrics and colours and the prices are unbelievably affordable!
You can see more Vivien of Holloway dresses on the blog here.
AriaDress (US & Online)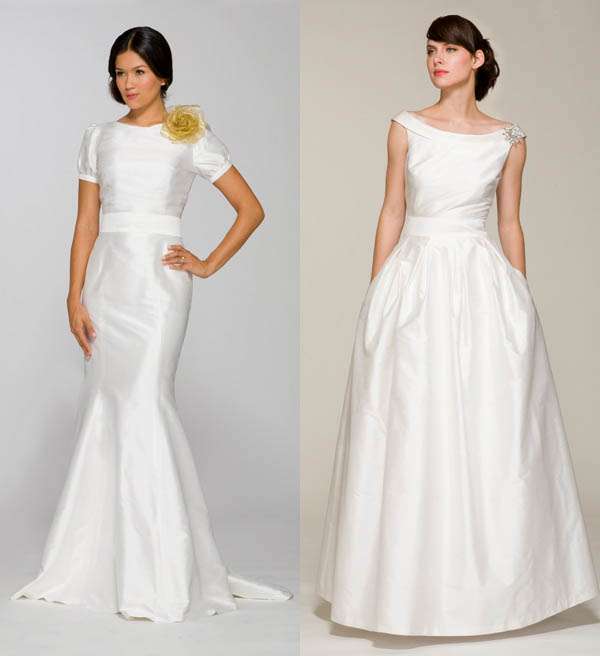 Prices for these beautiful bespoke gowns start from just $500. The quality and design is superb…and I would know, I've got one of my own!
You can see more of AriaDress on the blog here.
Knot Couture (Online)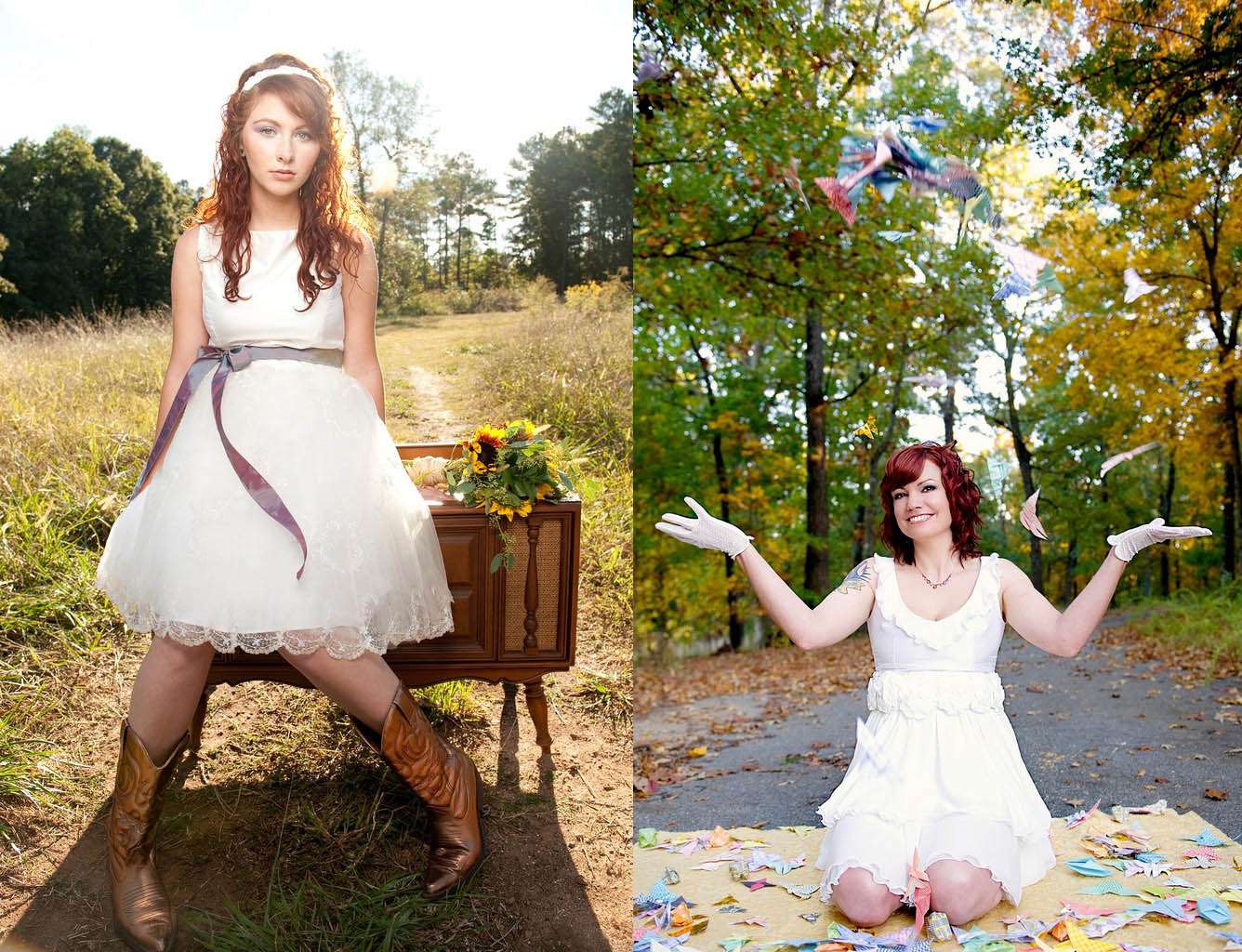 Based in Atlanta, but selling their dresses online, Knot Couture pride themselves on beautifully crafted dresses that are perfect for the alternative bride.
You can see more of Knot Couture on the blog here.
Love Miss Daisy (UK & Online)
Based in York, North England, Love Miss Daisy offers international sourced vintage clothing and home-wear both in their store and online.
You can see more of Love Miss Daisy on the blog here.
Biba Bridal (UK & Online)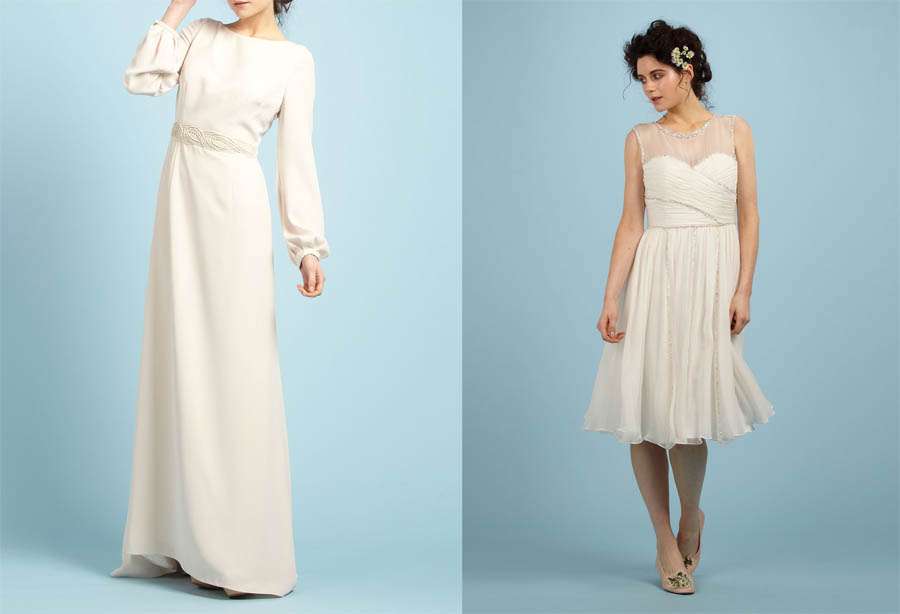 Iconic 1960's designer Biba had been re-launched by House of Fraser this year and guess what? They've even got a bridal range! Inspired by the 1960's-70's, this collection is utterly utterly stunning. Prices start from just £575.
Oxfam Unwrapped (UK & Online)
Oxfam has had specialist bridal shops throughout the UK for a few years now, but this year they've gone online, offering a vast selection of recycled and second hand wedding dresses. The photos leave a lot to be desired but with prices starting from just £20 you really can't go wrong!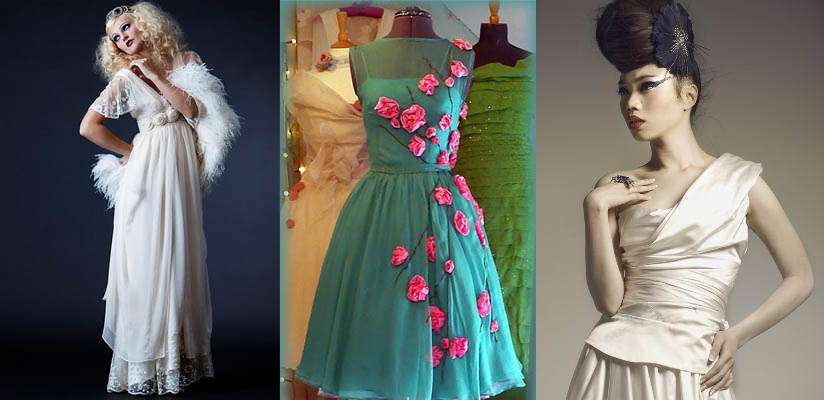 Based in Brighton, UK, Joanne's one-off designs are both affordable and utterly gorgeous!
You can see more of Joanne Fleming Design on the blog here. Joanne has created a beautiful bespoke gown for the Japan Appeal – donate £5 now for your chance to win it.
Dresses at No. 9 (UK)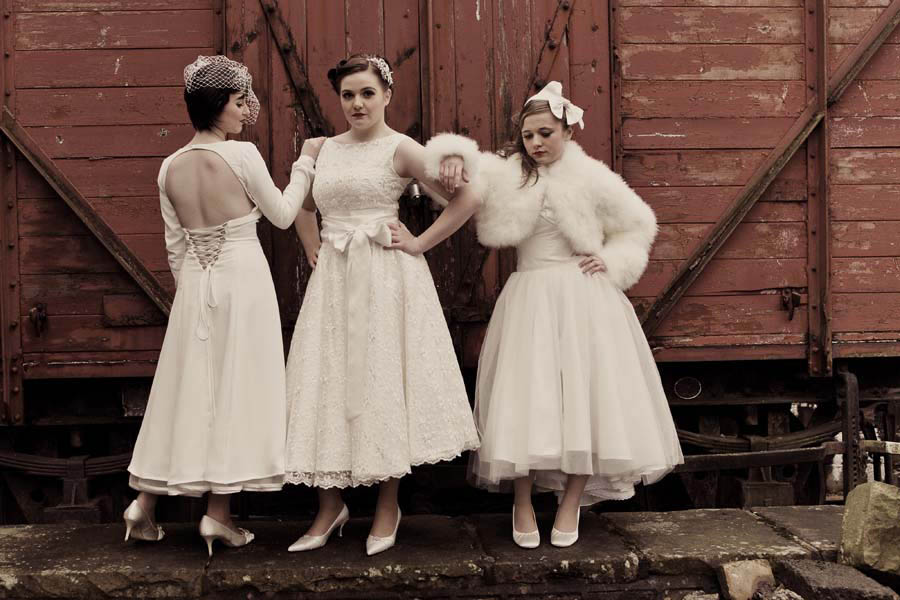 Based in West Yorkshire, UK Dresses at No. 9 have just launched their Vintage Style Bridal range…and it's beautiful indeed!
ModCloth (Online)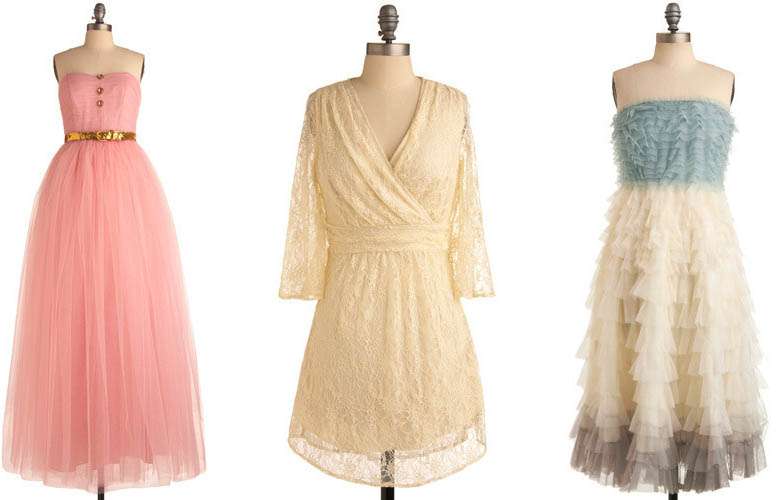 Not traditionally known for their bridal range, however ModCloth have put together a selection of their most bridal-inspired gowns and accessories…and they're utterly gorgeous!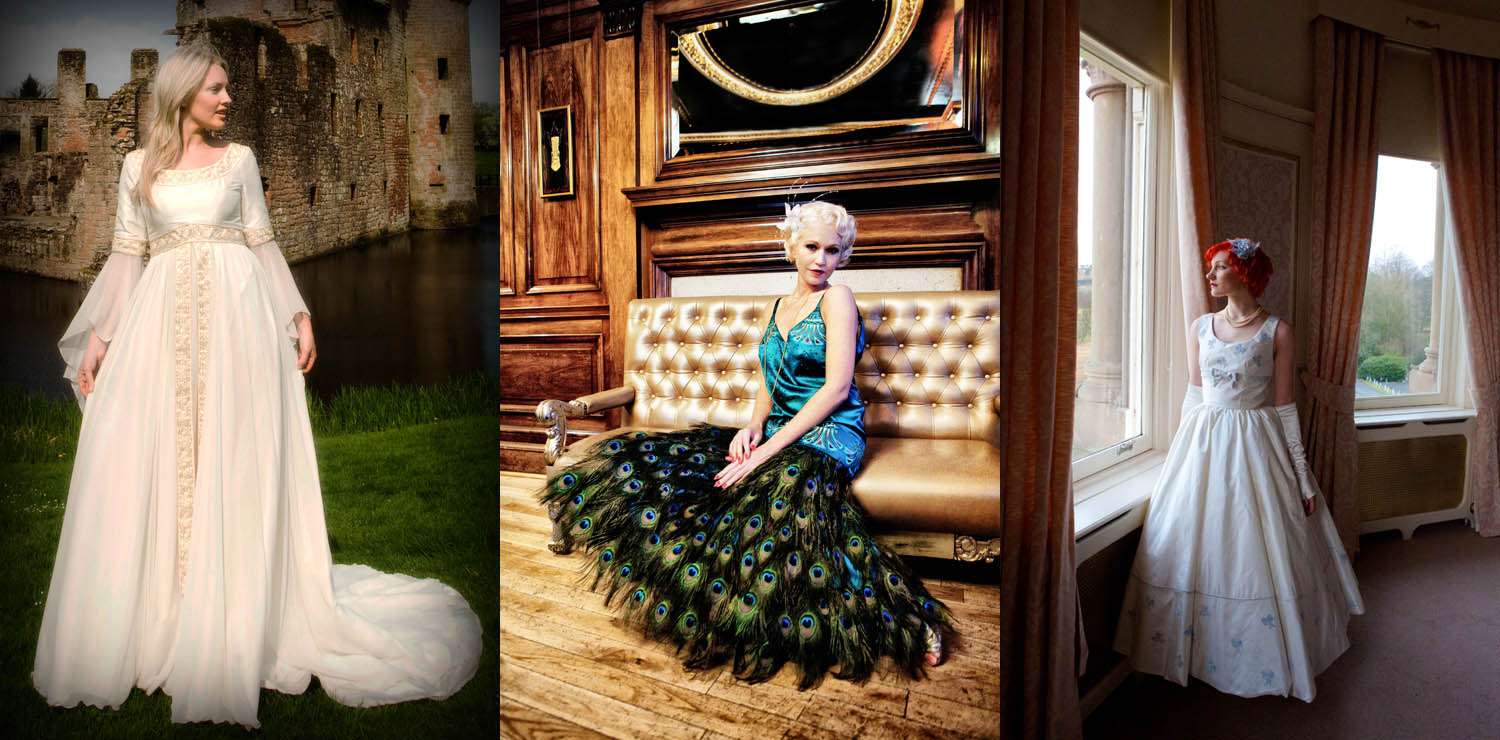 This Scottish duo create stunning Celtic, medieval and vintage-inspired wedding dresses. The pair often travel the country for their road-shows, so don't worry if your're not in Scotland. Check out when they're next in your area here.
You can see more of Lindsay Fleming Couture on the blog here.
Tobi Hannah (UK)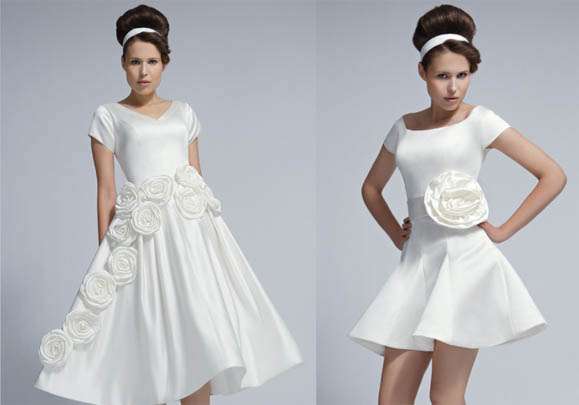 I feel in love with Tobi Hannah at The Vintage Designer Bridal Show. Beautiful, unusual and very reasonably priced. I can't wait to wear one of these dresses at my next photo shoot (more info to come on this exciting project soon)
Luella's Boudoir (UK & Online)
Luella's Boudoir are based in Wimbledon Village, London but they also sell online. They even have their own in-house range and stock a number of genuine vintage dresses.
You can see more of Luella's Boudoir on the blog here.
Lisa Redman (UK – also available through Luella's Boudoir online)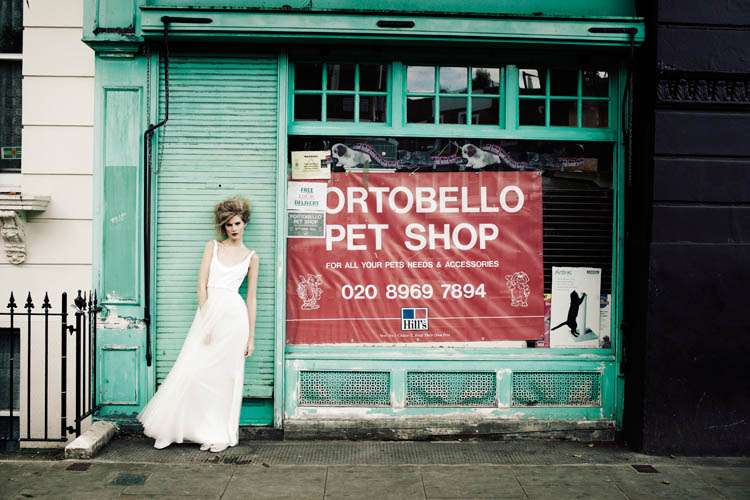 Photography by Nick Tucker
Made to measure, bespoke and beautiful. Lisa is based in London and creates one of a kind dresses using the most gorgeous embellished silks and vintage-inspired trims.
You can see more of Lisa Redman on the blog here.
Charlotte Casadejus (UK – also available through Luella's Boudoir online)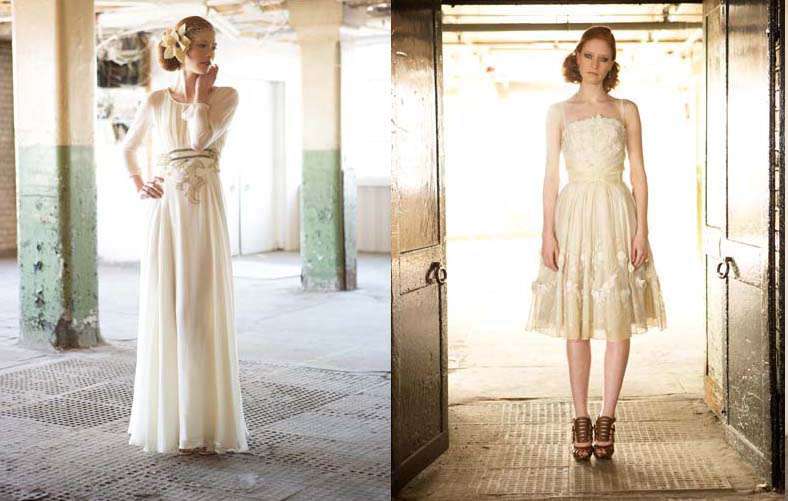 I was also lucky enough to wear one of Charlotte's gowns down the catwalk at the Luella's Boudoir Wedding Fair. Each beautifully crafted piece, from the 70's inspired tuxedo-dress to the 1900's lace paneled design, contains original vintage details including antique buckles, beading, lace and trims.
BHLDN (US)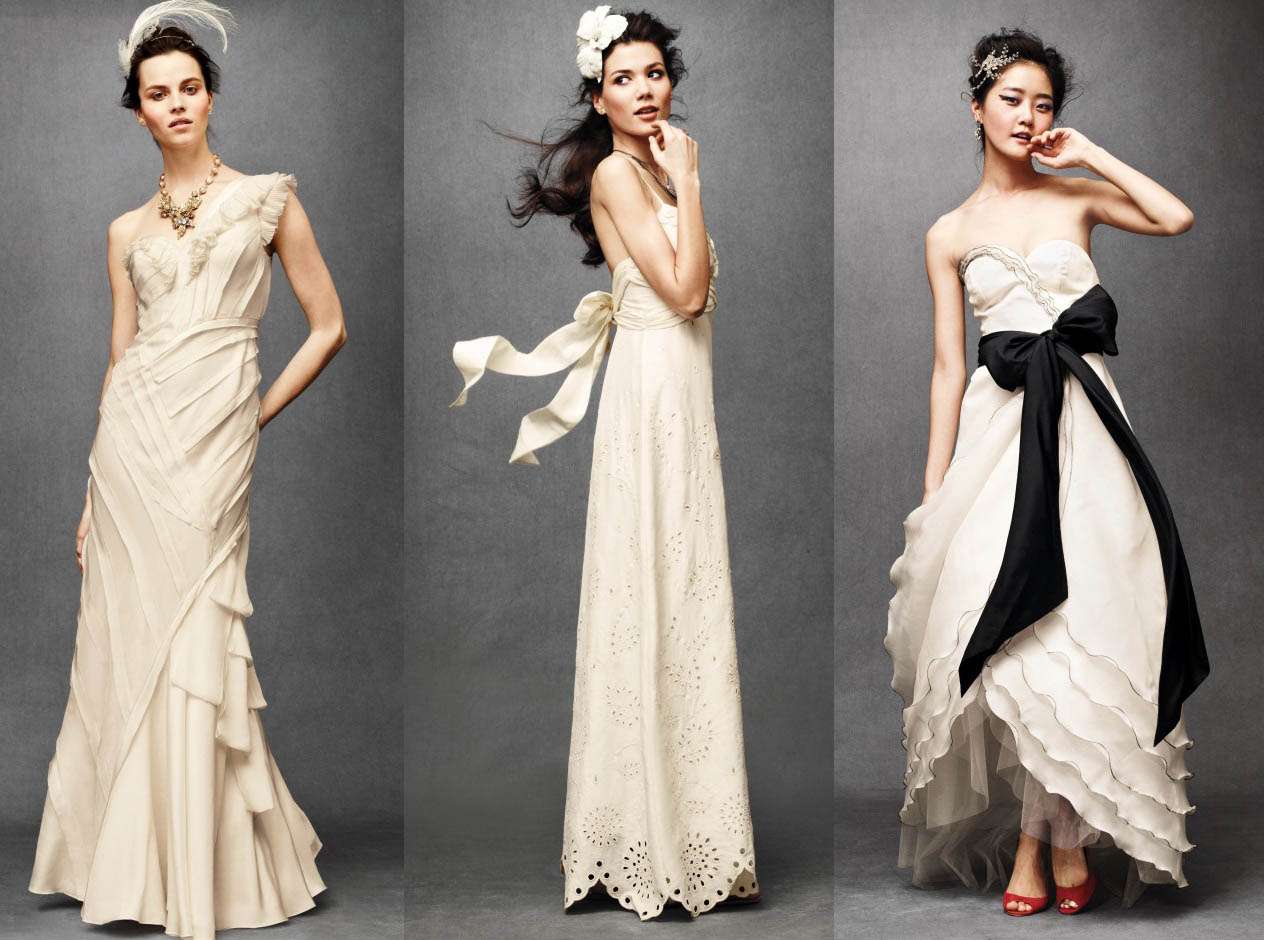 This much anticipated collection from Anthropologie certainly didn't disappoint when it launched on Valentines Day this year. I was pleasantly surprised at the quirky and beautiful nature of pretty much every single gown in the collection. Please hurry up and bring these to the UK!
You can see more of Anthropologie and BHLDN on the blog here and here.
Blushless (UK)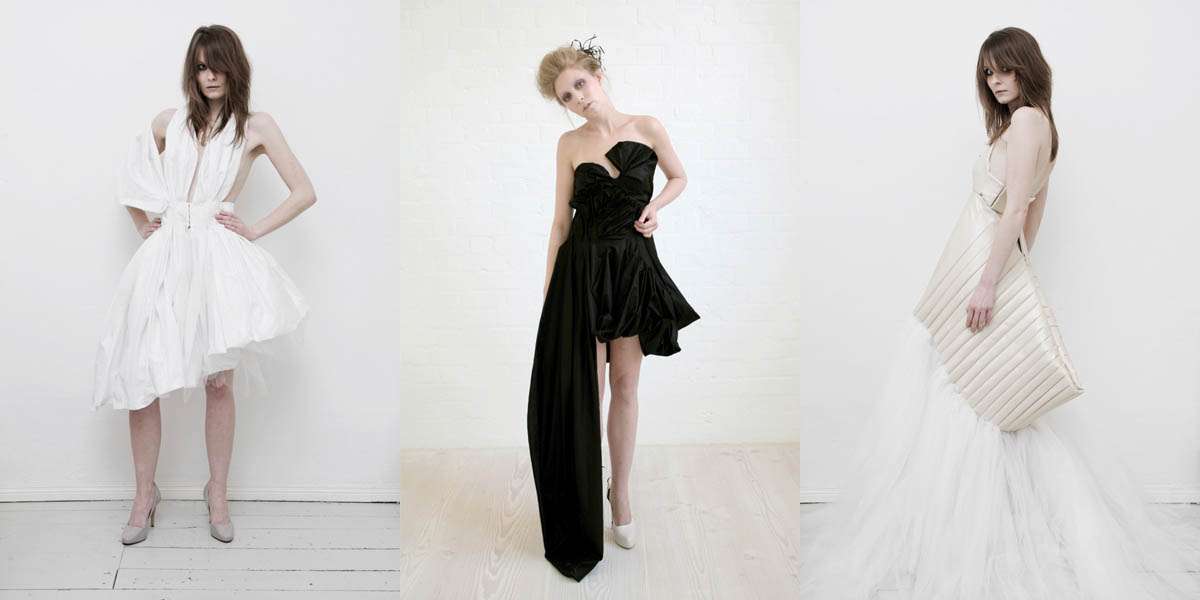 Launched in 2009, Blushless offer eco-friendly wedding dresses for the modern bride. Blushless aims to provide something alternative to the traditional bridal gown creating something unique, fashion forward and contemporary.
Ouma Clothing (US & Online)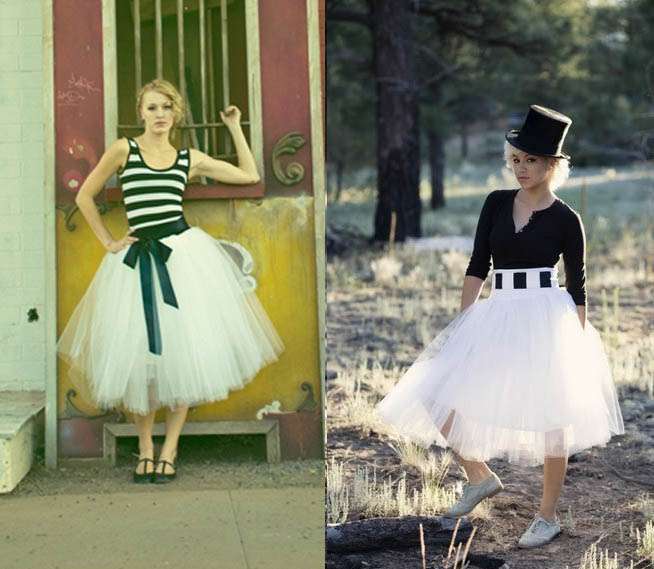 Photography Credit: Galaxie Andrews
Casual meets classic, flirty meets funky…  Ouma has long been one of my favourite etsy stores and I'm still dying to own the gorgeous Cirque Party Dress (pictured left.)
You can see more of Ouma Clothing on the blog here.
ASOS (Online)
Not strictly wedding dresses, but one of my favourite online haunts, ASOS, has a great selection of white (and other colours if white isn't your thing) dresses for spring. Be sure to also check out their new Marketplace – where people can buy and sell their own vintage pieces. There's sure to be a few gems in there!
Betsey Johnson (US & Online)
So most of these dresses are strapless, but they are so damn pretty that I just had to share. You can thank me/abuse me for it later.
You can see more of Betsey Johnson on the blog here.
Monsoon Bridal (UK & Online)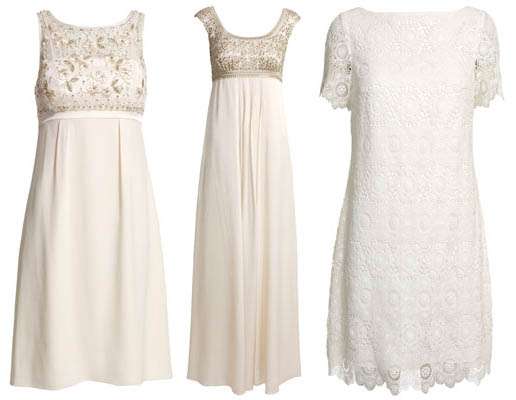 The spring bridal collection for high street chain Monsoon is divine. Utterly so. Prices range from just £85 – £300 and there really is a dress in here to suit everyone. They even have new styles arriving in May. Check out their latest lookbook for a little sneaky peeky.
Sally Lacock (UK)
I only just found Sally Lacock online this week…but her dresses are complete beauts. Inspired by the shapes and fabrics of the 1920's – 1940's, Sally's designs really are something special. Sally is based in Dalston, London.
♥  ♥  ♥
So as you can see, if you take your time to hunt in different places for your wedding dress (ie not just settling for what's on offer at your local wedding dress shop) there really are a lot of alternative wedding dress ideas out there. Deanna, I hope your friend can find something amongst this beautiful (and vast!) selection for your friend. I really enjoying searching the internet for you.
*This is not a sponsored post. I just love.