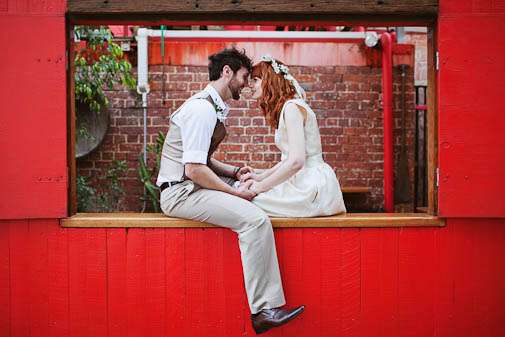 British born Alex met Adam years ago whilst working at Woolworth's. She was studying journalism and he was a checkout boy by day, rock star by night! They went their separate ways for a few forgotten years before realising at a Jet gig that they were better off together. "We are the total yin and yang couple who jigsaw together in a strange and puzzling way which somehow works," they explained. "Fiery Alex and passive Adam! Our wedding was a mashup of our two personalities which resulted in a simple, nerdy, unrefined yet rocking shindig."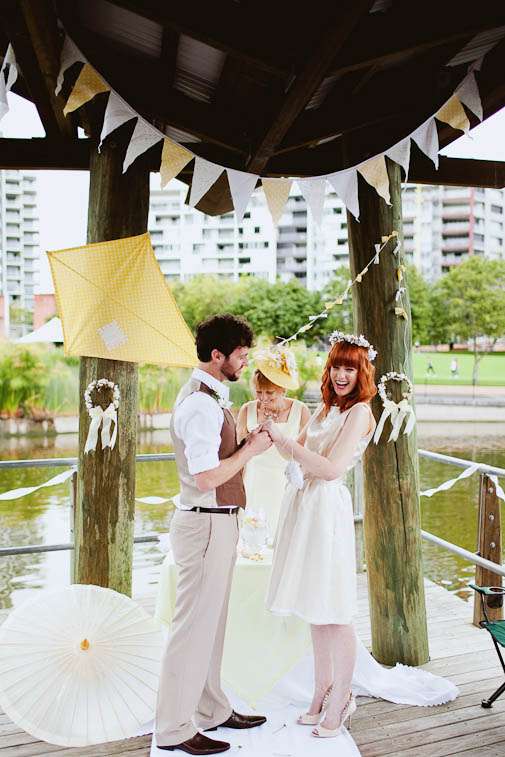 The ceremony took place at Flying Duck at Roma St Parkland and the reception was held at The Fox Hotel. Alex wore a one-of-a-kind dress which she made herself with the help of her best friend. "It was handmade with materials and pattern sourced from Spotlight Australia by my best buddy / best lady on the day. I'd probably say it's most definitely a one off by 'Sary Creations' – she'd get quite a giggle from that," laughed the bride. They also handmade her flower headband as well as all the bouquets with silk flowers sourced from FJ Flowers. The reception decor and details were all also mostly DIYed, from materials sourced from Spotlight Australia.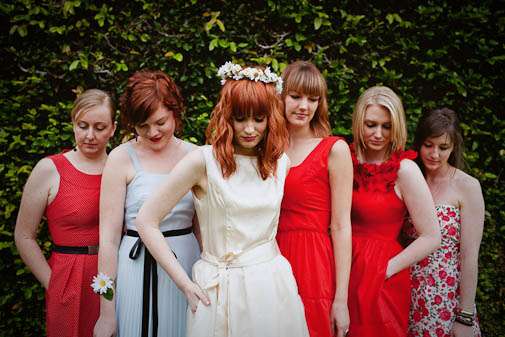 For special and personal touches, Alex's Mother officiated the emotional ceremony and Adam's brother acted as usher by dressing up as a Storm Trooper – random but seriously awesome I say! The Groom's band, Fractions, played the reception as well as accompanying Alex and her Dad down the aisle. The couple's first dance was a 4 minute 'dance-off' to The White Stripes, 'Fell in Love with a Girl' – no traditional wedding rubbish here! 
Isn't this just the coolest wedding ever? I'm loving how 2011 is shaping up already.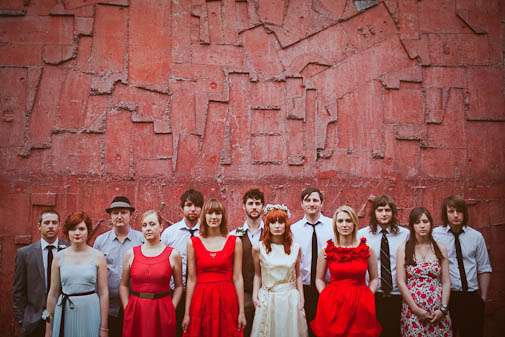 ♥  ♥  ♥
The fabulous, awesome and amazing (can you tell I love them quite a lot!) Seth & Tenielle of Feather & Stone Photography will be travelling around the USA from February to April and would love love love to shoot a Rock n Roll wedding whilst they're out there. If you'd be interested in having photos as gorgeous as these for your wedding (with a rather large chance of also getting your wedding featured on the pages of Rock n Roll Bride I might add) then pleeeease get in touch with them by emailing info@featherandstone.com.au
They explain, "We'll be flying into Cali early February 2011 and making our way to Seth's old hang out in Florida (Seth is American born and bred) where we'll be based for 6 – 8 weeks, but free to travel to other cities/states to shoot YOUR wedding."
"If you're having trouble finding a photographer that is available (that you actually like), here is your second chance! Yes, we've assumed everyone likes us. Why not? Ignorance is bliss!"
"So check out some of our work and drop us an email. It doesn't matter if you're a southern bell, DIY vintage bride, or an Elvis impersonator (PLEASE give us a call if you're an Elvis impersonator) if photography is important to you then your people need to speak to our people." 
♥  ♥  ♥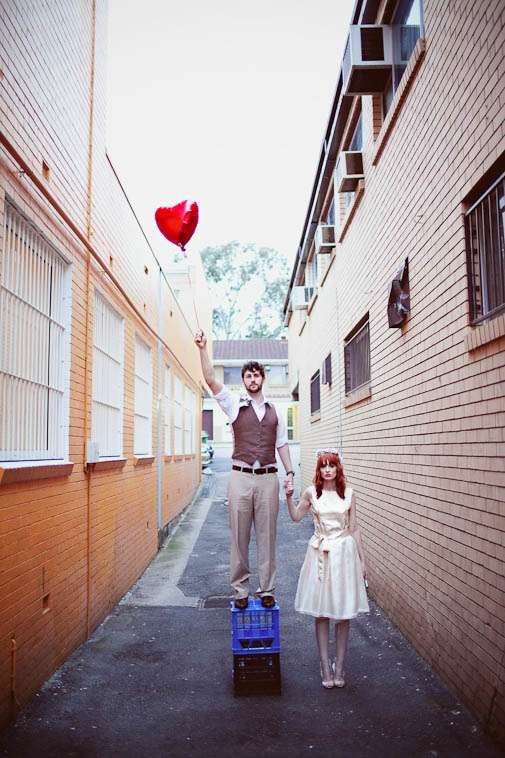 Big love and thanks to Alex & Adam and of course Feather & Stone Photography for sharing this gorgeous wedding with us today
Photography Credit: Feather & Stone Photography
Ceremony Venue: Flying Duck at Roma St Parkland
Reception Venue: The Fox Hotel, Brisbane
Bride's Dress: DIY
Bride's Headpiece: DIY
Bride's Shoes: Tony Bianco at DFO and Jiffies for dancing
Flowers: DIY (sourced from FJ Flowers)
Cake: Shingle Inn
Favours: Candy Addictions
Band: Fractions