My plan was to have my top 5 posts from each month in this list, however after going through the archives I realised there was some stuff I simply couldn't leave out…so I broke my own rule and added in some extras. Seriously, if you're bored during this weird Crimbo Limbo week (what is it with the week between Christmas and new year? Time just seems to sloooow down) then go check out August – October's blog posts in particular. There is so many awesome weddings over there (if I do say so myself.)
July to December all up in your area…
July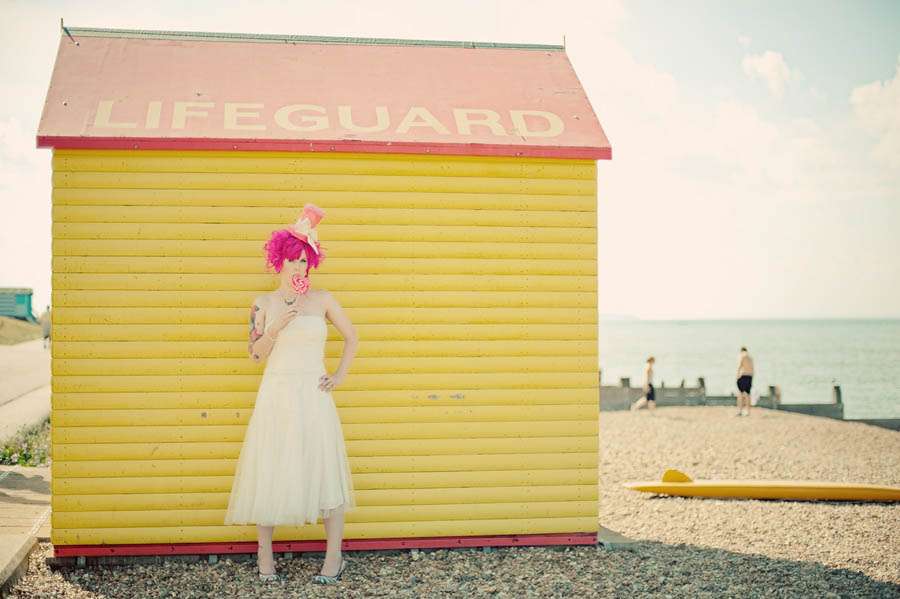 A Sunday Kind of Love – Unveiled
In July I was asked to speak at Unveiled – a conference for photographers – all about blogging, social media and doing things 'differently' in business. To say I was terrified is an understatement. I'd never done public speaking before and I was scared! However everyone there was super lovely and interested in what I had to say – plus I made some new friends while I was there! Bonus.
Mad Hatter Rock n Roll Bride ~ Candy Floss, Beach Huts & The Great British Seaside
For my summer photo shoot I enlisted the help of some girlfriends and we headed to Whitstable beach for a day of frolicking in the sun! The shoot was even published in Photo Pro Magazine – the power of working together and networking huh?! (pictured above)
Roll Up, Roll Up for Vishaka & Dean's Incredible Circus-Inspired Wedding!
Vishaka & Dean had a fabulously styled circus wedding. The decor and detail ideas really made this day stand out.
The MOST INCREDIBLE Alice in Wonderland Wedding Ever. FACT.
The title speaks for itself on this one. Alice weddings went mental this year and this one was my favourite of them all.
"I Can Make That!" – Roni & Dave's Awesome, Diy, Homespun Cute-Fest Wedding
The power of DIY! Do it yourself weddings are more common place than ever, however Roni & Dave's homespun, homemade wedding was one of the most beautiful.
August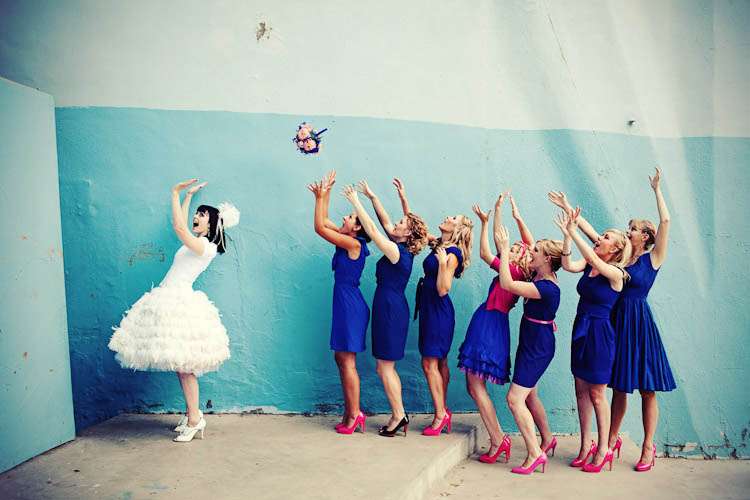 How to… Get the Best from your Wedding Photographer
Photographer David McNeil popped by to give you all some tips on how to get the very best wedding photographs out there.
What Exactly IS a Rock n Roll Wedding?
I often get asked how I choose the weddings to publish on Rock n Roll Bride. I have always stood by the fact that being a Rock n Roll Bride is not about having the most alternative or out-there wedding in the world. It's about planning a wedding that is a reflection of you and your partner and not what the wedding industry tells you to! In this post I explained my ideas a little further.
An Alexander McQueen Inspiration
This utterly stunning Mormon, South African wedding blew me away. (pictured above)
A Cotton Candy Sweet, Truly Scrumptious Brighton Wedding
Ant & Clare's sugary sweet Brighton elopement made my heart a-flutter…and Clare's  customised vintage dress and DIY shoes were like no other!
Rock n Roll Hearts & Paper Cranes – Lauren & JP's Perfectly Rockin' Wedding
Lauren & Jp's wedding and wedding video caused a bit on controversy over on her own blog (seriously, have people got nothing better to do?)  but their wedding was certainly one of my favourites of the year.
The first of many! I've organised industry get together's in the past but this party was noting short of epic! So popular was my little meet in fact that I had to start turning people away because the venue wasn't big enough! Over 100 of you turned up to eat cupcakes, drink cocktails and mingle with the Rock n Roll glitterati…and yes there will be another next year…with a bigger venue!
How to…Have a Perfectly Imperfect Wedding/Life
One of my favourite and most honest personal posts of the year. Sick of feeling like a failure as a person because my life didn't reflect the lives I saw of others online, I wanted to lay my heart of the line and share my feeling with you. I was more than thrilled with the response from you lot, a the fact that I'm actually not alone in feeling like this!
September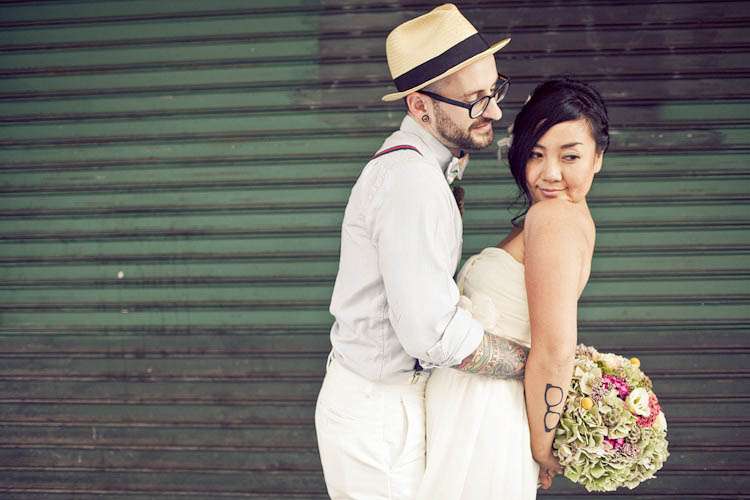 Have a Wedding that is Perfect for YOU – Greg & Michelle's Low Key, Homespun & Family-Focused Wedding
Greg & Michelle had their reception at Greg's Grandmother's house. There was no sit down meal, no dancing, no cake cutting…but it was perfect for them. THAT is what makes them one of my Rock n Roll weddings of the year.
Kaori & Alex's Multi-Cultural, DIY-Fabulous, Vintage Bohemian Wedding
Incredible fashion, style and awesome tattoos made Kaori & Alex's wedding an absolute joy to publish. (pictured above)
"We got married after spending just 12 days with each other…"
An inspiring story of love at first sight and an awesome Vegas wedding.
A Kitschy, Quirky, Vintage Wedding
Vintage weddings were everywhere in 2010, but Lindsey & Adriano's was the best of the bunch.
"Yes, You CAN have a Rock n Roll Wedding!"
A guest post written by The Bowie Bride addressing the issue, "Will my wedding be Rock n Roll enough?" Simple answer – YES!
October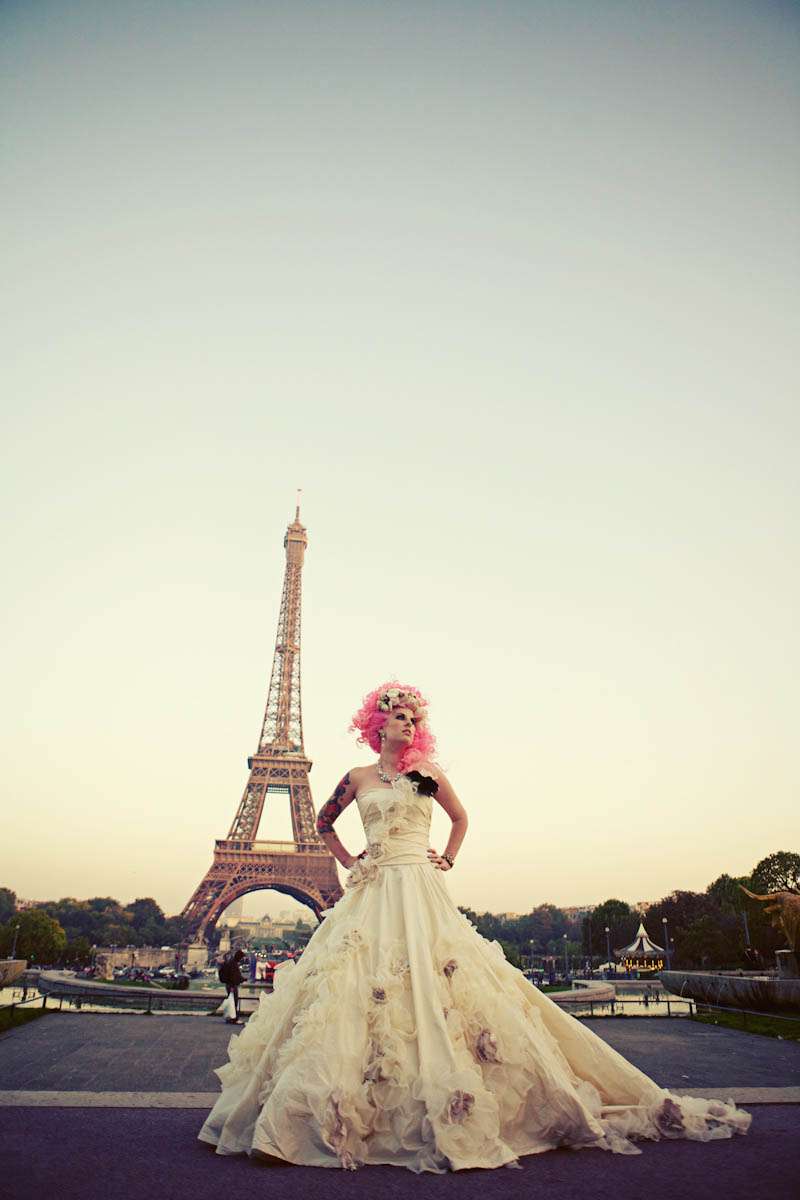 Free Wedding Photography Contest Winners – Jamie & Neil's DIY, Campfire Wedding
This was such an exciting day for me! Seeing the results of Jamie & Neil's wedding, the couple who won my free wedding photography contest with Kat Braman, just proved to me that I really do have the best readers (with the best weddings) ever!
Elise & Nick's Laid Back, Homespun & Festival Style Wedding…With a Piano in the Woods!
Yep, that's right…a wedding with a piano in the woods! A soon as photographer Emma Case told me that she'd stumbled across an old abandoned piano during a wedding day portrait shoot I was seriously excited to see the wedding…and as usual I wasn't disappointed.
How to… Beat the Post Wedding Blues
Guilty as charged! Hands up those newly married gals that still skulk around Rock n Roll Bride looking at wedding pretties? It ain't nothing to be ashamed of…hell, I made a career out of being wedding obsessed!
A Sparkly, Opulent & Extravagant Marie Antoinette Themed Rock n Roll Wedding
Danielle wore four different dresses and four different pairs of designer shoes for her wedding. Opulent and over the top? Certainly. And I totally flipping loved it.
"Rock n Revolution" – A Parisian Punk Rock Marie Antoinette Photo Shoot
The photo shoot to end all photo shoots! I got my pink head on the Euro star with a team of eager photographers, a stylist and hair & make up artists ready to put my fuchsia stamp all over gay Parieeee. I don't think the city knew what hit it! (pictured above) My only problem now is, how the devil do I beat this one?
Hitchfest 2010 – Bowie Bride & The Rock n Roll Wedding of the Year!
My ultimate, ultimate wedding fave of 2011. The Bowie Bride married Mike and their hitchfeatwas balls-tastic awesome!
The Price of Wedding Photography & How Much Should I Expect to Spend?
This touchy subject was something I had wanted to address for a while and so I got my friend, photographer Julia Boggio to help me. The point of this post was to help brides realise why wedding photography costs what it does as well as what you should expect to get for the price they pay. Whether you're spending £500 or £5000, there is a wedding photographer out there to suit all budgets, just make sure you weigh up all the options and choose the very best one for you!
Sophie & Barney's Silly & Fun, Vintage & Rock n Roll North London Wedding
Another utter stunner. Sophie & Barney's Rock n Roll and vintage inspired wedding hit blogland with a bang, and I'm so chuffed I was the blog to share it!
November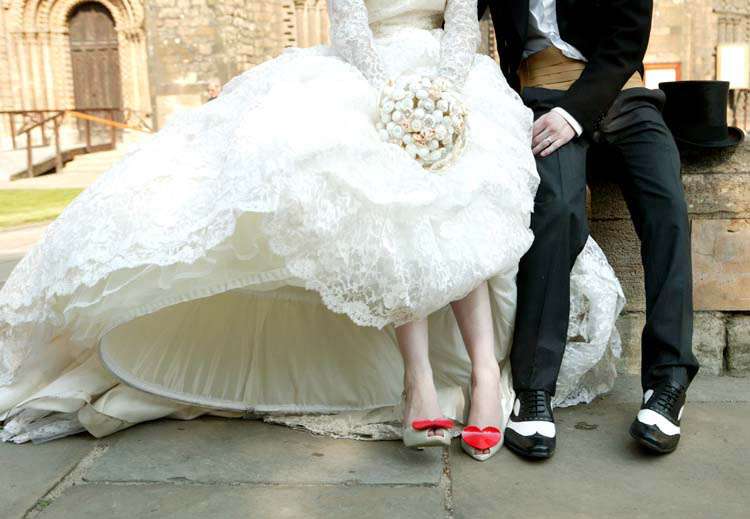 Mia & Matt's Super Kitsch, Super Gorgeous 1960′s Wedding
Matt & Mia's 1960's wedding was almost too gorgeous for words. I actually since found out that the groom also worked at the same shopping tv channel as me (very different departments so I'd never met him) Weird huh?
Danielle & Carl's Incredibly Gorgeous Red & White Vintage Wedding
Another vintage wedding that made my heart sing! The bride wore Vivienne Westwood shoes and jewellery with her vintage dress and the groom wore a Vivienne Westwood shirt! …And don't even get me started on Danielle's fabulous button bouquet. I was in heaven when this landed in my inbox. (pictured above)
Josephine & Radney's Eclectic, Vintage & DIY Wedding
Photographer Josephine is one of the sweetest people I've met online. She married Radney in an utterly gorgeous and eclectic styled wedding that they created themselves.
Free Wedding Photography Contest Winners – Gaelyn & John's English Country Picnic with a Mexican Flair
Our second contest winners of the year! Gaelyn & John won their wedding photography by the fabulous Love Me Do Photography. Their country cottage picnic theme was the clincher when it came to the voting (over 25,000 people voted in total!) It was so exciting to finally see their ideas become a reality.
At Home with the Rock n Roll Bride (and Groom!)
An intimate and personal photo shoot of me & Gareth at home. Even Henry got in on the action!
December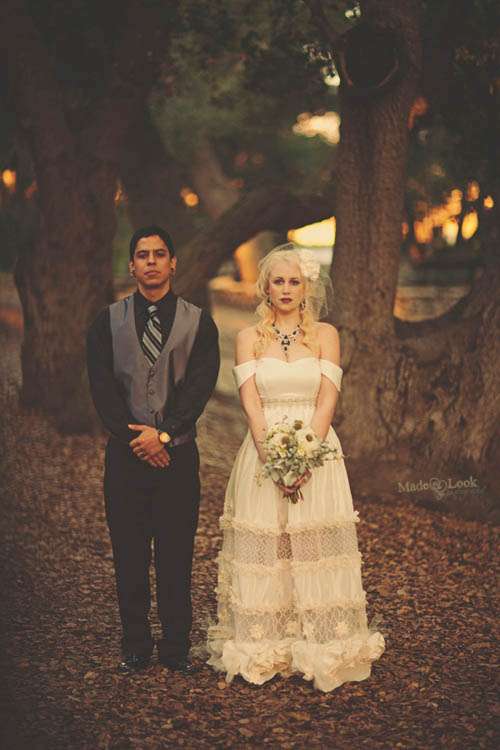 Casey & Richard's Sunny, Seaside, Sailor Wedding
The snow was falling heavily in the UK as I posted this awesome summer wedding. I felt the whole country needed a bit of warming up. I think it helped!
Helen & Dan's Good Old-Fashioned Coronation Street, 1940′s Tea Party Wedding
A twist on the ever-popular vintage theme. Mis-matched crockery and tea drinking made Helen & Dan's wedding a quintessentially English affair.
Wedding Stationery…to Buy or DIY?
Guest post by the gorgeous Lucy Ledger. I asked Lucy to write me a little something on the benefits of DIYing vs buying your wedding stationary. I found it really interesting to read both sides of the story and it seemed that you lot did too.
Jamie & Miguel's Sleepy Hollow, Dark Wonderland Carnival Wedding
Jamie & Miguel's slight spooky and dark wedding was right up my street! I would have loved to have attended this stylish wedding. (pictured above)
Melinda & Stu's Rock n Roll Princess, Castle Wedding
Who can resist a pink haired bride? Certainly not me! Melinda & Stu's castle wedding reeally was a fabulous way to round off the year.
♥  ♥  ♥
Wow all I can say is what a year! I'm so proud of everything I've achieved and so thankful to everyone who submitted features, helped, advised and came along for the ride with me. Let's make 2011 even better shall we?!
ps if you weren't around yesterday, don't forget to check out part one too…