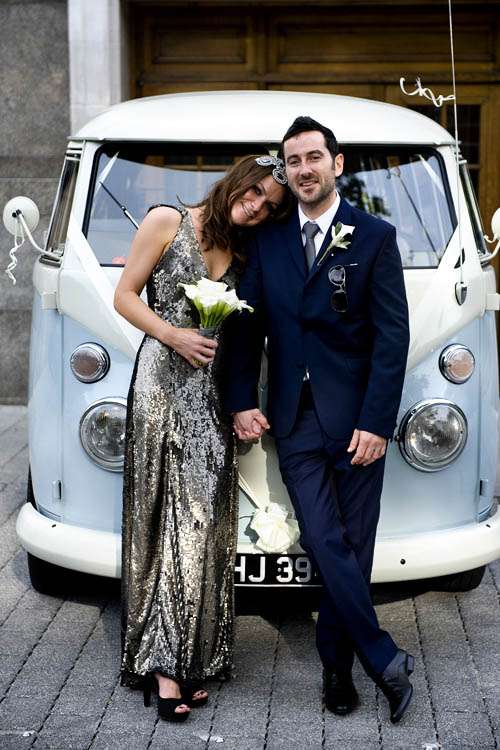 The slinky, sparkly vintage-inspired Topshop (yes really!) dress was what grabbed my attention when I first laid eyes on Becci & Chris' retro styled London wedding. However when I saw the rest of their day I was utterly smitten. The pair, who never wanted a traditional wedding, were set on creating something within budget and to suit their funky London lifestyle.
I spoke to Becci about their wedding and I'm so thrilled to share their amazing wedding and all their quirky details with you today.
"Chris and I live and love London, so it was always going to be our number one location for getting hitched," she began. "Budget constraints – and the fact that a meringue dress, tiara and dainty white kitten heels were my idea of hell – meant that we had to be inventive while planning our big do. We wanted something that represented us as a couple, and our personalities, and felt strongly that we wouldn't follow wedding procedure just because."
"We decided on Islington Town Hall for our ceremony and quickly fell in love with The Vine as our reception venue. It's cool retro interior, gorgeous Italian grub, intimate conservatory and super-calm landlord, James, meant it won over Chris and I as soon as we walked in. We work in the magazine publishing industry, so we strongly agreed that our photographer needed to be super talented and super creative. Enter Ian Johnson. After meeting up for a few pints and a briefing, we both knew that we'd got the right man. Ian did not let us down. Despite the time constraints of us marrying fairly late at 4pm, he achieved all the money shots."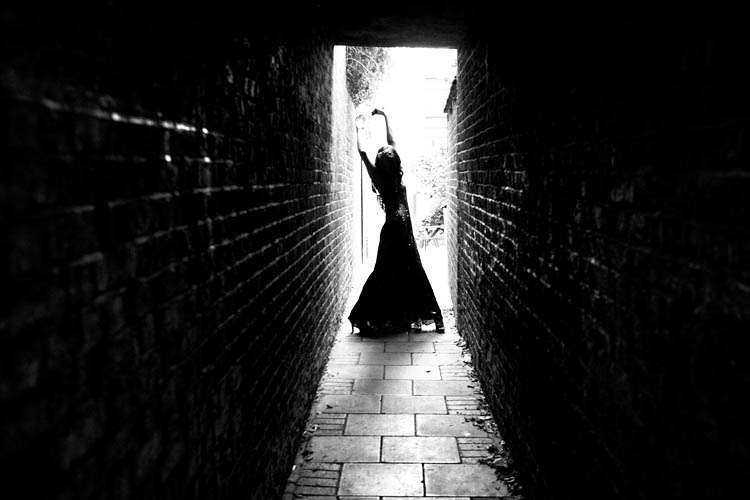 "For the dress I wanted a slinky evening number. Never did I think that, while browsing Topshop's website, would I stumble across my dream dress – antique silver, sequinned, slight fishtail, deep V front, backless… I was in love. Yes, it was high street but I couldn't afford anything designer and I received so many compliments from guests thinking it was vintage… I just kept my mouth shut! A veil was never going to suit my style but I still wanted a wow-factor headpiece. I turned to milliner extraordinaire Louis Mariette who understood completely my vision and created something truly special. As for Chris, he wanted a fitted suit with a Mod influence so he took a trip to Jump the Gun in Brighton. For my bridesmaids, I wanted them to look drop-dead gorgeous (no peach taffeta, ta very much). To complement my dress and Chris's suit, I was after a navy, corseted, strapless style – the All Saints Freja dress came up with the goods."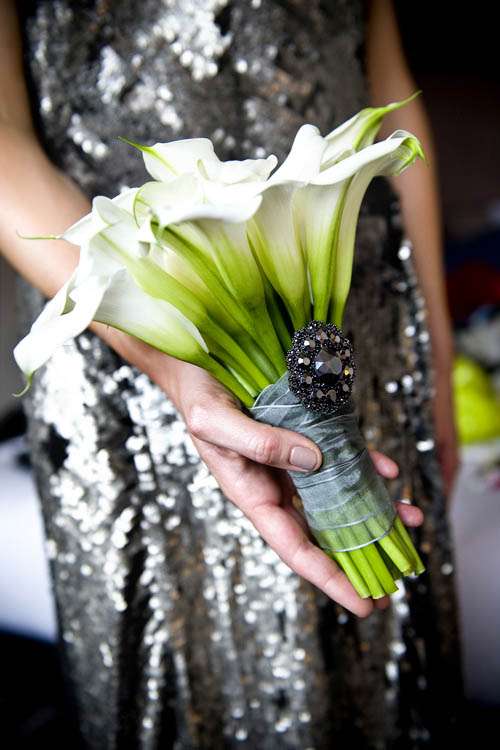 "We all stayed at Hoxton Hotel the night before and, on the big day, our wedding cars consisted of a duck egg VW camper van– the bouncy suspension and a bottle of fizz nearly ruined mine and the bridesmaids dresses on the drive to the Town Hall! – and the obligatory cheesy Routemaster. For my flowers, I wanted simple and elegant so I went for a cala lily bouquet and a pared-back white and green theme. Personal touches included haggling over a massive shabby chic mirror at Portobello Road then writing the seating plan on this; and my mum kindly baking glitter-sprinkled heart biscuits as favours for everyone to dip in the yummy dark chocolate mousse dessert (we vetoed a traditional wedding cake as it just wasn't what we wanted). What else went down well with our guests? Well, our party photo booth from Snappabox had a queue all night, while our 'Love story' booklet, complete with cartoon Chris & Bex, brought everyone up to speed on our relationship history."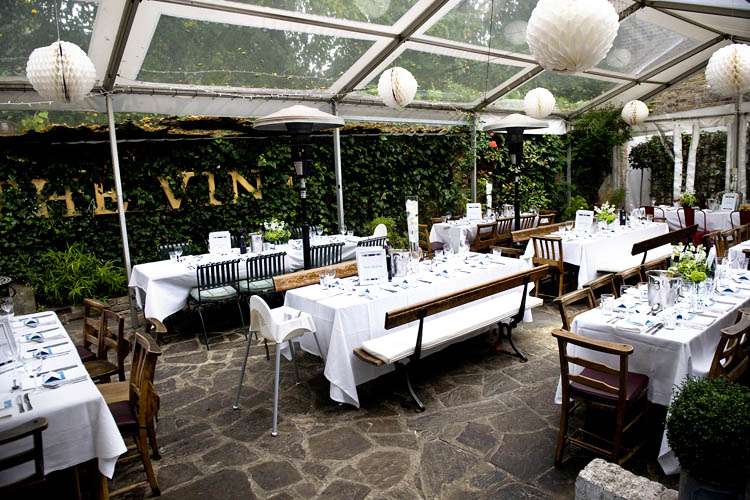 "And the final Rock n Roll moments? How about the groom not getting to bed until 6am on the morning of the big day (still a sensitive topic around the Hodgson kitchen table) or us newlyweds heading to East Village in Hoxton for a post-wedding clubbing session. Well, I was wearing Topshop after all…"
Incredible! I am so chuffed to have these guys rocking all over the blog today.
Huge thanks to Becci & Chris and their photographer Ian for sharing all this awesomeness
Photography Credit: Ian Johnson Photography
Ceremony Venue: Islington Town Hall
Reception Venue: The Vine
Bride's Dress: Topshop
Bride's Headpiece: Louis Mariette
Groom's Suit: Jump the Gun
Bridesmaid's Dresses: All Saints
VW Van: Blue Vinyl Weddings
Hair & Make Up: Lan Nguyen
Flowers: Dawn Taylor dawn.taylor55@ntlworld.com
Photo Booth: Snappabox