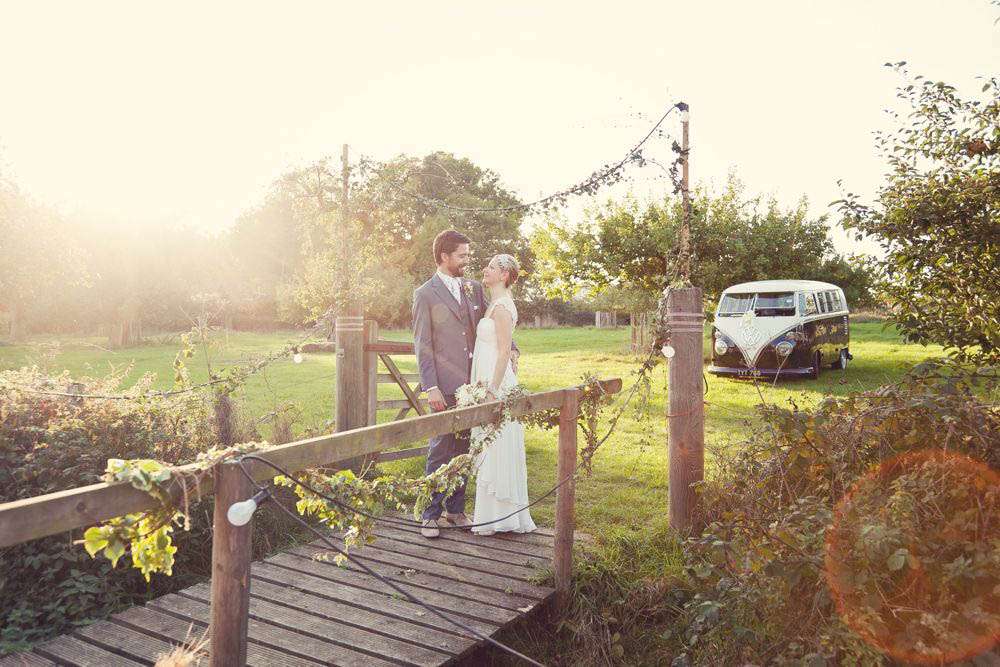 I really love reading wedding stories from the groom's point of view. Most of the submissions I get are written by the bride, but there's something so utterly adorable about hearing about a wedding from the boy's point of view…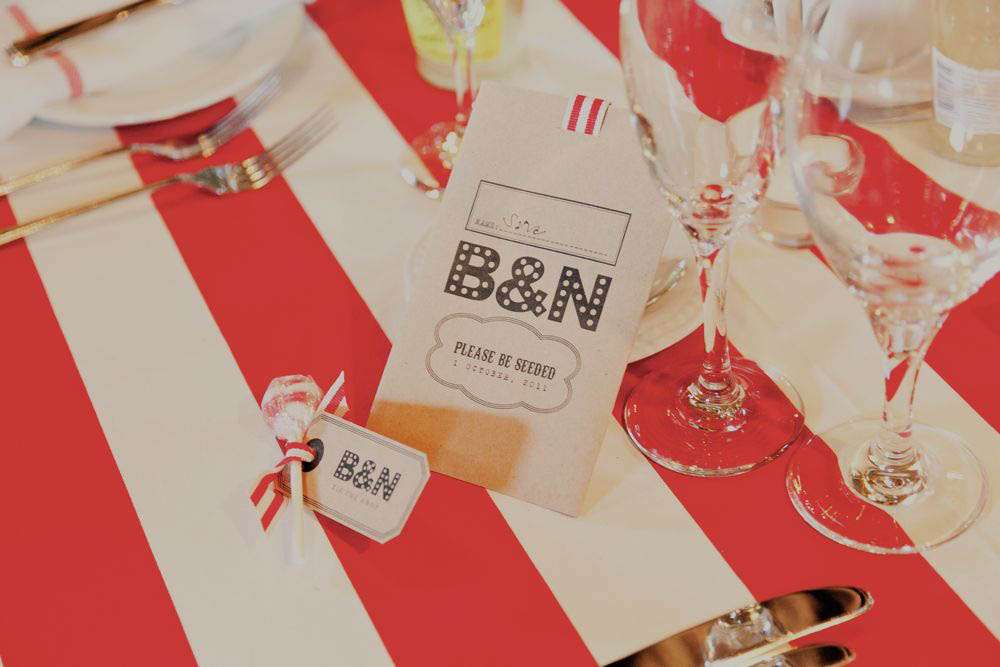 "Our theme was always going to be eclectic," Neil told me. "Bringing together all of our loves for the big day celebrating the people we are. We have a number of classic American cars, an old house and various other projects,  so restoration, progress, dressing up something old to really show off its beauty is what we do. I am told that is exactly what we achieved in the barn, working with what we had rather than against it. As for an actual theme, I guess it would be like some kind of redneck hicks doing Darling Buds of May in true Kentish country style."
The bride traveled to the wedding in a VW camper van while the groom and the guests were treated to a ride in a steam train!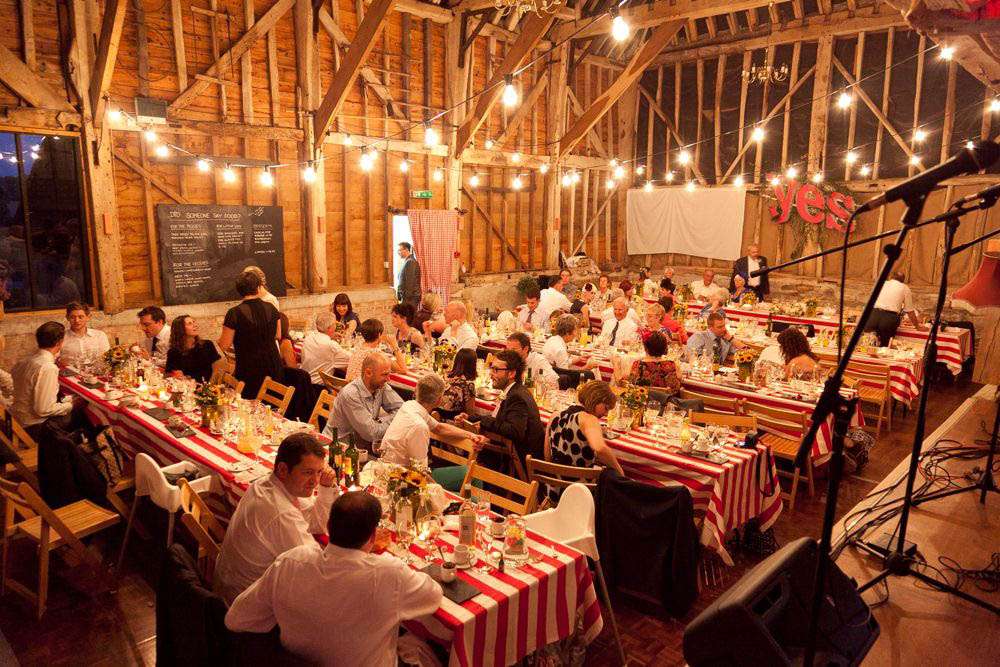 "We aimed to do as much of the work ourselves with the wedding," he continued. "The barn was hired as a shell that needed completely dressing from scratch. The hired canteen style tables were covered in metres and metres of Ikea 'Sofia' striped red and white fabric. This was to help fill the huge and overwhelming space and create a centre piece, that also tied in with the ribbons stitched into the invite designs."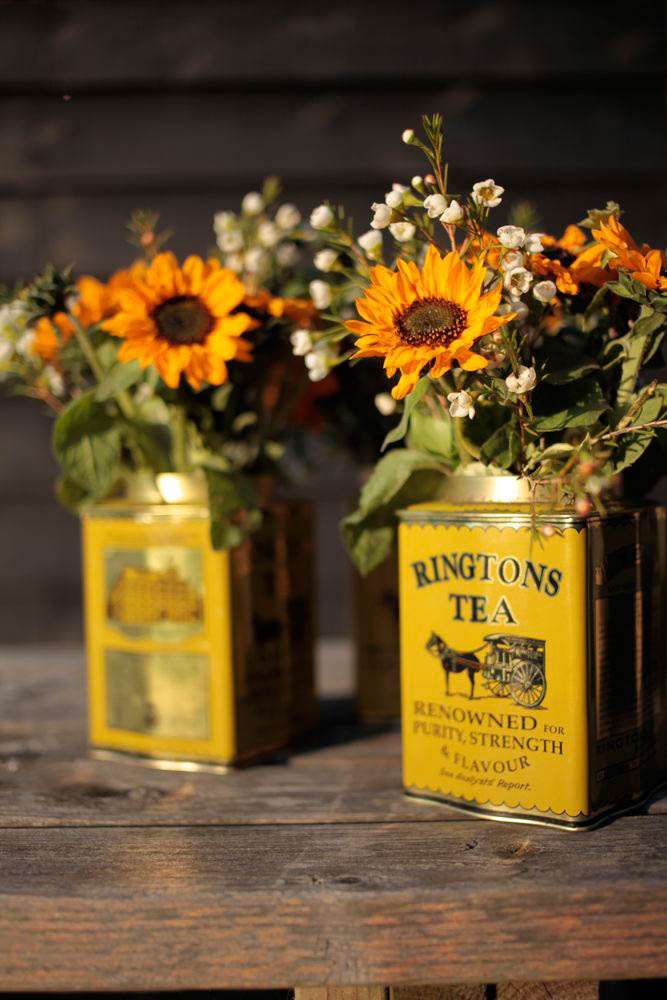 "The tea tins were sourced over several month on eBay while Becky hand cut almost 100 moustaches and stuck to the stripey straws to be our table decorations with the sunflowers."
"I am a font junkie, so we imported some vintage neon sign letters from the US in order to have the 'YES' word wrapped in ivy over the top table. We incorporated the design into our invites which I also made myself."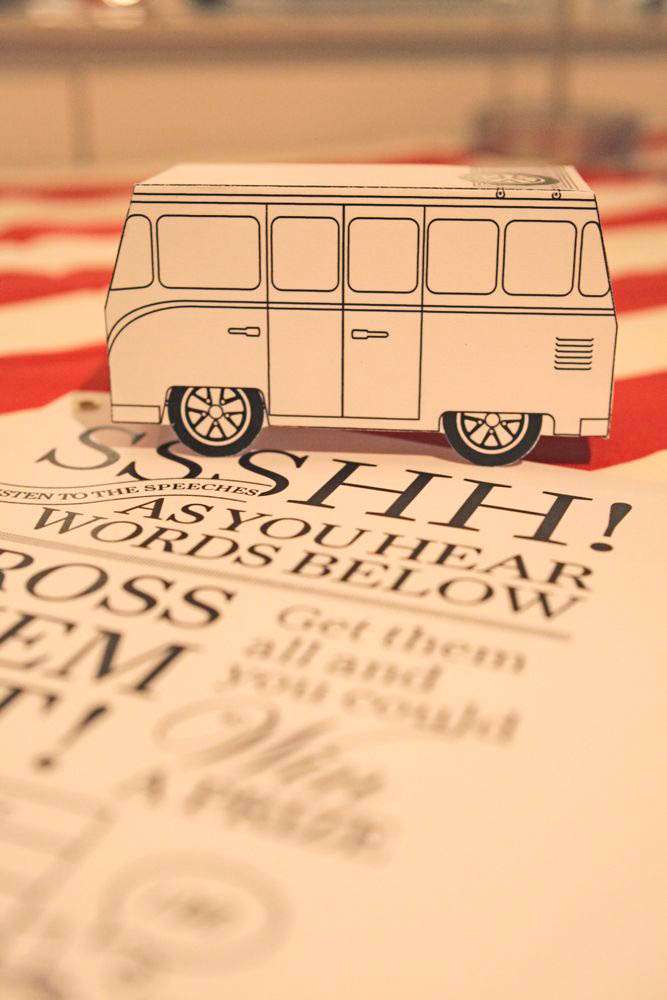 "The napkins were linen glass cloths from Ikea for 19 pence each. They had the woven stripe through them and then a 'Becky & Neil – Tie the knot' label sewn into them by us. Weirdly loads of guests must have kept theirs as we only have a few left over."
Thank you to Neil & Becky for sharing their day with us.
Photography Credit: Sara Thomas & Andy Waterman (andy_waterman@hotmail.com)
Venue: The Great Barn, Kent
Bride's Dress: Mon Cheri
Bride's Stole: Sasso, Milan
Bride's Shoes: Rachel Simpson
Groom's Outfit: Paul Smith
Bridesmaid's Dresses: Monsoon
Cake: Lou Lou Babycakes, Dulwich
Flowers: DIY
Hair & Make Up: Dawn at Aurora Beauty
Band: Django Spears
Stationery: DIY (We Are Soup)
Transport: dubhire.co.uk and doilydays.co.uk – steam train with victorian royal carriage (kesr.org.uk)