I love Lucy & Adam's wedding SO MUCH. Not only did it take place in my home town of Reading (yey!) but they hired a big top to host their reception! But this wasn't any old circus wedding, oh no these guys went all out. An airstream stage, a granny's living room and musical performers a-plenty!
"We knew our priorities pretty early on – lots of people partying late into the night", explained the bride. "We put lots of effort and thought into the wedding being fun and no thought towards 'impressiveness'. We didn't care about the venue being fancy – we just wanted a patch of land which had a 24-hour license (preferably with no charge). We found it with Rivers Health Club in Reading and we hired our big top tent from BigTopMania. Amazingly, it was only a little further down the Thames from the church, so we loved the idea of having a boat get the guests from one to the other."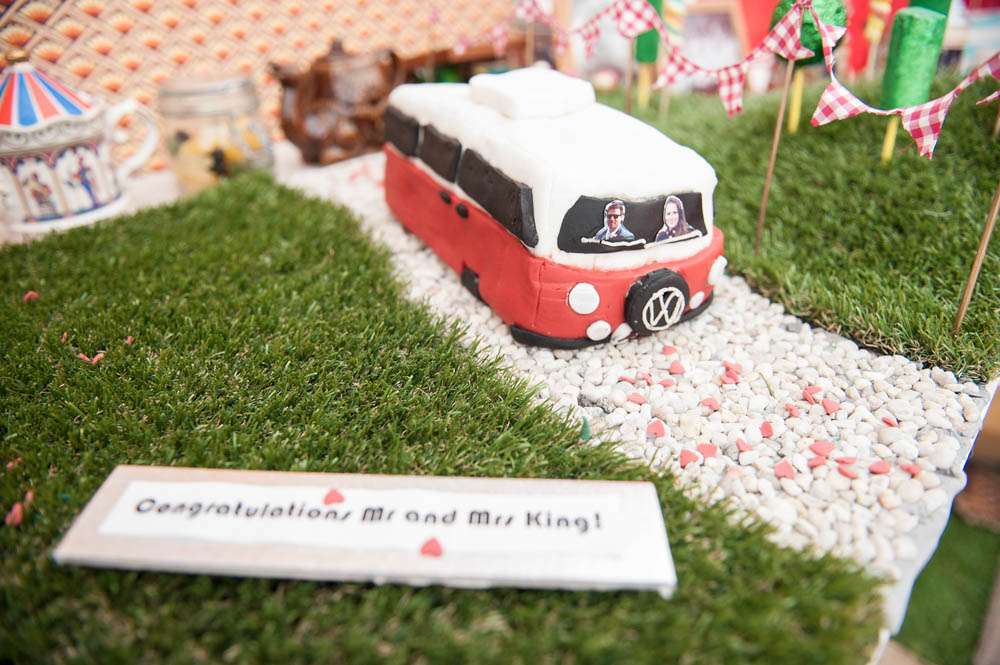 "We love festivals. We go to a lot of them and a lot of our favourite times have been at them", she continued. "We also loved the idea of having absolutely nothing matching and no colour scheme. We just bought things that made us happy (mainly from charity shops). We didn't want the wedding to look like we were trying to be a festival, we just wanted to steal ideas – like the 'Granny's Living Room'."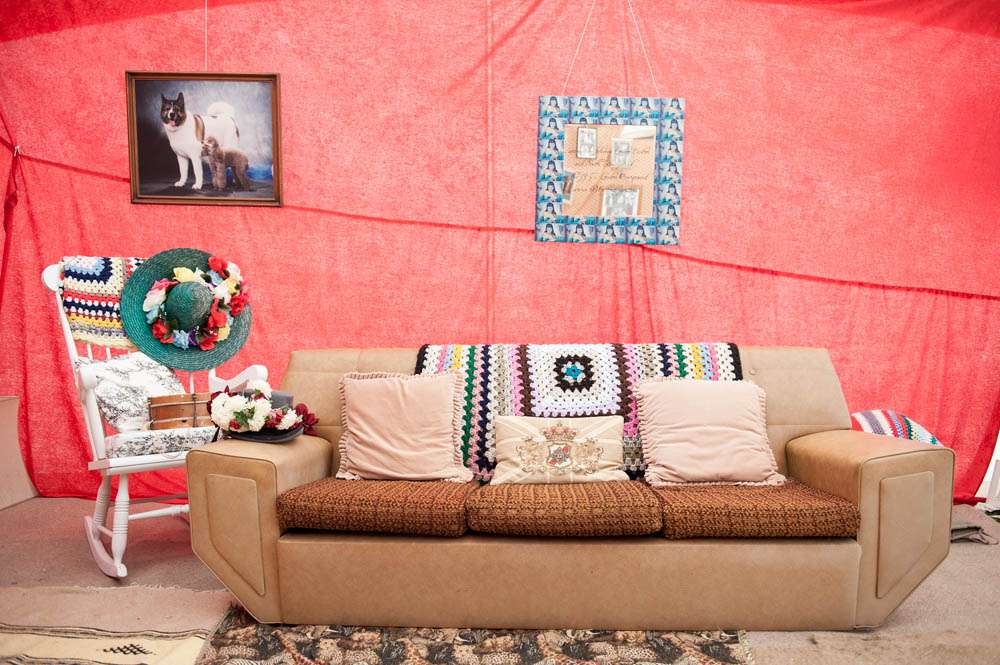 "Our favourite tent at a festival is always decked out to look like a Granny's front room. It has a piano in it which anybody can play and loads of songbooks, so people can sit round on sofas and have a singsong. We set one up at the wedding – along with sloe gin and port in decanters and lots of rugs – and it worked a charm. Was a great alternative to the dancefloor and proved very popular for the older generation. It helped that my uncle was a professional pianist – he was the lynchpin."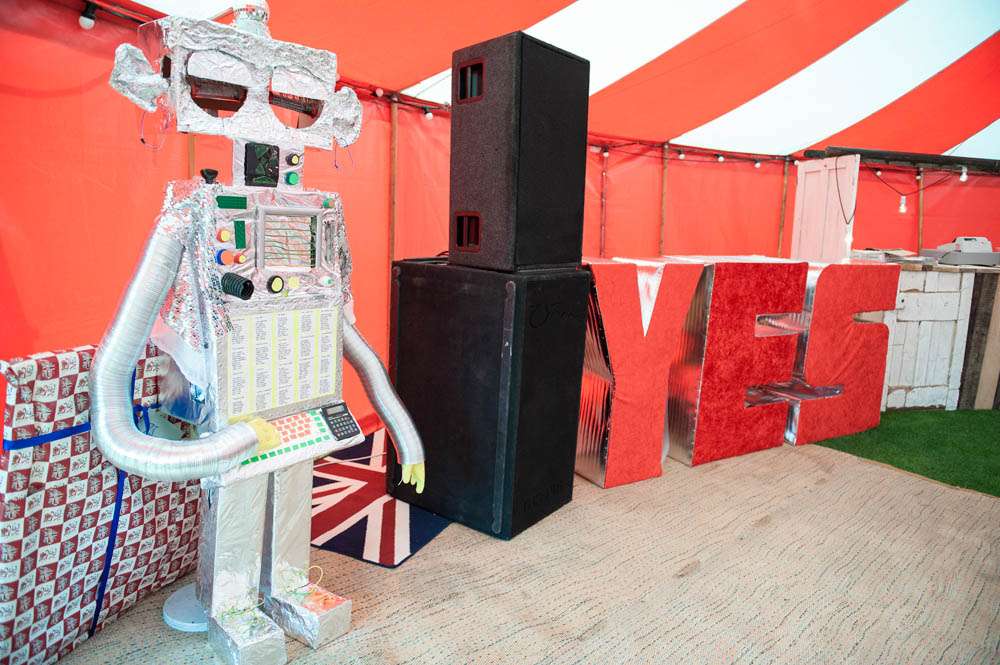 "I'm a TV Producer and spent last year living with a circus (as you do!), so that gave me the idea of a big top. We have a VW camper van ourselves so that inspired our cake and our 'world's smallest rave', We have always had the dream that when we get rich we'll buy an airstream so we rented the airstream stage. It also looked incredible and provided a great focal point."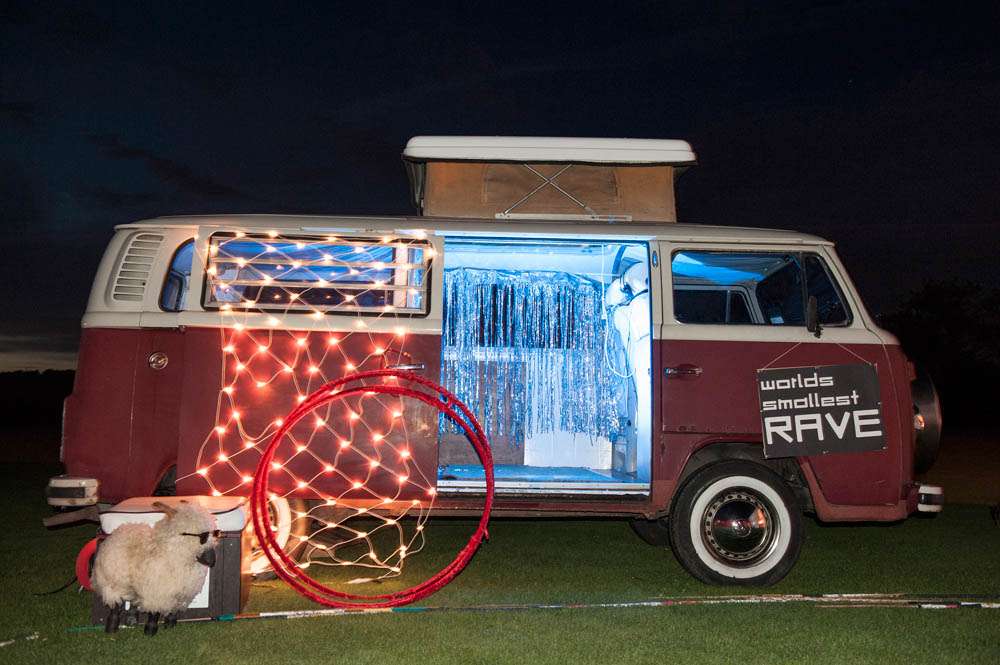 "The FUN light up sign was a project I asked a couple of talented friends who spent weeks making it. It's now on our balcony and is a lovely (and large) momento of the day. The other thing we were really keen to do was to have all our friends perform. We have a lot of talented friends so over the day we had a friend and family choir in the church, another choir (which Adam was in anyway), a singer and his violinist wife, a band and four of our friends DJing till 5 am."
So damn awesome. Thank you to Lucy & Adam and their supremely talented wedding photographer Adam of for sharing with us today.
Oh and PS – you might have noticed the blog looks rather different this morning!? I'll be explaining more about the next design in the Green Room later today, but feel free to have a browse around in the meantime and let me know what you think via twitter!