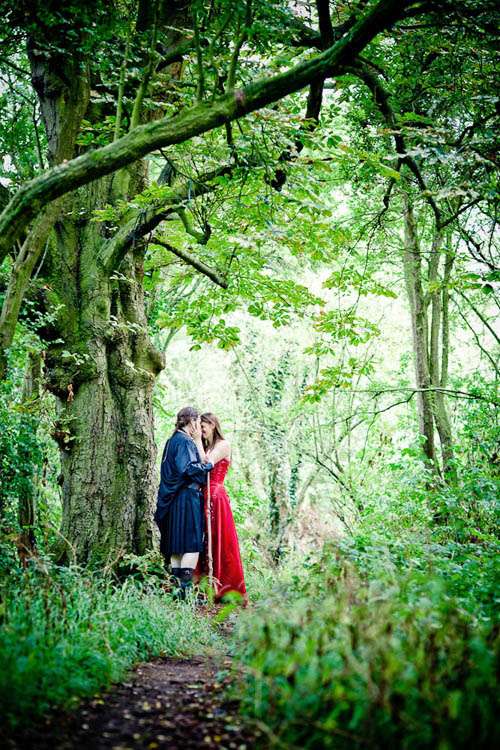 Rachael & Rafe were uninterested in a traditional religious or civil ceremony so decided to get married on their own terms. They were wed by one of their closest friends, Tara, in a pagan hand-fasting service which took place outside, in a small copsed wood locally known as "The Spinney". They knew very early on in their planning that this was where they wanted to get married as the couple had spent some time living on a narrow-boat on the river, and for that period The Spinney was their garden, "It was where we hung out, relaxed, partied and where our children played.  It is full of trees and love and so naturally the first place we both thought of for our ceremony" the couple told me.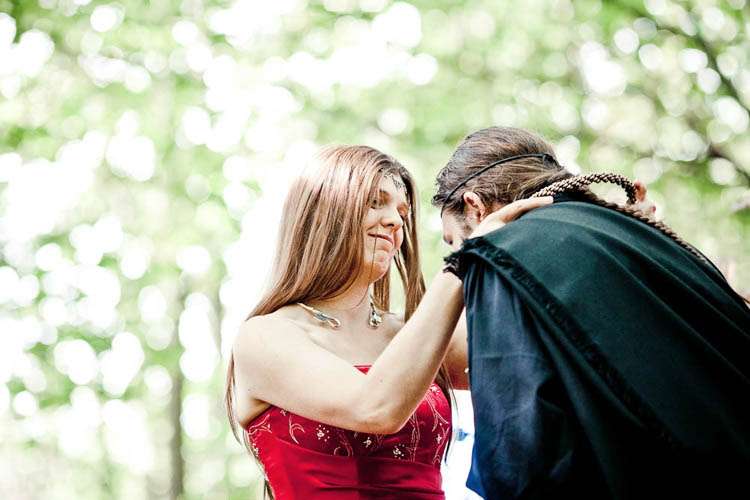 The couple also chose a very special place to them for their festival themed reception, " During the winter months The Spinney mooring would become too muddy to get our children to school without being caked in mud so we would moor as often as possible at Solomons Bridge.  Across from which another dear friend of ours has a pasture for their cows.  It's such a fabulous place!! So beautiful and when the canal froze over we would have lots of fun pinging crab apples across the ice, or watching the ducks slide across it on landing.  It seemed like a fantastic place to hold a festival!!  So that is what we did."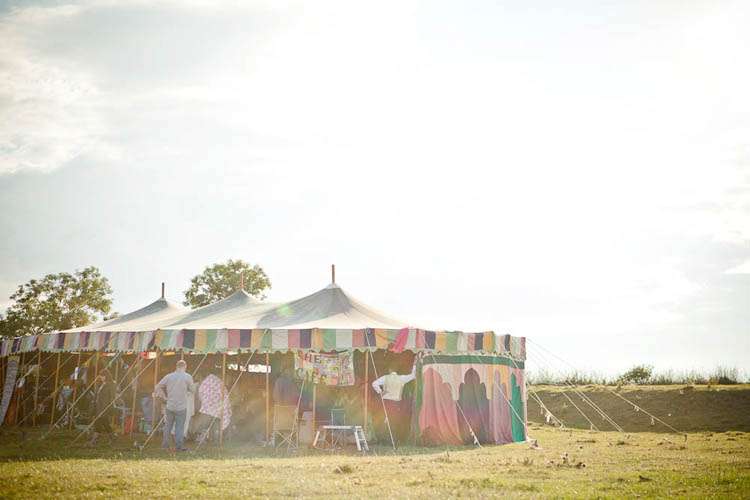 "We are both musicians and spend most of our summer holidays at music festivals with our children.  Due to the saving for the wedding we really couldn't afford to attend most of the festivals we normally go to, so we brought the festival to us! Queue tents, tipis, music, mayhem and marriage!"
Rachael wore a red Maggie Sottero gown called Courtney. Originally the bride's sister talked her out of getting a red dress, but at the last minute situations changed (ie her Grandmother who was going to make her an ivory dress but broke her foot so was unable to make the dress) so the bride was able to go with her gut and bought the dress she'd always dreamt of. She teamed it with a headdress she had bought the previous July from a stall at Faery Fest Festival. " I took my eldest daughter and my friend took her eldest daughter to the Faery Fest where we found not only the headdresses and the dress that Tara married us in, but also The Dolmen, a pagan band who are just awesome."
Her Grandmother's foot did mend thank goodness so she was able to make the bridesmaid dresses (Rachael & Rafe's daughters) for them from red silk.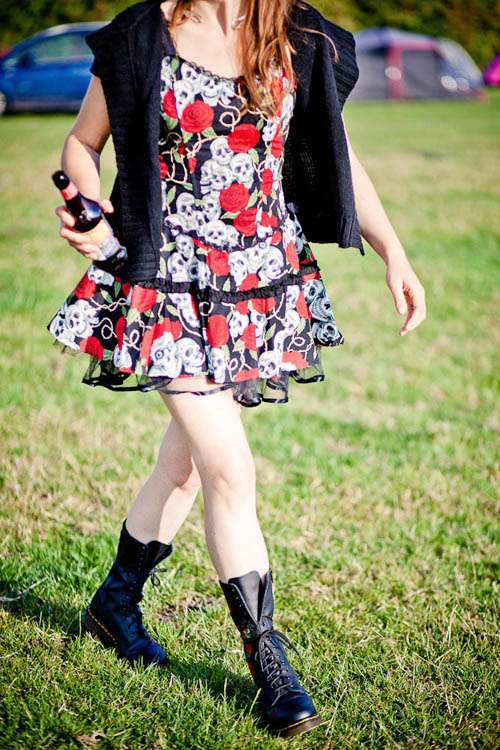 Rachael's second dress, the 'tattoo dress' as she called it, came from Camden Market. " We had gone to The British Boot Company in Camden to get Rafe's boots for the wedding and decided to have a look around the market.  I had already bought a pair of Vonda DM boots for the evening from Schuh along with my step-son's very first pair of DM boots!  We happened upon a vendor selling these dresses and Rafe pointed them out saying it would be great with the boots. I wasn't convinced and left the dress.  Roll on a few weeks I am back in Camden with daughters for their DM boots and we see the dress again… the girls went mad over the dress so I tried it on… evening dress bought!"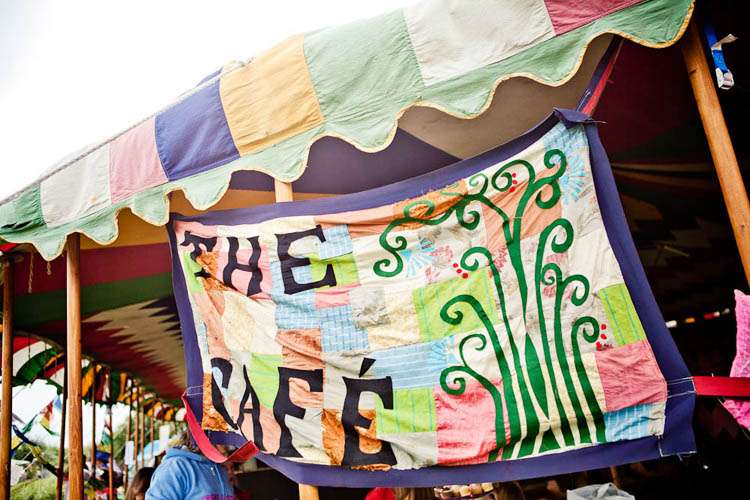 Finally, the exchanging of the rings was a very important part of the day for the couple. Rachael explained, "Rafe and I decided that we would exchange wedding rings at the registry office but didn't want anything from that to encroach on our actual wedding day, so it ruled out exchanging the rings at our hand-fasting.  We decided to exchange torqs instead which are traditional Celtic neck rings.  Ours were made by a company called Crafty Celts.  Rafe wanted wooden rings for the registry office but I work in health care and have to constantly wash my hands (not good for wooden rings) also my engagement ring is made of titanium and due to its hardness we couldn't have anything softer against it.  However we found this company to make our rings of wood AND titanium called Koa Wood Rings!"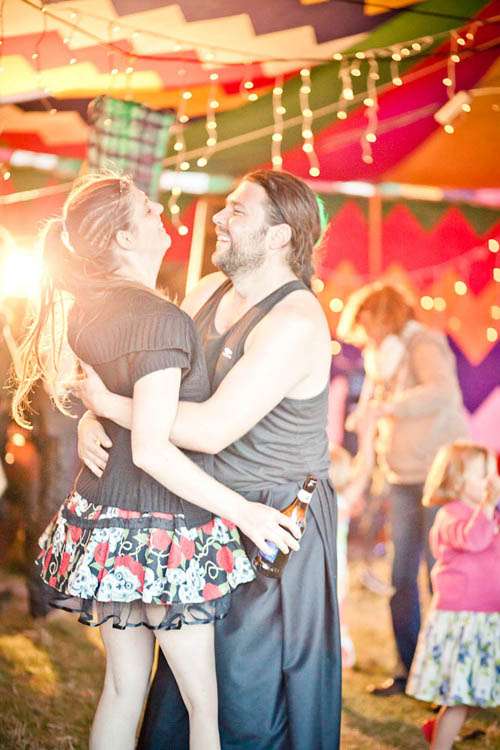 As it was a festival style wedding the couple of course wanted to secure some pretty cool entertainment. They managed to get The Dolmen and The Skimmity Hitchers to play as well as circus skills entertainers in the afternoon for the kids from Circus Magic and a  DIY cricket match after lunch. They also had Picnic baskets from Angel Rock Catering and a hog roast instead of a traditional wedding breakfast.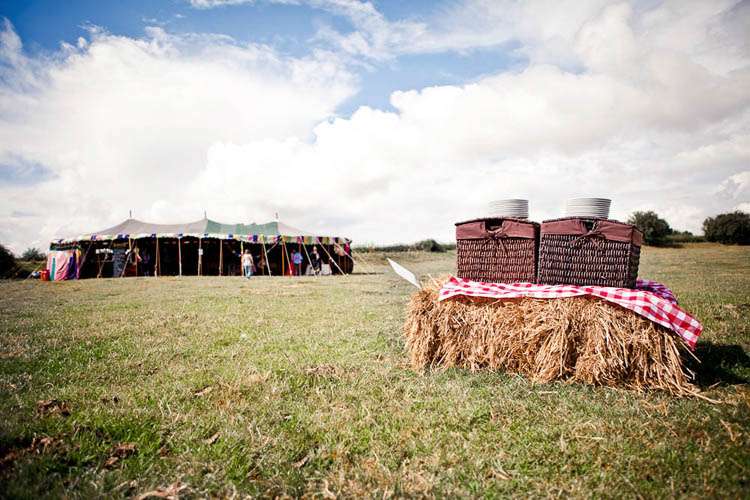 Huge thanks to Rachael & Rafe and their photographer Shell for sharing this unusual and fabulous wedding with us today
Credit: Shell De Mar Photography
Bride's Red Dress: Maggie Sottero, Courtney
Bride's 'Tattoo' Dress: Camden Market
Groom's Kilt: Great Pagan Kilt by The Dolmen Grove Association
Groom's Brooch: Replica Armour & Chainmail made by a friend
Groom's Boots: The British Boot Company
Pageboy's Horn: Ancient Music
Bridesmaid's Dresses: DIY
Kids Boots: Dr Marten
Cake: DIY – Bride's sister
Rings: Koa Wood Rings
Torqs: Crafty Celts
Picnic: Angel Rock Catering
Hog Roast: Robbie's Hog Roast
Music: The Dolmen & The Skimmity Hitchers
Kid's Entertainment: Circus Magic
Multi-Coloured Festival Tent: Flat Cow
Tipi: TipiRent