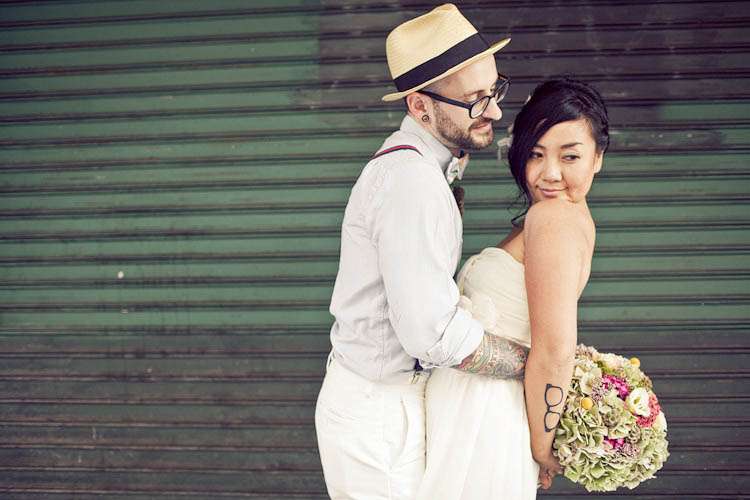 Do you remember Kaori & Alex's killer engagement session? It was all tattoos, awesome outfits and L.O.V.E. I have been dying to see the outcome of their wedding ever since and I ain't half excited to share it with you today.
The couple were married at Old Zoo in Griffith Park, Los Angeles with a reception to follow at Señor Fish in Little Tokyo Area, Downtown LA. Both of them are designers so obviously their outfits were nothing short of unique and utterly fabulous.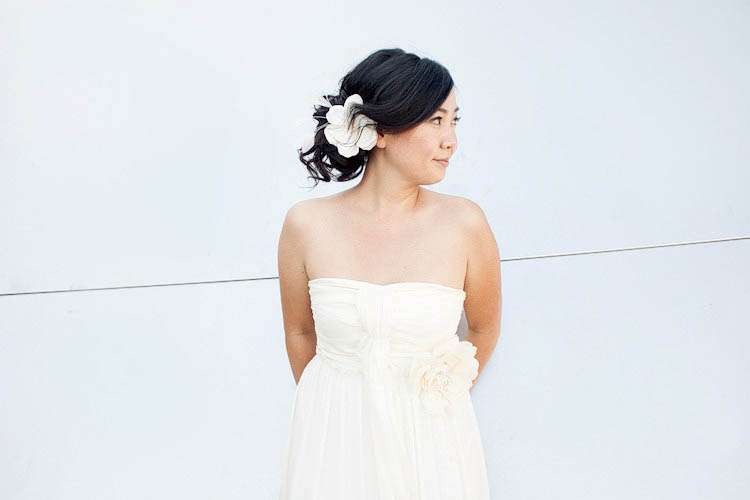 Kaori wore a J Crew dress which she teamed with shoes from Charles David and a gorgeous hair piece from Prim and Posies and a flower pin (on the dress) from Sweetpea & Fawn – both on Etsy.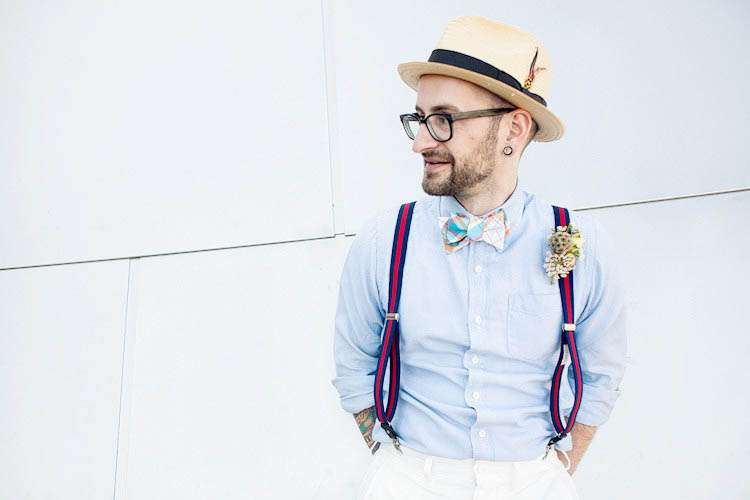 Alex looked just as dapper in his Club Monaco shirt, High Cotton Ties bowtie, Ben Sherman suspenders and Jaxon Hat Straw fedora. He completed his look with vintage Italian leather shoes from Pasadena Rose Bowl Flea Market.
"We wanted bohemian/vintage/cute/whimsical, our favorite blend of all things design in Southern California mixed with our Asian & European roots" the couple told me. Alex is from Germany and Kaori is Japanese so the wedding was filled with people from all over the world. The couple chose to diy a lot, "Start early with DIY planning!!" they said "but it's totally worth it!"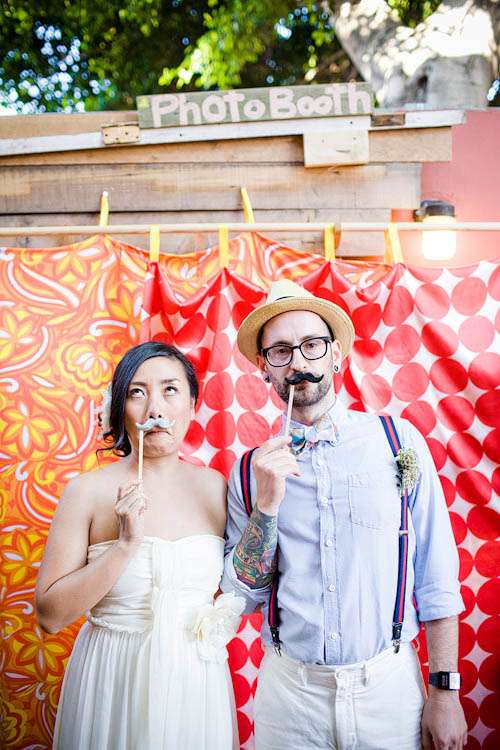 As you can see, the couple both have fabulous ink and wanted to share their awesome artists with you. Kaori's killer glasses tat (hello, I love you) was done by Broken Art Tattoo, Silver Lake, Los Angeles and Alex's kick ass sleeve was done by Traditional Ink, Hollywood.
"Any final comments?" I asked the couple. "Hell yeah. Marriage rocks!!" they answered.
Prepare yourselves for mucho photos in this post – I know everyone says this, but I couldn't possibly cut them down.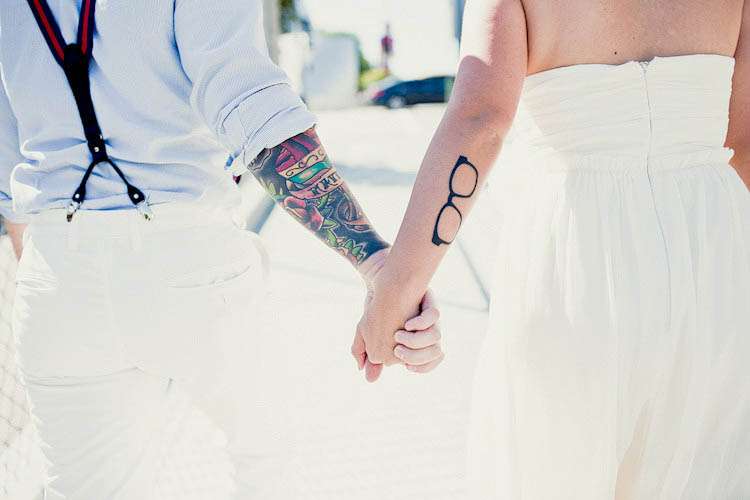 Thanks to Kaori & Alex and their photographer Marianne for sharing these today. How RAD!?
Credit: Marianne Wilson
Ceremony Venue: Old Zoo in Griffith Park, Los Angeles
Reception Venue:  Señor Fish, LA
Bride's Dress: J Crew
Bride's Shoes: Charles David
Bride's Pin (on dress): Sweetpea & Fawn on Etsy
Bride's Hair Piece: Prim and Posies on Etsy
Groom's Shirt: Club Monaco
Groom's Bowtie: High Cotton Ties
Groom's Trousers: J Crew
Groom's Hat: Jaxon Hat
Groom's Suspenders: Ben Sherman
Groom's Shoes: Vintage Italian leather shoes from Pasadena Rose Bowl Flea Market
Cake: Made by a friend
Flowers: Made by a friend
Hair/Make Up: Mieko of Kelly Zhang