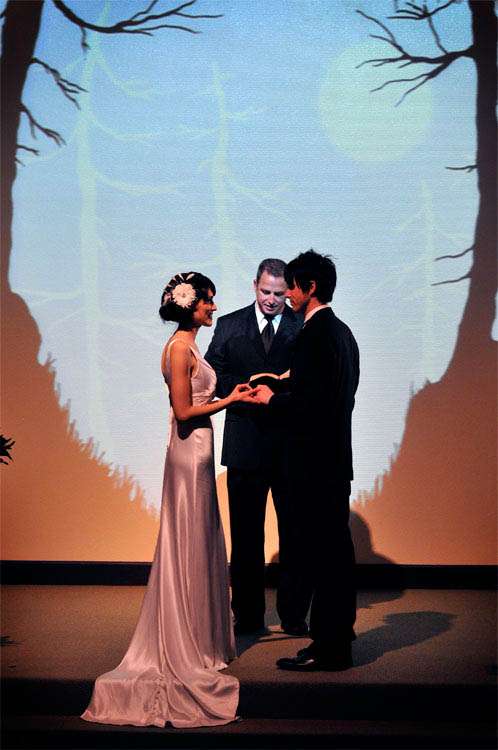 I featured Christy & Daryl's 'Modern Film Noir' engagement session at the beginning of June so it's an absolute pleasure to come full circle and feature their awesome wedding as well, which also had a bit of the 'noir' about it don't you think?
The couple got married on Friday 13th and had a silhouette and dark theme. "Daryl and I are both artists and musicians, and met through a mutual friend/bandmate" the bride told me. "From the get go, our relationship was anything but normal. Our first date was to a funeral and we officially became a couple on Halloween. It was only natural to celebrate our wedding on Friday the 13th. We stuck with the theme of silhouettes, and added black cats and crows to our forest ceremony decor. We wanted to give the evening a moody, magical atmosphere."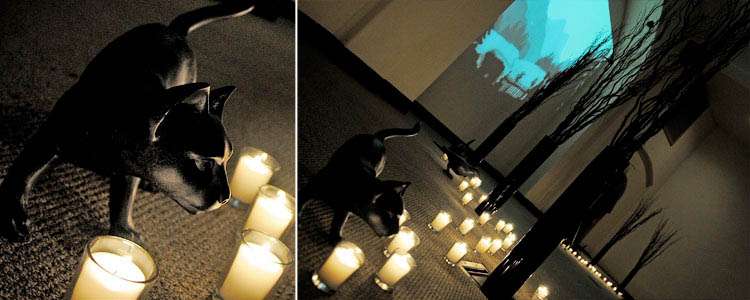 Although it looks anything but, the couple DIY-ed their enchanting wedding on a tight budget. Christy is an illustrator so designed and created all of the paper goods and visual details herself. "We came up with the concept and I took off making our invites, programs, black cat magnet favors and table labels. We worked long into the night for weeks to complete all that we had envisioned" she explained. "We also found lots of goodness from Etsy.com (like my gorgeous cast hummingbird skull earrings) and the decor from a local wholesale store. I'm not really into flowers, so we used feathers for our boutiques, boutonnieres and tables decorations."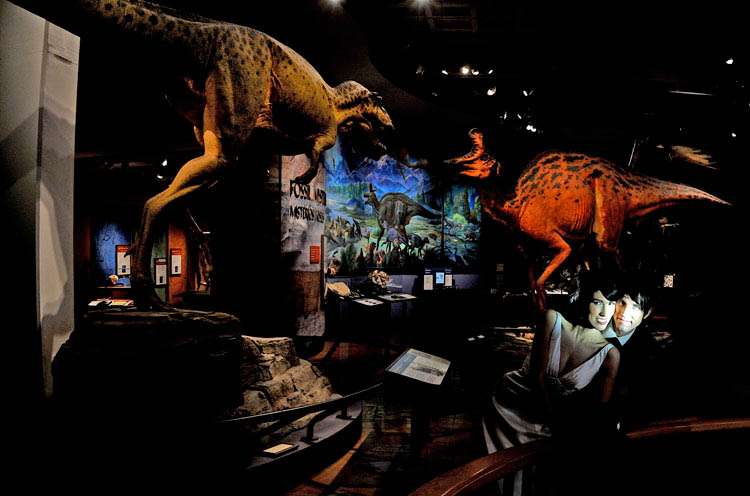 The day started with some pre-ceremony photos at Balboa Park. "I've been a huge fan of dinosaurs ever since I was a little girl, so I couldn't wait to get to the Natural History Museum and pose with some prehistoric friends!" the bride continued.
Their ceremony really was something special and really showed the couple's creative and unique side. Before the ceremony began, they projected animated black & white fairly tale films by artist Lotte Reiniger onto a wall and played mellow music from some of their favorite bands over the top. For the bride's entrance, the backdrop changed to a night scene that she herself had illustrated, and she walked down the aisle to The Cure's "Plainsong" in a glamorous silk 1920s-inspired dress. They also had forest night sounds (crickets, frogs, etc) playing during their short but sweet ceremony.
Sounds totally incredible doesn't it?!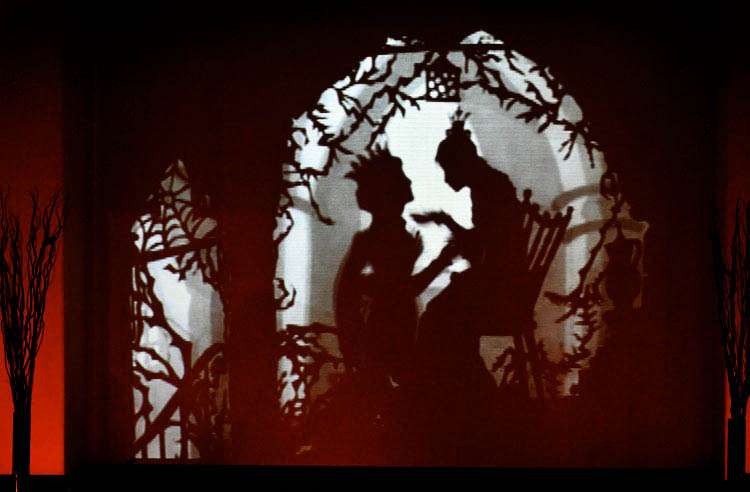 Huge thanks to Christy & Daryl for sharing their sweet day with us.
Be sure to check out the video too!
Daryl & Christy's Wedding from adrian zaragoza on Vimeo.
Credit: Robin Wood (619-687-6206)
Videography: NuWave Productions of San Diego
Venue: Ocean Beach 1st Baptist Church ob1st.org
Dress: Alfred Angelo
Hair Piece: Powder Blue Bijoux on Etsy
Earrings: Blue Bayer Designs on Etsy
Paper Goods: DIY by the bride – Peppermint Daydreams
Make-Up: Mia Valentine 619-249-2914
Catering: Dave Matheny 760-518-1386
Feather Boutiques & Boutonnieres: Tess Silk Flowers
DJ: Unique Technique Productions SD utsd84@hotmail.com