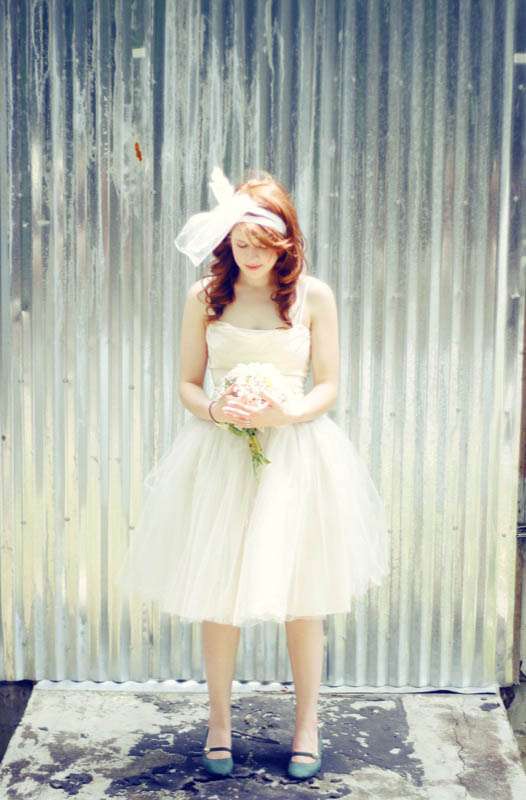 Photography Credit: Team Rhodes Weddings
For today's guest post I asked one of my favourite bloggers and recent bride-to-be Britt of Bowie Bride to write me a little sommat sommat. I am VERY excited as I'm going to be blogging the full report on her "ballstastic Rock n Roll wedding" just as soon as her pro pictures are ready, so I thought a little word from the lady herself might be nice way to whet your appetites for seeing her killer wedding in full!
(I blogged their engagement session here)
Britt wrote about something that I KNOW a lot of you will struggle with when planning your weddings (hell, I know I did) – thoughts like "Am I Rock n Roll enough?", "How are my family going to react?", "Will people approve of our choices?" Well sit back and listen to Auntie Britt, because she of the "no holds barred, titstastic" wedding fame is here to kick you into shape!
♥  ♥  ♥
I'll just be straight with you. I had a kickass, no holds barred, titstastic, totally madhäus, rock n roll wedding, and I couldn't be happier with the way it all turned out.  But I'll be honest… if you showed pictures of our wedding to 'the me' 5 years ago, I would havebeen shocked to see how "alternative" it ended up being.  I would have said, "Yeah right.  We're not nearly rock n roll enough to dream that up, let alone have the balls to pull it off!  What would our families think?!"  I have always considered myself to be unique, and I generally accredit my stark open-mindedness to my career in the arts, my hippie parents and my love for all things rock n roll (music or otherwise).  But the power to outwardly exude a rock n roll attitude and lifestyle didn't really happen for me until I started planning our wedding.  Let's just say that when I said "Yes" to my husband's proposal 1.5 years ago, I wasn't just saying "yes" to a life married to him; I was also saying "yes" to making grab-life-by-the-balls changes that, prior to that moment, I had been too afraid to make.  I wanted this new chapter in our lives to be led by bravery as opposed to fear. In other words, the rock n roll-ness in me needed some serious unleash-age.  So to all you brides out there who consider themselves on the cusp of being rock n roll, this article is for you.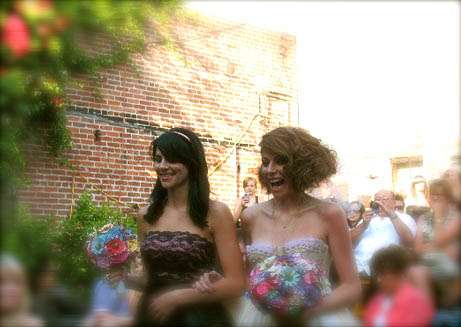 Me, walking down the aisle with my Sister
If there is one thing I learned while being a bride, it's this: Your Wedding = Your Love Personified.  No apologies.  For the most part, I'd say many agree with my logic. However, I still come across couples who plan and execute a wedding that is far from what they actually wanted.  Why you ask?  Well, this comes to pass for many reasons.  But the #1 reason I find why most couples avoid throwing a wedding that is truly "them" is this: they are afraid of what their families will think if they stray too far away from the traditions of a "white wedding."
Let's just pretend for a moment that weddings are just "parties with some added meaning."  That the word "wedding" doesn't even exist.  Instead, the occasion is simply you and your partner making your partnership legal in front of people you care about and like to party with.  If we define a "wedding" this way, we take out the expectation part… the part where your guests expect a giant wedding cake to come wheeling out after eating a 3 course, sit-down dinner… and the part where you, the bride, is supposed to throw the bouquet to all the single ladies… and the part where the question of DJ or Band is answered…
Well I say eff those expectations.  The best, most exciting moments of our lives usually end up being the unexpected ones.  Your wedding doesn't have to be the exception to this.  Just because you hear wedding bells ringing, doesn't mean your wedding balls have to shrivel up and timidly return to their respective sack.  Eff no.  For example, at the beginning of our wed-planning journey, I found myself sticking to tradition for tradition's sake and for our family's sake.  But after months of religiously reading Rock n Roll Bride (love you, Kat!), and seeing all the gorgeous images from couples with weddings that dared to be different, (and by "be different" I mean, "be themselves"), I realized that I too could have the wedding I wanted; I would just have to work past the whole, "Is our family going to think we're nuts if we plan this kind of wedding?" part.  Which, I wholeheartedly realize is harder for some than others.  But please, bear with me.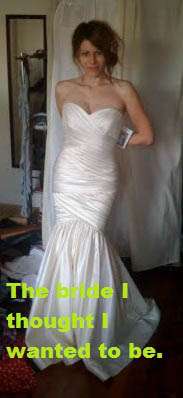 Ultimately, for us, it came down to this: My husband and I got really effing tired of tolerating people's close-mindedness, even within our own families, so much so that it propelled us to throw everything we knew about a traditional white wedding out the window and start from scratch: No rules, no guidelines, no expectations.  And that right there, my fellow rock n roll brides in training, was the first crucial step we took in allowing our rock n roll sides ride.
Everyone who attended our wedding loved it.  Well, at least that is the story I've been told. But regardless of what everyone actually thought of our quirky details, our bucking of tradition, or our general love-hard/party-hard mentality, my husband and I know in our hearts that we had the wedding we wanted, through and through.  It may not have been the portrait of a PG-rated, perfectly styled DIY wedding with all the traditional trimmings, but that didn't seem to matter to any of our guests.  And trust me, I worryworted over what our guests would think of our R-rated wedding choices way too often in the beginning.  It was a total waste of brain space, and looking back, I wished I had suppressed that anxiety more successfully earlier on.  But regardless of our guests beliefs and opinions going into the wedding, everyone walked out of our venue that night filled with joy, happiness, and of course, copious amounts of booze & fusion tacos.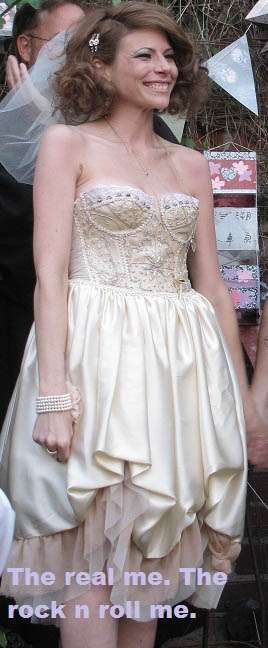 It has been weeks since the wedding, and I still love hearing how much everyone enjoyed themselves and the overall vibe of the affair.  But then I heard something recently that had me cocking my noggin ponderously… while yes, everyone did enjoy themselves at our wedding, we still managed to garner this reaction to it: "That was a perfect wedding for them, but we could never do what they did, no matter how 'cool' or 'hip' our families are. Good for them. But there's no way that would fly for us."  At first, I agreed with this notion, thinking that yeah, maybe some of the stuff we did wouldn't fly at someone else's wedding. But then I thought about this statement more in depth.  I asked myself, "If our families were indeed more conservative, would we have made all the same decisions about the design of our nuptials?"  And after much thought, the answer was a resounding, abso-effing-lutely YES.  It frightens me to think we could have had a wedding with elements that our personalities and beliefs didn't connect with.  In fact, I don't think I would have been able to forgive myself had I not fought to showcase our true personalities and express the wedding ideas we had in our hearts.  If your family and friends are the kind of people who would force you (inadvertently or not) to suppress your personality and all the beautiful oddities that come with it on a day that is supposed to all about YOU and YOUR PARTNER, then maybe they should be dis-invited.  Harsh?  Sure.  But that kind of attitude towards you and your partner is nothing but cruel and should not be tolerated.  I for one am tired of tolerating close-mindedness.  I'm tired of censoring myself. I'm tired of being afraid of what people think.  I'm tired of suppressing my rock n roll attitude based on some fear that I won't be accepted if I don't. And I'd damned if I thought I needed to do the same for my wedding. 
Armed with my new-found "rock n roll wedding or bust" mentality, I told our wedding party to say whatever the hell they wanted in their toasts. And much to my pleasure and enjoyment… profanity, embarrassing stories, and lewd jokes were encouraged and executed.  And the whole "being fiercely 'us' at all times" didn't stop there.  I uttered the phrases, "Sugar Tits" & "Grab Life By the Balls"  in my vows.  There were endless, endless, amounts of naked lady art on the walls.  Our guests stood in line to get their meal off a taco truck.  We served drinks in red plastic keg cups.  We started the dance party with a group shot of tequila.  We played songs during the dance party that can only be described as gangsta-bootylicious (and wildly profane). Two dudes walked down the aisle together arm in arm.  Our wedding favors were stickers that said things like, "I went balls deep at Hitchfest 2010," and "I banged a bridesmaid at Hitchfest 2010."  Our guests were instructed to park at the strip club across the street from the venue.  Guests were encouraged to take the subway to the venue if they didn't want to drive.  My husband and I shared the same hotel room the night before the wedding.  We saw each other before the ceremony (many times).  My sister walked me down the aisle, while my other sister played the processional song on electric guitar. And when I finally stepped foot down that aisle, escorted by my sister, I felt nothing short of amazing.  
I didn't once wince at the thought of our guests disapproving of me not being walked by my father. In fact, this whole worry over whether or not our wedding choices would be "approved" of by our guests just went away.  The entire night, I just kept saying, "YES. Yesyesyesyesyes!"  And no one complained.  Or scoffed outwardly at the naked ladies on the walls, or at the profanity uttered during the toasts.  No one cared.  Not even our more conservative Midwest relatives cared.  And I'm telling you right now, that if we were able to have the exact wedding we wanted, uncensored and all, and haveitbe a success through and through regardless of how many conservative, traditional types we had on the guestlist, then you can too.  All that will matter to everyone present on your wedding day is the moment they get to see you marry your partner.  The rest of the wedding is just extra added goodness.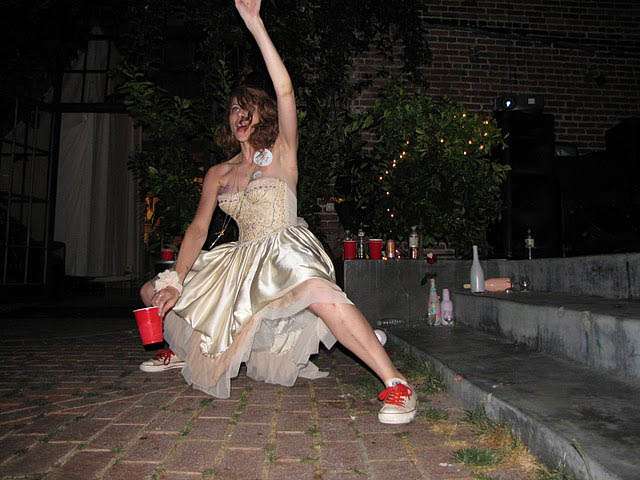 Yep, I got drunk…and I danced…and I didn't care!
So after all that… are you still afraid of planning a rock n roll wedding?  Well, here's a tip: "warn" your fam n friends that they're in for an offbeat treat of a wedding by sending them an invitation that exudes said vibe.  That's what we ended up doing.  We didn't even call our wedding a "wedding" on the invite.  We instead referred to our day of nuptials as "Hitchfest 2010."  Our invite was in the form of a concert poster, with the disclaimer: "Pants: Not Permitted."  So I think our guests knew what they were in for before they signed up for it.  And that right there was first step we took in executing the (rock n roll) wedding we wanted.