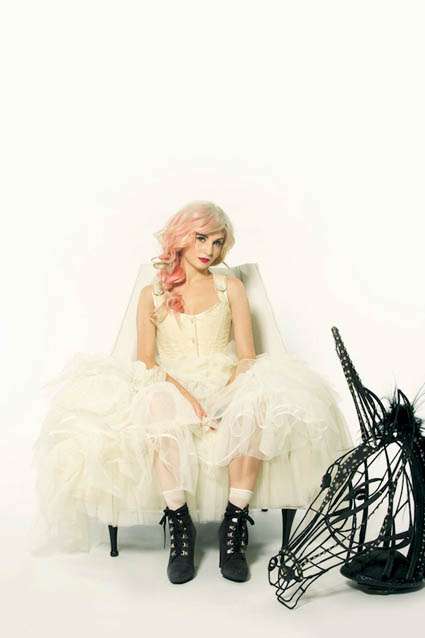 Hi Kat, I've been pouring over your wedding blog for 6 months gathering lots of gorgeous ideas for my wedding next year. But before that I've got my new sister-in-law's very traditional wedding to attend as a guest in April  <not THAT wedding btw!> I've been trawling the internet for weeks trying to find the perfect outfit/accessories which will mark me out as a bona fide Rock n Roll Bride-to-be, without upstaging the bride – well, not too much anyway!
I would love it if you were able to work your Rock n Roll magic and help me find some inspiration.
Thank you!!!
Keren
♥ ♥ ♥
I do adore a good fashion-related post and who could be more perfect to help out with this dilemma than blogger and stylist Charley of London Bride? This girl is my ultimate go-to-gal for internet pretties everywhere. You need it, she can find it! (and she often finds things perfect for me that I don't need…crystal encrusted skull anyone? Seriously I'm now obsessed with it. I need it in my life!)
Keren, I hope you love Charley's style ideas as much as I do, and you find something rockin' to wear to your sister's wedding!
Pretty Pastels
You can never go wrong with a feminine and vintage style look for a traditional wedding. This pretty pastel butterfly dress is girly but not too over the top and the accessories just hint at a bit more colour. The pop of blue feathers in the fascinator will make sure you stand out!
Butterfly Dress: Topshop – £50
Coral Shoes: Kurt Geiger – £80
Feather Headband: Rock n Rose – £24
Blue Handbag: Topshop – £33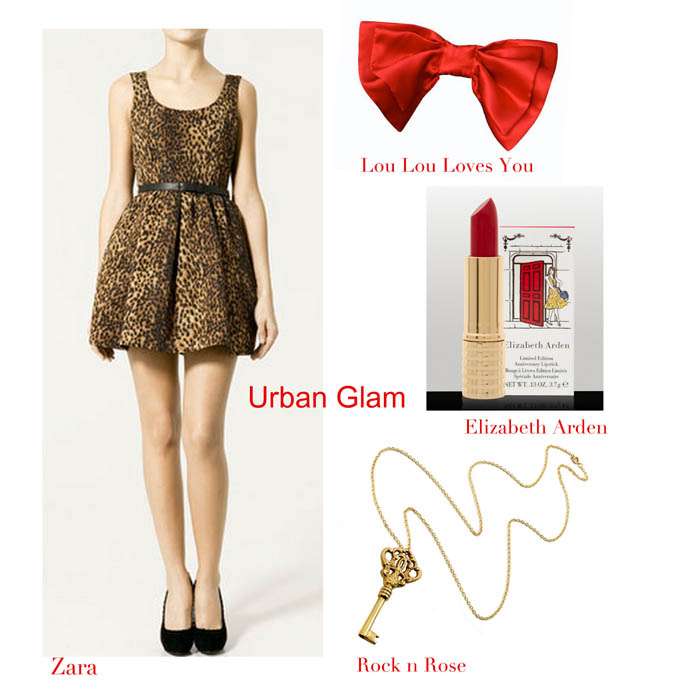 Urban Glam
This look is a great option if you don't want to play it safe, and you can be sure to be the only one in leopard print at a wedding. Red accessories like this cute giant bow for the hair and bright red lipstick are a must to add a touch of chic and the antique gold key on a chain helps to break the pattern up. You may want to add a pair of black opaque tights if it's a cold day!
Leopard Print Dress: Zara – £70
Elizabeth Arden Limited Edition Lipstick: Asos – £18
Giant Hair Bow: Lou Lou Loves You – £20
Antique Gold Key Pendant: Rock n Rose – £21
Floral Brights
This bold dress is the perfect spring time solution and you'll definitely be able to dress it up or down after the wedding. Add a more unique touch by placing the corsage headband at the front of your head as opposed to on top and those green shoes will add a spring to your step!
Floral Dress: Orion London – £62
Essie Mesmerize Nail Polish: John & Ginger – £8.95
Emerald Truffle Court Shoe: Office – £30 (on sale)
Flower Headband: Dorothy Perkins – £6.50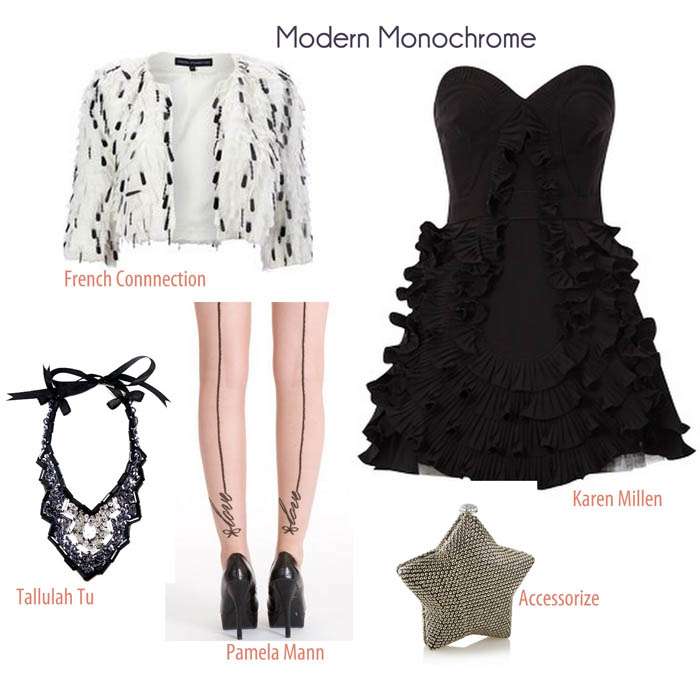 Modern Monochrome
If it's a traditional wedding then you may want to go a little more formal and monochrome is fool proof. A prom dress and sparkly accessories stop it from being too plain and the shrug can be worn during the day as a cover up for church if you feel a bit bare. The love tights are a cute touch and will bound to be a talking point!
Sequin Shrug: French Connection – £41 (on sale)
Black Ruffle Prom Dress: Karen Millen – £54.95 (on sale)
Bow Embellished Bib Necklace: Tallulah Tu – £12
Signature Love Seam Tights: Pamela Mann – £7.99
Star Clutch Bag: Accessorize – £35
Charley xx
Check out more of Charley's style and wedding tips over at her blog London Bride
You can see more of Charley on Rock n Roll Bride right here.