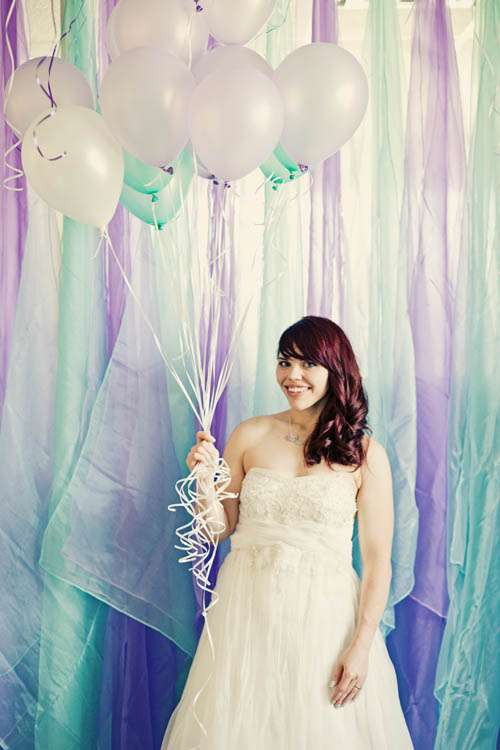 You might remember Megan from her Historic Firehouse Bridals that I featured a few weeks ago. I loved them so when her photographer Erica of Turner Creative Photography sent me the photographs of her and Kevin's wedding, I couldn't wait to share them on these pages. Even more so in fact when I found out their day was an all-out budget diy fest – one of my favourite types of weddings! I also knew that Megan hadn't worn her actual wedding dress for her bridal shoot so I couldn't wait to see what she's chosen too.
The wedding took place at Highway Gardens at the Missouri State Fairgrounds and the Missouri Electric Co-op Building. Megan looks stunning in her Alfred Angelo(Sapphire collection style 805) which was their only big splurge. Everything else was a diy family effort.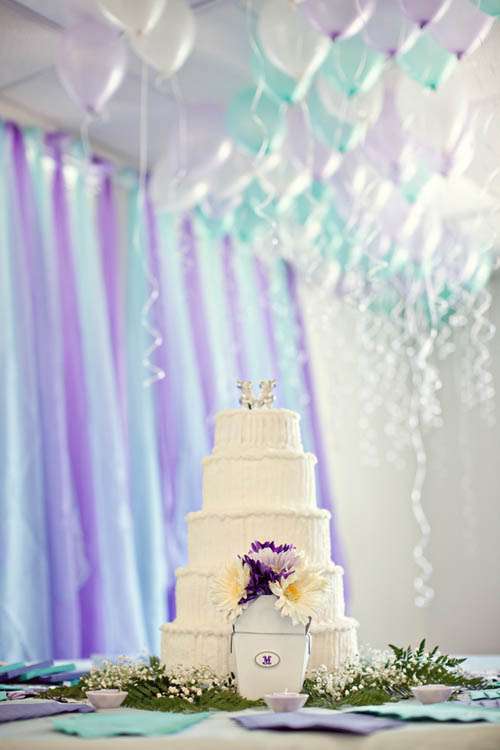 A family friend made the cake and her aunt did all the flowers. The cake was actually quite ingenious as they used styrofoam for all the layers except the top layer which was actual cake. They didn't need that much cake as their wedding was quite a small affair but the styrofoam layers (covered in icing) were used to add height and drama. Great idea!
The catering was also all done by family members and the bride and groom made over 400 cookies in hand-decorated bags for favours. A few other fabulous details included the 'friend board' – a collage of photographs of all the couple's best friends. "We made a photo collage of all of our friends, because we were tired of how much of everything was focused on us. We figured people would be excited to see photos of themselves instead of us" they explained. The orders of service (also diy of course) were made into fans as the considerate couple knew it would be really hot at their outdoor ceremony.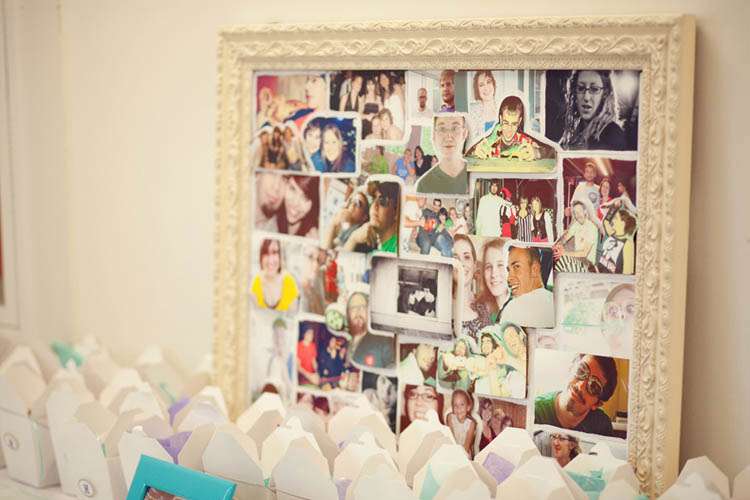 Finally, the groom's brother acted as officiant. He got ordained especially for their wedding and Megan wrote the ceremony for him. "We used bits and pieces from Calvin and Hobbes, the Princess Bride and some inspiration from around the web. The ceremony was ridiculously short, because neither one of us are big huge on attention, and it was about 105 degrees outside (in Missouri, so it felt positively nasty–so glad I had a short dress)" Megan continued.
"Neither Kevin nor I are big on tradition at all (we are both liberal and hate pomp and circumstance)–but seeing as my family is huge and conservative, we tried to mix the two–relatively traditional format with some quirks thrown in" the bride concluded.
"For one, our processional was "We're Gonna be Friends" by the White Stripes, my processional was "Here Comes the Sun" by the Beatles, and our recessional was "99 Red Balloons" by Goldfinger. I also wore a short dress, which I played off as being because of the heat.. but I would have worn a short one, anyway–screw trains! I had one bridesmaid (who wore a dress made by her Grandmother) and two uh, bridesmen, I guess. The two guys on my side, Nate and Ryan, have been friends with me since third and sixth grade. We included no religion in our ceremony at all (we just talked about us and what it means to be together)."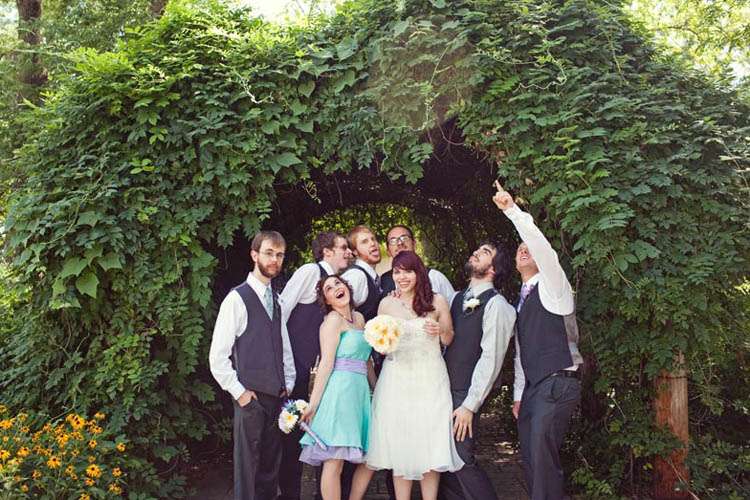 "One of the coolest thing about this wedding, aside from the getting married part, is that we had some of our "internet" friends come visit us. About 15 people, all of whom play an online game that Kevin plays (and I draw pictures four), flew in from various places to spend a few days with us, and see our wedding. They came from Oregon, Canada, Minnesota, Michigan, Wisconsin, Missouri, Maryland and Texas. They're probably the coolest group of people you will ever meet."
"The wedding day went as smooth as it possibly could have, because I decided that if anything went wrong, I'd just go with it. I was soooo laidback about the whole thing, and wasn't nervous or worried at all. It was very strange. I expected to be nervous, but there were no nerves at all! To top it all off, nothing went wrong at all, so I think sending out some positive mojo helped out."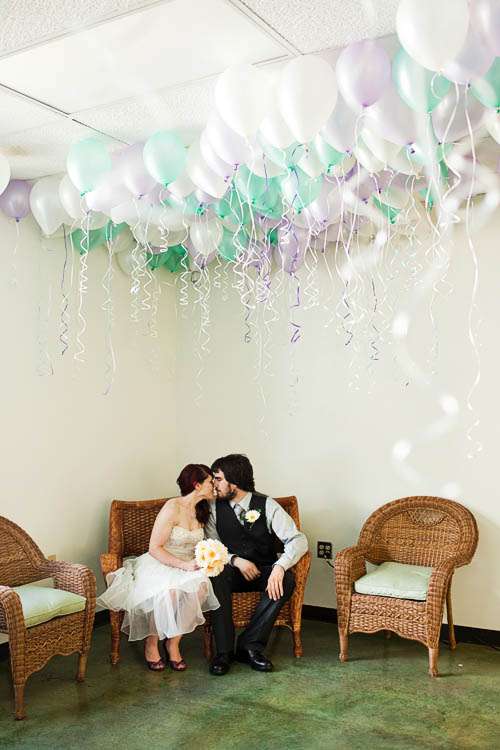 "We did pretty much everything ourselves, because we are awesome (and poor)."
Thanks to Megan & Kevin and their photographer Erica for sharing this rad wedding with us today
Photography Credit: Turner Creative Photography
Ceremony Venue: Highway Gardens at the Missouri State Fairgrounds
Reception Venue: Missouri Electric Co-op Building
Bride's Dress:  Alfred Angelo (Sapphire collection style 805)
Bride's Shoes: Mootsie Tootsies' (found on ebay for $20)
Bride's Earrings:  HilaryCaroline on Etsy
Bride's Necklace:  Nomsa on Etsy
Groom's Outfit: Kohl's
Bridesmaid's Dress: Made by her Grandmother
Personalised Items: The Knot
Guest Book: Blurb
Cake: Family Friend
Flowers: Bride's Aunt
Stationary: diy
Catering: diy
Cookie Favours: diy
Vases: diy