James & Holly had a beautiful countryside wedding at the couple's home, Newhouse Farm in Cornwall which they share with James' family . The couple, who star in the TV series, It's Not Easy Being Green, wanted a homespun, eco style wedding that truly reflected them as a couple and a family.
In keeping with their 'green' theme the couple arrived at the church on shire horses, which when they're not glammed up for weddings are actually used to plough fields. "Our aim was to have as 'green' a wedding as possible. We wanted to have our reception at the place that had brought us together, Newhouse Farm" they told me. "Certain steps towards a green wedding were fairly straight-forward: we wanted to use only local, seasonal produce as well as British grown, seasonal flowers. Our venue, Newhouse Farm, is powered completely by solar power, a couple of wind turbines and a waterwheel, as well as using only water from our own natural spring. We even had a compost loo and a compost urinal for our guests to use! Green transport was also easy to achieve, after all what could be more romantic than using a pair of beautiful Shire horses to transport us to the reception. (Actually this was a bit of an extravagance as the church was only 100 metres from the venue… our guests simply walked!!)"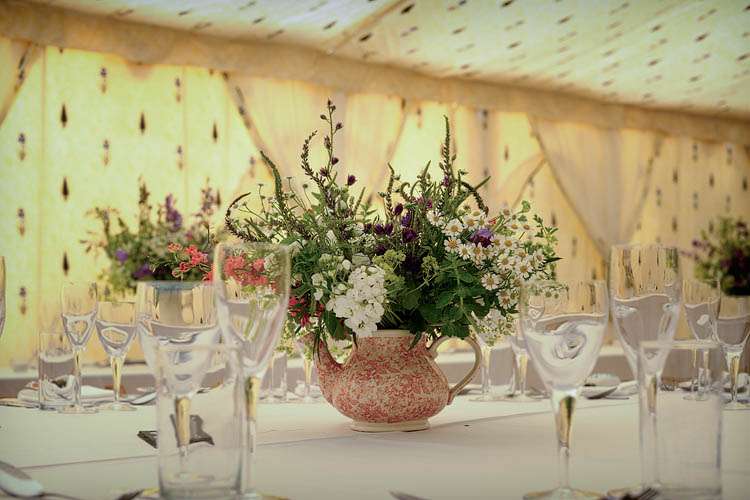 The couple selected sustainable flowers from locally grown sources. "It was important for us to use British grown, seasonal flowers rather than hot-house grown flowers imported from overseas. We wanted to achieve a 'just picked from the hedgerow' kind of look. The Flower Patch Company specialise in producing homegrown seasonal flowers" the couple told me.
The bride made the cakes herself – a mountain of fairy cakes using eggs from their own free range hens, organic flower and butter and UK grown sugar, plus some lemon juice to make the icing a little less sweet. "It took a day to make them all but it saved us money." They also included their own air-dried ham, home-smoked cheese, and homemade chutney in their wedding menu. Food as a whole was possibly the most important thing for them to get right at their wedding. "We're quite a 'foodie' family, and as well as growing lots of our own veg, fruit and meat, we like to spend a lot of time cooking in the kitchen" Holly continued. "We chose a local Cornish catering company About Taste. They worked with us to create a completely bespoke menu, using our own recipes. They used only seasonal and local produce, as well as some of our own chutneys and jams, and we were delighted to see that our guests plates were empty by the time they were cleared away." The couple even made their own elderflower champagne and used a mixture of local and organic wine to keep their guests merry.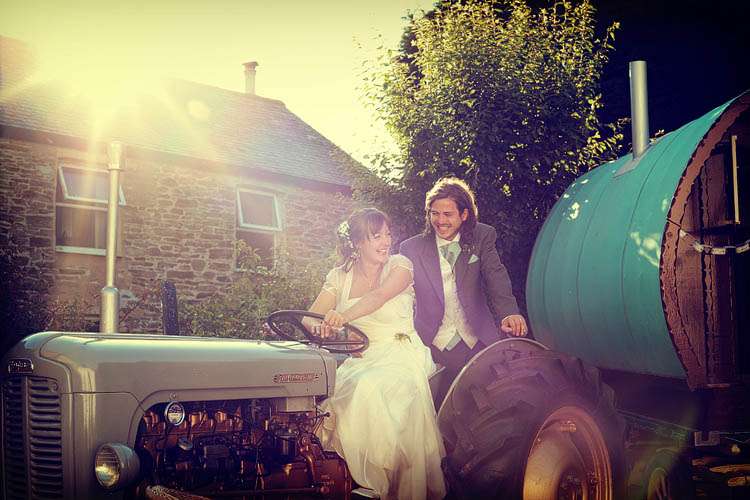 Holly decided that she didn't want to spend a fortune on a dress that she'd only wear once so she opted for this gorgeous dress from Coast and shoes from Pink. "Try as I might I couldn't find a 'once worn' dress, or a dress made from organic material, that I liked, that fit, or that wouldn't break the bank" Holly explained. "My original intention had been to get a dress made that could be altered to create another dress afterwards (ie a dress I could wear more than once). And weddings inevitably involve people travelling from all over the country, and often across the world, to be with you on your special day. So wherever possible we encouraged our guests to travel by train or car share. "
Finally, the couple continued their green theme all the way through to their honeymoon. "We couldn't justify spending thousands of pounds by honeymooning in the Maldives, and creating a whopping carbon footprint in the process of getting there and back. So instead we chose to spend our honeymoon travelling around Cornwall the slow way, in a gypsy caravan pulled by a vintage tractor. We spent a month travelling at approximately 10 mph along the tiny winding lanes that criss cross Cornwall, stopping in campsites and discovering parts of our local area that we'd never even heard of before. Now the caravan is situated in a secluded corner of a meadow at Newhouse Farm and is available to rent if you want to do the same thing!"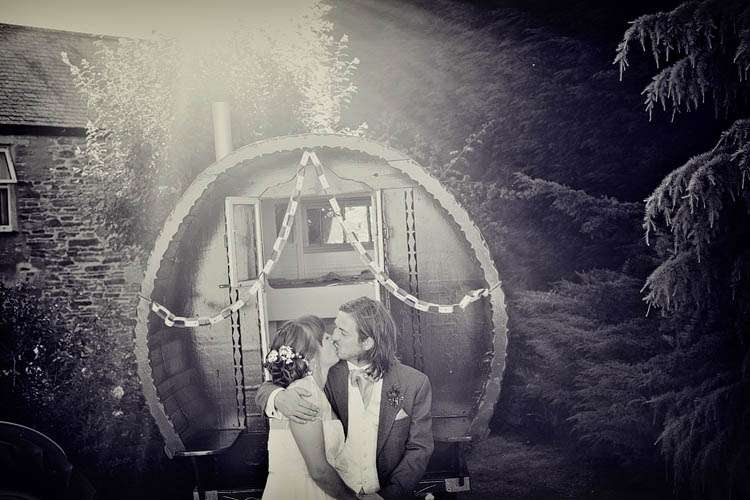 Huge thanks to James & Holly and their photographer Richard for sharing this wedding today
Photography Credit: Richard Rayner
Ceremony Venue: Village church, St Andrew's Tywardreath
Reception Venue: Newhouse Farm
Bride's Dress: Coast
Bride's Shoes: Pink
Bride's Earrings & Necklace: Yarwood White (Angel Collection)
Groom's Outfits: hired from Moss Bros
Bridesmaid Dresses: Traffic People
Catering: About Taste
Flowers: The Flower Patch Company
Transport: Pikna Shire Horses
Gypsy Caravan: Gypsy Caravans Cornwall
Hair: Freya Colette
Make Up: Suzi Winter
Marquee: White Canvas Tents