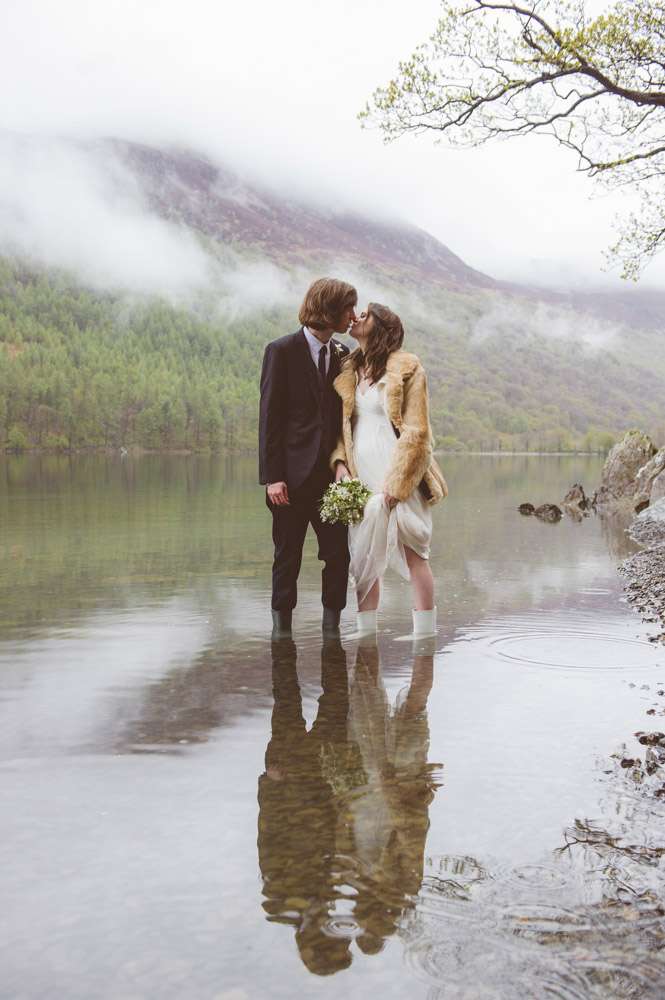 I was rather over-excited when I laid eyes on Helen and Andy's Lake District wedding, shot by the amazing Neil Douglas Photography. I mean what could be more incredible than getting wedding day portraits like these in a setting like that!? Hats off to the photographer of course, but also to the awesome couple for not being afraid to potentially get a little wet or muddy. I'd love to see more brave couples like this please, who's with me?
The wedding was held in Buttermere, with the ceremony in a local church and the reception in a tipi in Buttermere field. The couple didn't have a huge budget and opted to DIY and thrift a lot. Helen wore a dress which she bought off eBay for £100 and customised with her grandmother's vintage fur (a last minute edition due to the weather).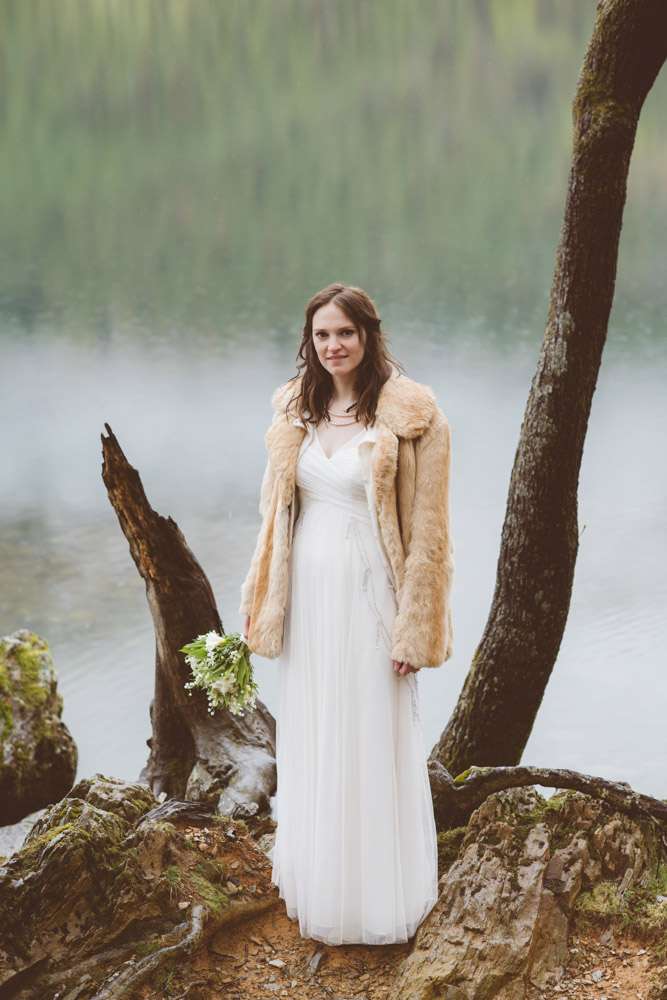 "I am from from the Lake District and we love walking and being outside", Helen began. "So we wanted to make our wedding a memorable long weekend for our guests. Most people arrived early Friday and stayed for the weekend, having Sunday afternoon tea and post-wedding cake at my parents' house. We knew we wouldn't be able to stick to a formal structure of the day once the drinks started flowing, so we squeezed the best man's speech in on Friday night at the local pub."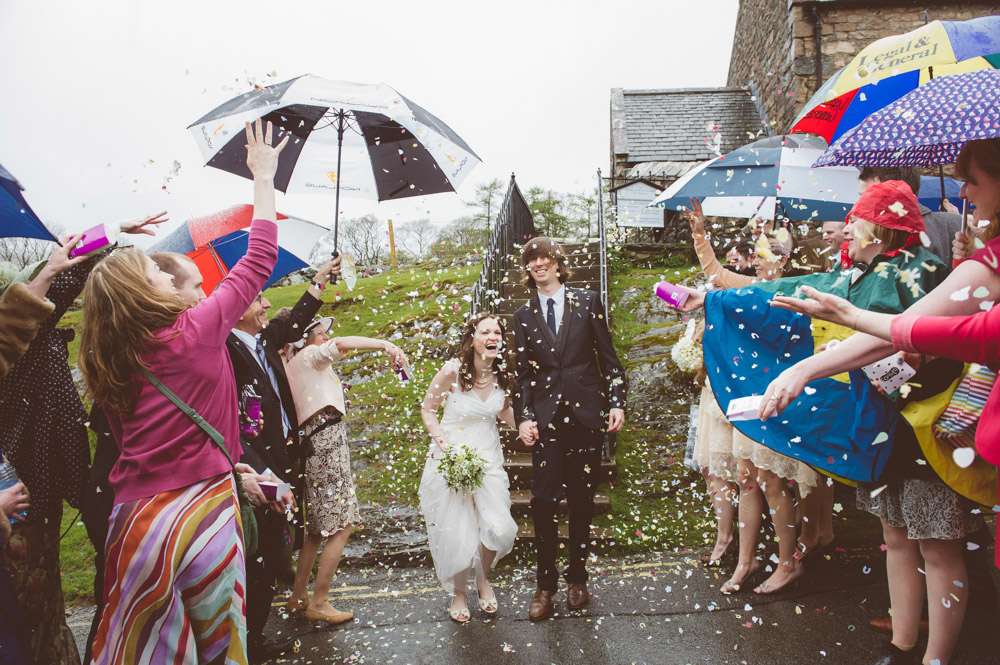 "We had planned to take our guests on a walk for a couple of miles after the ceremony, but on Saturday morning we woke up to torrential rain so had thought that everyone would abandon the idea of walking in favour of keeping dry. But after the ceremony all our guests came out of the church already wearing their waterproofs and boots, really up for a walk in the rain! The weather really made for some amazing atmospheric photos of the mist on the fells, and we were so pleased that our photographer Neil was there to capture the beauty of the surroundings. We had met up with Neil a few months earlier for an engagement shoot, and after we saw those pics I knew it didn't matter if my hair got rained on, or my make-up wasn't perfect as Neil would make us look good in the photos anyway!"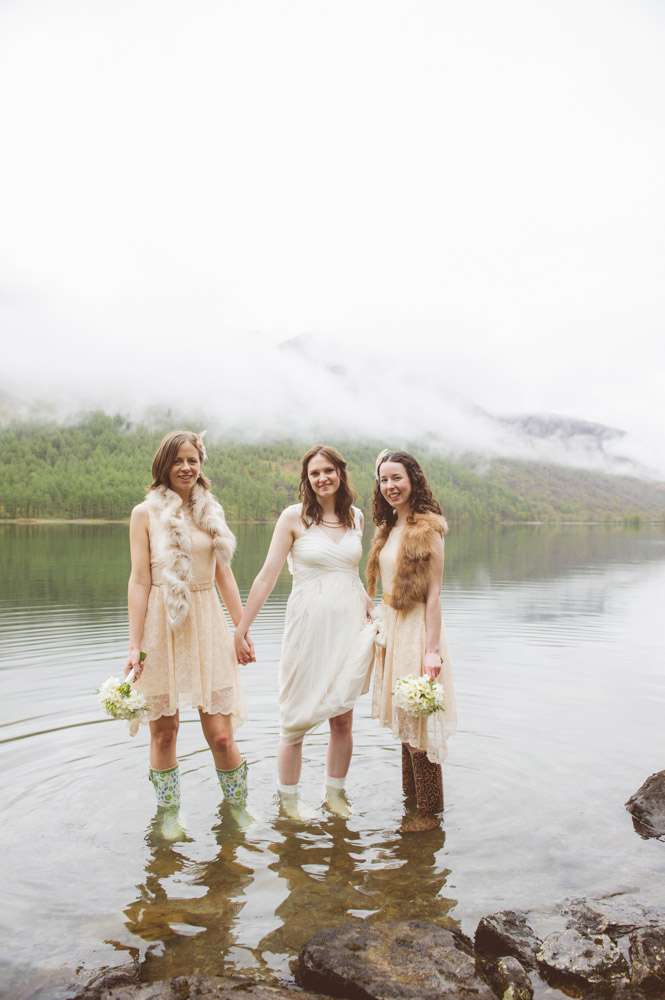 "Luckily the rain eased halfway round the lake, and by the time we reached the tipi it was fine enough to sit outside for the picnic and dry enough for everyone to get out in the boat! Having the boat was bloody hilarious and provided so much entertainment, especially when one of our guests became over-enthusiastic with his rowing, snapping an oar in half!"
The couple provided two meals. Firstly a picnic which they put together themselves, and later in the evening tapas provided by Choice Catering Cumbria. The tipi was decorated with found items such as sheep skulls (found around the fells) and jam jars used as drinking glasses. They also used furniture from friend's homes to fill the space.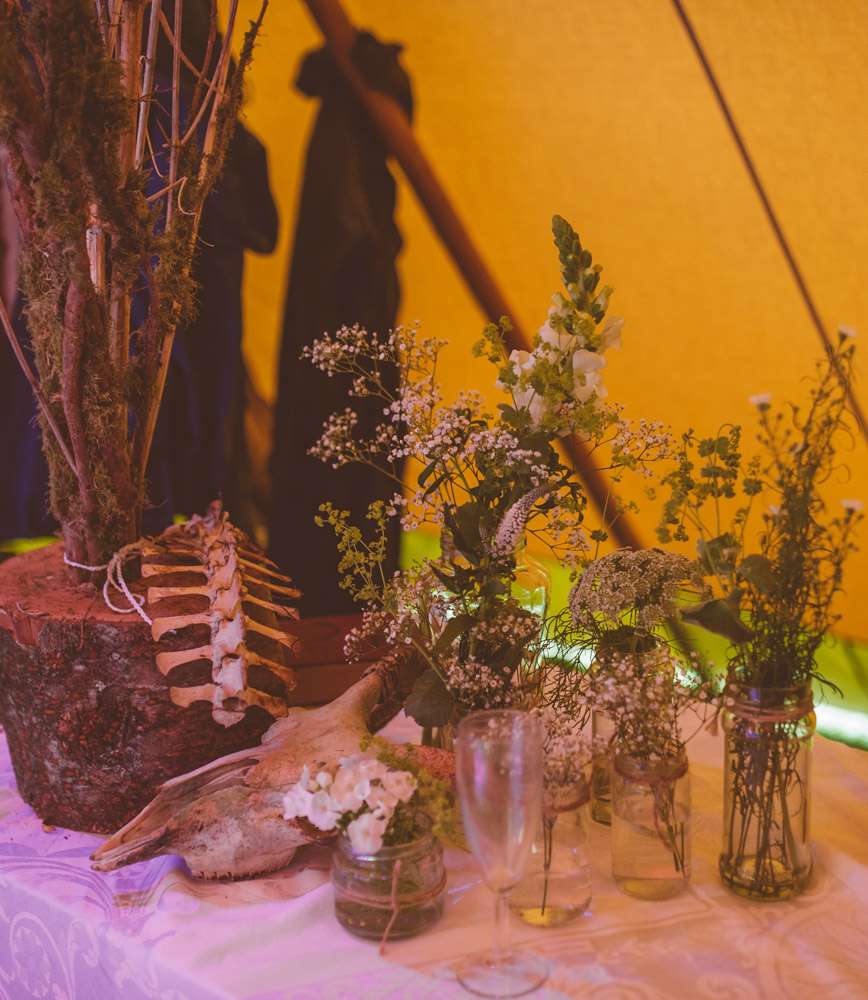 "We made several little trees from mossy covered branches and gnarly bits of wood covered in lights to bring the outside into the tent", Helen explained. "We also used an old door and a letterbox as a place for guests to post their cards and presents."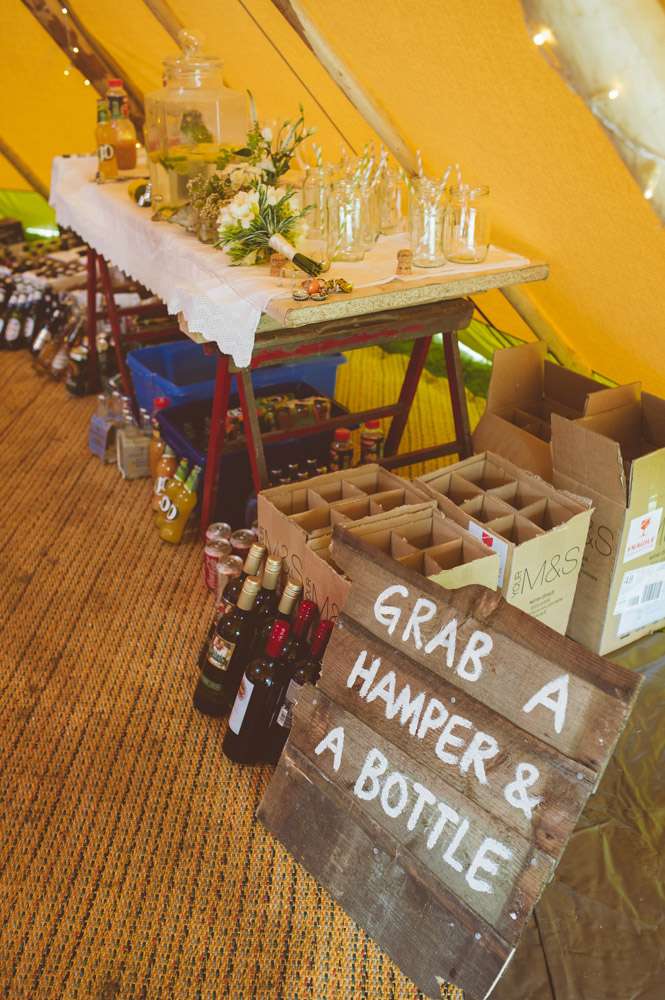 "In the evening we sat down to eat some amazing tapas dishes – good food is really important to us and our caterers really pulled it out of the bag with Spanish baked prawns in sherry, meatballs in cranberry chutney, corn empanadas and chilli stuffed tomatoes, all with big hunks of olive bread to soak up the juices. After eating (and feeling the effects of the free bar) we kicked off the party with our first dance to the Libertines, and continued dancing into the night. Andy spent weeks putting together the ultimate playlist – we kept getting comments that everyone was exhausted from all the dancing but couldn't sit down as we kept bashing out tune after tune!"