Unfortunately I haven't been able to get the Australian wedding together on time to take us over to Oz for our final wedding of the day today (I want to make sur that when I put it up it will be perfect and have all the info you might want on the event so pweease forgive me!??)…however I have managed to secure a pretty damn shaaaweeet Steampunk wedding which took place in San Francisco to round today off nicely. I'm sure you won't be disappointed with this baby…in fact I am so in love with this wedding that I appear to have titled this post will the longest, most over-excited, rambling header ever!  
Violet & Eric are certainly going to being some much needed spice to Rock n Roll Bride today. I had an amazing chat with the super creative bride (who also makes her own Steampunk inspired jewellery – you can see some of her designs here) where she told me all about their wedding.
"Our inspiration for the whole thing was not only the aesthetic but also the philosophy of Steampunk. Steampunk to us honors and glorifies the balance of technology with artisan aesthetic; the need to maintain a sense of beauty, along with a more finely-honed machine. (The Steampunk computer case mods are a perfect example — making a modern PC look like a vintage Victrola or Underwood typewriter, tools which were technologically less advanced, but aesthetically far more classically pleasing to the eye.)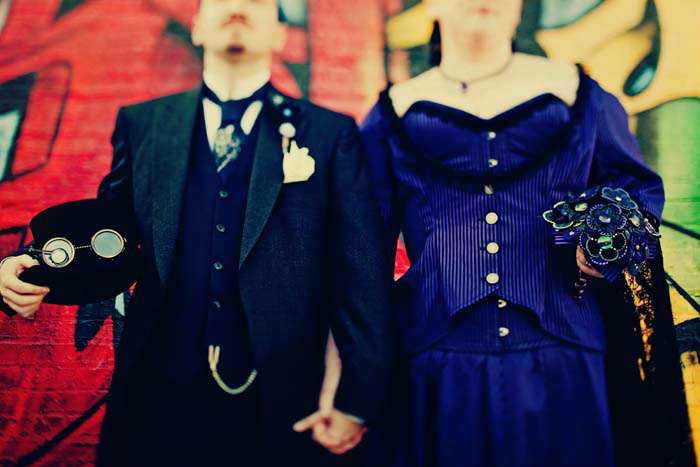 My now-husband and I are both deeply optimistic and adventurous artisans in many different ways; I am a professional actor currently earning my Master's degree in drama therapy. He is a writer, visual artist, photographer, and video game producer. We wanted our wedding to be, as I wrote in our invitations, "a raucous celebration of our nuptials." We wanted it to be whimsical, adventurous, bold, and to feel as though it were in a heightened magical reality. We are also both deeply fond of the Steampunk aesthetic, and I am an active member of the Bay Area Steampunk community, so a Steampunk masquerade wedding seemed like the perfect thing!
Something else that made our wedding different from the ones I have attended was our ceremony. It was, all told, approximately 5 minutes long. It involved us entering and walking up the aisle together hand-in-hand (which already breaks a couple of "wedding rules") to our live band playing a segment from the song 'The Final Countdown'.
The rest of the night was spent eating, drinking, dancing to our amazing live band, and having the single greatest party of my entire life. It is only due to the sheer alchemy of our amazing photographers Tinywater  that the photographs do it justice, and even then, it's a shame you weren't there."
Wow thanks to Violet for chatting to me today and to Caroline of Tinywater for sharing the wonderful images.
ps yes, there are a lot of images in this post – I couldn't help it!