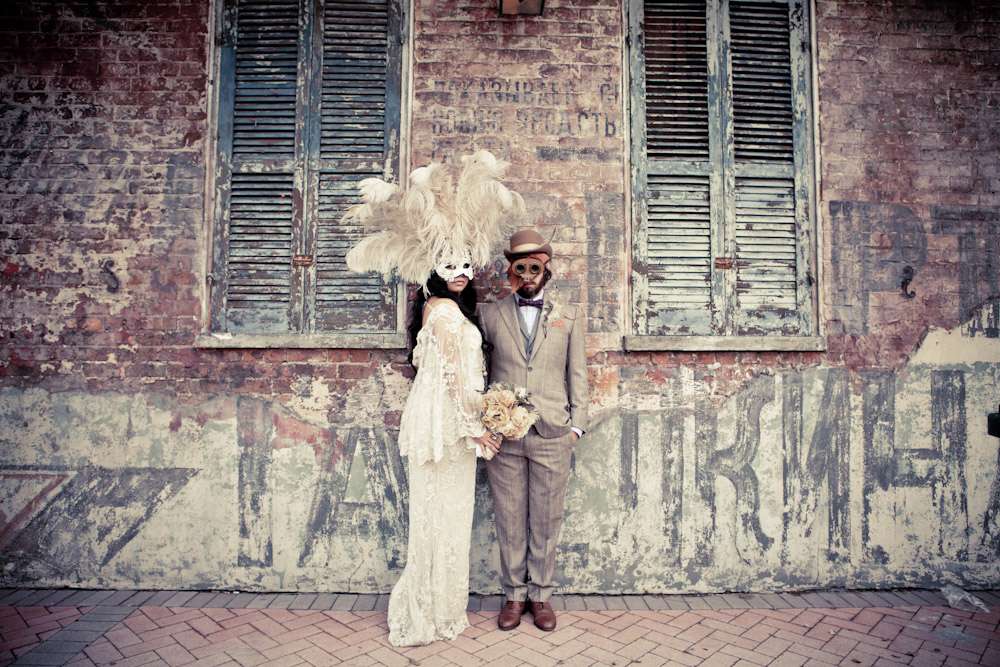 I receive upwards of 50 submissions on a daily basis, and needless to say I do see a lot of very similarly styled weddings. So when a wedding like Leslie & Collin's lands in my inbox I'm over the moon, thrilled and super duper excited to feature it because it's just so different. I'm totally losing my cool over this theme and the way the couple executed it. They also planned and styled the entire wedding themselves, making it a million percent more awesome in my book.
The wedding took place in New Orleans at Race & Religious, a 1830s Louisiana compound full of restored Creole cottages. The bride, a fashion stylist, and the groom, a photographer, really wanted to put their own stamp on the day but also to have a wedding that worked with the surroundings… and what could be more perfect for New Orleans than a masquerade ball?!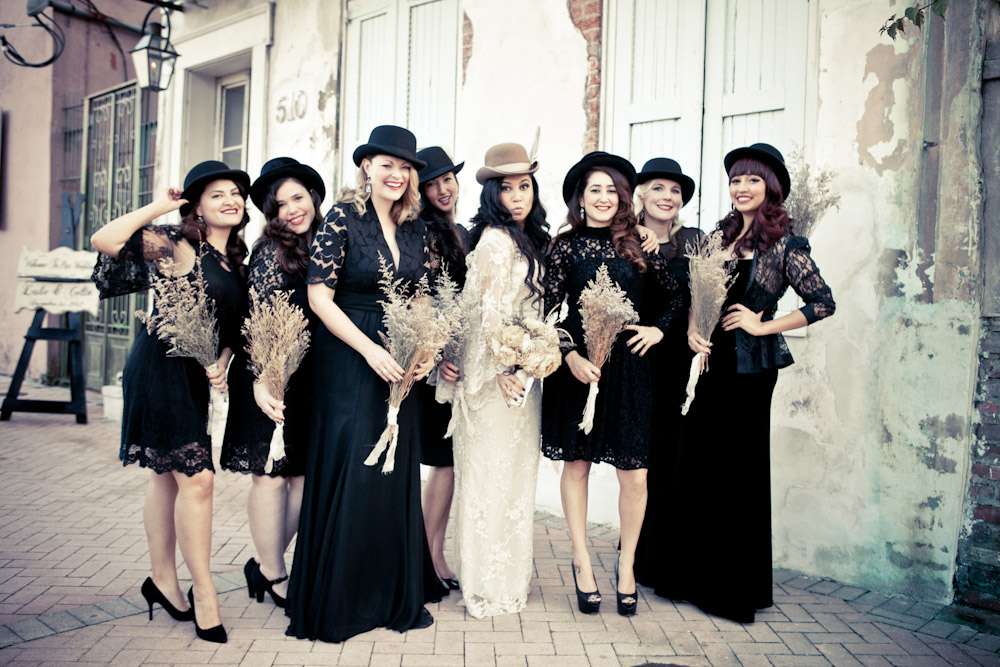 "We wanted to create a unique wedding and a fun celebration!" began Leslie. "We have been together for 12 years. I met Collin when I moved to Houston from California. Since the day we met, we have not been apart! We currently live in Houston, TX but often travel to New Orleans, and we decided it would be a great city to have our friends and family from all over the states and Mexico to come visit! We love anything vintage, antique, rustic, circus, masquerade, old films, vaudeville… so that was our theme for the wedding. Our guests were a mix of high school friends, fashion industry friends and both of our families. We did a lot of DIY and involved our families and friends to help us as much as possible."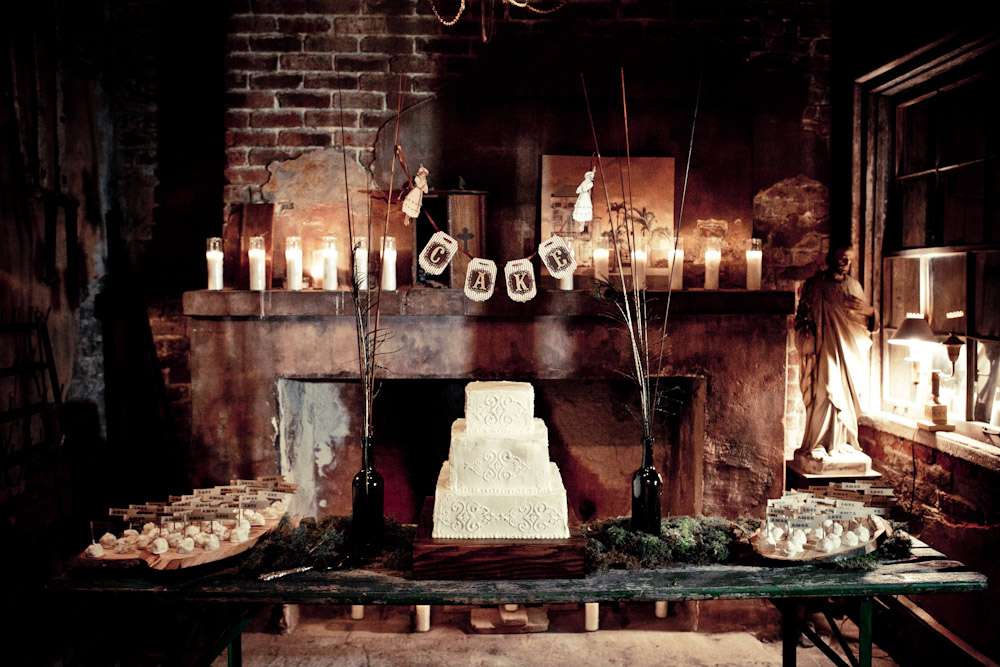 "For the décor we took antique and vintage pieces from our home, lots of candles, stripped wine bottles, and moss. My bridesmaid Tabitha Garcia, put it all together for us. We also had a lot of entertainment – mystery mimes, stilt walkers, a dog and clown act, fire performers and two bands. We had a photo booth and we set up a projector playing old Georges Mellies films that we love. It added great ambience an to the old film theme we had going. Our stationery was made by the amazing Royal Steamline."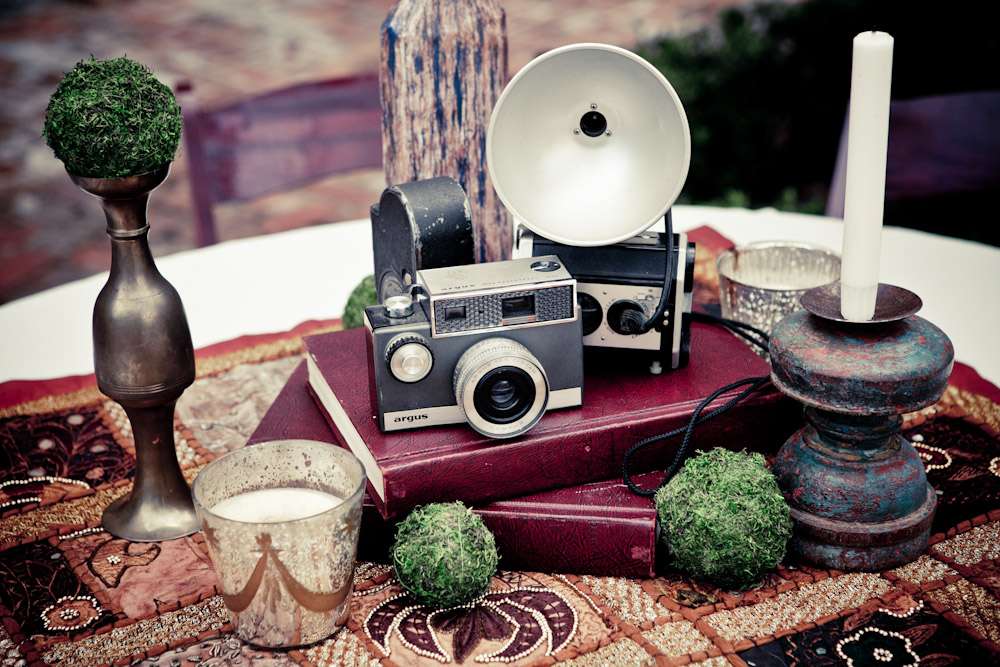 In terms of their outfits, the bride wanted something very different. Being a stylist and having worked with a lot of bridal publications she'd seen a lot of wedding dresses before – none of which were quite right for her. So instead she went for something vintage Inspired, opulent and unique. She chose some ivory beaded lace, some silk and some chiffon and got it custom made by Jiozei H Reyes. Her beaded purse was from the 1920s, her DIY bouquet made from tissue flowers, antique brooches, dried flowers and feathers. Her mask, which she bought, was customised with ostrich and albino peacock feathers. Collin wore a vintage suit and bowler hat. His mask was made from an antique viewer piece, which was customised with leather by Chad Landry who made the rest of mask with ostrich skin leather and straps.