I found a linky to the wedding of UBER UBER UBER cool recent bride and artist Zoetica Ebb & her writer husband Ales Kot on Gala Darling last week and literally couldn't wait to share it with you – especially after I visited Zoetica's inspiring website and laid eyes on her sparkly, blue, fauxhalk! Serious hair envy batman!
The pair actually got officially married in a microscopic civil ceremony June as Ales is a Czech citizen (you can see Zoetica's post on the event here including their adorable 'leaving the ceremony' video) so the couple decided that a second 'just for show' ceremony didn't make sense so their wedding was actually just a big old Rock n Roll celebration!
Zoetica wore the parachute gown from All Saints, which was a gift from her friend Courtney and a necklace from her husband, a keishi pearl and black garnet beaded necklace with pyritized ammonite pendant and three pink sapphire drops, by Ria Charisse, purchased through the lovely folks at Gold Bug Pasadena. The pair also had custom-sculpted and cast rings made by Shane Case. "We wanted a texture that looked somewhere between bark and flesh and the lunar surface" Zoetica told me.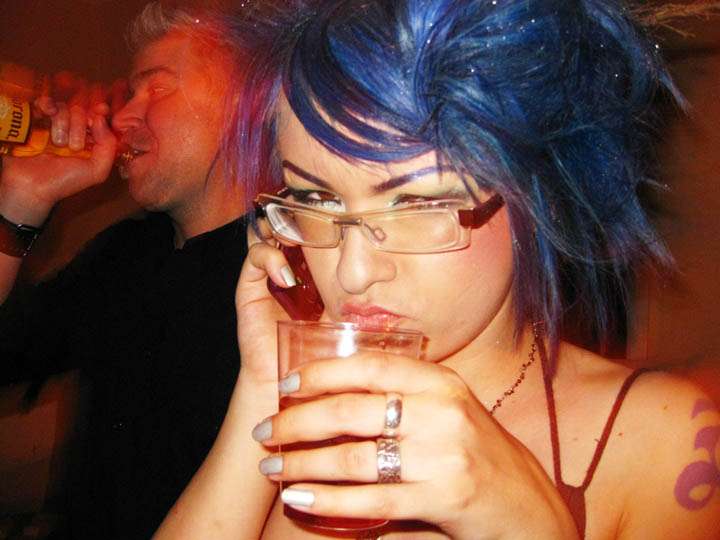 The couple made their own invitations, which consisted of of two parts. First, they sent out hand-typed letters, which included dog tags with our names and the celebration date with the text reading:
CLASSIFIED
Procedure: Molecular Fusion
Subject 1: Zoetica Ebb
Subject 2: Ales Kot
Outcome: Positive
ENORMOUS VICTORY FOR SCIENCE
CELEBRATION TO BE HELD MARCH 27, 2010
YOUR PRESENCE IMPERATIVE
Second, once they realised that half of their mailed invitations were damaged or lost in the mail, they sent out an email with all the party details and an AWESOME graphic that was image is comprised of both their combined hand prints  (second to last image in the thumbnails below)
Their theme was 'winter's end as rebirth, together.' The decor consisted of tree branches, dried poppies and other flowers, wide gold ribbon, twine, mirrors, hair-thin strips of tinsel, white candles everywhere. Also they strategically placed pictures of themselves covered in scratches and bruises, taken from when they first met in Paris last April after almost a year of internet friendship. "We played Tarkovsky films throughout the night, his work resonates deeply with each of us." the bride continued. "My mother actually went to the premiere of Stalker in Moscow, while she was pregnant with me in 1979; she tells me that she thinks I was affected by the work, in utero. This film is set in The Zone – a fenced off, forbidden wilderness area that's both magical and dangerous. This Zone largely inspired our celebration, though more conceptually than visually."
The entire wedding cost under $2000 as Zoetica & Ales wanted a beautiful and unforgettable celebration but without breaking the bank. Most of the decor came from Michael's, they picked up the candles at the 99c Store, the gorgeous and huge stainless steel serving trays for out buffet table at a catering supply shop and they opted for disposable silverware, glassware and dinnerware.
A. A. Amazing! You completely and utterly must check out the rest of their wedding here. Behold wedding photo goodness!
Credit: Friends & Family (individual credit can be found here)