I have a love/hate relationship with the BBC Three show Don't Tell the Bride. On the one hand, I love a voyeuristic nosey at other people's weddings (hello! Wedding blogger criteria number one) but on the other, the obvious sensationalism of shows like this can often get a bit much. I usually sit watching the show wondering if the groom really plans the whole thing himself and if the real truth of the matter is that the production company tell him exactly what to do so they can have the usual drama that seems to follow the programme around. But mostly I wonder if the brides really have no say on ANYTHING. I mean surely you'd give him a few subtle hints beforehand, right?!
A few weeks ago I was contacted by wedding photographer Alistair Veryard who has just shot a 'Don't Tell the Bride' wedding. He asked me if, after it was aired, I would like to blog it too. After seeing a few sneak peeks and I instantly knew I loved the wedding, but I said that I had one condition – that I could ask the couple all those nagging questions that I know everyone else wants to know the answers to too.
So guys, meet Mike & Becky who's wrestling themed wedding was aired on Don't Tell The Bride last night.
Hi Mike & Becky! So, how did you get on Don't Tell The Bride & why on Earth did you want to do it?
We were sat at home watching the show. I remarked that I could do better than the guy on it so Becky picked up her laptop and after a quick Google, found an application form. They were in the last week of casting so we didn't hold out much hope but applied anyway. We got an email back the next day asking us to go to their offices for a interview.
The question everyone seems to want to know the answer to is: Did you discuss any 'ground rules' about what you wanted/didn't want beforehand?
It was in our contract that we don't plan anything in advance at all. If the production team suspected that we might have discussed anything or made any plans, then those plans would have to be scrapped. Plus it all happened so quickly that we wouldn't have had time to make any plans, even if we wanted to. Becky loves surprises so it worked out better to just not plan anything in advance together anyway.
Did you get any criteria from the producers or crew about what you should pick or how you should go about planning the wedding? There always seems to be a drama over something the groom chooses!
I wasn't given a 'criteria' per-say but everything had to be booked through the production team and all shops I wanted to visit or services I wanted to use had to be cleared for filming by the team first.
I did feel as if they were limiting my choices. Sometimes it felt like they were steering me in certain directions and encouraging me to make choices that would be better for their TV show rather than what I might have first had in mind myself.
So did you really make all those decisions yourself or most of them made by the producers or crew? Did you ever worry that Becky wouldn't like what you'd chosen?
Mostly, I made the decisions myself, though like I said in the previous question, everything I wanted to book had to go through the production team first. So at times I really felt like I had to fight against them to get the things I wanted. I chose Alistair as our wedding photographer as we know him from taking photos at Lucha Britannia, one of the wrestling feds we work for. I really tried my best to have friends work with me and help me out where ever possible. I was confident throughout that if I could make the vision I had in my head a reality, then Becky would love it.

What about the timeframe – was it really all planned in just a few short weeks?
It really does all happen in 3 weeks! For us the whole process from us sending the application form in, to our wedding day was 5 weeks!
Did you read any wedding blogs or magazines when you were planning the wedding to get any ideas?
I actually didn't do any prior research whatsoever. I just had a vision in my head and then went all out to get it.
Was the process as you expected?
The process wasn't really what I expected. I thought it would be filmed more like a documentary reality TV show where the production crew would just follow me around and document what I was doing. But the reality was quite different  I was unaware beforehand just how involved the production crew would actually get.
We're you really happy with the final outcome ? Would you do it again or recommend the process it to others now that you know how it works behind the scenes?
I am really happy with the wedding day and am really glad that I fought tooth and nail to have it my way. There were a few times that I came very close to calling it all off during after some big arguments with the production team. At points I felt that they were much more concerned with what they wanted for their TV show, and at times that differed too much from what I wanted for our wedding day. But after those arguments, I mostly got things my way. It was just a lot of extra hard work and extra stress! As if having to plan a wedding and wrestling show in just 3 weeks isn't hard enough!
I can honestly say that I wouldn't do it again. I would have loved to have had Becky with me during the planning, though that might have resulted in an entirely different wedding. I would want to plan the same wedding – in fact I wouldn't change a thing about the wedding day but the major thing I would change is that I would save up the money and do it myself without the TV crew!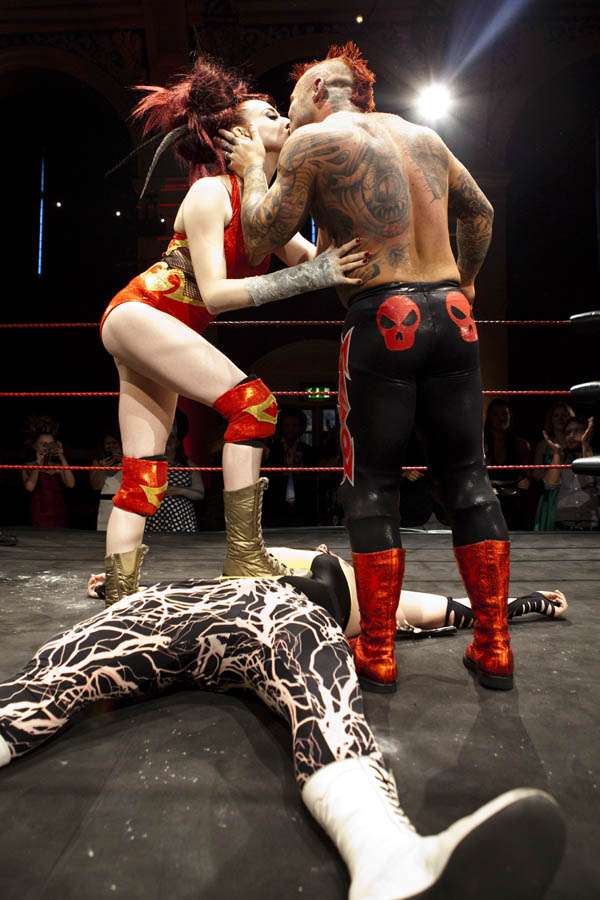 Awesome! Well I think it was one of my fave ever episodes and my fave ever couples. Thank you yo much to Becky & Mike for answering my questions and sharing their wedding with us today!