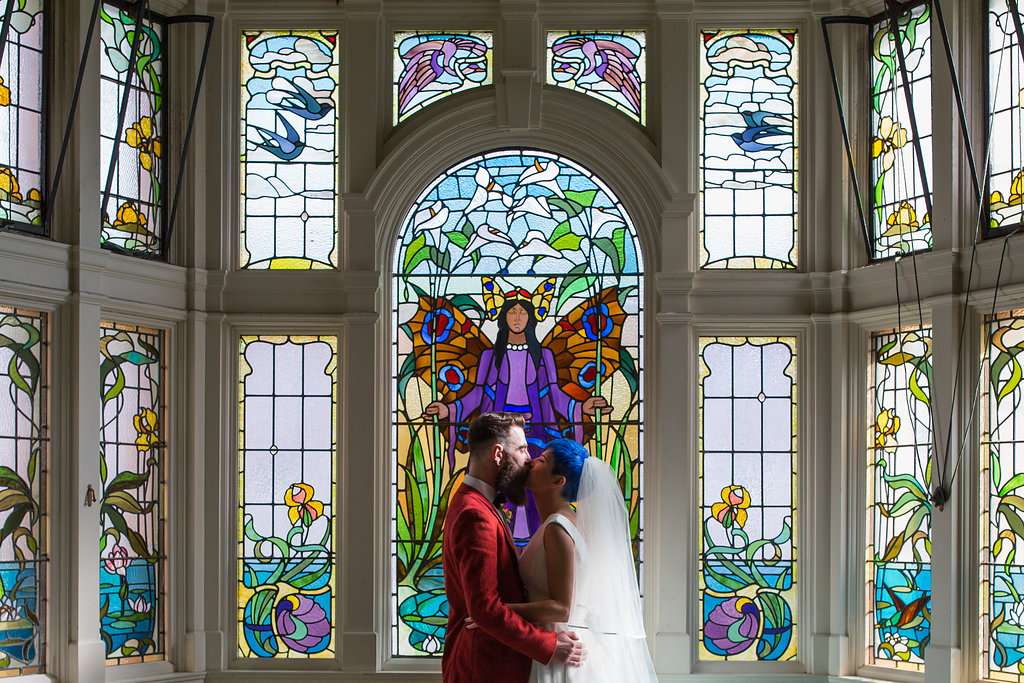 Where do we even begin with Bobbi and Graham's wedding? The venue being an old Victorian baths? The amazing bridesmaids dresses in that gorgeous bright colour palette? The living room are that served as a top table and giant servings of paella made freshly in front of you? The space hoppers and garden games? All of it!?
They described their wedding as 'a fun and colourful kids party' (which is the best description everrrrr): "Fun and photographs were the inspiration – we printed out hundreds of photos to hang up around the venue and they just reminded us of all the adventures and fun we've had along the way, and all our friends and family that have helped make amazing memories. We just wanted a day that captured that really." They also made for a great conversation piece amongst their guests.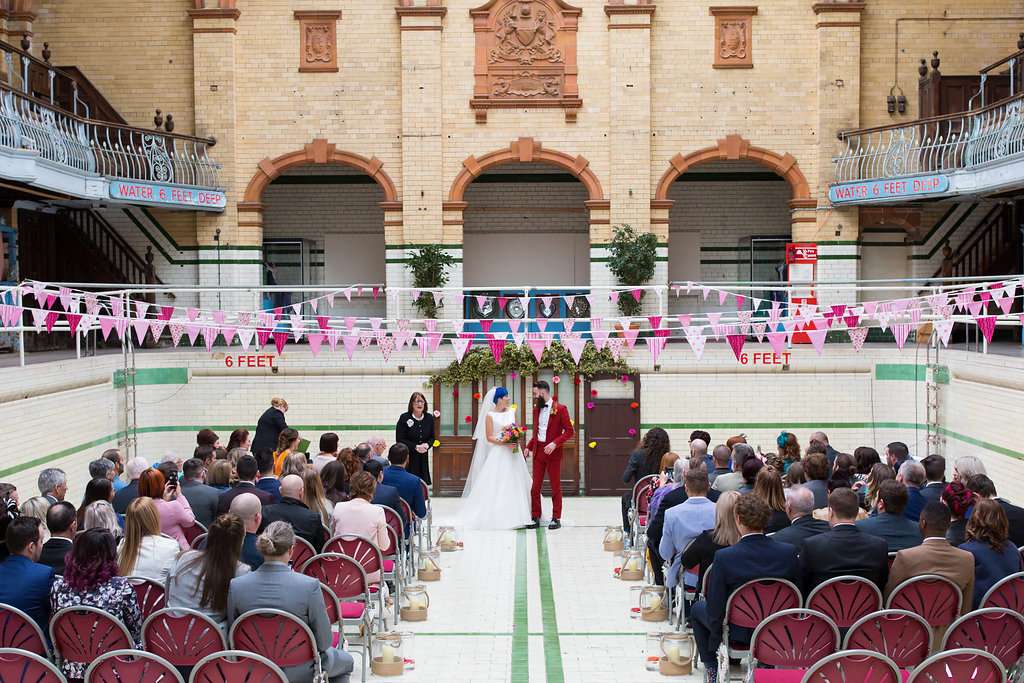 Their venue, the Victoria Baths in Manchester, was the perfect space for their wedding. Not only did they have three swimming pools to use as they wished (empty, obviously), but they also had the gorgeous Turkish baths, balconies and changing rooms at their disposal, all set up with gorgeous green tiles and stained glass windows. Bobbi and Graham used each space to their advantage, with a ceremony area in one pool, reception tables in another, and garden games too, all following the colourful and eclectic decor theme. It also made for the most amazing portraits when they went to explore with their photographer, Shot by Amy, after the ceremony.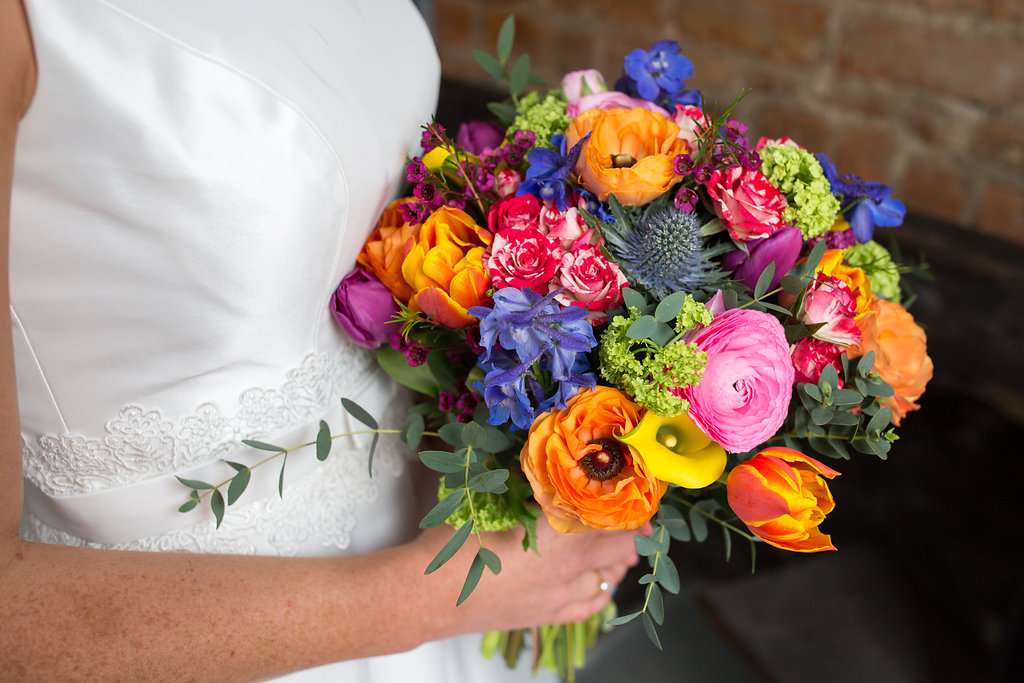 After their friendly ceremony led by Jacinta, Bobbi and Graham walked out to a shower of hopfetti, collected from Hukins Hops when they were putting up the hop vines – Graham brews his own beer, which they used as favours with handmade labels such as a 'Hoppy Couple' American IPA and an 'I Do Brew' Vienna IPA. They also used empty beer cans to plant cacti in to dot around.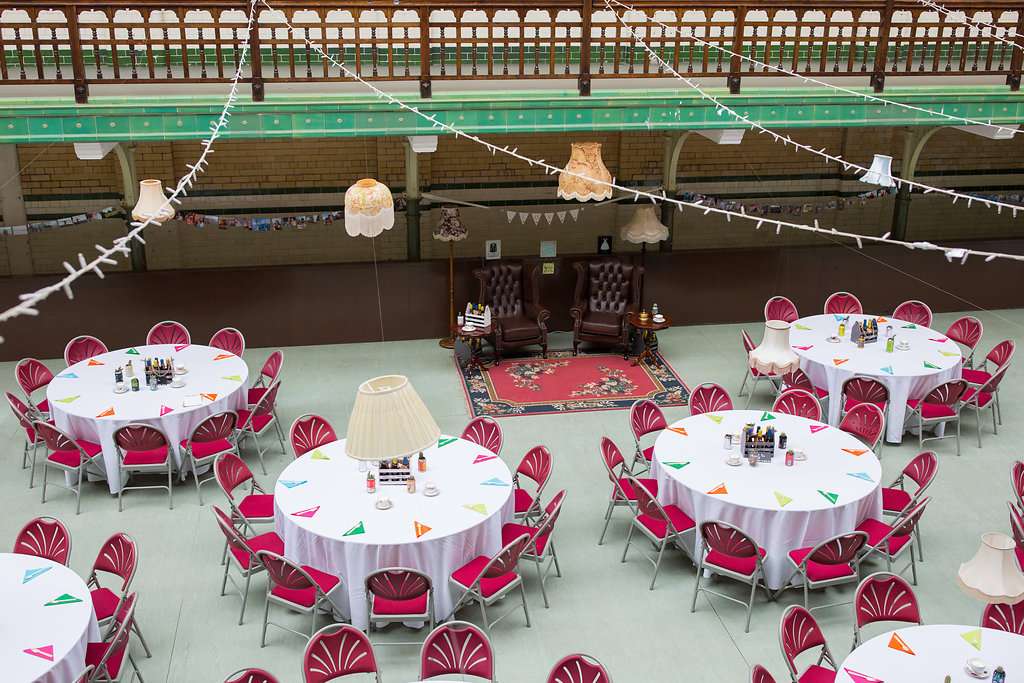 Having heard from married friends that you barely see each other on your wedding day, they came up with a 'living room top table' so they could sit together and soak it all up. "It was just like being sat at home!" Bobbi says – totally worth the years of hunting South Manchester charity shops for chintzy, tassel lamp shades! For the guests, there was no seating plan, as they wanted everyone to feel free to sit wherever they wanted.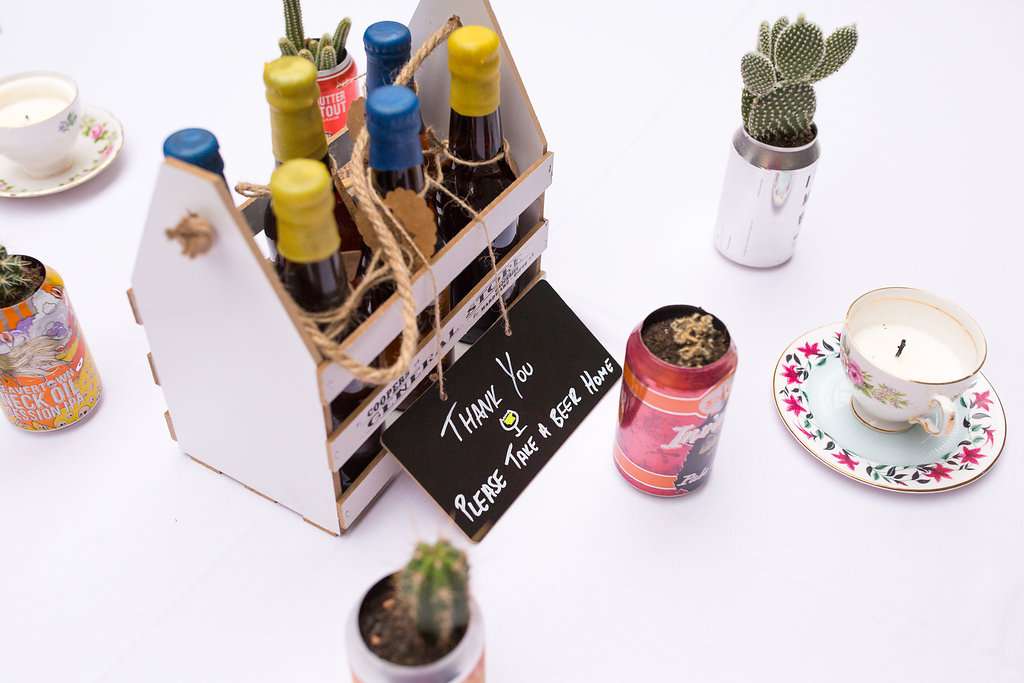 Tapas y al a Carta cooked up paella live in front of all the guests, who could go up and get a bowl whenever they felt peckish. "Having a more informal meal arrangement really saved us money," Bobbi explains. "We kept it simple with recyclable palm leaf bowls and bamboo sporks from Little Cherry rather than hiring crockery and cutlery." They also ordered Dominos pizzas for the evening food, and their cake table was populated by guests bringing their own cakes for everyone to enjoy, as well as a cake by Cherry Blossom Bakery that was gifted by Graham's sister, Jenni.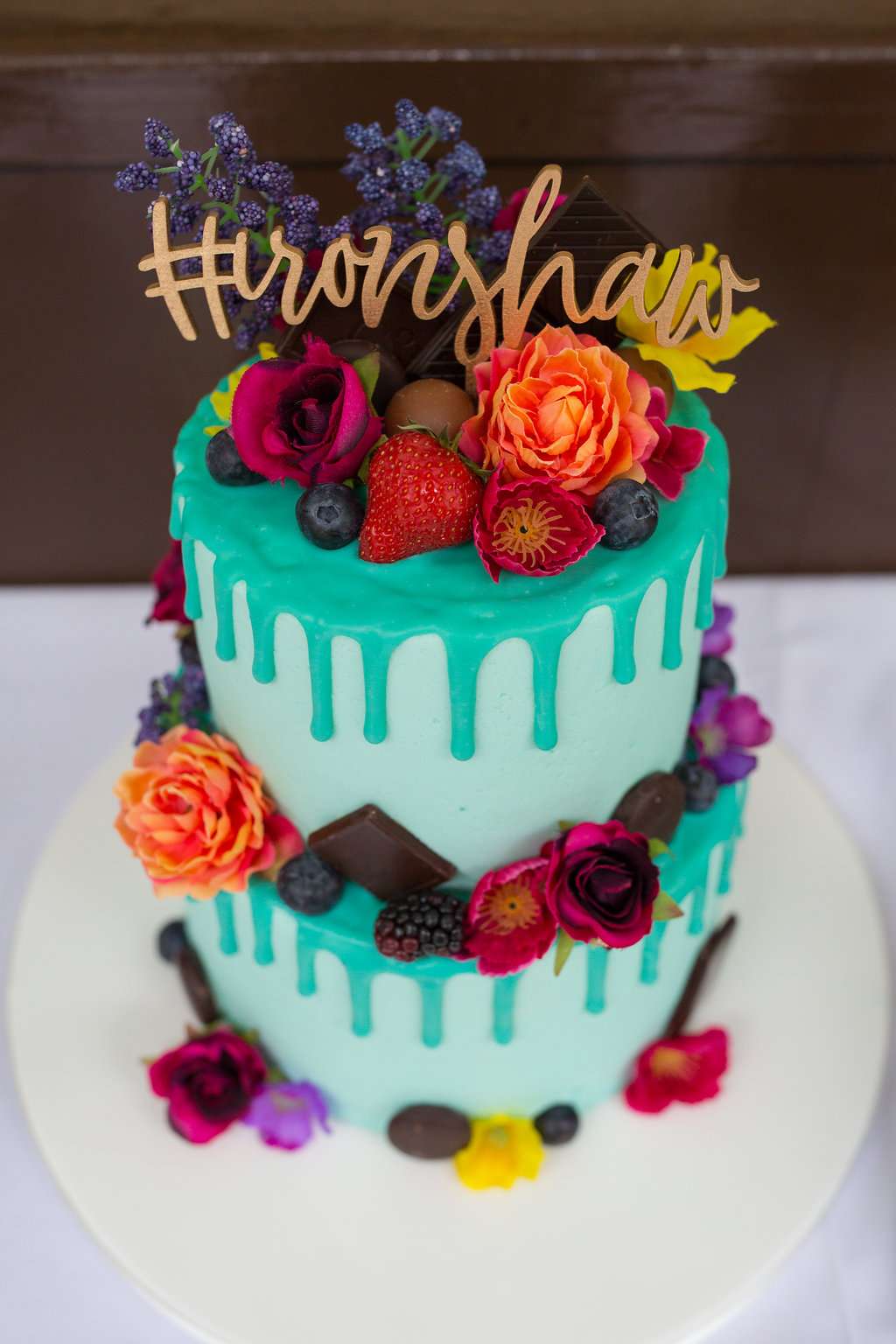 To encourage everyone's 'inner kid' to make an appearance, they brought loads of games for one of the baths, including space hoppers and limbo. They also DIYed their own photobooth for guests. "We got a £16 IKEA bookcase and cut 2 holes in the back – one large, lined with thick tracing paper for the flash, and a smaller one for the camera lens.' Bobbi says, "Then, we mounted a camera on a tripod behind it and used a cheap remote trigger so our guests simply had to press it!"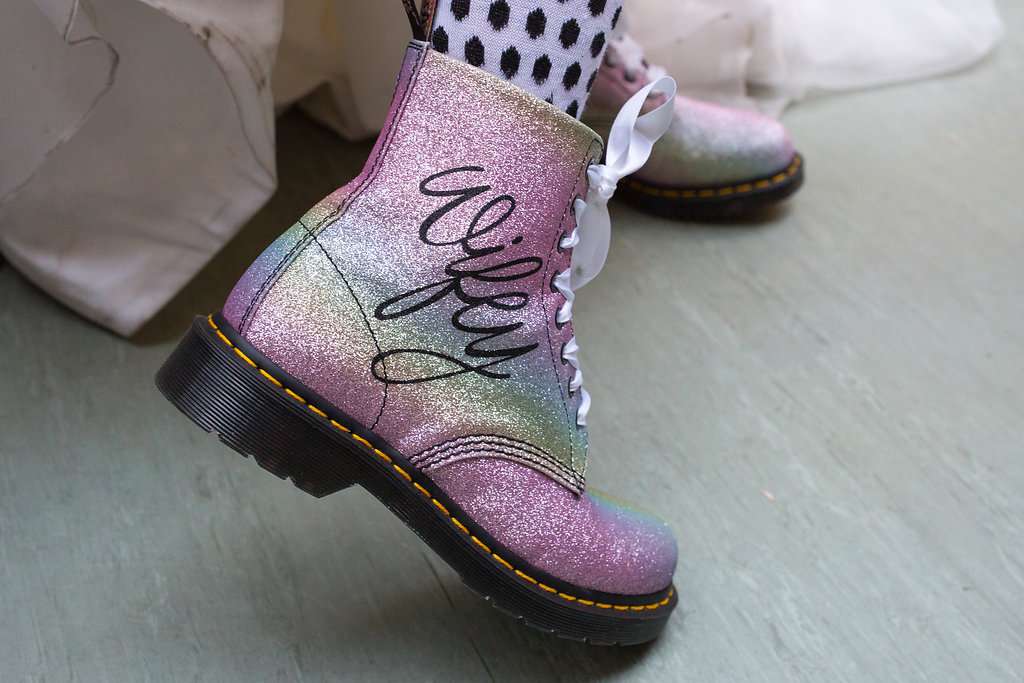 And this is without even mentioning how bloody amazing everyone looked – Bobbi's amazing electric blue pixie cut with her Justin Alexander dress and her customised sparkly wifey Doc Martens, Graham in a red Paul Smith suit, and the bridesmaids in bright, colour pop dresses from the high street, all to match the bold and beautiful colour scheme in the florals by Fizzyfiflowers. All in all – eclectic colourful gorgeousness to the highest degree…