I've got another Luella's Boudoir-related post for you now (can to tell I'm excited about tonight?!) Becci & Mark's wedding is a pretty special one, for more reason than one. Not only did the pair find their photographer David McNeil through Rock n Roll Bride, but Becci also found and discovered the amazing vintage jewellery experts, Magpie Vintage. Who wouldn't fall in love with their amazing designs after all!? As a DIY bride (Becci's made her own dress from an original 1930's pattern as well as her flowers and all the decor and details for their wedding) unfortunately the jewellery pieces she fell in love with were slightly out of her price range. However with a little bit of Rock n Roll Bride magic I was able to pull a few strings for her and the lovely ladies at Magpie Vintage were kind enough to lend her the gorgeous headband and necklace you see her wearing! How amazing is that?!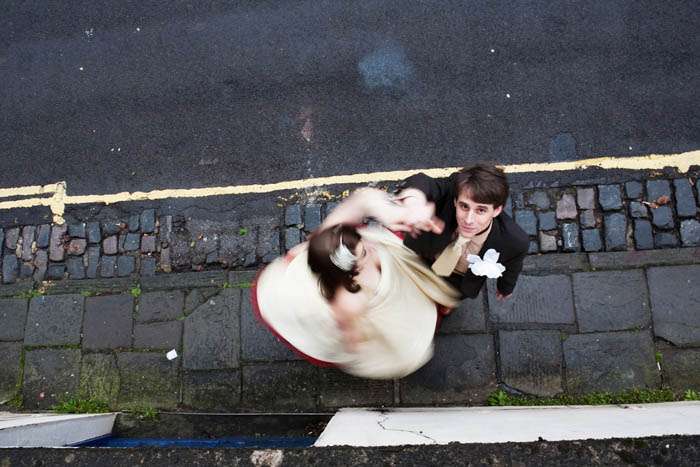 The wedding was held at Goldbrick House pub in Bristol, which was the perfect venue for their desired casual style. The pair served no formal dinner, opting instead for an informal 'cakes and goodies' afternoon tea spread in the evening, baked by Becci's sister.
Thanks so much to David for sharing these amazing images but an extra special thank you to Lisa & Tanya at Magpie Vintage for their generosity to this well-deserving couple.
Credit: David McNeil
Venue: Goldbrick House
Dress: Homemade made from a 1930s pattern
Jewellery: Magpie Vintage
Shoes: Irregular Choice
Make up: Claire McDonnell
Food/Catering: Family members