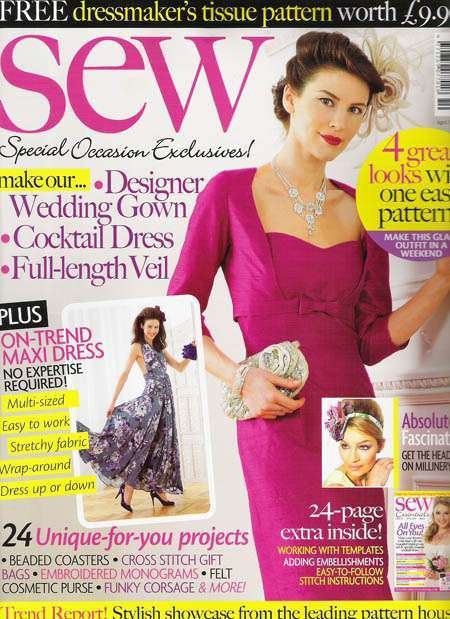 When I told people I was going to be featured in this month's Sew Magazine (out in shops tomorrow), the usual reaction I got was a screwed up face and a look of confusion. "Sew magazine? but you don't sew!" Well no my dears I don't but I've always wished I was a bit more crafty and if we were to plan our wedding again, I know I'd be making some terrible attempts at diy-ing the lot. However after receiving my shiny new copy in the post this morning, I have to say I feel positively converted. I'm seriously not just sayingthis (because I'm in it!) but this April issue, a Special Occasions Special, is literally fit to bursting with fabulous wedding diy and craft ideas. From making cute little stitched thank you 'cards' out of mismatched fabric, to making your own dress – from adorable fascinator ideas and even a tutorial foryour own veil (and we all know how expensive a cathedral veil is to buy – ouch!) – this magazine would be an absolute god send to any bride lacking inspiration in the do-it-yourself department.
And to top it all off…yes I'm in it! Apparently Rock n Roll Bride is the place to go on the web for unique and quirky wedding ideas (thanks you!) and I'm honoured to be included as some sort of expert in this bible for all things craft.
You can pick up your own copy this month in large newsagents and supermarkets across the UK for just £5.99. Bargain.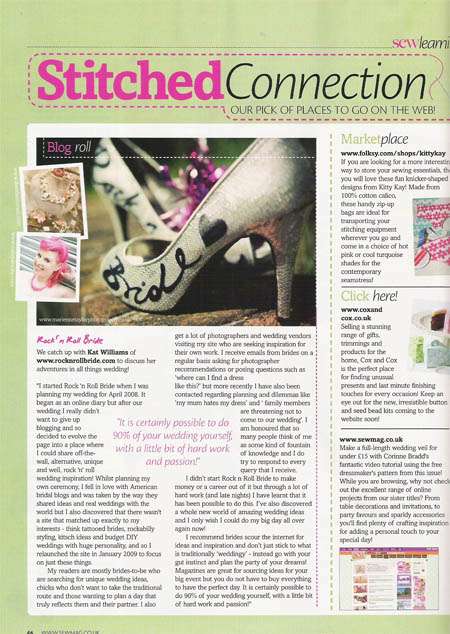 Stitched Connection – Our picks of places to go on the web
Rock n Roll Bride – We catch up with Kat Williams of www.rocknrollbride.com to discuss her adventures in all things wedding!
"I started Rock n Roll Bride when I started planning my wedding for April 2008. It really started as an online diary – a place to gather all my wedding ideas and inspiration. However after our wedding I really didn't want to give up blogging and so decided to evolve the blog into a place to share off-the-wall, alternative, unique and well, Rock n Roll wedding inspiration. Whilst planning my own ceremony, I fell in love with all the American wedding blogs – the way they shared ideas and real weddings with the world but I also discovered that there wasn't a site that matched up exactly to my interests – think tattooed brides, rockabilly styling, kitsch ideas and budget DIY weddings with huge personality, and so I relaunched the site in January 2009 to focus on just these things.
My readers are mostly brides-to-be who are searching for unique wedding ideas, chicks who don't want to take the traditional route and those wanting to plan a day that truly reflects them and their partner. I also get a lot of photographers and wedding vendors visiting my site who are seeking inspiration for their own work. I receive emails from bride on a regular basis asking for photographer recommendations or posing questions such as 'where can I find a dress like this?' but more recently I have also been contacted regarding planning and dilemmas like 'my mum hates my dress' and 'family members are threatening not to come to our wedding.' I am honoured that so many people think of me as some kind of fountain on knowledge and I do try to respond to every query I receive.
I didn't start Rock n Roll Bride to make money or a career out of it but through a lot of hard work (and late nights) I have learnt that it has been possible to do this. I've also discovered a whole new world of amazing wedding ideas and I only wish I would do my big day all over again now!
I recommend brides scour the internet for ideas and inspiration and don't just stick to what is traditionally 'weddingy' – instead go with your gut instinct and plan the party of your dreams! Magazines are great for sourcing ideas for your big event but you do not have to buy everything to have the perfect day. It is certainly possible to do 90% of your wedding yourself, with a little bit of hard work and passion!"