Where do I even begin with all the press love I've received this month? I'm blown away as ever. World domination here I come…
Marie Claire Magazine (UK)
When Marie Claire Magazine contacted me asking if I would like to be profiled in a feature about 'Super-Bloggers' I just about fell of my chair. Erm moi? in MARIE CLAIRE!? I might have squealed a little bit…well a lot.
I was interviewed by a journalist where she asked me all about the business, what I do, how I earn my moolah…and all that jazz. I'm thrilled with how the article turned out and I've had so much amazing feedback since – including a call from the BBC (see below) and Marie Claire Greece! Watch this space people, watch this space…
In Stores Now
BBC Radio Berkshire
On Thursday I was invited to BBC Radio Berkshire to be interviewed on the Anne Diamond Show. Anne was actually off for the week but we met the very lovely David Prever, who made me feel incrediblly welcome and slightly less nervous than when I first walked in! Gareth came to hold my hand and even he got on air too!
You can listen to the whole interview on the BBC iPlayer, but for my readers not in the UK you can all listen to it thought this little video that Gareth made. Aren't we good to you?
…and ps yes I giggled a LOT! What was that about!?
Photo Professional Magazine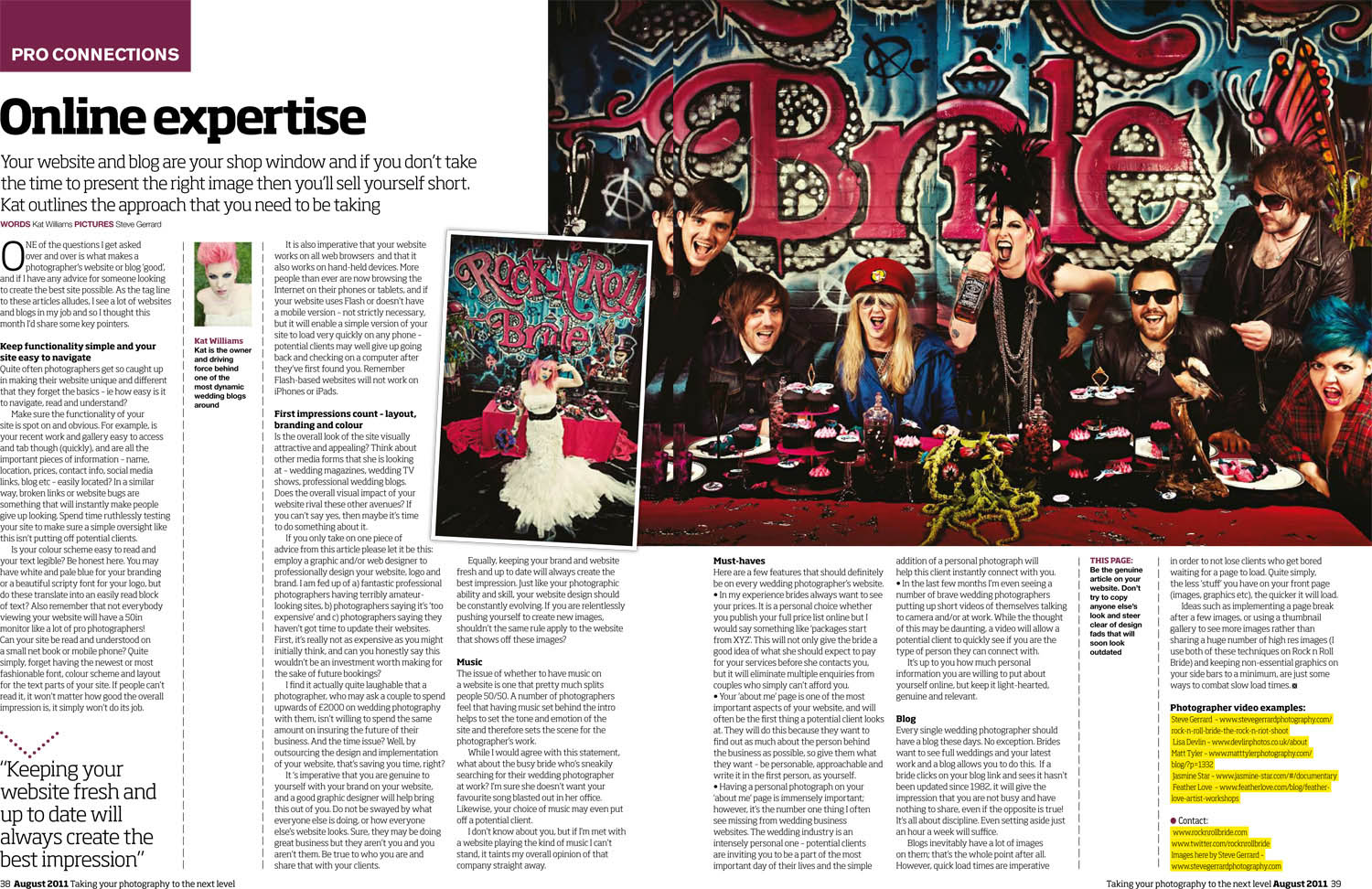 This month I addressed a question I get asked over and over by photographers, wedding suppliers and other bloggers – how to create a great website. I wanted to share some of my tips on how to make your website stand out from the crowd as well as highlight some pitfalls to avoid (like the plague!)
…twice…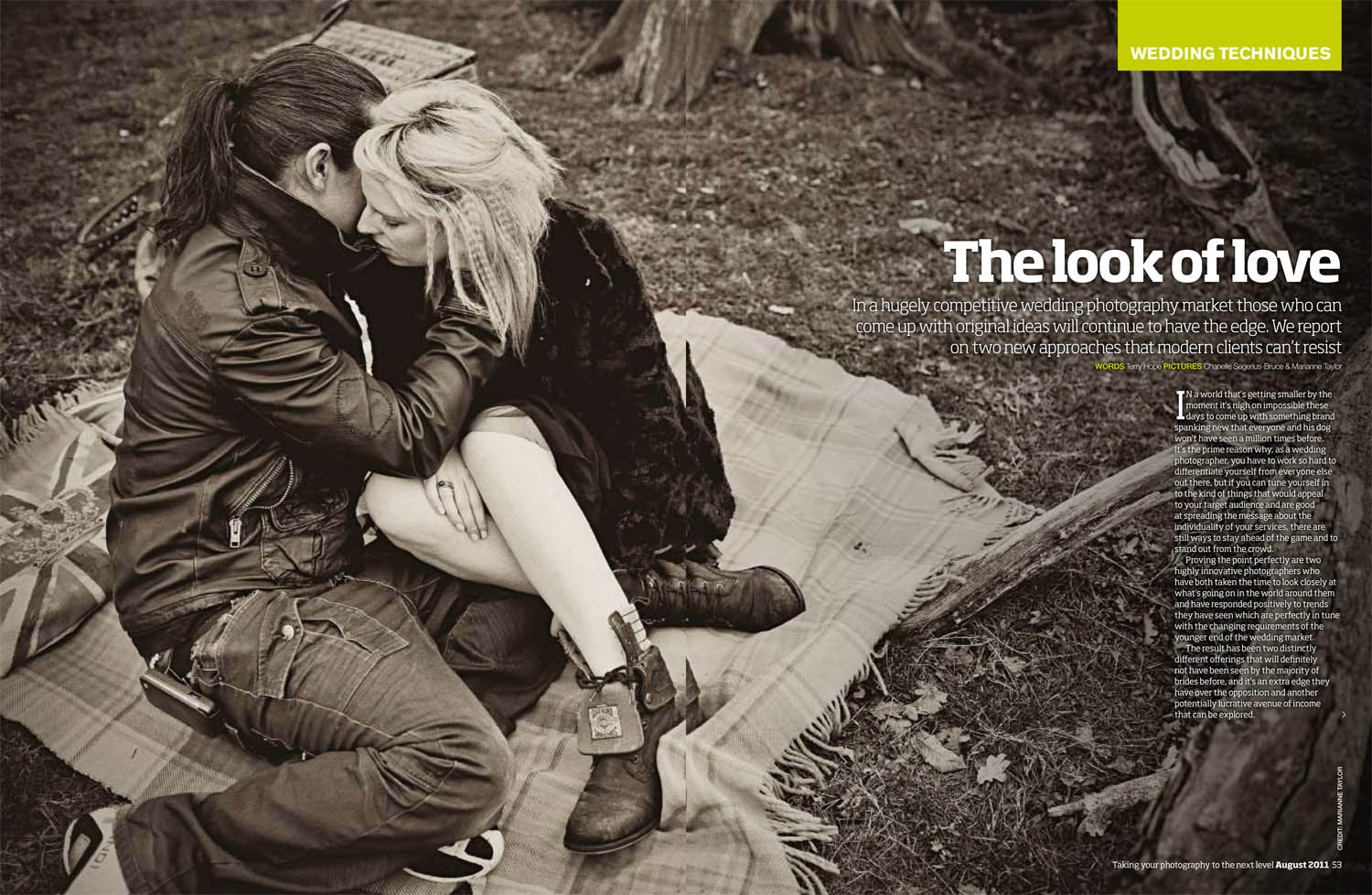 …but I didn't expect this one! My friend Marianne Taylor was intervierwed by Photo Professonal on the 'Beloved' Movement – a style of shooting couples to envoke real emotions and photograph them in a really unique way. Gareth & I did a Beloved shoot with Marianne for our anniversary and so it was a huge surprise when flipping though the magazine to see our photo on a double page spread! Thanks Marianne and Photo Professional!
In Stores Now
Wedding Magazine
Groom's often get overlooked in the style-stakes when it comes to weddings (hired, ill-fitting morning suits anyone? Yawwwwn!) So this month I wanted to share some of the coolest grooms I've come across and to show the boys that it isn't just the girls that can rock a stylish look on their wedding day!
In Stores Now
Wed Magazine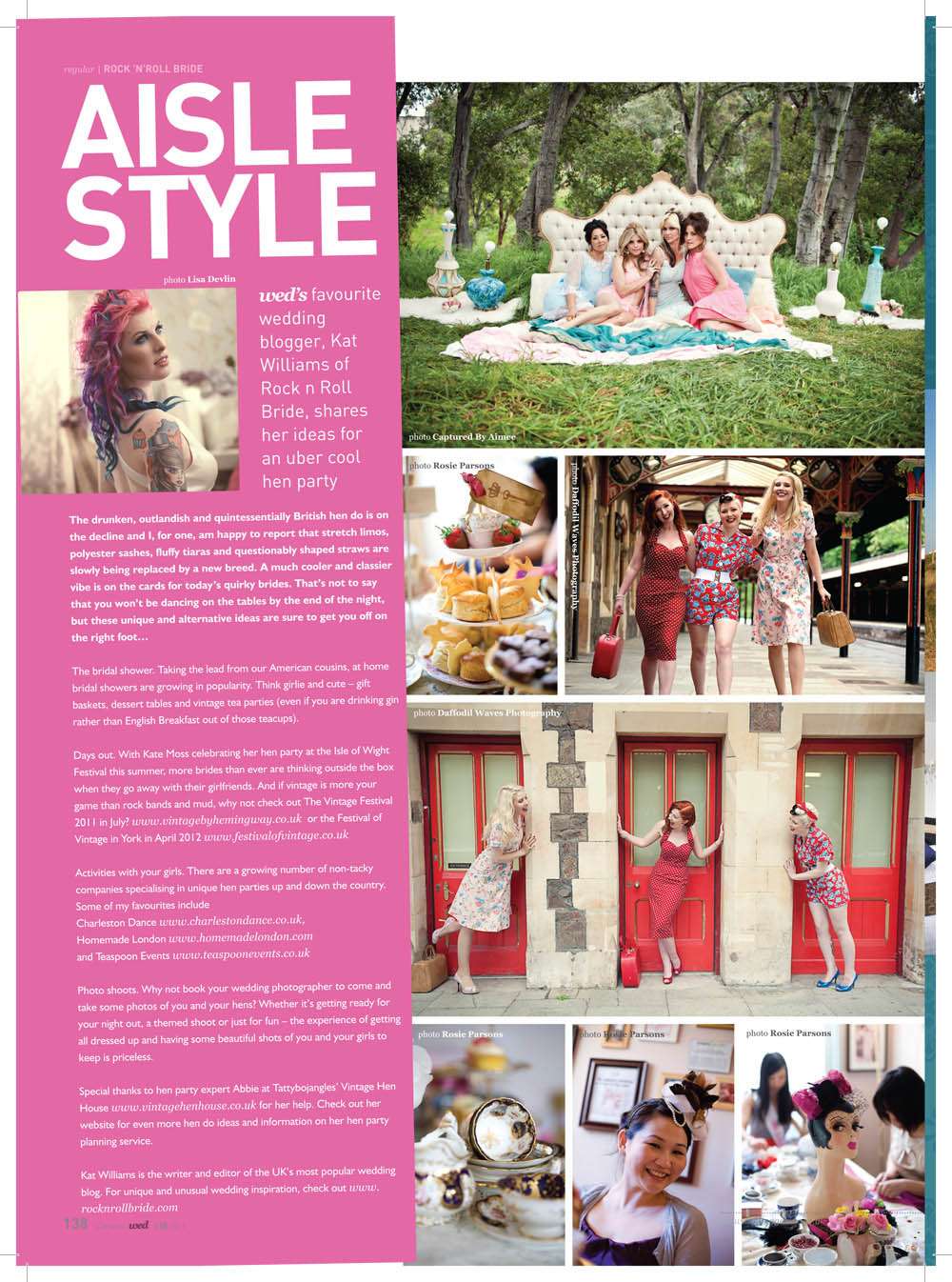 This Cornwall-based magazine asked me to put together a feature on unsuual hen do ideas. Rather unimpressed with the British norm of wearing feather boas and sashes and doing one too many sambuca shots whilst staring at a half naked stripper, I was more than thrilled to share some of my top 'non tacky' hen do ideas!
In Stores Now
Attire Bridal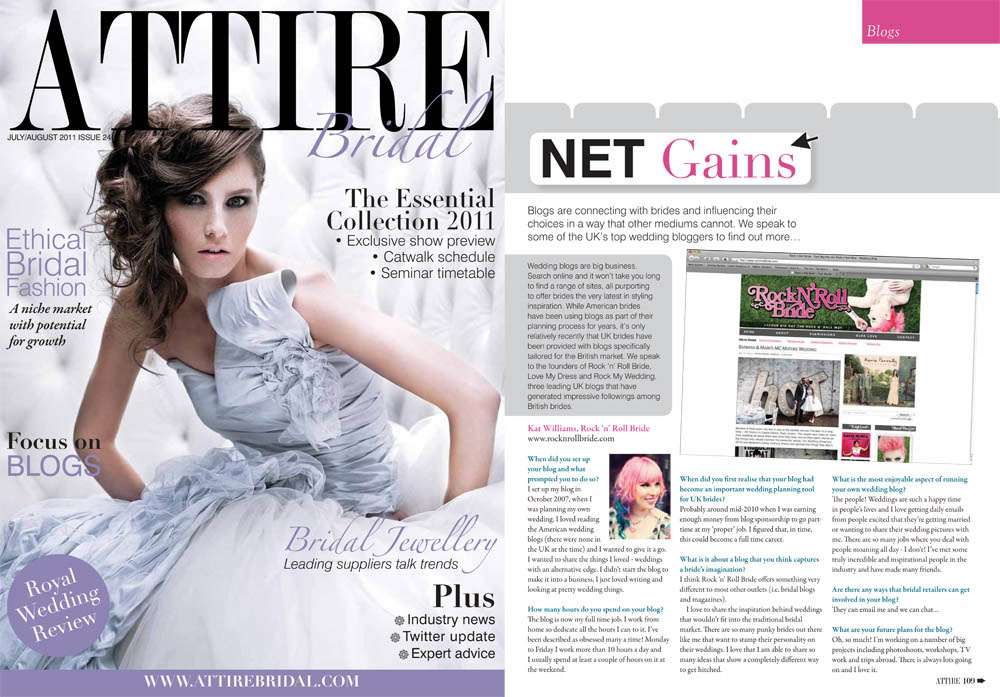 Attire Bridal is a trade magazine for people within the wedding industry so when they asked if I'd like to be profiled as one of the top UK wedding bloggers I of course said 'why yes please!' You can download a free copy of this magazine through their website here.
Vintage Life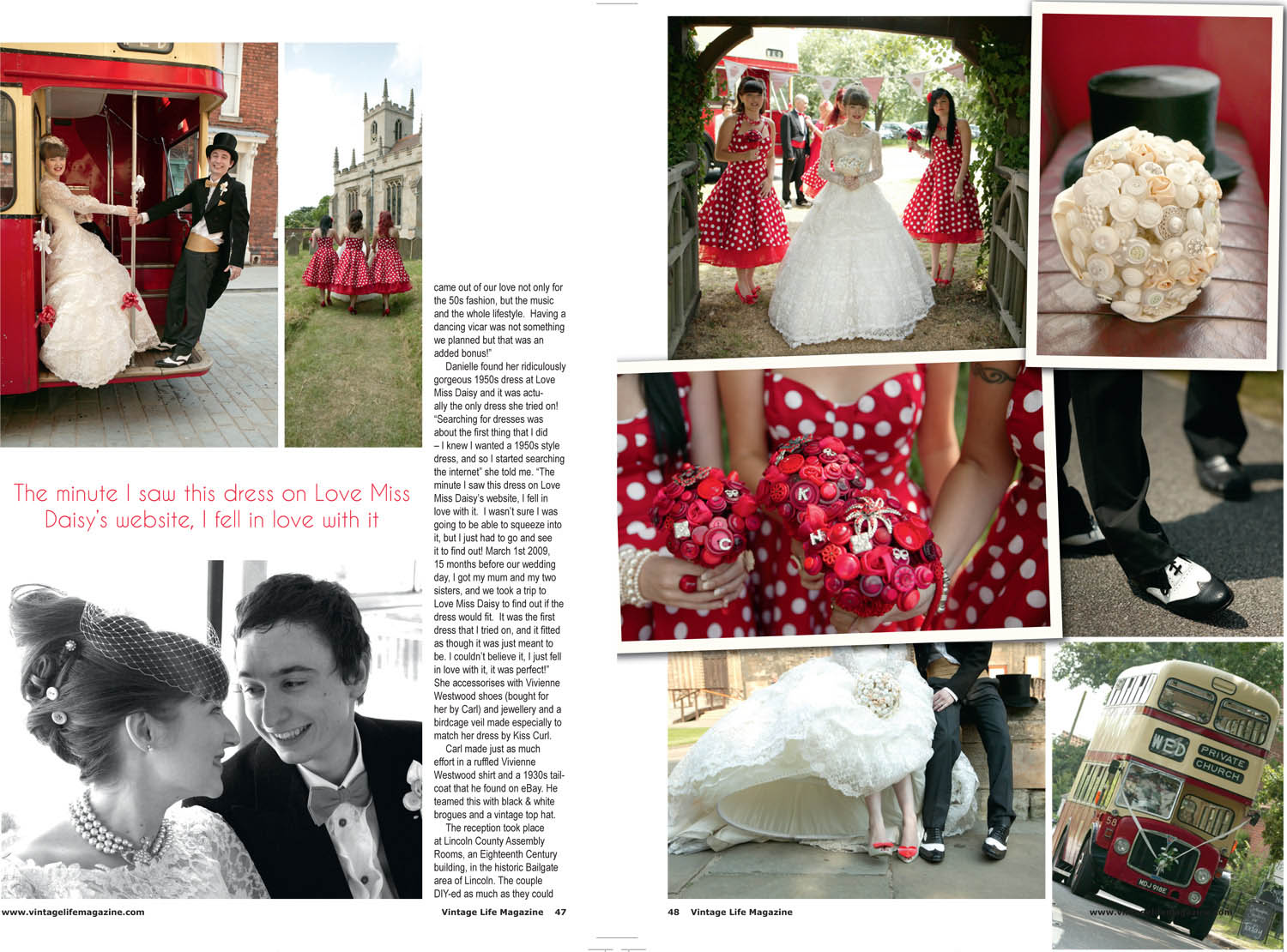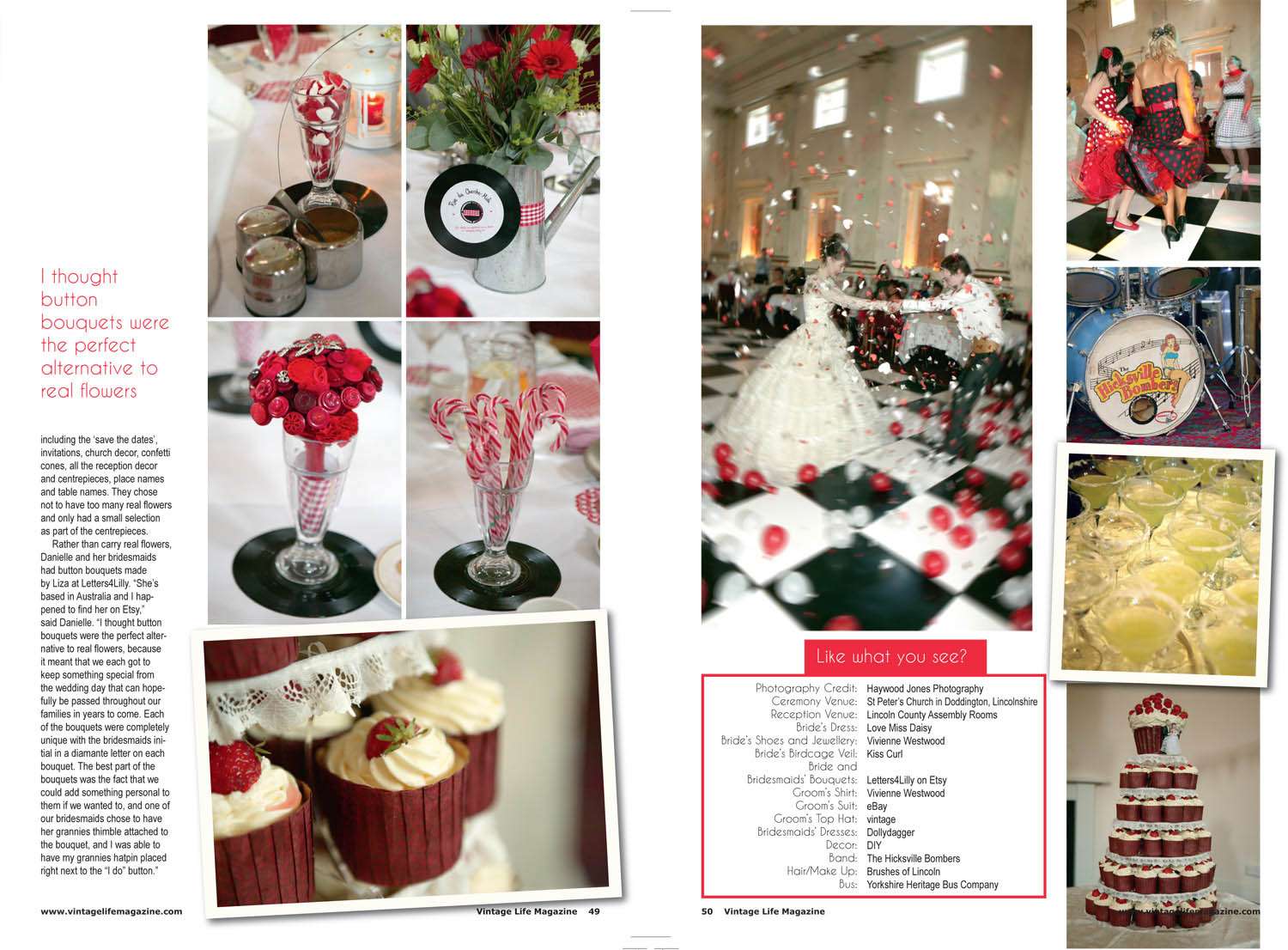 Each issue I share with the readers of Vintage Life one of my most favourite recent vintage-inspired weddings. This month it was all about Danielle & Carl's fabulous retro nuptials. You can see their entire wedding on my blog here.
Vintage Life is available in WH Smiths and is on sale now.