Last Thursday I was lucky enough to be invited to the fancy pants grand opening of the Julia Boggio Studios in Wimbledon, London. Not only was it the very studio that Julia and I did my vintage boudoir shoot but I was able to meet a load of new people from the UK wedding industry as well as catch up with some old friends.
I headed up to London with the lovely Lisa of Magpie Vintage. Before the party we paid a visit to our friends at Luella's Boudoir in Wimbledon who kitted us out with sparkles and shoes (Lisa nabbed some gorgeous Emmy shoes and I borrowed a beeeautiful Magpie Vintage headband – and yes I wanted to keep it!)  We then all piled back in Lisa's car and made our way to Merton Abbey Mills where Julia's studio is located.
The studio was filled with people all talking excitedly about their plans and ideas for the coming wedding season, and as we sipped Bellini's and ate canapes off a tray with my face on (yeah, Julia nice idea ha!) I couldn't help but wish the party just went on that little bit longer.  Here are a few images and a super cool video of the event (can you spot my pink head and 'rock n roll' necklace?) Enjoy! And UK brides, remember – I now have a million and one contacts for like, everything you might want for your Rock n Roll wedding! Hit me up with an email if you need any recommendations.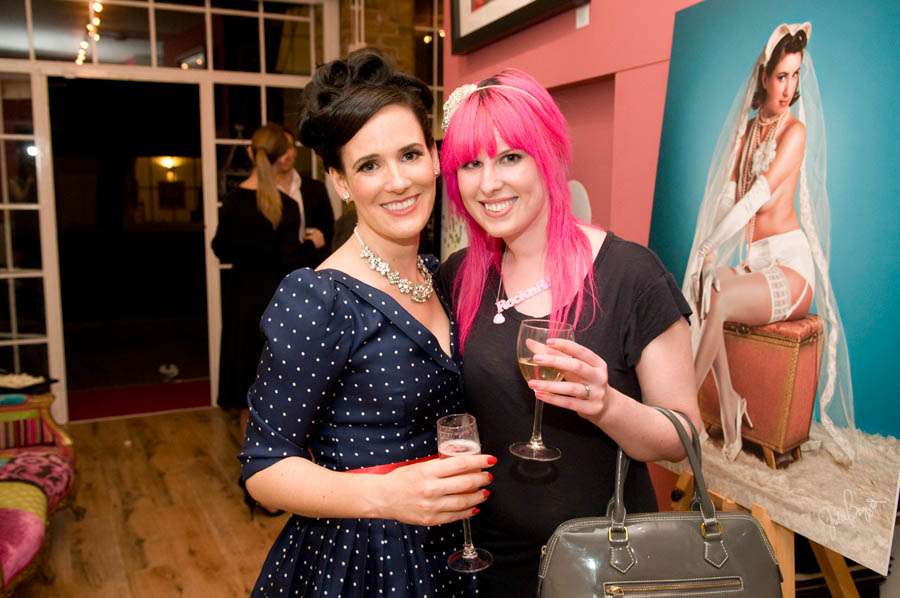 and I'm afriad I don't know what I'm doing in this first photo (below) either…
Julia Boggio Studios launch party from James Derbyshire on Vimeo.
Special thanks to:
Julia & James for hosting the event and providing me with these images and video
Abbey of Sugalily for making the beautiful invitations
Lisa & Tania of Magpie Vintage for providing both myself (see my gorgeous headband?) and Julia with some vintage sparkles for the night
Jenny Hammerton of The Shellac Sisters for providing the wonderful music
Fantasticakes for making the delicious cupcakes
Utterly Sexy Cafe for making the canapes
Severin Hubert for styling the hair of all the beautiful people
George of Princess George Designs for dressing everyone so beautifully (George made the clothes donned by the models and Julia)
Kaz Fernando for working tirelessly on everyones peepers in the Eyelash Bar