The UK is seriously on fire this week and I've got another fantastic British wedding so share with you. However this one is extra extra special as Sally & Peter actually found their photographer, Kate, through Rock n Roll Bride! Woo to the Hoo!
Kate talked all about Sally & Peter and their wonderfully eclectic day on her own blog: 
Sally and Peter have been together for about 18 months and about 6 months ago, during a game of scrabble, Peter proposed! While Sally was out of the room Peter stole several of the letters and when the time was right spelt out the words 'marry me'. This explains Sally's choice of earrings on the wedding day – The S&P are from the actual set they played.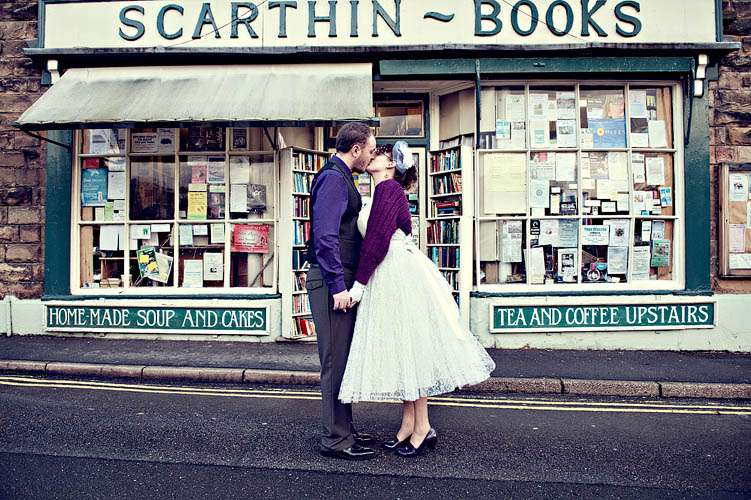 Sally contacted me after seeing some of my work on the 
RocknRollBride
 website (THE best wedding blog by the way!!!) she liked what I did and I loved the sound of her wedding.Sally is studying for her MA at my old university (Derby). She is incredibly talented and used her skills to create the most fantastic details for the day.
Sally's vintage dress was shipped over from the States and accessories ranged from homemade flowers to etsy purchases. The Church where they were married was screened off and sofas brought in to make the ceremony an intimate and special occation for immediate family and closest friends only.
Living up in Derbyshre (Matlock) Sally and Peter have access to the most beautiful locations. Being avid readers the pair had asked to have their photoshoot in Scarthin Books at Cromford. The owners opened up especially for us and we had the most fantastic time exploring the 3 three floors of little reading rooms, revolving bookcases and obviously all the books!
We then went around the corner to Arkwright Mill for a quick outdoor shoot before the rain came down!
Being originally from South Africa (then the seychells and Canada) Sally opted to have her reception at a South African themed bar in Nottingham. The reception was actually a tea party complete with cupcakes made by different friends, about 20 different selections of tea all served in vintage tea cups, homemade paper flowers, a book swap, craft table and finally everyone was given handmade wedding packs including bags to fill with Tea and sweets to take home. Each wedding pack also contained a limited edition print of one  of Sally's illustrations done especially for the day.
Sally and peter had decided to have their wedding ceremony split into two parts – the official part in the morning at the church with the vows and ring exchanges during the afternoon. Whilst they carried out a ring warming ceremony with all of  the guests Sally's brother, Jeff – who had flown over from Florida to be there, played guitar and sung (beatifully). The rings were wooden and made from both South African and British varieties combined.
Is anyone else going a little nuts over Sally's purple shrug and woolen glove combo? Practical (England is coooold!) but unique and kinda funky all at the same time. What a ridiculously stylish and wonderfully quirky couple. I love it all!
Thanks to Kate for sharing this wedding and I am so happy that in a small way I was a part of it!
Credit: Depict Photography