Chris & Carly's vintage glam wedding was planned with fun in mind..that was it – lets have a blast! The pair didn't want traditions or fuss to play a part, instead focusing on great style (white bridesmaid dresses oh yes!), a ton of character and a party that they could claim as their own.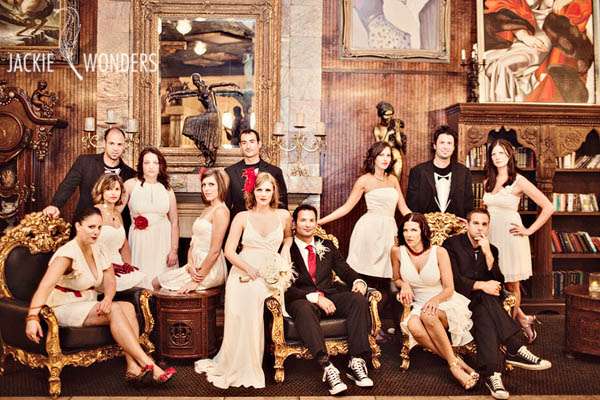 (a bit off topic, but do these group shots remind anyone else of a Vanity Fair front cover…?!)
Photographer Jackie told me all about the day:
Carly is a graphic designer, so she handmade and designed out all of the details of the wedding, from the invites to the candy silhouette favor bags.  There were even animal print slap bracelets for all the gals! They used playing cards as place cards with guests names on them and she handpicked each bridesmaid's red and gold accessories and allowed them each to chose their own short, white dress. The guys got to wear a black suit with a tuxedo shirt and chucks 🙂
It came together perfectly.
My favorite aspect of the wedding was the venue, the Artisan Hotel.  IT WAS FABULOUS.  It is the hipster hangout for Las Vegas locals and, because it is such a boutique hotel, there was not gaming or Vegas strip madness.  It portrayed the vintage-glam description to a *T* 
Thanks for sharing Jackie! She has also blogged this on The Wedding Chicks blog.
Credit: Jackie Wonders Photography