Oh how lucky we are – two UK weddings in one day! I'm hoping this means that Blighty (thats' slang from Britian for all my America readers) may be catching up to our American cousins slowly but surely on the old rock n roll weddings front.
Rock n Roll Bride readers Emma & Ian actually found their photographer Philip Allen through a post on this humble blog.  Phil told me the whole story: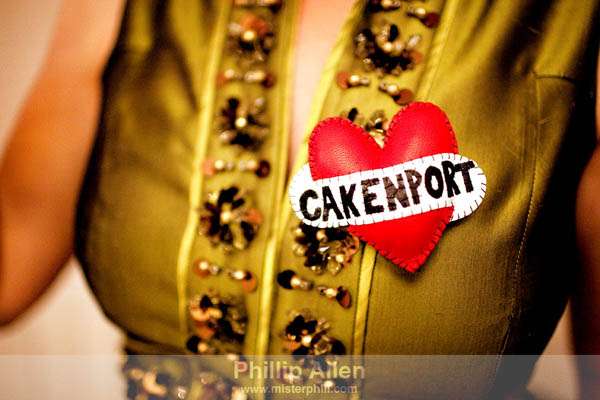 When Emma & Ian emailed me to ask if I'd shoot their wedding I slid off the sofa and collapsed onto the floor. The couple constitute Bournemouth based wedding photography outfit Big Bouquet and since embarking on my own venture in that field I've considered them the very best in my local market, and they first came across me after Rock n Roll Bride featured my first ever wedding commission! I knew from the outset that every aspect of their wedding day would fit the Rock n Roll Bride ethos. Emma & Ian delivered each other up the aisle, she in a stunning green silk dress (remember I told you green was the new red dress!) he sporting a matching green silk tie (along with a suit for modesty's sake). Sans best man and maid of honour (though there were, in a manner of speaking, a Best DJ and DJ of Honour that played an important symbolic and practical role in celebrations later in the day) their marriage was about them, who they are and what they represent to each other. For the evening party they eschewed the traditional first dance in favour of playing a 'first set', as DJs. Ian is one half of talented and successful DJ combo Geek Chic Soundsystem. The evening party had a beach holiday theme running through it like love through a stick of rock with guests leaving messages for the happy couple on picture postcards as opposed to the traditional guest book. Being wedding photographers, they also built a photo booth in the form of a Punch & Judy show (though I've kept their trade secret largely under visual wraps until they uneash it on the market). Emma spent the evening sporting a fantastic brooch created by Zoe Larkins of London based Love From Hetty & Dave. Zoe's work can elsewhere be seen adorning the likes of Amy Winehouse and Russell Brand and as a good friend of Emma & Ian she joined them for the night's celebrations.
Thanks to the lovely Phil for sending me this wedding – I am honoured that I was able to put the couple together with this fantastic photographer!
Credit: MisterPhill