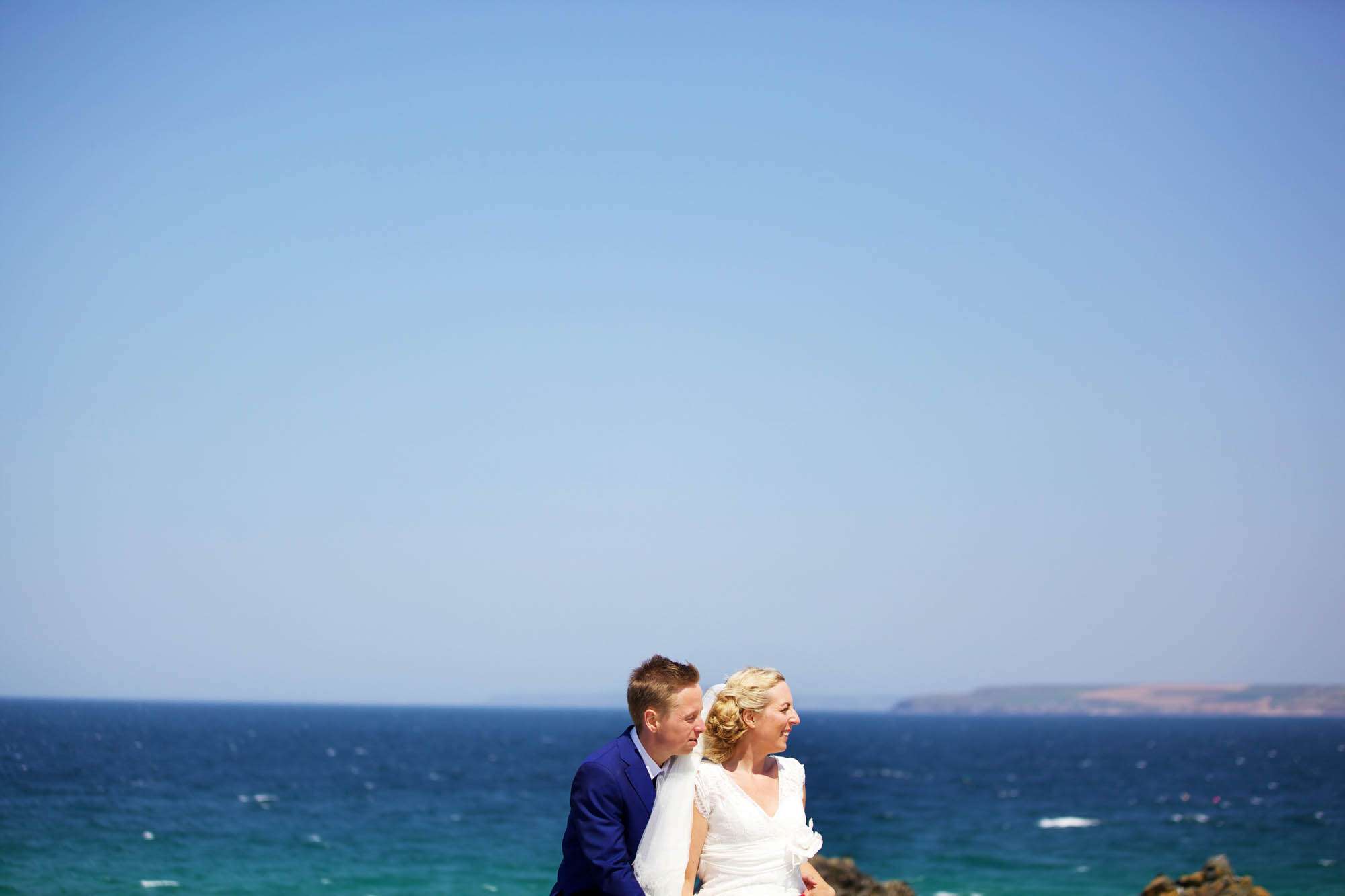 When the deputy editor of Cosmopolitan Magazine gets married, you just know it's going to be awesome right? Well Suzy & her fiance Christian didn't disappoint when planning their summer wedding. Choosing St Ives, Cornwall as the location, what could be more apt than a seaside themed wedding?!
"We met at journalism school in London in 1999 and were friends for five years before we eventually got together," began Suzy. "Even though we live in London (and I'm from Oxford), we never discussed getting married anywhere but St Ives. It's the place my dad's been to on holiday ever year since he was a baby – so the place I've been to on holiday every year too. It's the most beautiful seaside town with gorgeous cobbled streets and the most spectacular beaches. It feels magical and we wanted to share it with all our friends."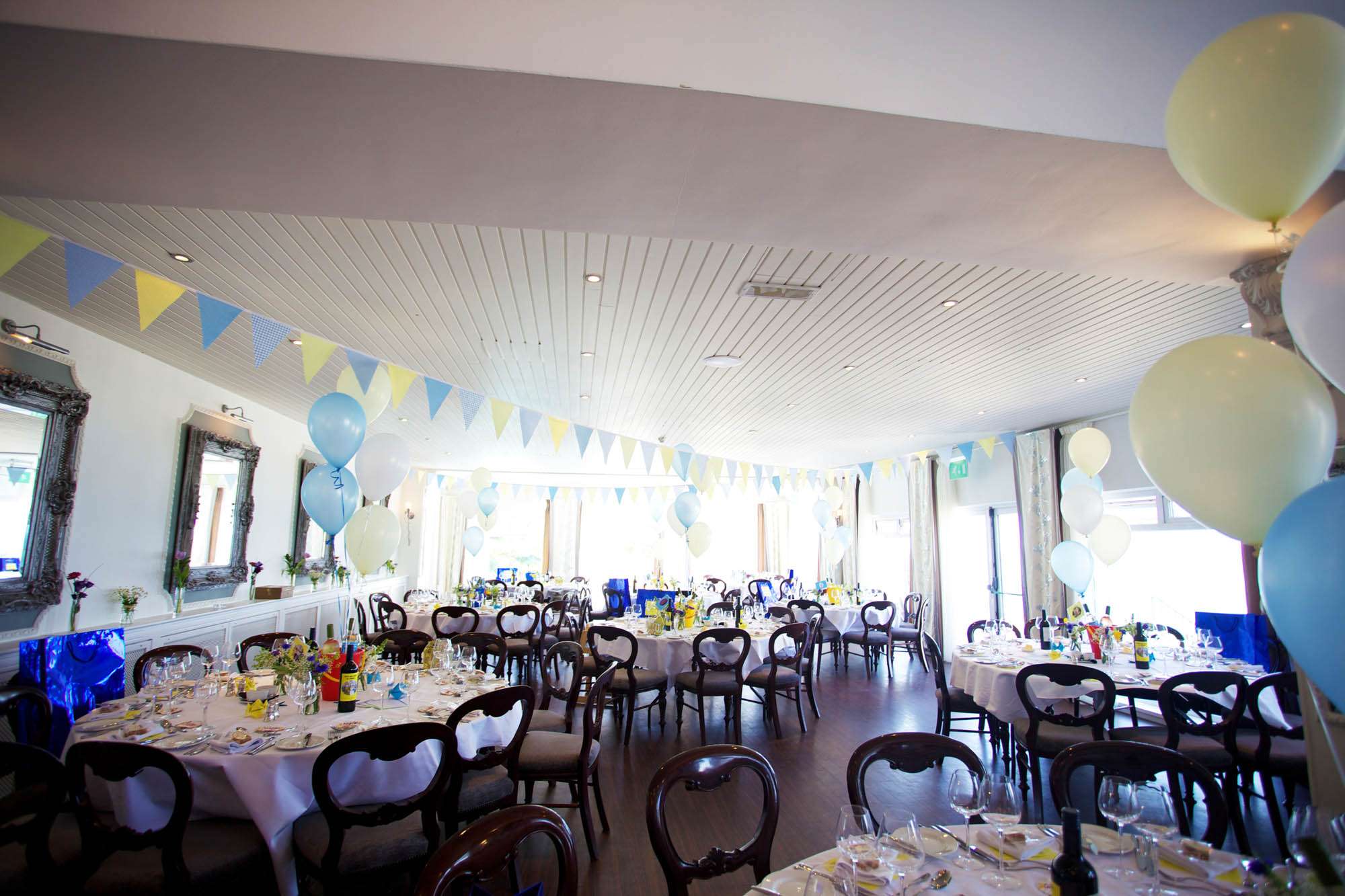 "From the off, we were agreed on one thing: that we wanted to have a legendary party that all our friends had a total blast at. We wanted to thank everyone for coming by making them feel special and part of the day. We gave as many of our mates jobs as possible (in a nice way) and personalised as much stuff as we could without having breakdowns."
The ceremony was held at St la's Church and the reception at Carbis Bay Hotel, right on the beach. "We wanted a seaside theme to run through our wedding," explained Suzy when I asked about their wedding theme and decor ideas, "particularly the stationery. One of our friends, Dave, is an illustrator and has just set up a bespoke wedding invitation business, Love Illustrated. He very kindly said he'd design our invitations as a wedding present. Dave told us to be as 'creative and out there' as we liked. I think he may have slightly regretted that…"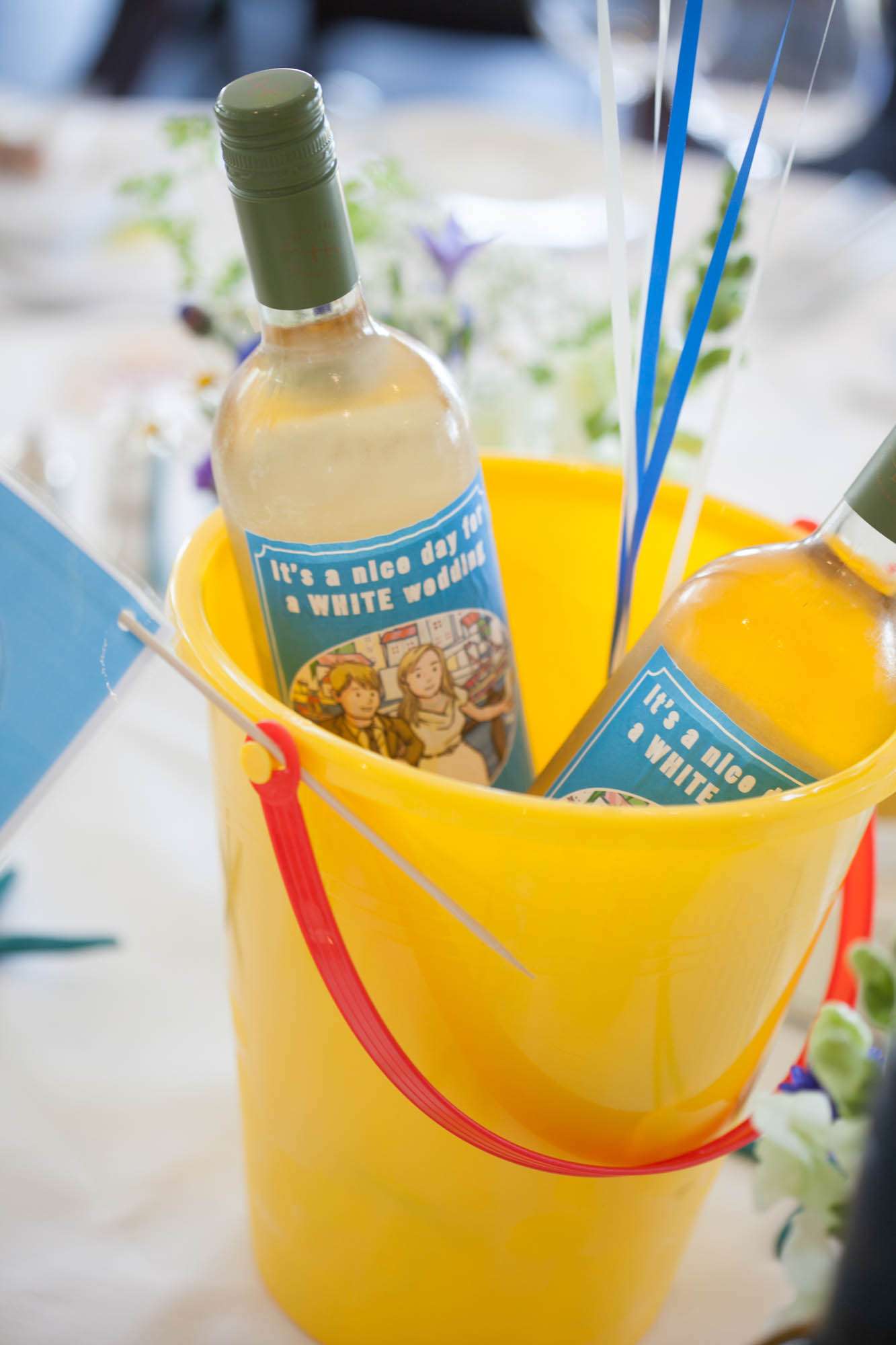 "We asked Dave to design a cartoon of us outside our venue which we could have printed on postcards to send as our Save The Date. It was such a cool picture that I used it on other bits of stationery too. I used it to design labels for our wine bottles saying 'It's a nice day for a WHITE wedding' and 'Let's get REDy to rumble'. We also made one of those boards you put your face in at the seaside. It went down brilliantly. For the actual invites I had this idea of sending everyone a stick of rock (to get them in the seaside mood) with the invite wrapped around it. Dave designed a really cool long thin invitation with the details on the front in an art deco font and a cartoon map of St Ives on the back. I printed small stickers of the cartoon for the rock label, then wrapped the invite around and tied with yellow twine. For the Order of Service, I had this idea of folding them into origami boats with the words on the front and Dave's map on back. When people arrived at the church, they also got a sticker telling them who there their allocated usher was and which bus they were on (I used the sea and dolphin on Dave's map as the background). And a fish and chip cone with confetti in."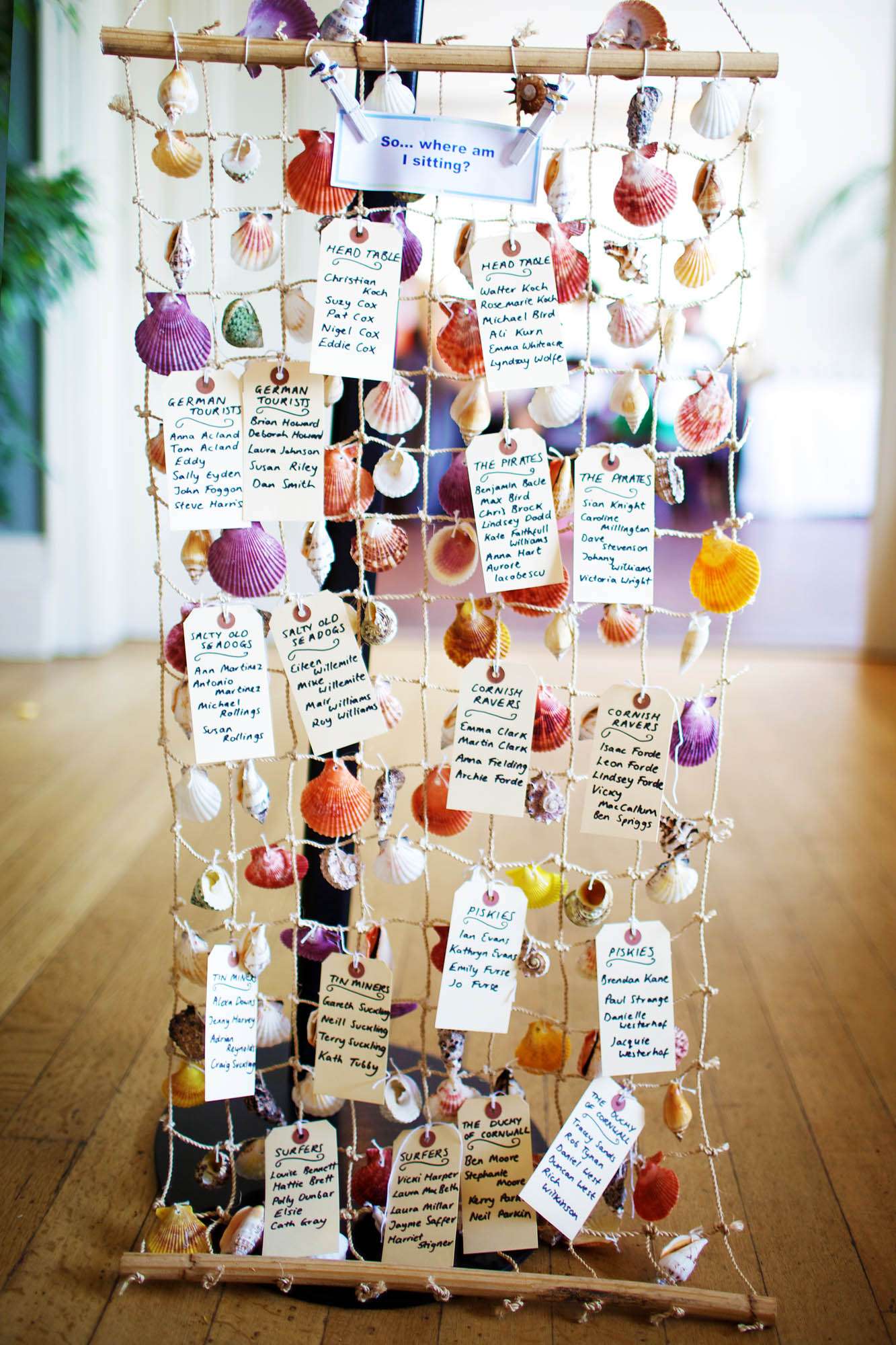 The seaside theme obviously didn't stop with the stationery, and was carried on throughout the reception. The couple enjoyed getting into the spirit bit DIYing as much as they could. "My mum made metres and metres of bunting in yellow and blue (our colour scheme) to hang on the ceiling and outside. She deserves a medal. On each table, we filled seaside buckets – red, yellow and blue – with ice and used them as ice buckets/wine bottle holders. Bunches of blue and white balloons cascaded out of them. There were also jam jars of flowers, blue starfish and favours of bags of clotted cream fudge from Mryings, which was my favourite holiday sweetshop when I was a kid."
"Instead of place cards, I painted people's names onto scallop shells. It took bloody ages but it was worth it. As did the origami dream catcher menus. They looked cool but were well time-consuming. For each table, we also made 'Wedding Bingo' for everyone to play during dinner and the speeches. Instead of numbers, we had silly things that we thought were likely to happen during the day. For example 'Suzy's dad quotes Bob Dylan in his speech', 'Millie & Anna get #StIvesWedding trending on Twitter', 'Lyndsay does an impromptu "best woman's speech"'. We personalised them for all the different tables so that there was a square for everyone. I also made seaside flags (which I hoped looked like the ones you used on the beach when you were little) with all the table names on — we attached them to the buckets."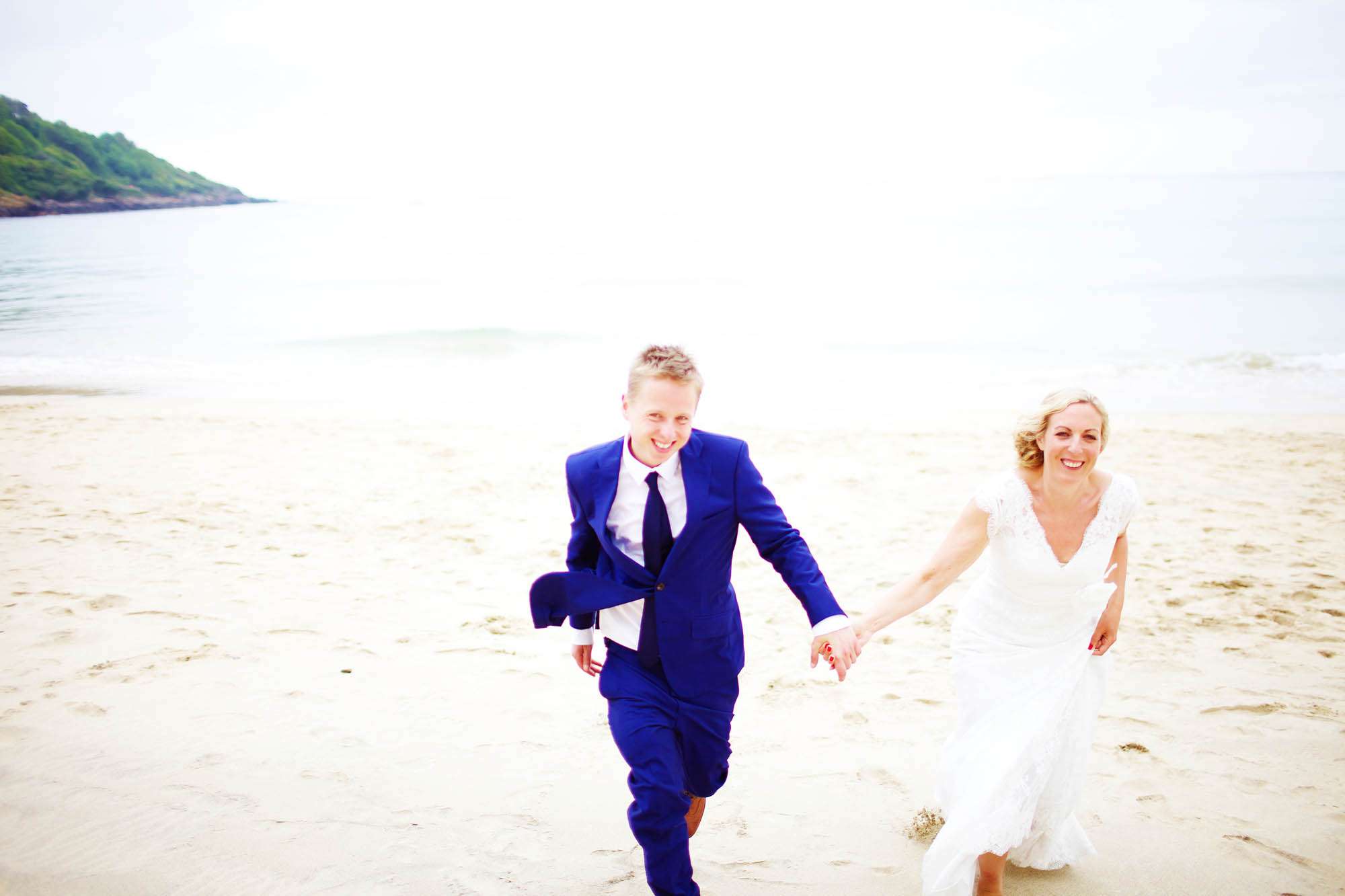 Phew! As you can tell, this couple really went all out with there theme and doesn't it show? Huge love and thanks to Suzy & Christian and their photographer David McNeil for sharing with us today.
Supporting Cast:
Photography Credit: David McNeil Photography
Ceremony Venue: St la's Church, St Ives, Cornwall
Reception Venue: Carbis Bay Hotel, Cornwall
Bride's Dress: Cymbeline, 'Fado'
Bride's Shoes: Rachel Simpson, 'Eva'
Bride's Headpiece: Corrine Smith Design, 'Tipi'
Groom's Outfit: Richard James
Bridesmaid's Dresses: Maids To Measure
'Cheese' Cake: The Cheese Shop, Truro with pasties from Philps
Flowers: Wheal Sara Flowers, St Ives
Hair: Juliette & Sophie, Salon Uno, St Ives
Make Up: Danielle Alexis Hitchcock
Stationery: Love Illustrated
Transport: Strawberry Leisure
Ice Cream Tricyle: The Sweet Indulgence Company