As soon as I laid eyes on this beautiful bride in her STUNNING blue dress I knew I had to share and after speaking to Chloe herself and getting all the hot gossip and details from the day, well I couldn't resist but to post these immediately. Take it away Chloe…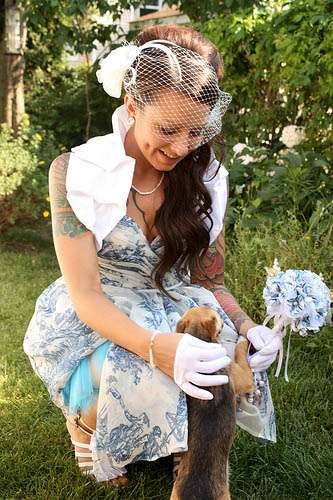 We got married at Junior Ranks Mess on the Rideau Canal in Ottawa, Ontario, Canada and didn't actually have a theme – I am far too eclectic to pick a just one and definitely even less likely to find one my hubby would have agreed with! I basically chose everything I liked and knew it wouldn't match but it would make sense to everyone who knew Kevin & I, because we are both such open and free people. We chose blue as a color but did not limit it to any particular shade or tone, and the result was a beautiful mess of all colors of blue imaginable – it was a huge hit with the wedding party and guests and took so much stress out of planning (who wants to have to order swatches?)
Decor was came to under $100 – I hand folded 200 tissue pompoms to hang, hand folded 300 paper cherry blossoms for bouquets, centrepieces and ceremony decor and Kevin hung 300 blue and white balloons. Even the candles and vases were dollar store and I don't have any leftover because people went crazy for them and brought them all home!
We did everything possible it seems to drive my traditional in laws crazy – we asked for money instead of gifts, we served hor d'hoeuves instead of a dinner, I had a bridesman, I designed a dress to showcase my ink when my father in law suggested I get a turtleneck gown to hide them (seriously!) Oh, and Kevin insisted on rocking the ceremony and marched in there to Sweet Child O Mine by VitaminStringQuartet, and we rocked right out of there to Dance,Dance by VitaminStringQuartet.I tried on traditional gowns but looked like I was playing dress up, so in the end I ordered my dream dress – I saw it on Project Runway season 1 years back and said "that will be my dress" (the white dress). I found a great seamstress on etsy AtelierTami in Greece, who made it for $120! It was exactly what I wanted – plain. I have enough skin decoration and planned on accessorizing on top of that! I got my blue, reception dress from Sarah Seven also on etsy. I had a beautiful birdcage veil made by another etsy artisan, 5eizen and got my shoes from Betsey Johnson (Vixen) but I added the shoe ruffles myself which I made. and Kevin bought his outfit at a skateboarding shop for under $100. My bridesmaids/men chose their own outfits, I told them blue and white and something you will wear again. I wanted them to look like themselves, since I chose them because I love them as they are.
I want to give a shout out to all these amazing etsy sellers that I used:
White Gown by AtelierTami
Blue, reception dress by Sarah Seven 
Birdcage Veil by 5eizen 
Gloves by Creonodo
Shrug by LolaShowGirl
Bouquet by YandeBridal
Corsages, Boutonnieres and pompoms by CocoCupcakes
Earrings by SweetLobe
Thanks to the lovely Chloe & Kevin for sharing their blue-tiful (!) day with us!
Credit: Flickr (photographed by a friend of the couple)
ps – if you haven't entered already then please don't forget about the Wristie Love contest – get those entries in!