I have been looking forward to seeing Hannah & Alex's wedding ever since I saw their school yard engagements and the bridal shoot to be used for their stag/hen/bachelor/ette parties invites. I first spoke to Hannah about 6 months ago when she forwarded me some of the work of her sister and photographer, Kelty and I have been nuts about it every since.  I have been lucky enough to become good online friends with Kelty so I was over the moon when she sent me a sneak peek of the wedding photographs after the day.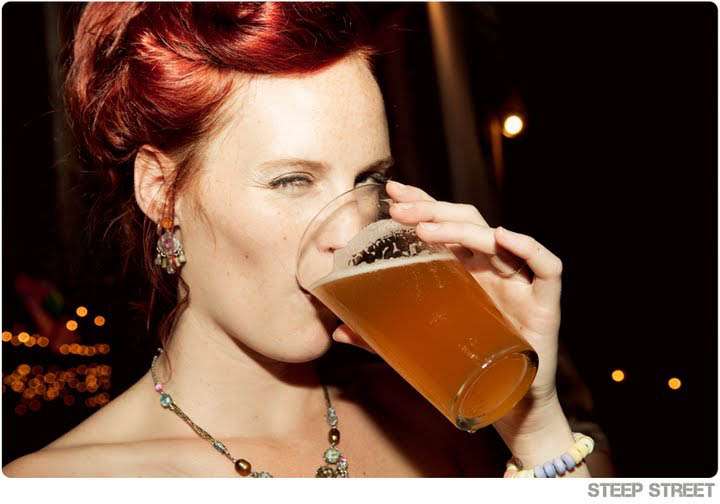 Emily of Once Wed has also featured this wedding but I had to share some of my favourite kooky and retro cool details about this fantastic wedding.
Kelty explains: Hannah and Alex have known each other since childhood and lived in the same neighborhood, swam in the same pool and went to the same elementary school! They were married beneath the very oak tree they played under as children. The wedding was a casual an wonderful experience… both of them stood inside hoola hoops under the tree as a dear friend read them their self-written vows inside the cover of a favorite Doctor Seuss book. The reception was totally casual and hilarious… everyone loved the pinatas and small details, as well as the HUGE candy table spread (most of which they brought back from a summer trip to Spain), multi-flavored cupcakes and a cake made by Alex's mom with Hannah and Alex figurines on top. My partner Justin and I drew and painted the sign-in poster of Hannah and Alex (and their pups) in front of the Oak Tree, and all of the decorations were handmade by Hannah and myself. Each table was littered with multi-colored dahlias, vintage tin toys, and children's games. Hannah's dress was made from scratch by two of her best friends, Caitlin and Shola. Guests came from around the world (Alex's parents are German and Chilean) and we all had a grand old time dancing to Hannah and Alex's own recorded songs! (click here to check them out)
Hannah also wore stunning earrings and a necklace from Isreali designer Ayala Bar from Cargo and the bracelets were family heirlooms.
Instead of boring run of the mill favours or wedding day portraits, Kelty was tasked with shooting 8 different album covers entitled 'Faux Real' to give to the guests. The couple donned their wedding outfits and Kelty was told to…
…(allow) my mixed media instincts run amok, free to create their "faux real" worlds… Hannah and Alex then recorded covers of three of their favorite songs in a matter of a few days, doing all of the instrumentals and vocals themselves, (click here to check them out) and had a blast whipping together the music in a sweet and silly way.
And now for the best bit – the photographs. Below are the album covers (plus exclusive outtakes!) and then my favourites (i.e. millions of images) from the rest of the day. A huuuge thank you to Hannah & Alex for not only their awesome wedding but for introducing me to Kelty's work in the first place and of course to Kelty herself for being too damn talented and lovely for words!
Credit: Steep Street Photography