My best babe Sophie sure is clever. Crown & Glory have been synonymous with flower crowns for as long as I can remember (and they're the only flower crowns worthy of wearing IMHO) but for spring/summer 2018 they're offering a brand new floral bevvy to get excited about – faux floral bouquets!
And the tagline, bouquets you won't want to toss, could not be more perfect!
I am a massive fan of real flowers. Fancy florist arrangements, cheap half dead stems from the Morrisons sale bin, and my house is full to the rafters with indoor plants. But when it comes to your bridal bouquet, the idea of a faux flower posy is quite frankly genius. Not only will it not wilt and fade throughout the celebrations, but it will be something you can keep forever as a memento of the day.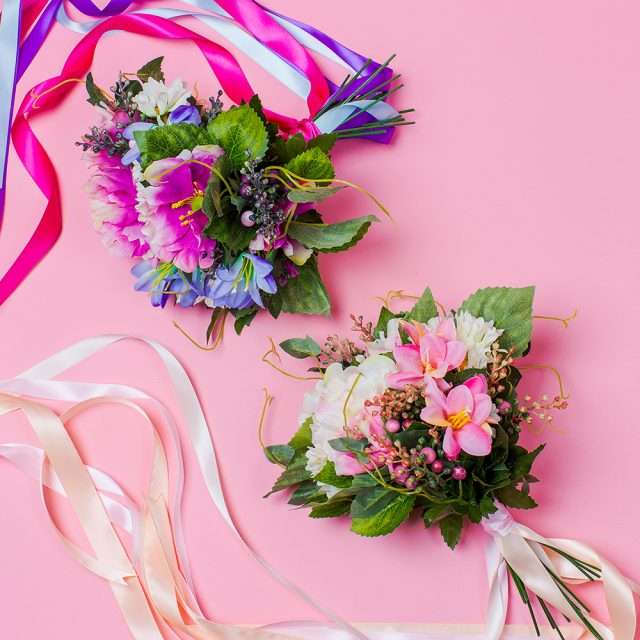 Sophie, who dreamt up the idea when considering the flowers for her own wedding, agrees, "I absolutely love the work that florists do, but just couldn't justify the expense for something that would last a few hours and then be thrown away. In the end I purchased fresh flowers from a wholesaler and we arranged them ourselves the night before the wedding. But honestly it was still quite expensive, stressful to do it ourselves and I felt guilty about the waste afterwards. Then I thought how brilliant it would have been if we had faux flower bouquets, that looked just as good as the real thing, but could have been assembled in advance."
There are a variety of different colourful designs, including year-round peonies (no longer will only July brides be able to carry this popular stem!), adorable ranunculus, sumptuous roses and their signature style – the Meadow Bouquet, which is designed to look as if you've collected your flowers from a field (without all the fuss!)