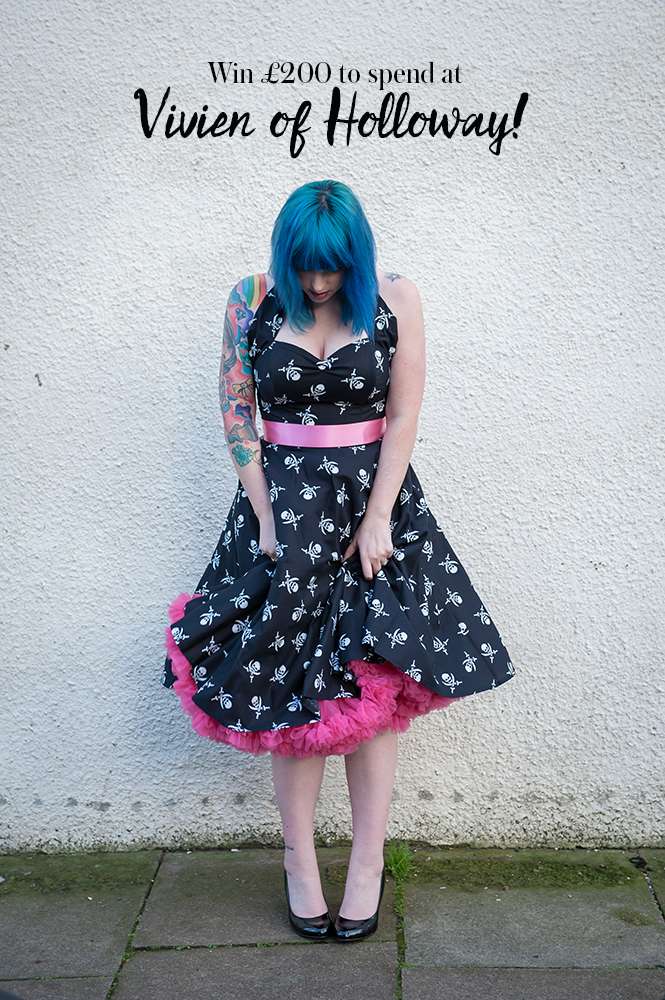 Although I spend most of my working week in sweatpants with only my cats for company, sometimes I'm lucky enough to be invited to visit people in much more glamorous locations. OK so the Holloway Road in London isn't technically a very glam spot, but nestled in amongst the tattoo shops and greasy spoon cafés is a retro-lover's oasis – Vivien of Holloway!
No doubt you've heard of them before. Their dresses are known far and wide as some of the best around. They have 12 main styles, and each of them comes in a huge range of different colours and prints, meaning they're basically perfect for alternative bridesmaid outfits!
But did you know they also sell tops, cardigans, jeans and the dreamiest, fluffiest rainbow petticoats on the planet? They even have a wedding dress collection which starts from a mind-boggling £89! Best of all, everything is made right here in London.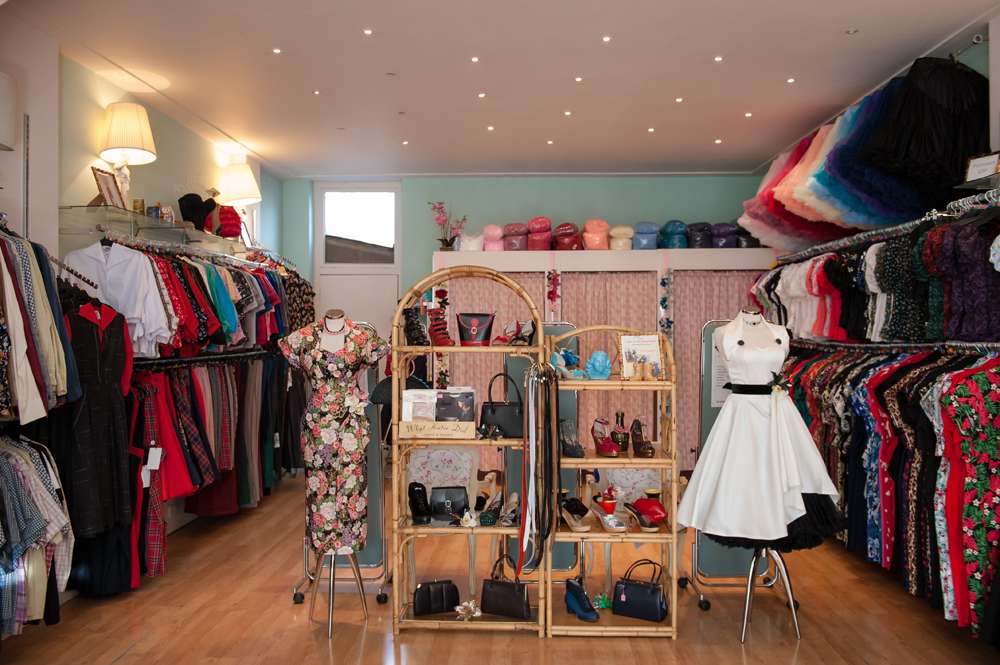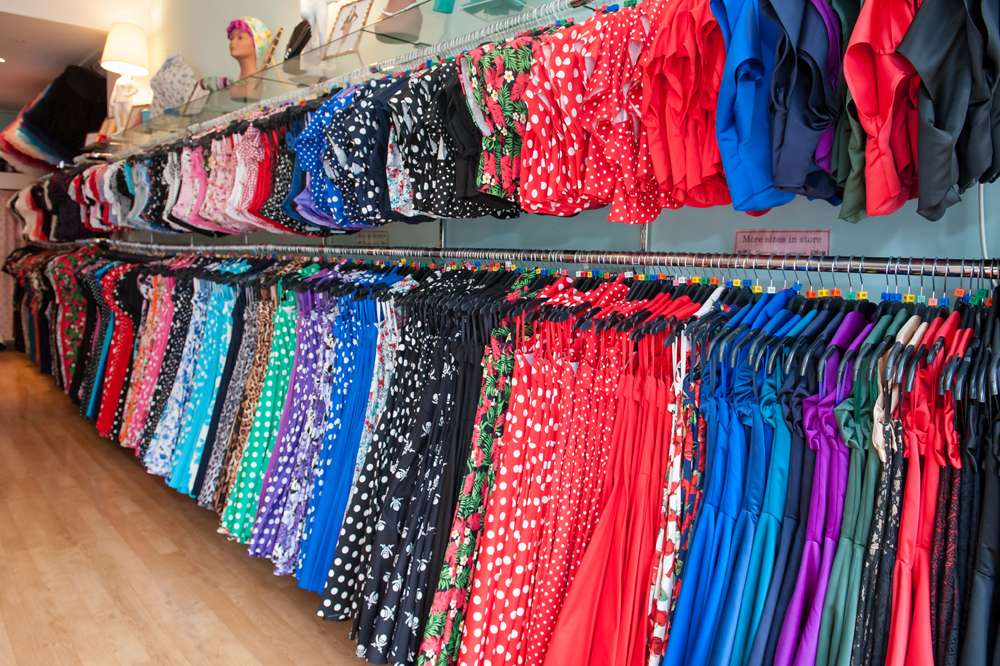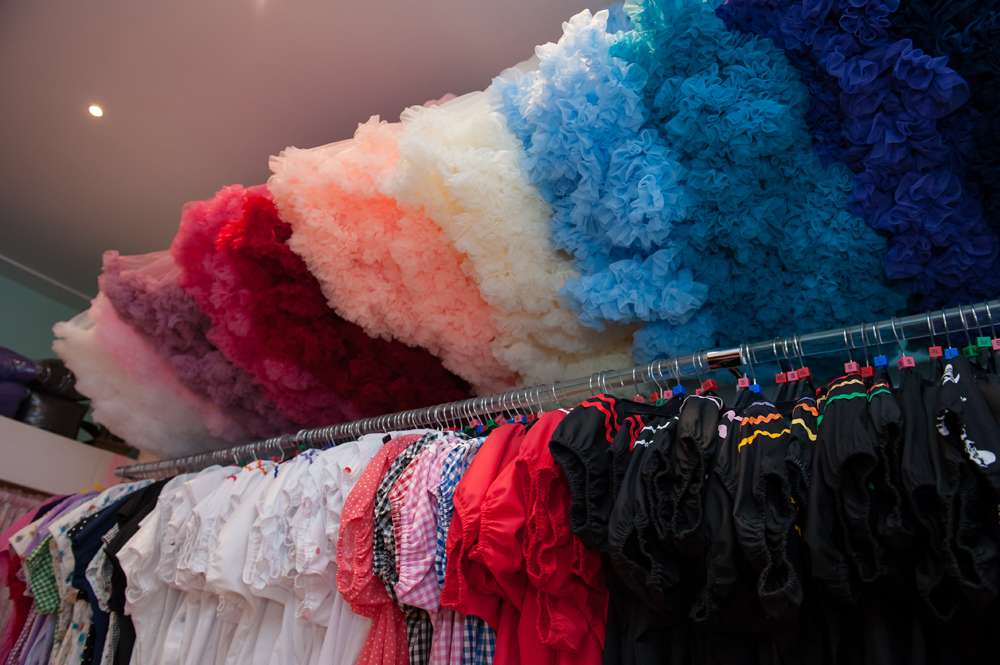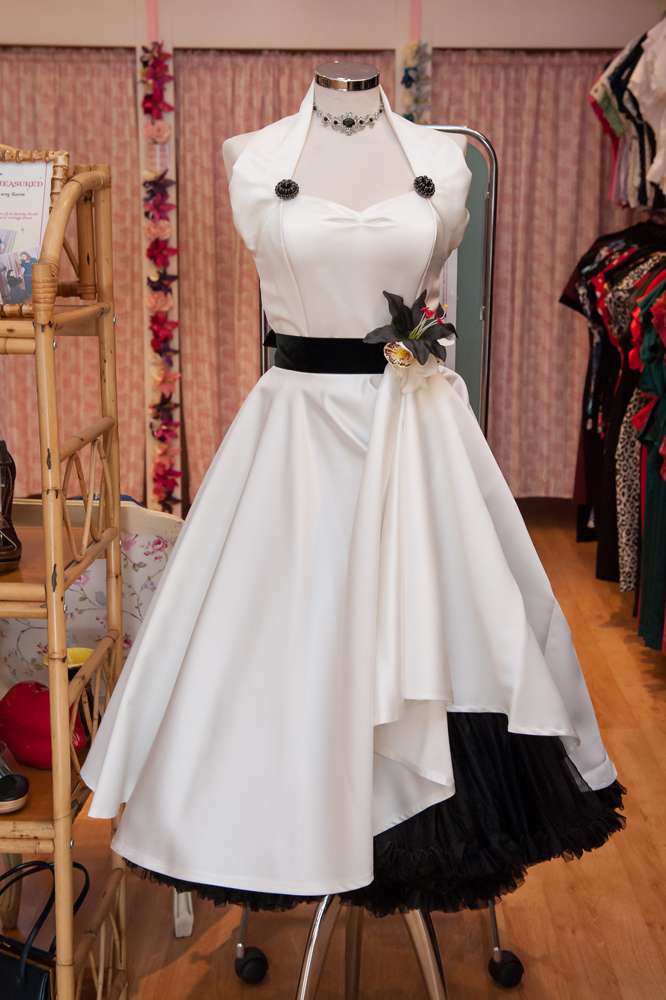 I was in heaven… and overwhelmed with the choice. I wanted to try on EVERYTHING. Luckily I had shop assistants, Laura and Sandy, to help me narrow things down.
My go-to style is usually a maxi skirt and tee-shirt, but I also love the classic 50s shape. So that's where we started. As soon as I slipped the halterneck wedding dress on I felt like a retro princess. We teamed it with a pink sash to match my shoes and a teal petticoat to match my hair.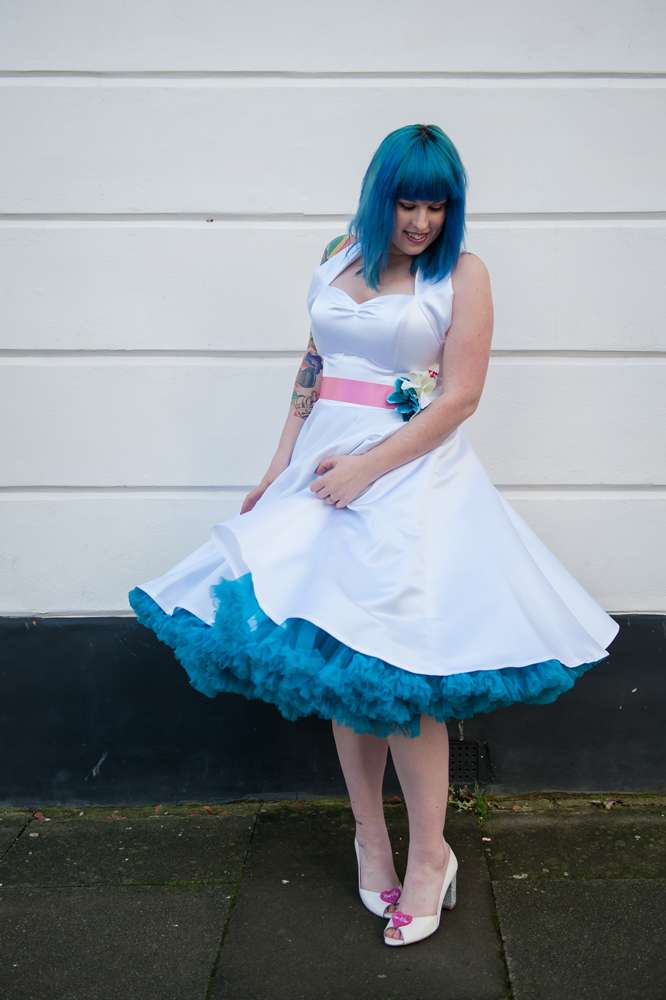 I did NOT want to take this outfit off. If it was socially acceptable to rock a wedding dress every day of my life, this is the one I'd wear. Comfortable, classic and it gives you a killer shape. I literally could not believe it when they told me it cost £99. I was sure there had to be a zero missing off the end.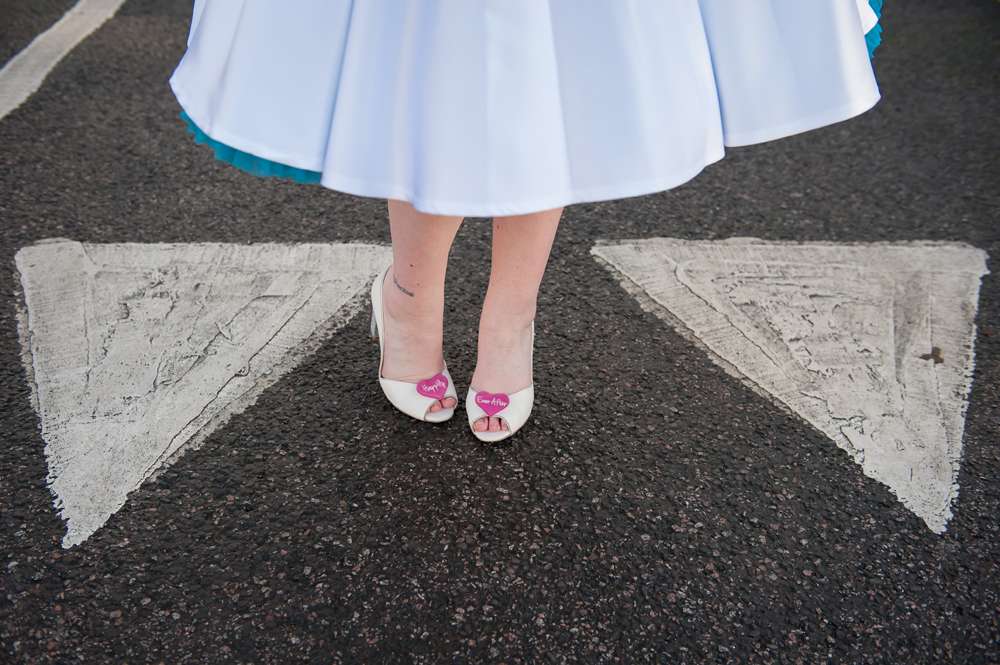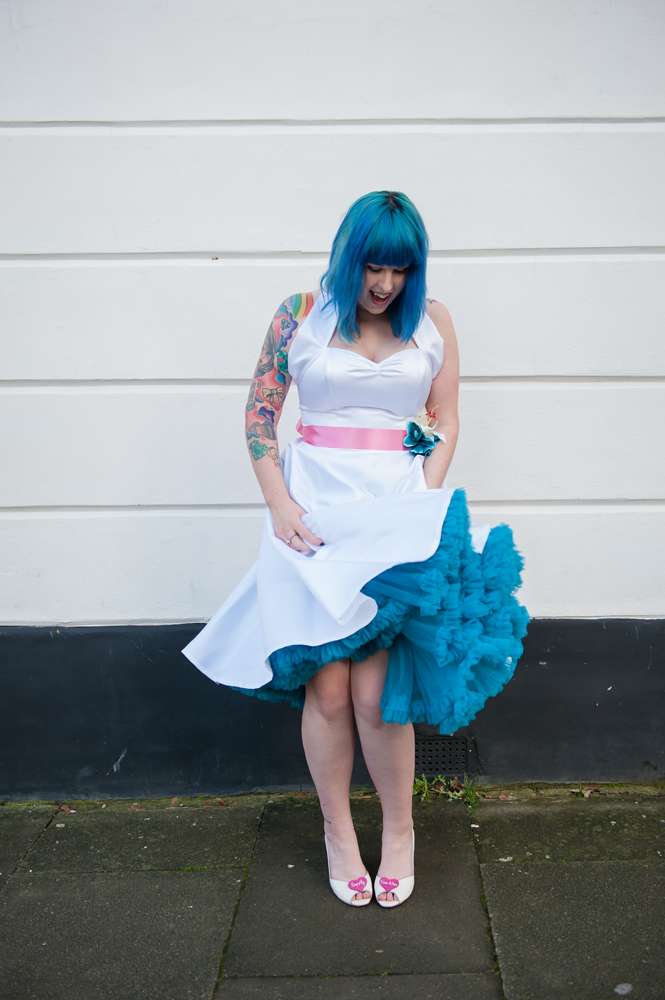 After I'd finished swishing and twirling away for a good 20 minutes, I was reluctantly ready to take it off and try something else. "Let's do something fun!" I said, and to me, fun means SKULLS!
I went for the exact same shape dress but this time in the 'pirate', 100% cotton, fabric. Seriously, how amazing would your bridesmaids look in this? Maybe all wearing different coloured petticoats? Cuuuuute! The fabric also comes in tops, skirts and other shaped dresses too, all of which probably need to get in my wardrobe immediately.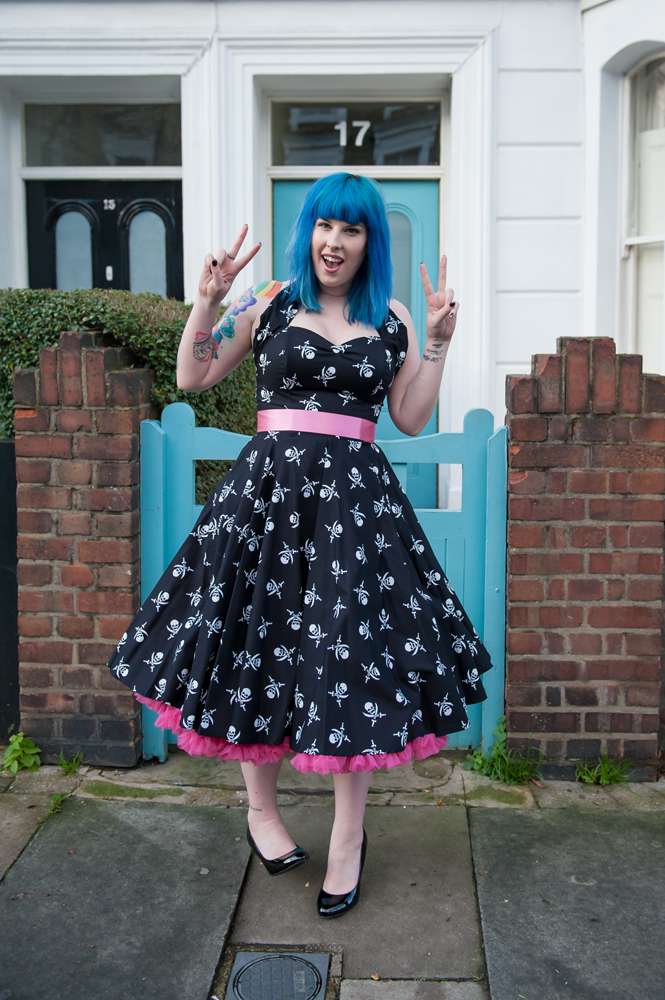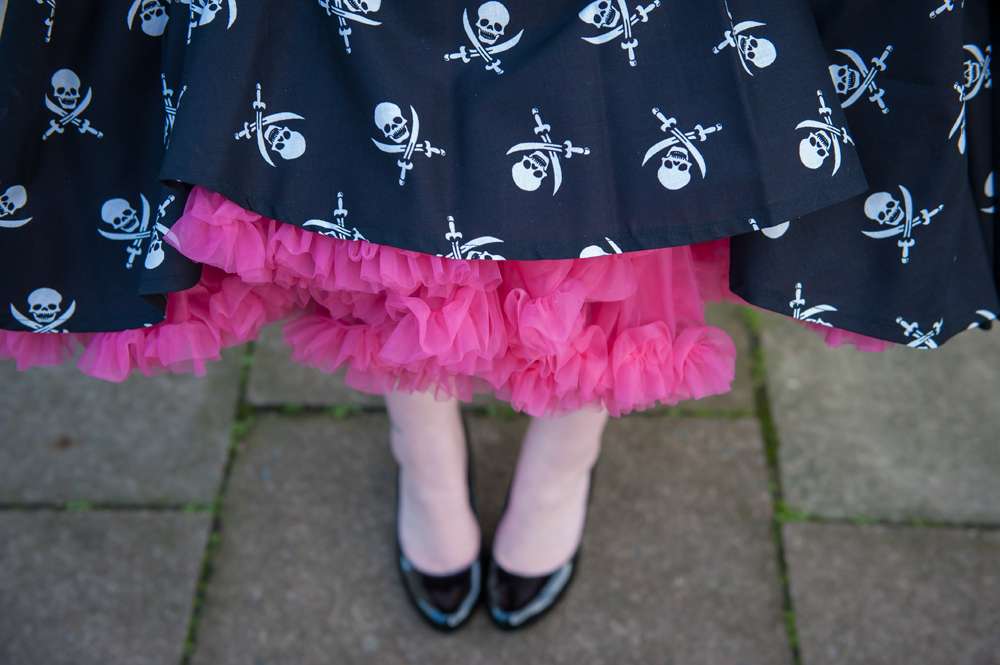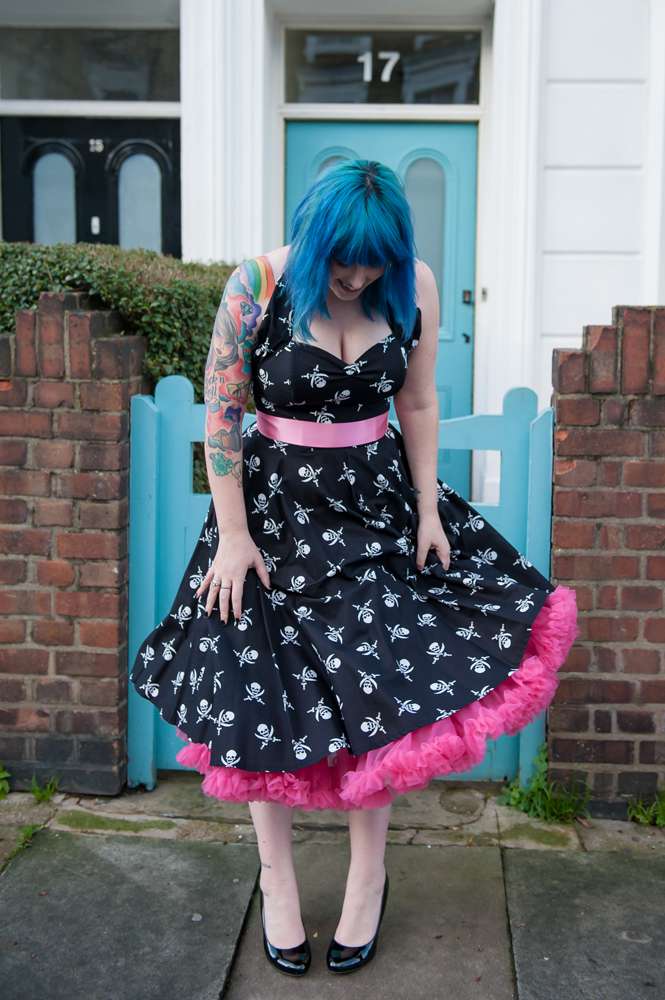 I was ready to switch it up with a circle skirt and top for my next try on, and how could I resist this pink cat print? Did they design this with me in mind or what?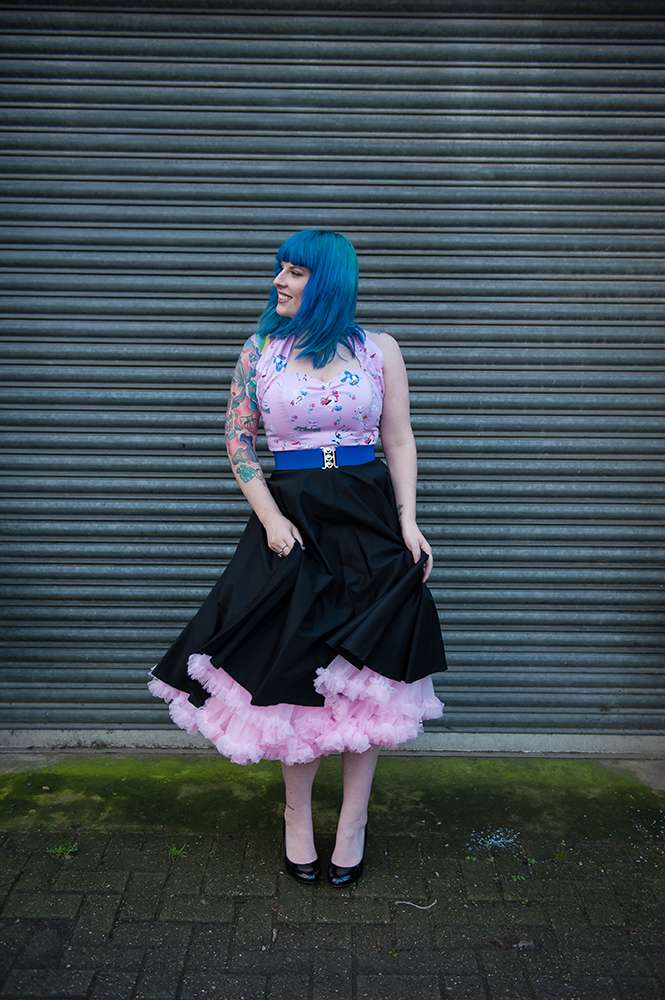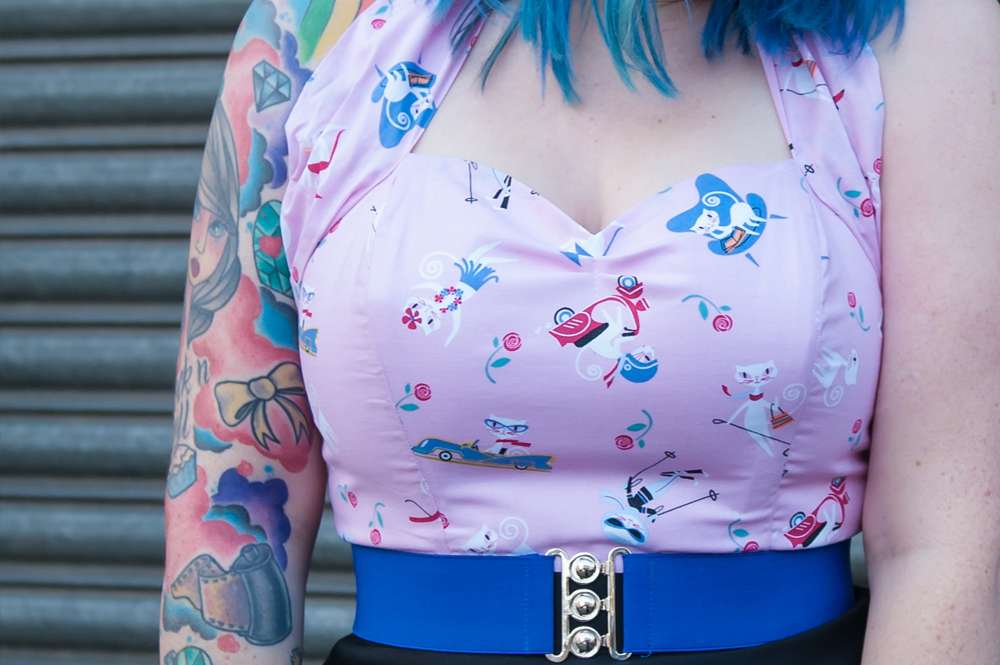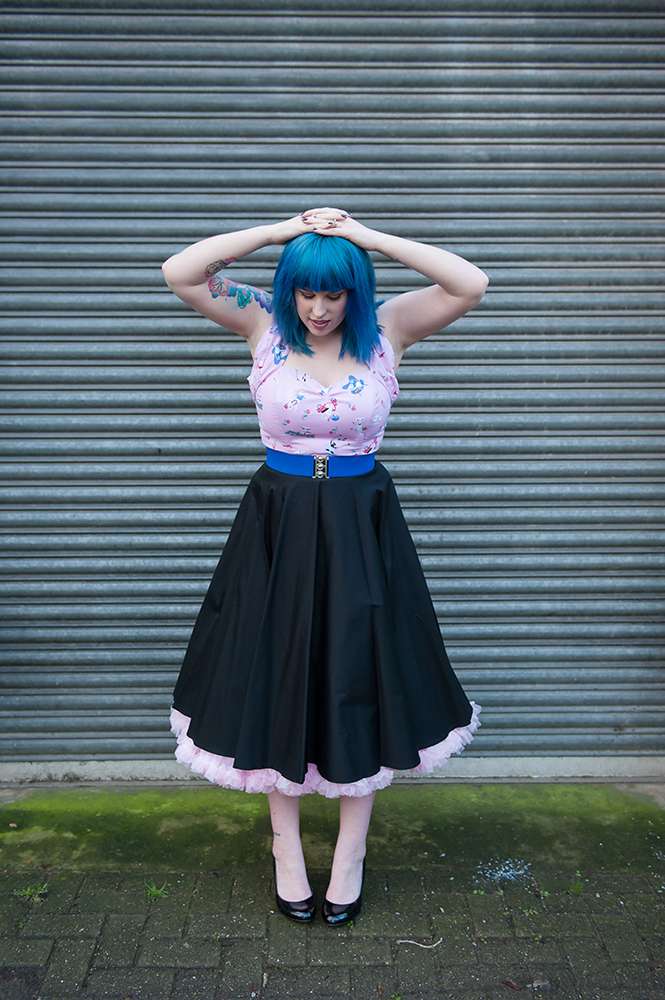 Laura was keen for me to try something I'd never normally pick out, so she selected this sarong style dress for me. I'm not gonna lie, I was initially VERY skeptical. I'm not really a 'flaunt your curves' kinda gal so I thought I'd feel extremely exposed with a dress that hugged me in all the right places! I have to say though, I think I looked pretty damn good in it. Although it's fitted, the draped skirt disguises a bit of a tummy and the sweetheart neckline makes your bangers look…erm, banging!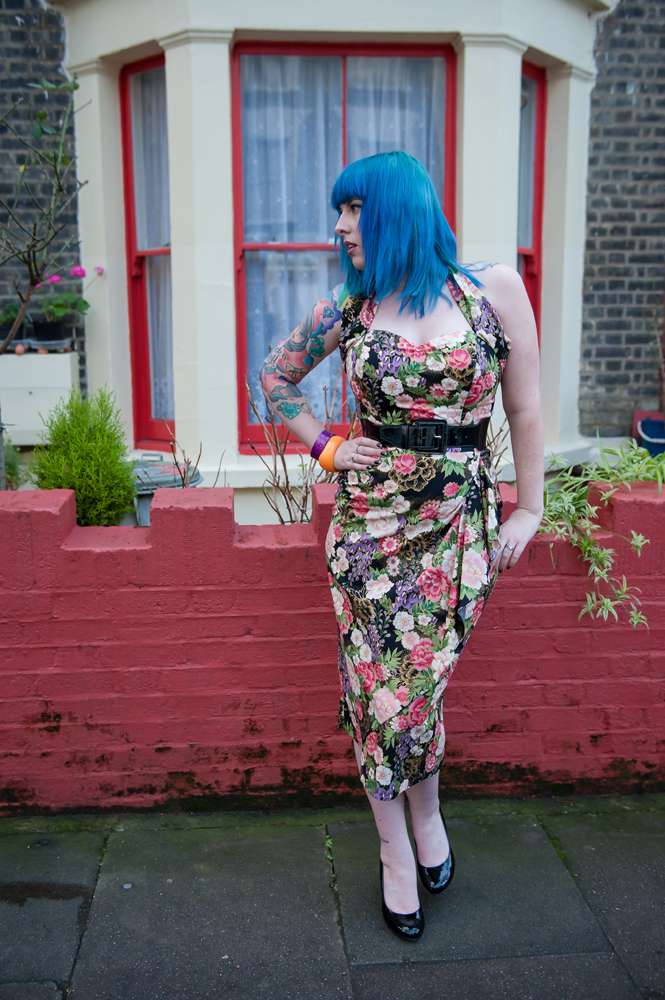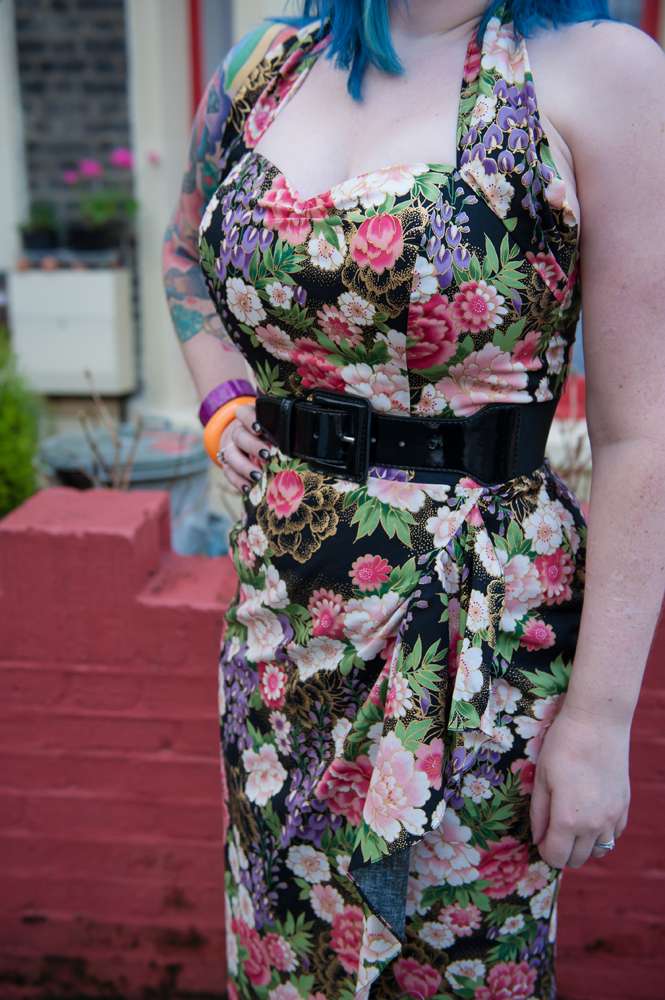 I was clearly now feeling brave, because I did something I thought I'd NEVER do… I asked if I could try on a pair of jeans! Anyone that knows me will be aware of what a huge feat this is. I don't think I've worn a pair of trousers in about 10 years, let alone jeans! In a moment of madness, I actually bought a pair from ASOS a few months ago… and they've sat in my wardrobe with the tags on ever since.
While I was initially going to go for the safe option of black, Laura convinced me to go for PURPLE and to team it with the pink cat print top. Well, I have to say… I'm pretty damn pleased with the outcome. So much so that I'm actually considering ordering a pair. What do you think!?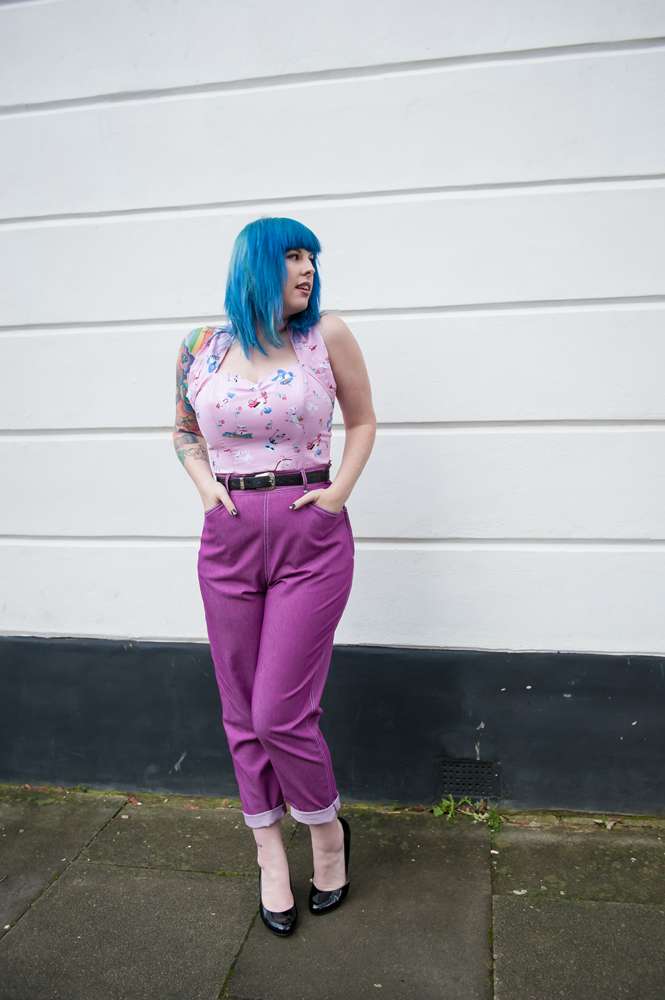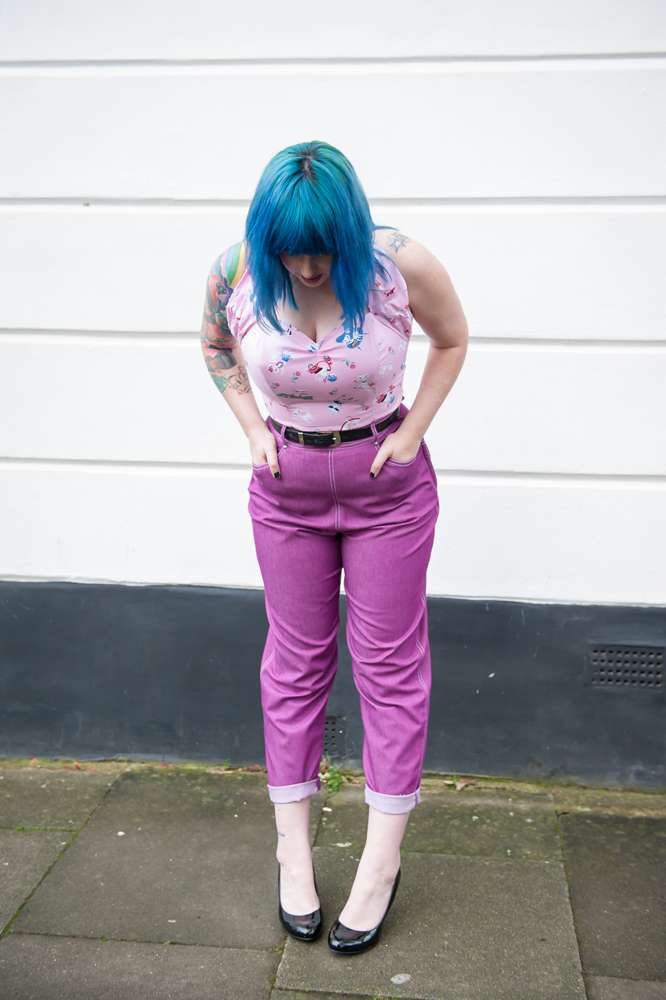 Win £200 to spend at Vivien of Holloway!
Whether you want to buy your wedding dress, treat your bridesmaids, or just splash on a whole new wardrobe for yourself, who wouldn't want to win £200 to spend at Vivien of Holloway!? Entering could not be easier either. All you have to do is visit their website, have a browse around, then come back here and comment below letting us know what you'd buy if you won – simple!
The contest is open to all readers, wherever you are on the planet. The winner will receive a voucher which can either be redeemed in store or via their online shop. You have two weeks to enter, until midnight (GMT) on February 3rd, and the winner will picked at random and notified by email after that date.
GOOD LUCK!
Ts & Cs
♥ One Rock n Roll Bride reader will win a £200 voucher to spend at Vivien of Holloway. Voucher can be redeemed in store or via their website. If you order online, a delivery fee will be applied.
♥ Closing date for entries is 03/02/2016. The winner will be chosen by Vivien of Holloway and will be emailed after that date.
♥ Contest open to all Rock n Roll Bride readers over the age of 18. Customs charges may be incurred for international deliveries which must be covered by the winner.
♥ Only 1 entry per email address.
♥ If for any reason the advertised prizes are unavailable, Vivien of Holloway reserves the right at their absolute discretion to substitute a similar prize of equivalent or greater value. None of the prizes may be exchanged or transferred and no cash alternative will be offered.
♥ By entering the draw, you hereby warrant that all information submitted by you is true, current and complete.
♥ Liability cannot be accepted for entries which are lost in transit or not received due to technical difficulties.
♥ Vivien of Holloway's decision and any decision taken by the promoter is final and no correspondence will be entered into.
♥ No purchase necessary.