Unless you've been living in a hole with no WiFi for the past six months, you've probably already heard that I'm partnering with The National Wedding Show this season to create the Rock n Roll Bride collection, an alternative wedding showcase at their spring shows!
Let's be honest, there are a lot of wedding fairs to choose from. Big ones, local ones, hipster ones, vintage ones, alternative ones… you've never had so much choice. So how on earth are you supposed to know which ones to actually go to? Well, today I want to let you know five reasons why I think you should come to this one!
1. The sheer size 
I love the cool, quirky, alt wedding fairs, but you just can't beat The National Wedding Show for the sheer number of exhibitors. Not only is it taking place in three locations – Manchester, London and Birmingham – three consecutive weekends, but each show has over 300 exhibitors! Sure, not all of them will be your cup of tea, but if you want to go somewhere to see a hell of a lot of wedding ideas in one place, this is where you need to be.
2. Meet some amazing alternative suppliers!
In the past I've left many wedding shows always wishing there were more interesting and unusual suppliers to see. But that's now all changing with the addition of the Rock n Roll Bride collection at The National Wedding Show.
I am in charge of the coolest area going, one that will showcase awesome bridal gowns, quirky wedding cakes, fabulous stationery, colourful jewellery and amazing photography. So far we have awesome exhibitors such as Crown and Glory, Jason Charles Jewellery, Leonie Claire Bridal Boutique, Claire Hill Design, Av A Go Booth, Art Cuts, Revival Live Productions and The Case of the Curious Bride… but that's just for starters! You can see the full list of exhibitors right here.
If you have a wedding business yourself, we still have a few more stands available (particularly for Manchester – come on Northern contingent, don't let us down!) If you're interested in taking part, simply email sales@nationalweddingshow.co.uk or call 0207 772 8455. I'll be at every show too and I can't wait to talk about you on my social media throughout the weekend!
3. The largest selection of wedding dresses
Finding your dream wedding dress can be a long and laborious process, but the National Wedding Show has one of the largest collections of bridal gowns all in one place.
Featuring a Bridal Zone, Designer Boutique and Bridal Boutique, they bring together an unrivalled selection of bridal shops and designer labels, with something to cater for every taste, budget and style. From mainstream brands to designer labels and made-to-measure, the show holds the UK's largest collection of wedding dresses under one roof.
You'll be able to try on as many dresses as you like, with no appointments necessary. This is also the perfect opportunity to buy your dress as many exhibitors will be running exclusive show-only discounts and offers that you won't find anywhere else.
4. DIY Workshops
One of the things I'm most excited about in the Rock n Roll Bride Collection, is the addition of workshops that you can take part in.
Nestled within the Rock n Roll Bride Café (yes, we get our own café!!) you'll be able to take part in DIY wedding workshops – taking place on each day of the event. You will be able to choose between three sessions: creating quirky stationery, a cocktail masterclass (ahem, that's where I'll be) or a cupcake decorating workshop.
Workshops are free to take part in a first come, first served basis. They will take place at 11am, 2pm, and 3pm.
5. Come hang out with me!
I don't want to toot my own horn too much, but I'm pretty cool and I love to meet my readers! I will be at all of the shows and I would be so thrilled to meet you. Selfies are always encouraged too so please don't be shy!
If you haven't been able to grab a copy of the magazine yet, we'll be selling them on our stand where you'll also be able to try on and order pieces from my veil collection with Crown and Glory. We are even working on an exclusive design that you will only be able to buy at the show!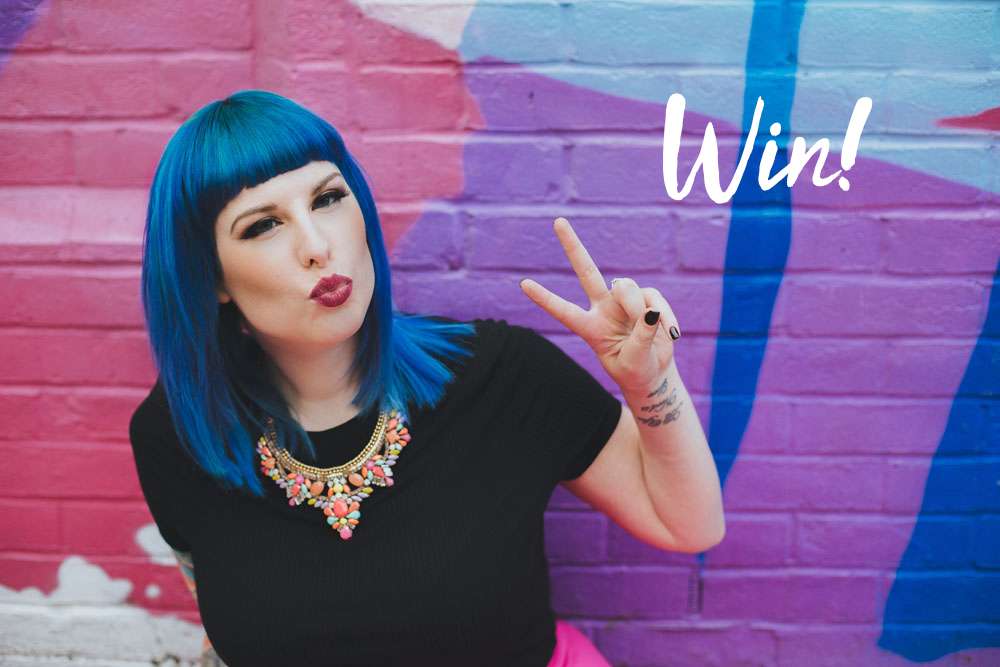 Win a pair of tickets!
Just to prove how much I want you there, today am giving away five pairs of tickets to the show of your choice.
To enter, all you have to do is comment below and tell me what part of the event you're most looking forward to. You have one week to enter, until Tuesday 2nd February, and the winner will be contacted via email with information on how to claim their prize.
Exclusive reader discount
If you're not lucky enough to win, fret not, because I am also offering ALL readers a whopping 40% off tickets. Simply enter discount code RNROLL at the checkout.
Yep, things are pretty darn exciting around here right now. The shows are taking place in Manchester on 20-21st February, London from 26-28th February and Birmingham on March 4-6th. I'll can't wait to see you there!
Ts & Cs
♥ Five Rock n Roll Bride reader will win a pair of tickets to The National Wedding Show, which can be redeemed at the location of their choice. Prize is for the tickets only and does not include travel or accommodation.
♥ Closing date for entries is 02/02/2016. The winners will be selected at random and emailed after that date.
♥ Contest open to all Rock n Roll Bride. If you are under the age of 18, you must be accompanied by an adult.
♥ Only 1 entry per email address.
♥ If for any reason the advertised prizes are unavailable, The National Wedding Show reserves the right at their absolute discretion to substitute a similar prize of equivalent or greater value. None of the prizes may be exchanged or transferred and no cash alternative will be offered.
♥ By entering the draw, you hereby warrant that all information submitted by you is true, current and complete.
♥ Liability cannot be accepted for entries which are lost in transit or not received due to technical difficulties.
♥ The National Wedding Show's decision and any decision taken by the promoter is final and no correspondence will be entered into.
♥ No purchase necessary.