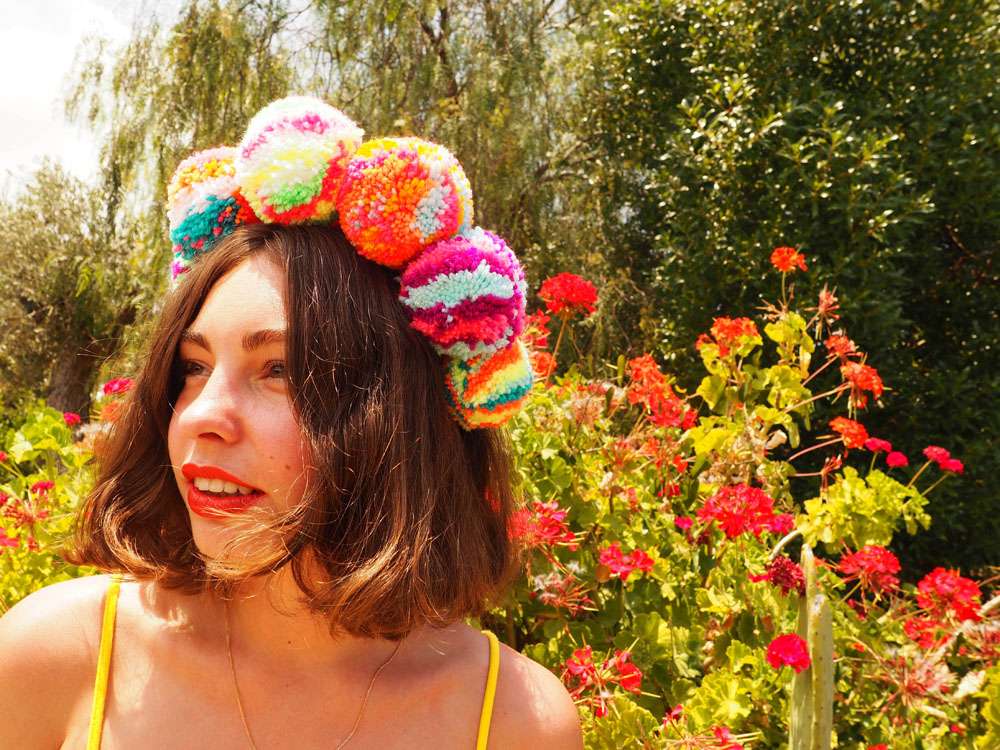 Today I wanted to do something I have't done for many years, to introduce you to a quirky new wedding supplier, but in the form of an interview. It was really fun to revisit this format of blogging and to pretend like I was a legit interviewer for a moment there!
Be sure to read to the end of the article too to find out how you can win the headband featured above in your choice of colours.
We all know I am obsessed with headwear, the crazier and more colourful the better, so I think it'll come as no surprise that today I'm chatting to someone who makes gorgeous things to wear! Introducing Jess of the fabulously named Fat Pom Poms…
Can you introduce yourself to the Rock n Roll Bride readers. Who are you and what do you do?
Hello! My name is Jess and I own an accessories and decoration business called Fat Pom Poms. As the name suggests, it centres around the amazing world of pom poms! We make headbands, garlands, necklaces, earrings, wreaths… the list keeps growing!
Tell us a little about the process of working with you? How does it work and do you take on specific briefs/ commissions?
I mostly sell through Etsy and love working with each customer to find exactly the style they want. I welcome anything that paints a picture in my head – whether that be pictures, weird and wonderful descriptions or a theme! I also list previously made items on there which can all be remade with the same colours or customised to specific requirements!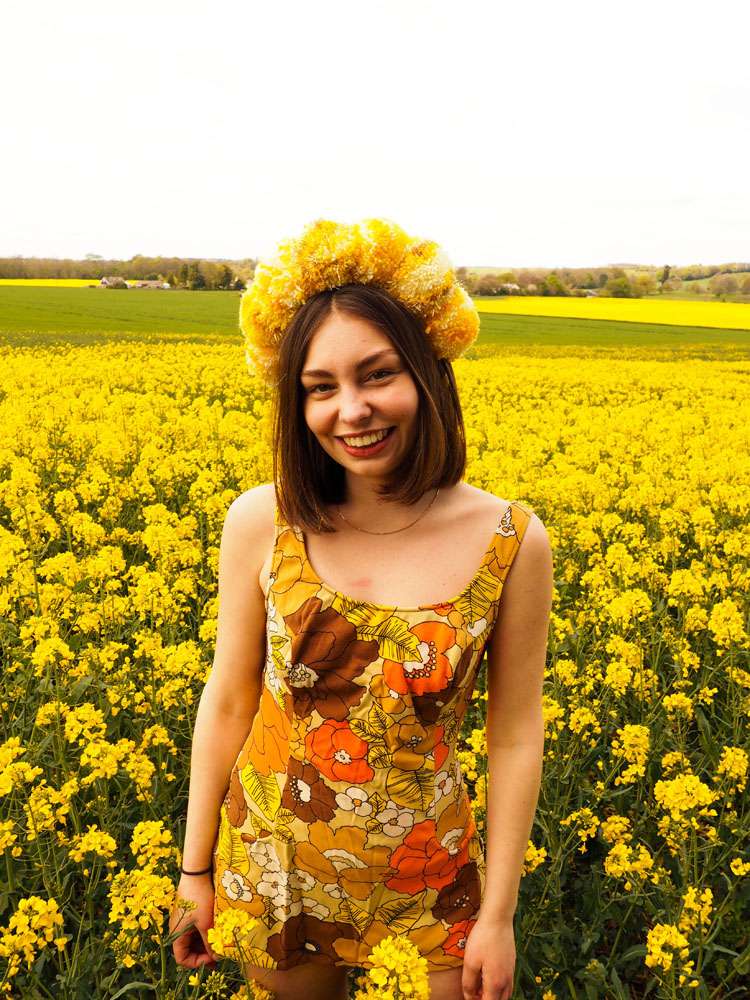 What's your favourite thing about running your own businesses and what are the biggest challenges?
My favourite thing about running my own business is that I have 24 hours a day to be creative and choose when I work and how long I work for. If I was stuck to a 9-5 schedule I think I would only get about 3 hours of work done a day! I definitely work better after lunchtime when my mind has been cleared of the day's tasks such as going to the post office and putting my washing in! However this can also be my downfall as come 5 'o clock most friends have finished work for the day. Luckily I'm quite happy sitting inside making pom poms!
I also find one of my biggest challenges is keeping up with the business side of things. All I've ever wanted to do is create things for people to enjoy, so the serious side is not really my forte! I'm getting there though…. I think!
What are you most proud of in relation to your business?
I am most proud of how much I have improved from the first couple of headbands I made! I look back now and cringe, but at the time I was very happy with what I had achieved and now two years later I am amazed that I have stuck to this and made a business by myself, self taught and mostly from my bedroom!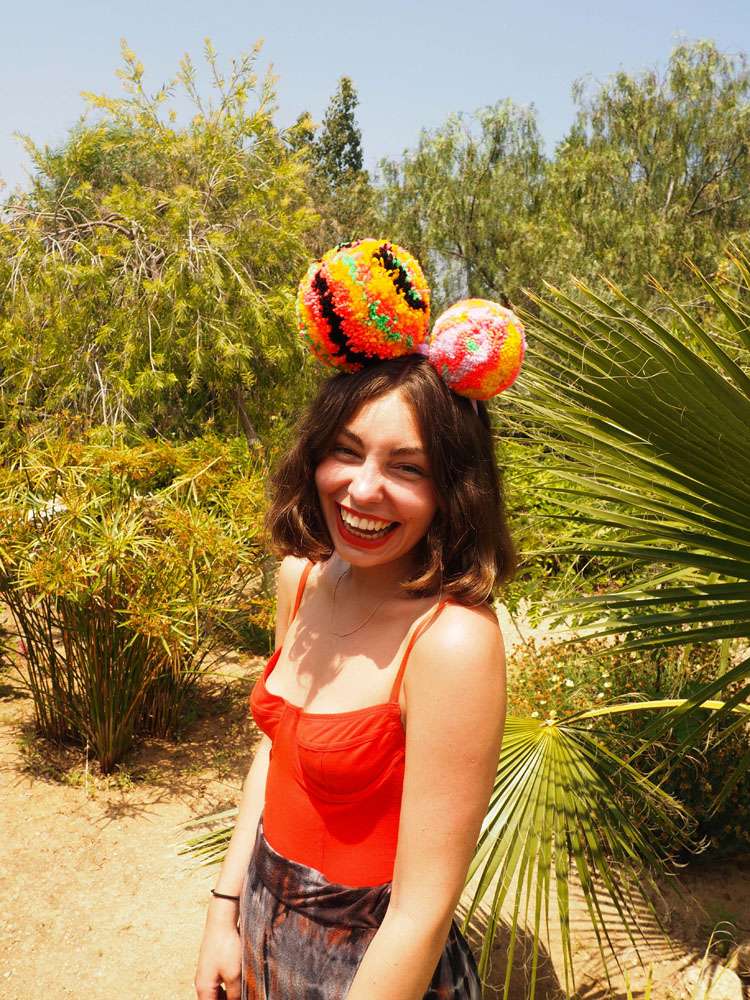 What is your big dream for your business?
My big dream is to create whole ranges for weddings – including bouquets, wall decorations, headpieces, jewellery, etc. I am currently in the planning stages for the first wedding I will be working on and it is all very exciting! I am also so very eager to carry on making custom headpieces for all the festival goers who get in touch with me every year!
Why do you think your products are perfect for Rock n Roll brides and grooms?
I think Rock n Roll brides and grooms have amazing imaginations to think up all kinds of pom pom ideas I could delve int.! I am always up for a bit of a challenge and would be so excited to work with anyone who loves this blog!
What are some creative, more out of the box ways people can incorporate your pom poms into their weddings?
Some amazing ideas would be decorating the wedding car with lots of colourful pom pom garlands or having hundreds hanging from the ceiling to create the perfect atmosphere. I also think a backdrop of pom poms for the ceremony would really start a wedding off with the wow factor, followed by central table decorations of different sized pom poms!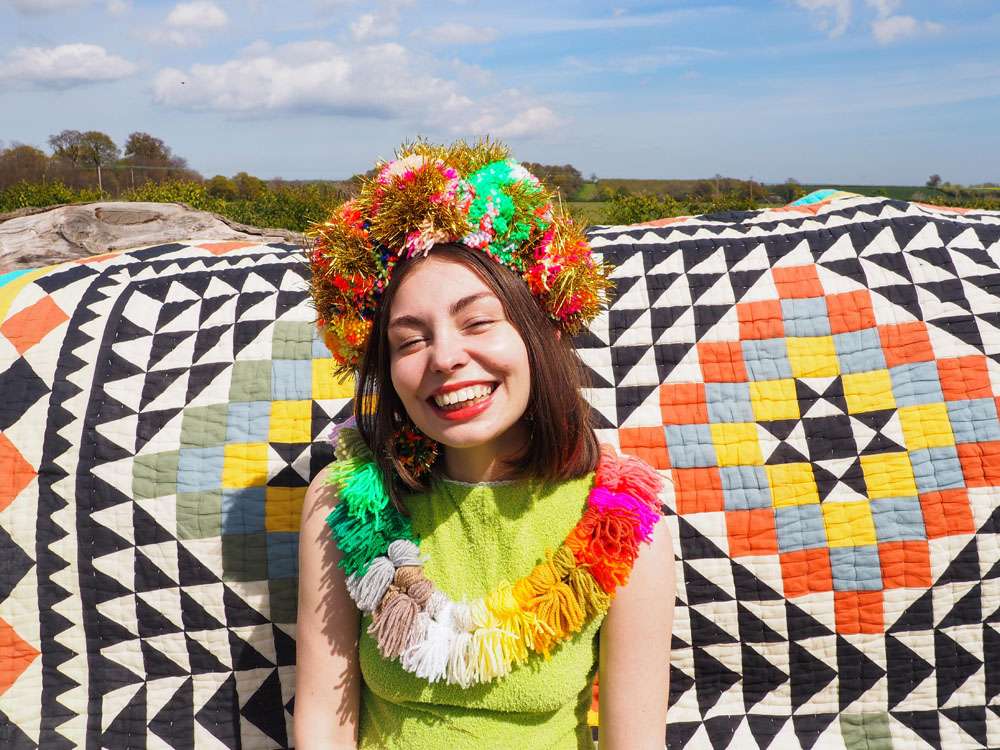 Who/what are your biggest influences?
The first person to really influence me was Rosy Nicholas when she was teaching Kirstie Allsopp to make pom poms on Channel 4 a few Christmases ago. From that point on I was in love! Recent work I really admire has come from Dana Haim who is a textile designer and artist. I am always in awe of the colour palettes she uses and the eyes she makes! I also love Judit Just's embroidery and weaving work. The amount of work she creates is just beyond me and one of my aims in life is to own one of her woven wall hangings (they're incredible)!
What do you love the most about what you do?
What I love most is gaining a new inspiration from every customer I speak to. Every one has a different eye for things and its great to try and cater for that and get into someone else's head. I have gained so much from each order I have made and sent out and every bit of feedback I have received.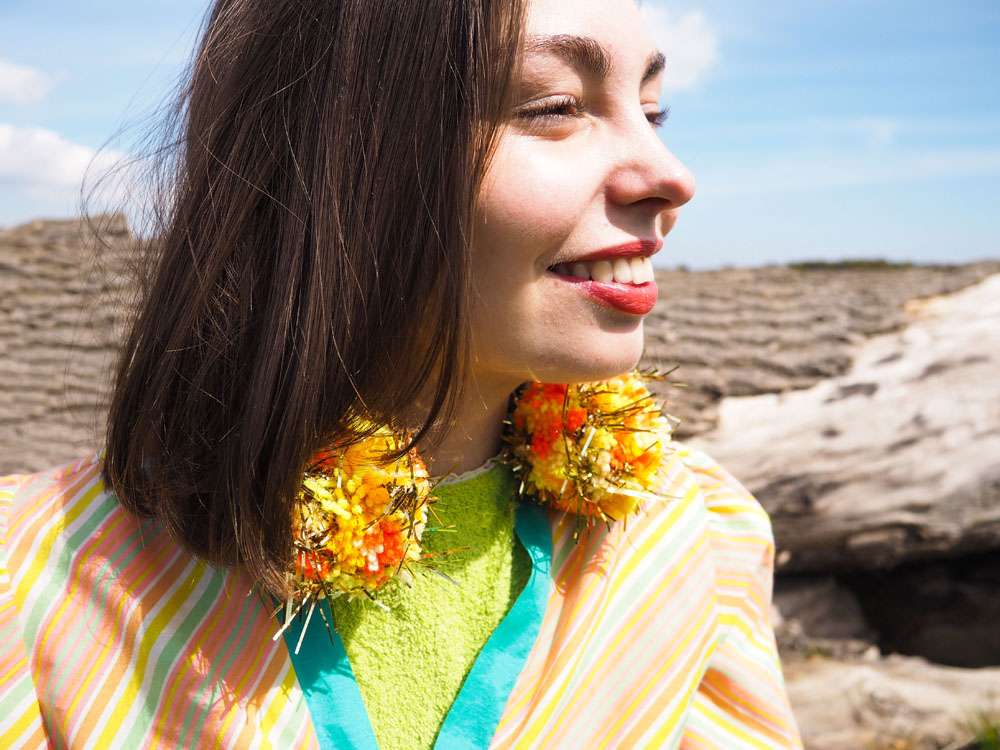 What's your price range?
My prices on Etsy range from £8 – £140 (a 44 pom pom strong wreath!) I like to think I can cater for any price range, so if a customer messages me I will always try to create the best product for what they are able to afford, or would like to spend. I also welcome big custom projects and will give anyone a quote on ideas they have!
How can my readers find you and get in touch?
You can find me on Instagram, Facebook, Depop and Etsy!
And finally, just for fun, tell us one thing that not many people know about you…
I work from my bedroom which is only a little bit bigger than a double bed (I don't know how I've fitted one in here)…. So naturally I wake up with random bits of wool on me and the view of what looks like a craft shop!
WIN A Multicoloured Rainbow Pom Pom Headband!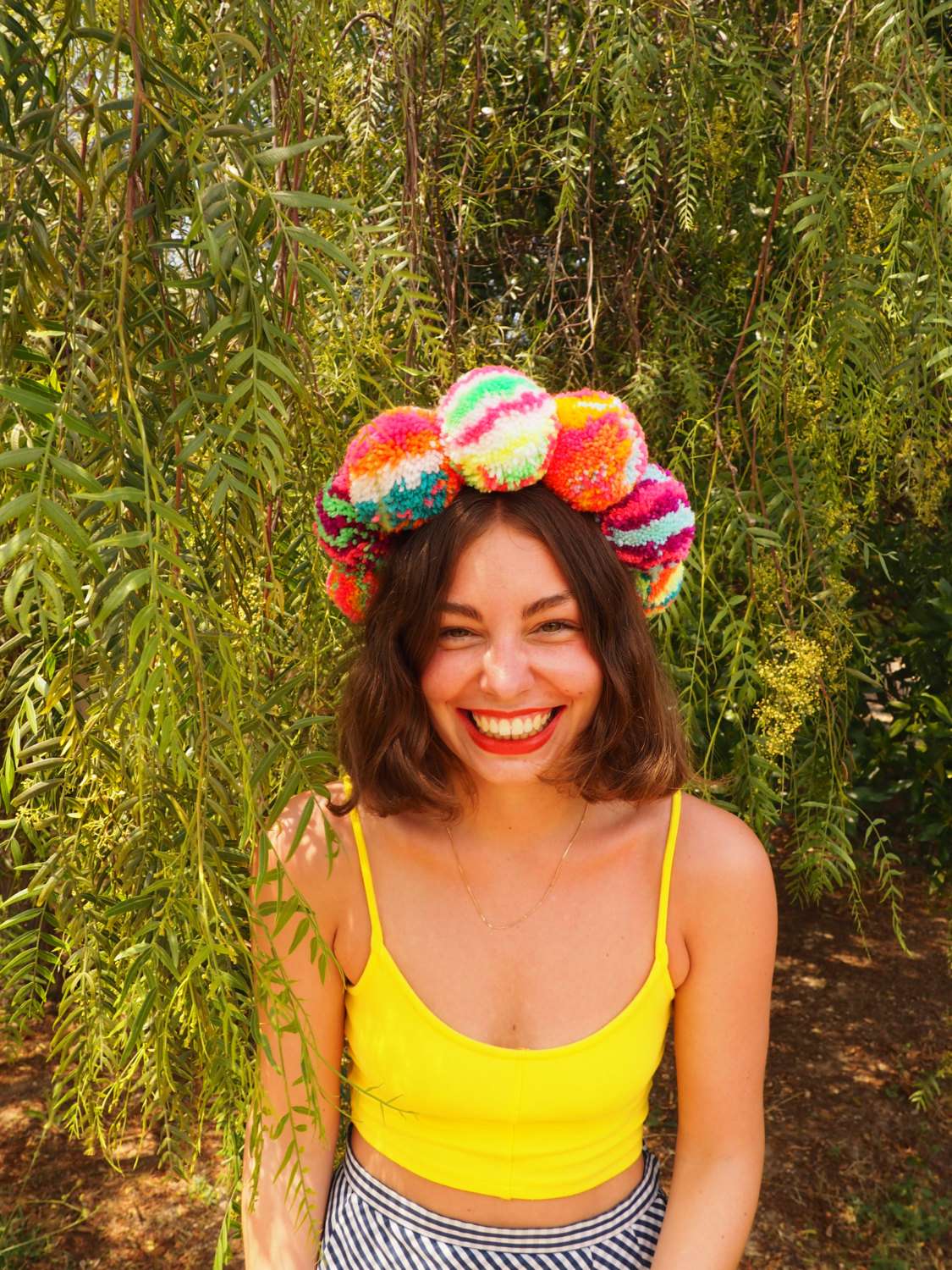 One very lucky babe will will the a multicoloured rainbow pom pom headband in their choice of colours!
To enter, all you have to do is comment below telling us which colour combination you'd like yours to be if you won (you can have as many as you like!) You have one week, until midnight on 8th June, to enter.
GOOD LUCK!
This contest is now closed
Ts & Cs
♥ One Rock n Roll Bride reader will win a multicoloured rainbow pom pom headband from Fat Pom Poms.
♥ Closing date for entries is 08/06/2016. The winner will be chosen at random and emailed after that date.
♥ Contest open to all Rock n Roll Bride readers over the age of 18. Customs charges may be incurred for international deliveries which must be covered by the winner.
♥ Only 1 entry per email address.
♥ If for any reason the advertised prizes are unavailable, Fat Pom Poms reserves the right at their absolute discretion to substitute a similar prize of equivalent or greater value. None of the prizes may be exchanged or transferred and no cash alternative will be offered.
♥ By entering the draw, you hereby warrant that all information submitted by you is true, current and complete.
♥ Liability cannot be accepted for entries which are lost in transit or not received due to technical difficulties.
♥ Fat Pom Pom's decision and any decision taken by the promoter is final and no correspondence will be entered into.
♥ No purchase necessary.