Remember that movie The Princess Bride? Well The Pinterest Bride is not quite a fairytale but it is a phenomenon that I'm hearing about more and more often.
First up, please, please don't get me wrong. I adore Pinterest. I use it in my own business to seek inspiration and promote myself as a wedding photographer. I also actively encourage my couples to send me links to their wedding boards so I can get a sense of their style. I can hardly remember a time when it wasn't part of the wedding industry and I believe that it can be an amazing tool in both planning a wedding and communicating with your suppliers.
HOWEVER… there is a new breed of bride who maybe takes it a little teeny, tiny, too much to heart. It's IF I PIN IT, IT WILL HAPPEN, like that is actually enough to make any of this wedding stuff happen!
A prime example is a lovely friend of mine. She is getting married next year and like many people only discovered Pinterest when she started planning her wedding. For months, she has been merrily pinning away and now has a pretty sizable board with plenty of ideas on décor, food, dresses and flowers. She popped the other day to see me and was telling me all about how she'd been having trouble finding 'the' dress. She'd decided that it simply didn't exist so instead she was going to go to a dressmaker to get something especially made to her exact requirements. She told me she wanted a dress that might be backless but corseted, full skirted but sleek, boho but princessy.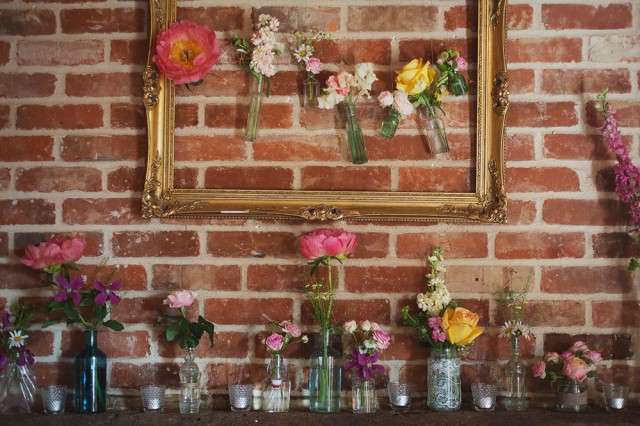 She had pinned several beautiful frocks and was excited for her first appointment with the dressmaker, fully expecting her to be some some kind of fashion diviner who could make all of her wedding dress dreams come true. I guess she thought she could take all these ideas and like some modern day Molly Ringwald from Pretty in Pink, be able to mush them all together into one killer dress. Well, it turns out she couldn't. The dressmaker told her to first go and try on some other dresses to narrow down her options considerably. It was impossible to create a dress that fit into all her requirements. She had Pinterest Bride Syndrome for sure.
Talk to any supplier involved in weddings right now and I'll bet that they could tell you plenty of stories about times that they were asked to recreate something that came from a Pin. Most of the time, it's totally fine but every now and again it just makes no sense.
I have been stood in a cornfield in lashing rain with a wedding couple trying to recreate a shot they loved on Pinterest that included a vintage bicycle with a basket full of flowers on the front. All the while the perfectly rustic, hand drawn 'just married' sign was slowly being washed away at the back. The bride was so concerned with getting the one shot 'just right' that she failed to notice there was a great big amazing rainbow in the other direction. Luckily I did notice it and we were able to get the most incredible shots of them standing under it.
I've attempted to pull off bridal party shots on a seafront so blustery that their giant round balloons almost garrotted a small child.
I've been asked to do couple shoots like those beautiful sunset ones you see taken in a desert… except that wedding was in Central London and when I checked the sunset times it would be the middle of speeches and there was no room to manoeuvre in the schedule. My bride looked at me expectantly as if I could actually bend time…
I'm not one to burst anyone's bubble, and please do keep using Pinterest to help you define your wedding style and come up with ideas. It's all part of the fun of planning a wedding. However, here are a few suggestions to make sure you don't get carried away: