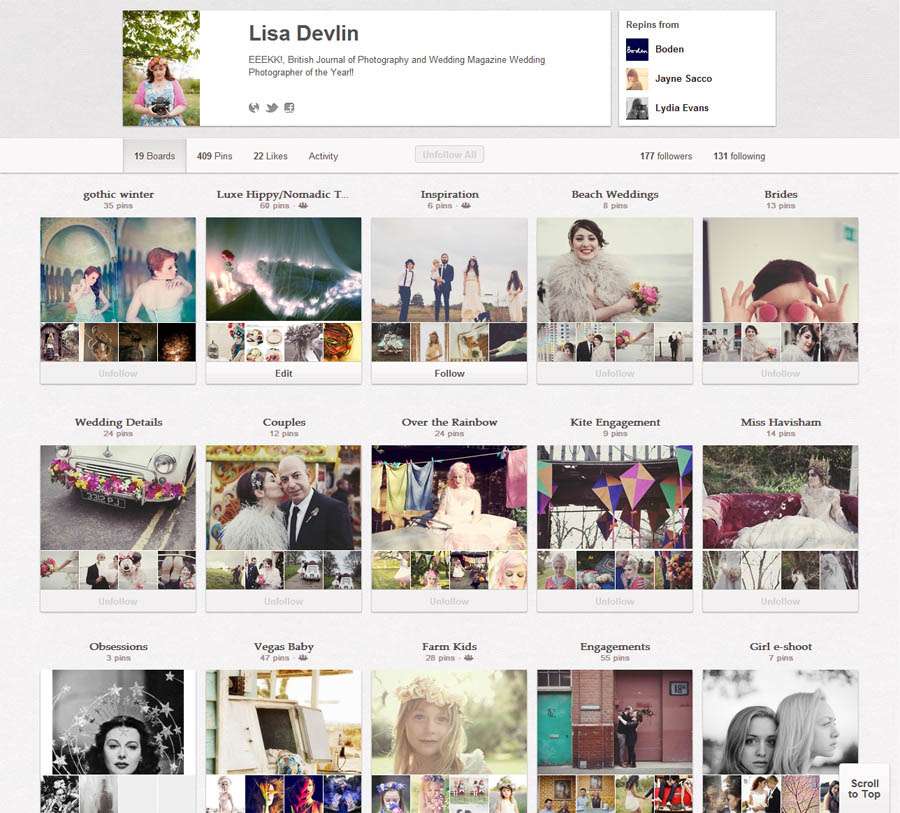 Are you pinning? I hope so, but if you are thinking, "what is she on about now?" then you need to check out Pinterest. Simply put, it's an online pinboard for images found around the internet. You can start a board for just about anything but Pinterest has some suggested themes to get you started like Home Decor and DIY & Crafts. Lots of people and businesses are getting on board with Pinterest and it's not surprising. It may be one of the newest social networking kids on the block but it was the fastest site ever to reach 10 million unique views in one week.
Some of the reasons why it has become so popular are it is incredibly easy to use and a great way to organise inspirational images into a visual feast. You can follow others and they can follow you and comment on or repin your images. To get started, you need an invite from an existing member or you can join a waiting list at the site and you will need an existing Facebook or Twitter account to log in. You can then happily skip around the internet lifting images that have pins on them, by installing a pin-it button as a tab in your browser, or by simply copying an images URL directly into pinterest.com.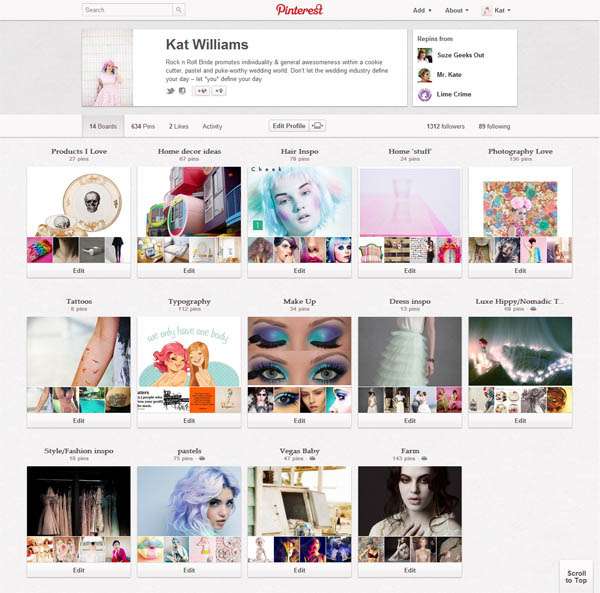 Companies such as Gap and Boden have realised that Pinterest can be a great place to promote their products and more importantly to us, brides are using it to collate all their wedding planning ideas. It seems like a natural progression from wedding bloggers posting inspirational weddings to brides now being able to put together their own collections of the images they see on there. In return the bloggers are embracing Pinterest and most run their own boards, you can see Rock n Roll Bride's here. Some wedding blogs including Once Wed, The Wedding Chicks, and Ruffled now have a pin graphic that appears when you scroll over the images so images can be pinned even easier, and Style Me Pretty has this week hit 250,000 followers for its boards.
So as a wedding photographer what should you be doing with Pinterest? Well, you can sit around stressing about copyright and maintaining control over your images ~ I've even seen photographers stamp 'Do Not Pin' on their blog images. If you want to be more subtle, it is quite simple to add code to your site preventing people from pinning images. You can find this in the Pinterest help section. There have been many articles written recently with stern warnings about breach of copyright and user liability, and yes while these are issues Pinterest is trying to address, my opinion is that, for now at least, I want to continue to utilise this massively popular (and free!) marketing tool. You can busy yourself with complaining or you can embrace this new medium and think 'If couples are using it then I need to have a presence on there.' If your photography is online and is creative then chances are it has already been pinned and you should be proud that people find your work inspiring. I also find it really useful to see what images of mine are being pinned – it's like free market research to see what kind of images people are wanting to collect. I recently spoke to one newbie at a workshop who said she was waiting for the day that one of her images was pinned and she would feel like she had 'made it' when it did happen.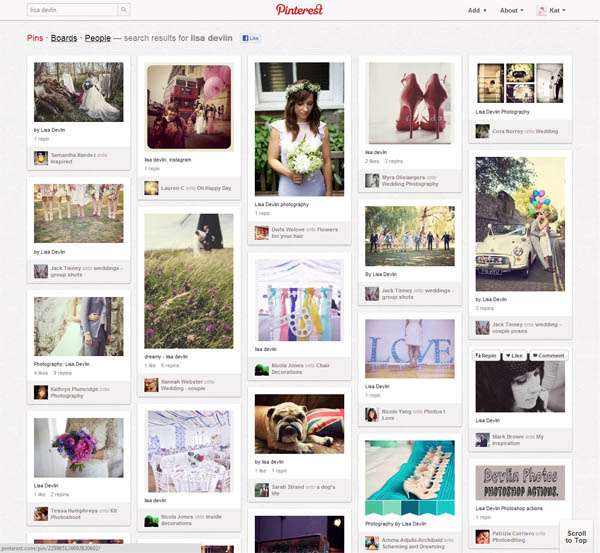 I joined Pinterest initially to put together boards for the shoots we do at Photography Farm. I share them with Kat, the models and the stylists, who can all add to the boards as ideas develop. I then started doing some for individual engagement shoots and I encourage the clients to join in or I even have one just called 'Stuff I Want For My Birthday.' I recently checked my google analytics and was surprised to see that Pinterest was rated third in the list of sites that people come through to mine. At the moment you can't really pin the images directly from my own site ~ I use a lightbox for my galleries, so these referrals were coming from work that had mostly appeared on other blogs like Rock n Roll Bride. I did a quick search on Pinterest for my name and found a fair few images but noticed that most didn't have my URL on them. It dawned on me that I was totally missing a trick so I decided to take pinning slightly more seriously. I also wanted to ensure that the images were linking back to me.
Some might think its not right to pin your own work, how very 'Look at me!' not very British but I am showcasing my work on my own blog, Facebook and Twitter so why not Pinterest? I then looked to one of my photography heroes Elizabeth Messina to see what she does and yes she runs boards of her own work so that sealed it for me. I added boards to my own Pinterest that contain images I shot at Photography Farm or my latest wedding and engagement shoots. If you are not interested in seeing my images then you don't have the follow those particular boards, but I love that my images can act as inspiration to both brides and photographers. I post images of details and poses rather than intimate moments and as lots of my couples are using Pinterest, they are quite chuffed to appear on it. I also added a Pinterest Badge to my blogroll on my site which links straight to my boards. The amount of followers I now have on Pinterest has greatly increased and the images seem to be fairly popular. Going forward I have booked my web developer to work on adding a pinning option to each image on my blog. I have also adjusted my contract to ensure that clients are happy with the process. Pinterest seems to be addressing some of the concerns over copyright and due credits. It has, this week joined forces with Flickr to ensure that  proper attribution is on all images pinned from there, even past ones. If you want to look into this fabulous resource further then please check out the short tutorial below on how I upload images with a couple of tricks to optimize them. Just beware that you don't get so addicted to pinning that you never take any inspirational images of your own.
Lisa Devlin is a wedding photographer from Brighton and a regular contributor to The Green Room as well as Photo Professional Magazine. She hosts workshops on all areas of wedding photography as well as the 3-day long Photography Farm on a regular basis. If you are interested in attending The Photography Farm (food and accommodation included), the next event will be taking place from the 16th – 18th July (with guest speaker & stylist yours truly!) For enquiries or bookings email Lisa on lisa@devlinphotos.co.uk or call 01273231047.