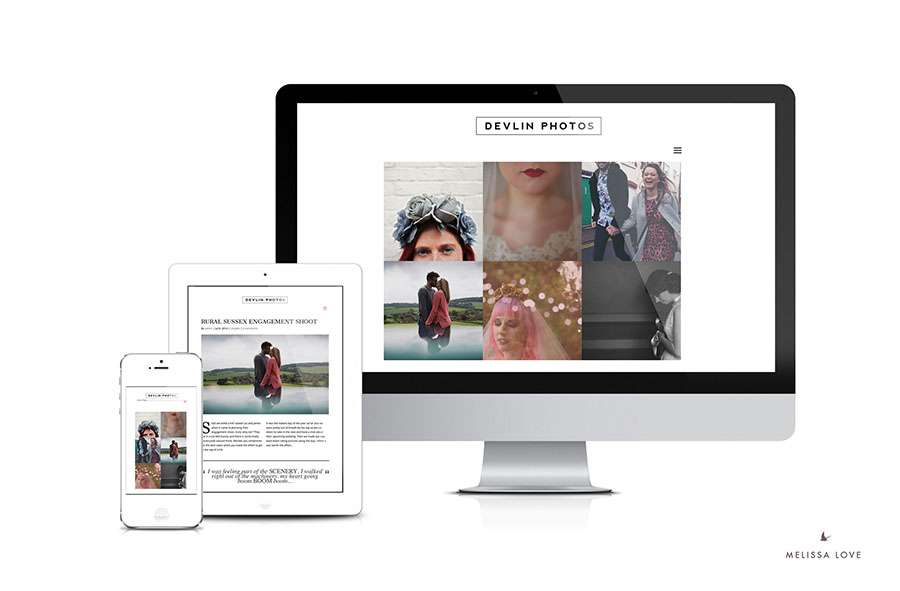 It's not you it's me", I thought. "I've changed, I've moved on. It's nothing you did, we are just not in the same place anymore. I still love you but I'm just not in love with you anymore. You will always be a part of me but I need to try something new".
It all started when I was trying to redesign my PDF that I send to clients when they enquire. I just couldn't pull together something that I was truly excited about. I didn't think it was the images but laying them out with my current logo and fonts just seemed to lose their impact. I stressed about it for two days and then it hit me… I had quite simply fallen out of love with my brand.
I started to flirt with different fonts and suddenly I felt excited again… It was definitely time for a change. But where to start and where to draw the line? For me, this would be no easy decision. I have three companies all under the same brand and each one is now pretty established in their own fields. This wasn't going to be a case of bodging together a different header and calling Moo for new business cards. My new found freedom suddenly felt quite overwhelming.
I had a stab at a new logo myself and sent it over to Kat, thinking I had done a fairly good job. Being the good friend that she is, she immediately came back and told me it was a bit crap, and that while I could cobble something half decent together myself, that doesn't always mean that I should… oh! She said it was time to get a professional in and she was so right. If this kind of thing isn't your forte then more help than ever is at hand. Unlike last time I rebranded, there are now specialist photographers' brand experts and so I got straight onto Skype with the amazing Melissa Love who frequently joins us on our workshops at Photography Farm. She gets pretty booked up so I know I was lucky that she could fit me in.
Now my major problem was that I didn't really know what I wanted. Luckily as far as Melissa is concerned I didn't need to. As a photographer my heart does sink if anyone ever comes to me with a huge list of set shots that they want… 'Bride looking in mirror putting in earrings', 'best man pinning on grooms buttonhole', 'giant fake dinosaur chasing wedding guests' (you get the idea) I much prefer to photograph the narrative as I see it on the day and if any of those things happen when I'm around then I will record them ~ although I might be a little surprised at the last one! I don't want to force a moment and it's the same with your designer. You need to trust them and the process they will guide you through to divine and define your brand.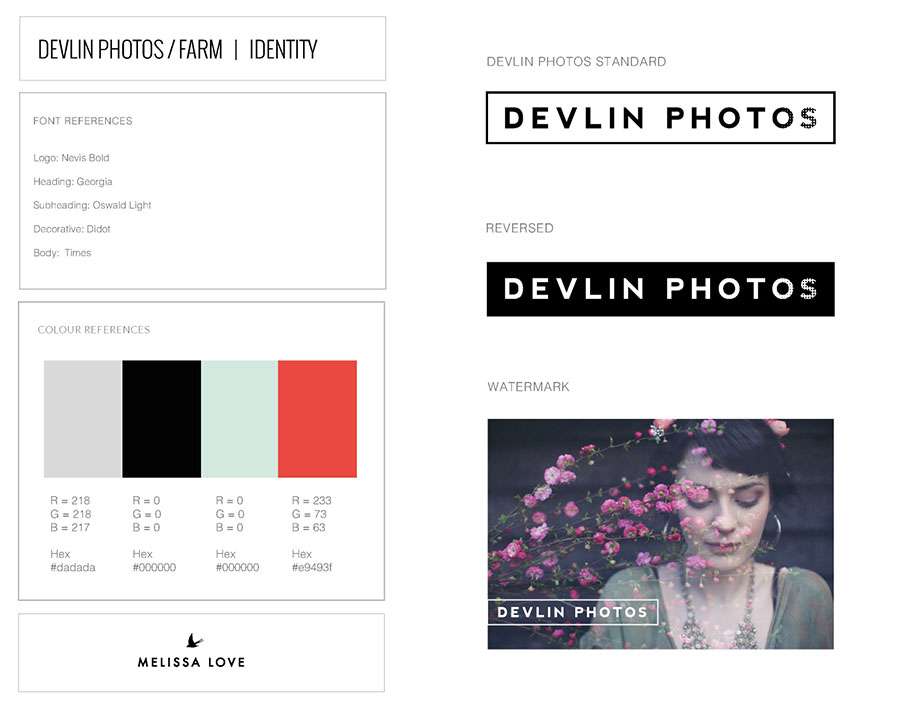 With Melissa, the first step is to start a Pinterest board. "Approach it with your mind open'", she said "look for images, fonts and designs that you like because of their style, texture or colour". Sounded easy enough so I got to pinning… The more I pinned the more inconsistent it looked to me but Melissa is fantastic at seeing the story. It's like she can read the tea leaves of my brand cup.
We then had a merry journey around the wonderful world of fonts. It's a bit mad for a while, everywhere you look all you see is fonts and I was constantly trying to surmise what a company's fonts expressed about them. However my advice with all of this is don't overthink it. A good designer will breathe energy into fonts and bring out things that you would never see… Same as a good photographer is drawn to composition and light.
Then we came to colour… My Pinterest was mostly black/grey/white and again I was finding it hard to commit to any one colour beyond those tones. I felt like I was looking at all of Tinder at once and trying to find my ideal man. So instead of being over analytical, I just looked at what I was wearing that day. My favourite neon peach belt… Melissa has an amazing app on her phone called Kuler from Adobe that scans items and comes up with the digital version of the colour. So now we were rocking.
A lot of my pins also featured halftones, where an image is made up of dots. I guess that overall, I wanted an editorial feel but not in the high end fashion magazine sense. I'm way more grungy than that. I started to see my brand more like a lookbook for my work with an influence from the magazines that I read. I loved The Face when it was still around plus Love magazine, I-D, Dazed & Confused so it made sense to channel some of those elements into the new brand.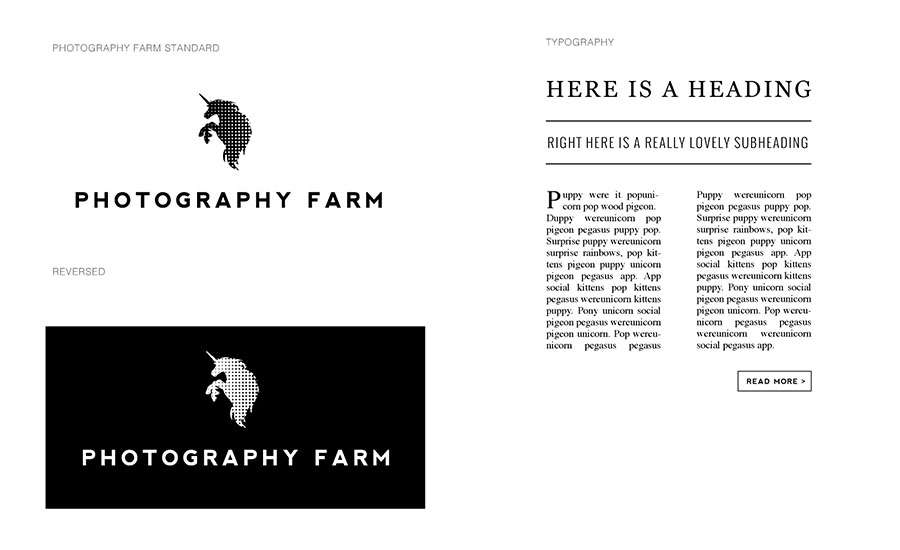 Melissa had it all nailed pretty quickly and it dawned on me that this new 'me' maybe needed to stretch even further. I was pretty excited about the brand overhaul, so to just slap that on my current sites seemed a little like putting fresh frosting on a stale cake. I loved my photography site and what it had done for me but it no longer stood out like it used to. There are now several template sites that are pretty affordable that use grids with hovers, which is something you just didn't see four years ago when my site was built. It was hard to think about letting it go as I paid a lot of money for it, however I strongly believe in investing in your brand and presenting your work in a visually exciting way.
So instead of just a brand kit, I asked Melissa to go ahead and build a whole new custom build site. Maybe a fairly decent amount of investing every four years isn't a bad ratio, along with some brand maintenance along the way. I'm super excited about what Melissa has come up with for the new site, I wanted a happy marriage between strong graphics and strong images with neither dominating the other. What she created is more luxury and dare I say grown up than my last site but there are still little elements of quirkiness and fun bits that will hopefully be engaging to couples and photographers. My favourite bit is the blog page layout and I've been having a lot of fun putting blog posts together and can't wait to share them with the clients. Oh and I'm very happy with the secret unicorn page, every site needs one of those!
It is vital that you absolutely love your brand and are thrilled about showing it off. If you don't feel like you want to shout about yours from every rooftop going, then maybe it is time that you decide to refresh it. If you can afford it, I highly recommend employing someone who can work with you to create a unique brand and then translate that into a website to represent your business. It's the first point of reference for your potential customers and worth investing in if like me, your market is over-saturated.
About the Author
Lisa Devlin is a wedding photographer and teacher from Brighton and a regular contributor to The Green Room. Lisa's next residential Photography Farm workshop is taking place on September 9th-11th with smaller, 'Farm elements' classes being held in London on September 17th  & 18th, and Glasgow on October 7th & 8th.
If you are interested in attending any of these classes simply email Lisa on lisa@devlinphotos.co.uk or call 01273231047.