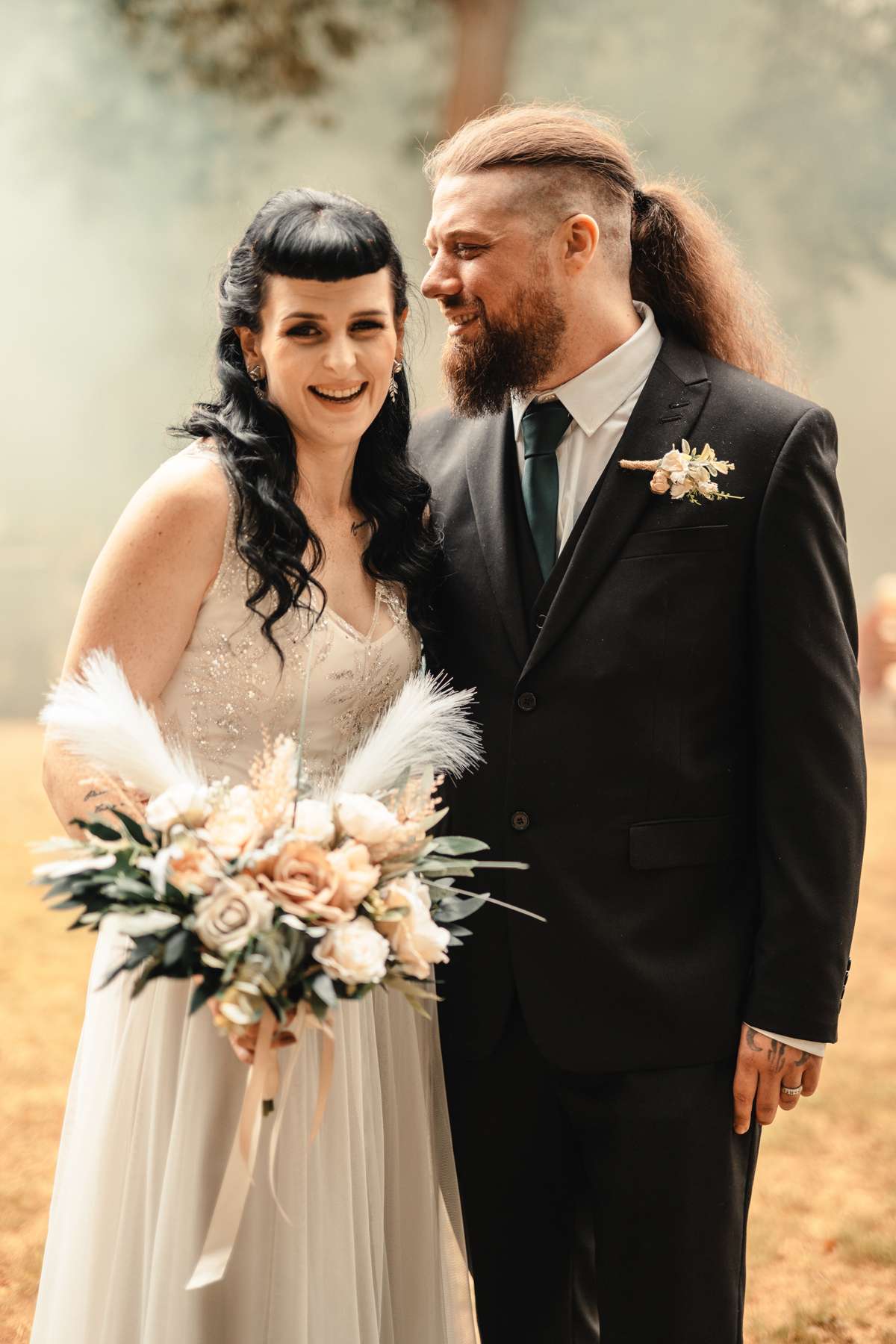 From the very beginning, Amy and Pieres were clear about their wedding theme – they wanted a day that felt as laid back as possible but also showcased their personalities. Set in the serene beauty of the woods, the rustic and relaxed celebration was both a perfect representation of who they are, but also a lot of a fun – not least of all because of the outfits their bridesmaids and groomsmen wore!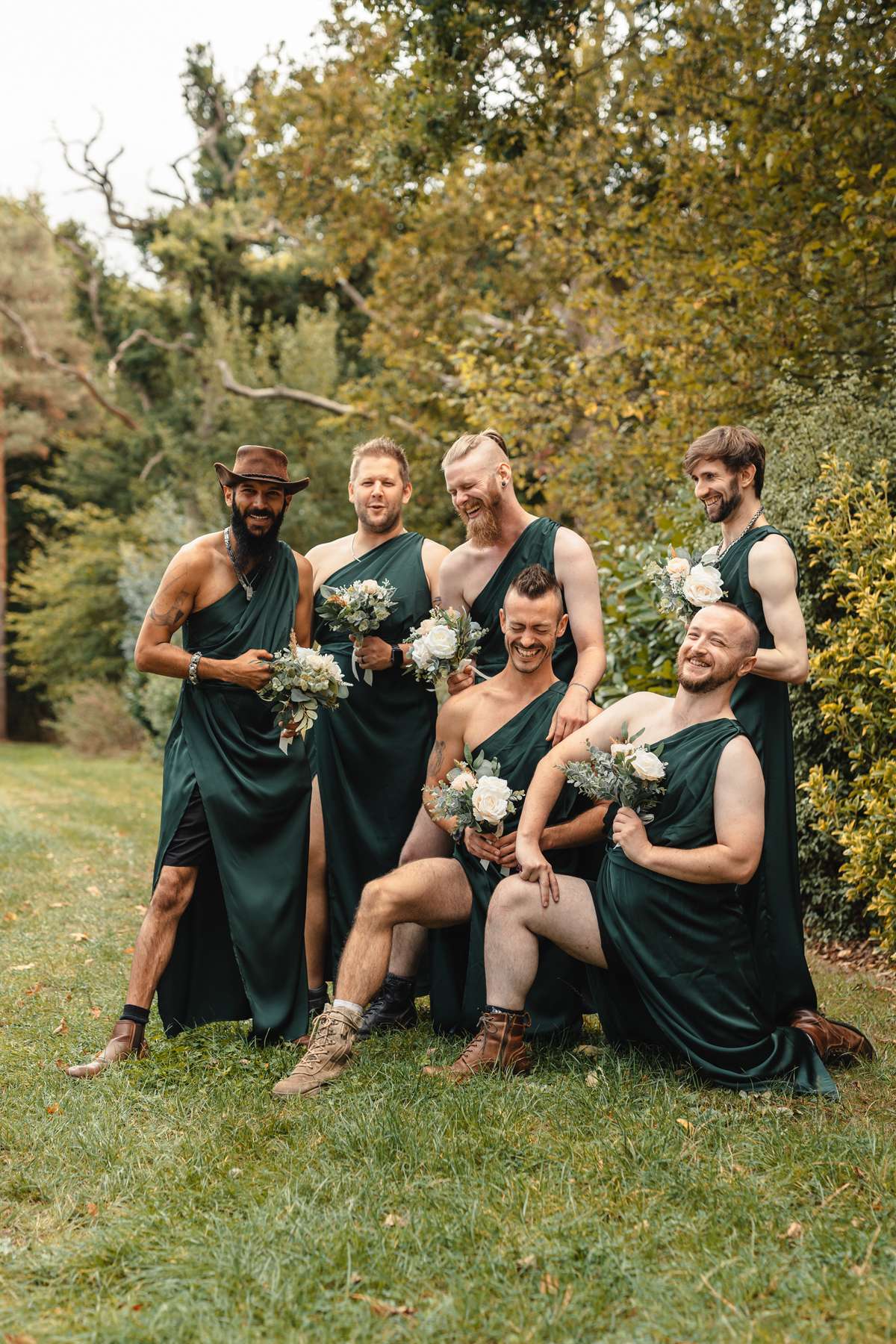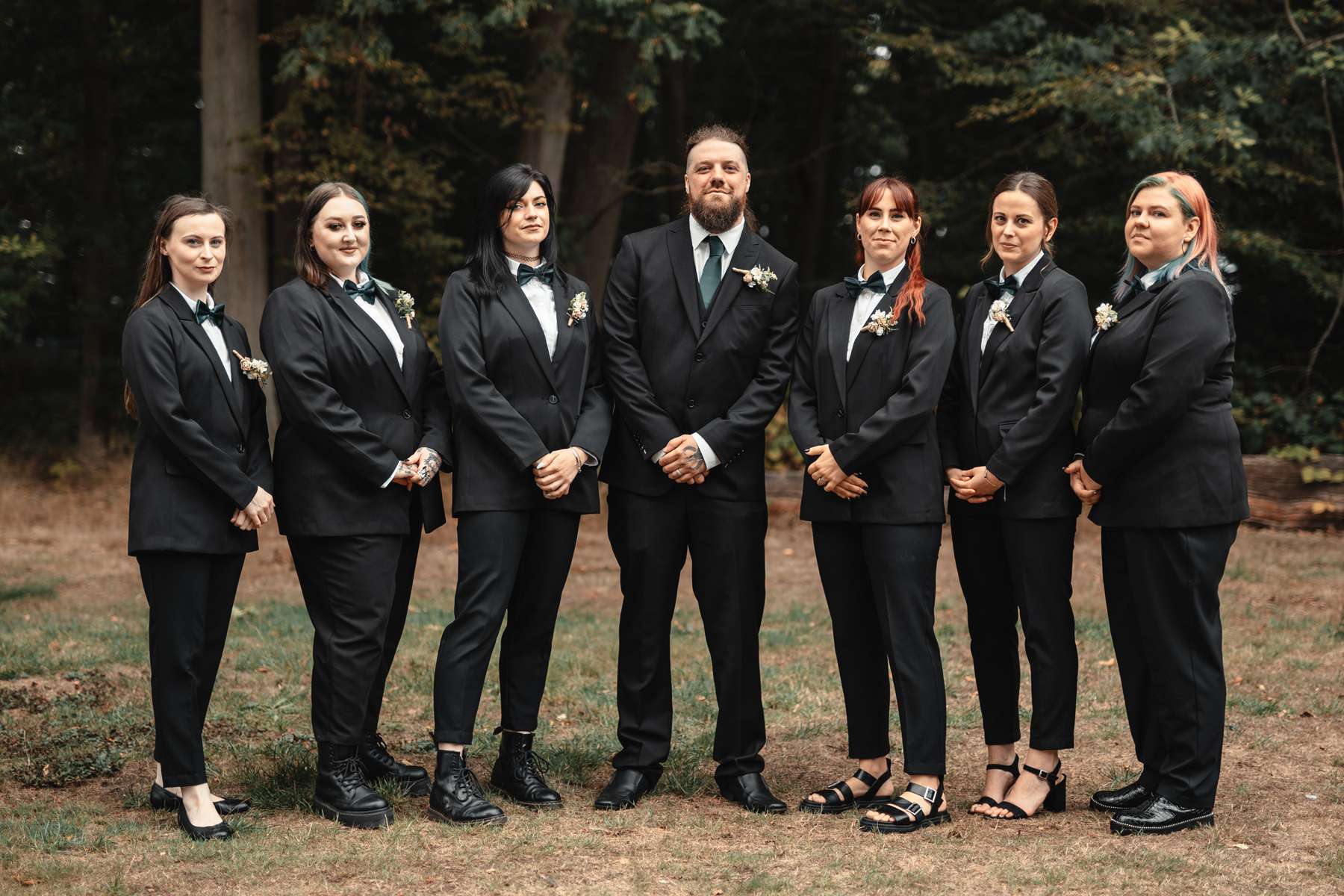 Amy explained, "Swapping the outfits for our bridesmaids and groomsmen's certainly made our wedding a little different! It started as a little joke amongst ourselves but when we really thought about it, it seemed like a great idea. We hadn't seen it done before and knew we'd be able to look back in the future and cherish those memories. We kept it a surprise for the majority of our guests and the response was amazing. Everyone looked so good so it was without a doubt one of the best decisions we could have made. Of course, there were some who were sceptical of the idea, but we didn't care and I think we won them over in the end anyway so I'm glad we didn't listen!"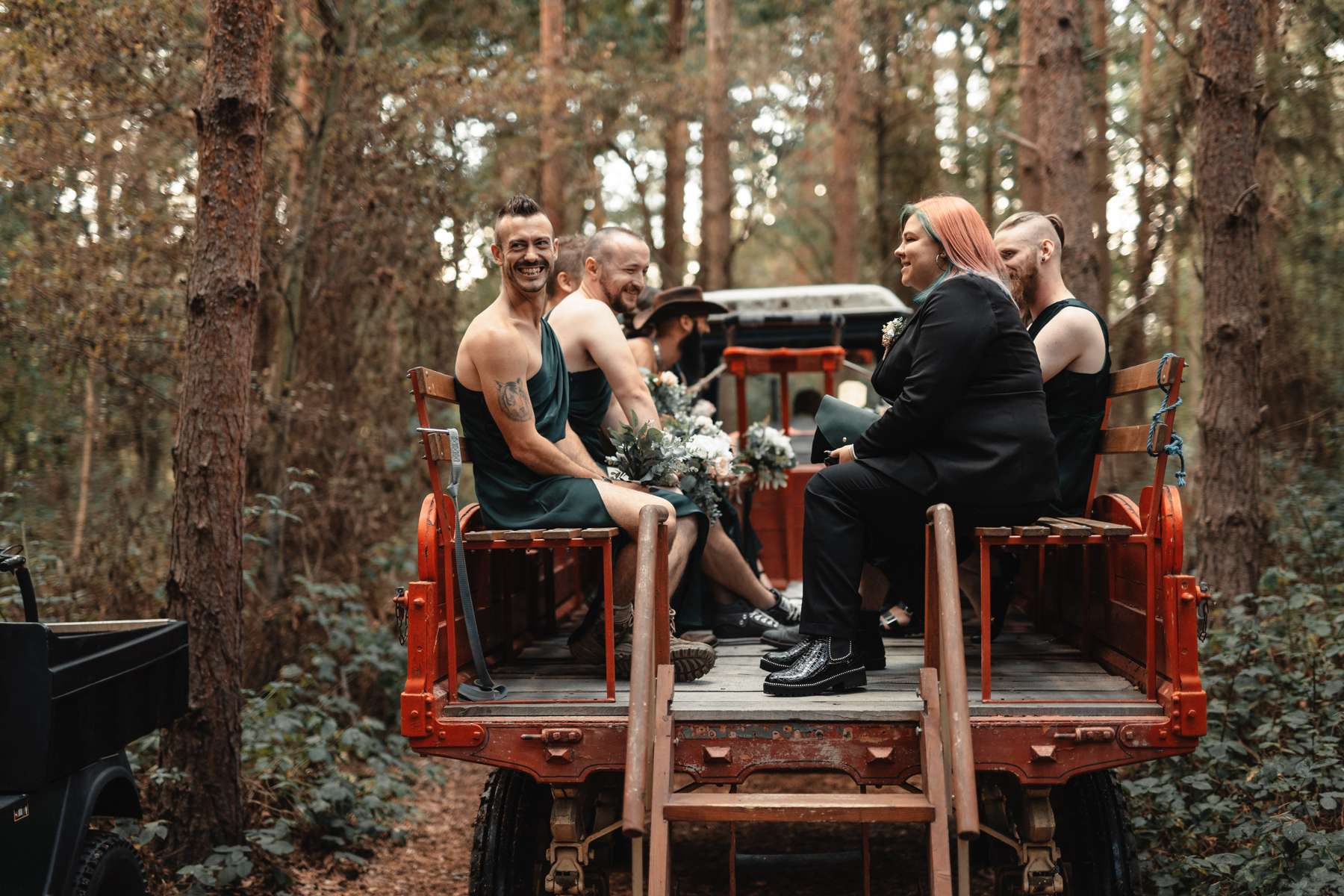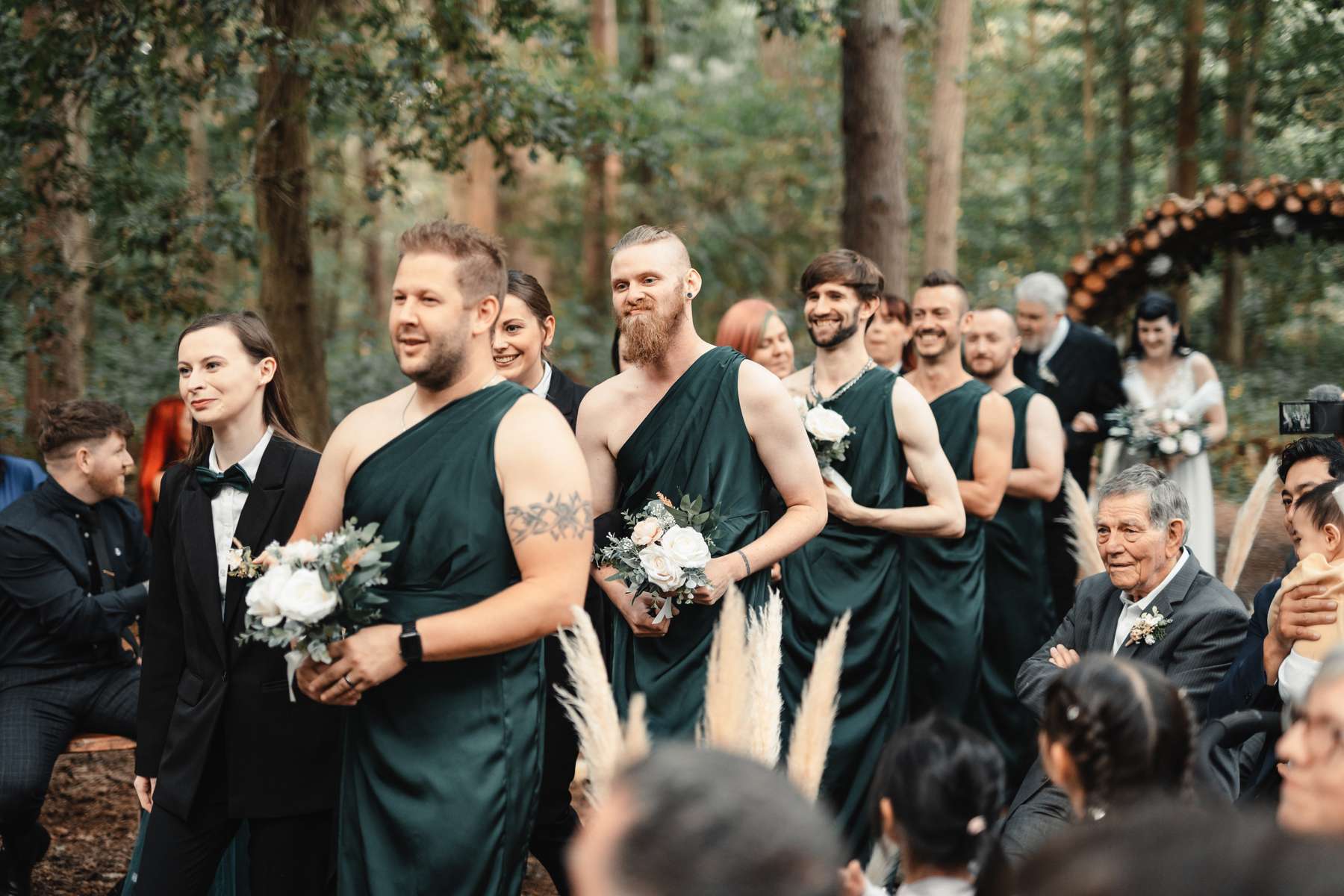 Amy, being a self-confessed Type A planner, and Pieres, the easy-going counterpart, aimed to strike a balance that would result in an enjoyable day for everyone involved. "We have both attended some beautiful weddings in the past, but always more traditional and structured, and that's just not us at all," Amy explained. "I'm a textbook people pleaser so it was really important for to me personally to be able to create a fun and memorable day for all of our guests. However, as a couple, we still wanted the day to be very much about us and everything we love. It was definitely a challenge to tick both boxes and get the balance right but it was really good being able to explore entertainment ideas that would work for everyone whilst still being exactly what we wanted."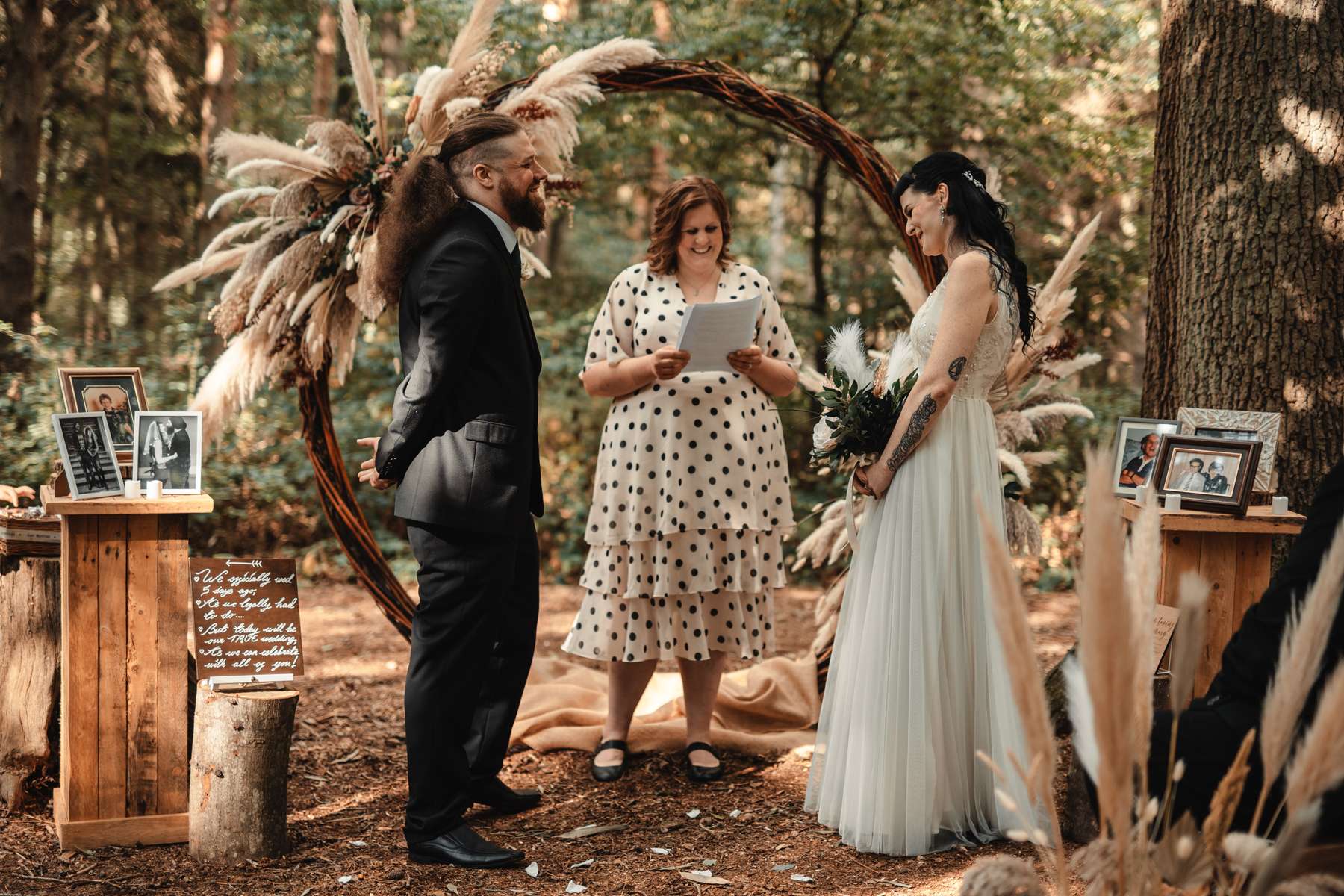 The ceremony, held amidst the woods at their venue Captain's Wood Barn, was filled with laughter and joy. They surprised everyone by arriving on a tractor and trailer and everyone walked down the aisle to Aerosmith's Dude Looks Like A Lady, "The ceremony was just incredible!" said Amy. "Everything about that moment was so perfect, and we couldn't have dreamed for anything more,"
They'd been legally married a few days before so the bride's sister was able to lead the blessing. "This gave us the chance to really have fun with it and took away a lot of time pressure. We wrote funny vows that were very personal to us, used Haribo rings as we were already wearing our bands and my sister kept the whole ceremony very light hearted and funny."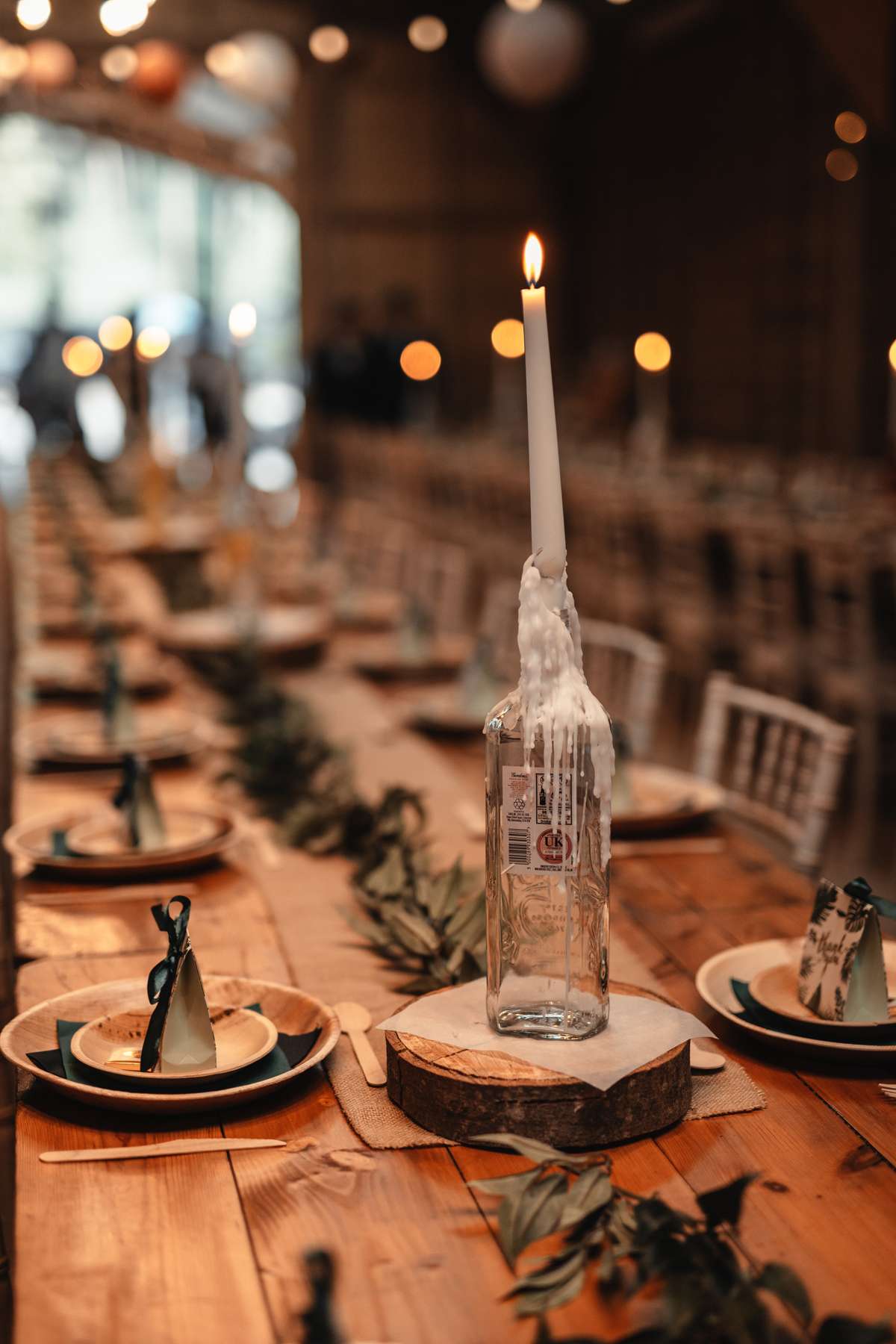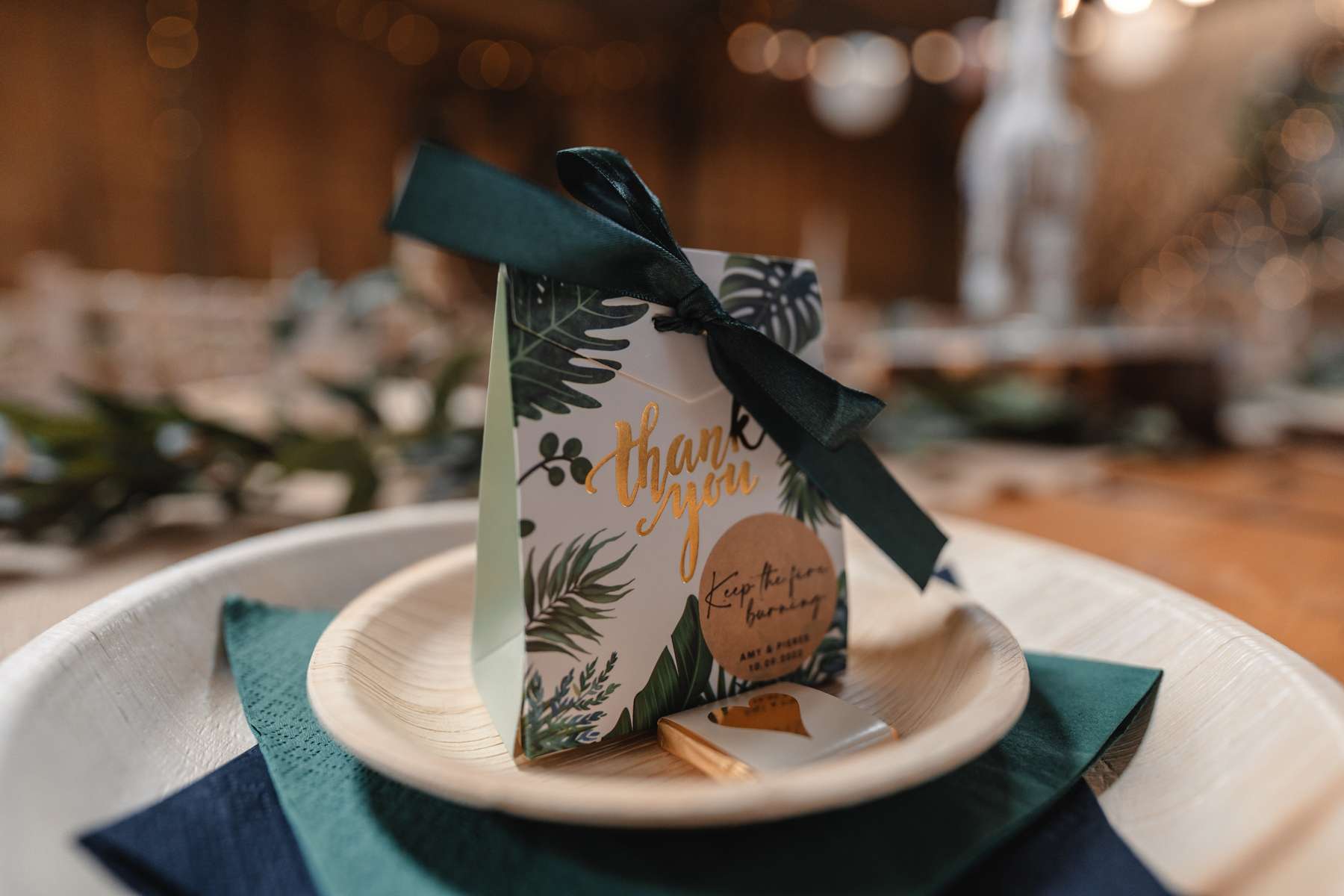 Their reception was just as memorable, with the venue providing tractor rides for guests to explore the woods. They decorated the barn with artificial floral arrangements done by the bride's mum, as well as homemade wooden signs and rustic hessian bunting. They used all palm leaf and wooden plates and cutlery for the food so nothing had to go to waste and the evening ended with a bonfire which brought everyone together.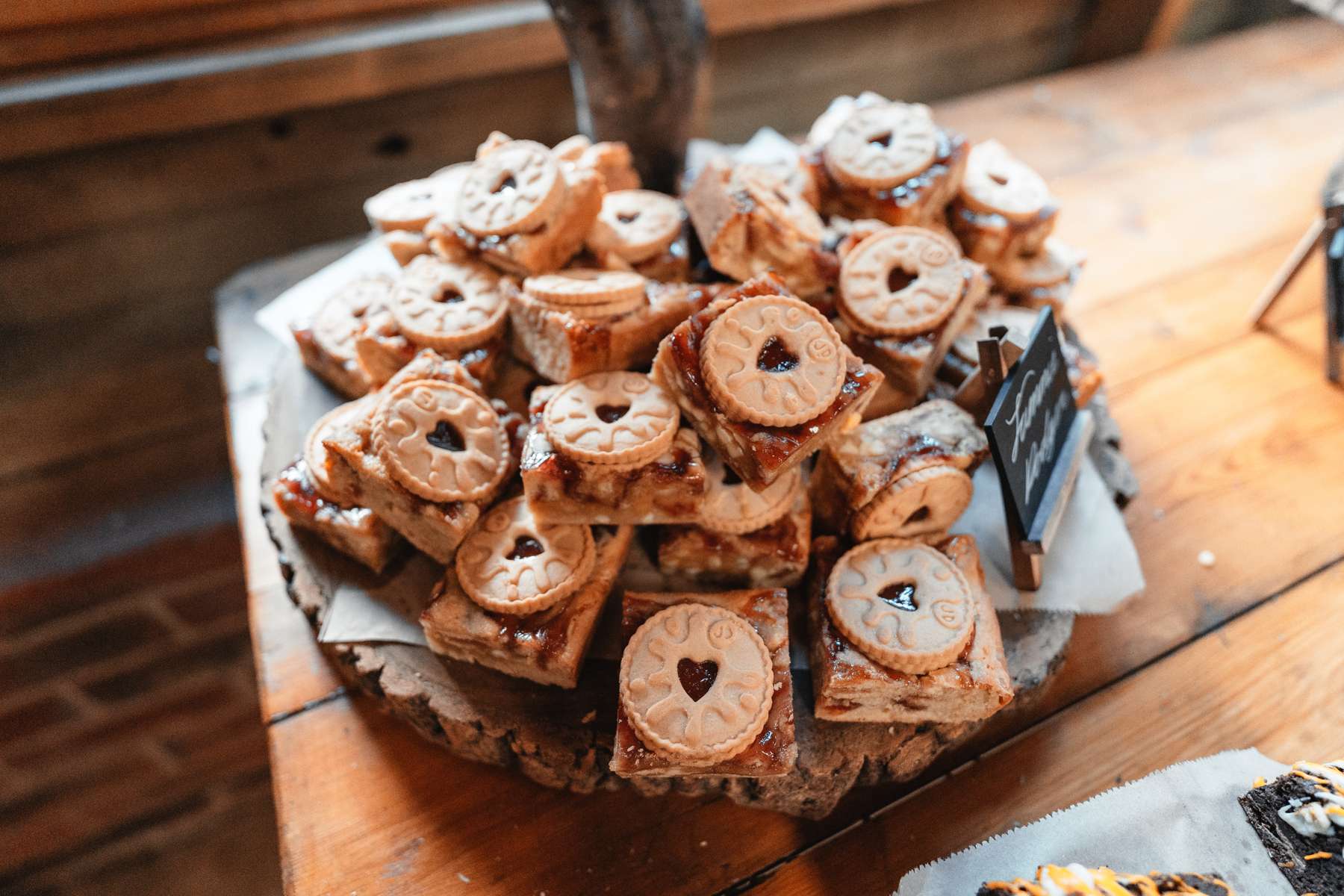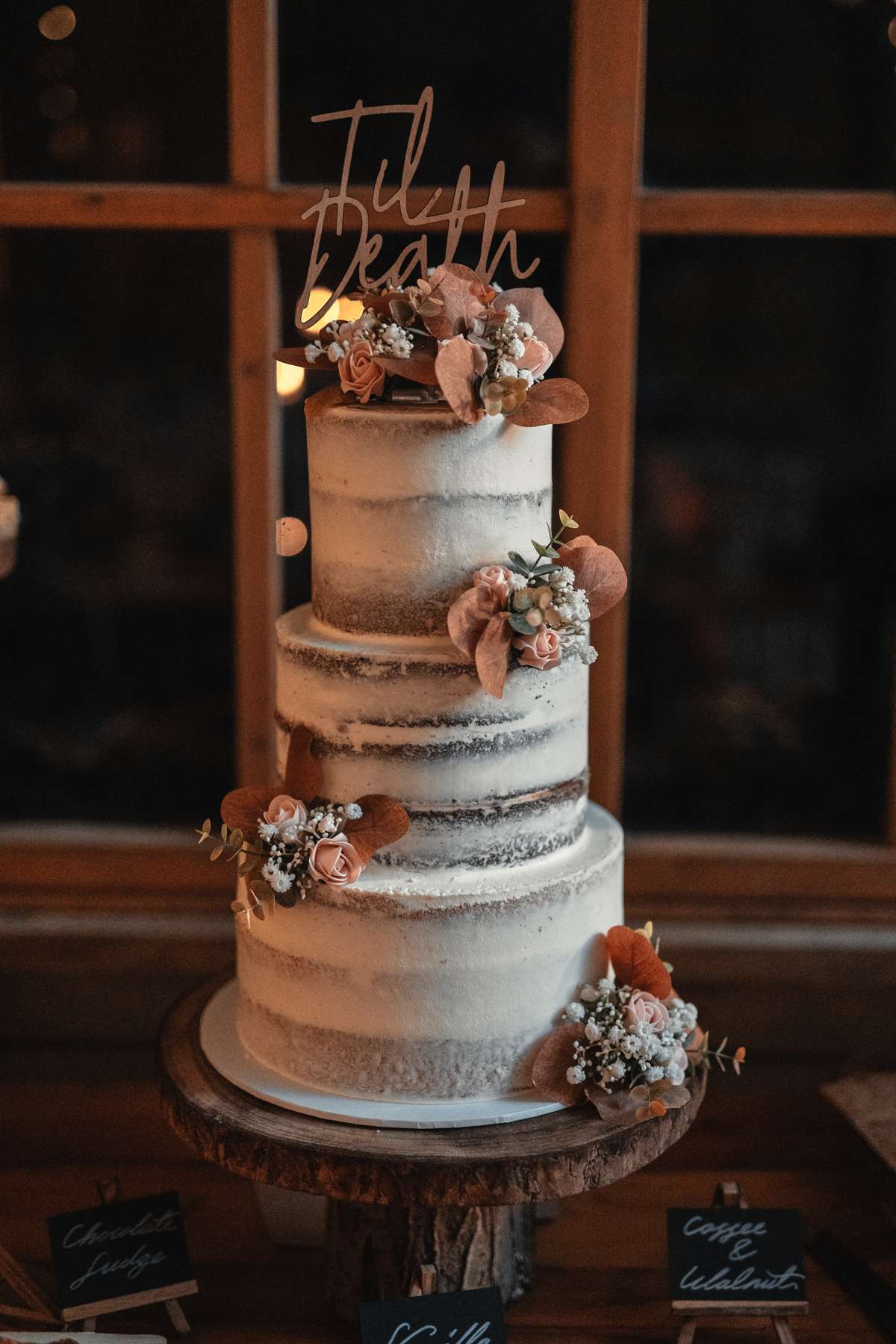 When reflecting on their wedding planning experience, Amy emphasised the importance of trusting your own instincts, especially when it comes to choosing your vendors. "When we started planning we couldn't believe how rude some vendors were whilst asking for quotes. We were ignored by so many people for simply asking questions but it is definitely worth speaking up. As soon as we got a bad vibe or had a severe lack of communication, we just didn't push any further and just kept looking elsewhere, which was definitely worth doing as we avoided so many red flags. We have heard so many horror stories of people being scammed whilst wedding planning so trusting our guts made all the difference; it definitely pays to explore all your options and check reviews before paying any deposits."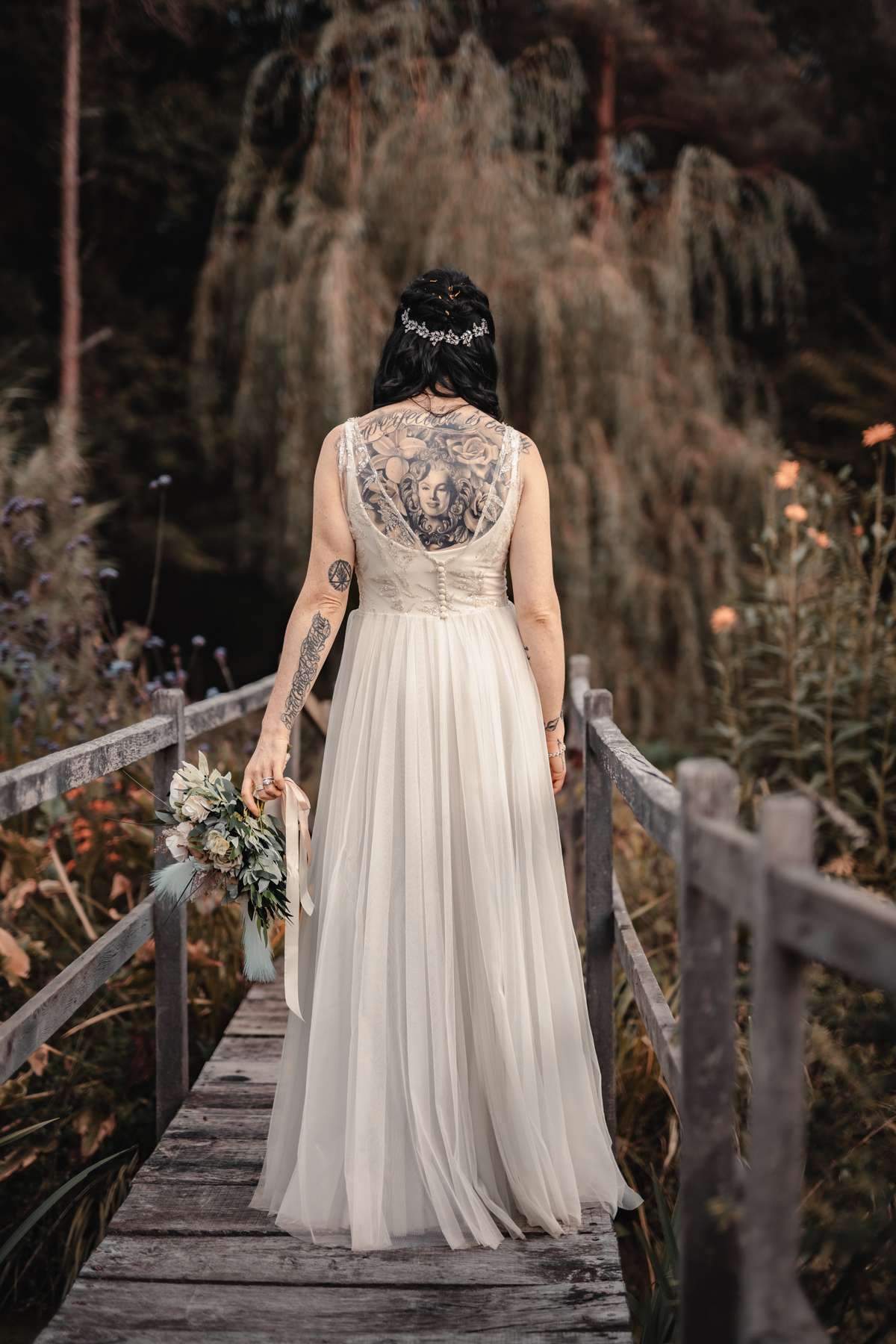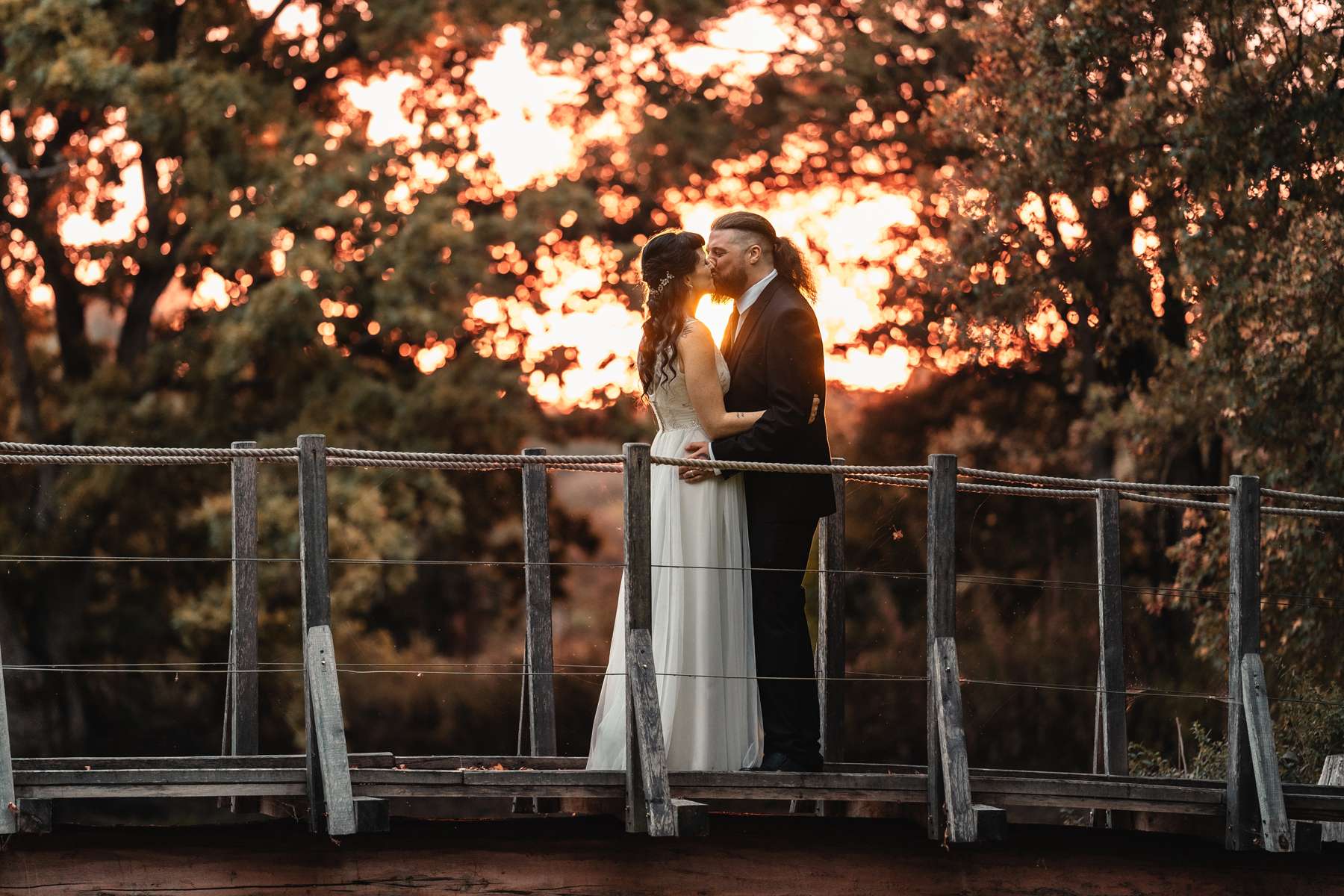 "Wedding planning may be a stressful time, but every second of it will be so worth it when you get to the day itself so try to enjoy the process", Amy advises in conclusion. "Your wedding will go by much faster than you expect so just have the best time and forget any potential hiccups – they will be the least of your worries on the day!"