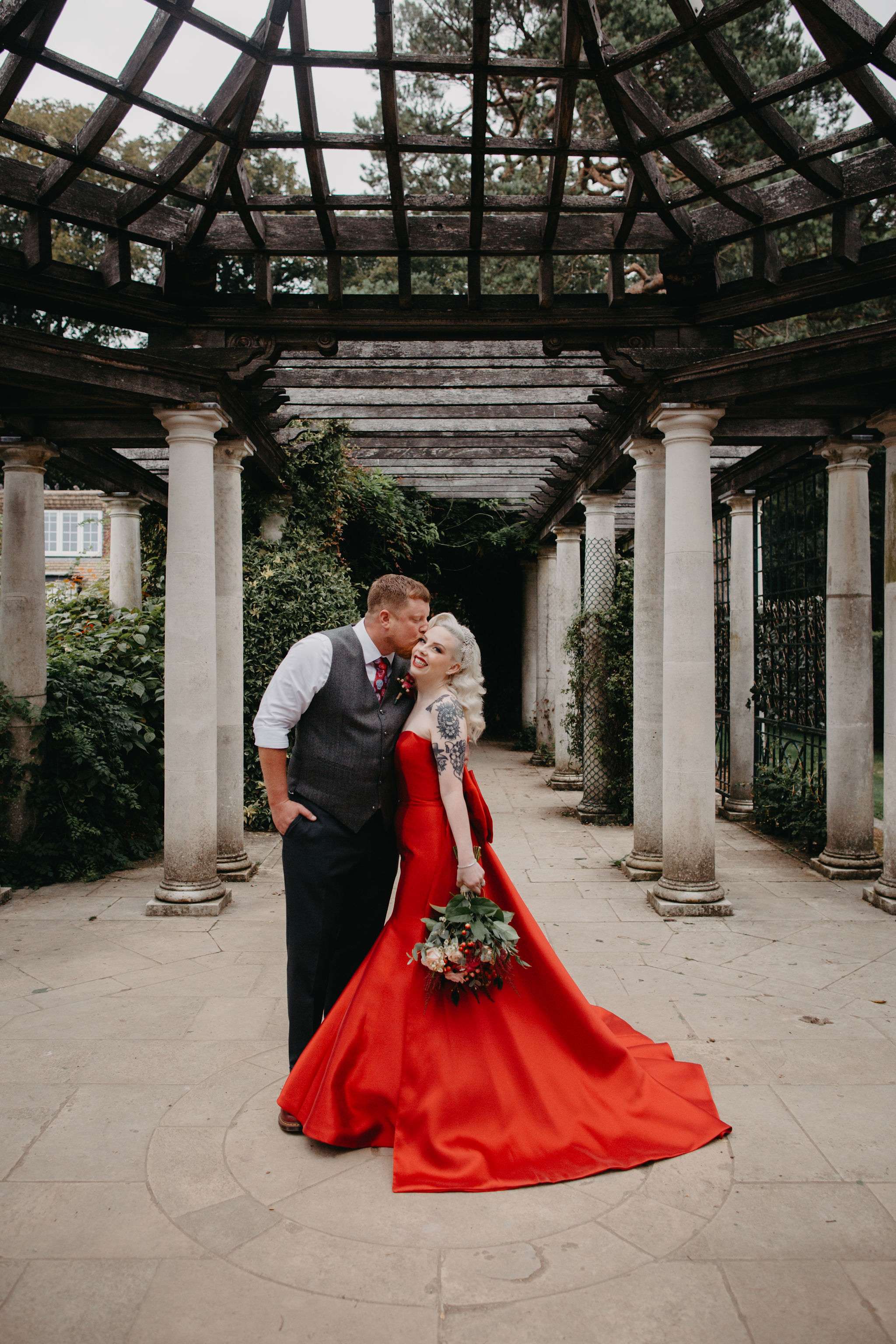 Their first holiday together was to Mexico and the bride loves the vintage style so Sinead and Daniel wanted these two elements as the main inspiration for the décor and theme of their wedding. With the bride's family all travelling over from Ireland and the groom's mostly living in Southampton, they also wanted to show their guests the sites of London, throwing in an open top red bus tour between their ceremony and reception.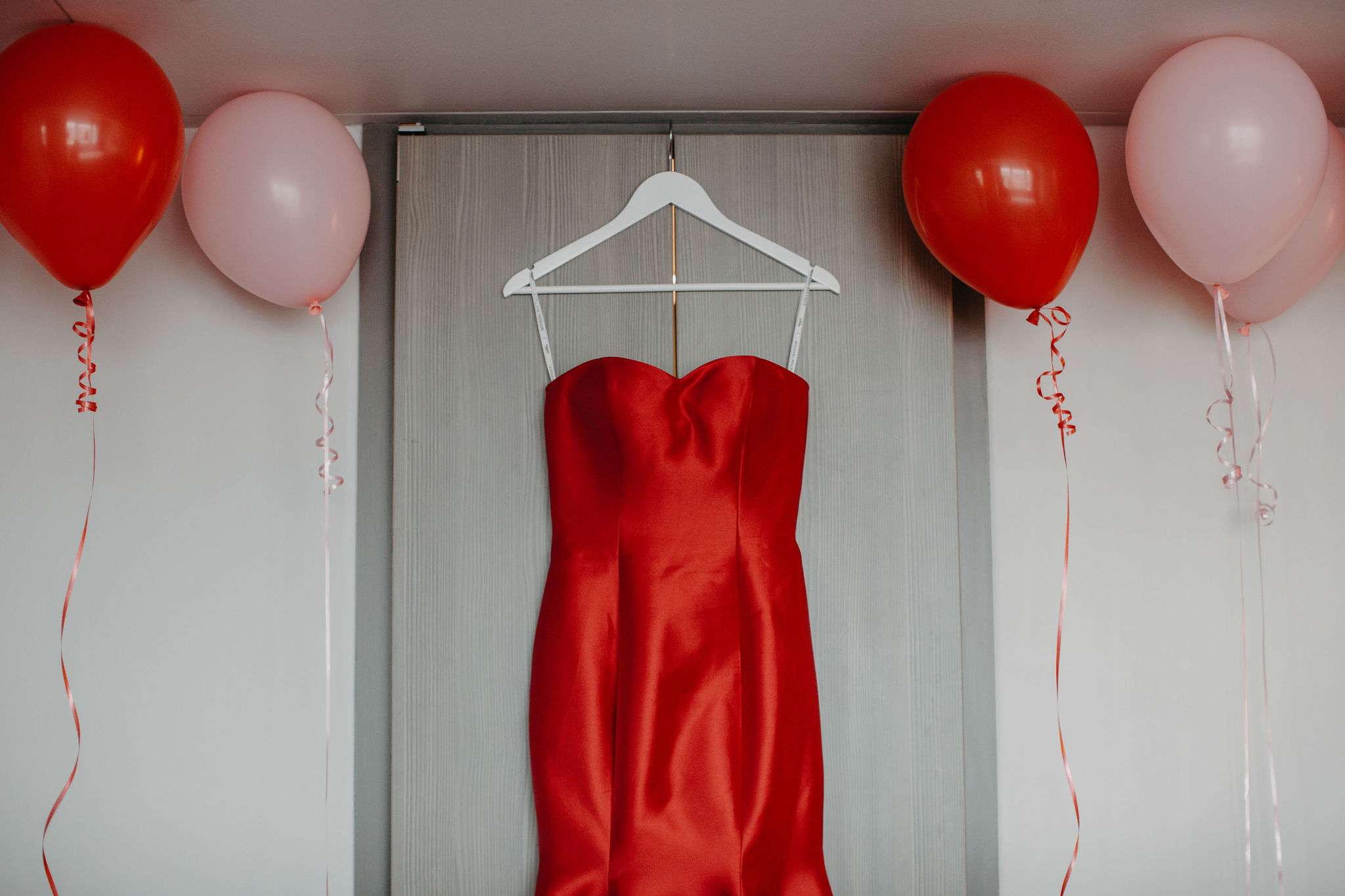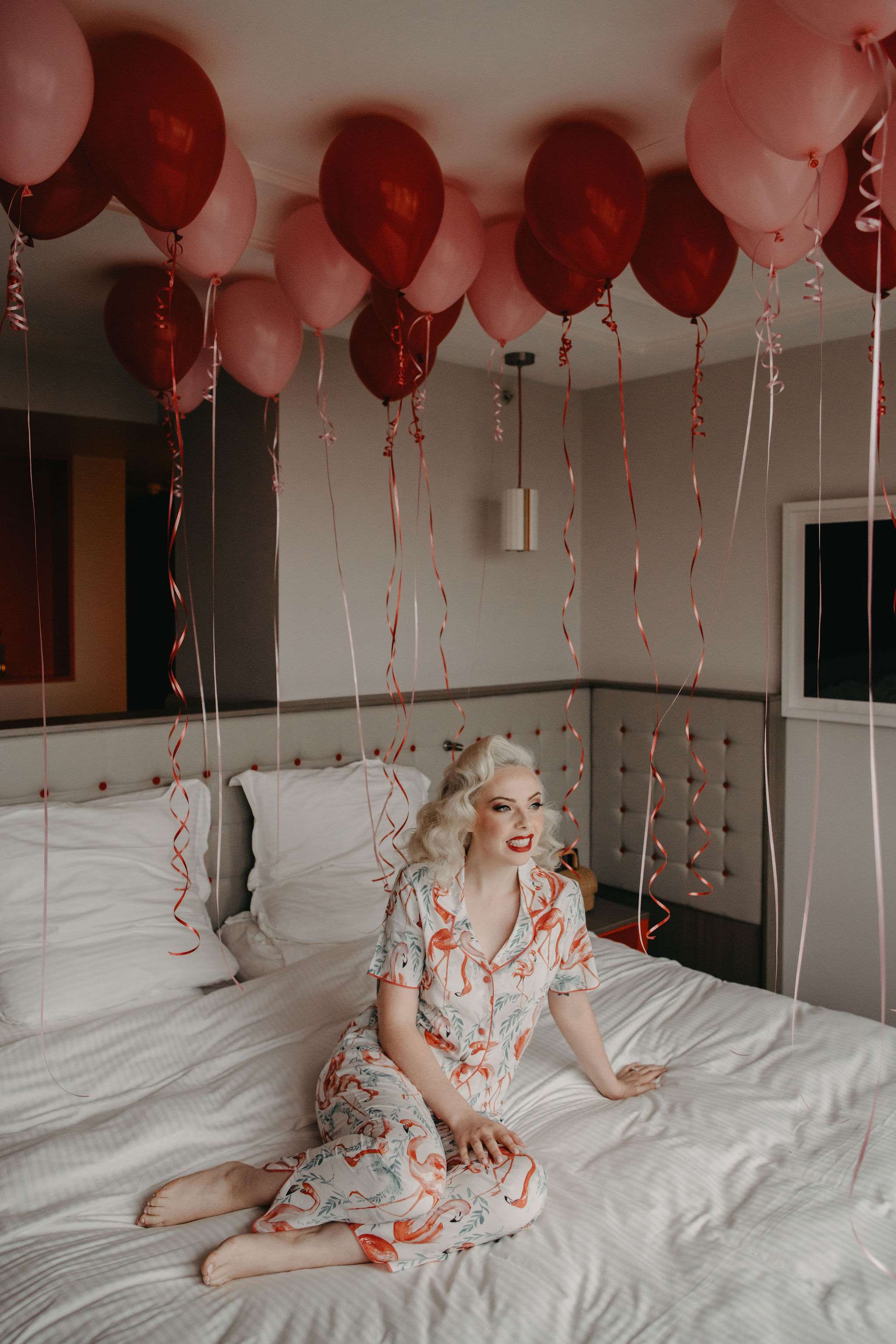 Sinead's stunning red gown was a bespoke design from House of Mooshki based on Marilyn's iconic Some Like It Hot dress but made in red, with a 'bum cape' (detachable train!) Dolly's Beauty Parlour did her hair in Hollywood waves (which survived the open top bus ride!) and vintage inspired make-up to complete the look. The groom's suit had tiny skull buttons and lining which was also mirrored in their stationery and place settings which were skulls, too.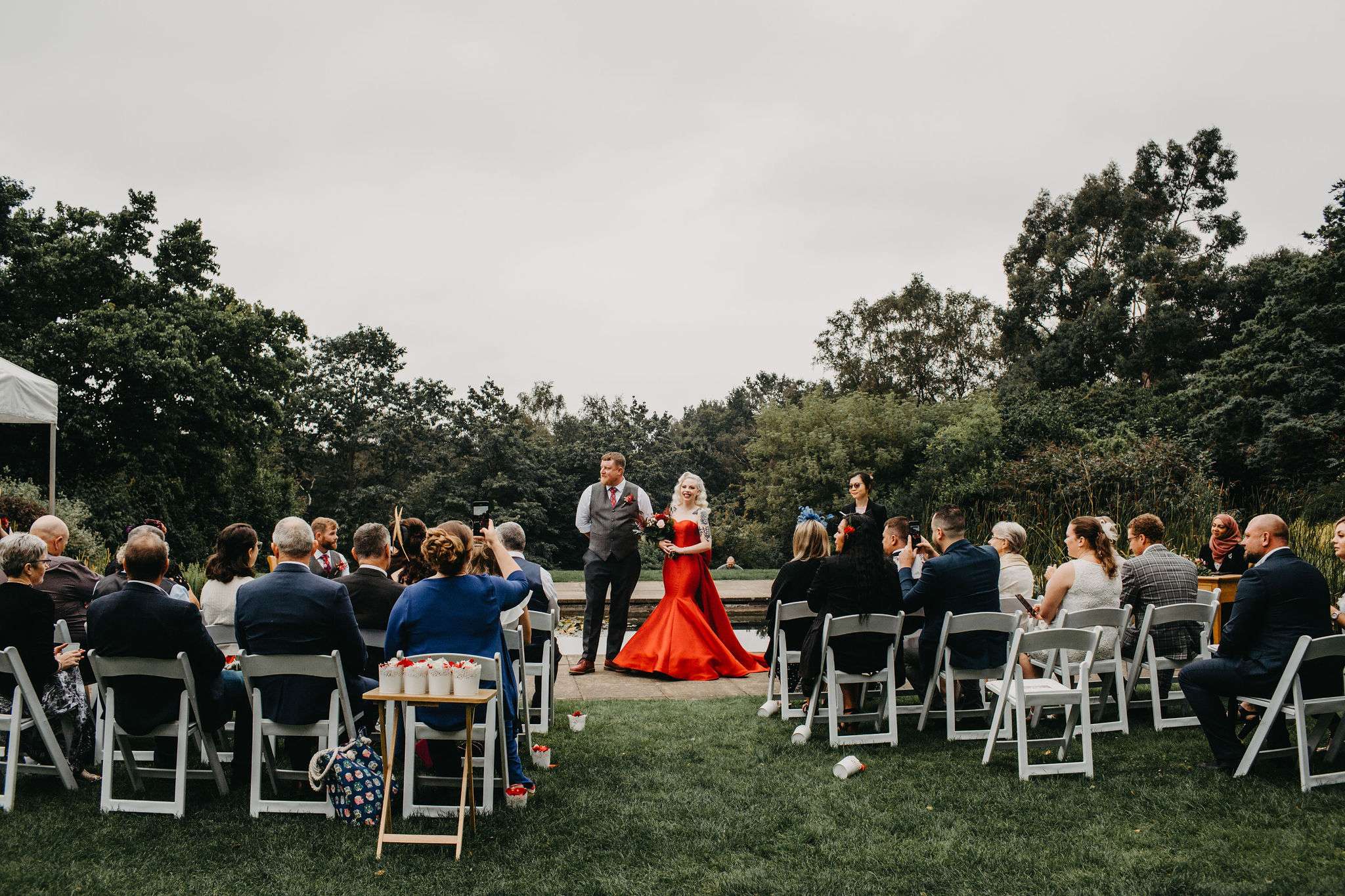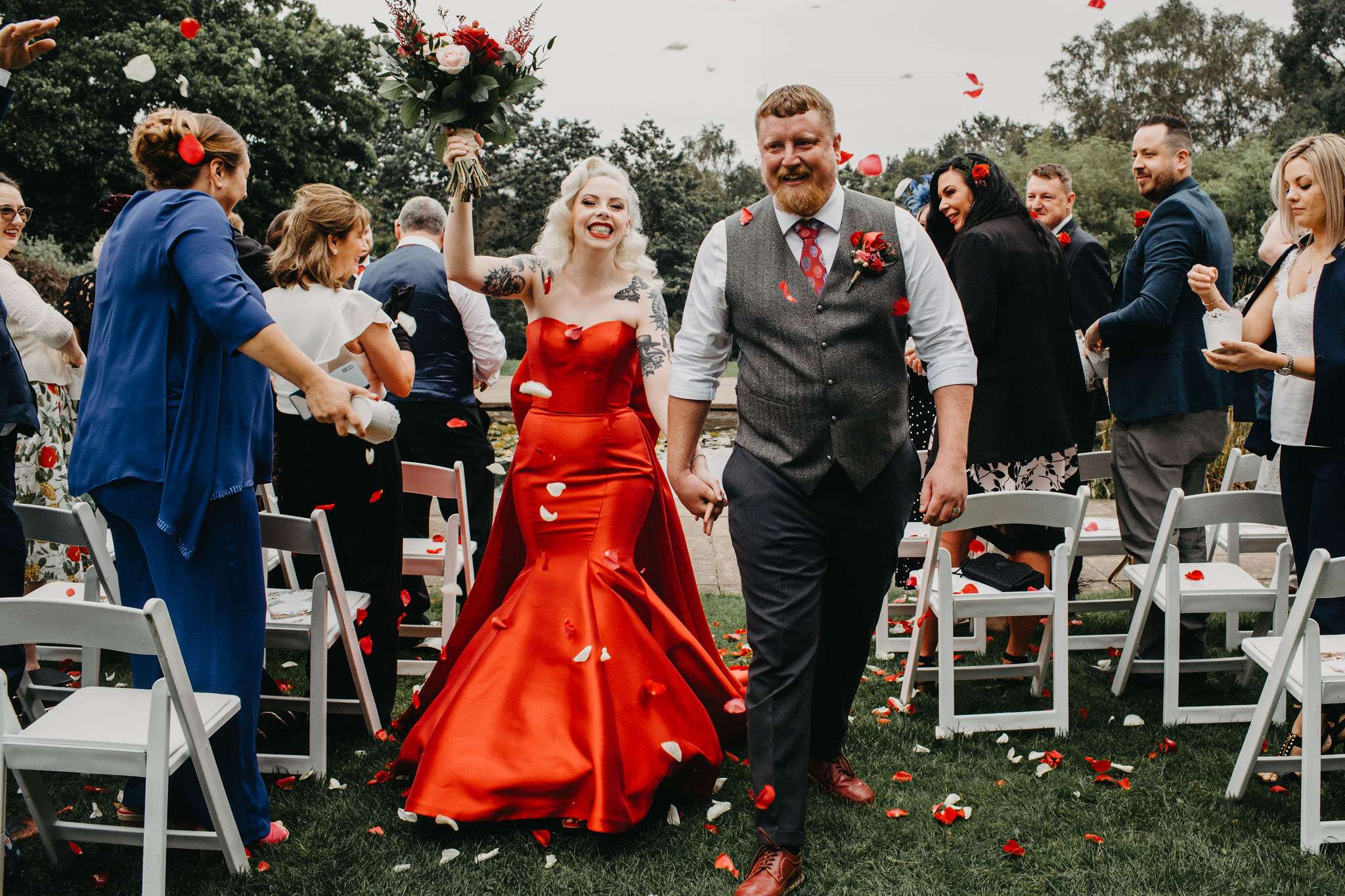 "Our celebration broke away from the traditional Irish wedding with a huge church and hundreds of guests", Sinead told us. "Throwing tradition to the wind, I chose my halo, then my shoes and then the dress last. Each individual element just felt right at the time. I wanted a vintage aesthetic as I dress in this style usually but most bridal boutiques don't have red dresses for you to try on. Feeling uninspired by bridal boutiques nearby, I chose a bespoke dress from House of Mooshki, based in Newcastle. It took a lot of imagination to picture the final design but through Phil's hand drawn sketches and computer illustrations with the colour added, my apprehension soon turned to excitement."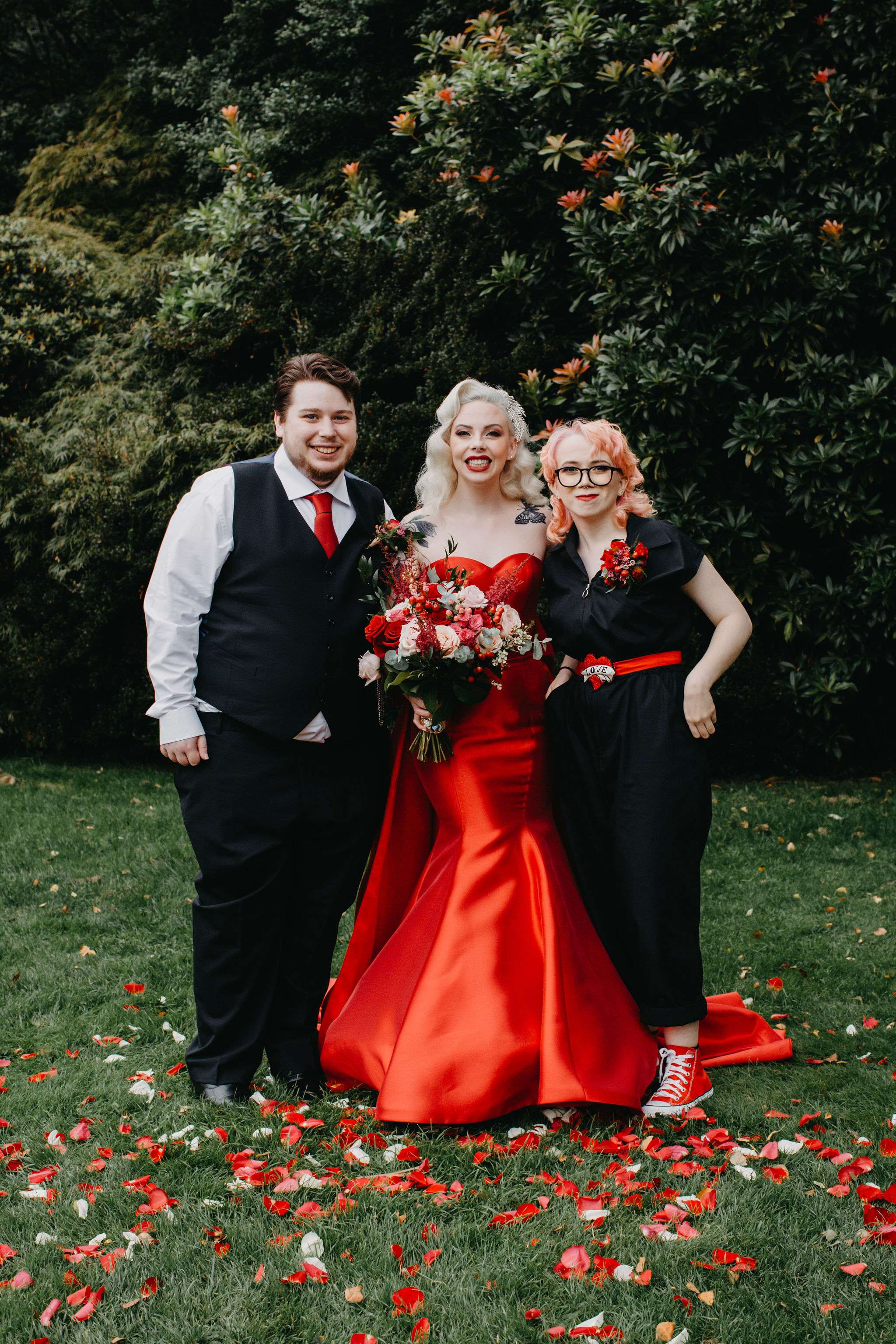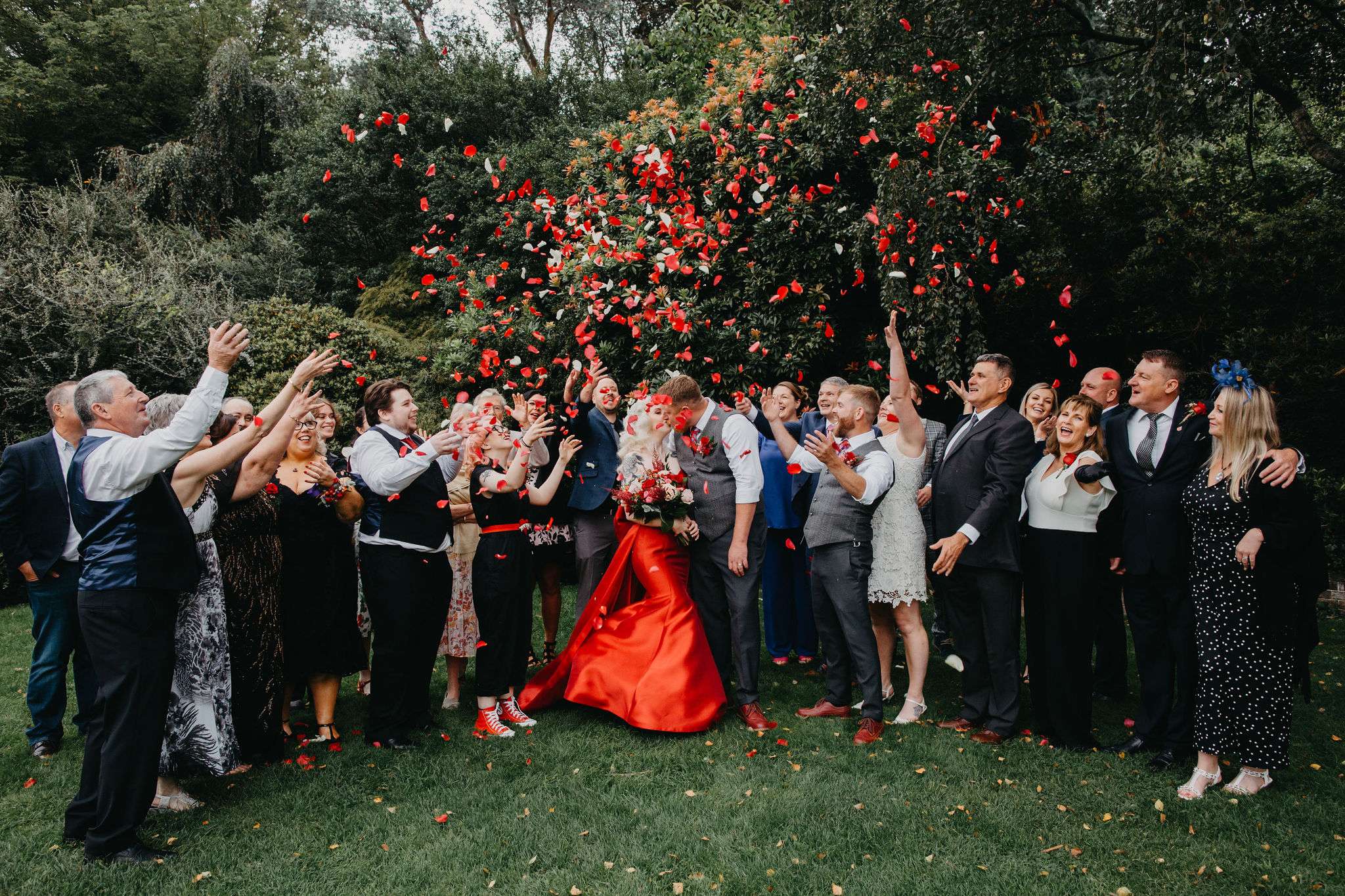 Sinead also wanted her bridal party to feel comfortable too so her bridesmaid, Tal, wore a rockabilly inspired Vivien of Holloway jumpsuit and Converse with a corsage rather than carrying a bouquet.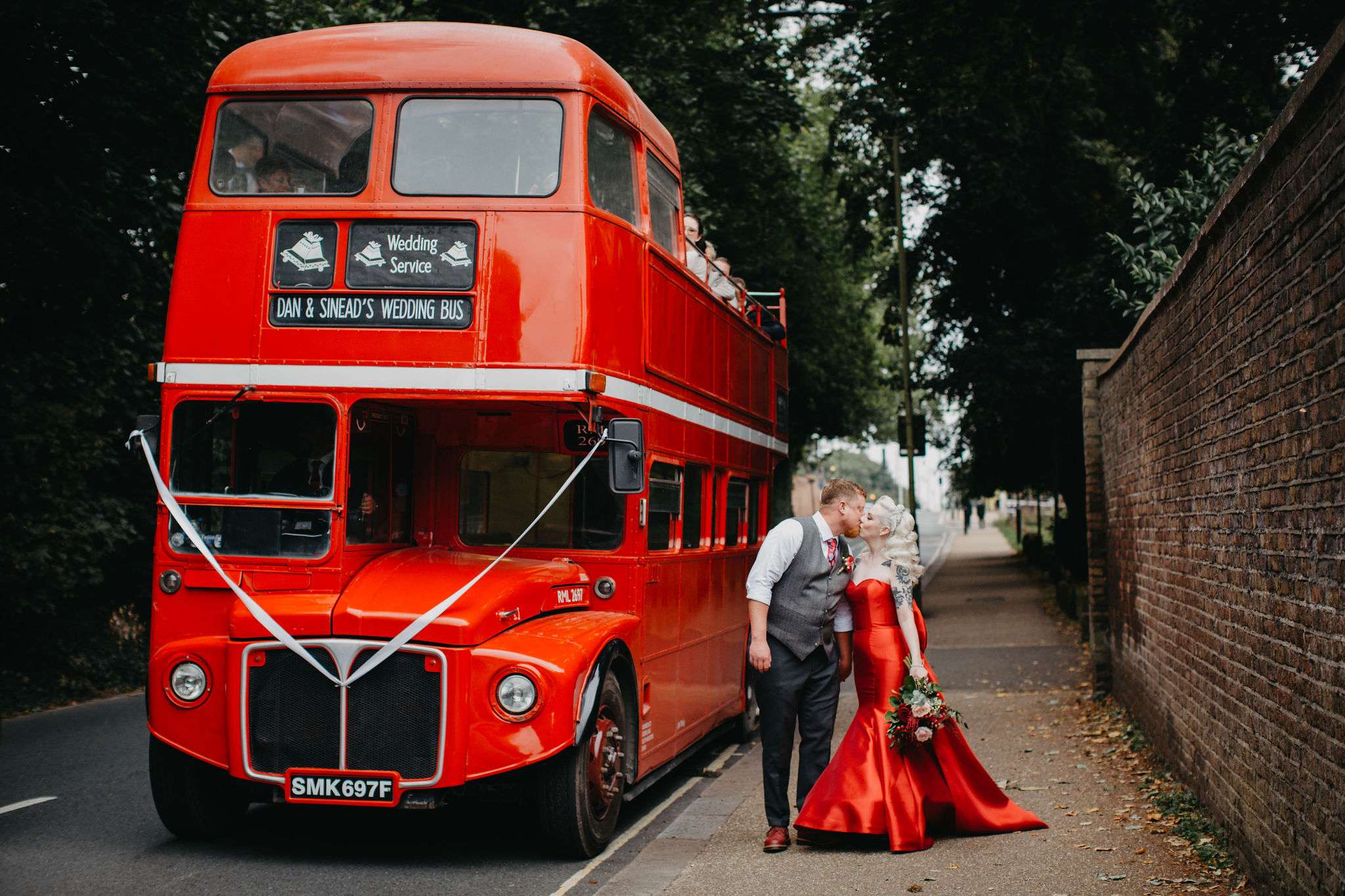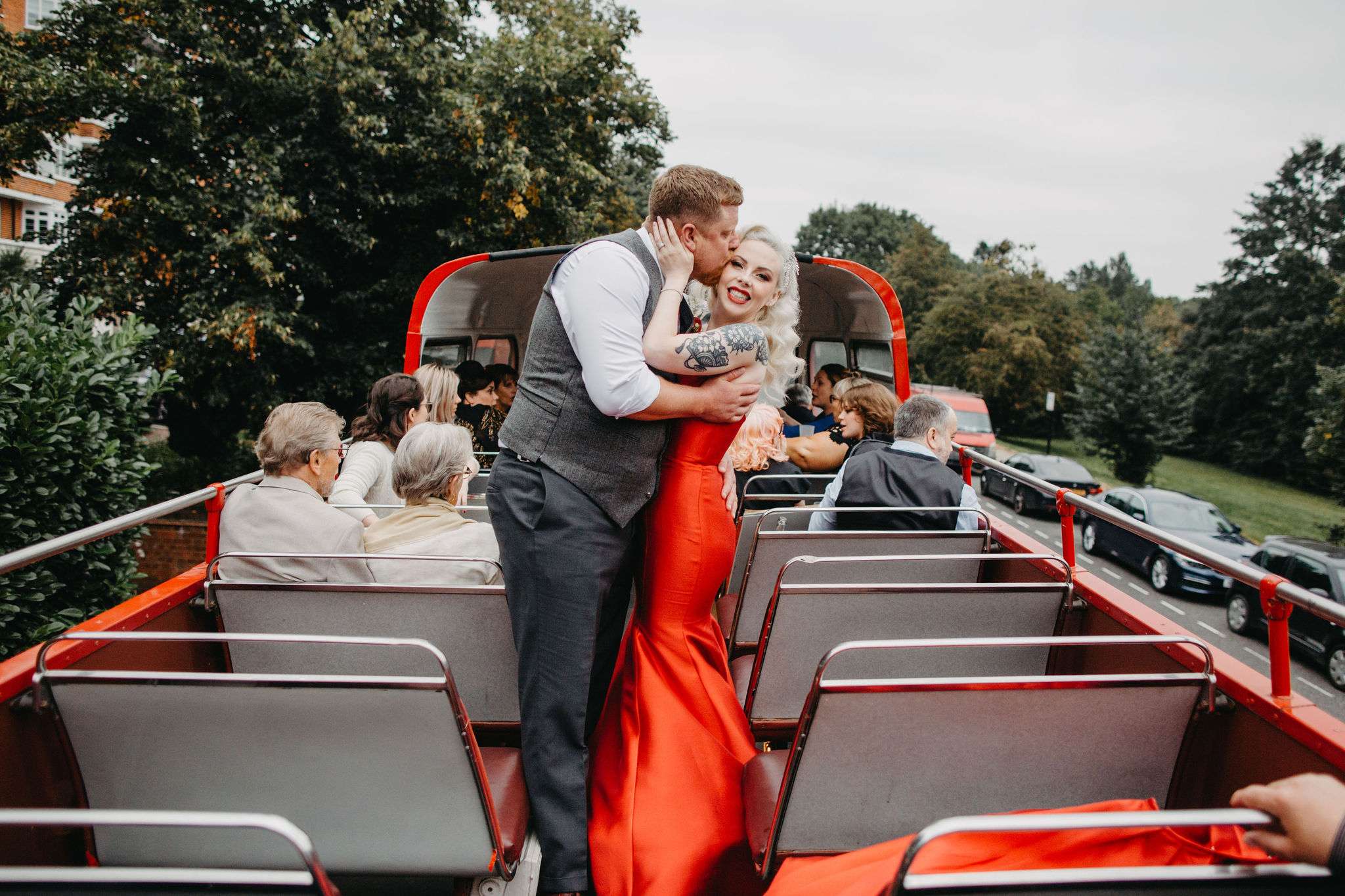 The ceremony took place in Golders Hill Garden and Pergola, a stunning outdoor venue in North London. It's green creeping foliage was the perfect contrast to Sinead's red wedding dress. The music was performed by her cousin on guitar. After their photos, they headed to Granary Square Brasserie by open top red bus for their reception. They chose a sit down meal and an open bar as they didn't want their guests to have to pay for anything, so this ended up being the biggest expense of the wedding. They chose a bespoke range of cocktails and had their own personalised menu, there was also a mocktail called the 'Man of Honour' especially for the bride's brother.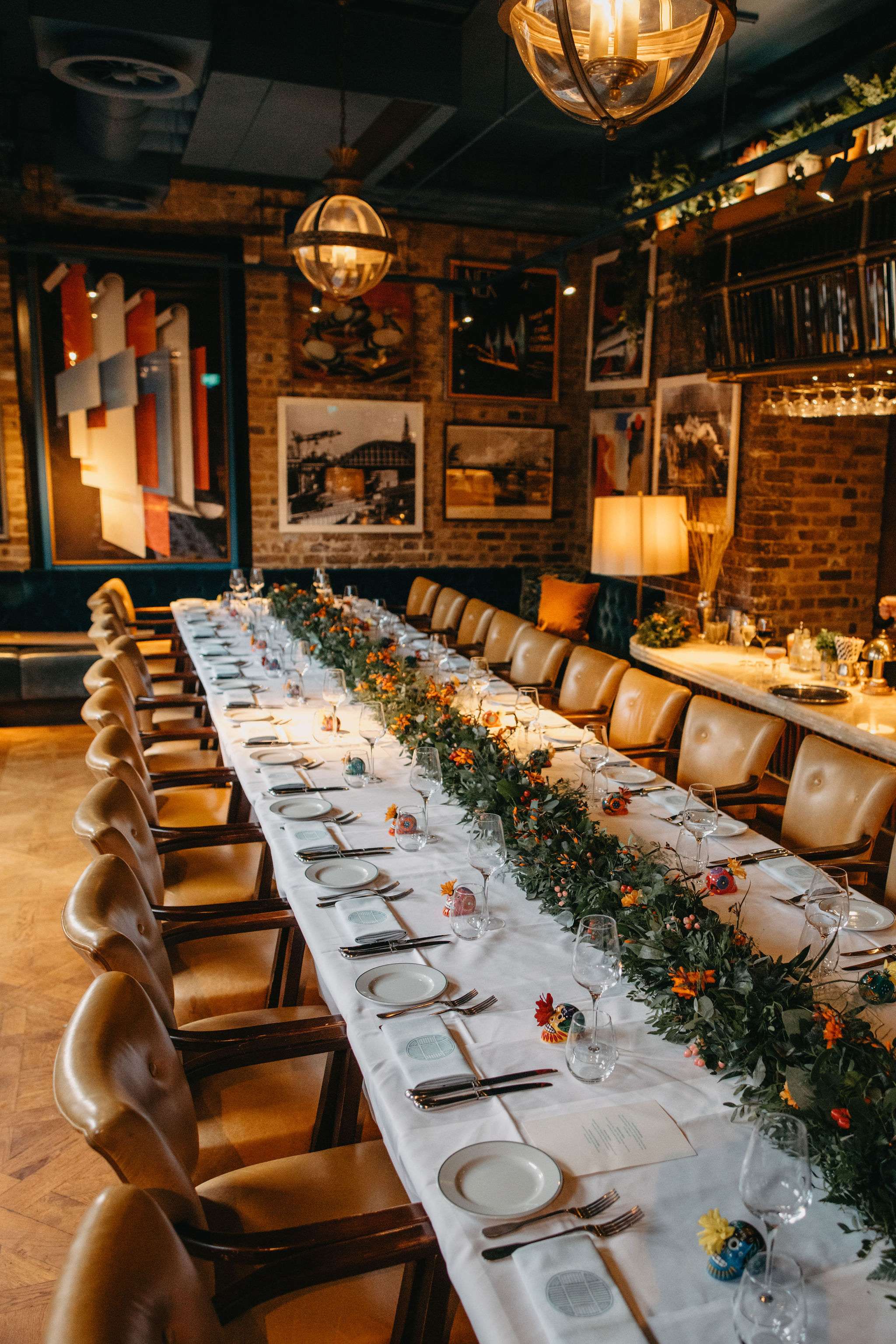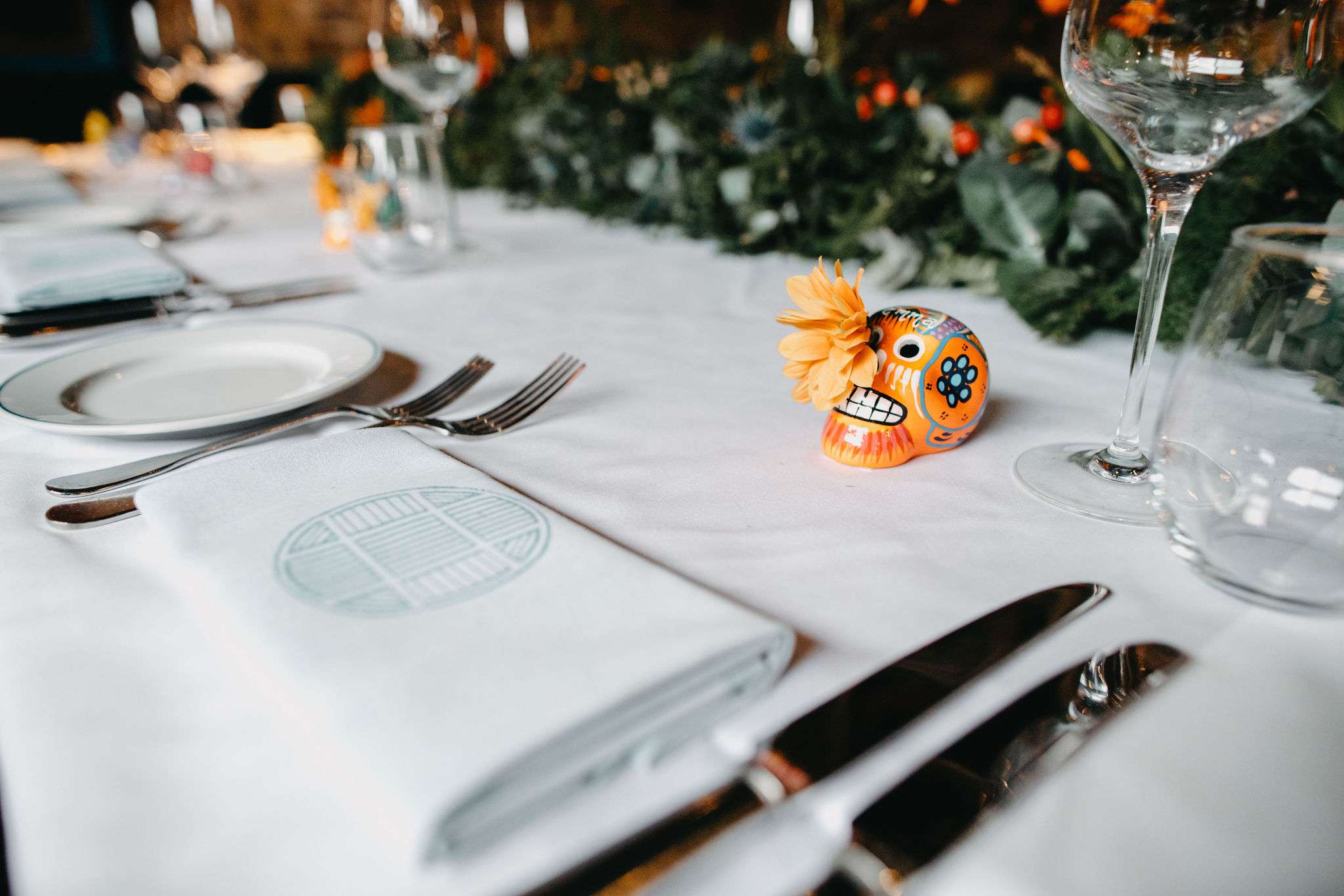 "It was difficult balancing family members' expected traditions with our modern choices", Sinead concluded. "I found the expectation of a white dress quite emotionally challenging. I tried on many, in various shops and I even went on my own to one appointment but it never felt right. The ladies in the shop were always so complimentary and even tried adding veils and all the works. I am not naturally an assertive person but I found that I had to be really firm at times and be prepared to walk away so I could get what I really wanted in the end."