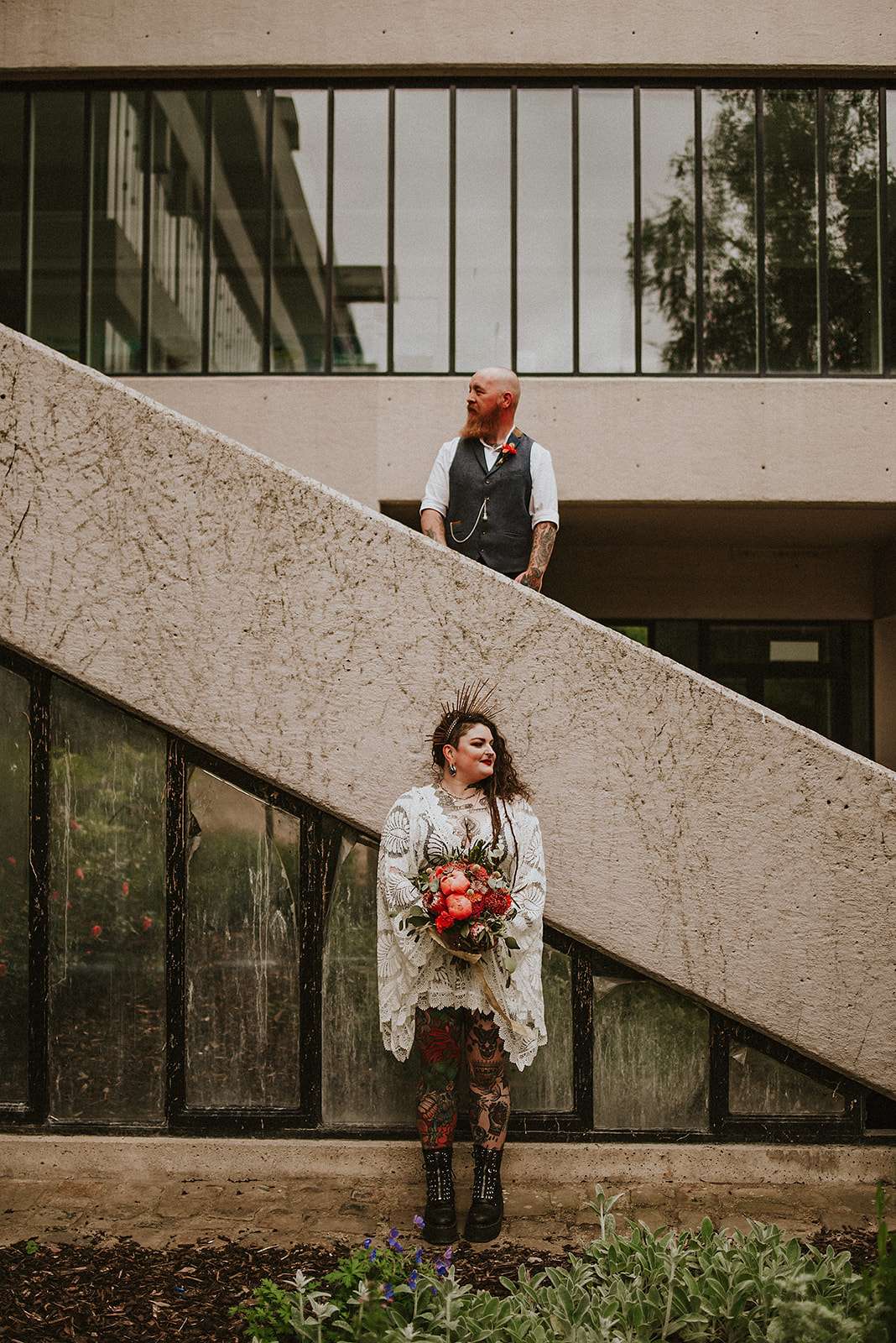 Sam and Katie met in a tattoo shop where the bride worked and so for their wedding they wanted to reflect their mutual love of tattoos. It was also a bit of a confetti explosion of colour and they ended up choosing quite a few Mexican inspired things like piñatas and sacred hearts – although this wasn't an intentional theme.
The bride arrived to the ceremony in a Piñata laden Land Rover Defender to a venue dressed in cascading colours, Sacred Heart bunting and a badass streamer backdrop.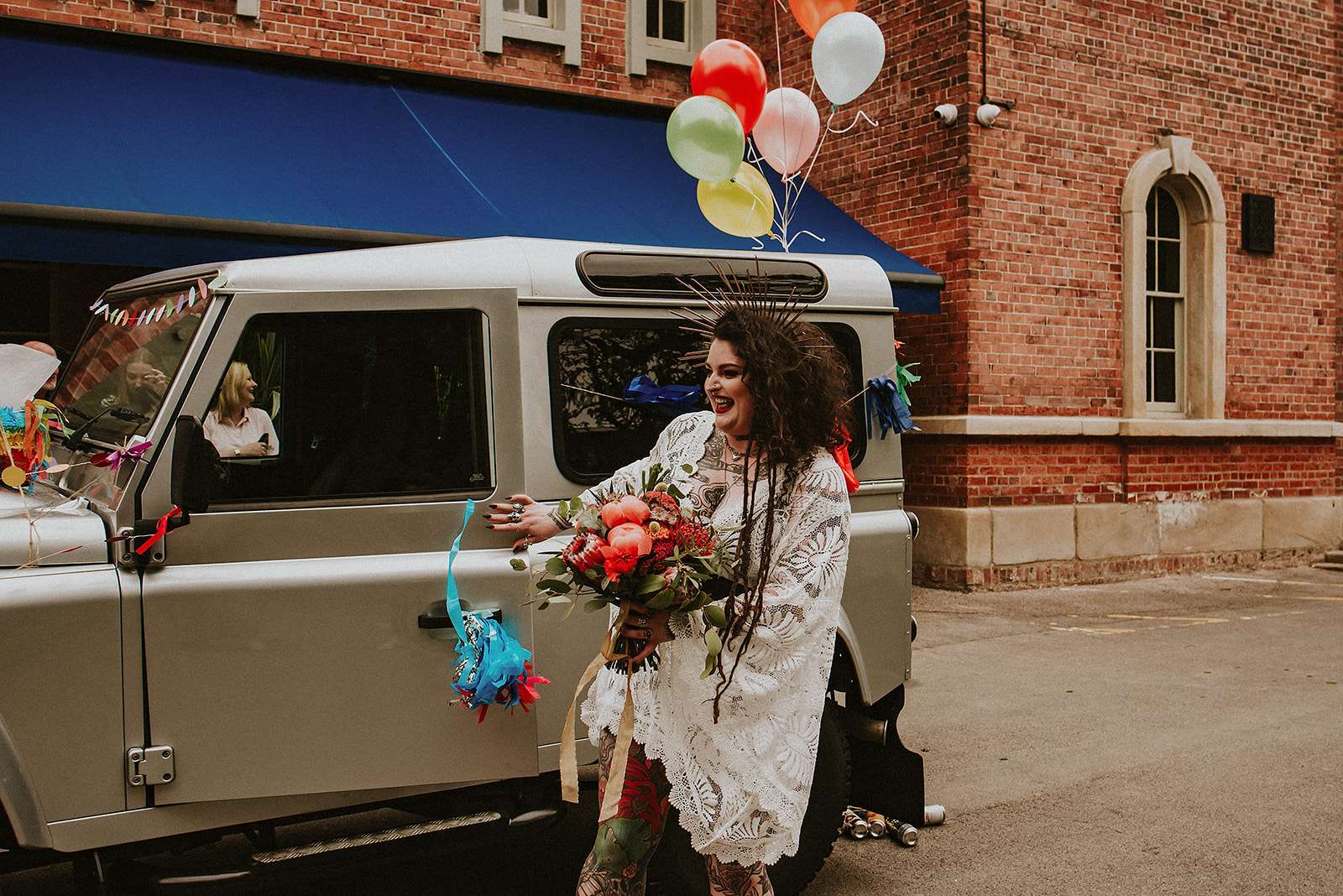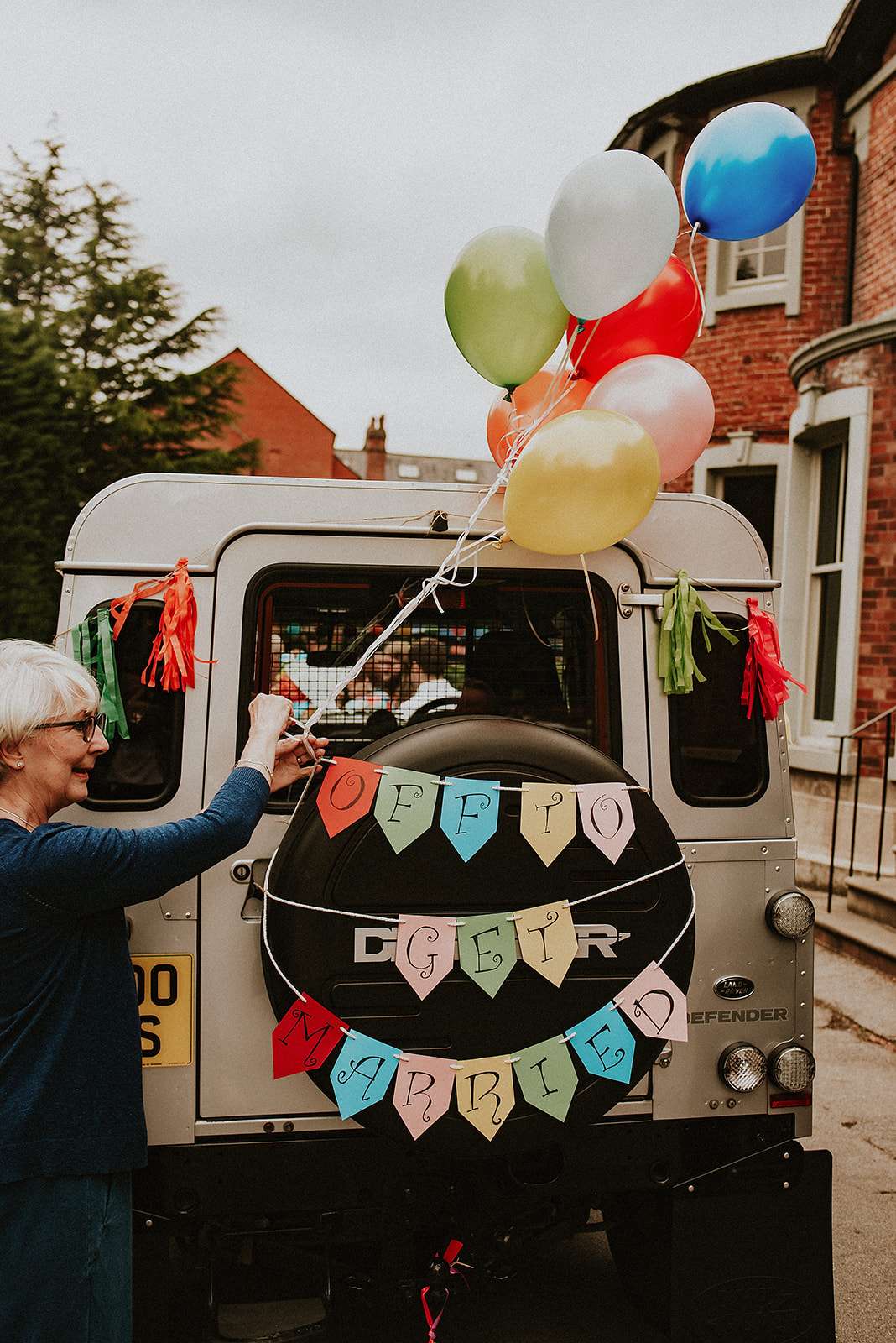 "One of the best decisions we made was to have a drink with everyone before the ceremony", the bride began. "It made the day feel super relaxed and definitely helped to quell (some of) the nerves beforehand! Also, my little sister, aunt and uncle decorated my uncle's car and my dad drove me down to the venue, just the two of us in the car. That was very special!"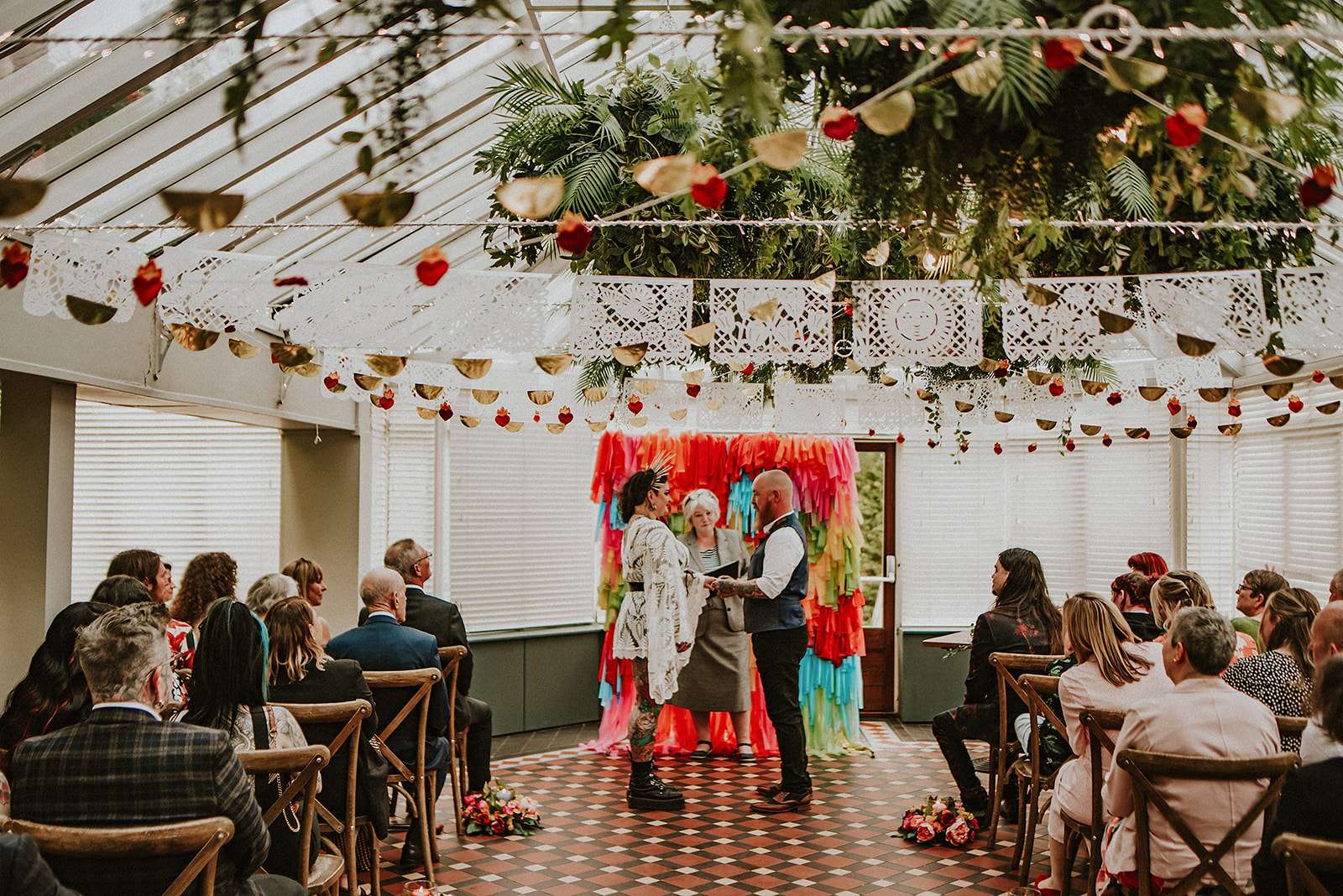 Katie walked down the aisle to Because the Night by Patti Smith and they wrote their own vows. Sam surprised his bride by including her favourite band in his, which was perfect as she had also included some of their lyrics in hers! "He was a bit shocked that I also called him a gremlin, which I think shocked the registrar, but we had a good laugh about it afterwards", she said.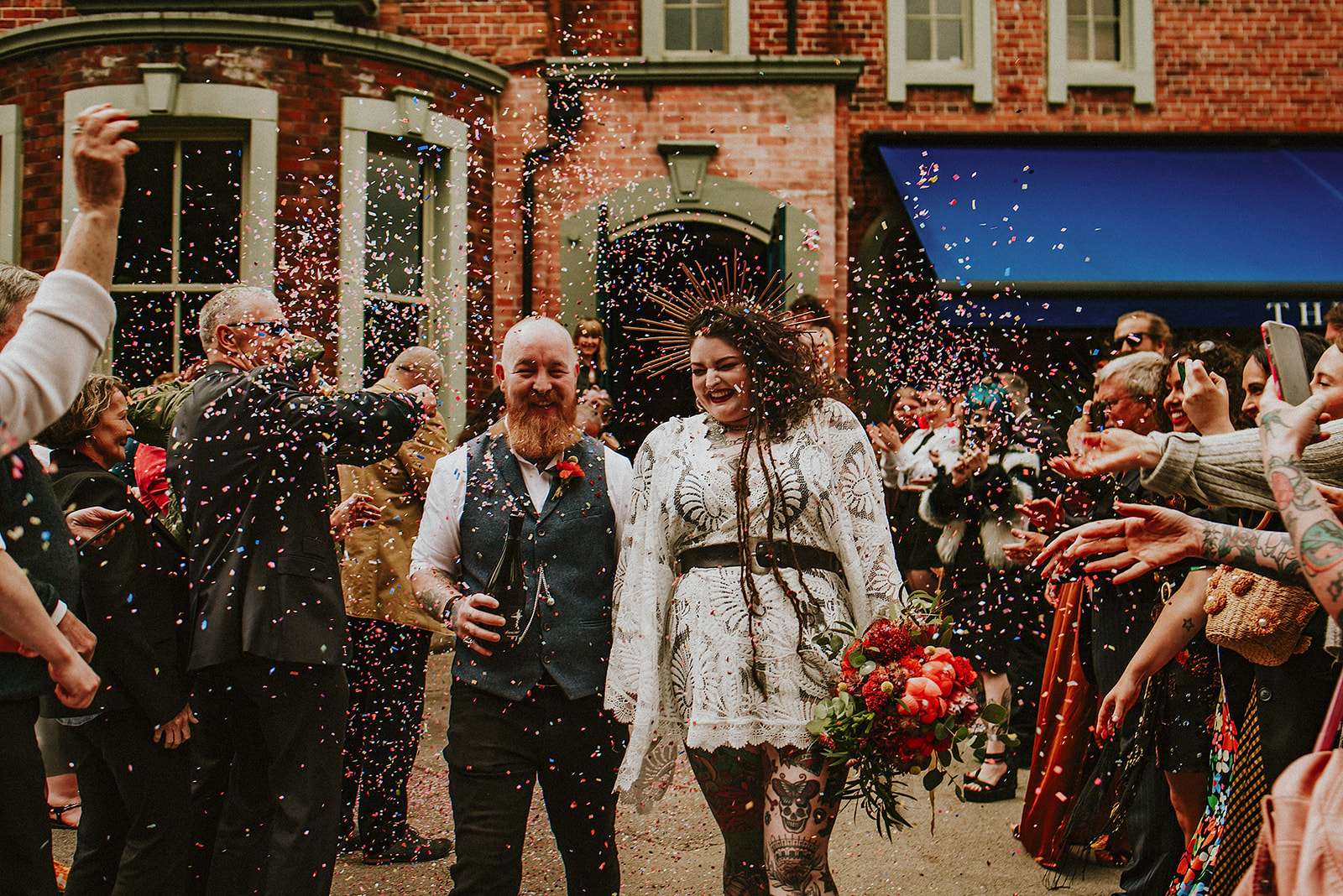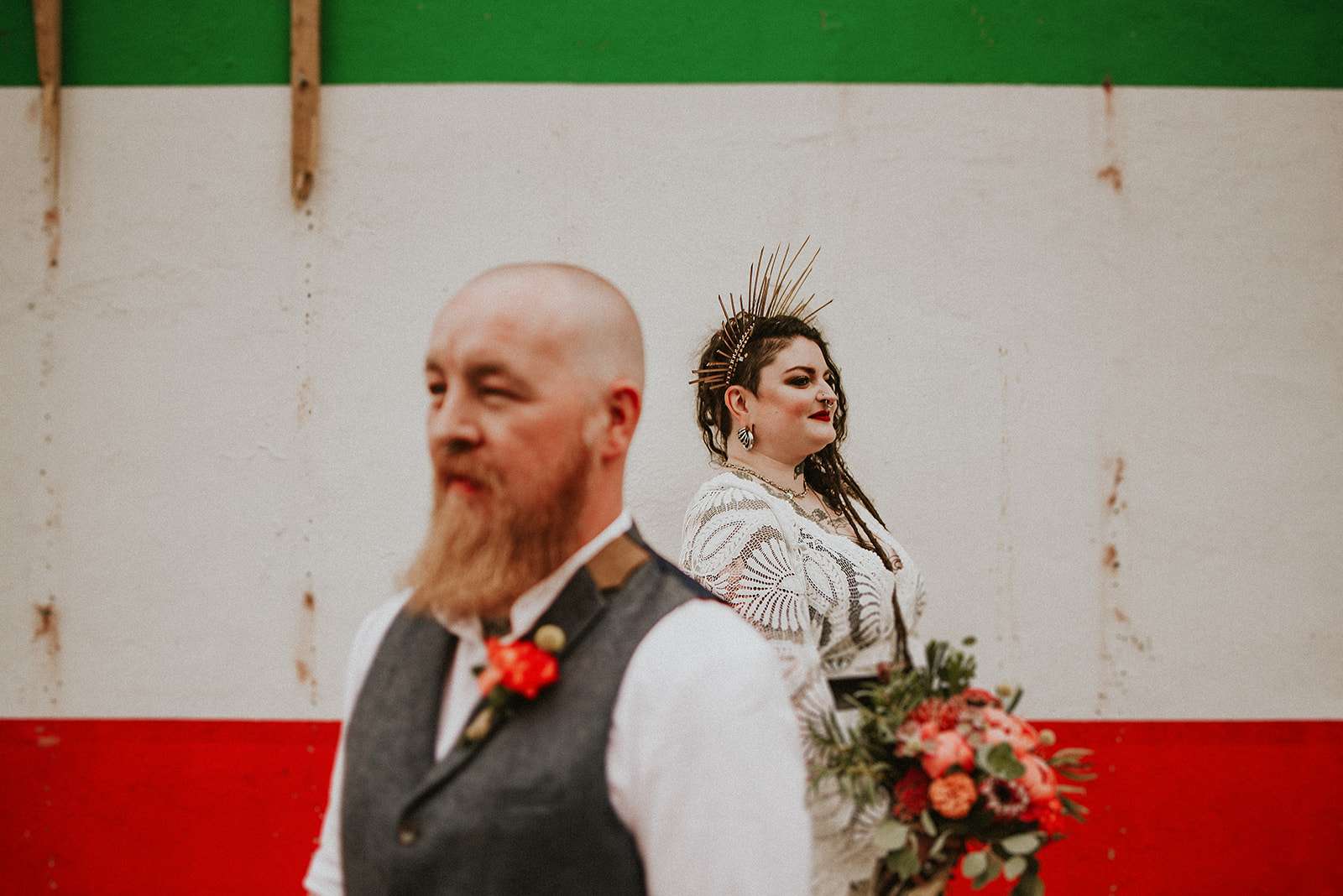 The reception afterwards was full of homemade details such as the cake topper, stationery and decorations. They made everything apart from the papel picado and the bride's twin sister made the enormous sacred heart piñata.
"The reception and party were phenomenal", Katie remembered. "We hired April from Kook Events to help out on the day and she was an absolute dream! She helped to decorate in the morning and decorated a mirror for us, then stayed around to help with
moving things around as the whole event was at the same venue. My top wedding tip is to hire April!"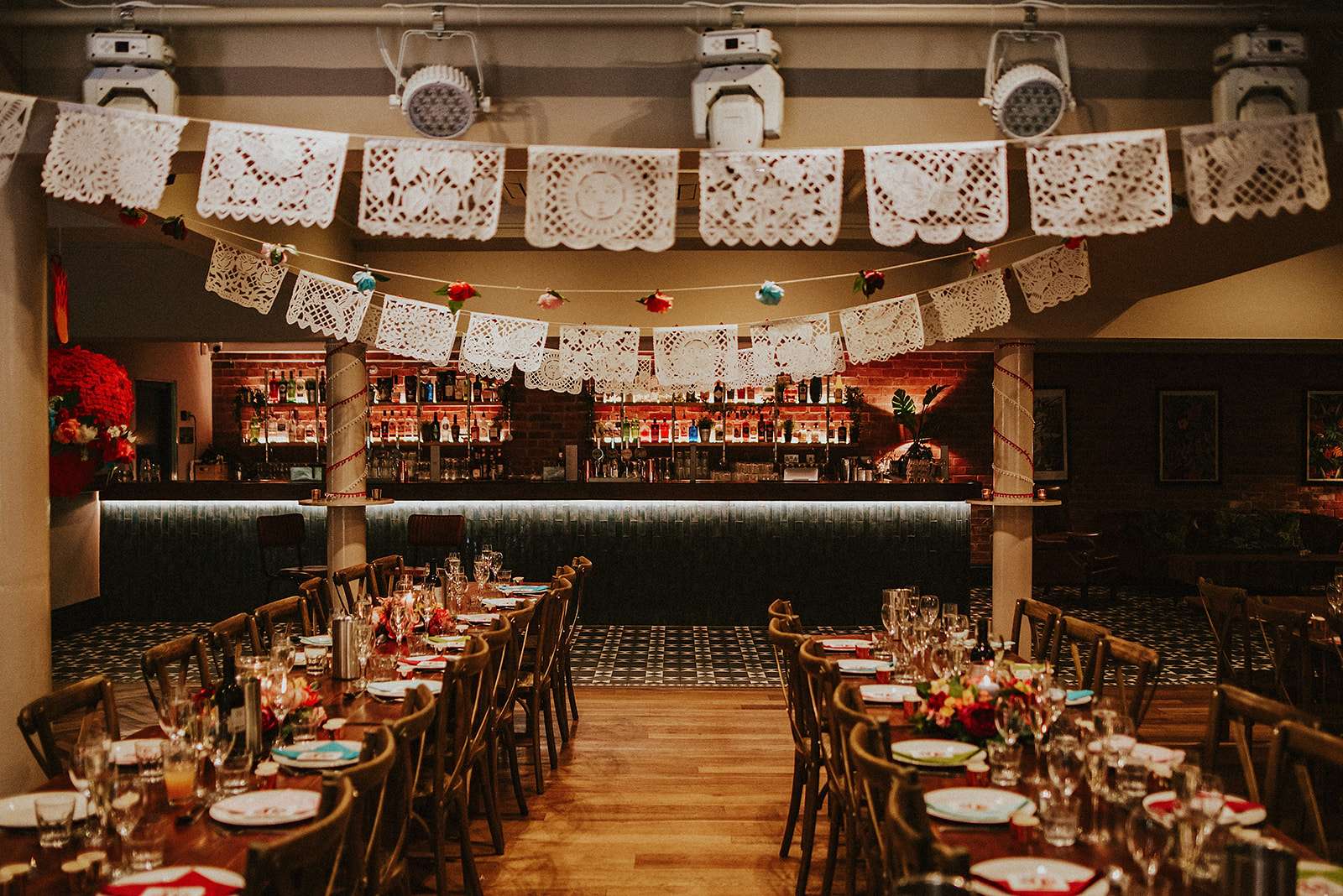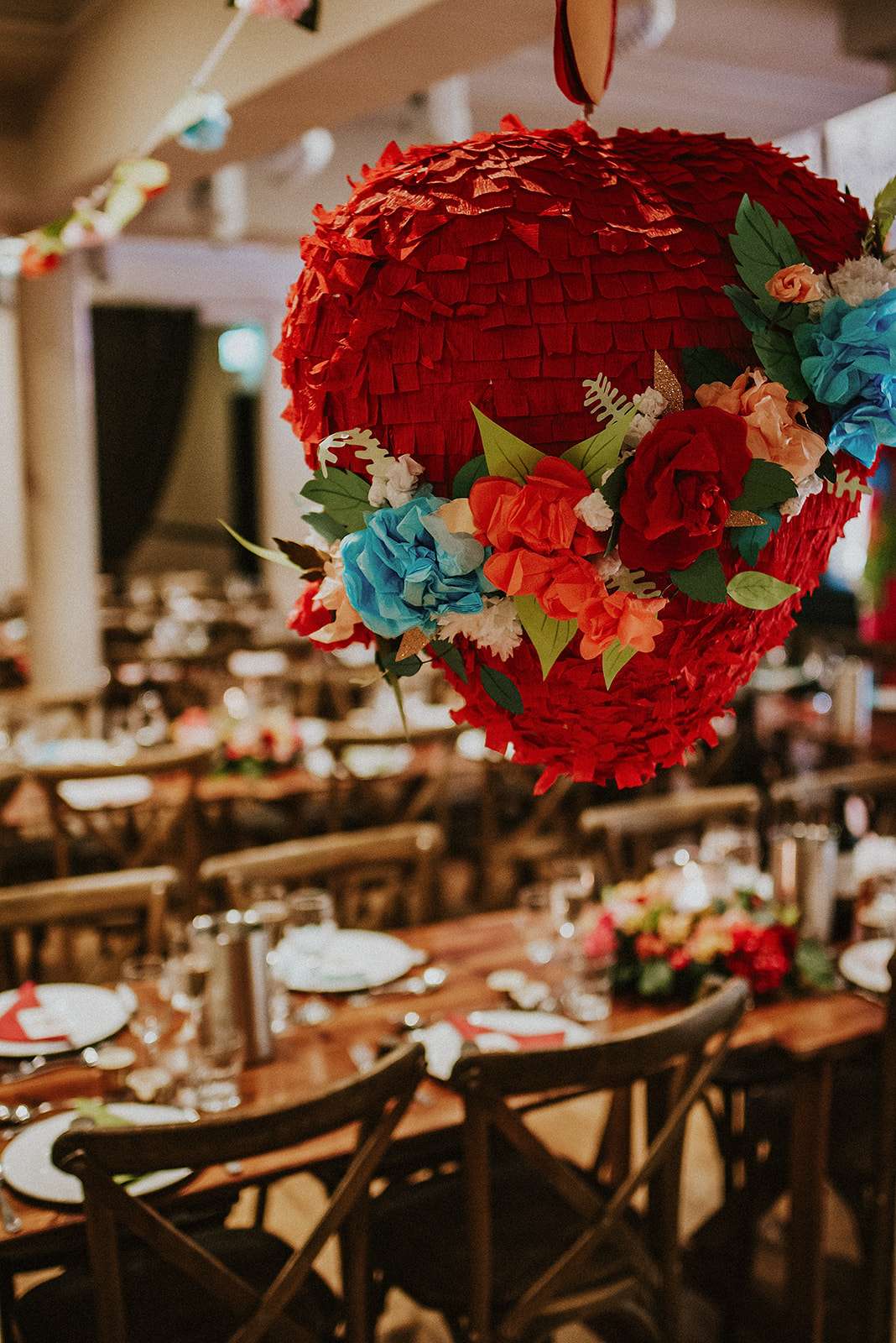 "My little sister sang alongside Al Bampton, who taught her guitar years ago and is an old family friend. Our friend John from Deadbeat Brass joined them as a surprise, which brought about a lot of tears! The evening do was wild – we couldn't have chosen a more appropriate band for such a big party. Nosebleed played a raucous set including covers of some of our favourite songs, and surprised us with a game of pass the parcel full of ridiculous prizes! Afterwards I danced with my dad to Girls Just Wanna Have Fun, which was a very special moment for me!"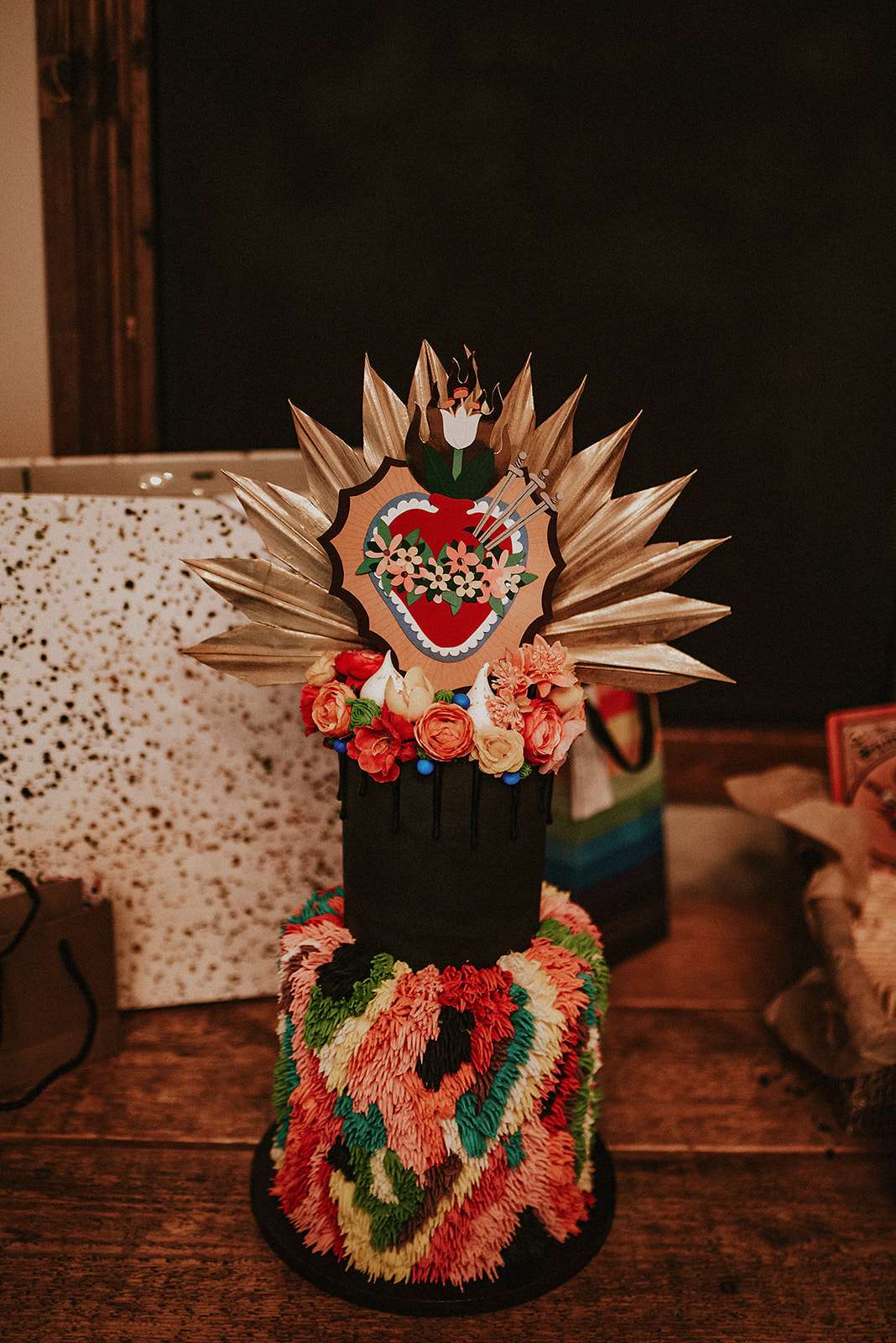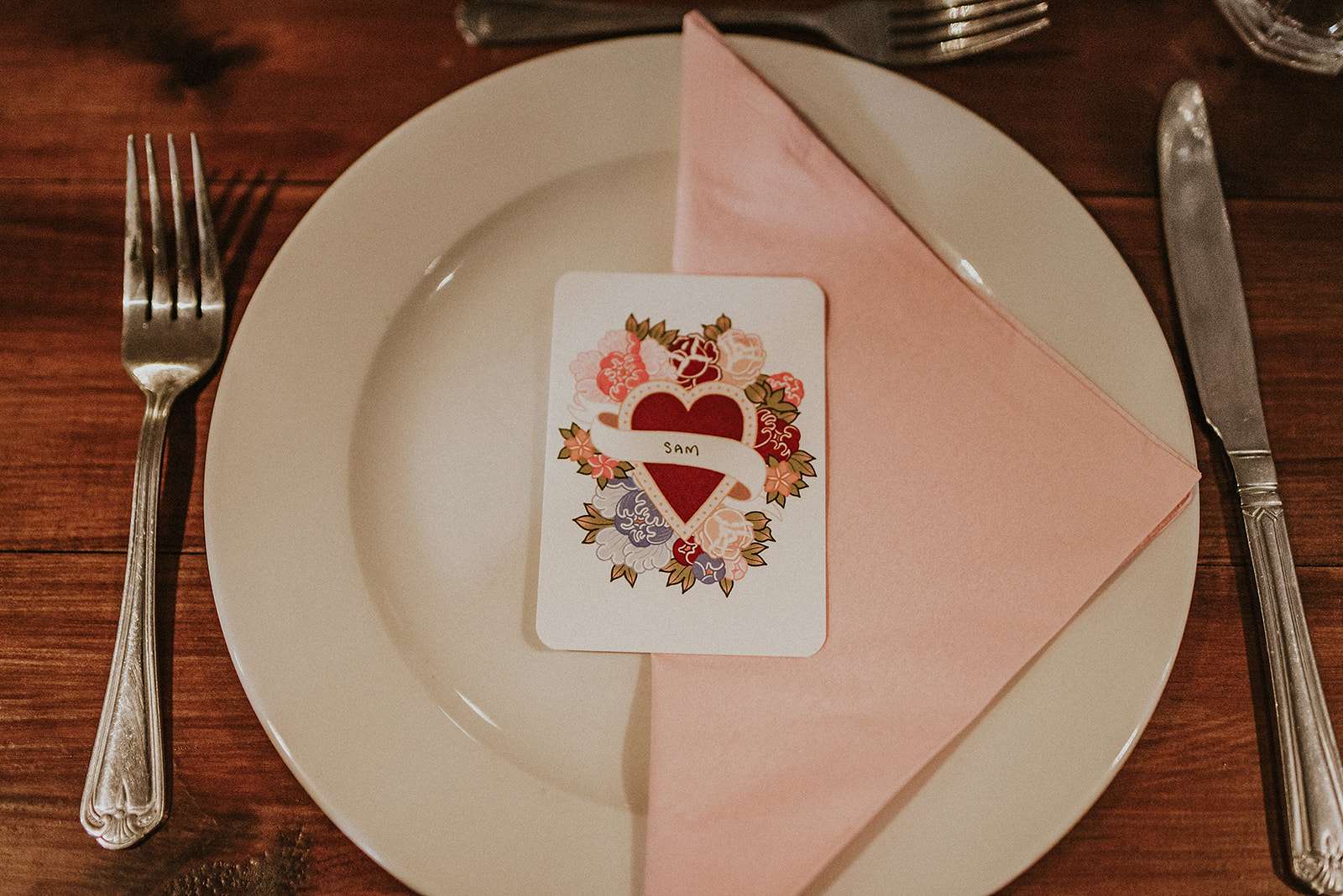 When asked if there was anything they'd change about the day, Katie replied with an enthusiastic "No! I know it sounds cheesy but there was very little stress involved and we agreed on pretty much everything very quickly, so it was all very smooth running. Sam's speech was the best part of the day. It was so heartfelt and he had the whole room in stitches. Thankfully one of our close friends videoed it so I can watch it back whenever I like. Sam's favourite part was taking his shirt off and getting on stage with the band hahaha!"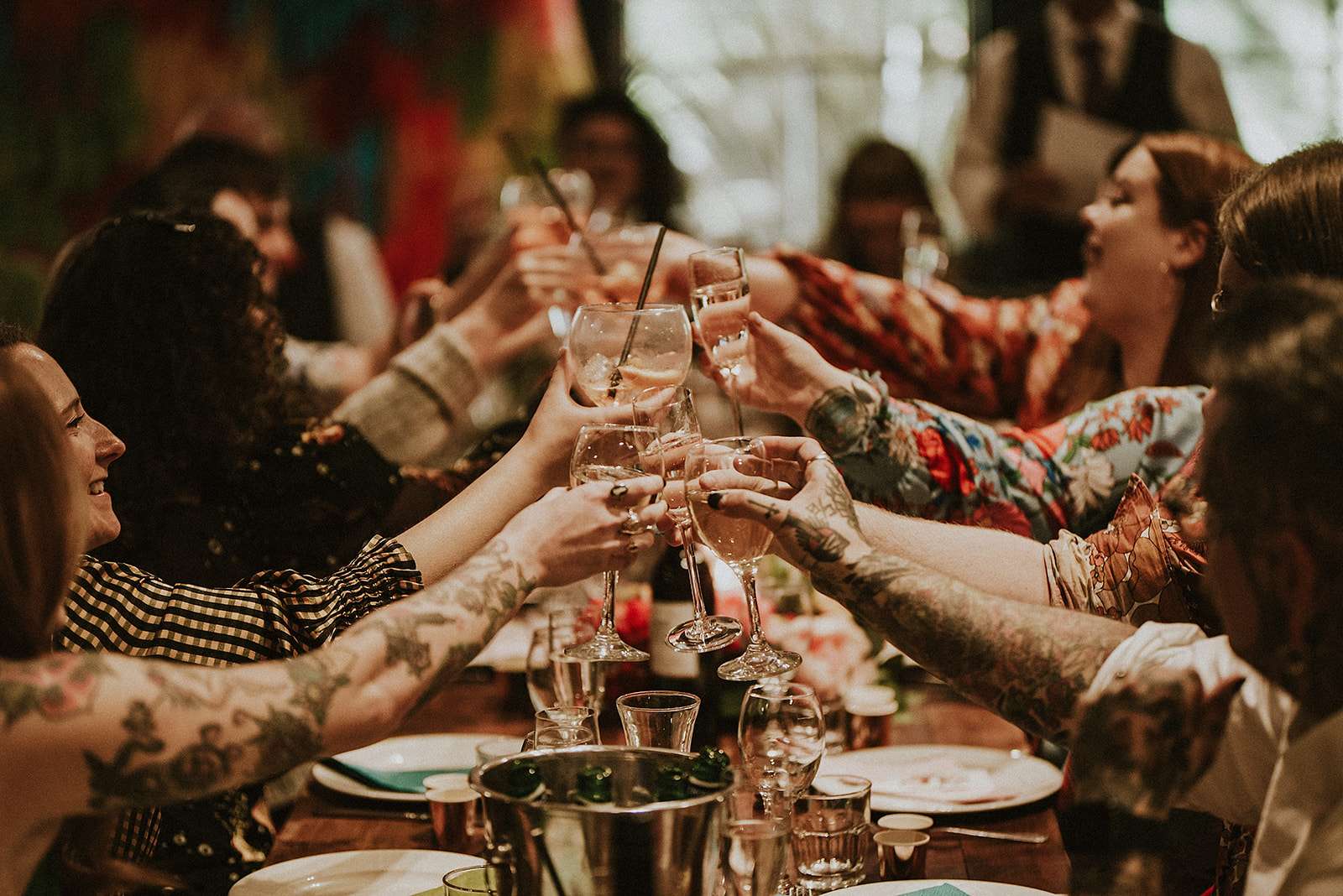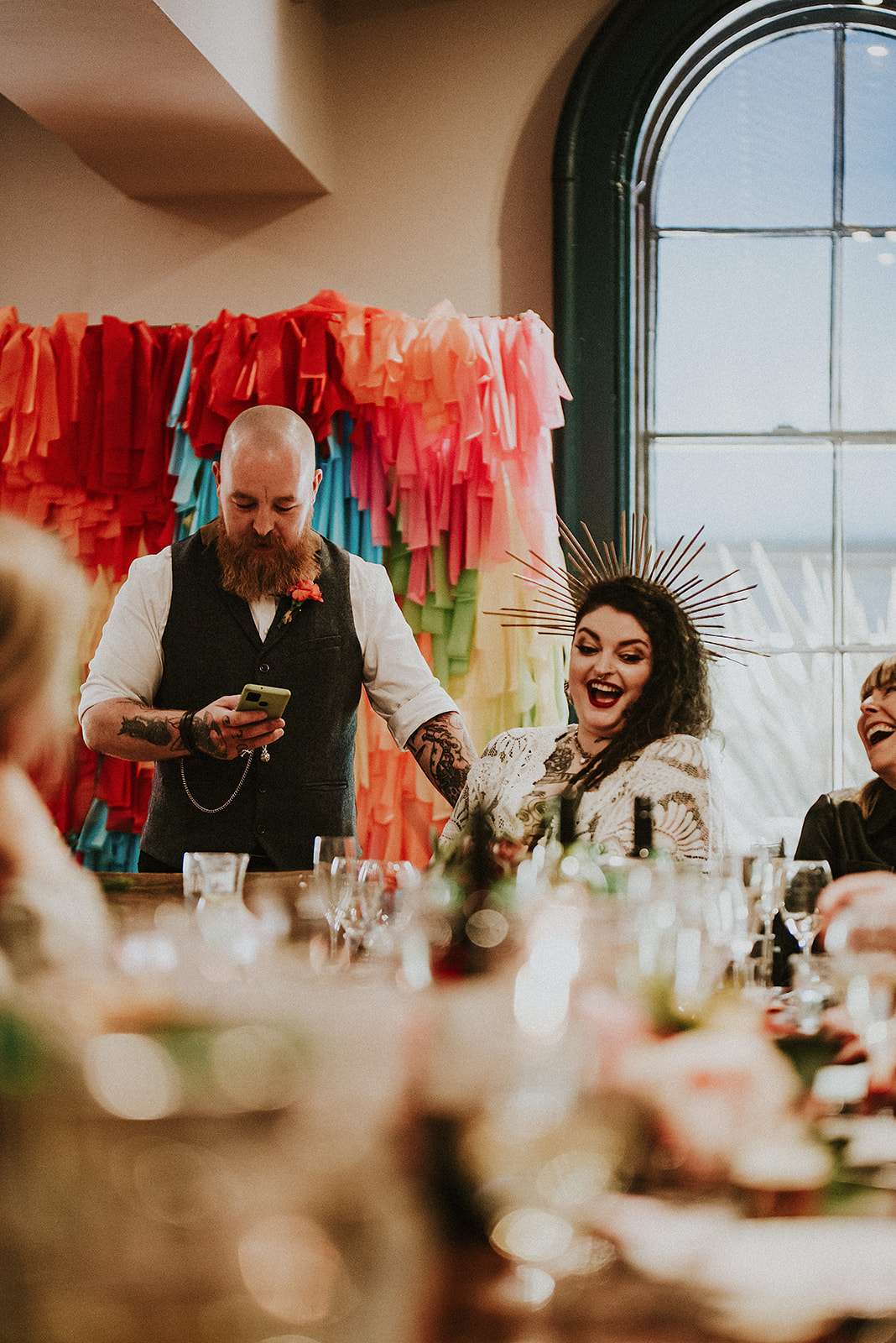 "I also need to give Ryan of Shutter Go Click the biggest shout out because honestly, what a guy", Katie concluded. "Neither me or Sam are massive fans of having our photos taken but he made us both feel so comfortable and took the most beautiful photos! As soon as I met him I knew he was the right person for us, and he didn't disappoint. He's also a massive hit with the mums and aunties!"