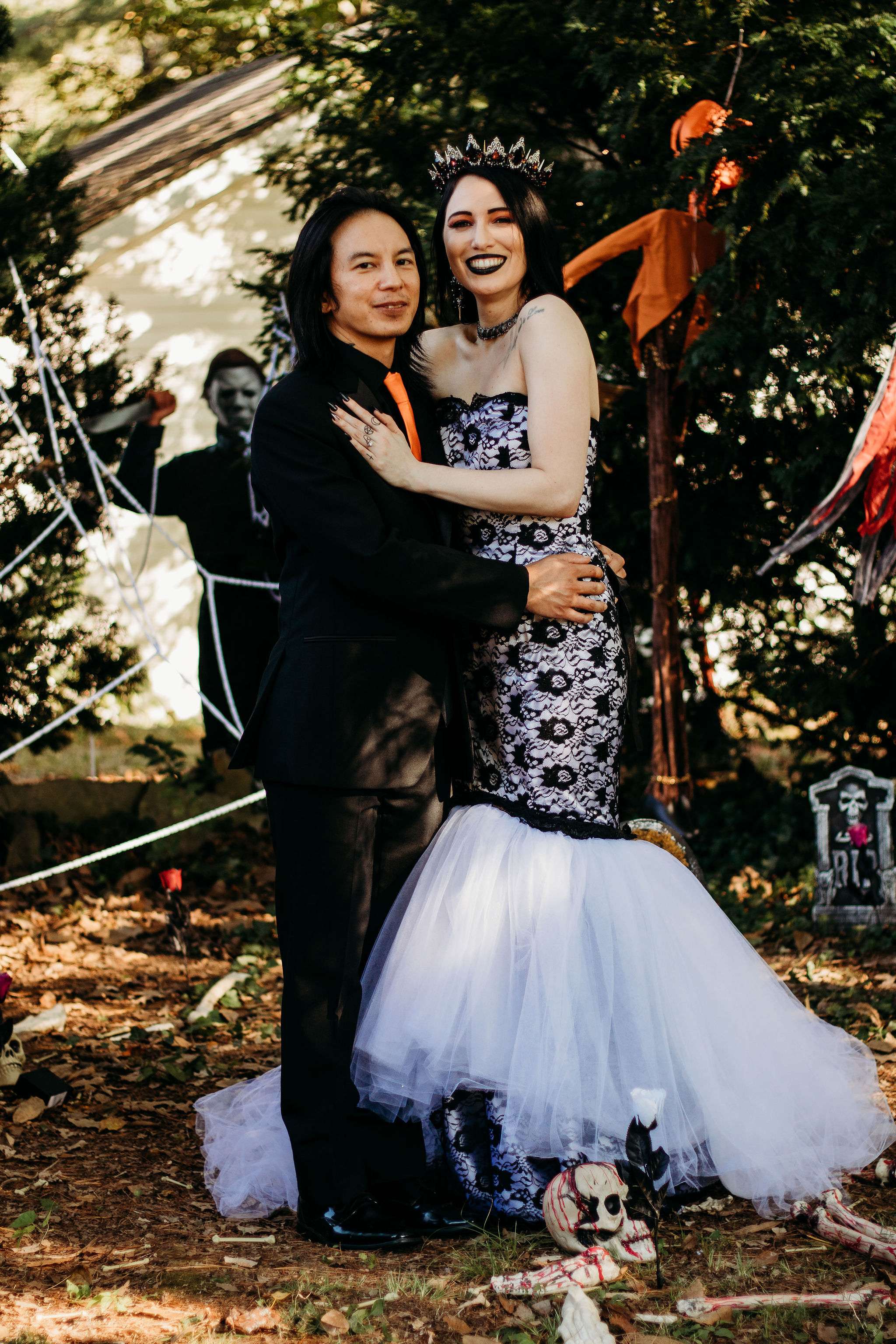 Growing up in a small, conservative bible-belt town, Erica was always looked at as 'a bit odd'. "I've always loved things spooky," she told us. "Ever since I was a girl. my tastes gravitated away from the 'norm'. This wedding was announcing my pride in being different." Erica met Kenny online over a decade ago, and he has supported her in her difference and choices 100% ever since.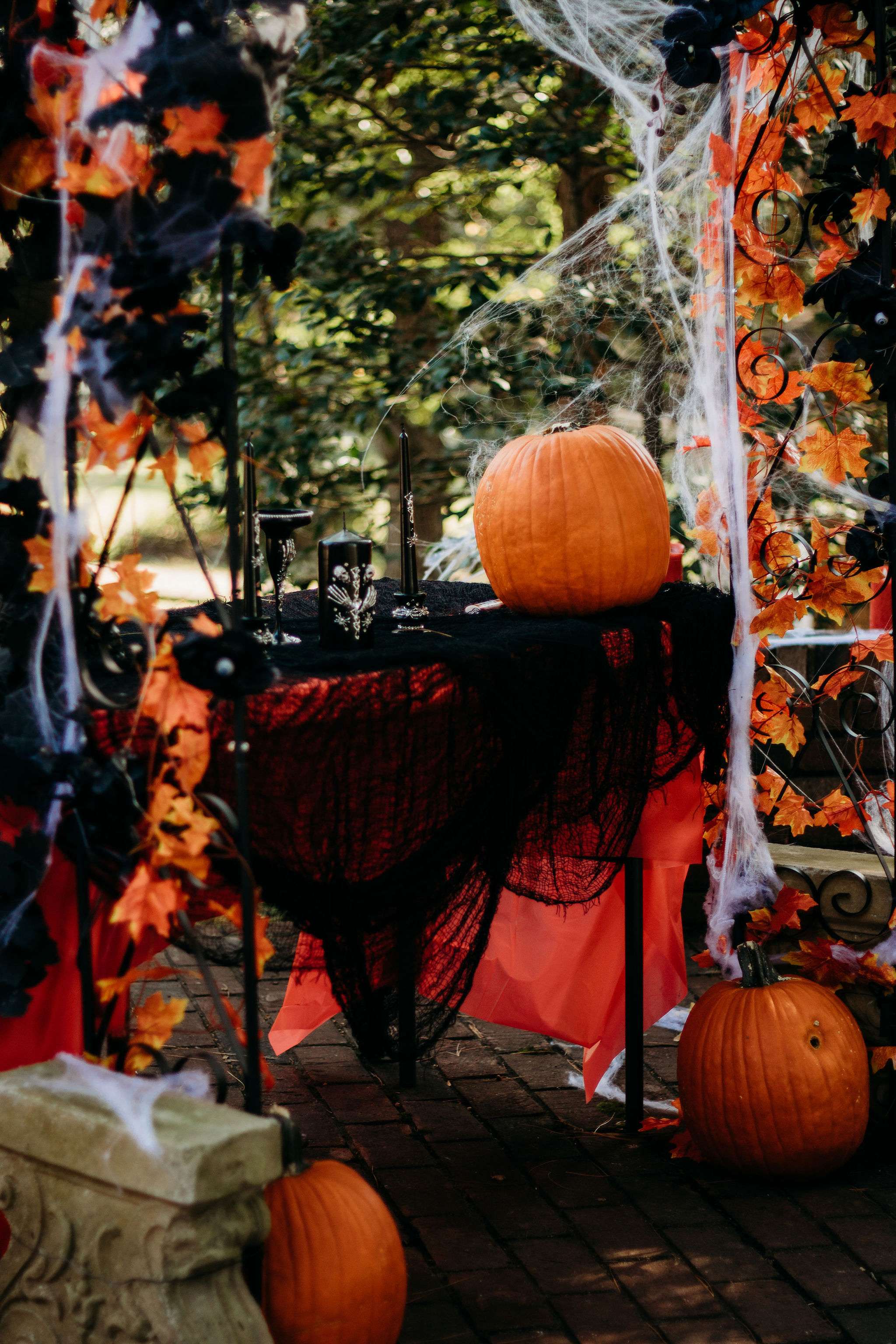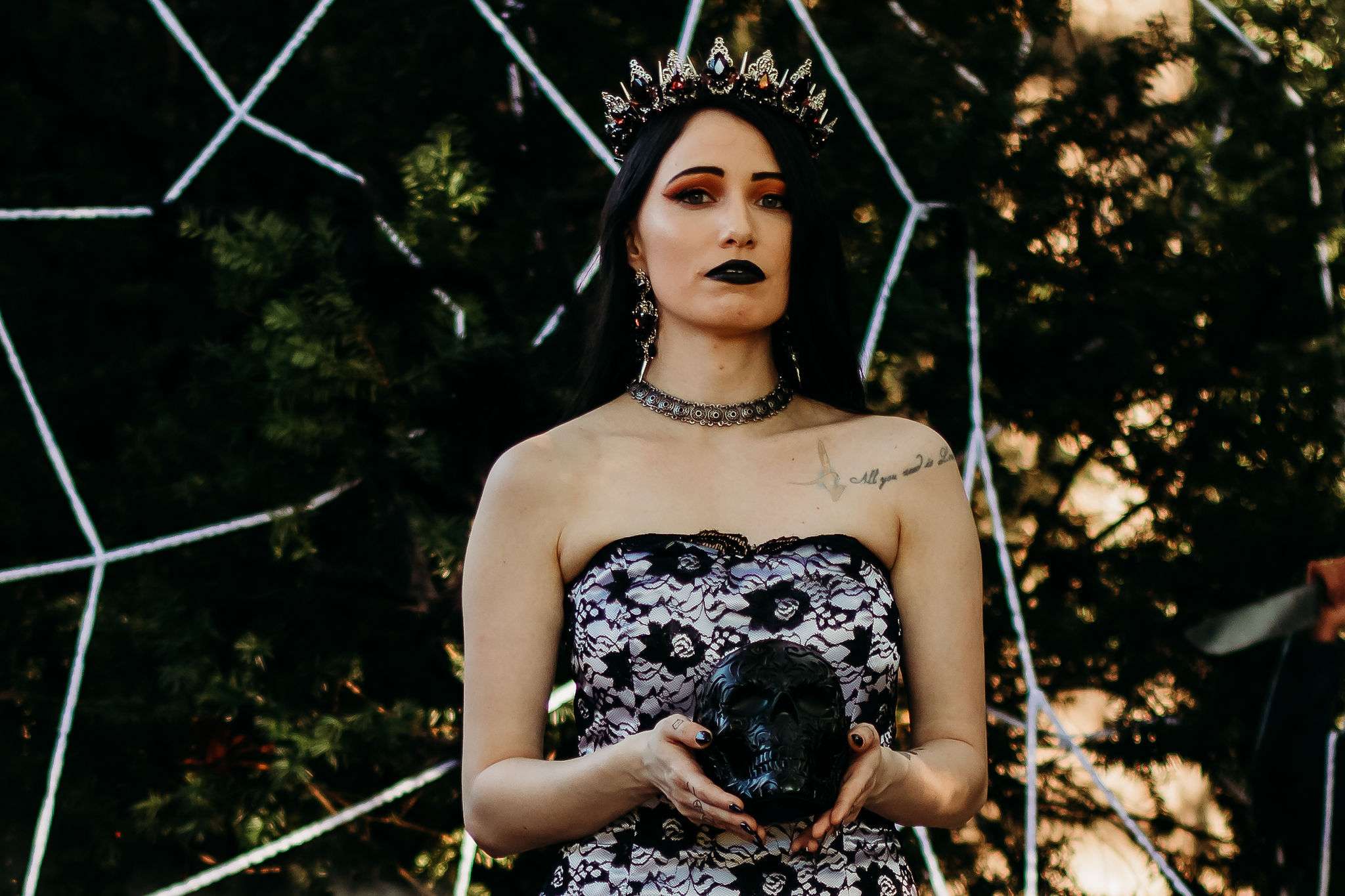 With a budget of $3,000, the couple pulled out all the stops to bring Erica's spooky dreams to life. They covered their ceremony area in spider webs, spiders, bats, rats and fake bones. String lights and electric candles lined the aisle, and they made pool noodles to make three-tier candles, while a friend carved pumpkins. Erica knew she wanted to use items that they could take home so they could reuse them and they wouldn't go to waste.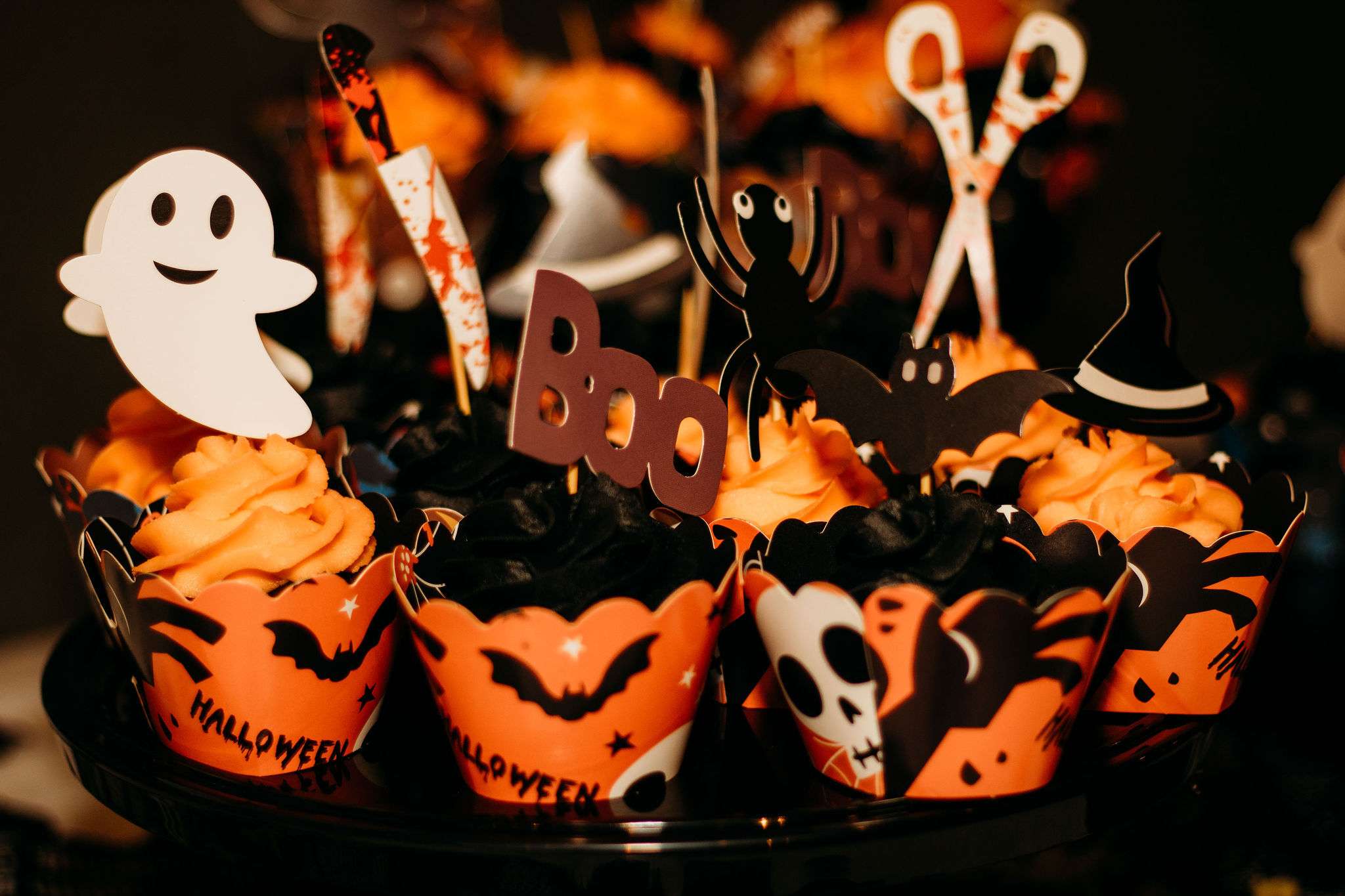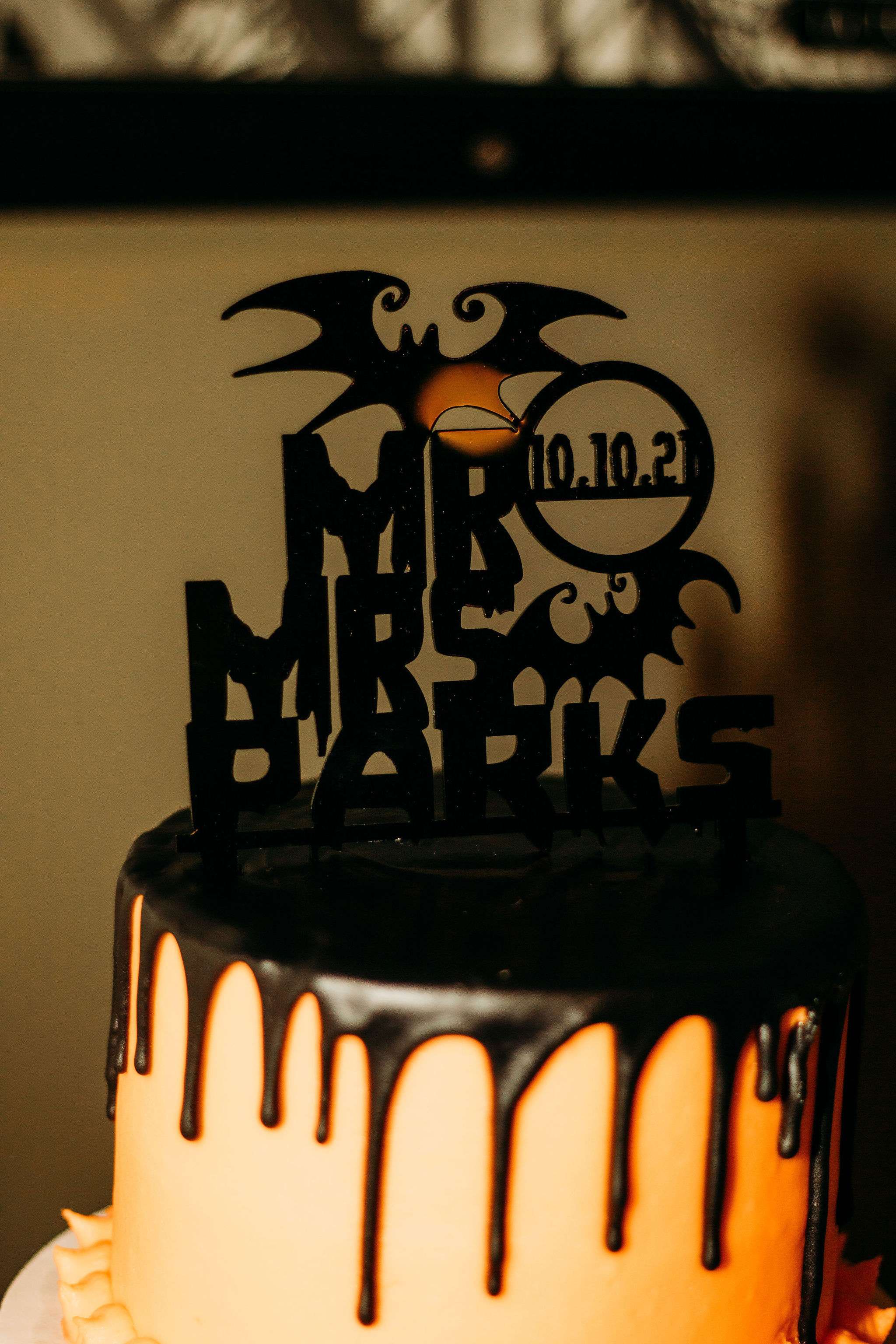 She wore a custom lace fishtail gown, while Kenny wore a black tux with orange tie and pocket square from GQ Formal. Erica's bridesmaids were given full creativity over their own version of a witch, while the rest of the guests were invited to dress up as whatever they wanted. "I never wanted to be 'that' bride who needed a strict dress code in order to attend. I am 'strange and unusual' and so are my friends. I wanted it to be fun and happy."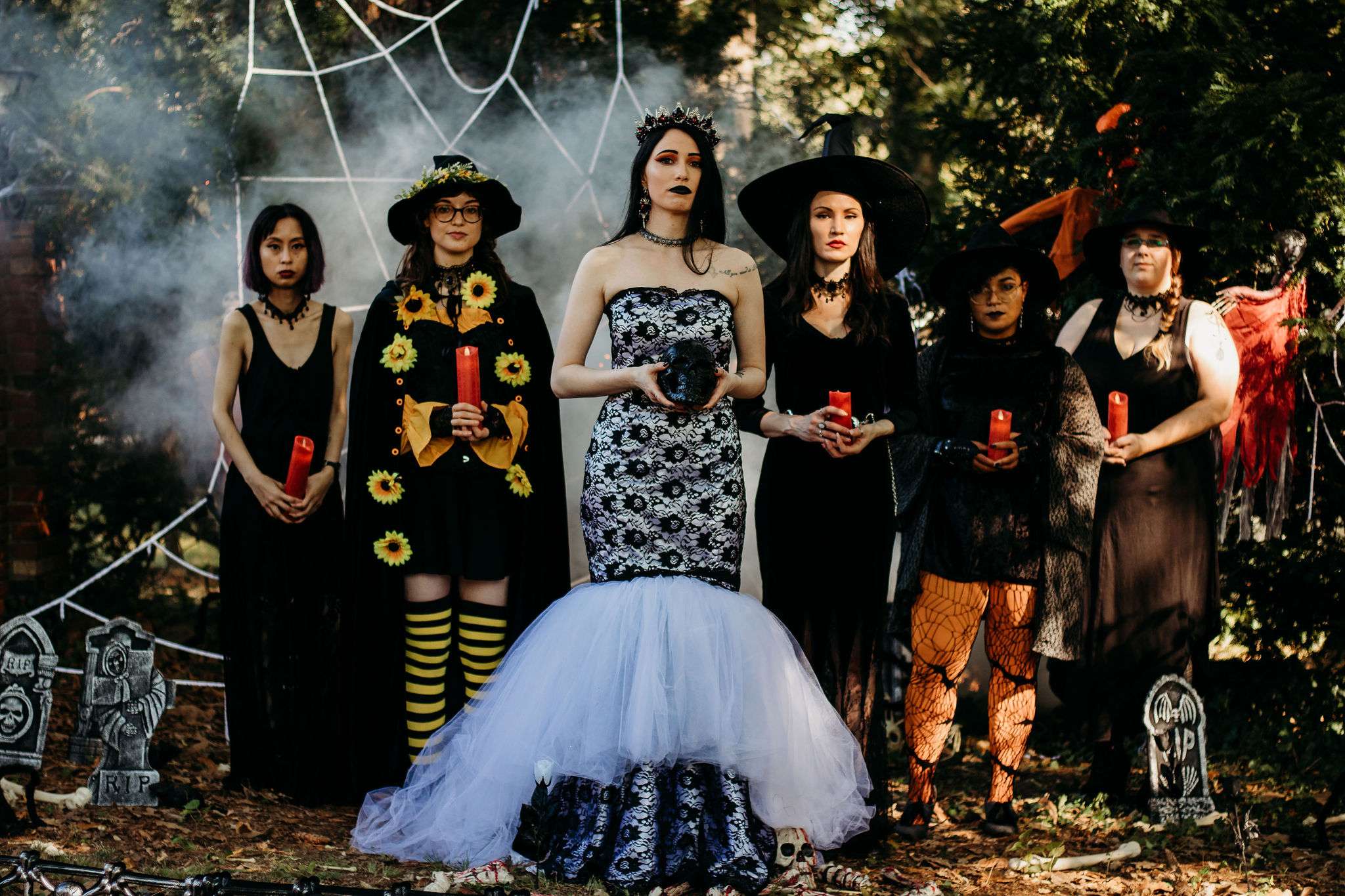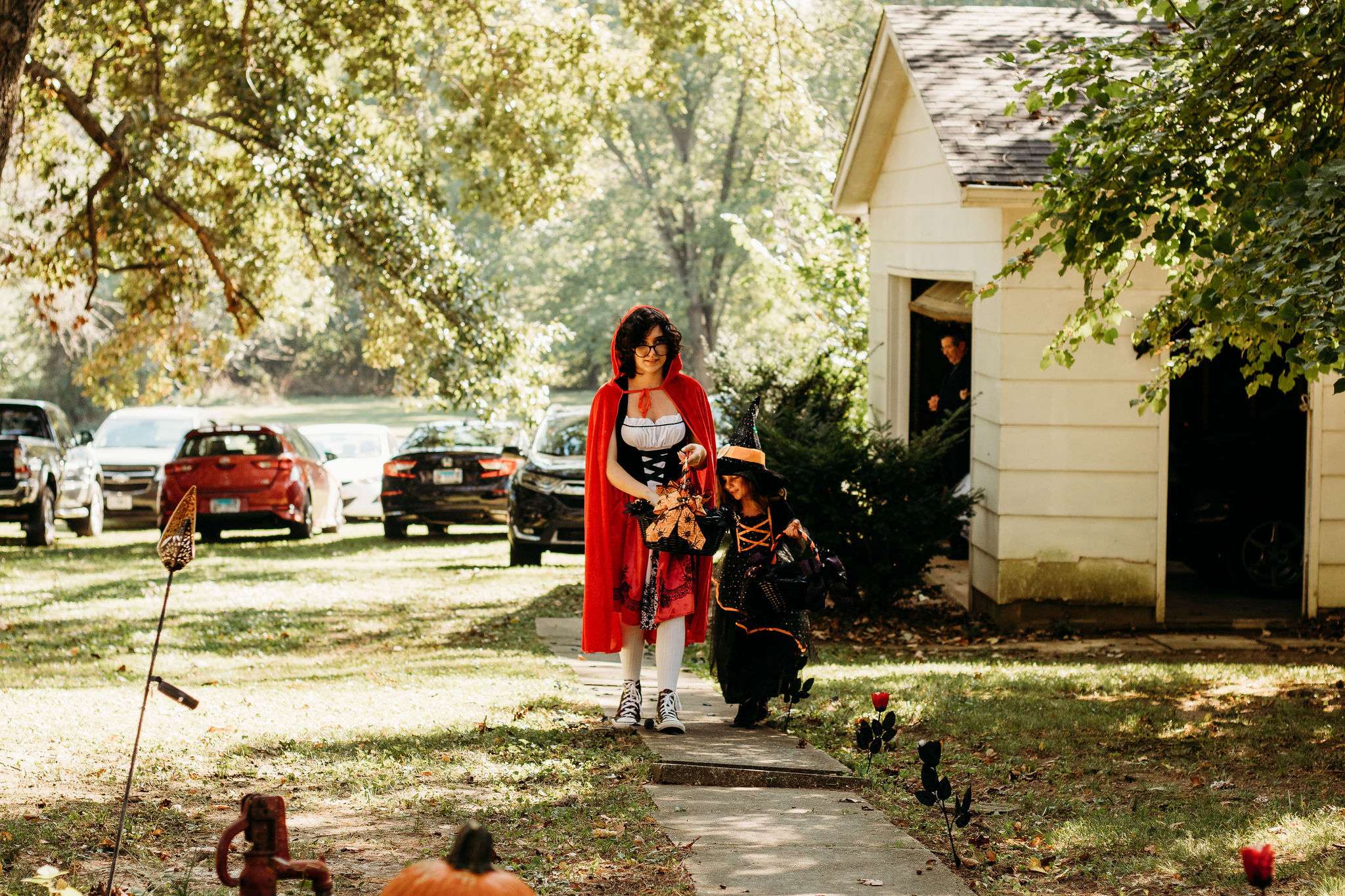 As Kenny is Christian, it was important for the couple to honour his faith in their wedding ceremony, so they kept traditional Christian vows but added a candle lighting ceremony with custom made candles from Gothic Wedding Studio via Etsy. The bridesmaids walked out to The Witching Hour by In This Moment, while Erica walked down the aisle to Inuyasha's theme as the first gift Kenny ever gave her was a small, hand-carved wooden music box with the theme and the song has meant so much to her ever since.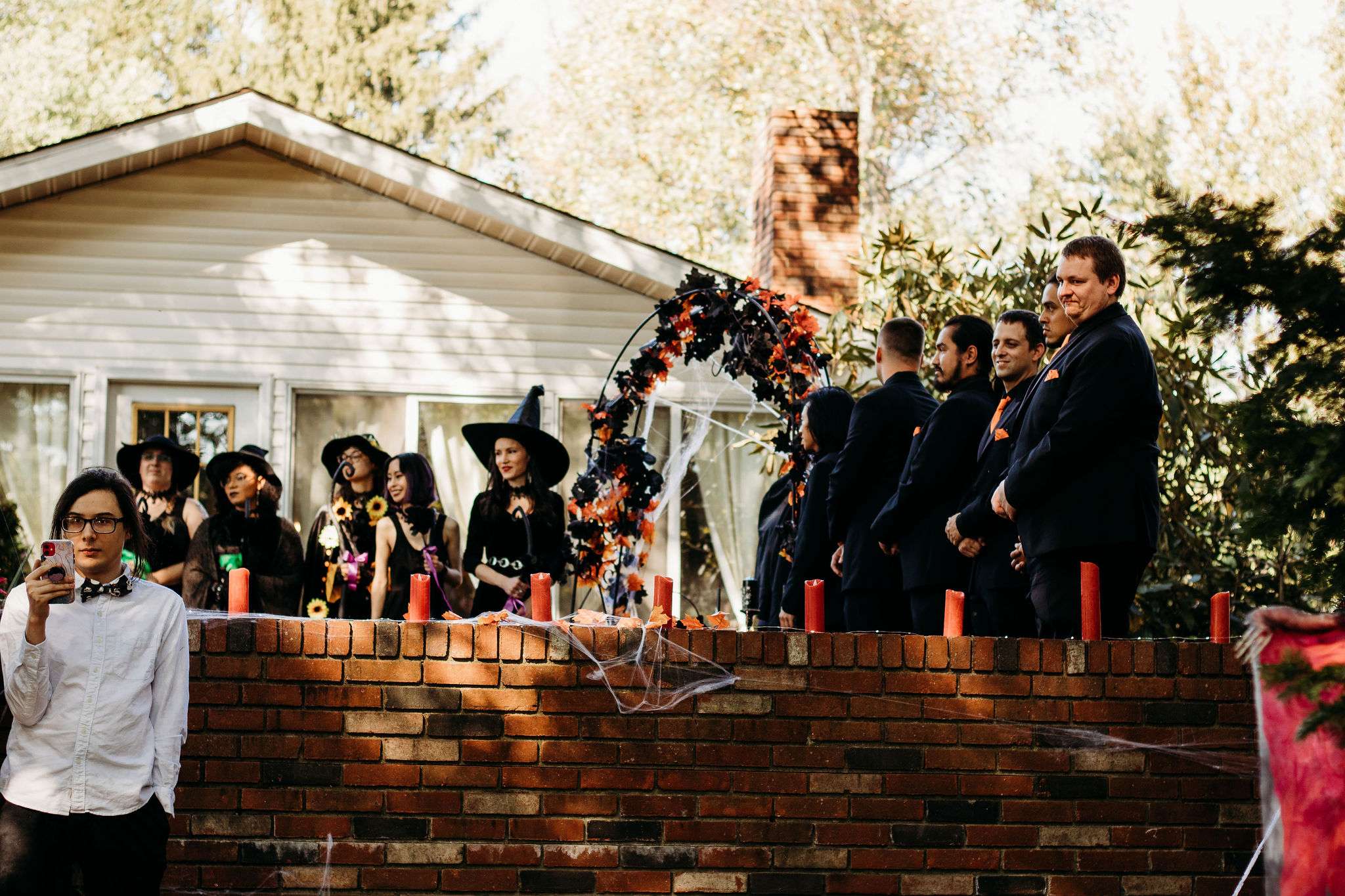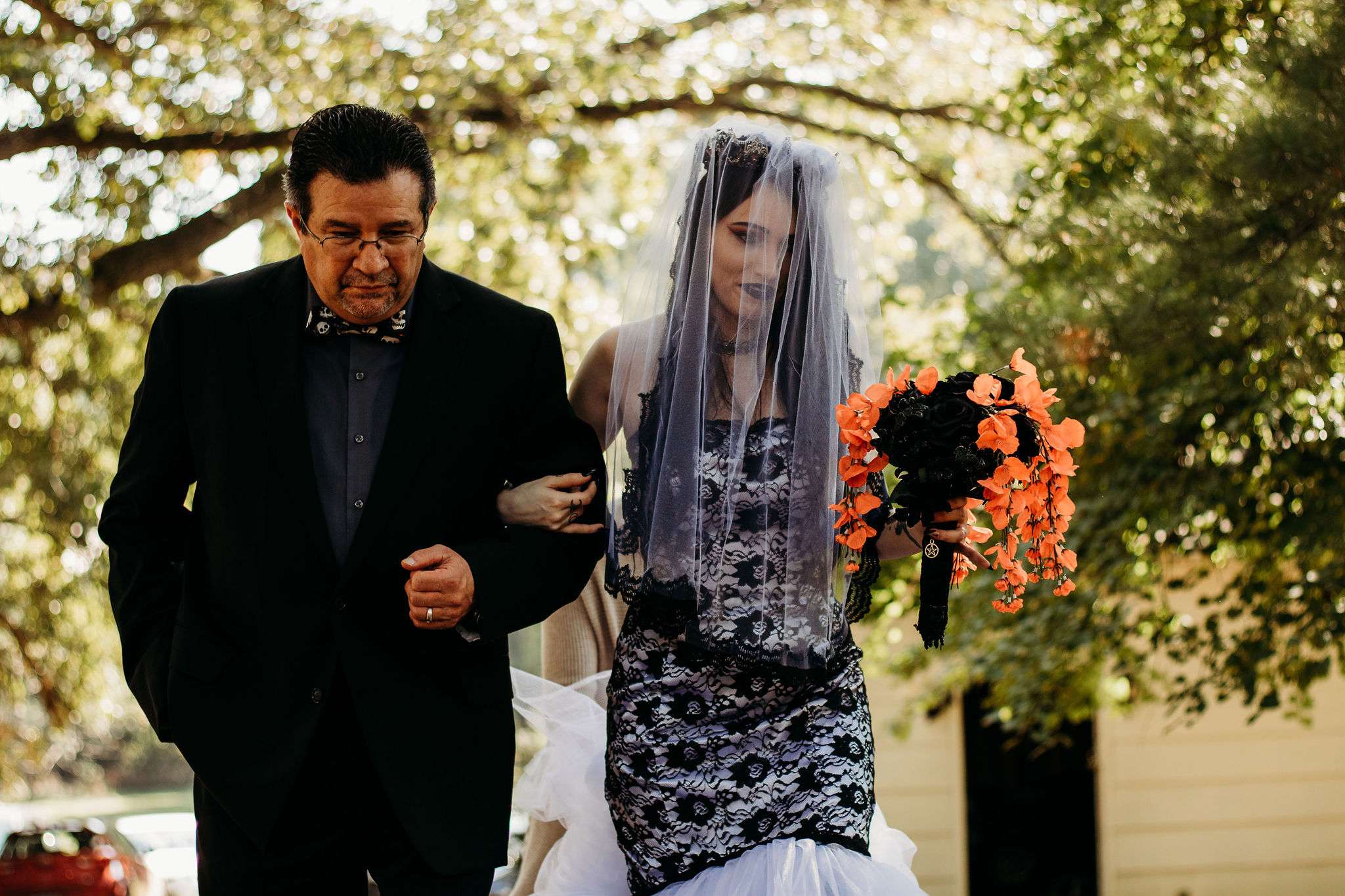 The couple were lucky enough that Erica's childhood friends came together to give them an amazing gift of hiring their photographer for their wedding present. "From all the help we had setting everything up to this, we are so incredibly lucky to have the people in our lives that we do."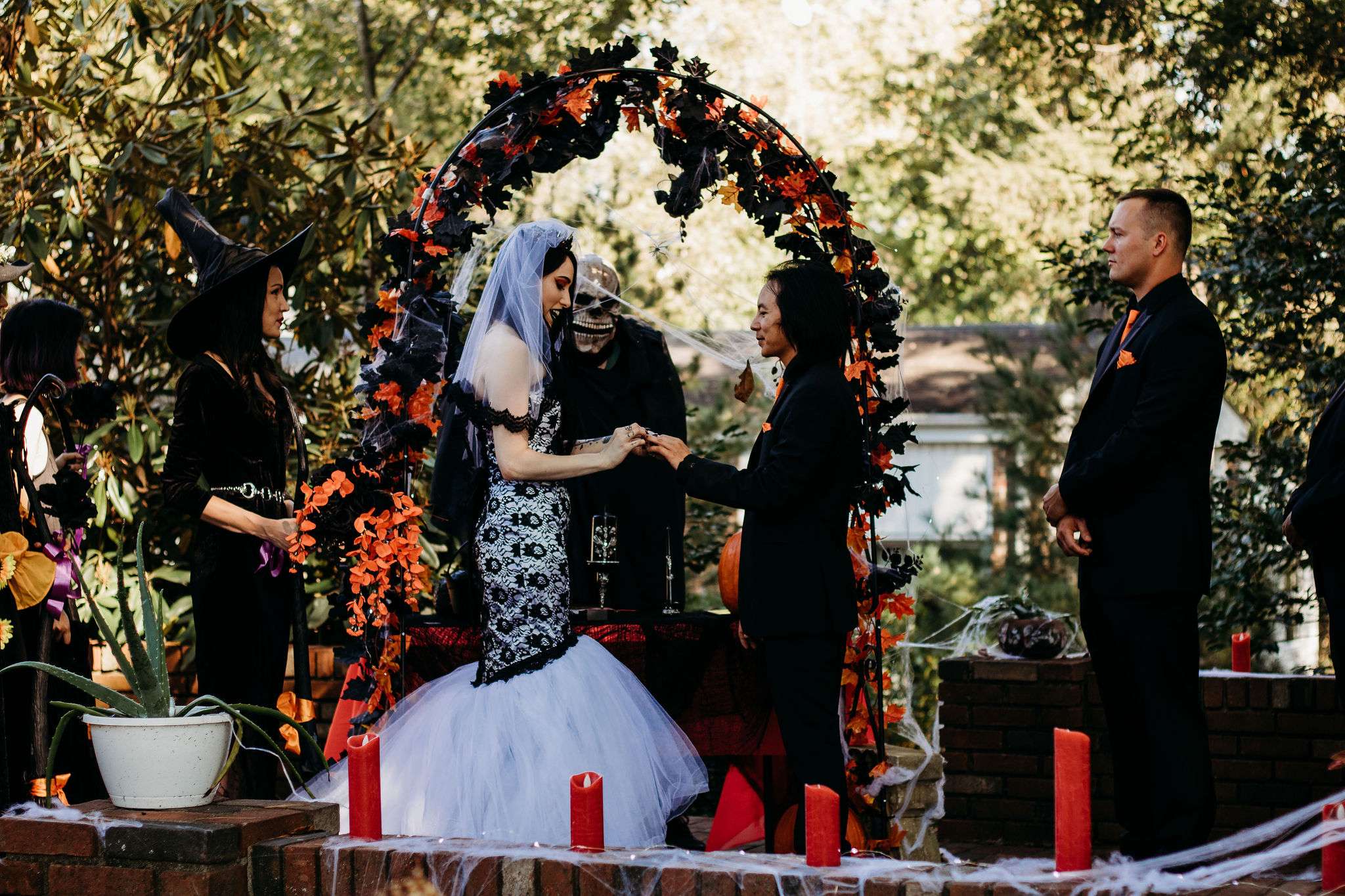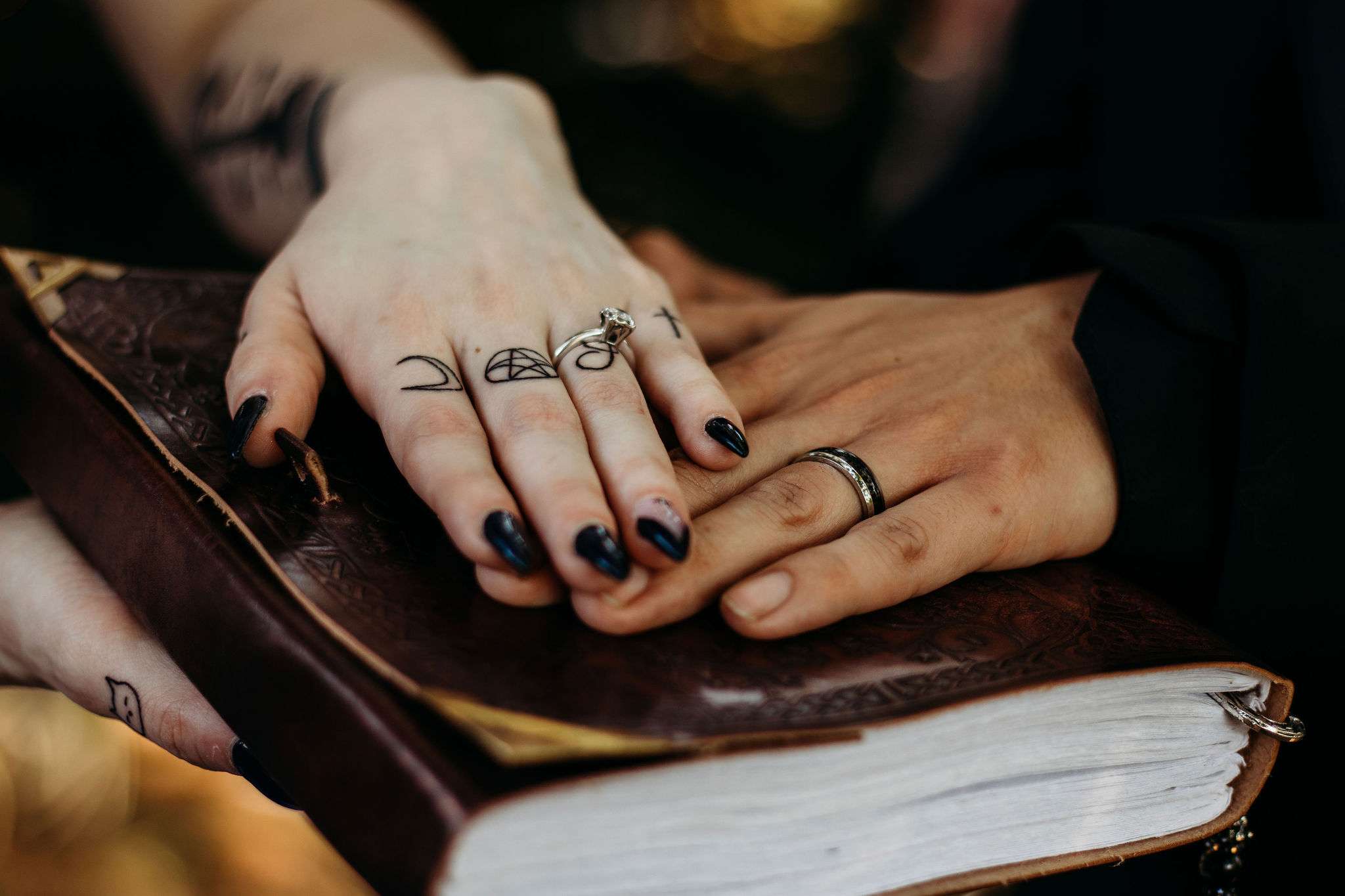 Erica would like future couples to know that when it comes to wedding planning, disappointments and frustrations will be par for the course. "Having to do everything ourselves was pretty stressful; from purchasing, planning and orchestrating. I joke with everyone that you could not pay me enough money to be a wedding planner due to the stress…but I think I did okay. Apart from being rich enough to hire a planner, I wouldn't change anything though. If you're worried about others opinions – DON'T! Worried about hurting someone's feelings? DON'T! Don't give up or give in to others because this day is about YOU! Do what YOU want because in the end it is worth the magical memories you'll keep forever."