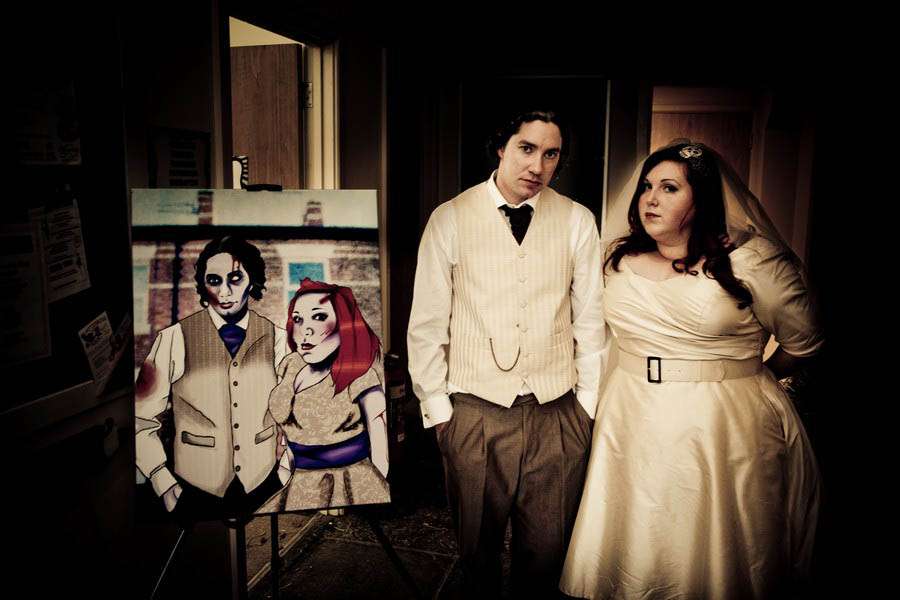 For their October wedding at Whittington Castle and Wattlesborough Village Hall, Sarah & Colin wanted a scare-fest. Halloween, pumpkins, zombies & vintage circus horror were their inspirations.
"When you first start to plan a wedding you are given strict instructions by every bride you know to research research research. You read magazines, you trawl through websites, you create a scrapbook of what you think your wedding should be", wrote newlywed Sarah. "I had 2 ½ years to plan my big day, and no matter what I saw I just didn't feel like it could be part of our day! Everything was so beautiful, classic, elegant… and so not us! I am mad about vintage but after heading to a vintage wedding fair I had started to lose hope. It was all too twee, too perfect. I am a rummage in the hay bales listing to The Coasters kinda vintage and it just wasn't there for me. Then after seeing a lady flying round the fair with pink hair, I was informed of Rock n Roll Bride by my friend Ffion and my world was changed! I saw couples who broke convention, who played their wedding their way and weren't afraid to let the world see their personalities through their big day!"
"Almost everything decor-wise in our reception hall was made by ourselves. We made tin can lanterns with tea lights in, we also built our own crates in different sizes out of old pallets from builder's yards. We even renovated an old valve radio so that it would play MP3s. We collected jam jars of all shapes and sizes to use for our floral centrepieces and to hold candles that hung from the ceiling. We created a pathway of leaves from the porch to the hall to give an outside/inside feel and we asked every guest to bring a carved pumpkin. We gave out prizes to the best/worst/most unique one. People get so competitive which was hilarious and they looked fab all lined up in the hall."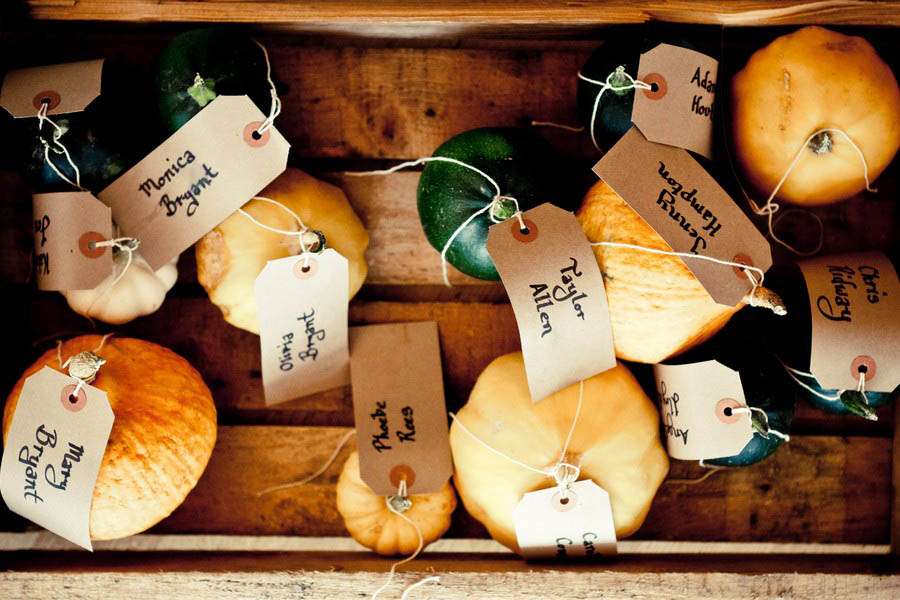 "In the end we loved EVERYTHING about our day", she continued. "From the crazy haunted castle we got married in to the amazing giant Texas BBQ smoker – they did the best ribs I have ever tasted in my life! Our circus inspired photo booth room was also hilarious. Our amazing seating plan trees were blagged from the lovely people at ASDA. It was their window display for Autumn two years ago and I managed to nag them into submission to give them to us for free! Our tables were named after our favourite movie psychos, which was great for getting the tables mingling and trying to figure the films that each one was from."
But, as these things can often go, the wedding planning wasn't totally smooth sailing for Sarah & Colin, and over the Summer I received a fraught email from Sarah asking for my help regarding her dress.
"There were many ups, but also some downs during our wedding planning", Sarah wrote. "For us – and by 'us' I mean 'me' – it was my wedding dress! Initially I planned to buy a cheap dress online and be done with it but I first wanted to visit some shops and try some on so I knew what styles suited me. I am not oblivious to my shape and size. I am fuller figured, with a long body, little legs and no boobs, but whilst talking to many of the shop owners you would have thought I had three arms, was 2ft tall and 70 stone! Of course I understand that dress shops stock smaller sizes for very valid reasons, but when somebody tells you that you will need to lose a considerable amount of weight to look half decent in most of the dresses, you start to question their ability to make a woman feel special…"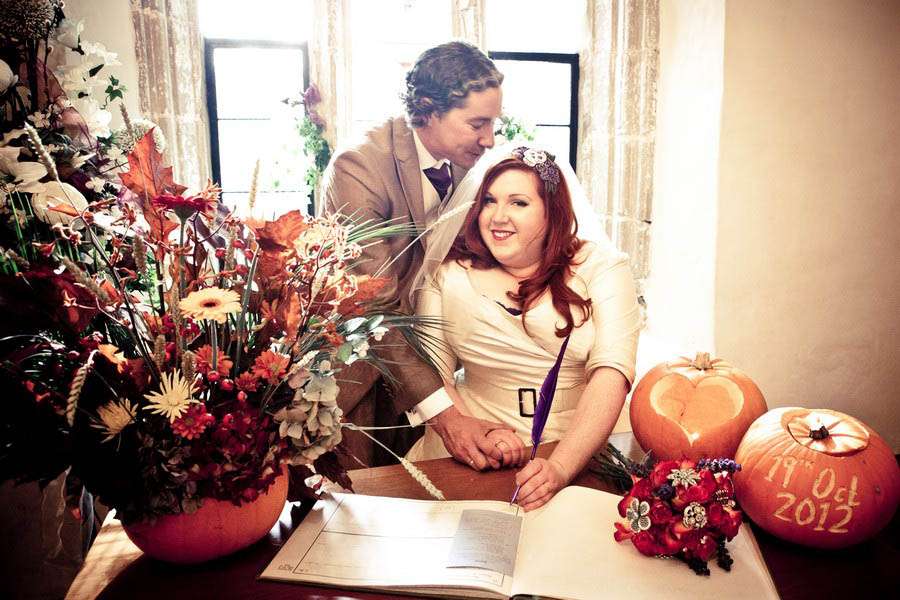 "When another shop assistant stated that my goal should be to look like their shop assistant (who was a size 14 at most) and that hopefully I should still have time to get there, and then proceeded to show me dresses that would look good on her, and eventually me, but only if I lost weight, I completely lost hope. I was crushed, was this what other brides go through? Was this how I was supposed to feel? I was inconsolable."
"So my only option was to look at custom work. After pressure from my mum to buy a dress in the UK (she was scared that I would get ripped off and end up with something awful that I couldn't fix if I ordered it online) I trawled the net for UK dress designers and found a lady who seemed to be my knight in shining armour. I looked on her site, fell in love with her work and travelled over 5 hours to meet with her. We got on great and she seemed really interested and excited by my ideas… I left feeling excited and she had said that she would email me by the end of the week with details of what she could do for me in my price range and that we could carry on from there…"
"So one month passed and there was still no email. I emailed her twice with no response. I called her to be fobbed off by 'we are very busy but I will get to you soon' and eventually, when I did receive a design by email it was not what we had discussed at all. It was a scan of an off the rack dress with a purple squiggle for an underskirt. Again, I was devastated, I didn't know who to turn to. I didn't know if it was my size or my budget or if I was just being paranoid but by this point we had only three months left until the wedding and I was petrified that I would end up in something I didn't really like or that didn't suit me."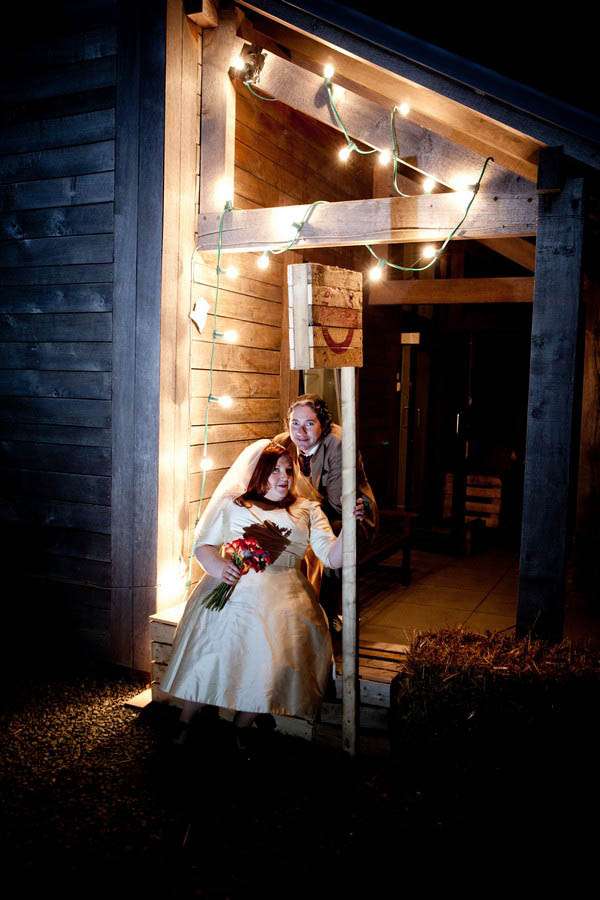 "So I did the only thing that I could think of, I emailed Kat. I wrote the email through tears and pressed send, hoping that by some miracle she would see it through the hundreds of emails that she probably receives every that day and take pity on me.  Within 15 minutes a reply popped up in my inbox and I literally could not believe my eyes! Somebody was listening to me and wanted to help! After a few correspondences, my Rock n Roll fairy godmother had put me in touch with Jo at The Couture Company, and after looking at her website and having a chat over the phone, every worry that I had was pushed away. I was over the moon that I was actually beginning to feel like a real bride – not just some fat imposter who had unreachable dreams of looking 'half decent' in a white dress."
"The day arrived to finally meet Jo and when I got to her boutique I gasped! I had walked past this place so many times when we visited Birmingham and never dreamed that I would be going in or that I could afford one of her amazing creations! As I walked in I was so nervous that this woman would take one look at me and think 'Oh god what have I let myself in for' But Jo was an angel! She made me feel at home right from the start. I explained everything to her and what I was looking for in a dress. Nothing was too much trouble. She totally got me. I felt like me again and at every fitting I began to feel more and more like the bride I had hoped to be."
"On our wedding day, as I walked into the castle and Col saw me for the first time, he took a deep breath, smiled and gave me the look that every bride-to-be hopes for. I could have died that very moment knowing that I could never be happier and more confident in my own skin. Words can't express how grateful I am to Jo, and to Kat, for helping me to find my dream dress and completing my dream wedding. THANK YOU!"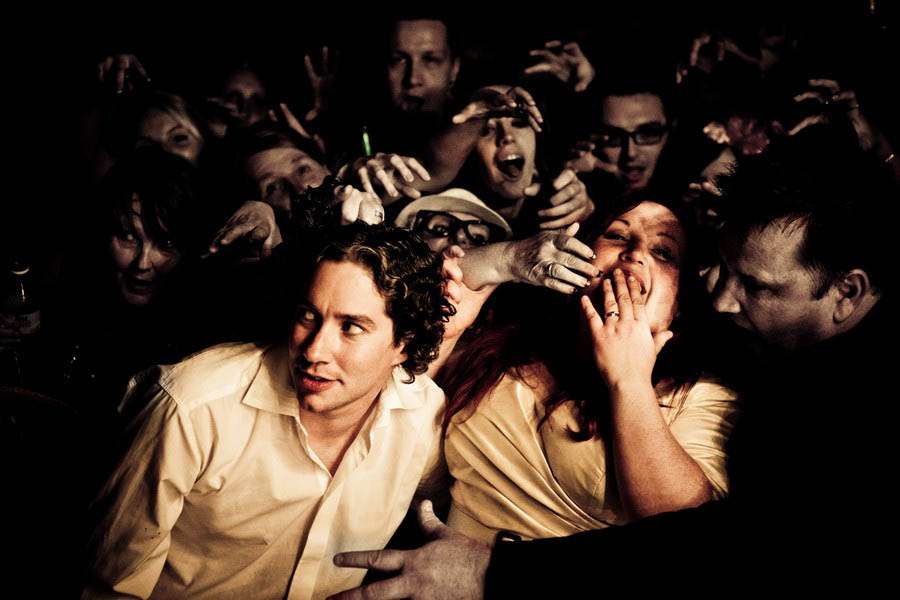 Gosh darn it Sarah you've only gone and made me blub! I was so sad when I got that email from you and I'm just so utterly thrilled that we were able to find you a solution. Jo is an angel – as are you – and I'm just so happy that it all worked out for the best. Thank you so much for sharing your wedding and your story with us! LOVE AND KISSES ALL ROUND.
Supporting Cast
Photography Credit: Rob W May Photography
Ceremony Venue: Whittington Castle
Reception Venue: Wattlesborough Village Hall
Bride's Dress & Headpiece: The Couture Company
Bride's Shoes: Marks & Spencer
Groom's Outfit: Peter Posh
Bridesmaid's Dresses: Outfit
Cake: Design-a-Cake, Shrewsbury
Flowers: DIY
DJ: Mark Rees
Stationery: Red Star Designs
Caterers: Ironbridge Catering Company & Bubbling Stove Bars
Transport: Boultons Vintage Coach Hire
Zombie Portrait: Emmie McKee