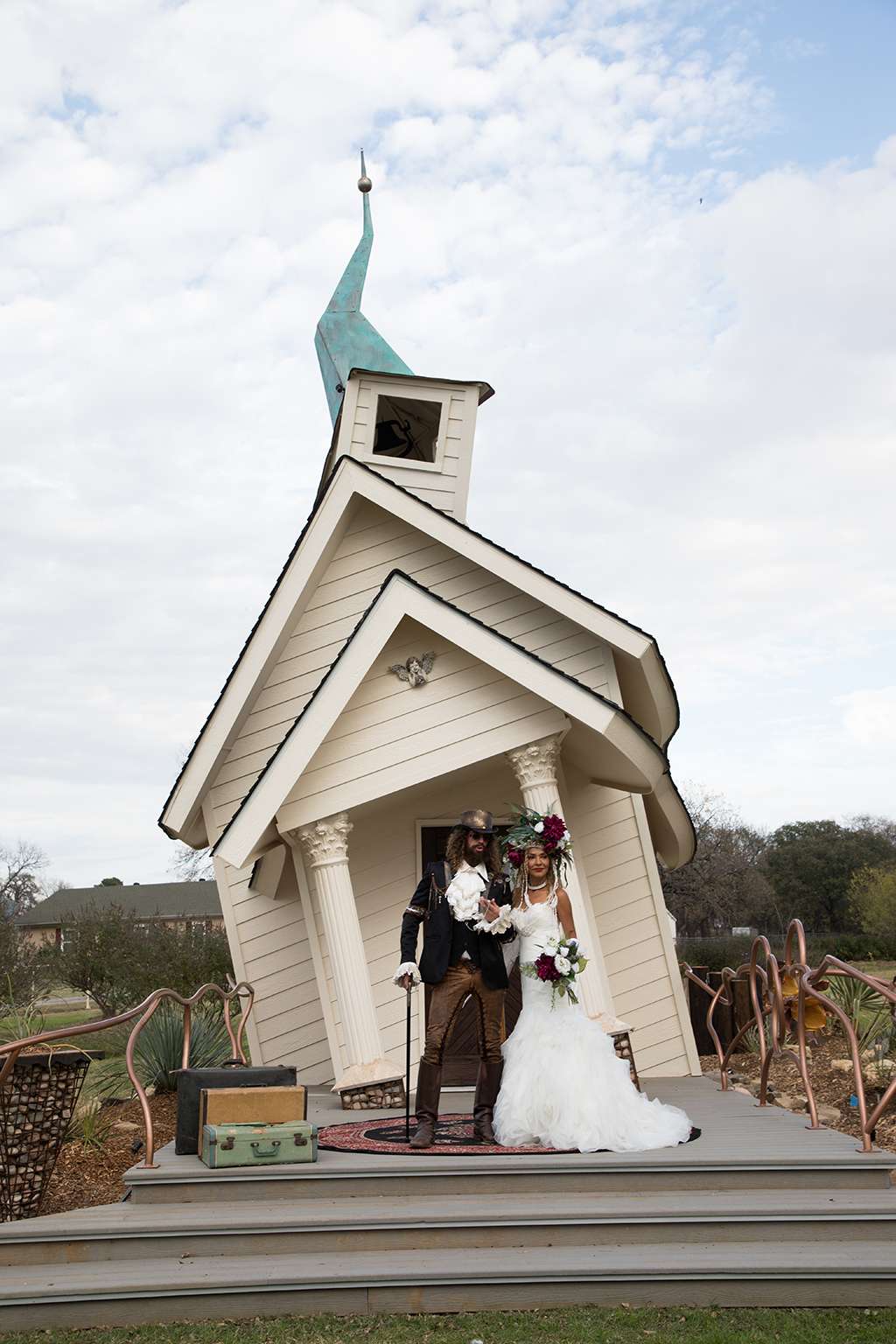 It was wonderful to work with this couple," said Jen from Pink Light images as she signed off her submission email, "but in real life, this pair are just SOMETHING ELSE!" Let's just say, our interest was officially piqued, and we're delighted to share with you one of the most unique weddings we've ever had the pleasure of being submitted!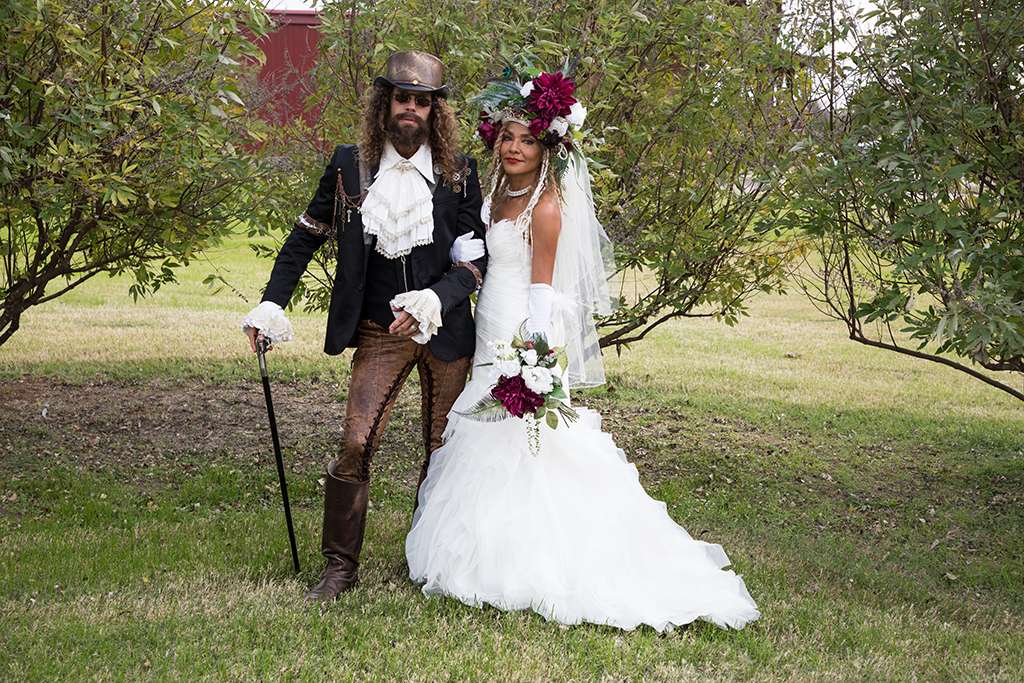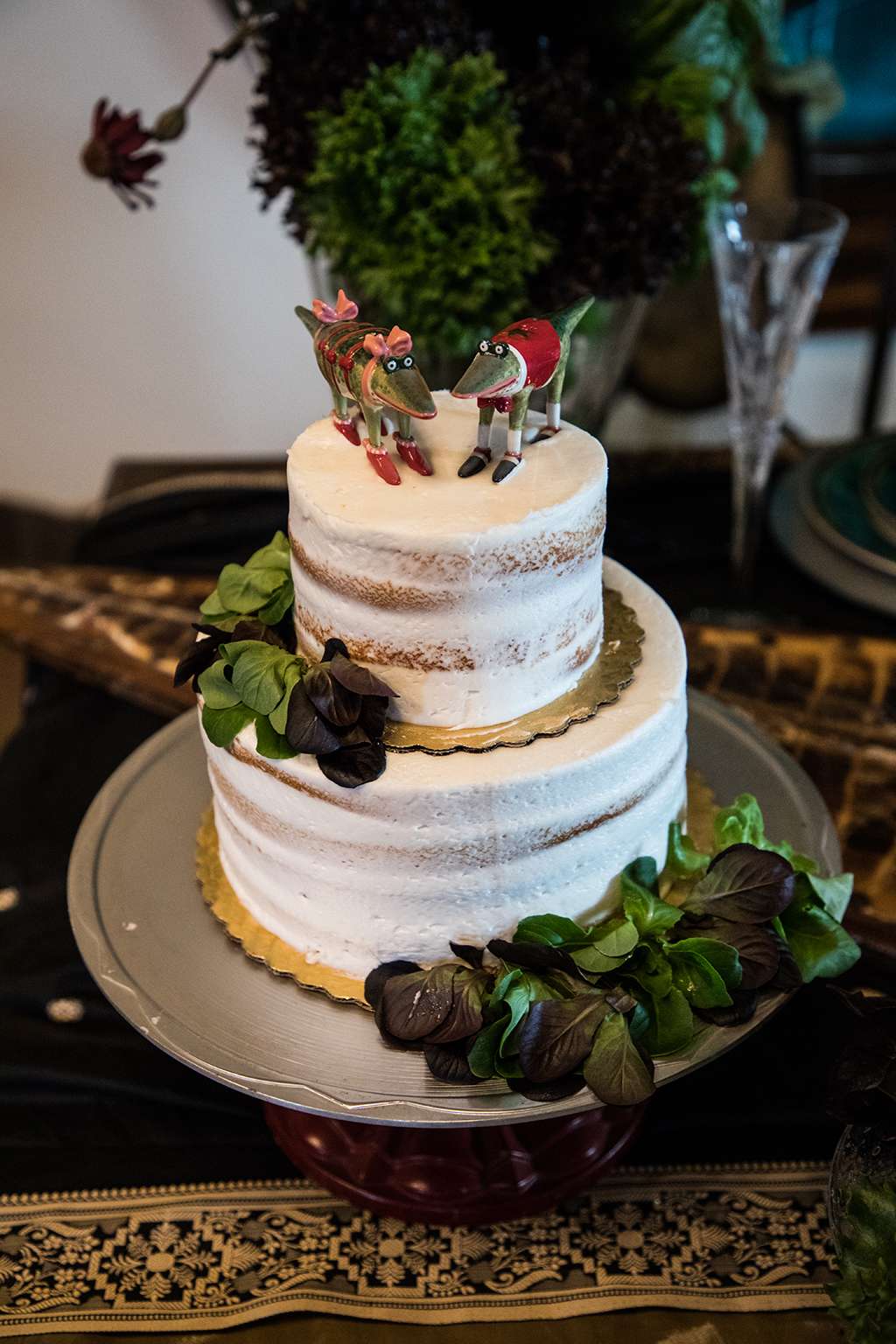 Chris and Elizabeth are artists and proprietors of LizzyGator, an art house and events venue in Pilot Point, Texas. "We create just about everything around us, including our own whimsical world," the bride began. "It was definitely not easy getting married last year, but it gave us the time to create the latest LizzyGator statement, our 'twisted chapel'. We built it as a gift to each other, and with the hope of sharing it with the world once things are brighter."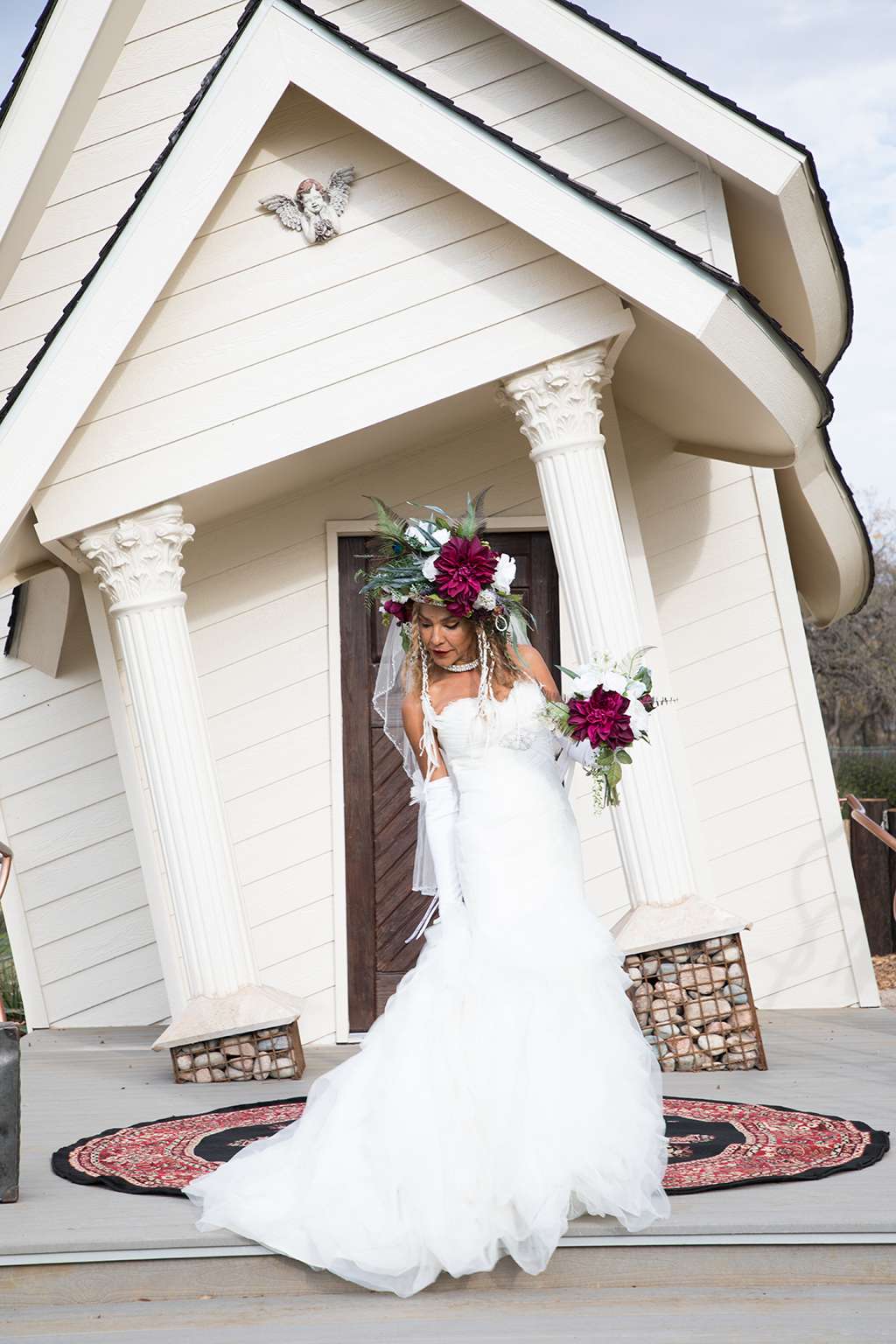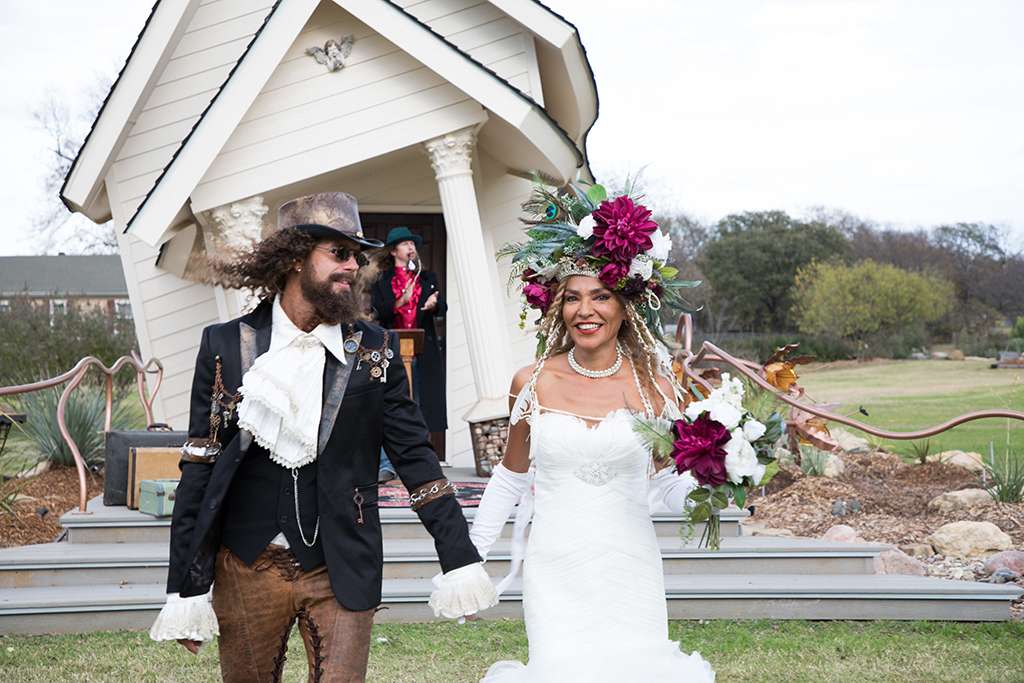 The couple used as many recycled materials as they could get their hands on. Whether it came from thrift finds, estate sales, hand me downs and the occasional donation. Chris even made his own steampunk/ rock n roll trousers! "Seriously people, you got to get creative to stand out."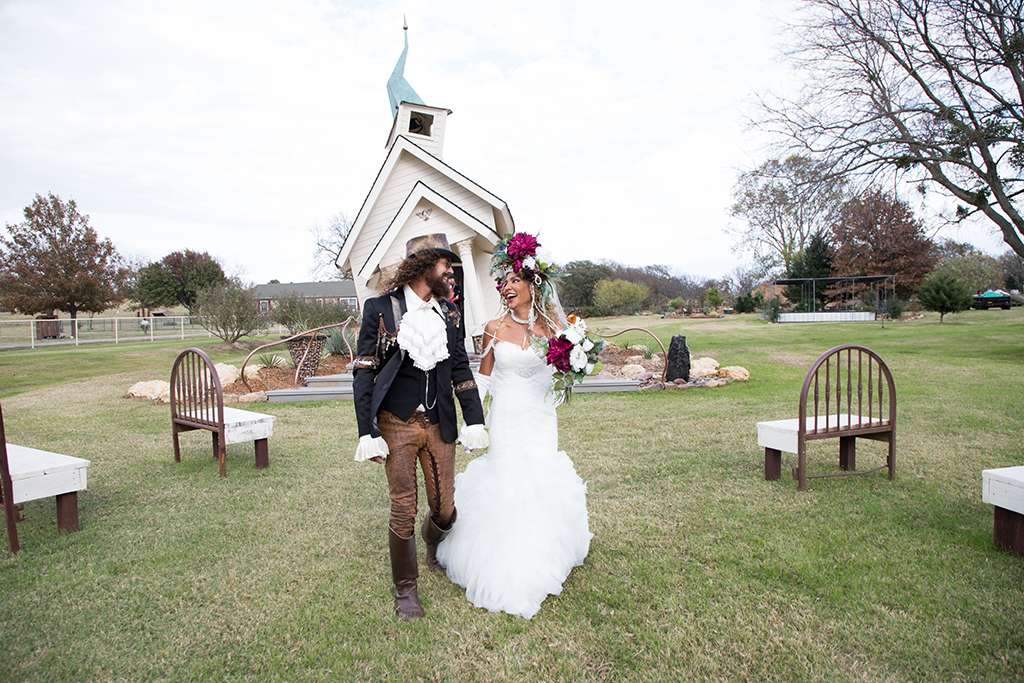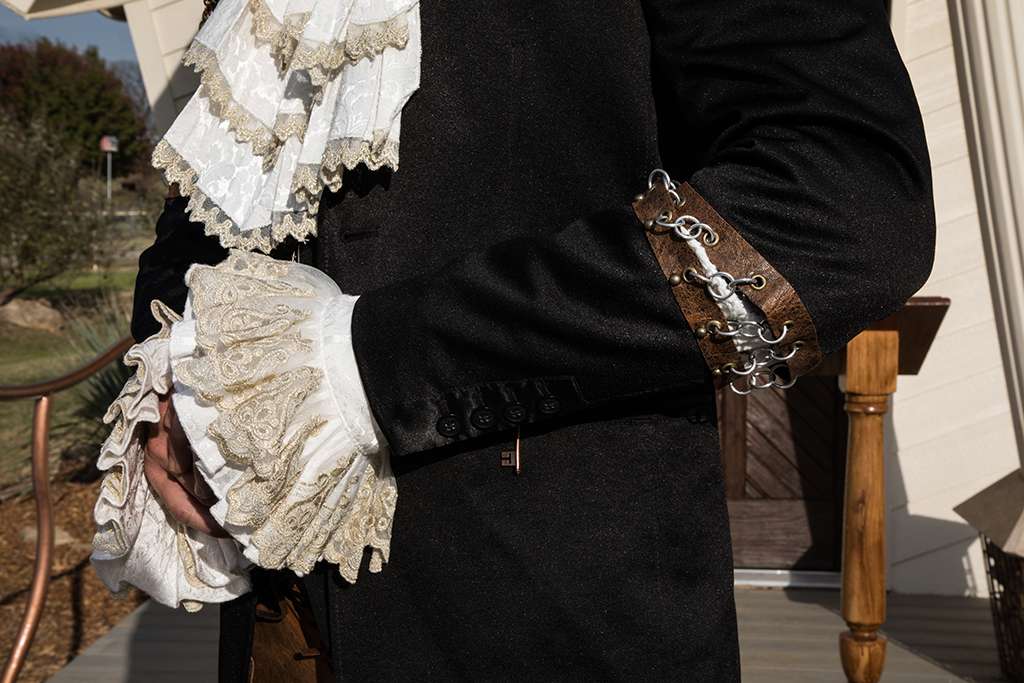 Chris' jacket also had a lot of different adornments going on to represent different meanings. "A bronze antique compass so he never get lost, little world atlas so he knows his place in the universe, A bronze heart ,For true love. Embroidered metallic bronze angel wings on the back of his jacket ,a bronze antique pocket watch for 'our timing is perfect'…Speaking of steampunk, we chose that theme as we are fans of that style, but we wanted a more modern twist on it. If I had to describe our day in one word, I would wrap it up with 'playful'."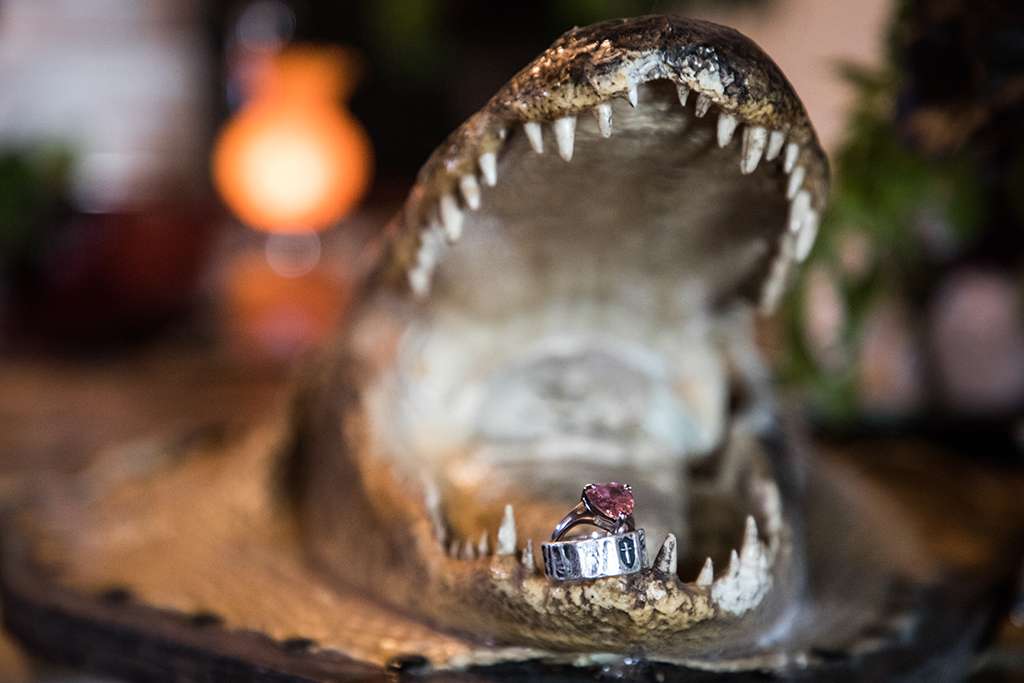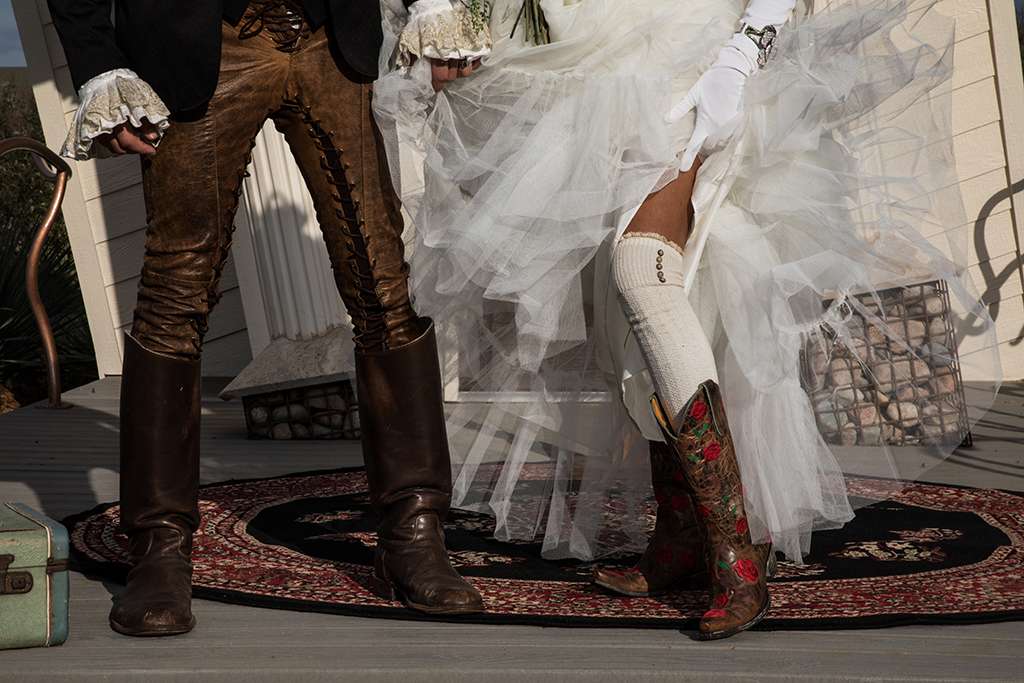 Elizabeth's outfit had plenty of personalised touches in it, too. She paired a thrifted dress with an oversized headpiece from Flair Floral Designs. Her stunning pink heart ring was a family heirloom, and the feathers twisted through her hair to match those on the back of the grooms' jacket were from chickens from the local farm! "They freely shared their fallen feathers with me," she was very quick to add. "No chickens were harmed!"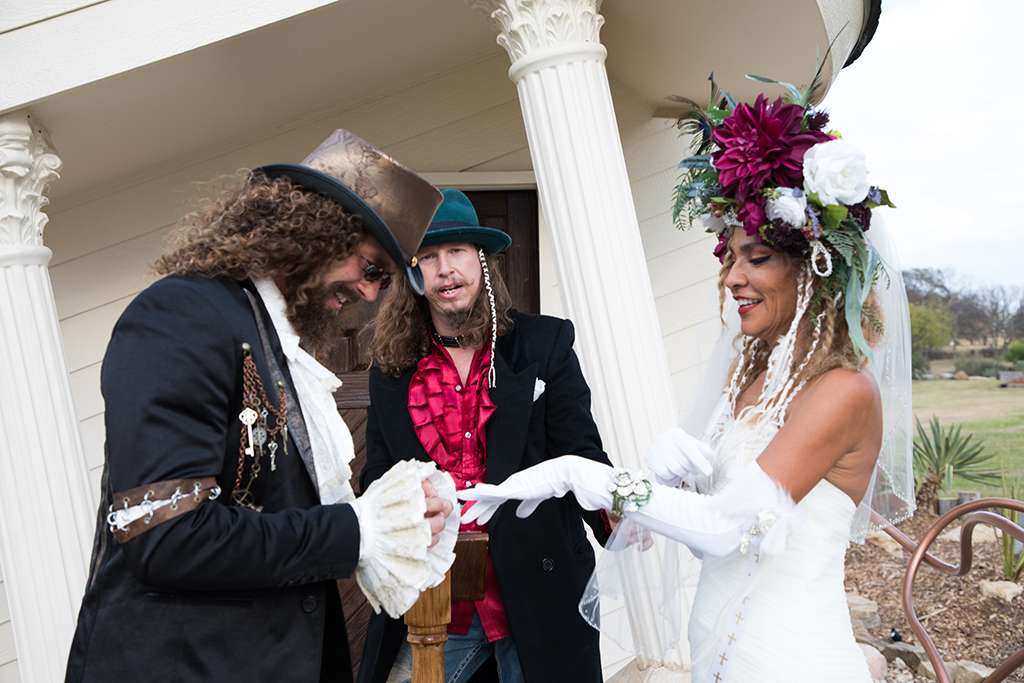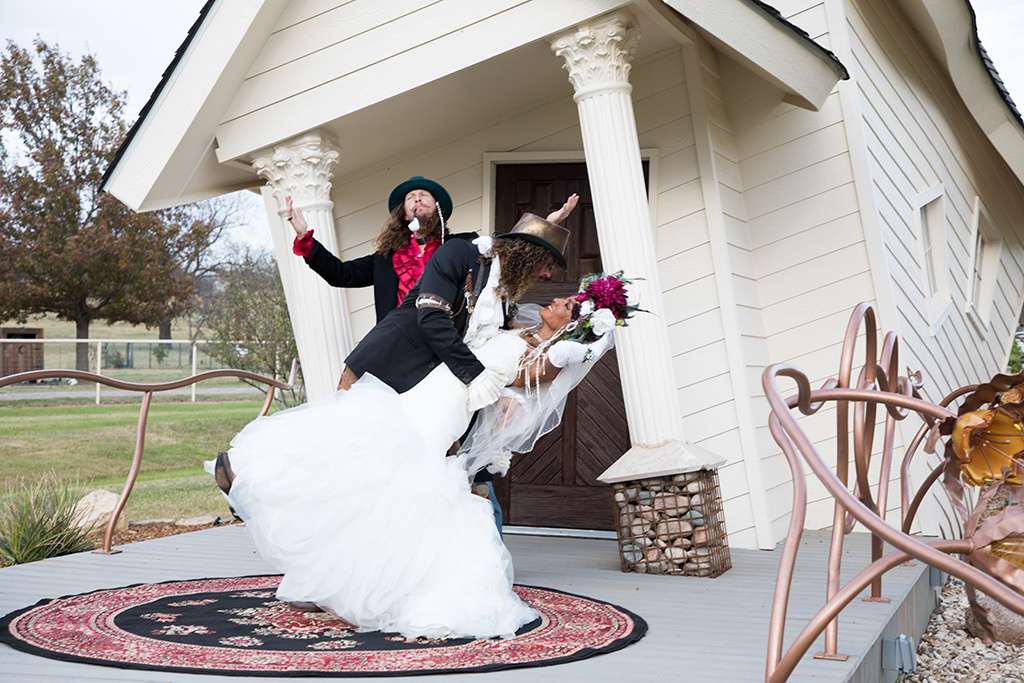 Their love for repurposing and being resourceful really made their entire day special. As well as building their chapel from the ground up, they used lettuce as a focus in their décor because then you can go eat it afterwards (or feed the farm animals) without throwing away wilted flowers. Green butterhead, sweet crisp, Green oakleaf, red oakleaf, red butterhead, genovese basil, mizuna… who even knew there were so many types of lettuces! The leaves adorned their head table and their cake, which they paired with a large alligator tablepiece, and found items like goblets, dishes and cake toppers respectively.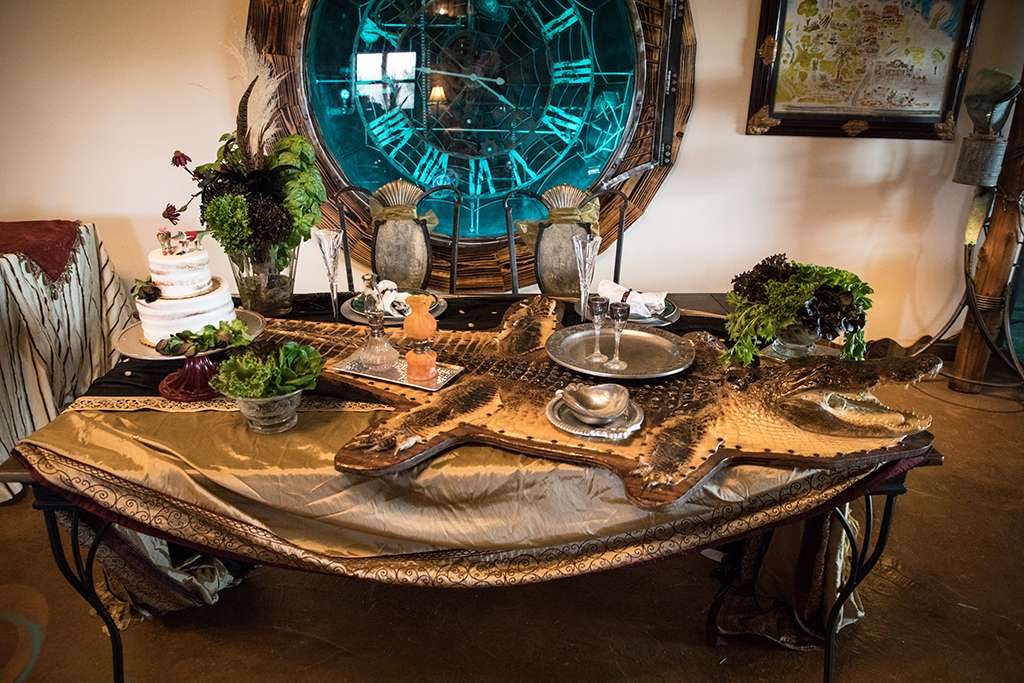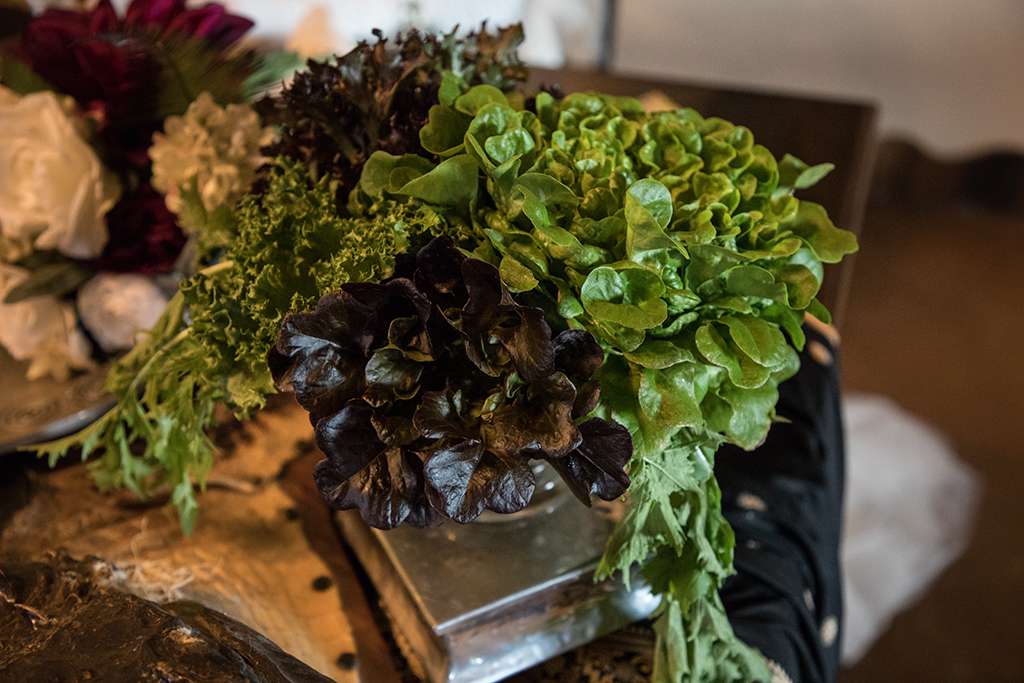 "Chris and I love putting together styled outfits and art pieces. Every day we are working on something together so it was only fitting that we worked together on the details of our elopement! We worked with our photographer to be sure we had the look and styles we wanted so we could have images we would love forever! In our imperfectly, perfect world, there are many things that we could have done differently, but then again, art is subjective not objective as is life and love. The only thing missing were our people on our precious memorable day."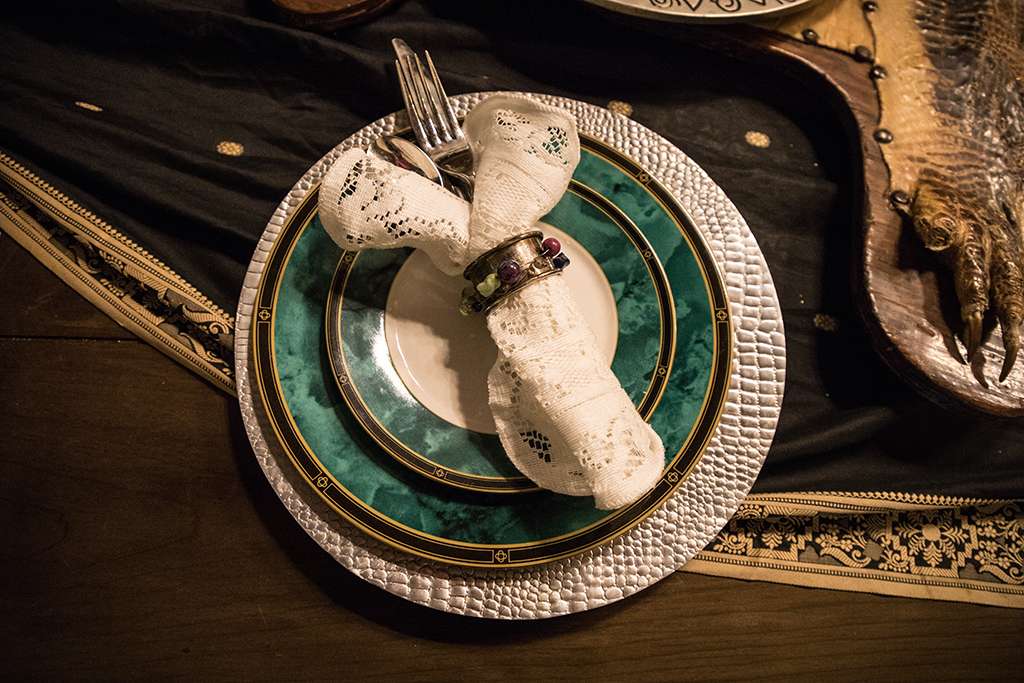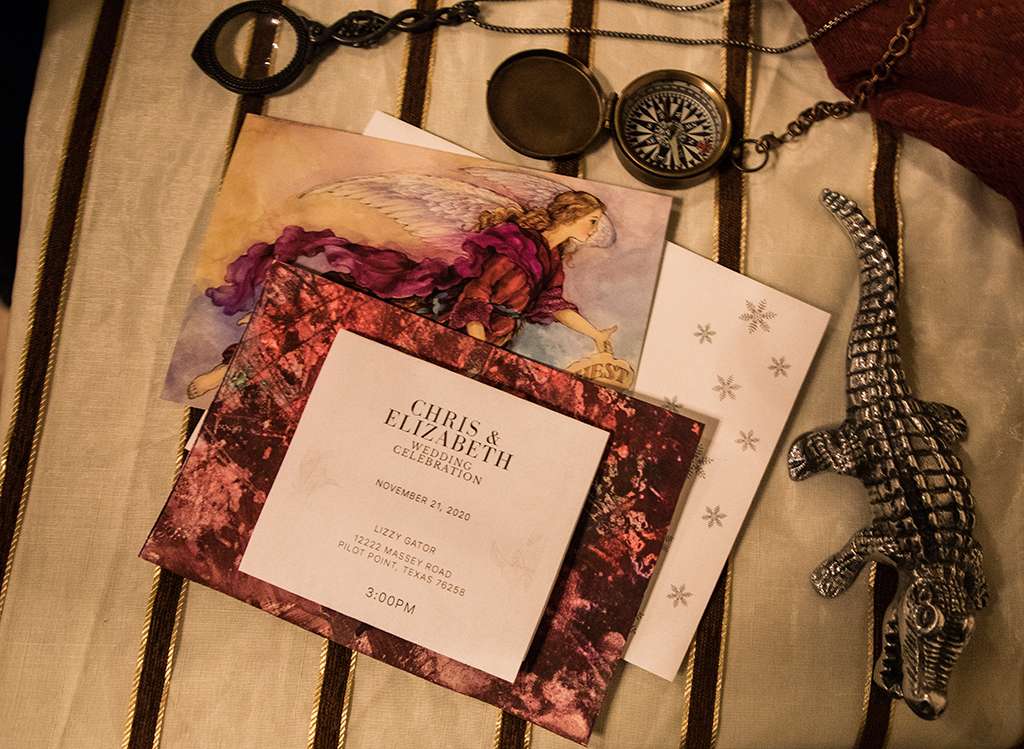 "If I had to offer any advice," Elizabeth concluded, "I would just say – to young love, and lovers; breathe and enjoy yourselves. It's your moment. It's probably the only time you get to be the host, the coordinator, the director. Plus more importantly, the guest of honour. Make the most of it!"