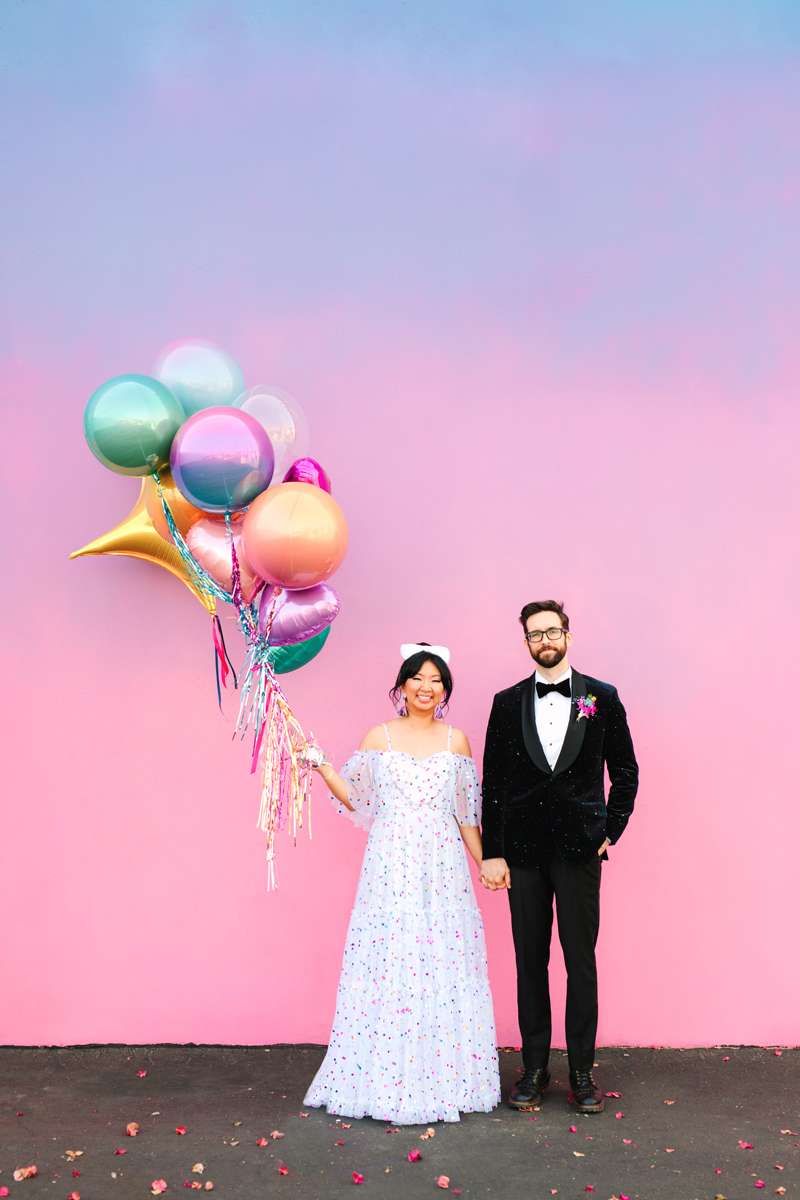 GET READY because you are about to fall in love with Alena, Alex and their incredible pop up wedding! This is kind of like a feature in two parts, because they had a Covid-secure 'pop up' ceremony and then a photo shoot with Mary Costa to commemorate…. And those photos are literally making all our colourful unicorn wedding dreams come TRUE.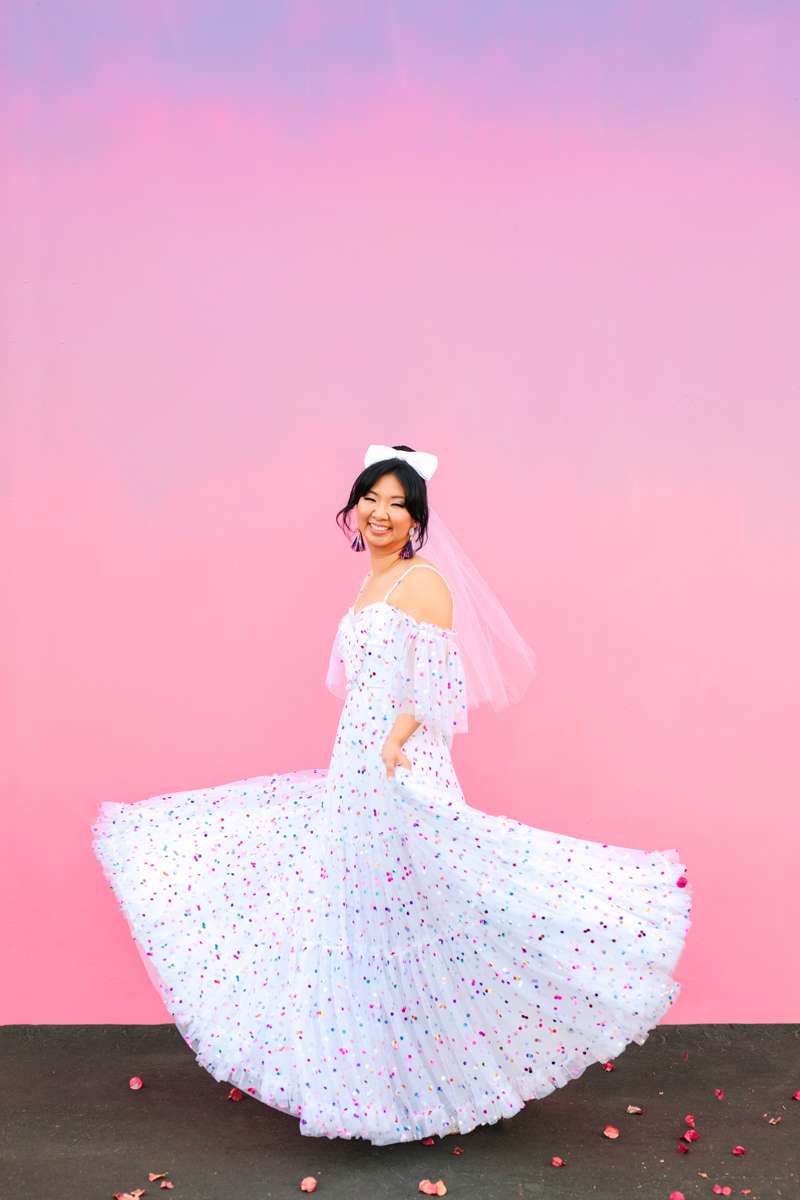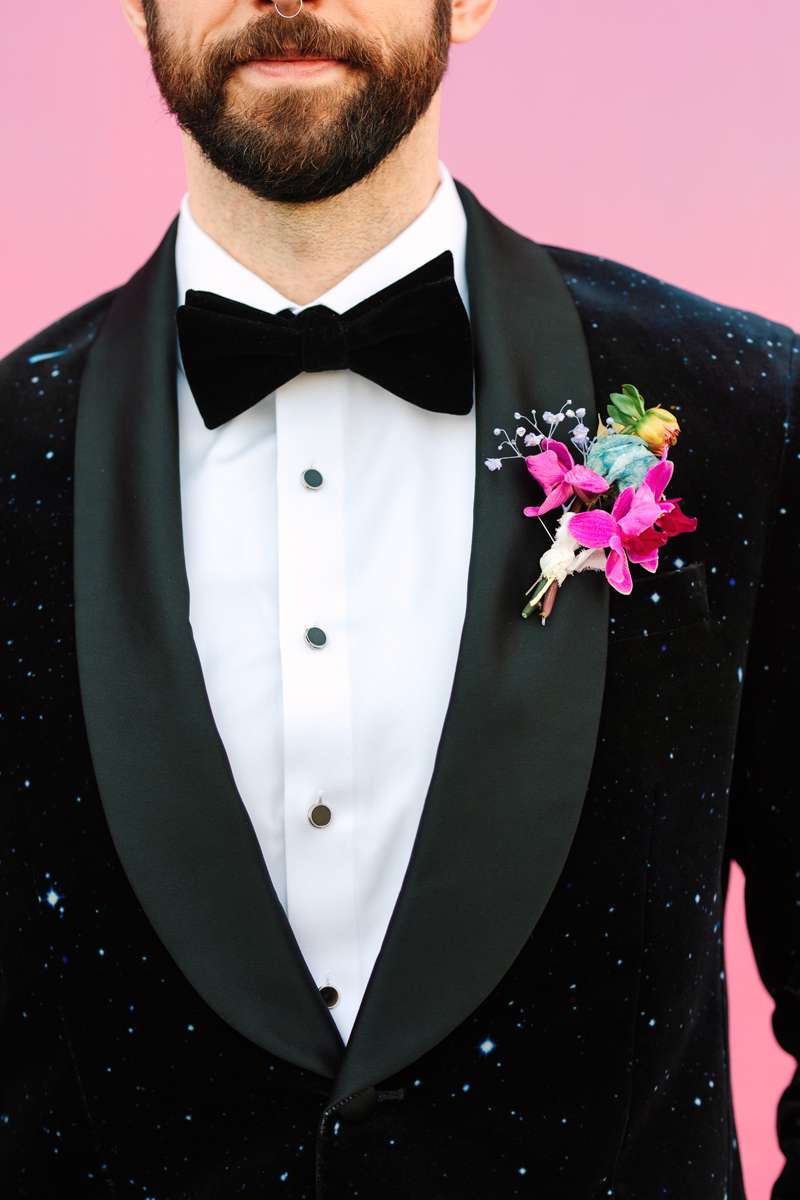 For this pair, who are both toy designers and met at design school, a ceremony at Bob Baker Marionette Theatre in Los Angeles was the perfect idea. They took part of the Short & Sweet Pop Up event that they were hosting. Alena told us all about it, "As toy designers, fun is always an inspiration for us. With this in mind, we decided on the Bob Baker Marionette Theatre as our venue and had our ceremony officiated by a star puppet which was then broadcast over Zoom for our friends and family who couldn't be there. We also planned it in only one month! "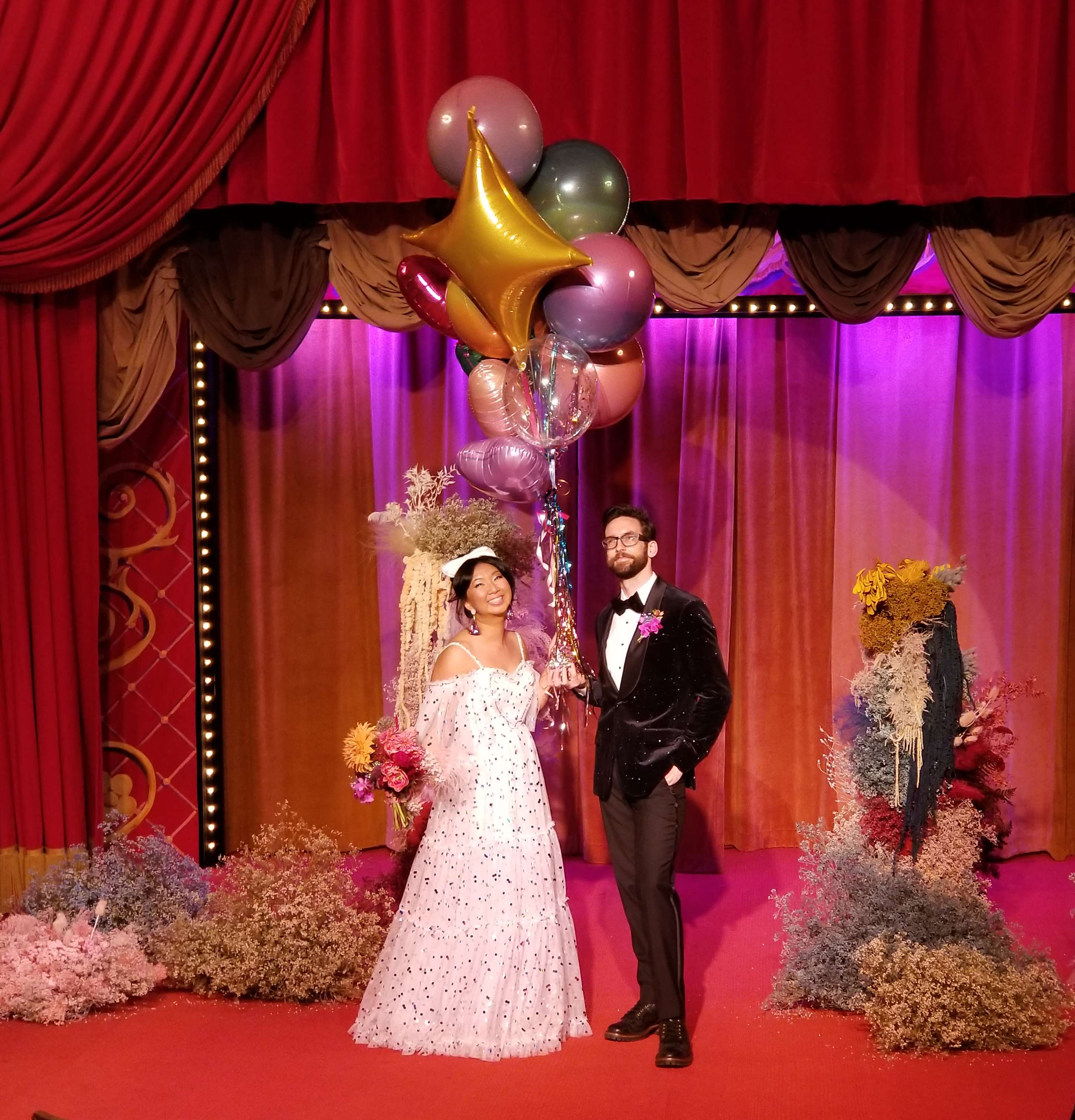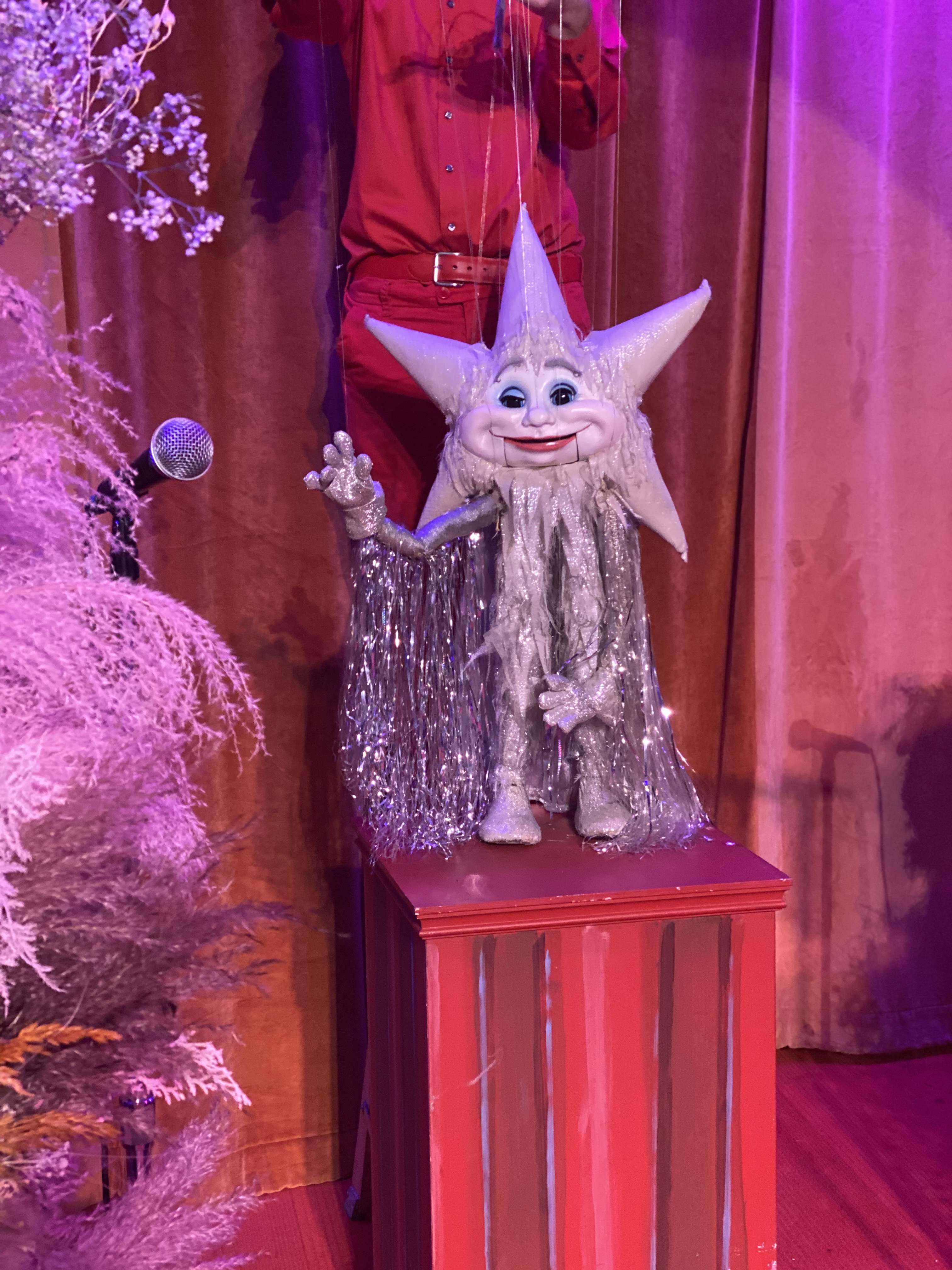 "While the pandemic caused so many couples to cancel or postpone their dream wedding plans, it actually helped us make our dream wedding come true. When saw that Short & Sweet Pop up and Bob Baker Marionette Theatre were collaborating on a day of pop up elopement ceremonies, we knew it was perfect for us. The idea of planning a whole wedding and reception was so daunting just to think about so a pop up ceremony idea was actually such a stress-saver. Short & Sweet took care of flowers, ceremony photography, cake and the marionette officiant – PERFECT!"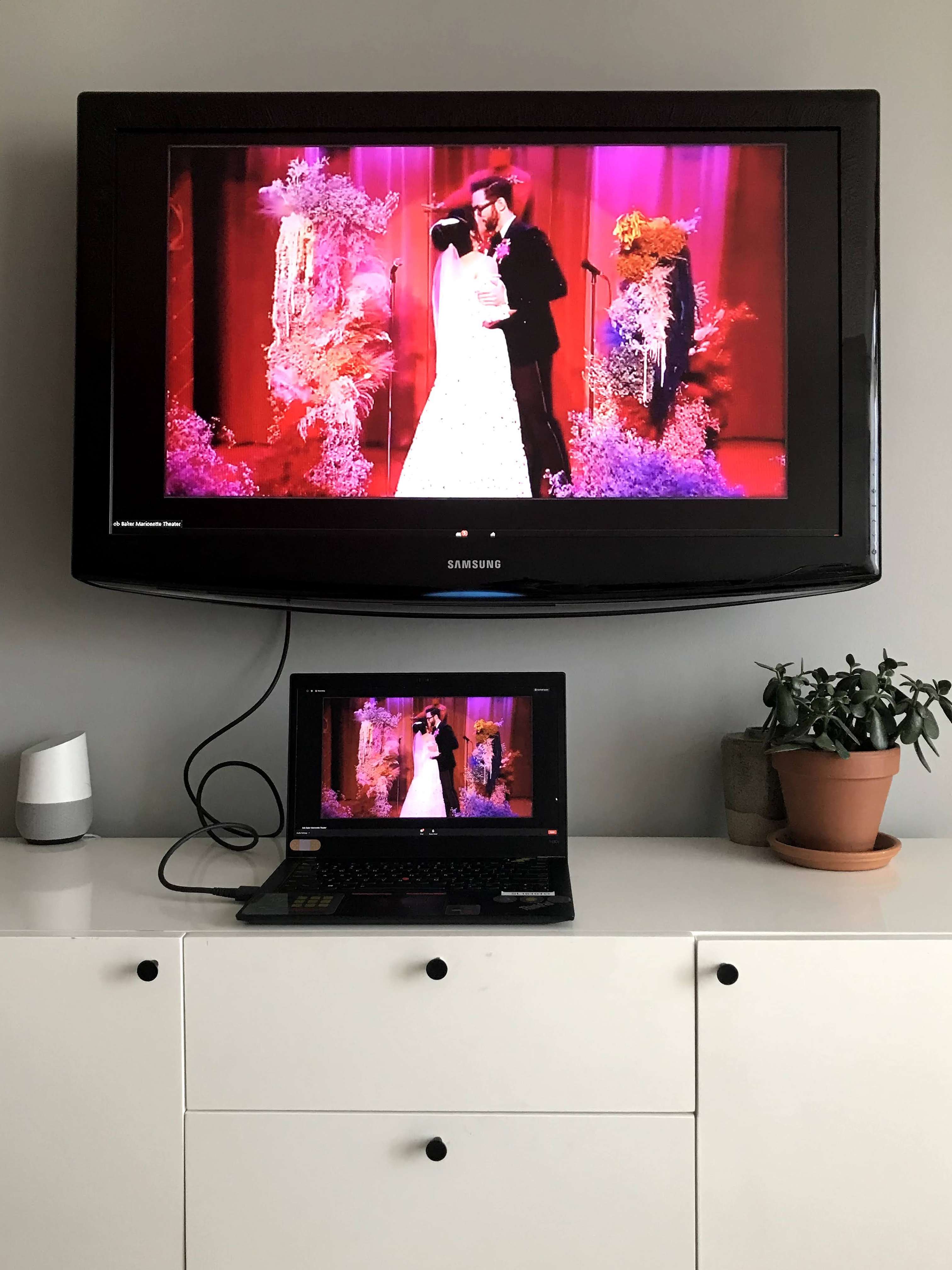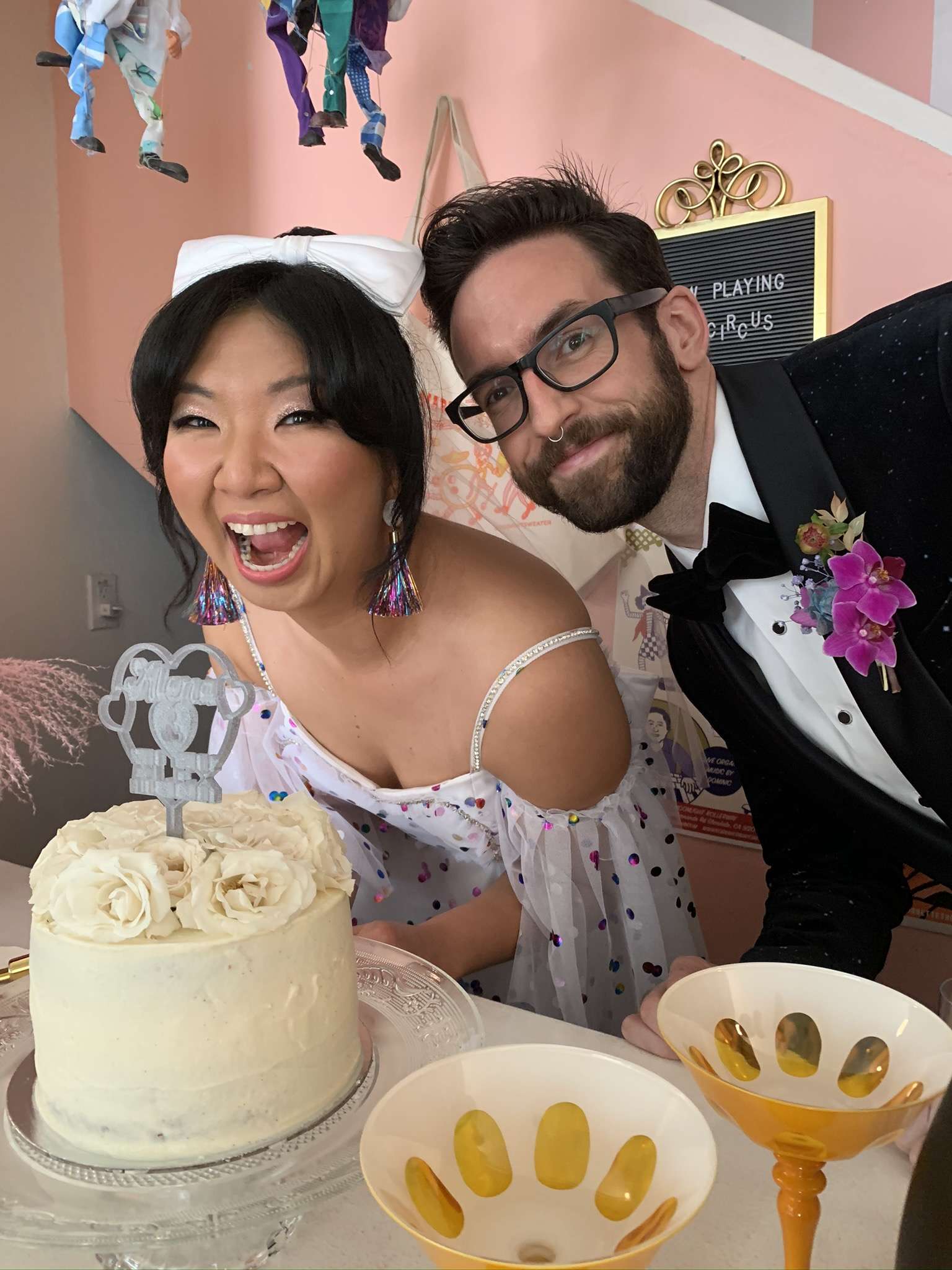 "We arrived separately, since that was one tradition we wanted to uphold. We were married by the most adorable marionette named Demi Star, who is made of sparkling streamers and pure magic! I walked in the door of the theatre and was handed my bouquet. I had no idea what it would look like but it was gorgeous. From the back of the theatre, I was given quick instructions on when and where to walk down the aisle to meet Alex. At the front of the stage was the marionette and an amazingly talented BBMT puppeteer behind the strings bringing Demi Star to life. The star performed the ceremony to a pre-recorded voiceover of the script we had written. It was so cute and such a surprise how this was done!"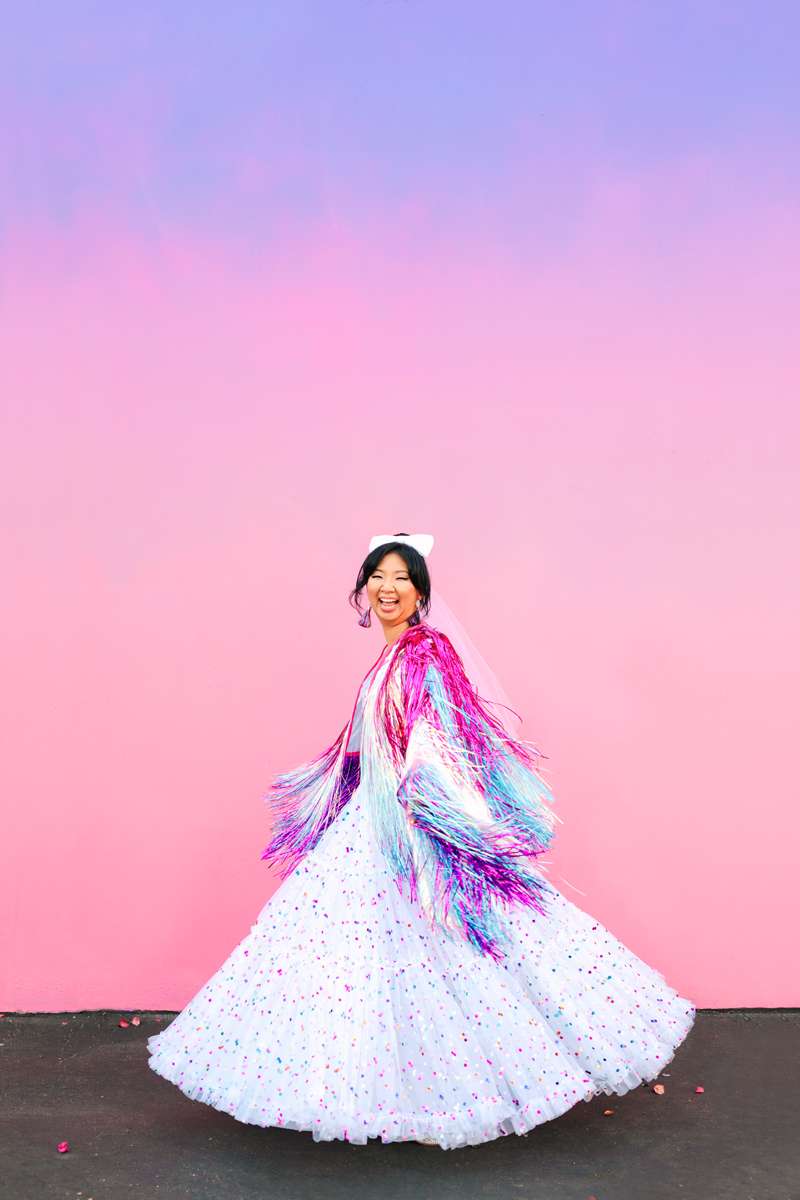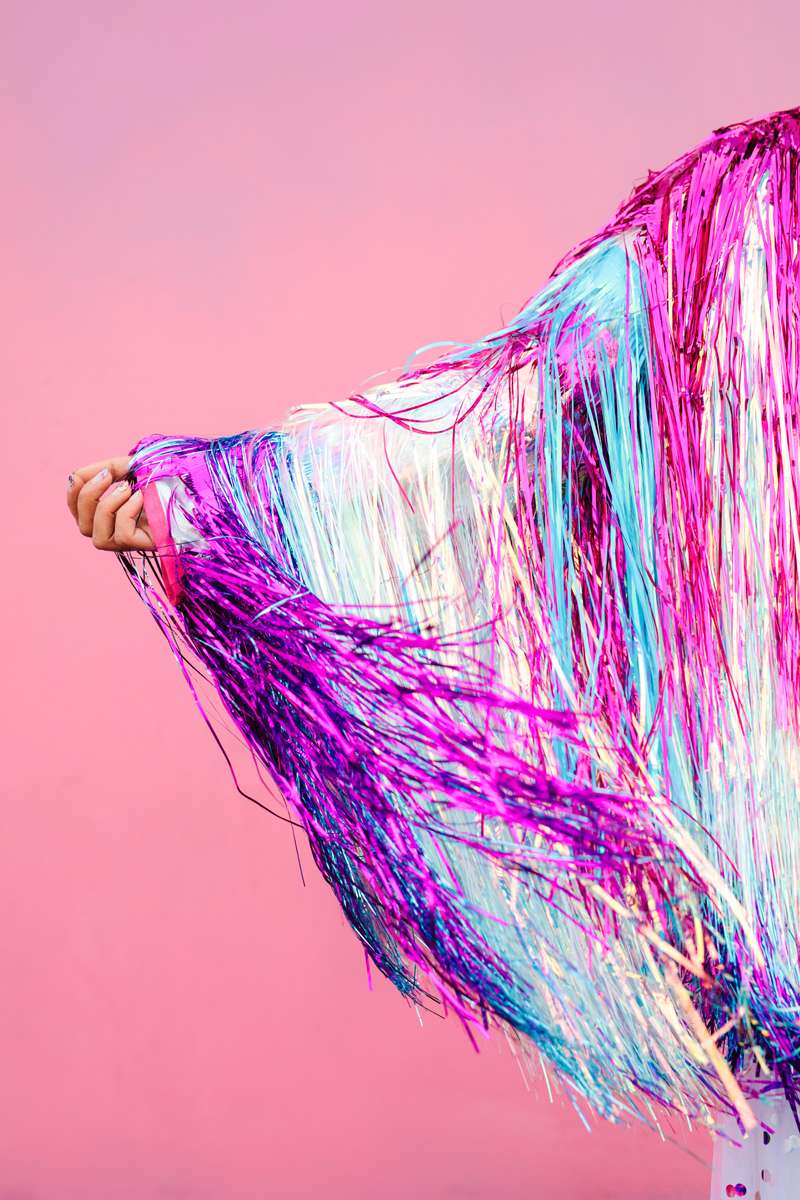 With so much of the day planned for them, it did mean the wedding was less customisable than they would have maybe hoped but they did make sure to play up to their unique style and personalities as much as possible. Alena designed her confetti inspired dress (check out the beautiful sketch!) and had it made for her by Miss Tashina who also made her veil, bow and even a mask to match. Her jacket came from our friends at Bottle Blonde Studio and her earrings were made by a friend. Alex wore a velvet sparkly tuxedo from The Black Tux and a matching mask which Alena painted stars onto. They also designed their own wedding invitations and cake topper which a friend laser cut for them.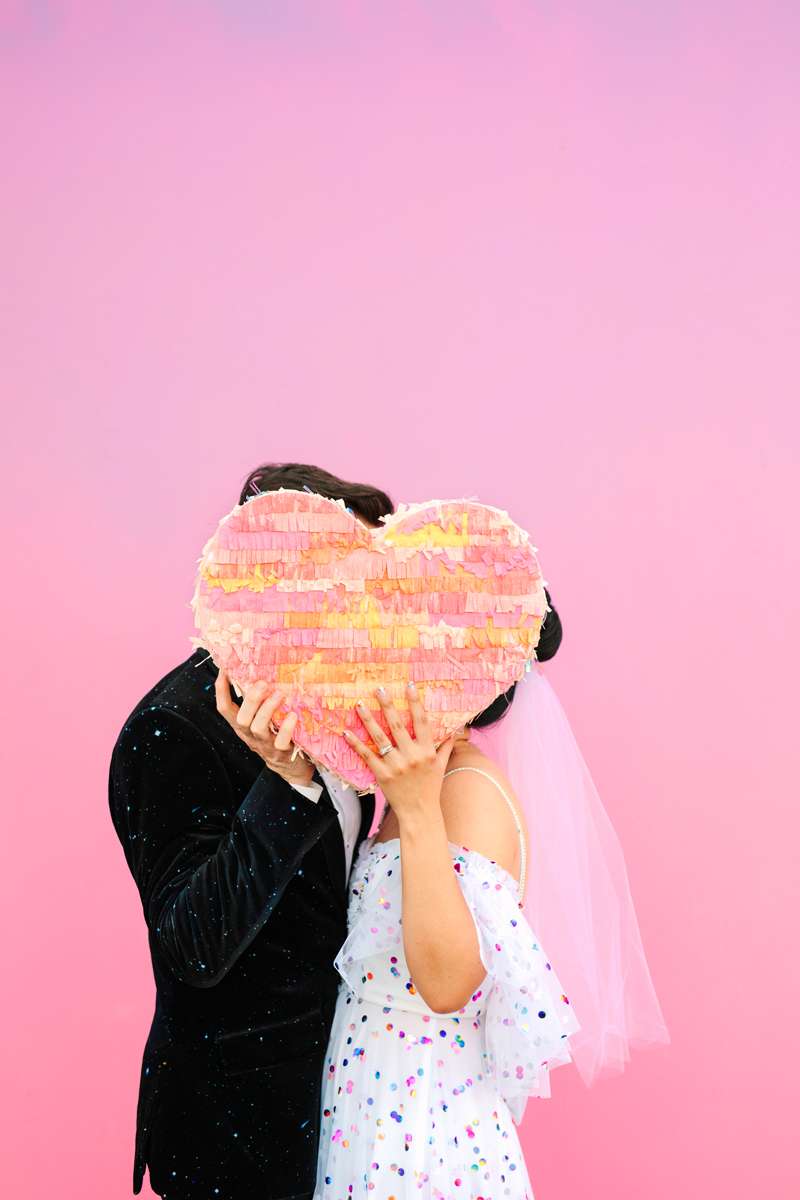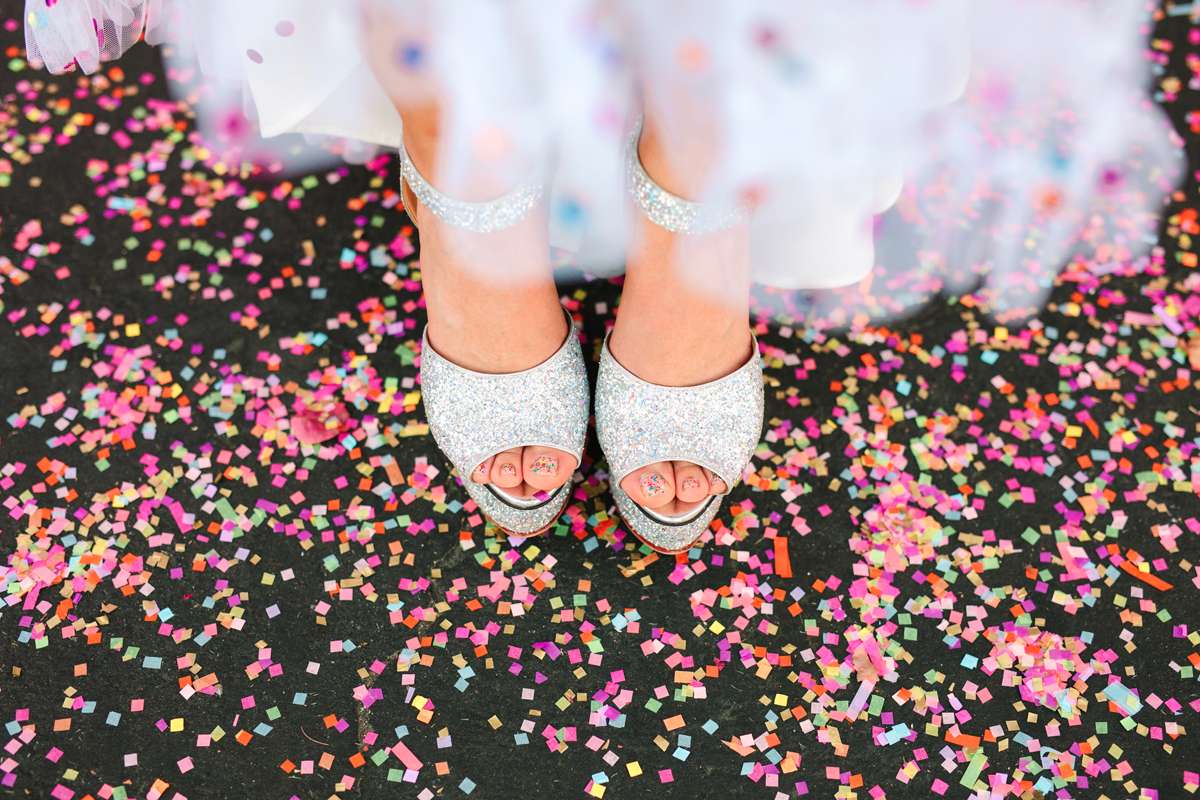 After the pop up ceremony was over, they'd arranged for their own photo shoot with their dream photographer, Mary Costa. "Mary makes everything bright and fun!" Alena said. "We actually planned our ceremony timing around this photo shoot, because it was so important to us! We brought all of the crazy things that we didn't include in the ceremony and got the most amazing fun shots… balloons, confetti, a piñata and the Los Angeles sunset!"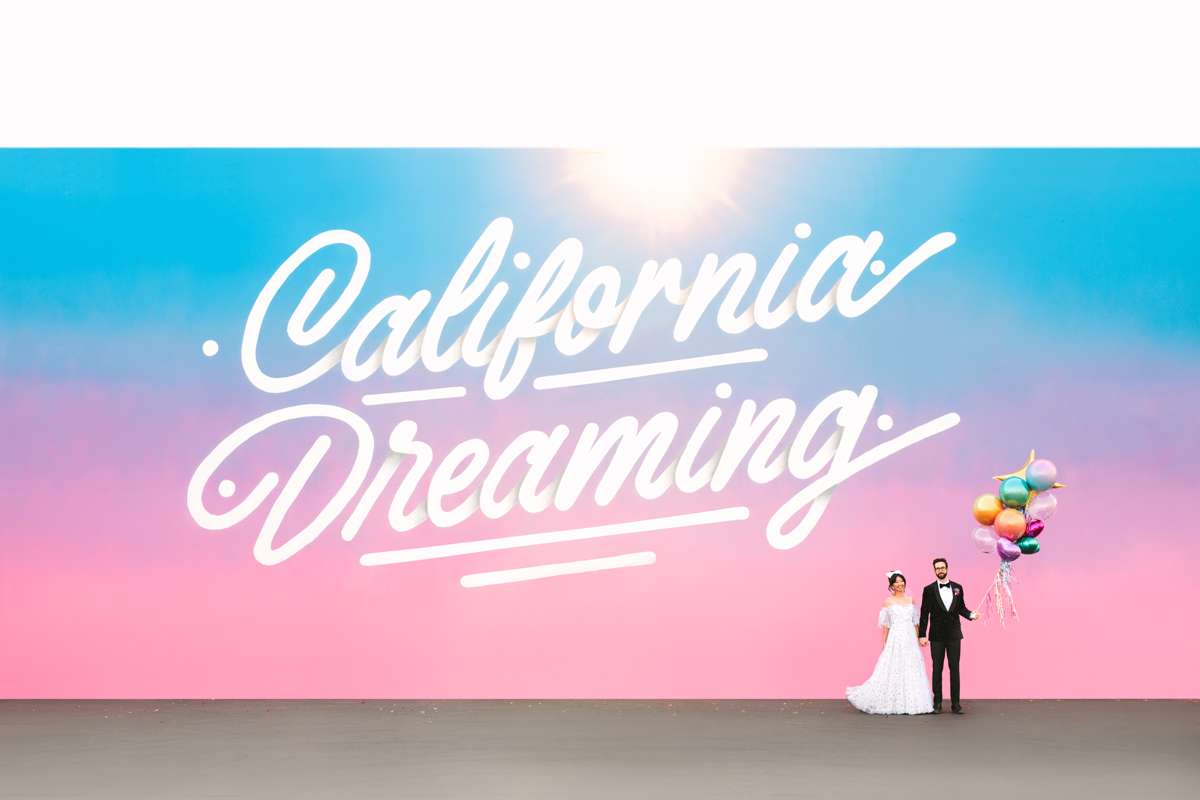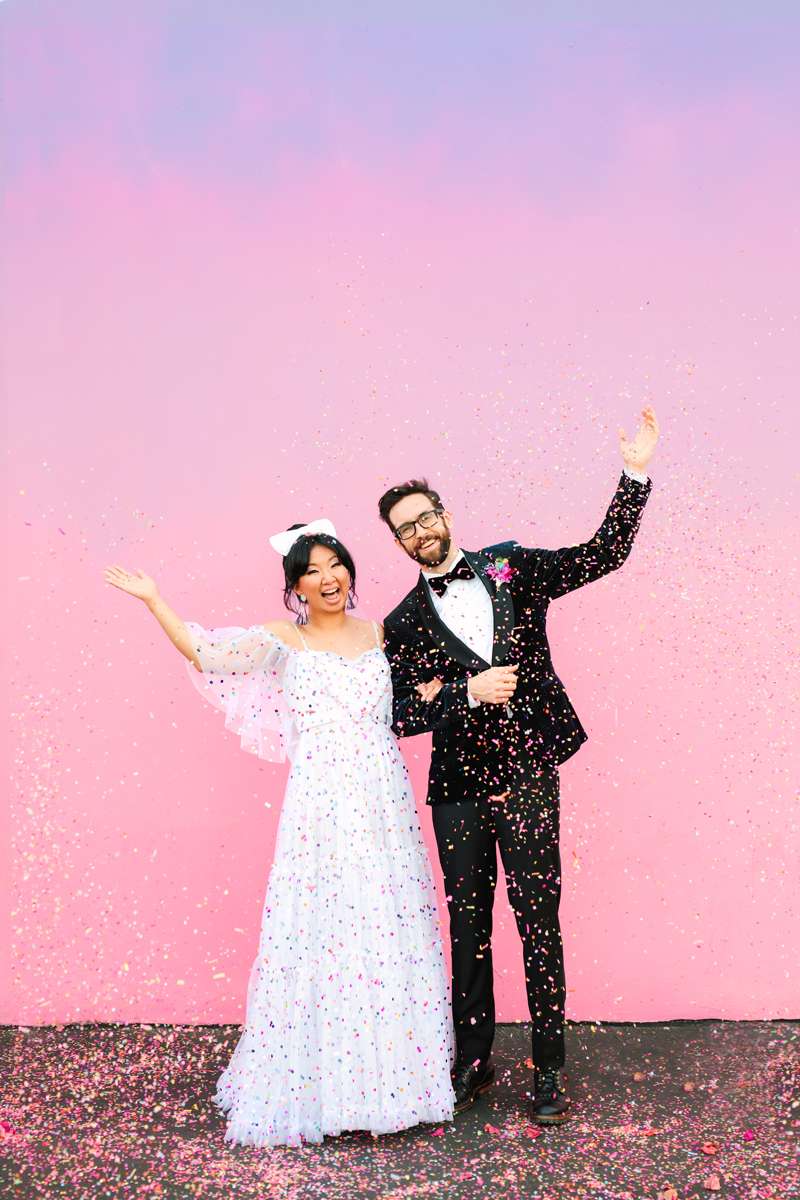 But the day wasn't over yet… "When we got back to the Airbnb we were renting for the weekend, we found the house decorated with handmade decorations! Our reception for our four guests and us included ordering BBQ delivery from our favourite BBQ place. We had the cutest shiny heart shaped paper plates and gold plasticware for the place settings."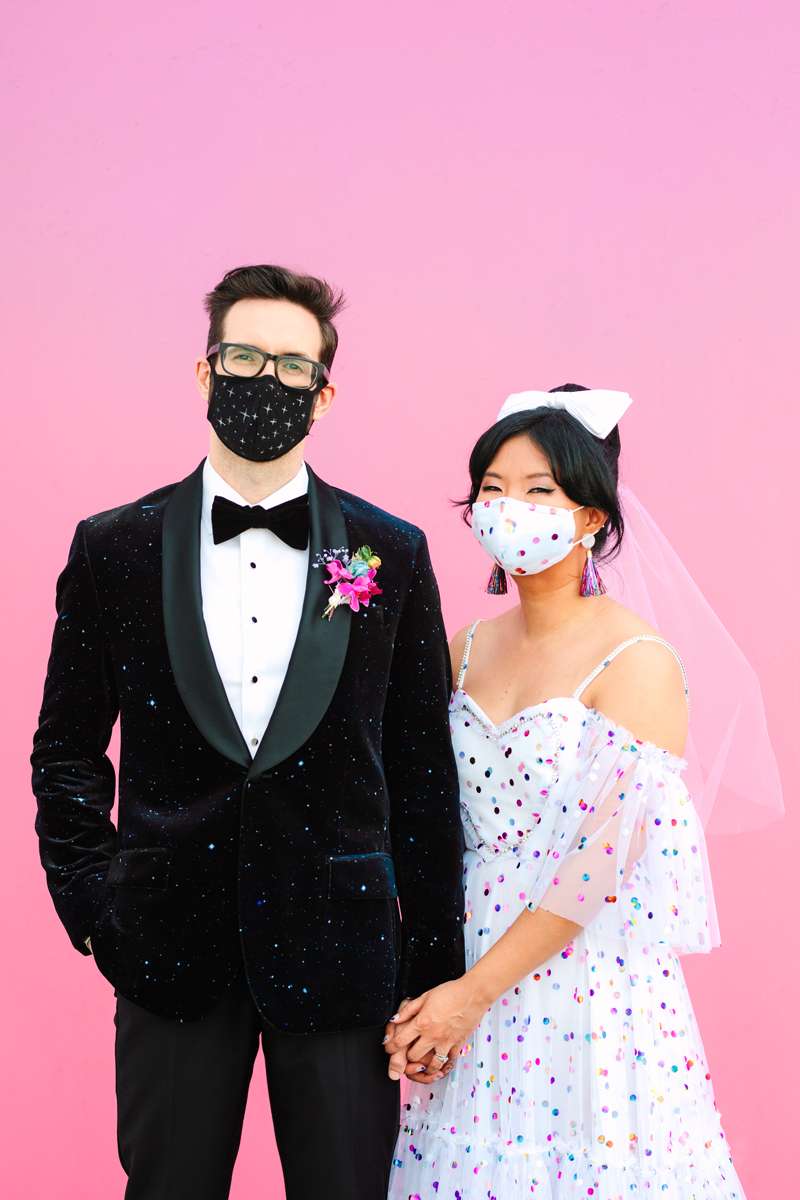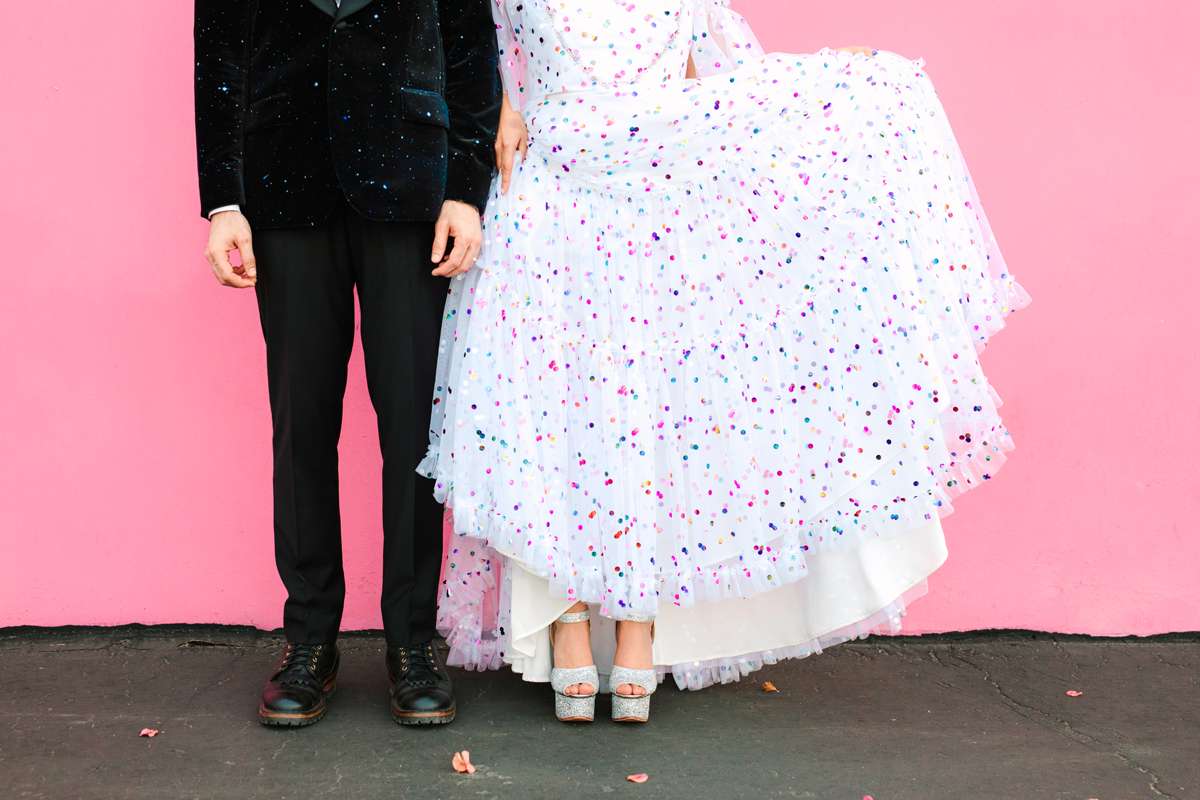 The big thing they learnt when doing their wedding their way, was that planning a wedding doesn't have to be a huge, all-consuming project. Alena concludes, "From my personal experience, you can plan a wedding in a month with the right circumstances! One of the most beautiful weddings that I've ever been a part of was planned in two weeks. If you mainly focus on what is important to you as a couple, and then don't sweat the other stuff, you can get it done and you'll be so happy that you did!"