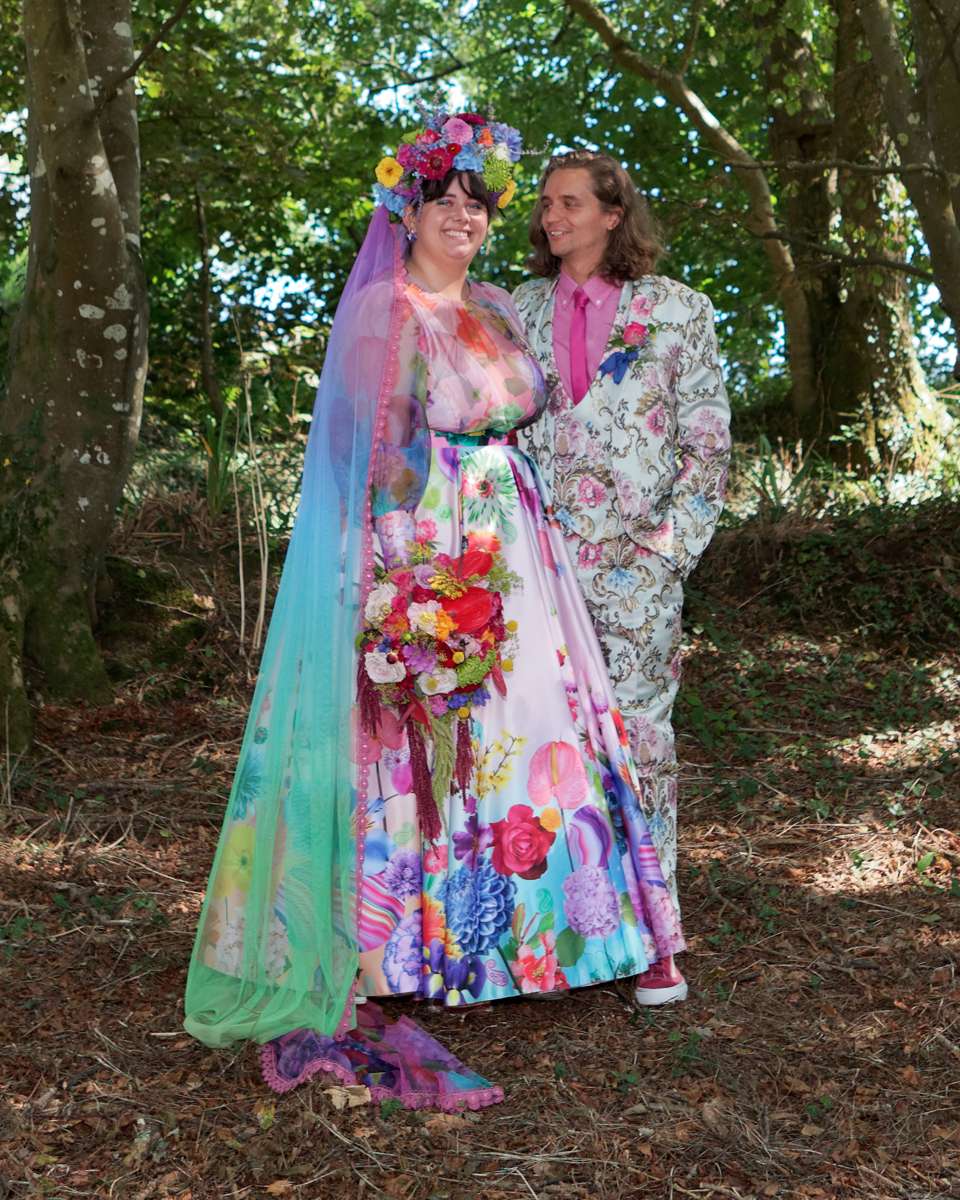 When colour queen Sara married her beau Joey in August 2019, she knew that one day (and one outfit!!) would never be enough. So, they decided to have a two-day celebration, with the legal ceremony on the Wednesday, and the bohemian rainbow party the following Saturday.
The theme for their legal ceremony was pink and sequins (bringing Vegas to Penzance was their inspiration!) with both of them dressing the part. Sara designed and made her pink and iridescent sequin dress inspired by a 70s pattern to match Joey's ASOS blazer. She also made her headpiece and veil herself.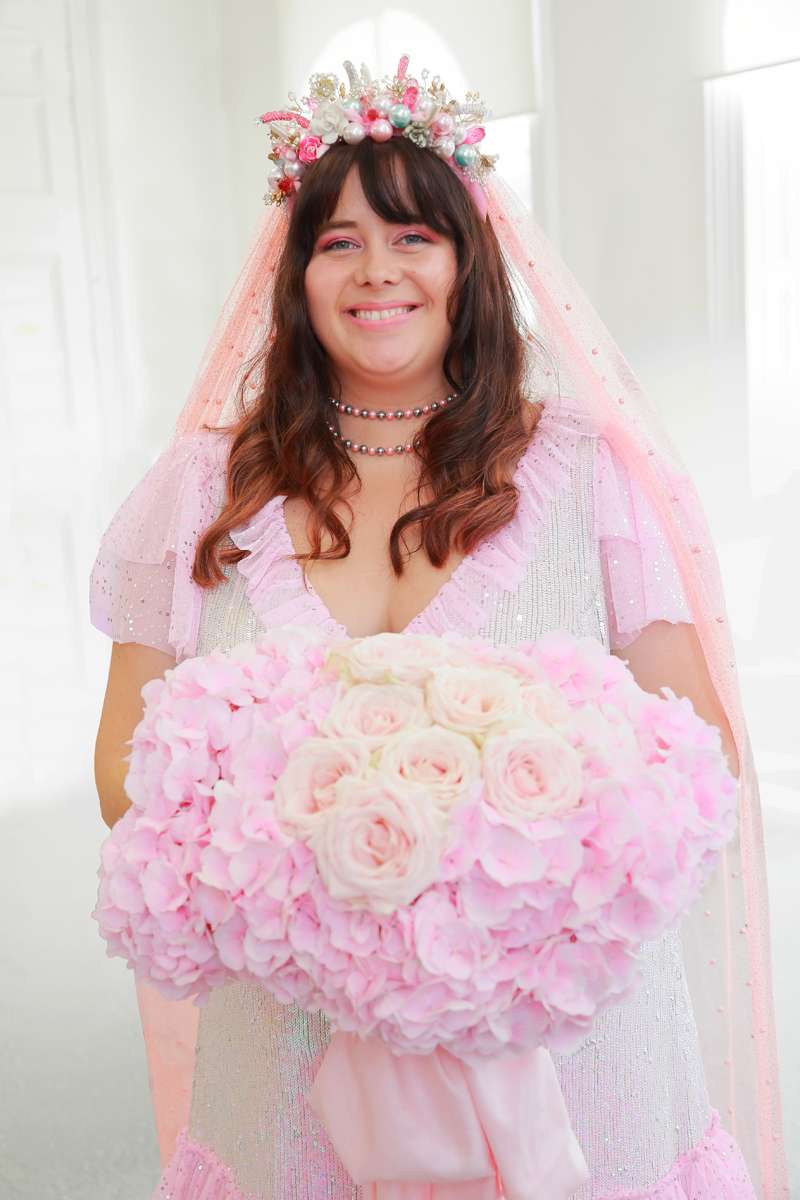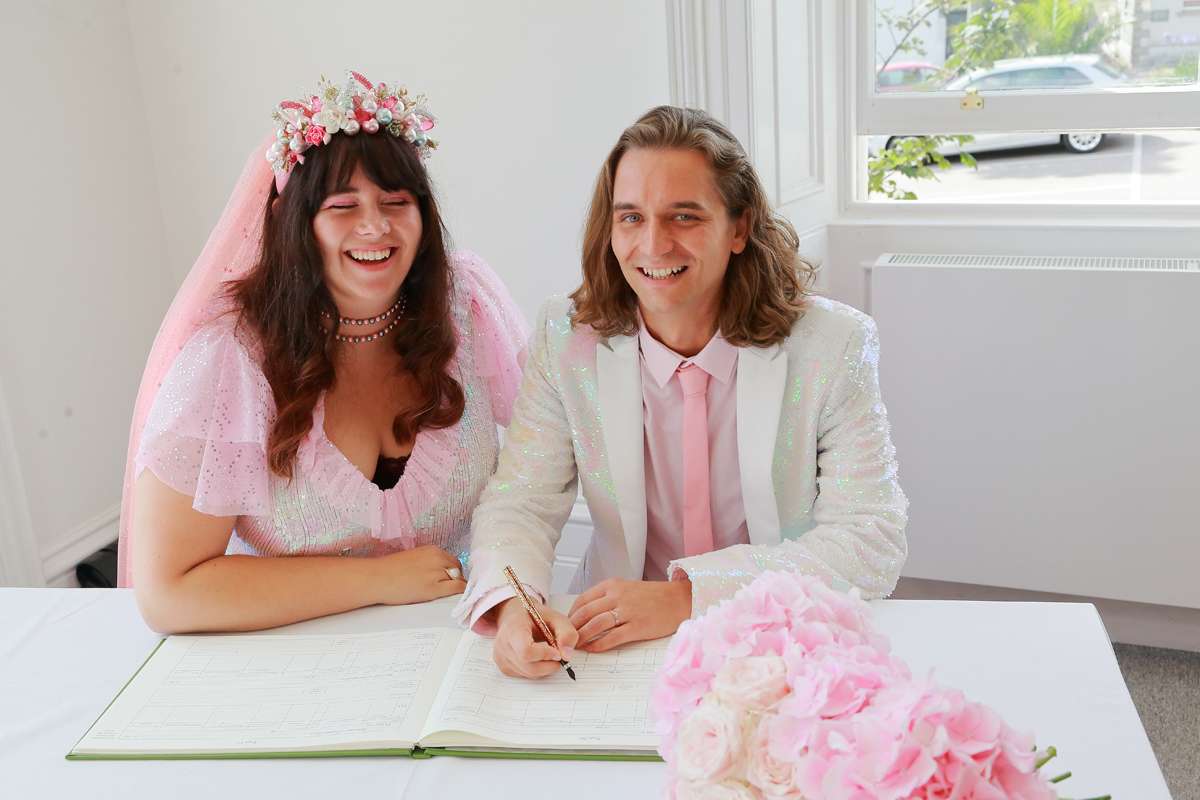 After a quick ceremony at Penzance Registry Office, they headed over to Cape Cornwall (their special place where Sara proposed) for champagne and a picnic. They then finished the day with dinner at the Cornish Barn, one of their favourite places to eat.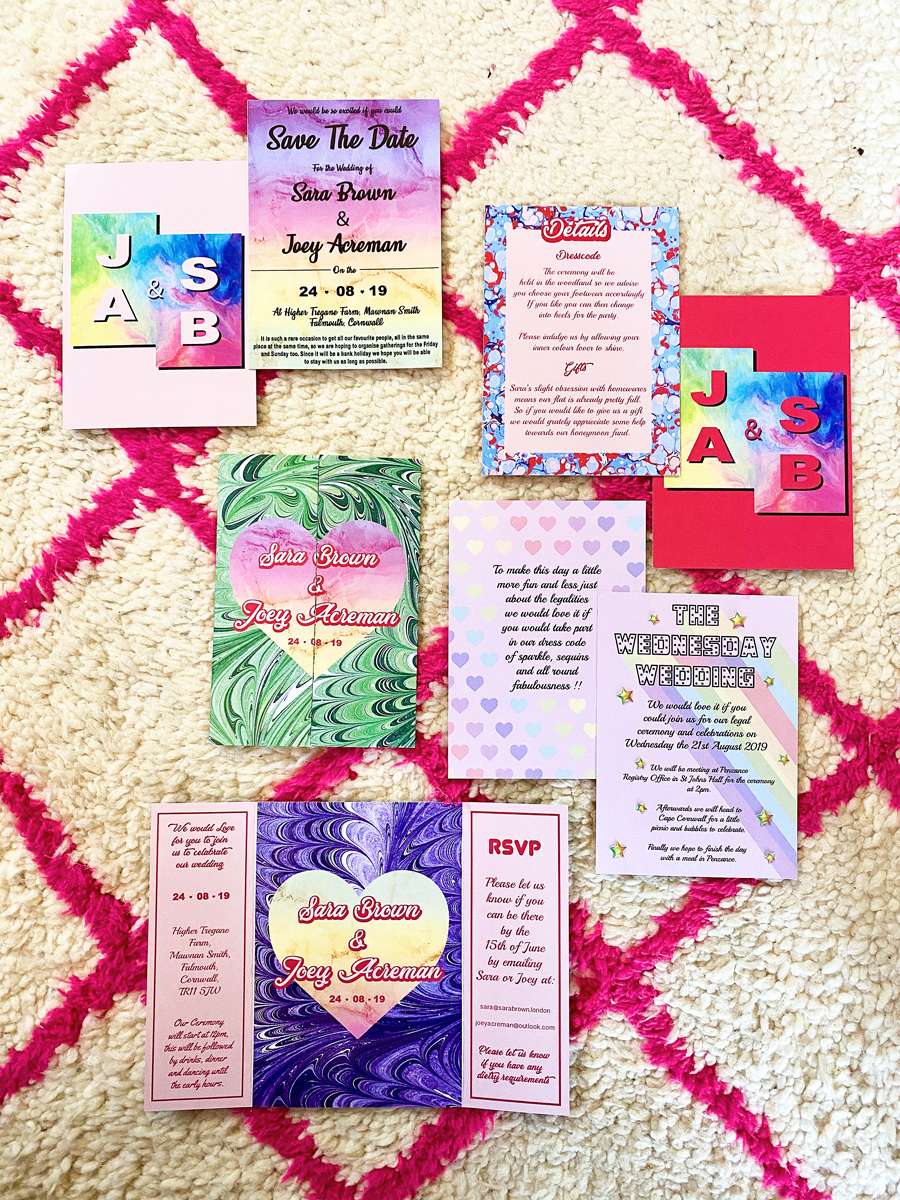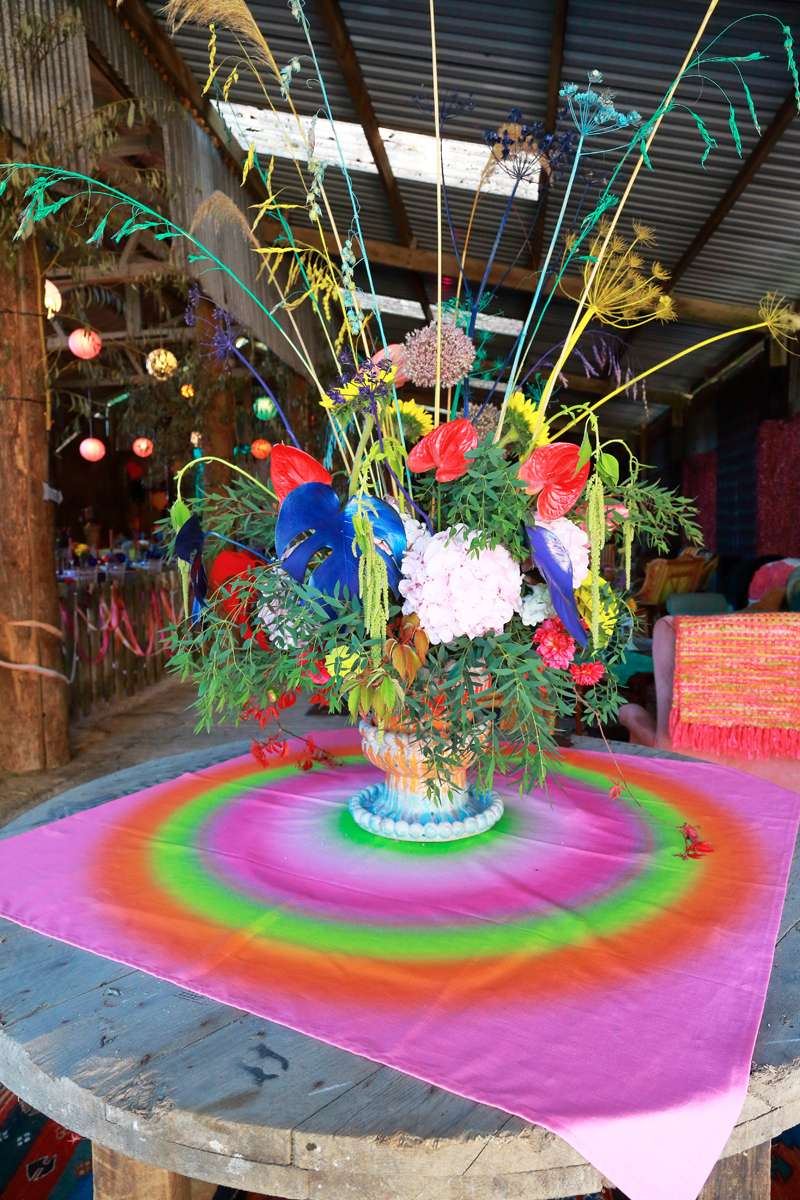 Sara, who studied fashion design at university, also designed her incredible one-of-a-kind Saturday dress and veil.. "I designed the printed fabric for my dress and got it printed at Fashion Formula", she said. "It was the perfect rainbow ombre floral print to which I also added little pictures of Paisley our kitty in so she could be with us too. My headpiece was made by our florist and I wore a pair of antique earrings bought for me by my dad. Then I wore a rainbow crystal bow brooch which was borrowed from my cousin. In the evening I changed into a rainbow sequin jumpsuit and colour block fur gilet, both of which I designed. I always thought I wanted at least three outfits and I am so glad that I managed to have so many looks!"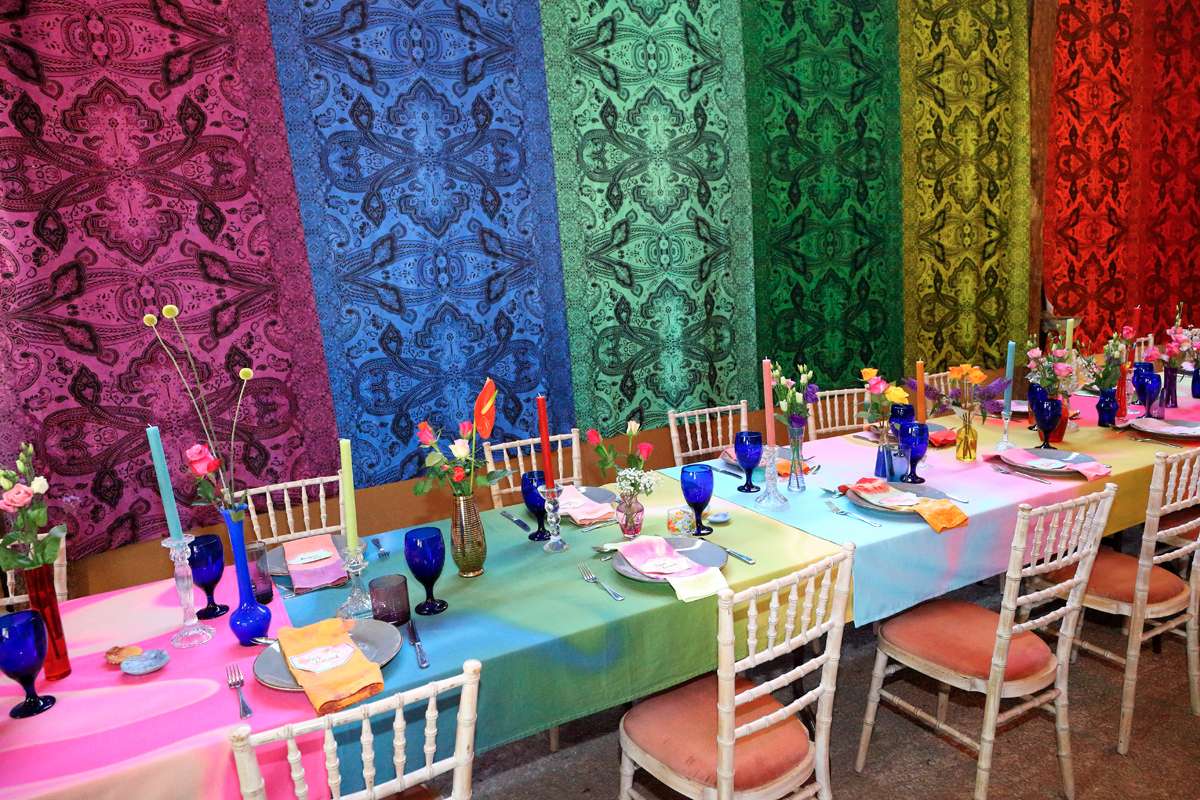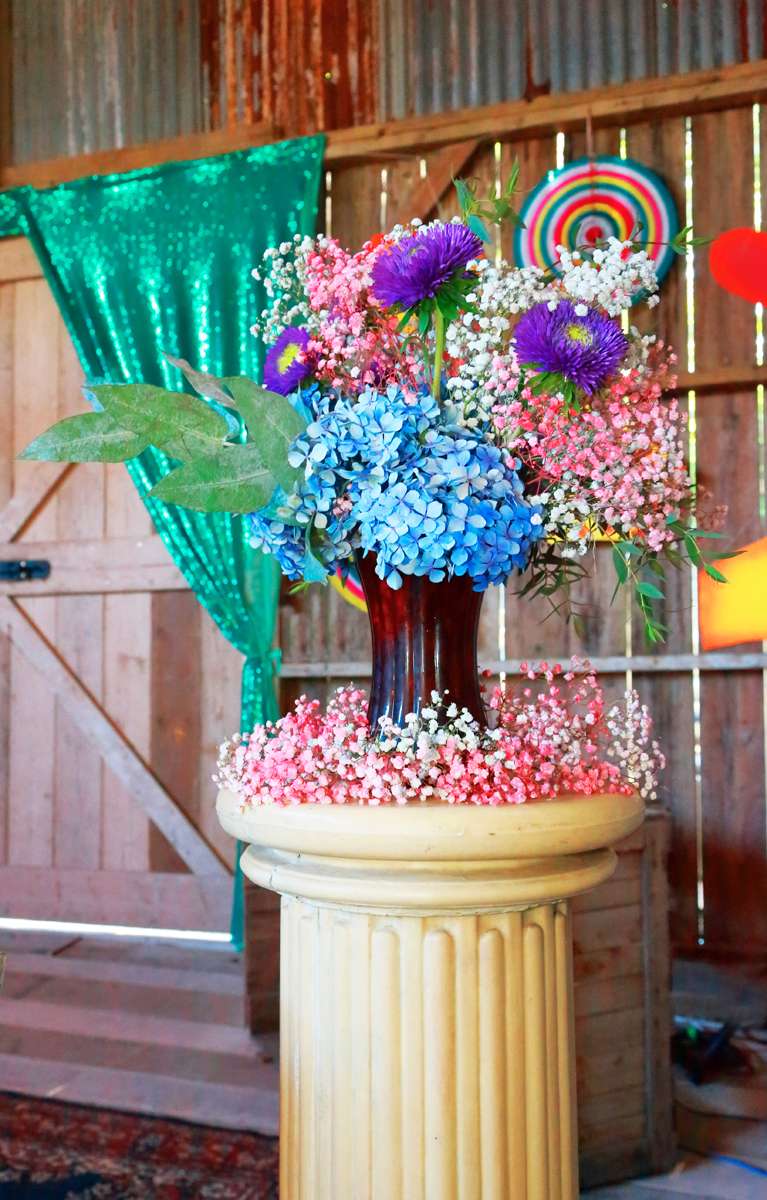 In keeping with the rainbow theme, the bridesmaids were each given a different colour to wear. All the dresses came from ASOS except the purple one which Sara designed and made. With help from her aunt Wendy, Sara also made the flower girl's dress and the page boys' waistcoats from the same fabric as her dress.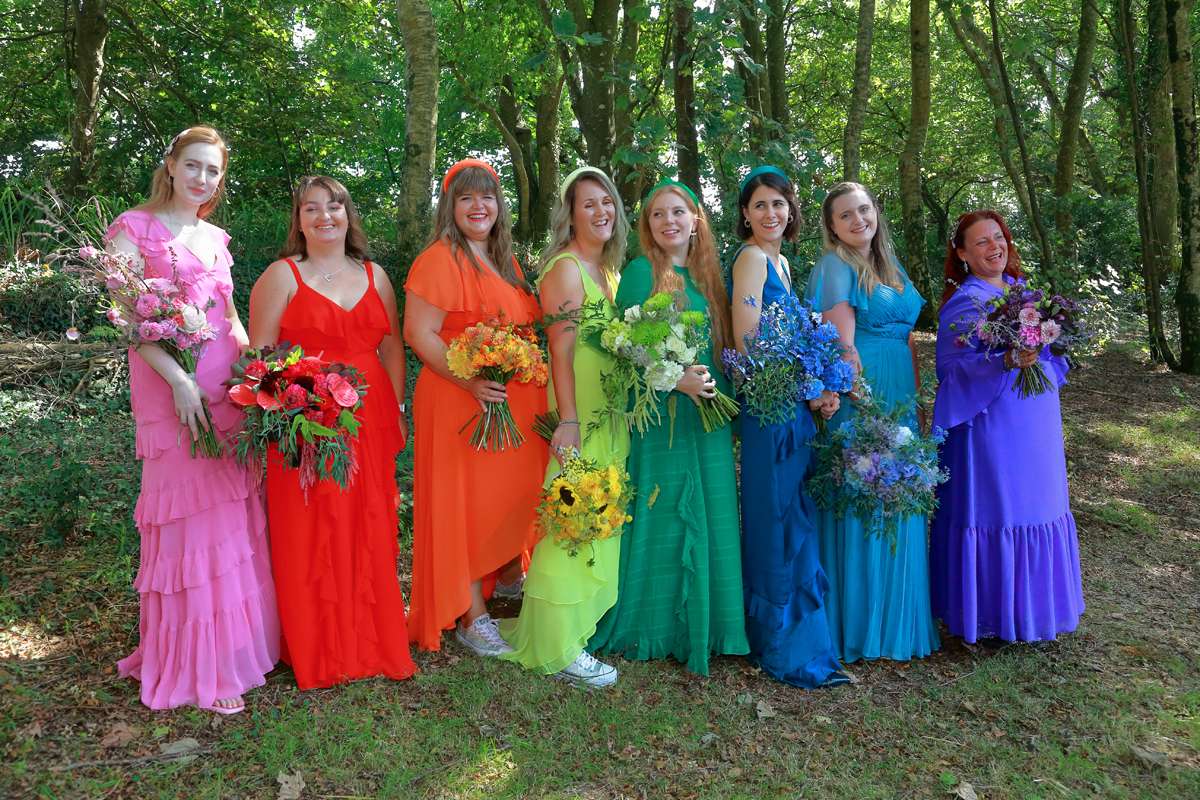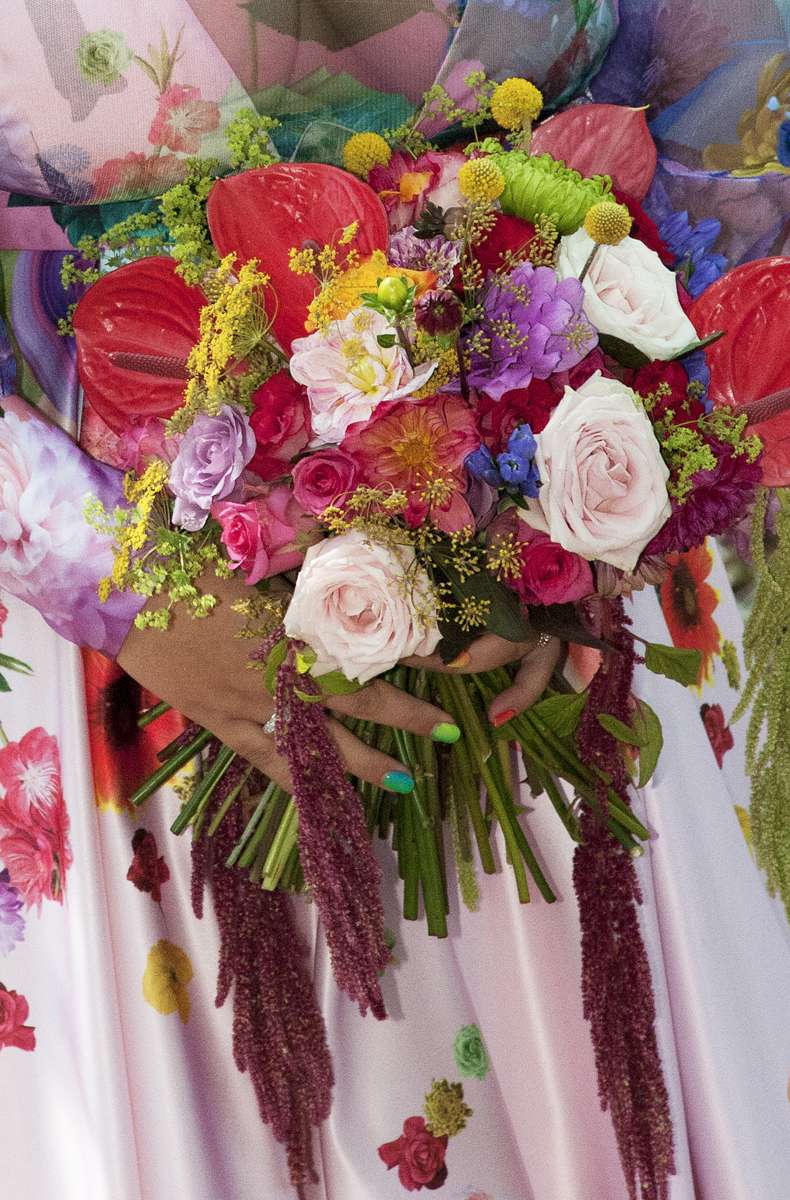 Sara nicknamed the Saturday wedding as a 'Bohemian Disco'. They planning a second ceremony, held out in the woods next to the barn, and decorated the space from the ground up. They arranged hay bales and colourful blankets in an amphitheatre style with an 'aisle' down the middle. Sara walked down the aisle with both her mum and dad as it felt really important to her to have them both with her.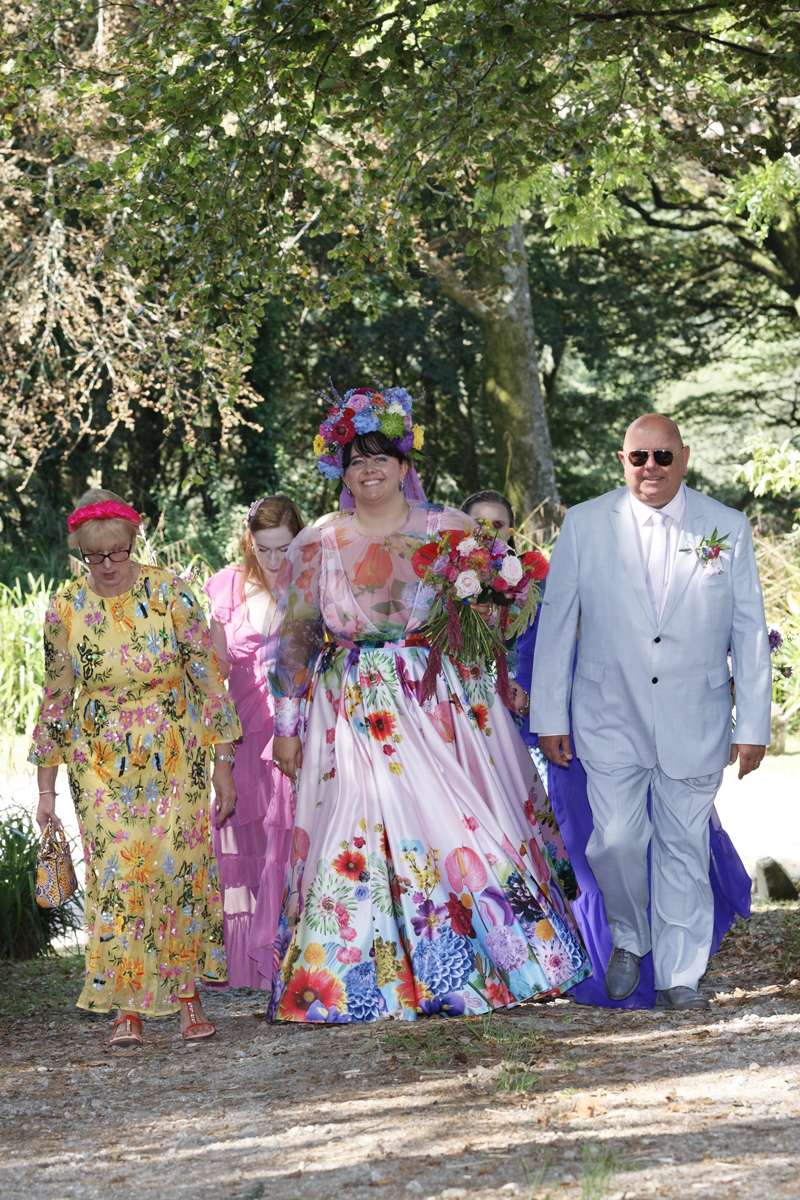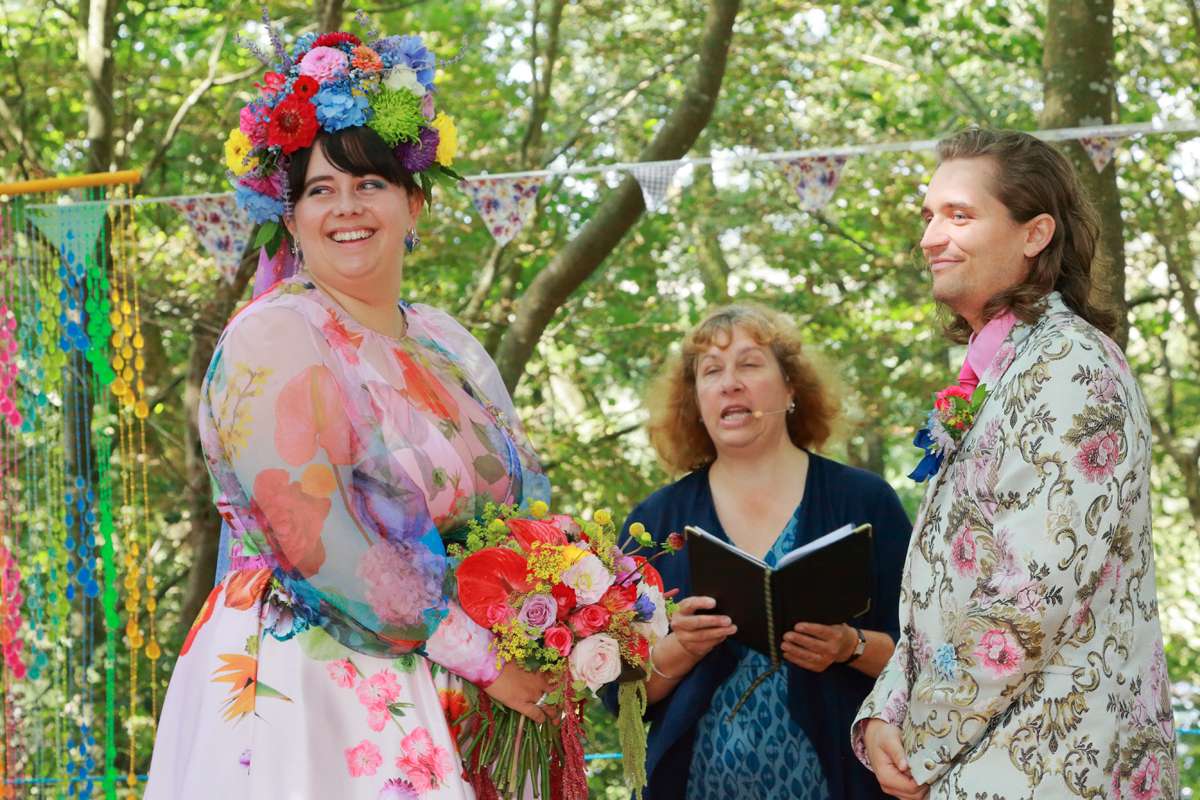 The cake was made by a friend, the stationery was designed by the bride and the decor and props were all sourced and put together by the couple themselves, too. Their venue, Higher Tregane Farm, was a proper blank canvas so they bought a lot of furniture and decor items from Gumtree and eBay and they were able to rent some pieces from Cornish Hospice Care.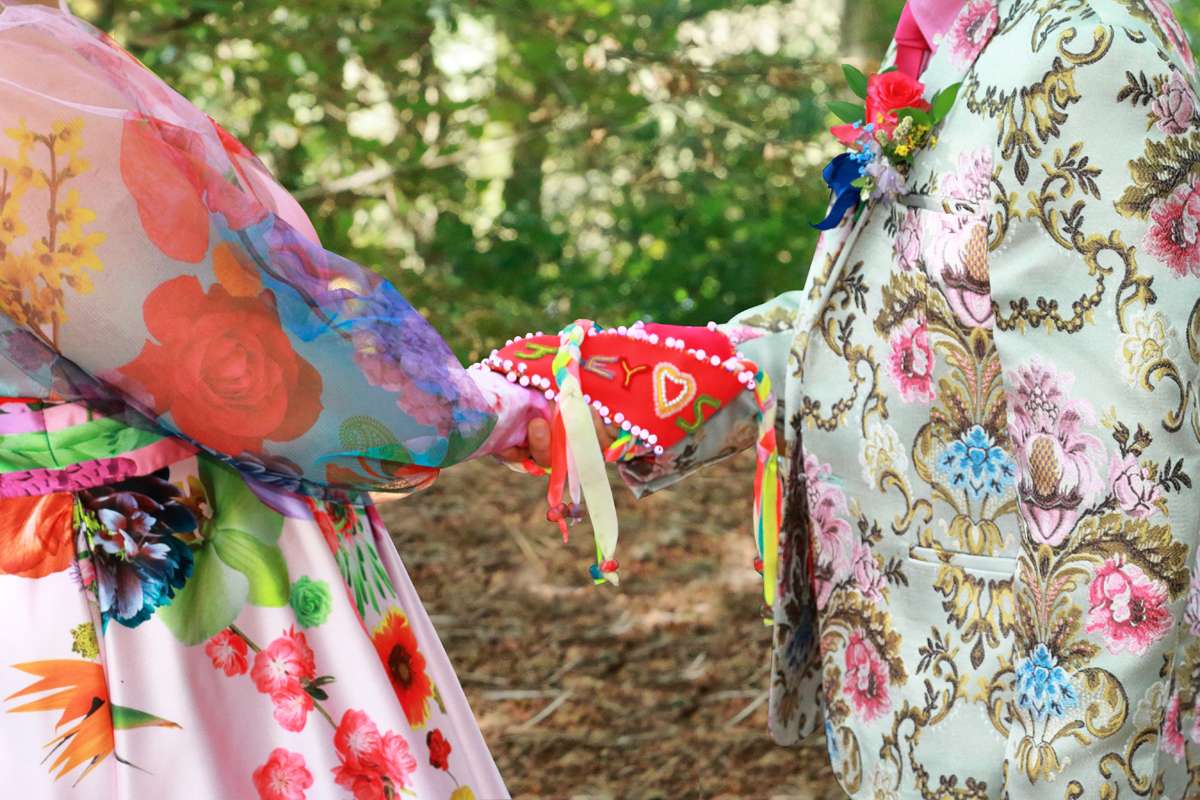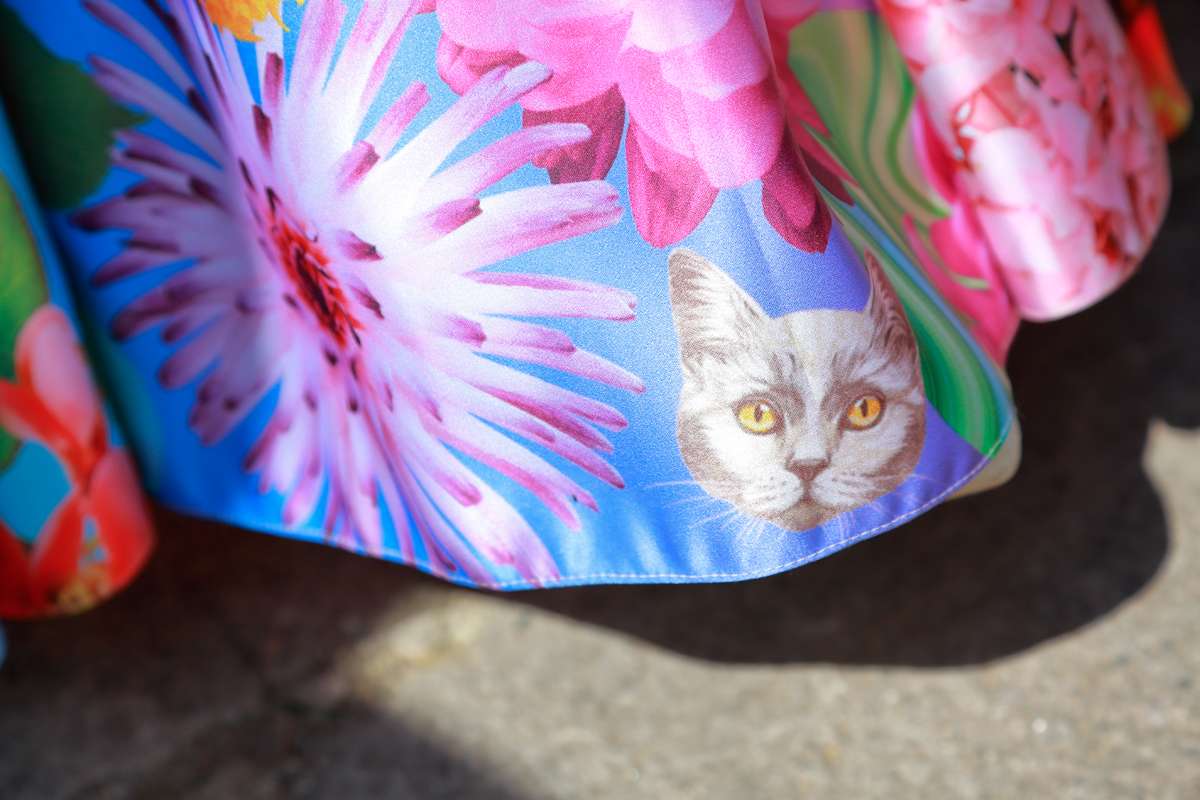 "It was all about ALL of the colour", she explained, "with lots of disco balls, sparkly fabrics, paper marbling, tie-dye napkins and tablecloths, coloured glassware and coloured candles. We decorated with lots and lots of dead stock fabric that I had gathered after years of working in fashion. I designed both our save the dates and our invites, I filled them with colour and print and they felt like a really good prelude to the actual day. I made vases at my ceramics class that sat on the tables with the bigger floral displays in. I made shell dishes to decorate the tables and painted and wrote all the name places. We did all the table flowers ourselves which we bought from supermarkets and went foraging for, thank god for Cornwall's extensive Hydrangea supply! I also designed and printed the rainbow rug wall hangings. We had three days to build the location for the wedding as we were renting an empty barn."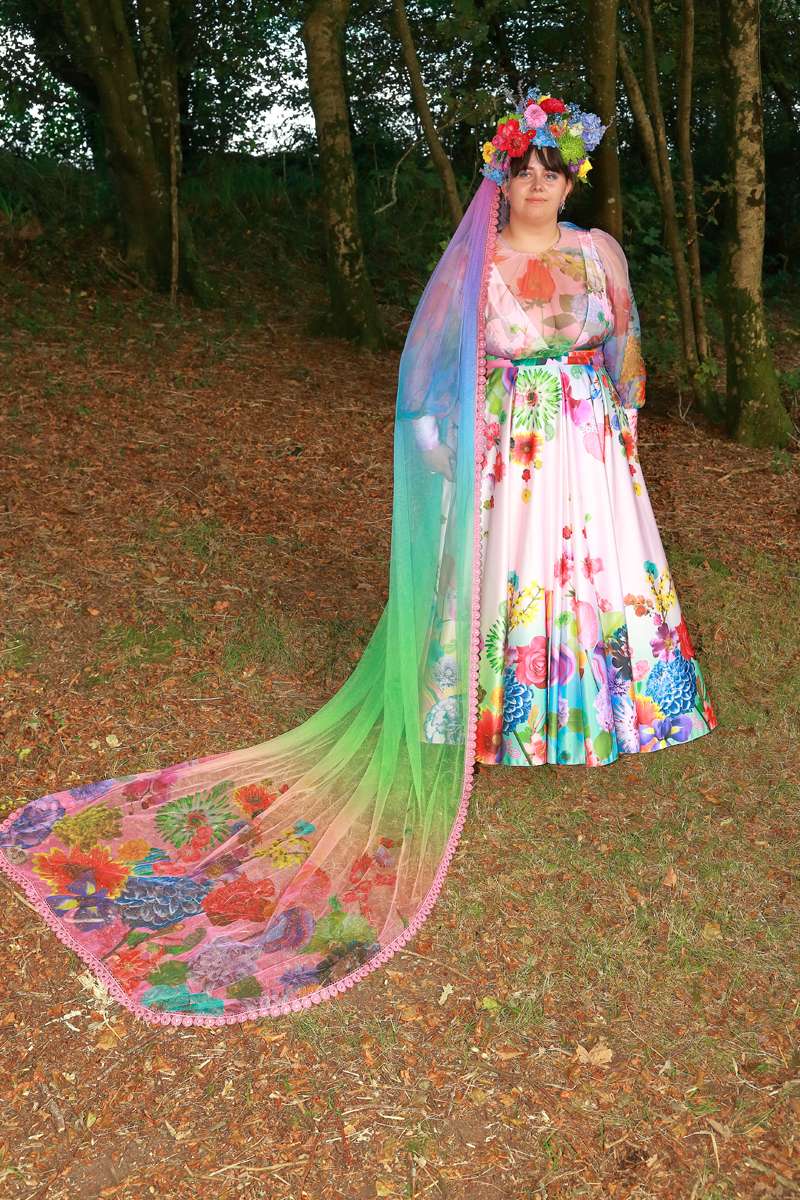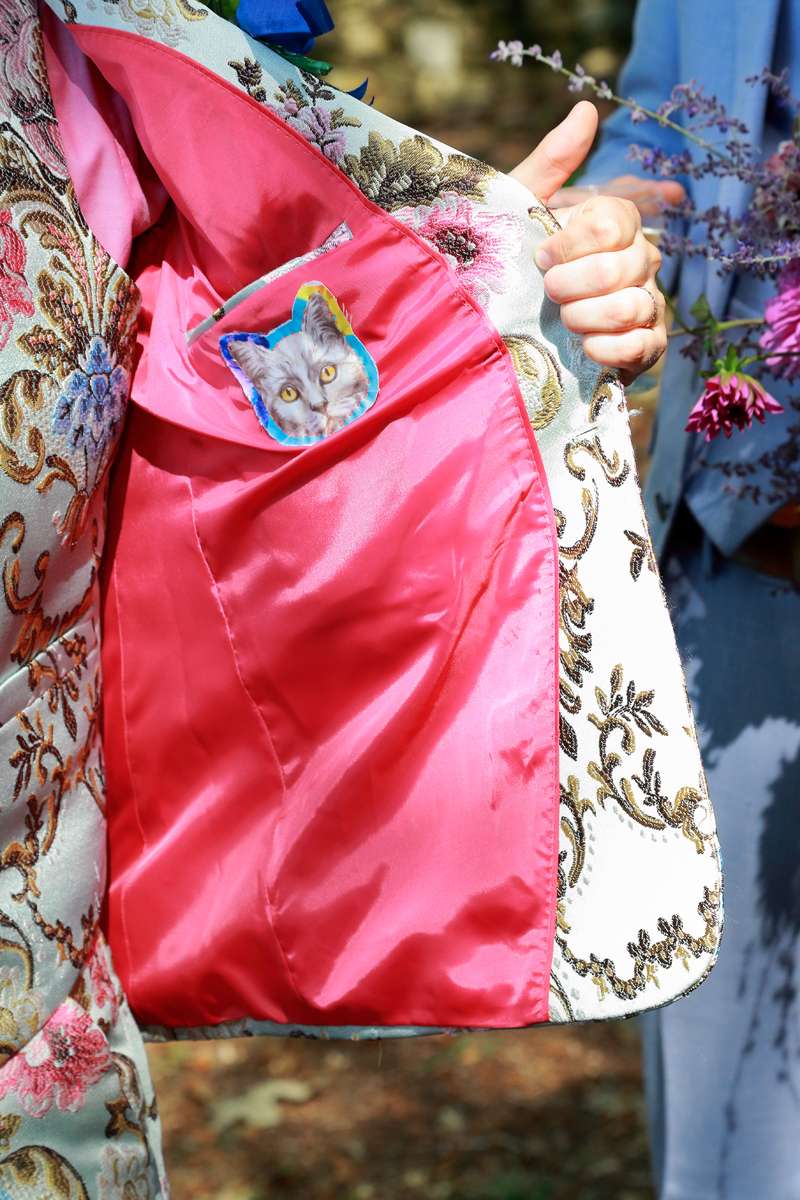 "I knew I didn't want a colour theme as I love all colours, so I wanted it to be super bright and interesting", she continued. "I took inspiration from my travels too, I had a few decorations from trips to Morocco and India. I just really wanted it to feel like a bit comfy living room where you could chill on one side and party on the other."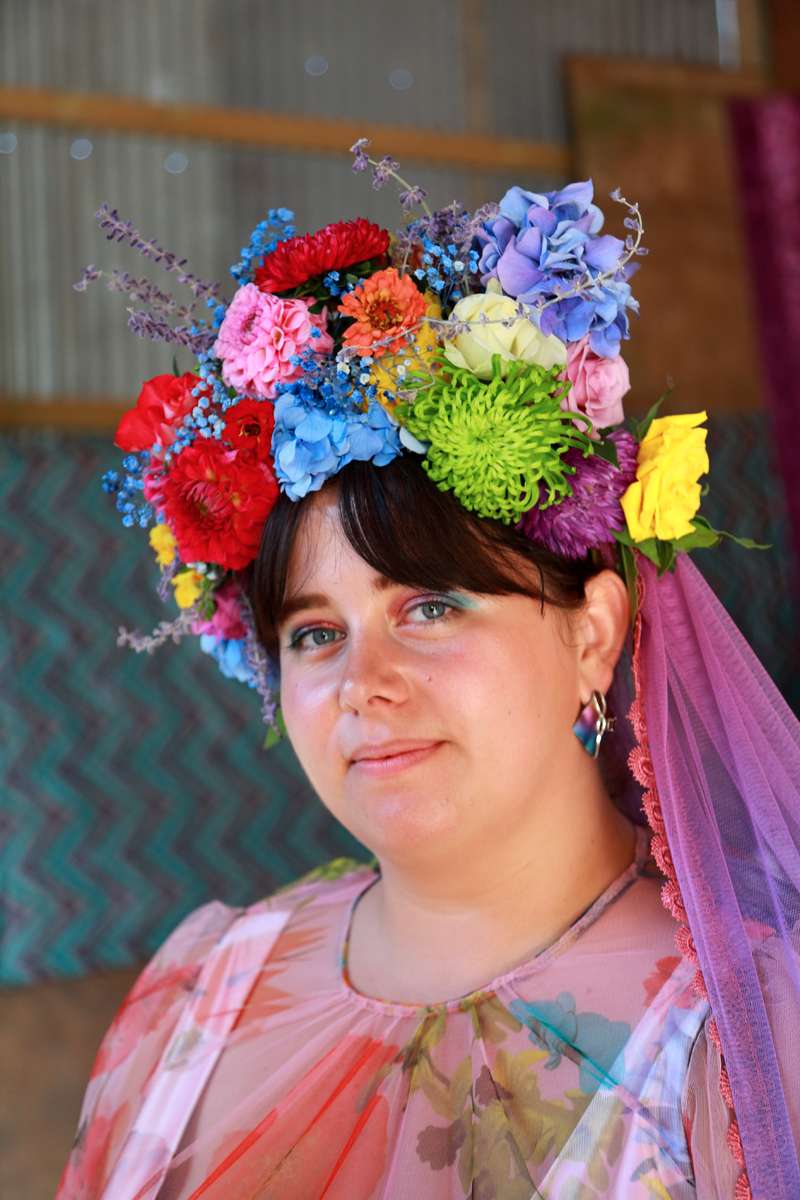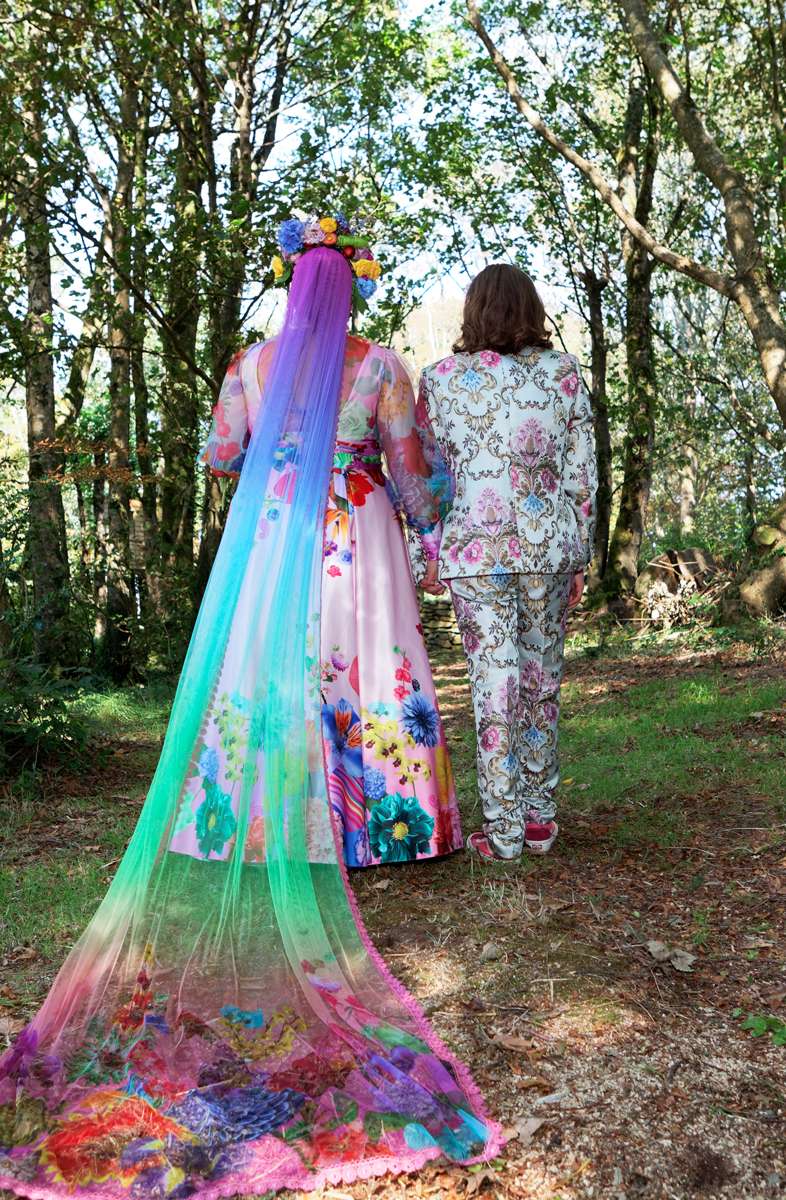 They set a budget of £6000 initially, but in the end did spend closer to £16,000. They didn't quite realise how quickly the costs could add up! The biggest expense was the venue, closely followed by the food. "I wish that I'd known earlier on how bloody expensive it all was!" Sara laughed, "I know people say it, but I really don't think you truly get it until you think you're being savvy and then you add it all up and you like 'Oh no!' It does also get pretty stressful, but so does everything else that you put that much heart and soul into. I do think wedding planning is incredibly addictive though and now the wedding is done I am desperately trying to think of other opportunities where I can think about napkins and table cloths again!"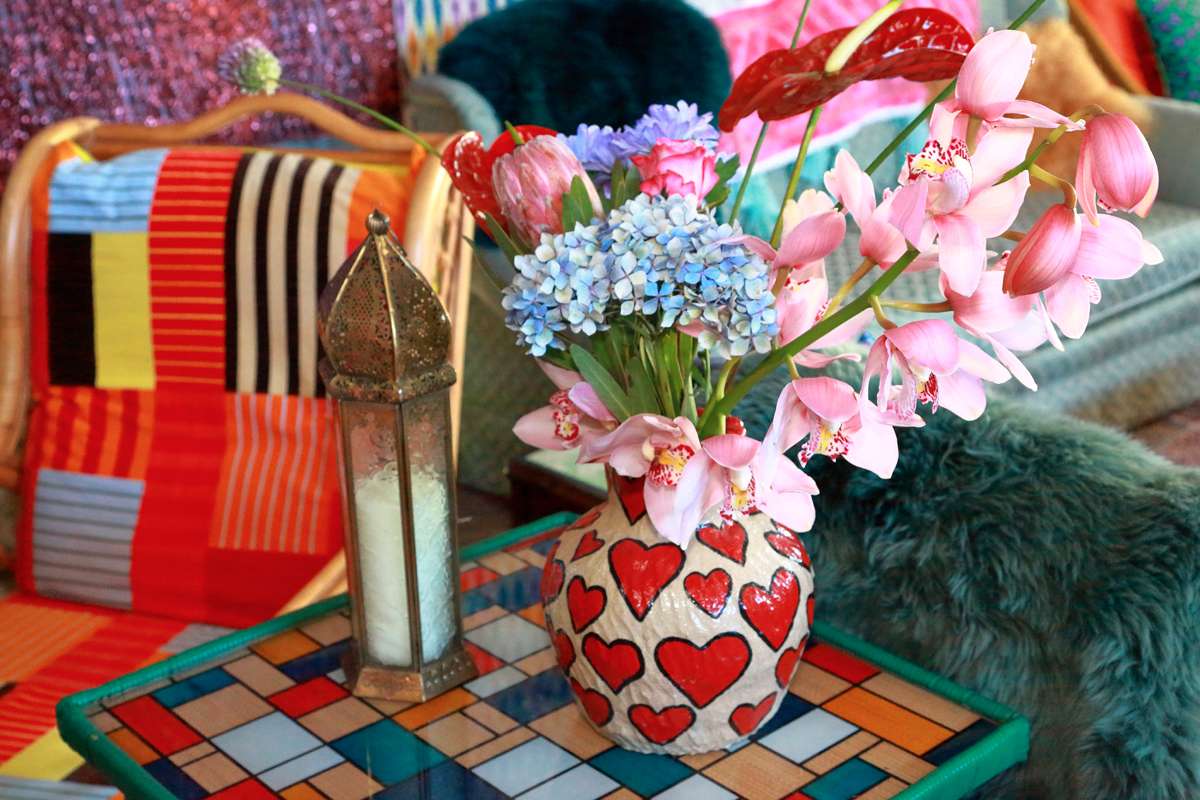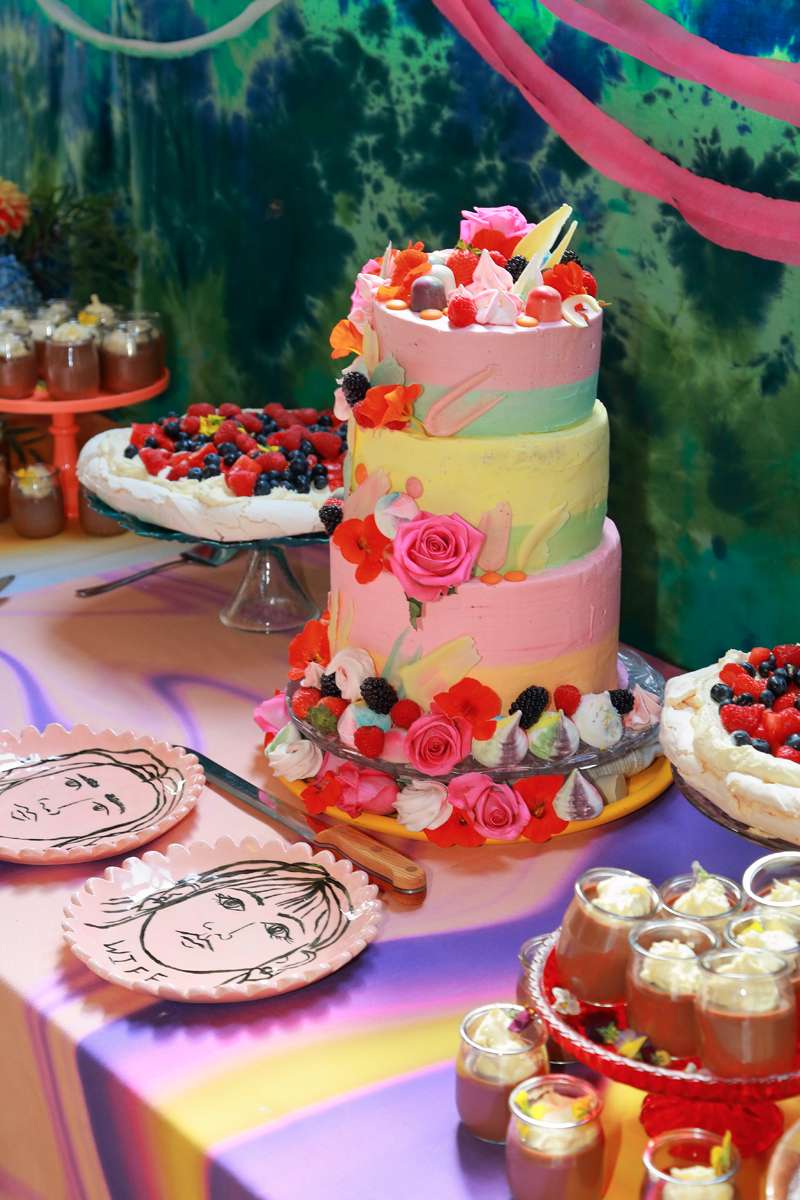 "Do everything you want", she advises, "you will find a way. Be resourceful of your skills and your friends' and families' skills. Hand made things will always be better in my eyes too! I was stressed out when we were trying to find someone to make our cake, firstly because we were getting married in Cornwall I couldn't get my favourite cake makers (who were based in London) to make it and I couldn't find anyone in Cornwall that I liked. So I thought to ask one of my besties. I knew she was an incredible baker but the result was the best thing ever! Everyone was in awe of it."