Jonathan and Laura met by chance. When her friends birthday party gatecrashed another group's table at the local pub, Laura ended up sitting opposite Jonathan and it was love at first sight! She packed up her life in Ibiza to be with him and the rest, they say, is history.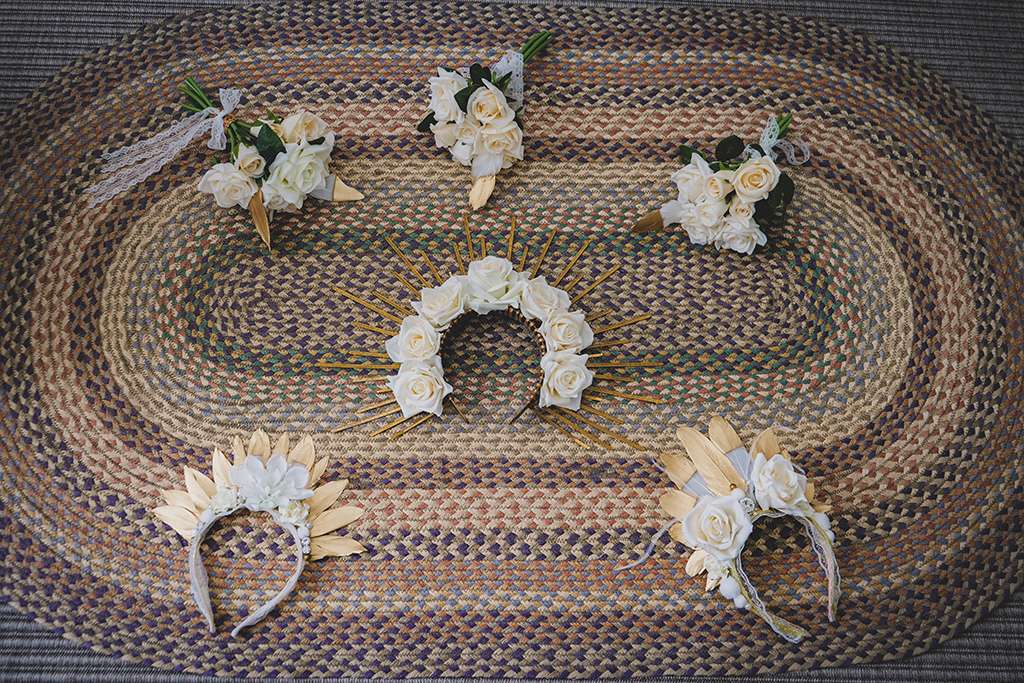 They were married exactly two months to the day after they got engaged, and amazingly, DIY'd almost every aspect. Laura is a milliner and Jonathan an illustrator, so they had creativity on their side! Their reception was held at the aforementioned pub – the Rumsey Wells in Norwich – which was extremely special for the couple to be able to celebrate their wedding in the place that they met. During the speeches they were literally pointing to the very spot they met and fell in love!
It's also serendipitous that it's named after a famous milliner who used to make hats in that very building, and even the light fittings are top hats and bowlers as a nod to the buildings roots! So, with Laura's profession to boot, extravagant head wear was very much encouraged. Laura made all the headpieces for herself and her bridal party, naturally, but planning for the day really inspired her to go deeper into wedding day accessories and how to add personal touches. She customised her wedding shoes with feathers, and Jonathan reignited his love for illustration. "Not only was it so special that everything was made with love by us, but actually having these creative projects together in the time leading up to the wedding added an extra element of excitement."
For decorations, they went with a classic White Isle theme of white and gold, spraying wine bottles gold and decorating with white pompoms, they handmade keepsake bouquets instead of fresh flowers, and concentrated the majority of their decor budget on an incredible white, gold and yellow balloon installations by Deck Above.
Their ceremony was held at The Flint Room – a former church that has since been turned into an alternative wedding venue, complete with mismatched vintage furniture, decor and even a prosecco bar. "The decadent meets eclectic meets spiritual venue was perfectly fitting for our 'From Ibiza to the Norfolk Broads' theme," explained Laura. To further the connection between the two places, they included a unity sand ceremony in their nuptials. "We had a bottle of sand from both my favourite beach in Ibiza, and the beach we live right next to in Norfolk, which we each poured our containers into a bowl to signify our lives joining together."
"Always remember what the day is really about, and don't stress if not everything goes to plan," advises Laura. "We completely forgot the buttonholes, instead donning them for when we went to the pub! There will always be hiccups like that though – the details aren't really what makes it special, it's all about the love. Celebrate you love and lives together, and don't get caught up on what people expect of the day. Make it true to you in every way that is important to you, and love every minute of it."