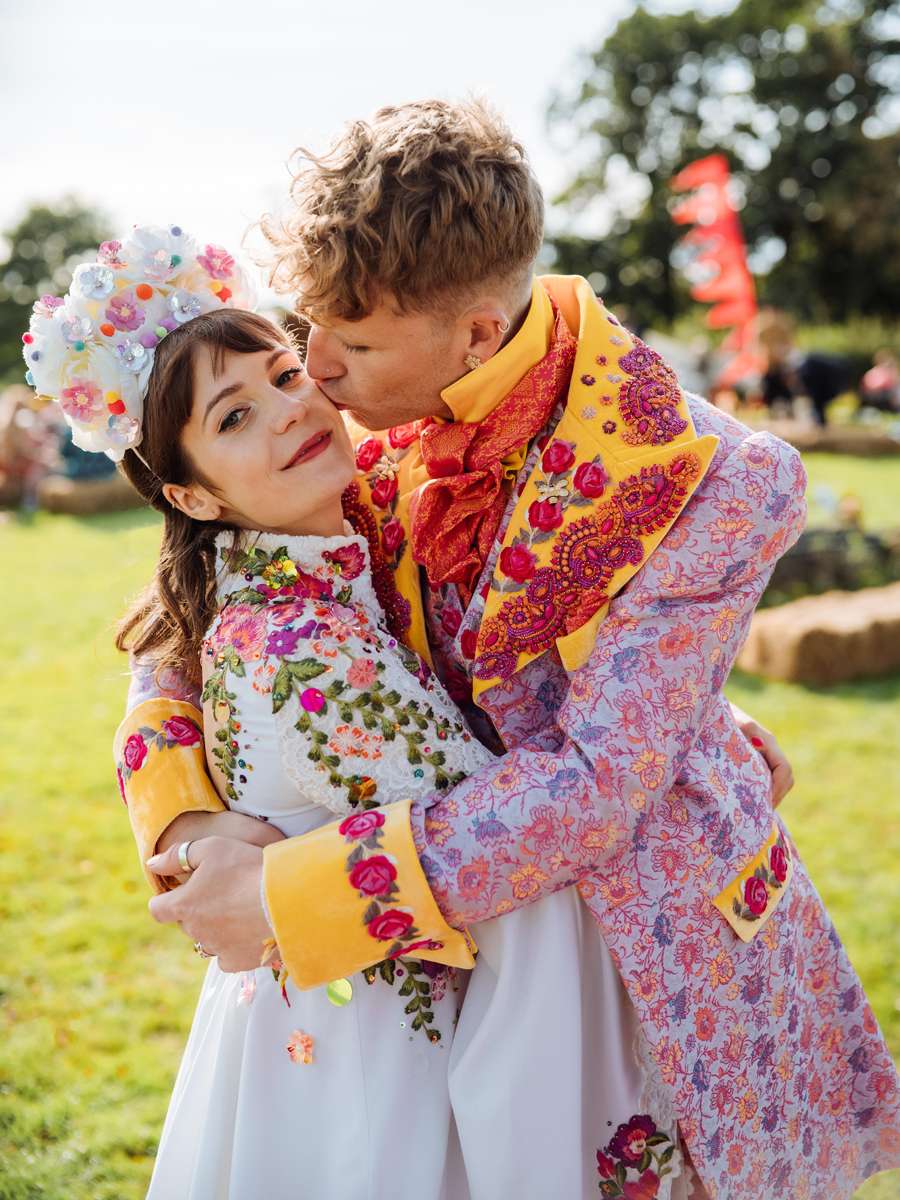 Happy almost weekend and oh boy, do we have a doozy of a beautiful wedding for you today. If you're not already doing amazingly then this is certainly going to encourage all the Friday feelings!
Sol and Alex, aka The Provibers, were hitched in September in one of the most colour and glitter explosive festival weddings we've ever seen. Incredibly, they also pulled the day off for only £9500, BUT they did have a hell of a lot of help and input from all their creative friends.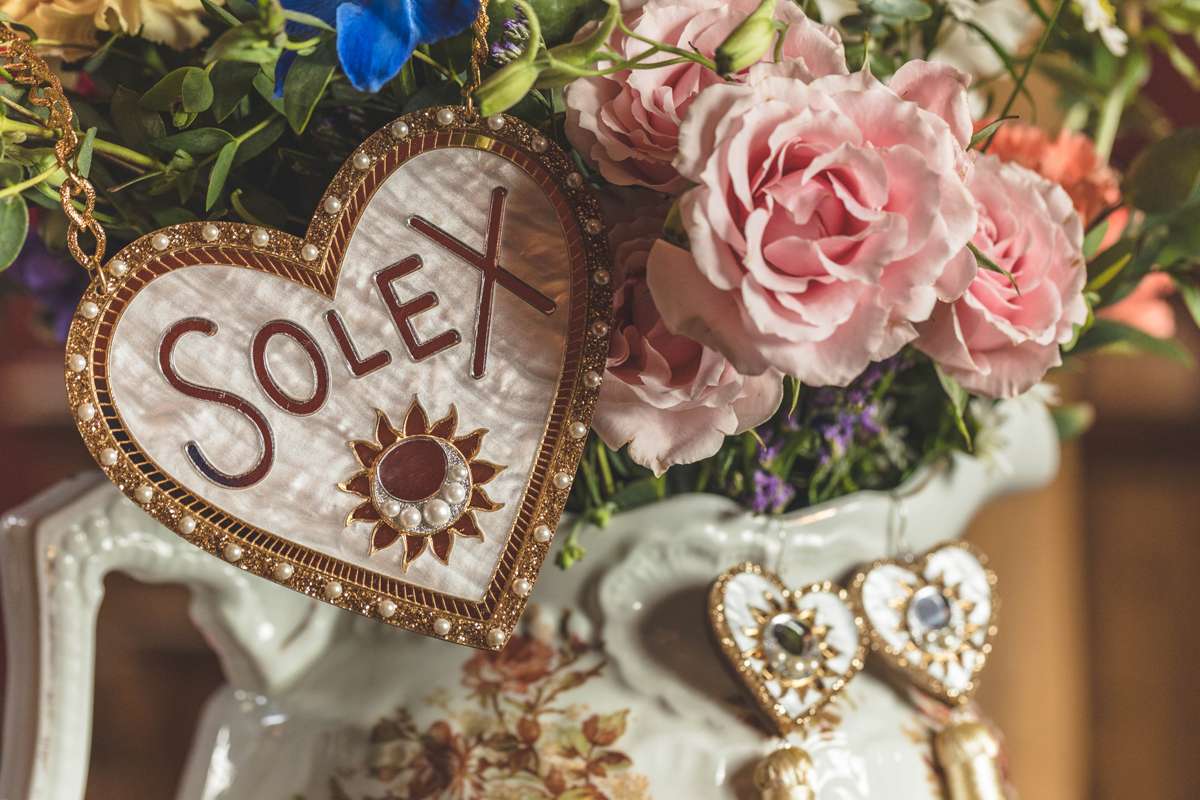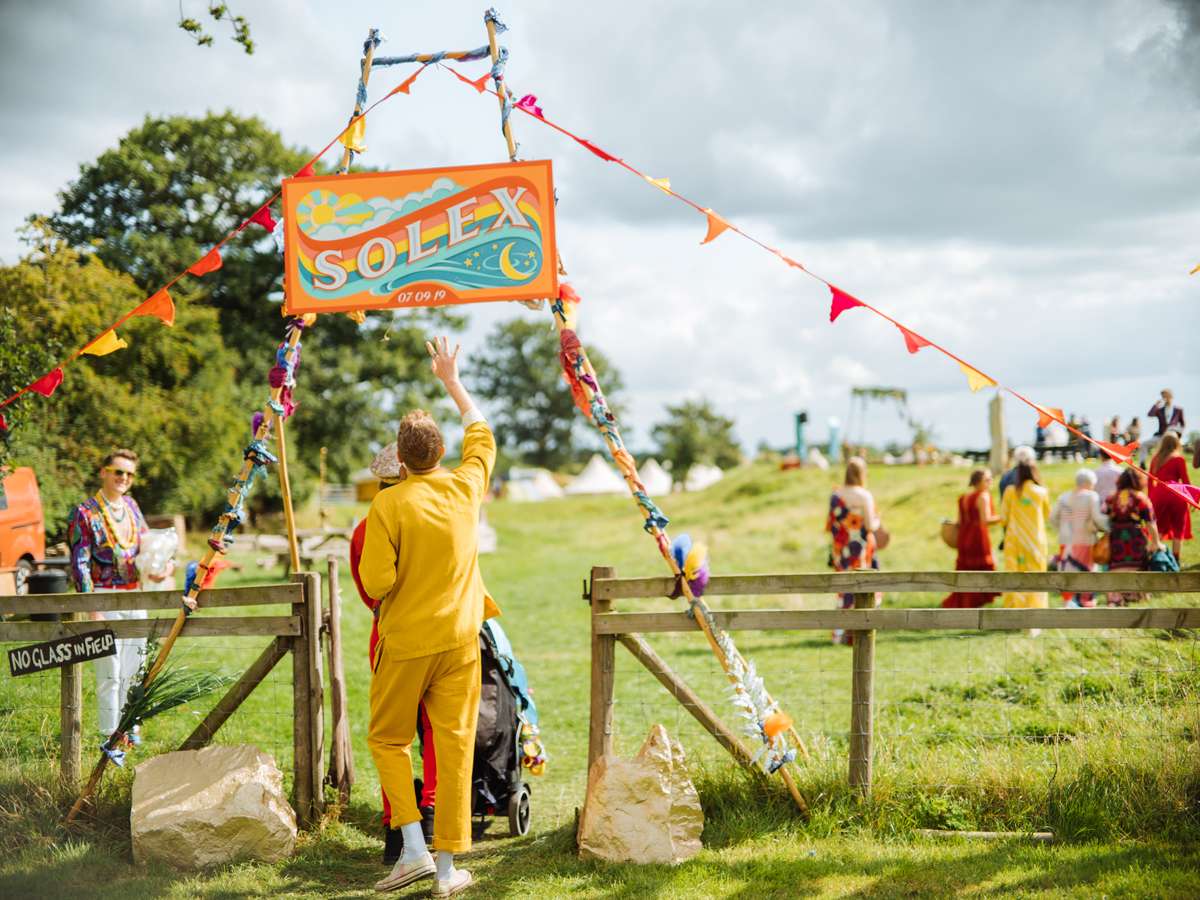 "The theme of the wedding was 'being the best version of yourself' (a core value that we hold very dearly at The Provibers)", the bride began. "Guests looked and felt absolutely spectacular, with magic being created at every turn! The vibe was electric from start to finish. Aesthetically a lot of the décor was inspired by sunsets; pinks, yellow, reds – warm tones!"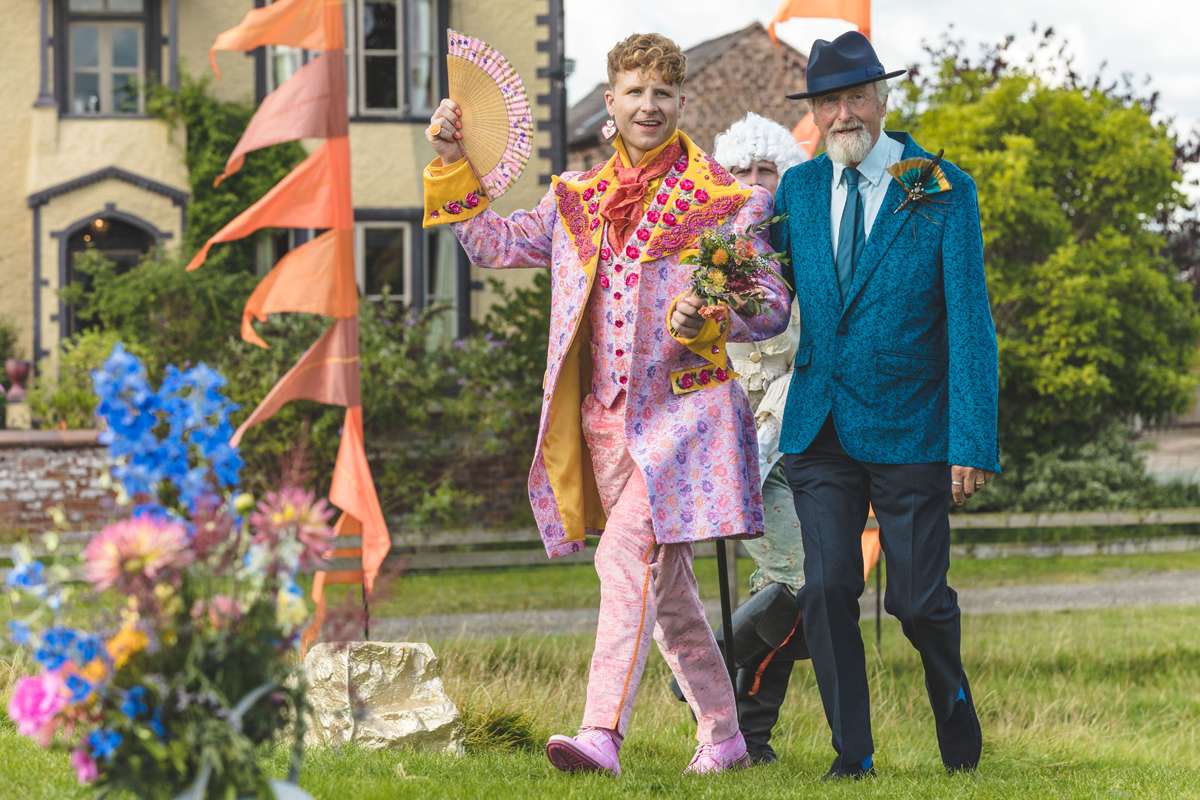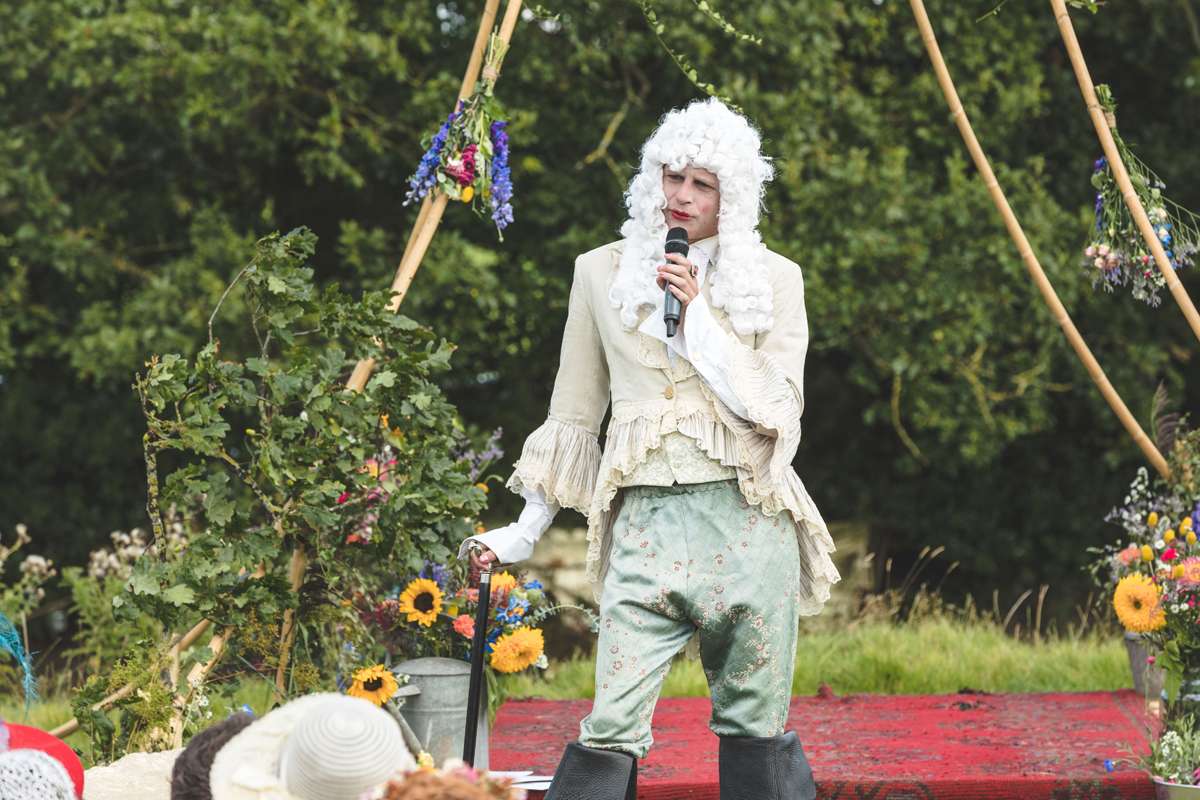 Alex wore her mum's wedding dress, which was lovingly brought up to date and made more 'her' by Louise of L.O.M. "I've always loved the long sleeves and the high neck, however I wanted to bring some colour in to it", she explains. "I gave the dress to my friend Louise O'Mahoney who has previously run a wedding dress business (Oh My Honey) and now runs the clothing brand L.O.M. Louise expertly cut a heart shape back into the dress, and spent hours hand-embroidering flowers, vines, pom-poms and sequins throughout the design and transformed it in to what it is now. I wore a headdress made by my best-friend and Master of Ceremonies, Twinks Burnett."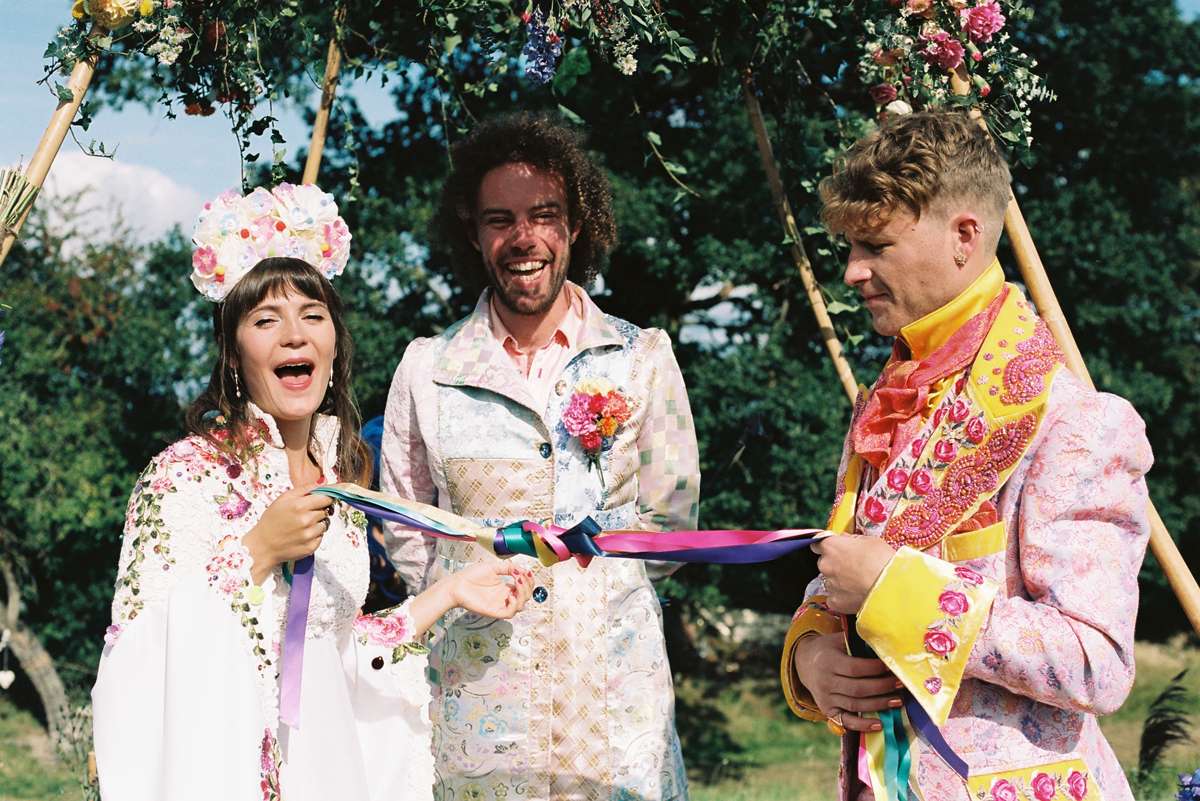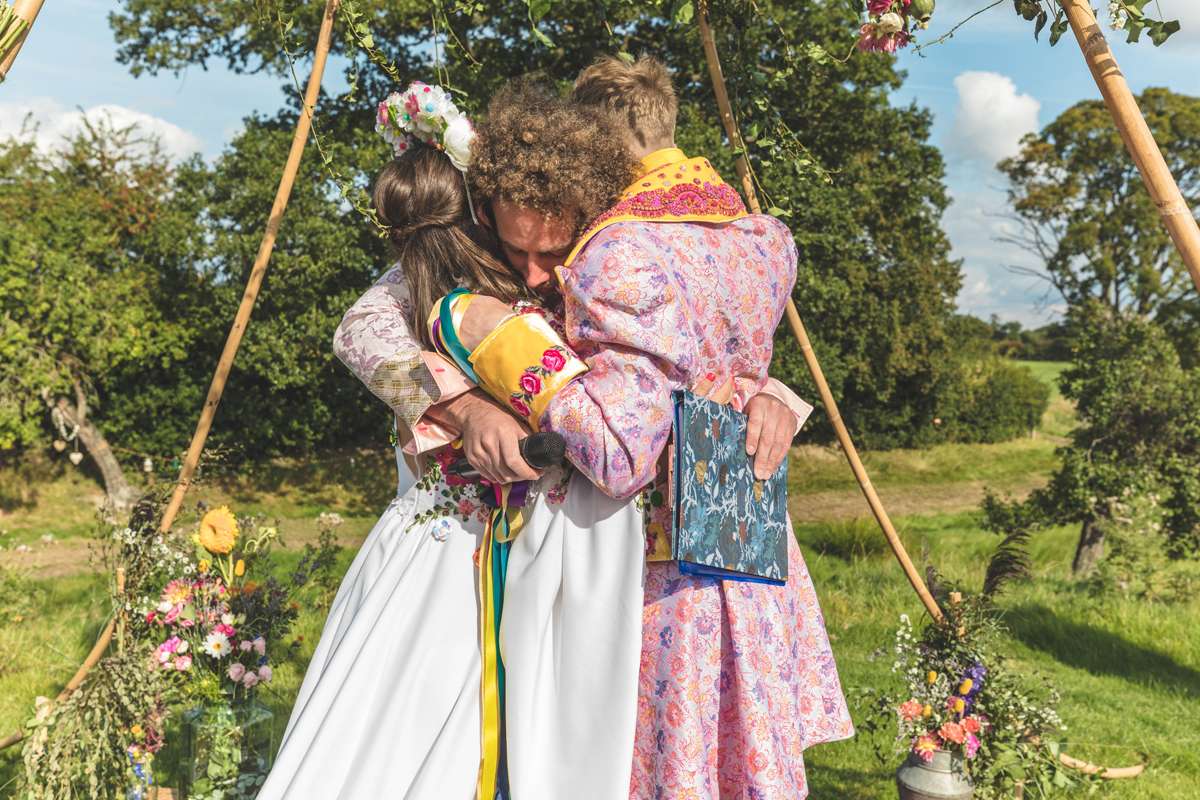 In the evening, Alex changed into another L.O.M creation. The couple commissioned matching lycra outfits which they wore with custom 'SOLEX' necklace and earrings by Wolf & Moon, and golden headdresses, also by Twinks Burnett.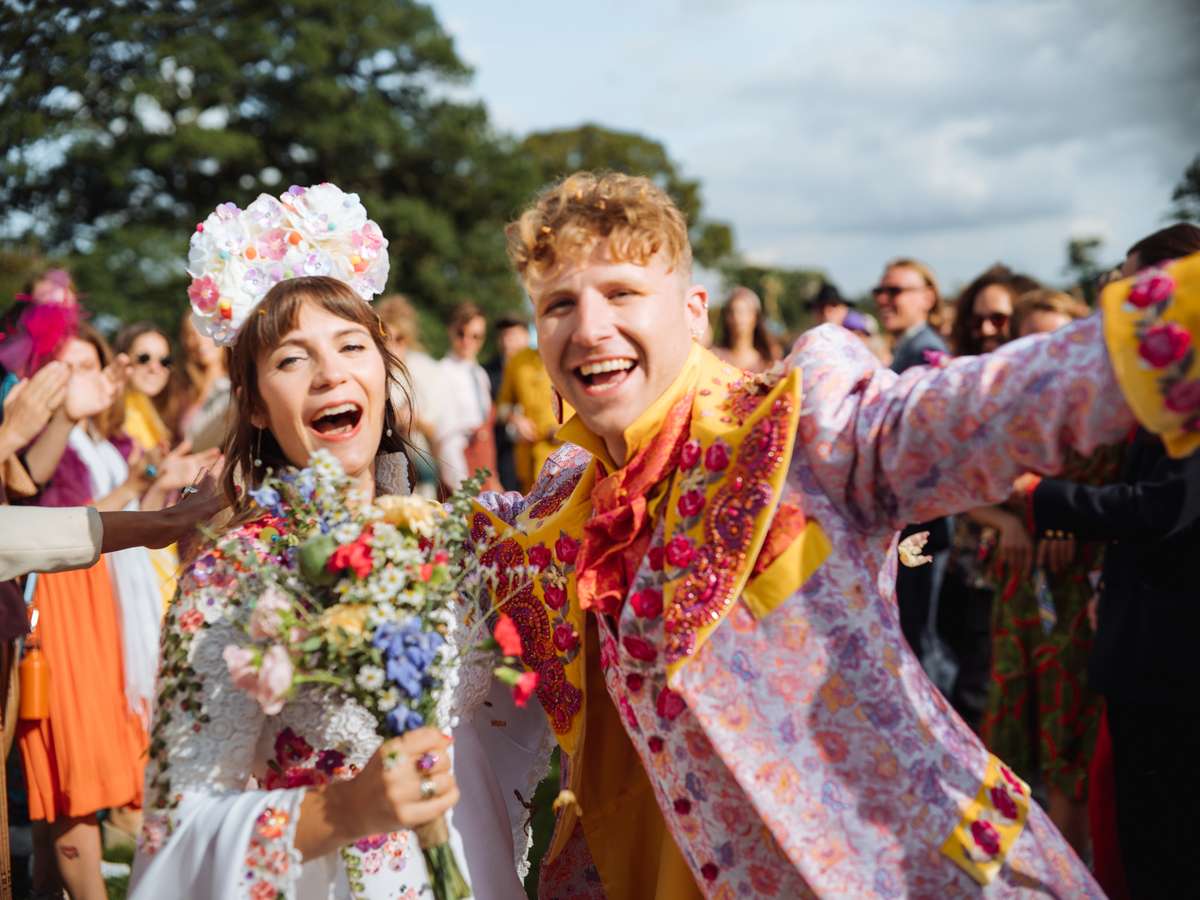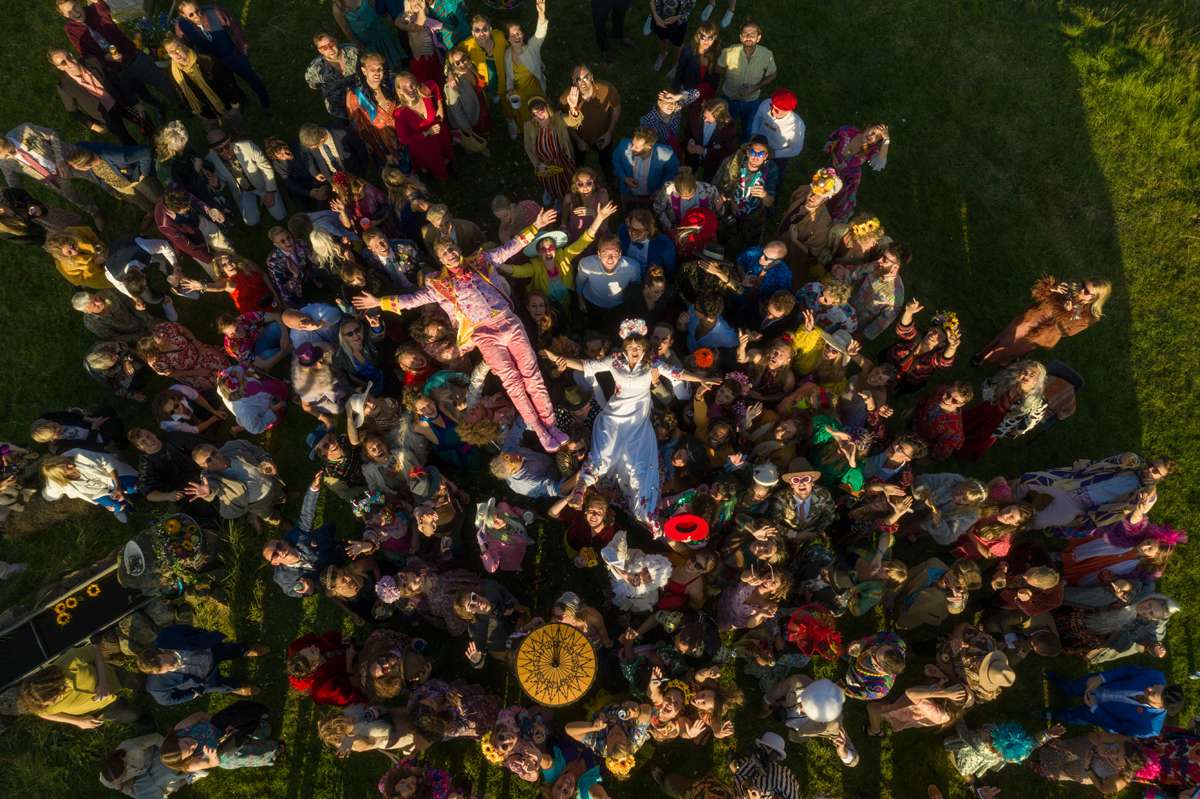 To save money on catering (which is usually the biggest cost of a wedding) the couple asked their guests to bring dish instead of a gift (genius!) Alex explains,"The guests were the caterers! Instead of asking for gifts, we asked them to bring a dish of food to serve four people (which invariably turned out to be more like 14 or 24 people!) Guests went above and beyond – cooking and preparing their all-time favourite dishes and serving up some seriously scrumptious cuisine! There was SO much food, so much love put in to it, and so much fun roaming the buffet to see what everyone had made…and there was absolutely no food wastage!!!"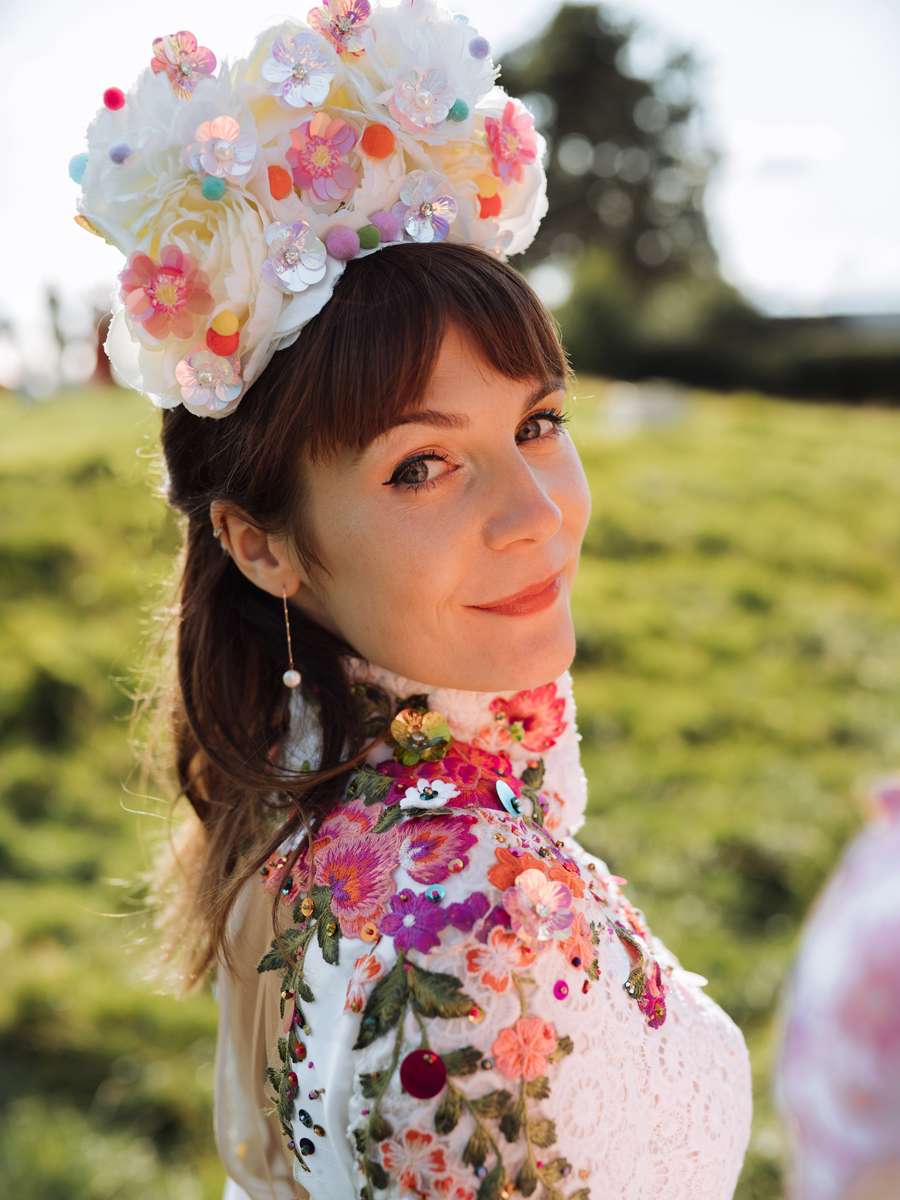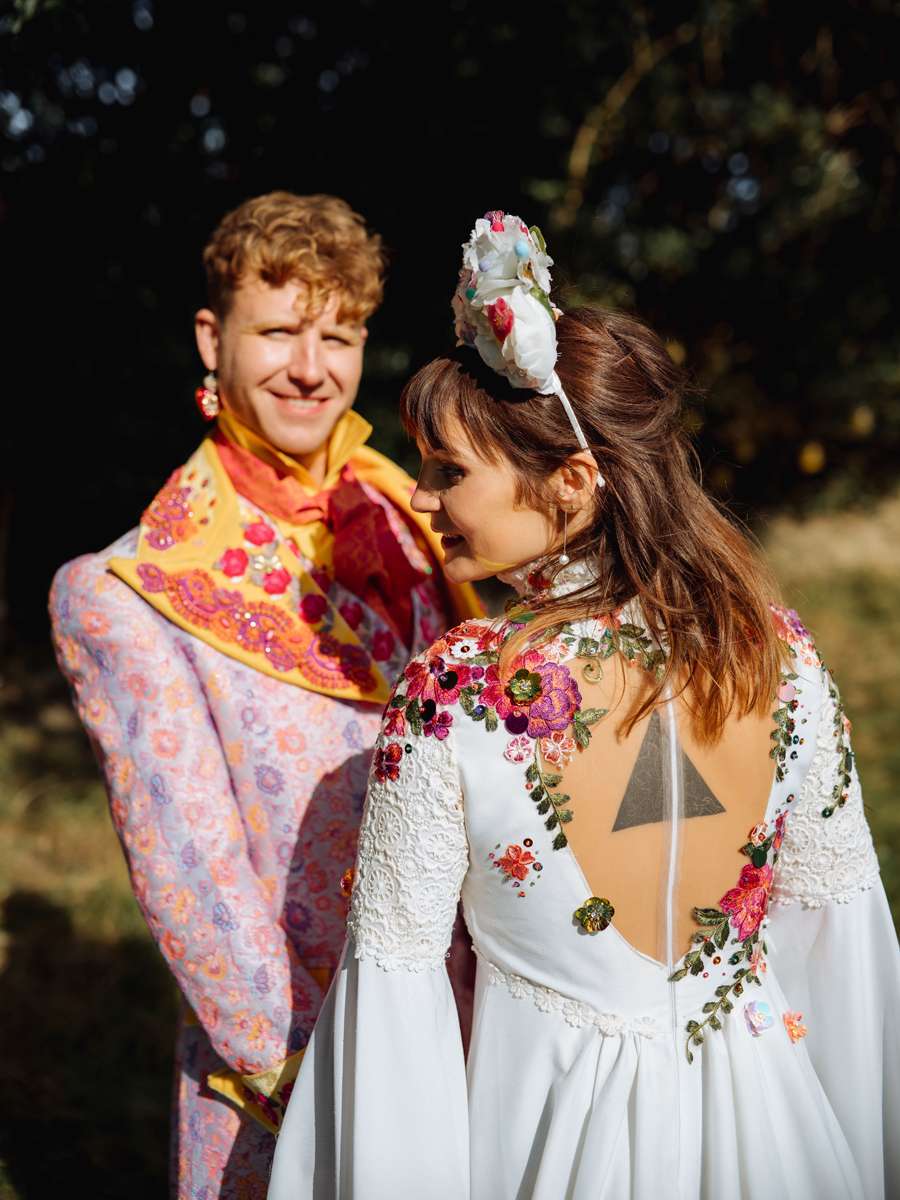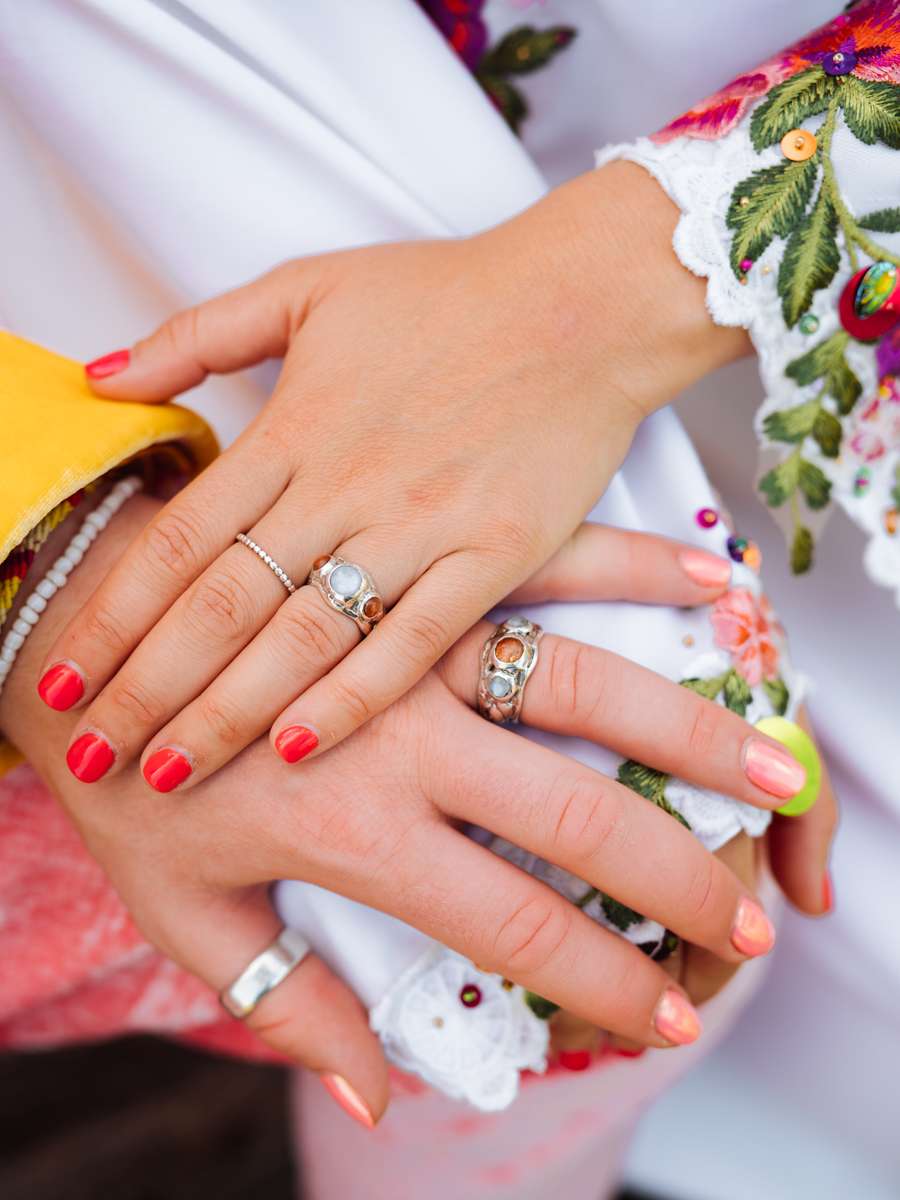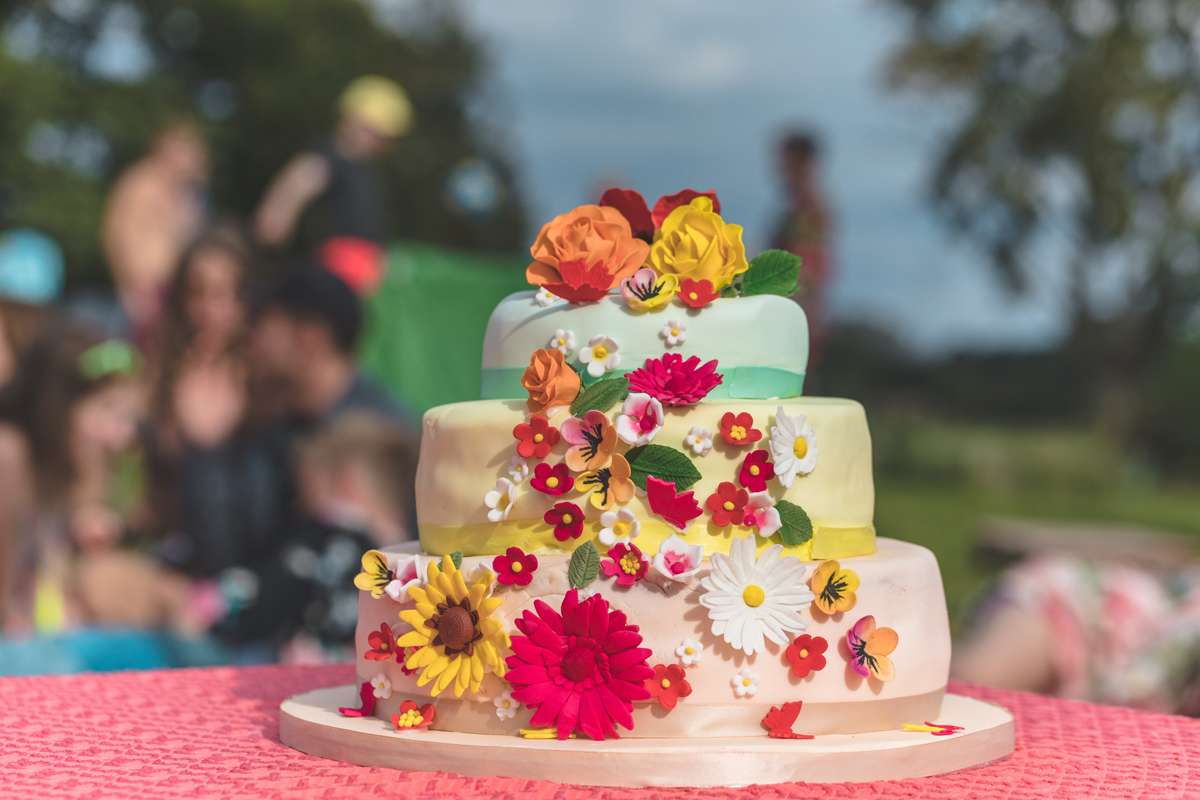 They also did away with a TON of wedding traditions and altered others to suit them. The groom was walked down the aisle and carried a beautiful bouquet of flowers (no gender stereotypes here!) "We put our own spin on everything which contributed to the relaxed, engaging and playful feel of the wedding. Everyone has told us it's the best wedding they've ever been to, so it went down well!"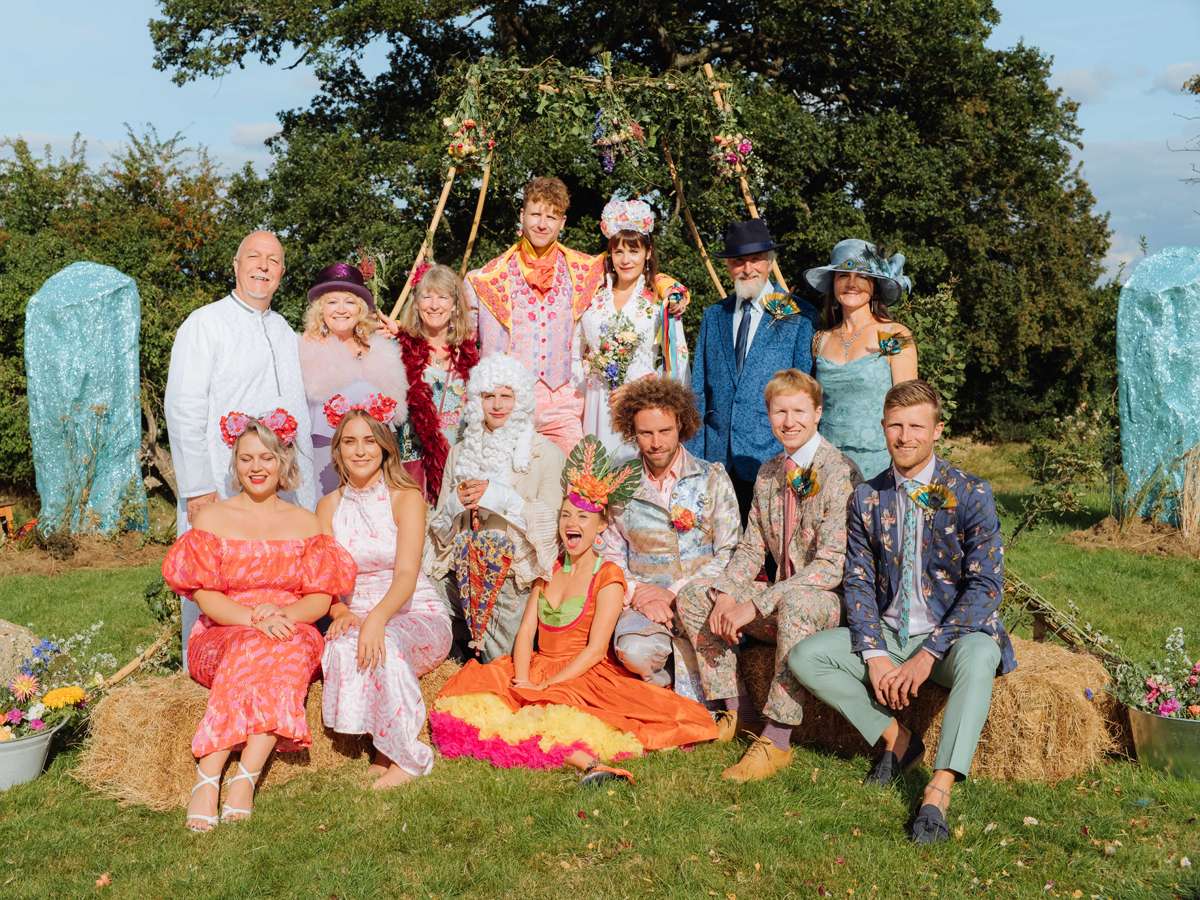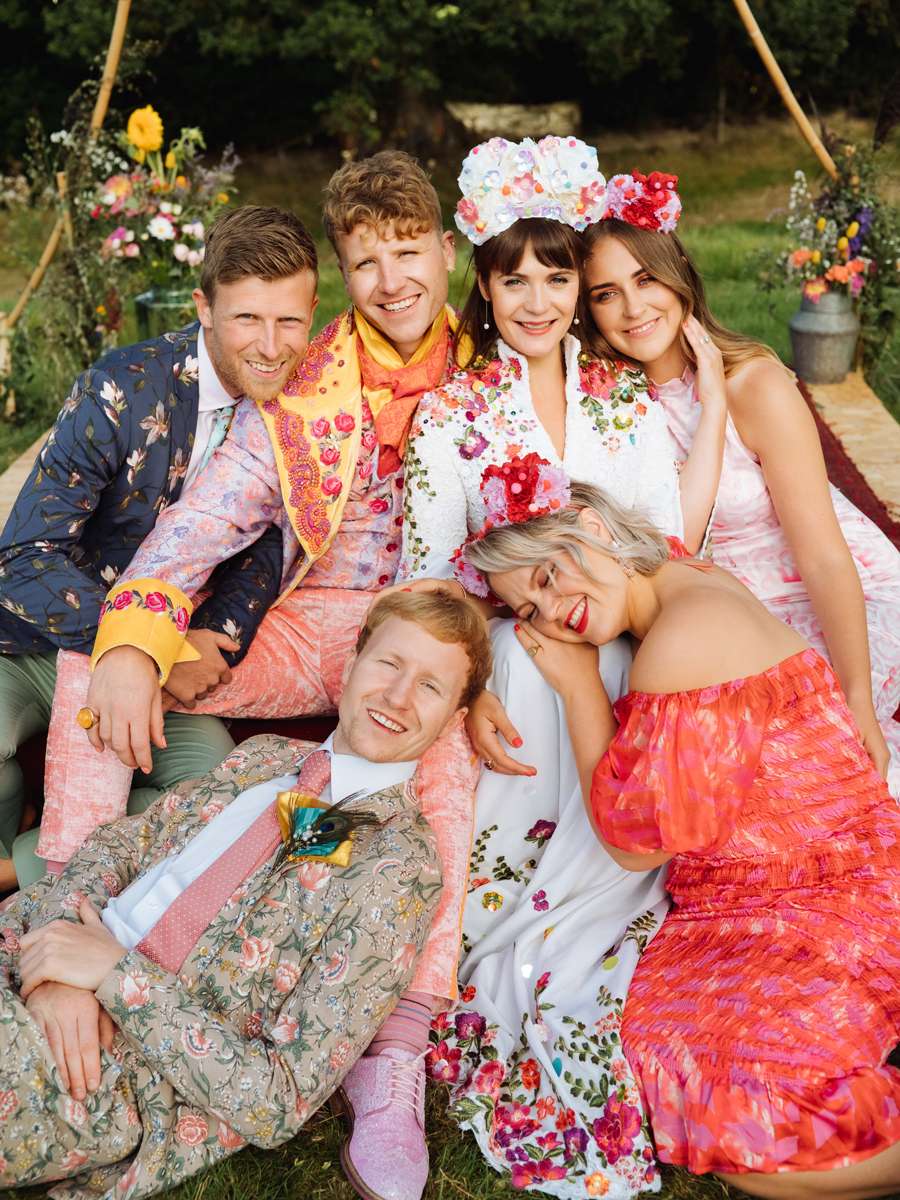 After their ceremony, which was vibrant and beautiful with the guests seated on a combination of chairs, haybales and the grass, they opened the party proceedings with the couple doing a catwalk with ALL their guests. "The reception was in ' The Cow Barn' but the fun wasn't over. At midnight, we surprised guests by opening a second room, 'The Milking Parlour,' a late night venue that used to be a cow milking shed. The glass milking urns still in position but now filled with fairy lights, and the space was dressed with intricate neon lights, and psychedelic print sofas."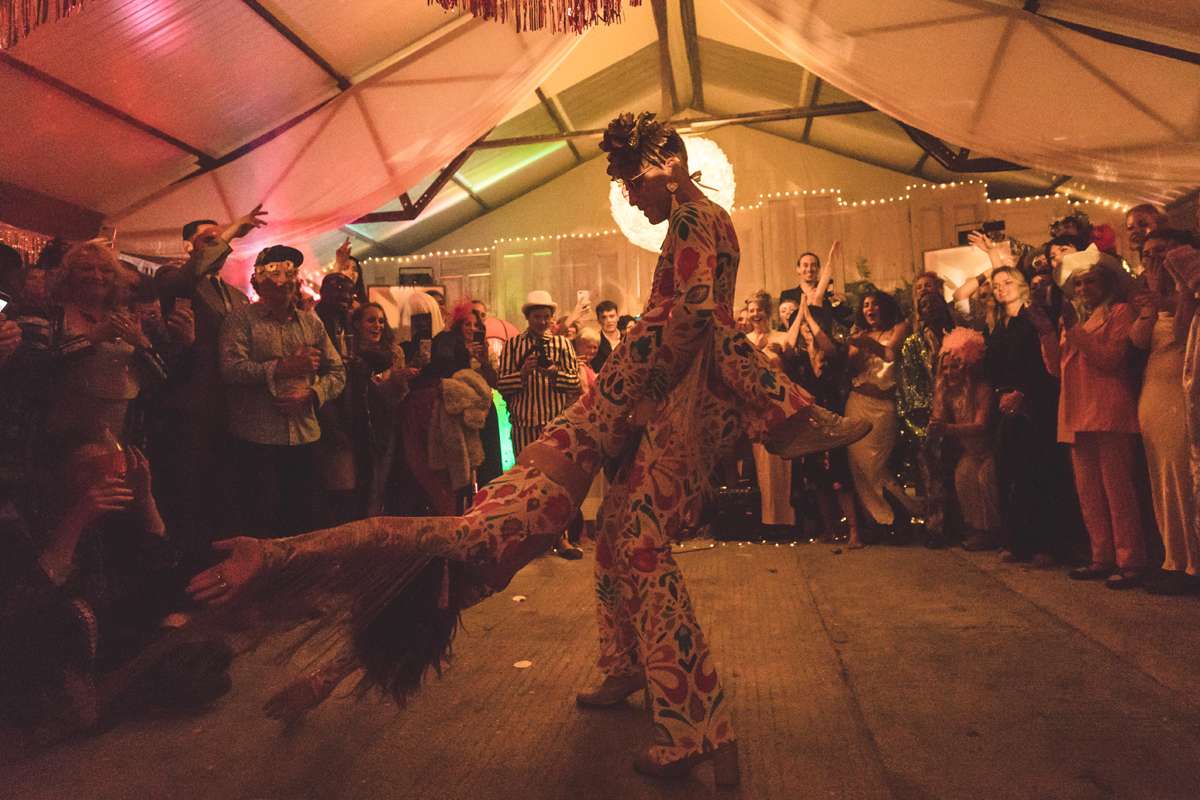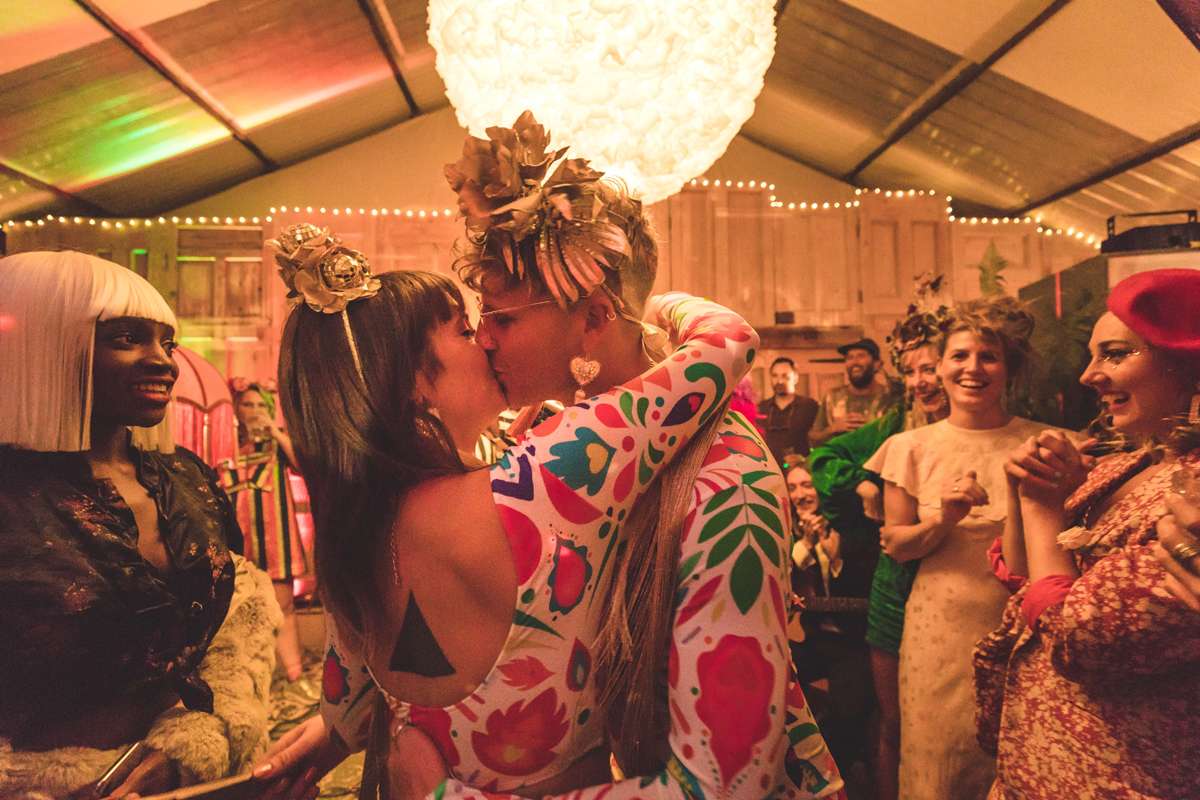 "Our advice for other couples would be, don't feel like you have to do something in your wedding day you're not excited about or isn't true to you", Alex concludes. "Just because it's what you're 'supposed to do at a wedding'. Make your own rules and break traditions. People go to weddings ALL the time, give them something a little bit different! Be playful and love-focused!"