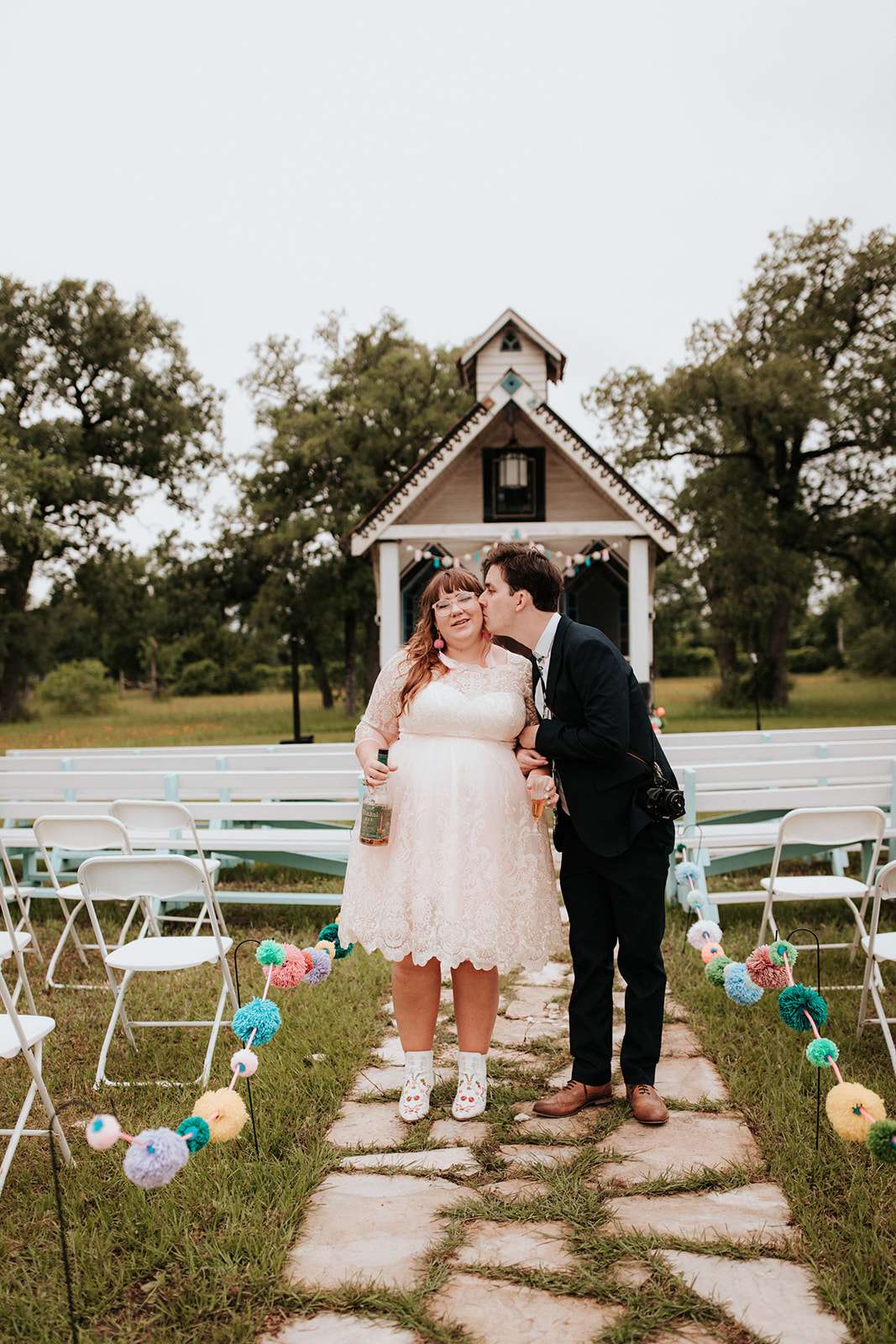 Emma and Sam met on Tinder in 2014 just after Emma moved to Texas from Chicago. For their May wedding they really wanted to amp up the Texan vibes so hired a ranch in Austin and set about making it their own with DIY decor extravaganza! The dress code for their guests was western themed and people arrived in their finest bolo ties, cowboy boots and hats! The bride even found her own perfect pair of white cowboy boots to wear on the day too.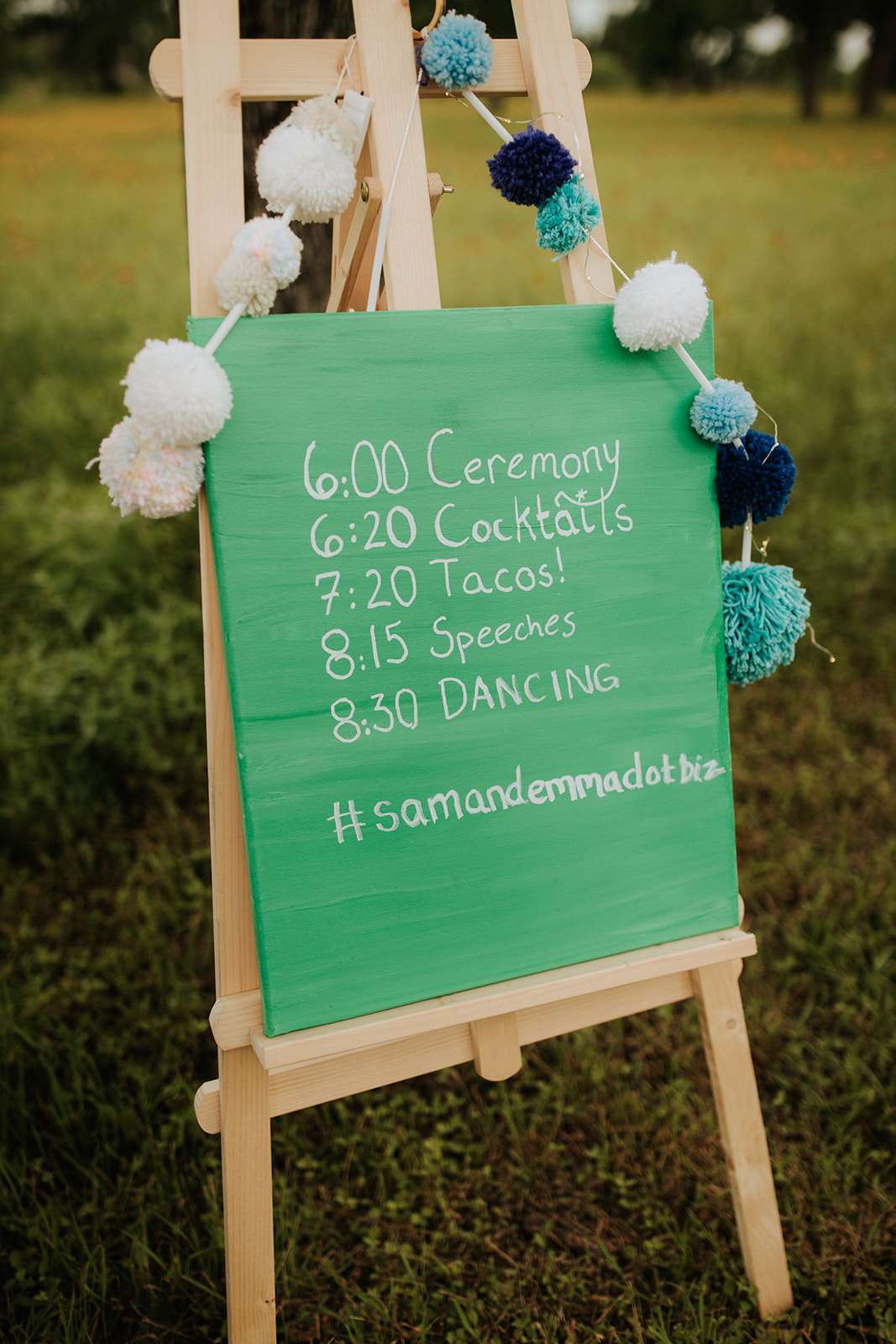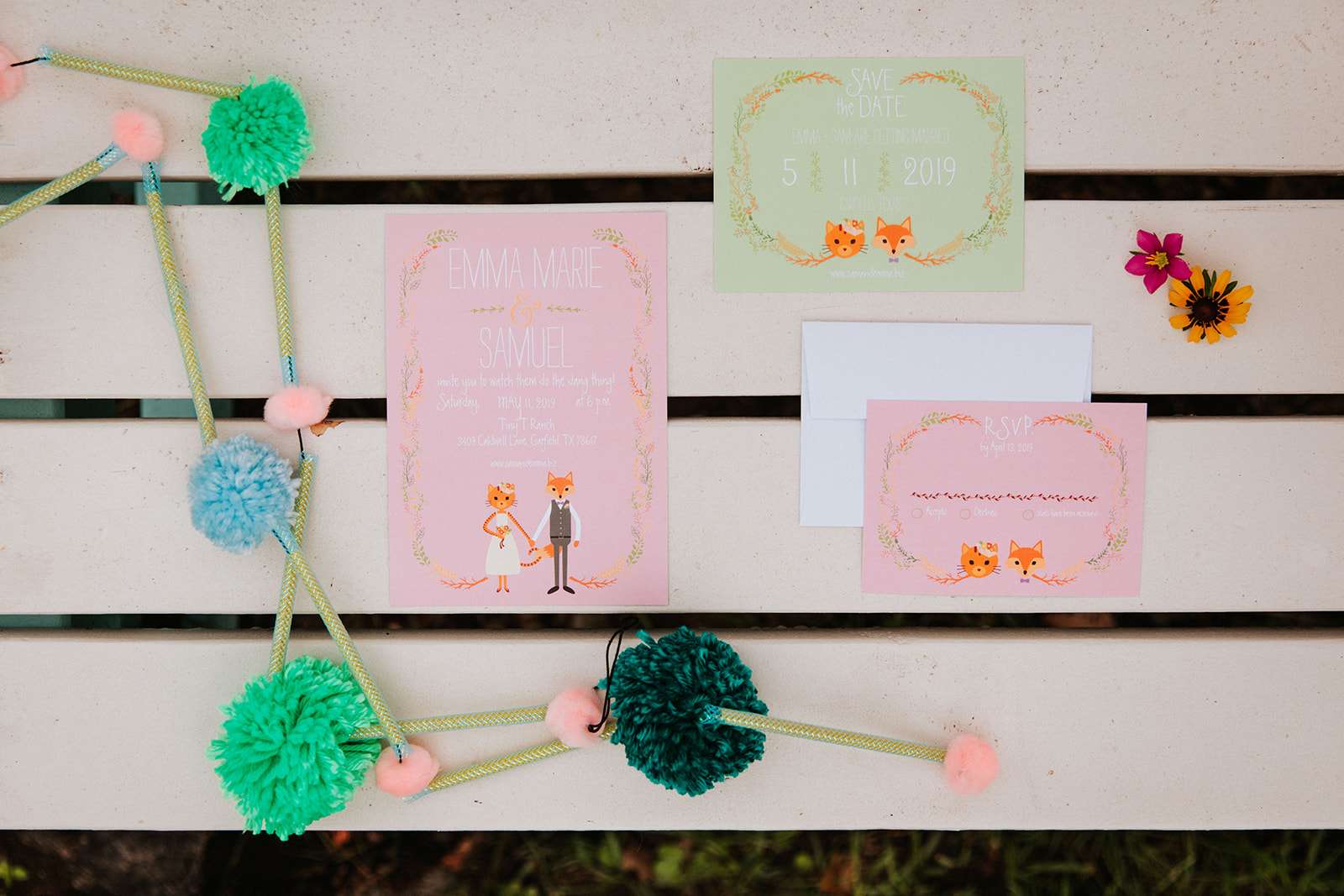 "We wanted to have a wedding that was the opposite of classy, buttoned-up and elegant", Emma said. "Sam and I are both fun-loving goofballs who love dancing in the kitchen and drinking boxed wine. We wanted people to feel that they were in our backyard and could be 100% comfortable and themselves. We chose three things that were important to us at the beginning of wedding planning and they were: Keeping things colourful, having a kick ass open bar and inviting as many people as we could afford."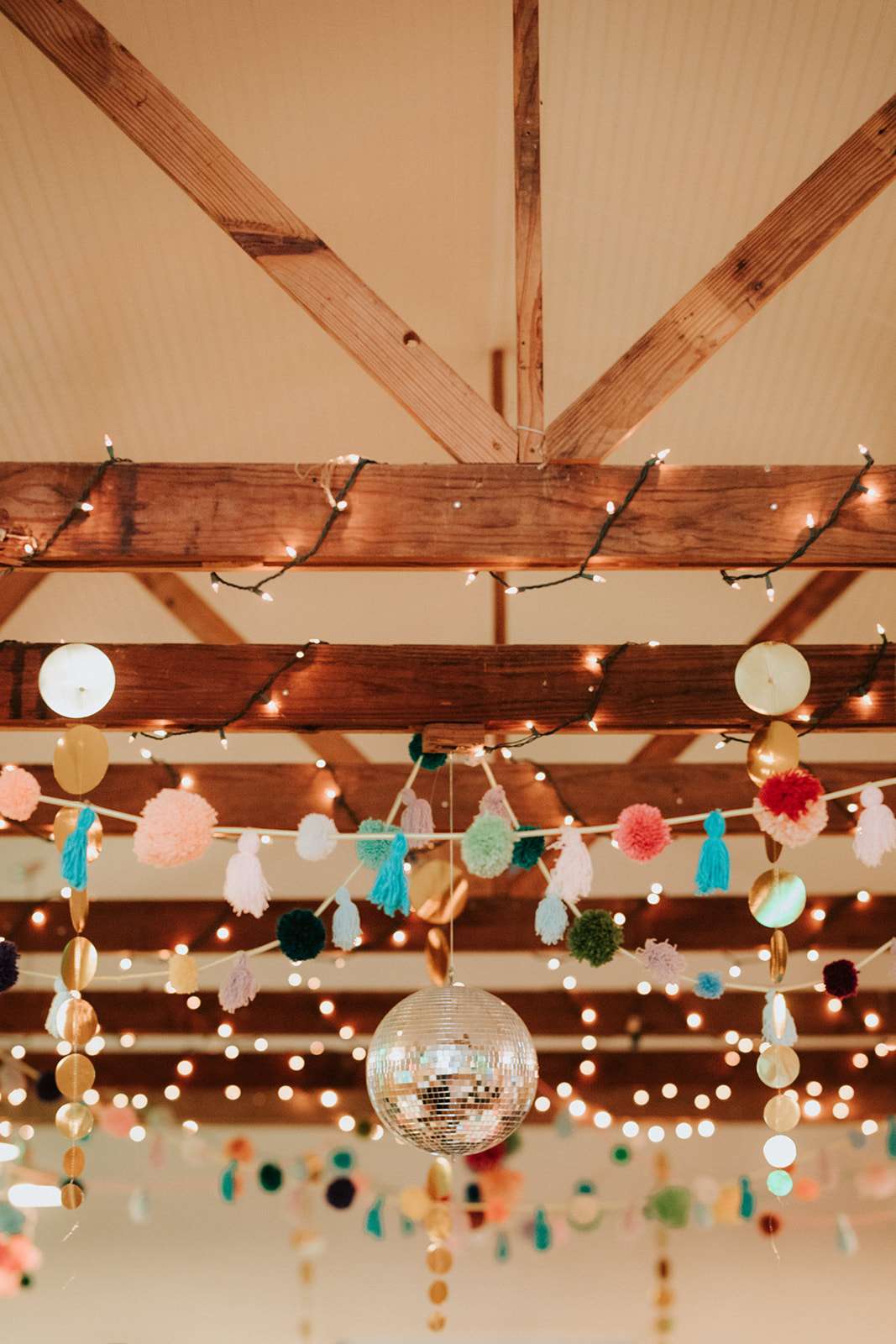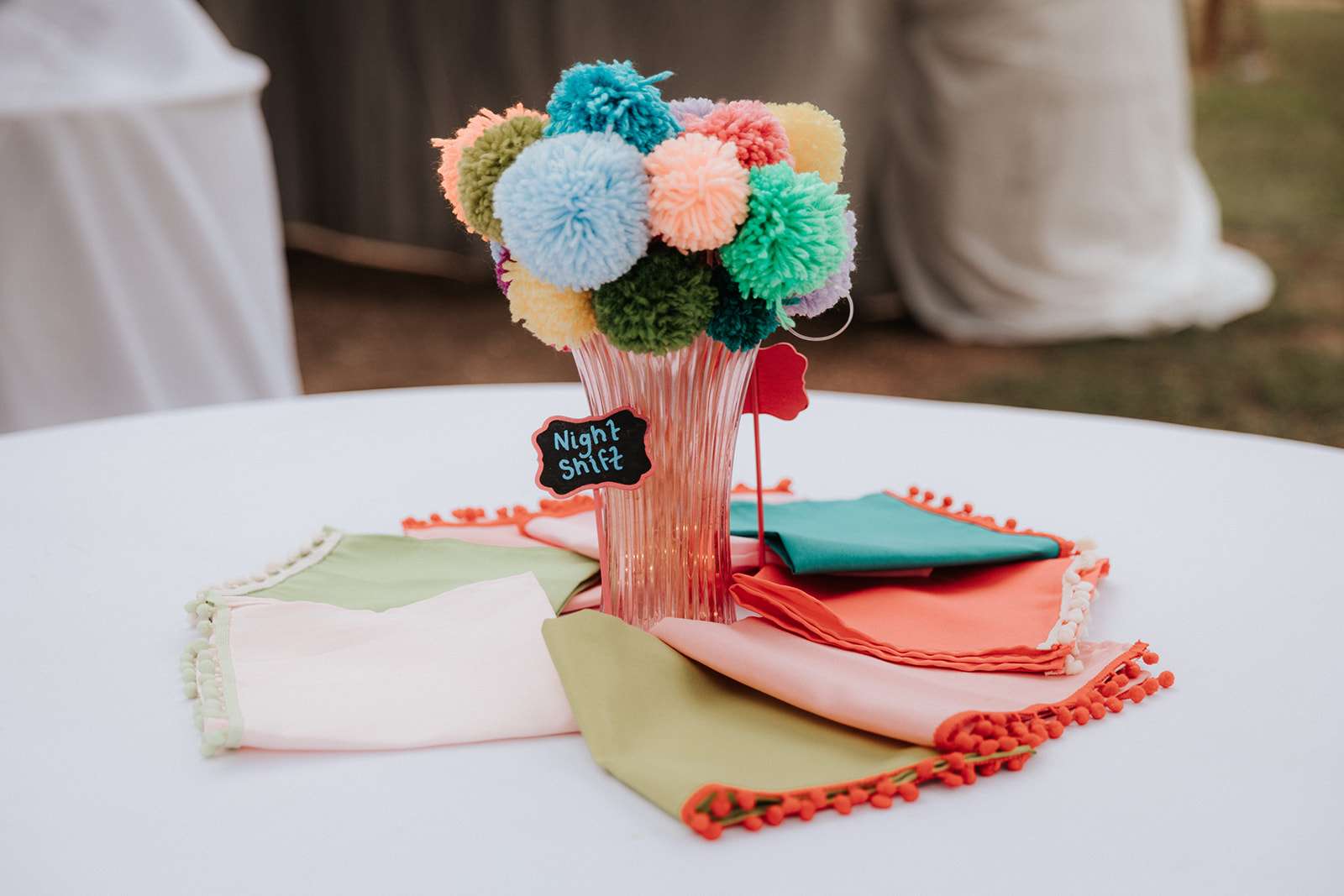 "They rented the ranch from the Thursday all the way through to Sunday which meant they could decorate it at their leisure, and their closet friends and family could say with them the entire time. "We had a rehearsal dinner BBQ the night before where my dad's band played songs that are close to my heart, including my song with my dad, Brown Eyed Girl. We drank our morning coffee looking out on the ranch animals and we sipped Malört in our pyjamas after the wedding. We had time to install all the decorations and take them down ourselves, which was hard work but kind of a party in itself!"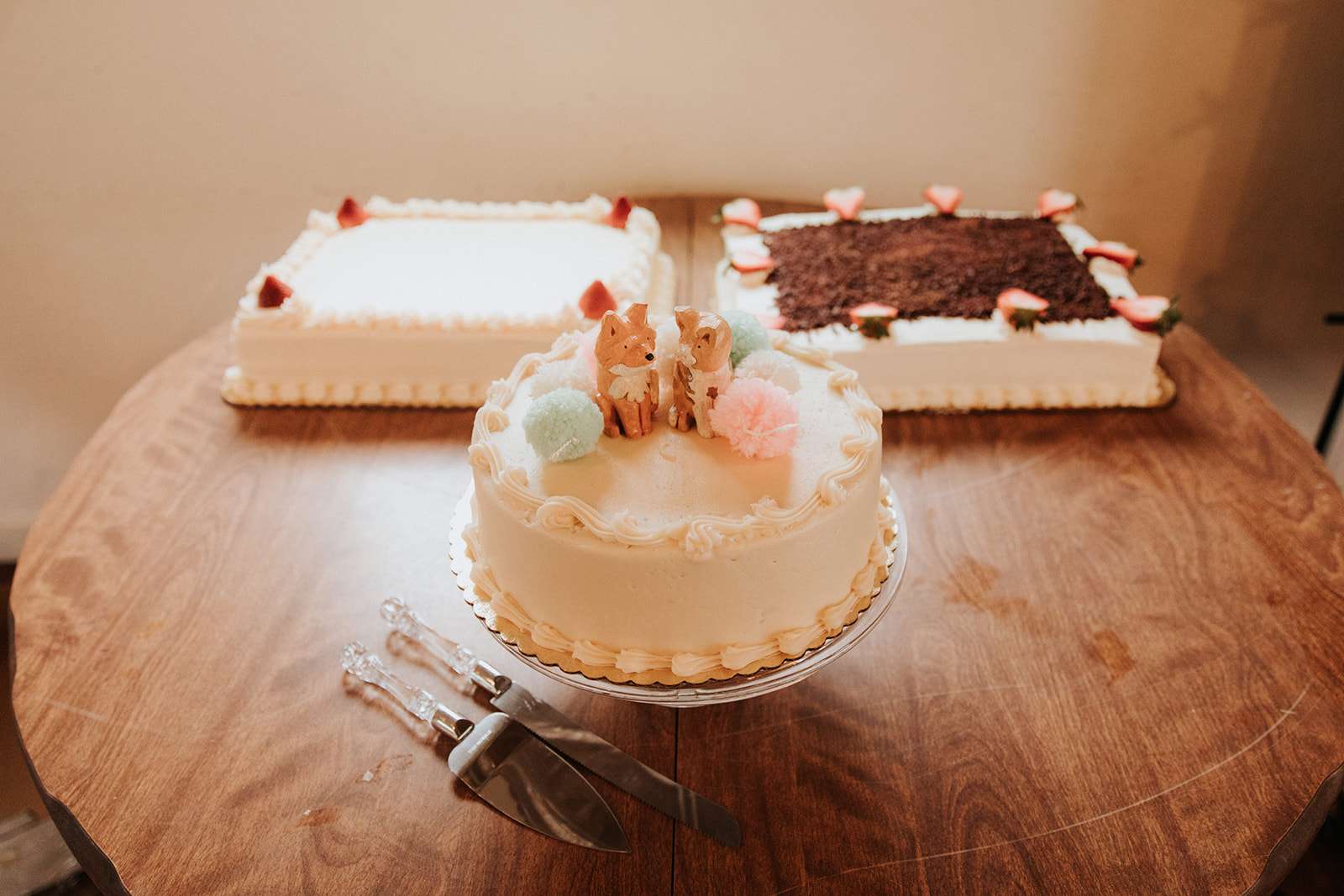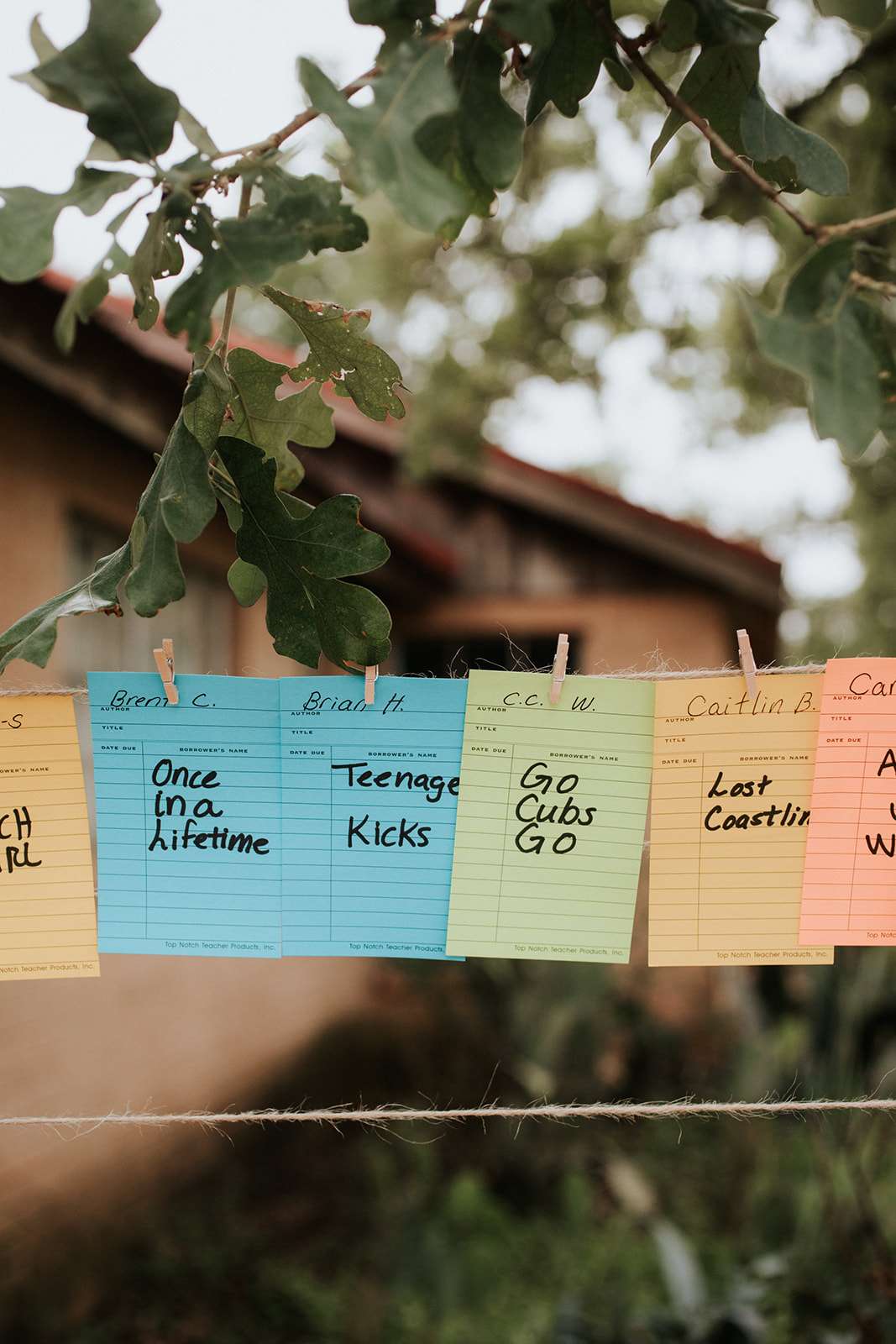 Oh yes, let's talk about the DIY decorations shall we? Because these guys went all out! "I spent all my spare time making yarn pom poms and tassels, that eventually became the bulk of our decoration", Emma explained. "I also made the bridesmaids' bouquets, the boutonnieres and the chapel adornments. I painted all the signage myself. We didn't have any real flowers because of the cost and the stress of having to bring them in at the last minute. I had my friend Gabe put together a jewellery bouquet from pieces of loved ones' jewellery (after I failed miserably!) including some from my dearly departed aunt and grandmother. Gabe decorates for Quinceañeras and became the stylist for our wedding! He knew just what to do with my yards of garland. We absolutely can't recommend enough that you call on your most creative friends for help. The cake toppers were done by Whimsy Wooden Figures, another friend, and we loved these especially!"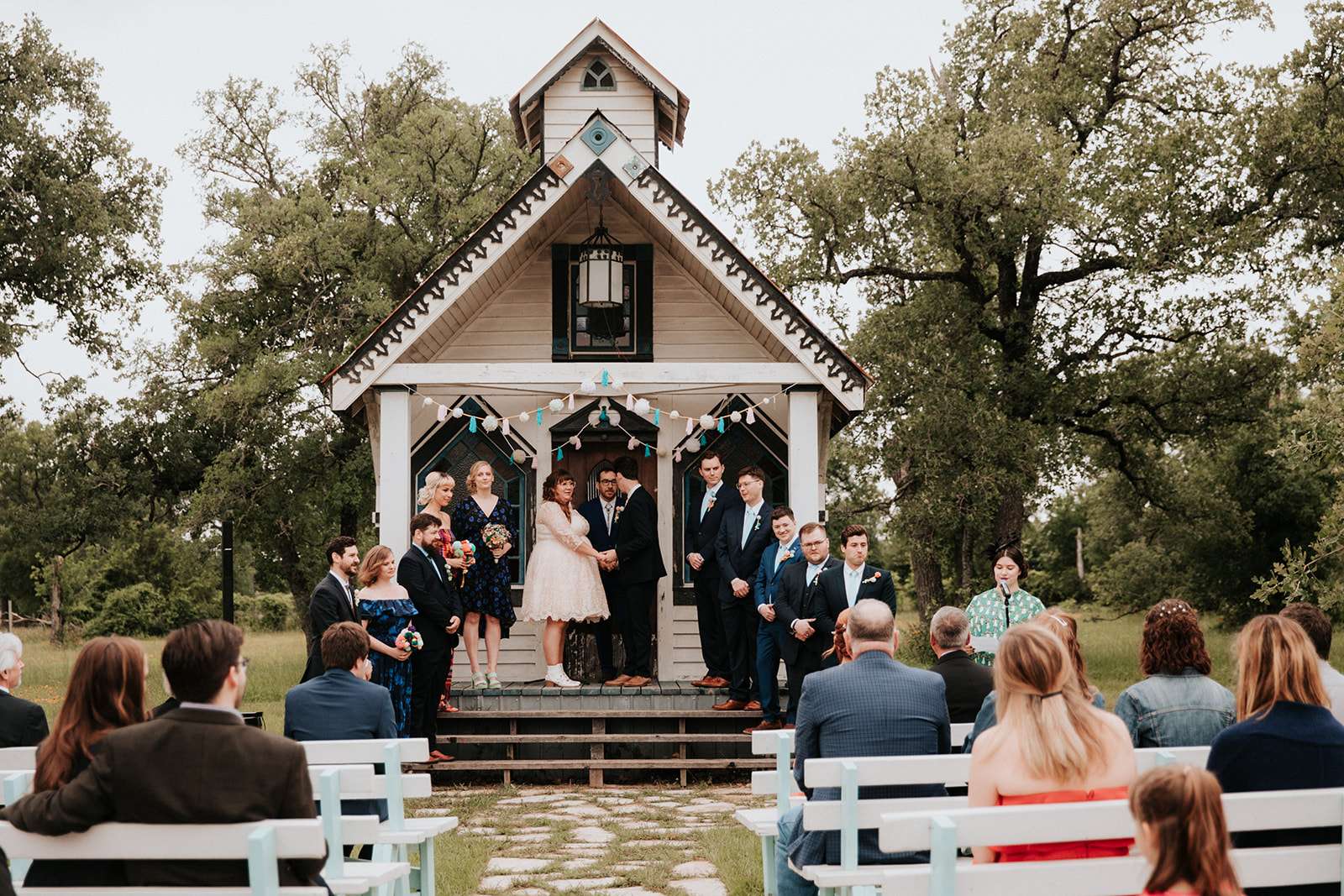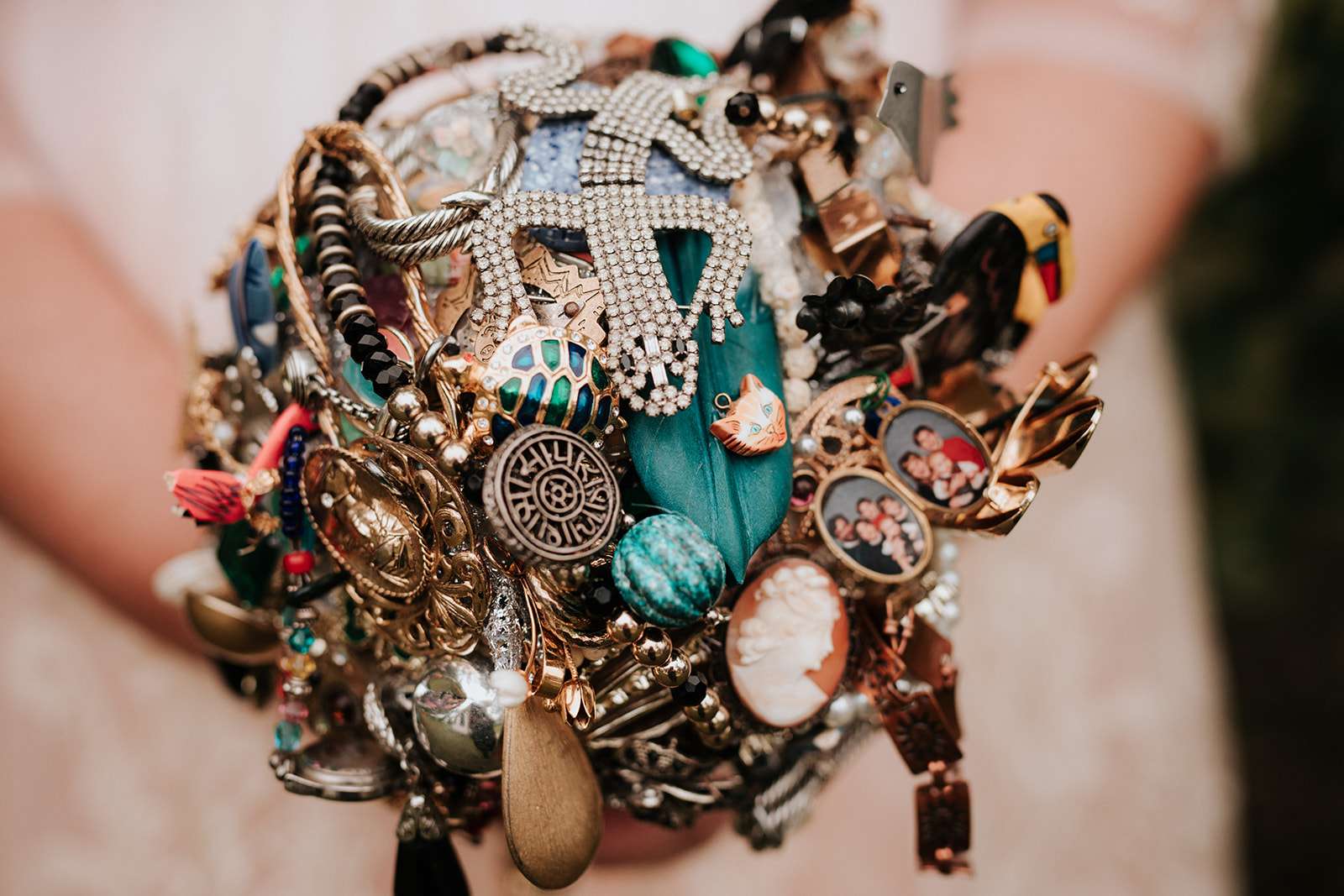 Their ceremony was officiated by Emma's brother who got ordained online. They wrote the ceremony themselves and had a friend read an opening poem, From Blossoms by Li Young-Lee, to welcome everyone and to set the tone for the day. "One of my favourite parts of the day was when Sam said my beauty inspires him when he gets up in the morning. I never knew that, and I felt so warm hearing him say it in front of all of our people. Another favourite part was ending my vows with a Lizzo quote, tweaked to be about us – 'If we're shining, everybody's gonna shine!'"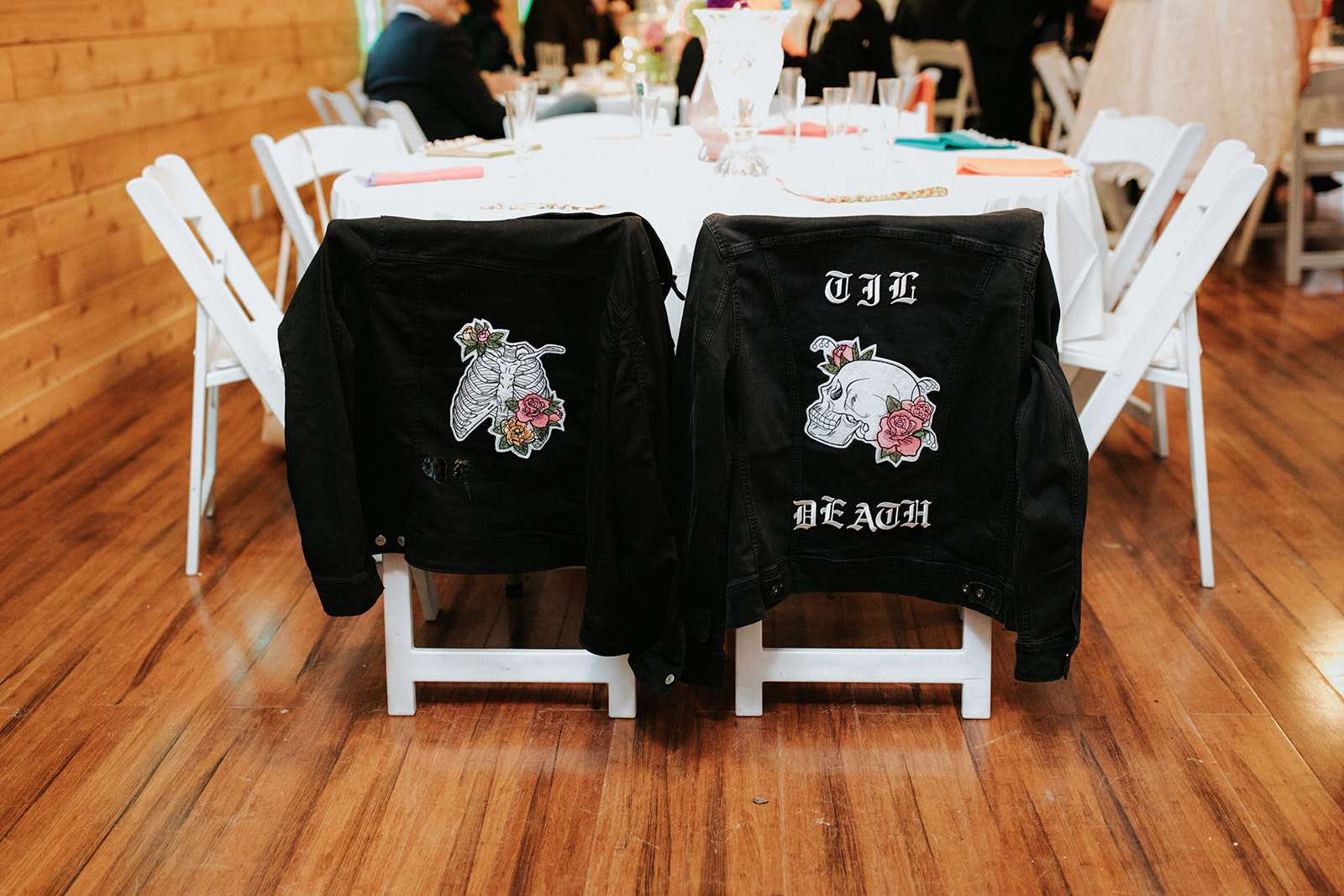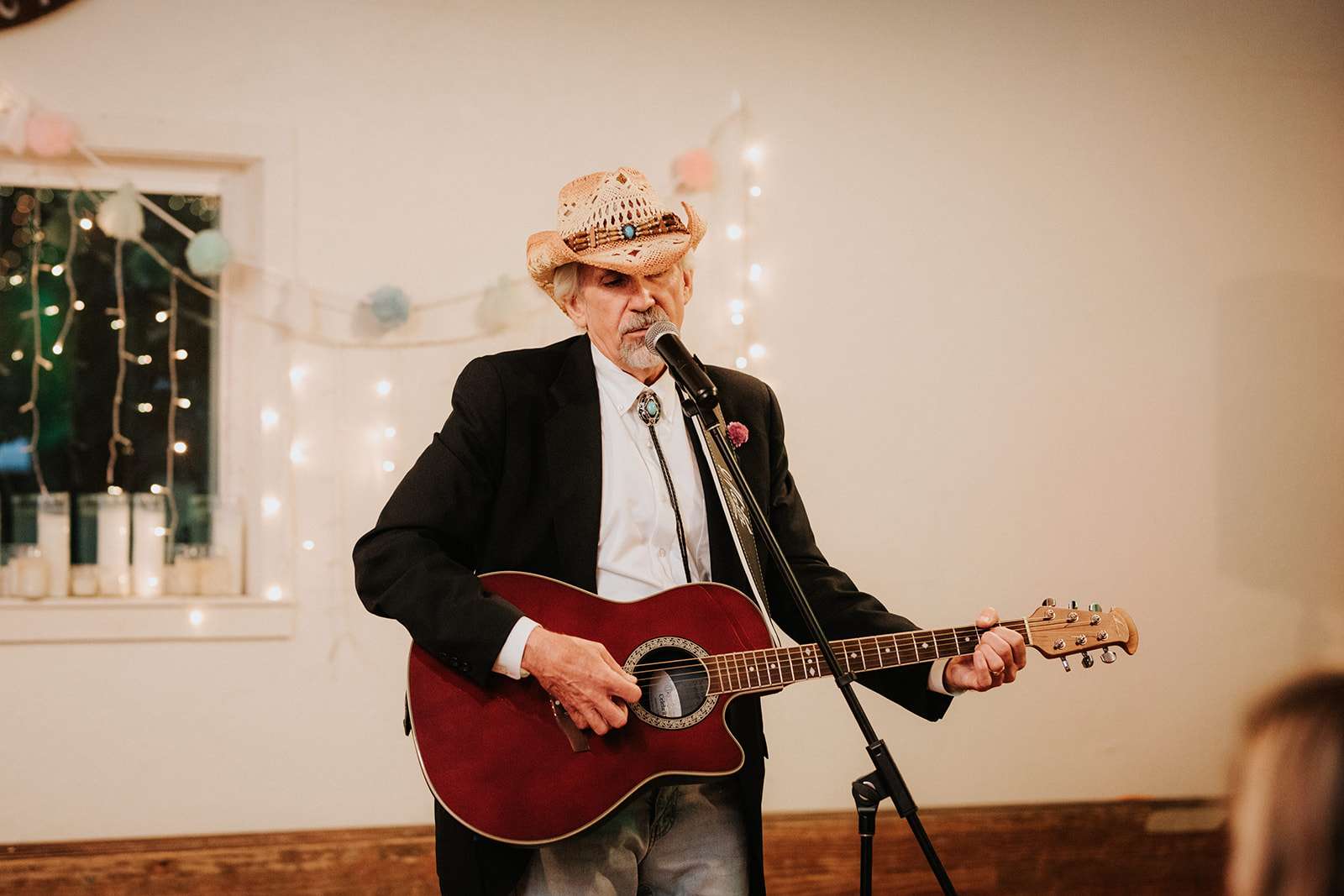 Another highlight of the day was when the bride's dad took to the mic to perform a song he'd written for her… "He wrote it for my wedding when I was little but I'd told him it felt too personal to play at an event that big! Guess what? He played it anyway and it brought the house down. Your wedding isn't just about you and your partner. My best advice is to let people share their love with you their way, because this openness will truly surprise you."
The one thing the bride wishes she hadn't worried about so much in the run up to the wedding was her weight and how she'd look on the day. In the end, with the love and support of her friends (and Lizzo!) she had such a great day and felt like a queen!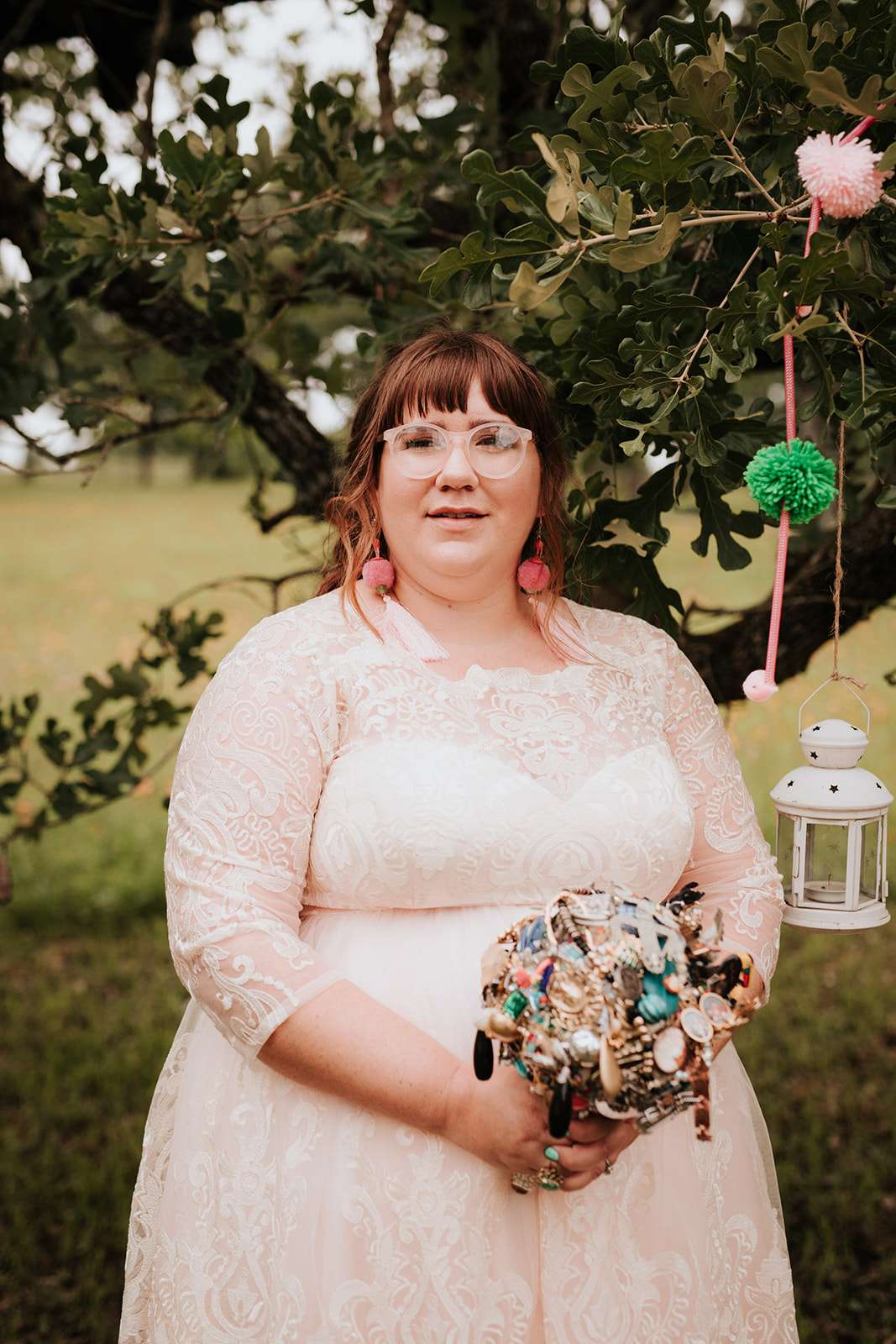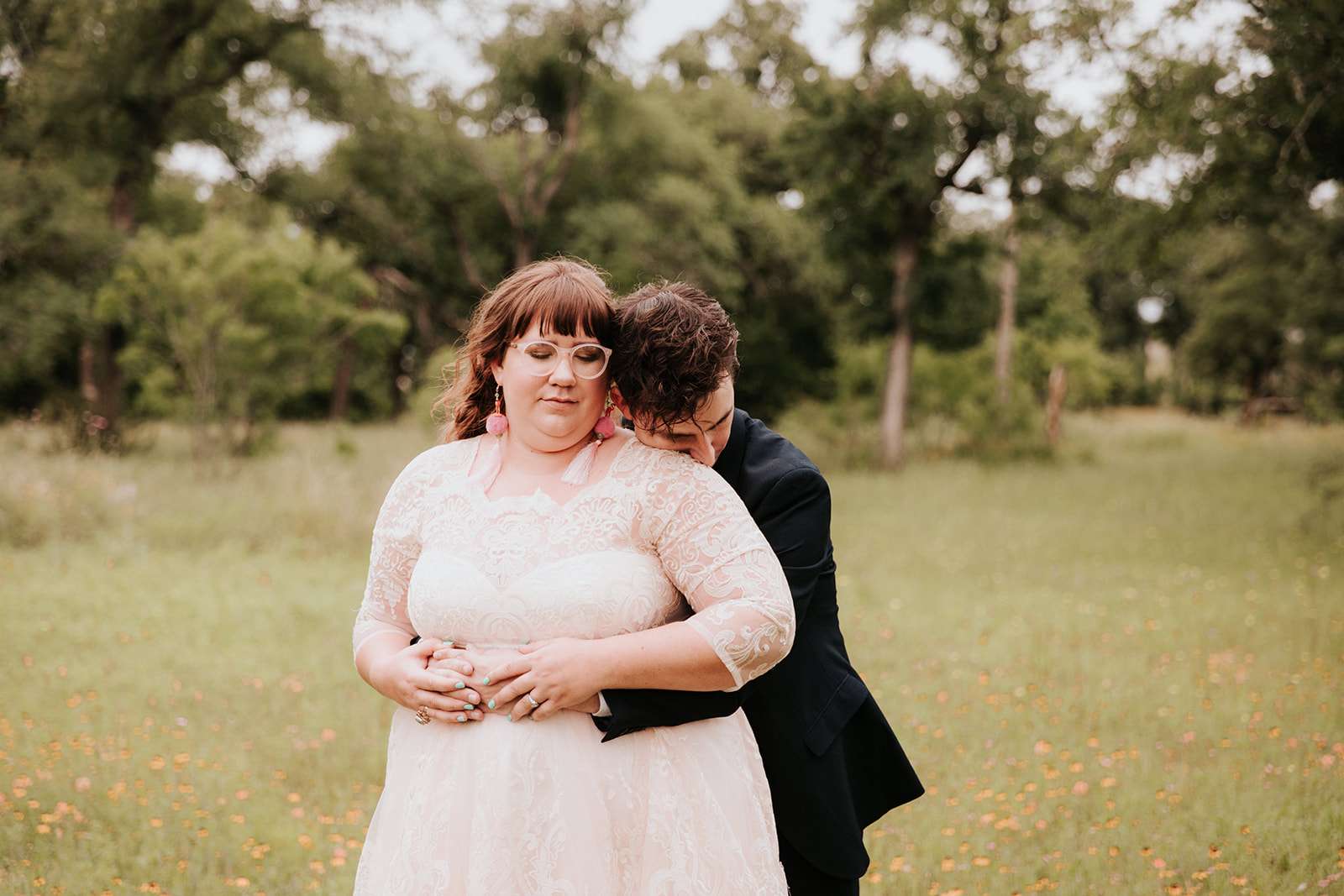 "I fretted about gaining weight, fitting into my dress and being a fat bride", she told us. "It was torture and not worth it. We had a year and a half engagement and I refused to give in to diet culture, and this meant going up a dress size and ring size. I was lucky enough to have a Modcloth brick-and-mortar store in Austin, so I ditched traditional bridal salons and spent my time and money at a place where I felt like a queen – and I wish I had made every decision this mindfully! Once you're engaged, many wedding companies and vendors can profit off you not feeling good enough about yourself, and I only saw this clearly at the end. I worship every picture of my double chin and my poofy dress! People tell you, 'Your partner loves you just the way you are!' and hell yeah! So do I!"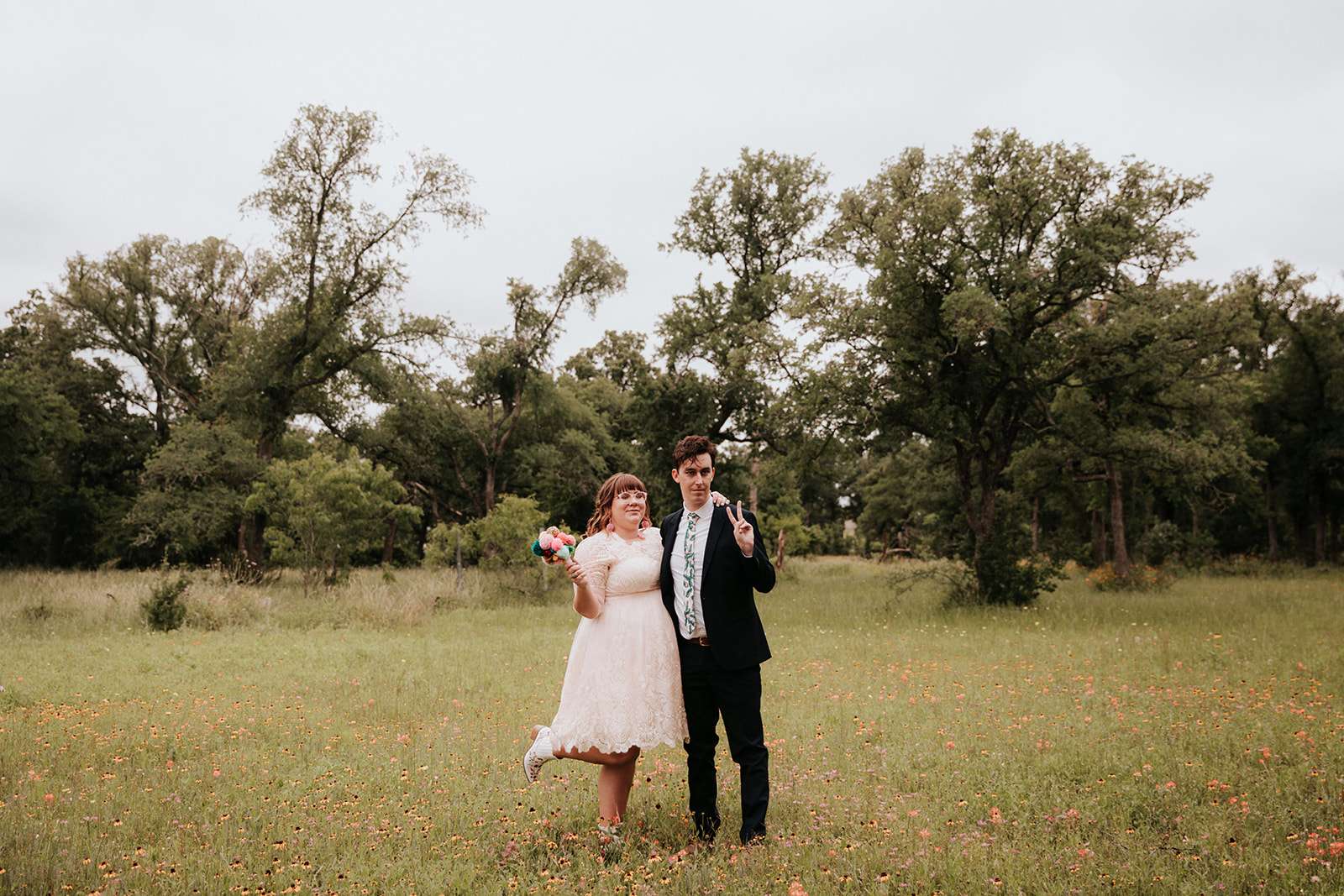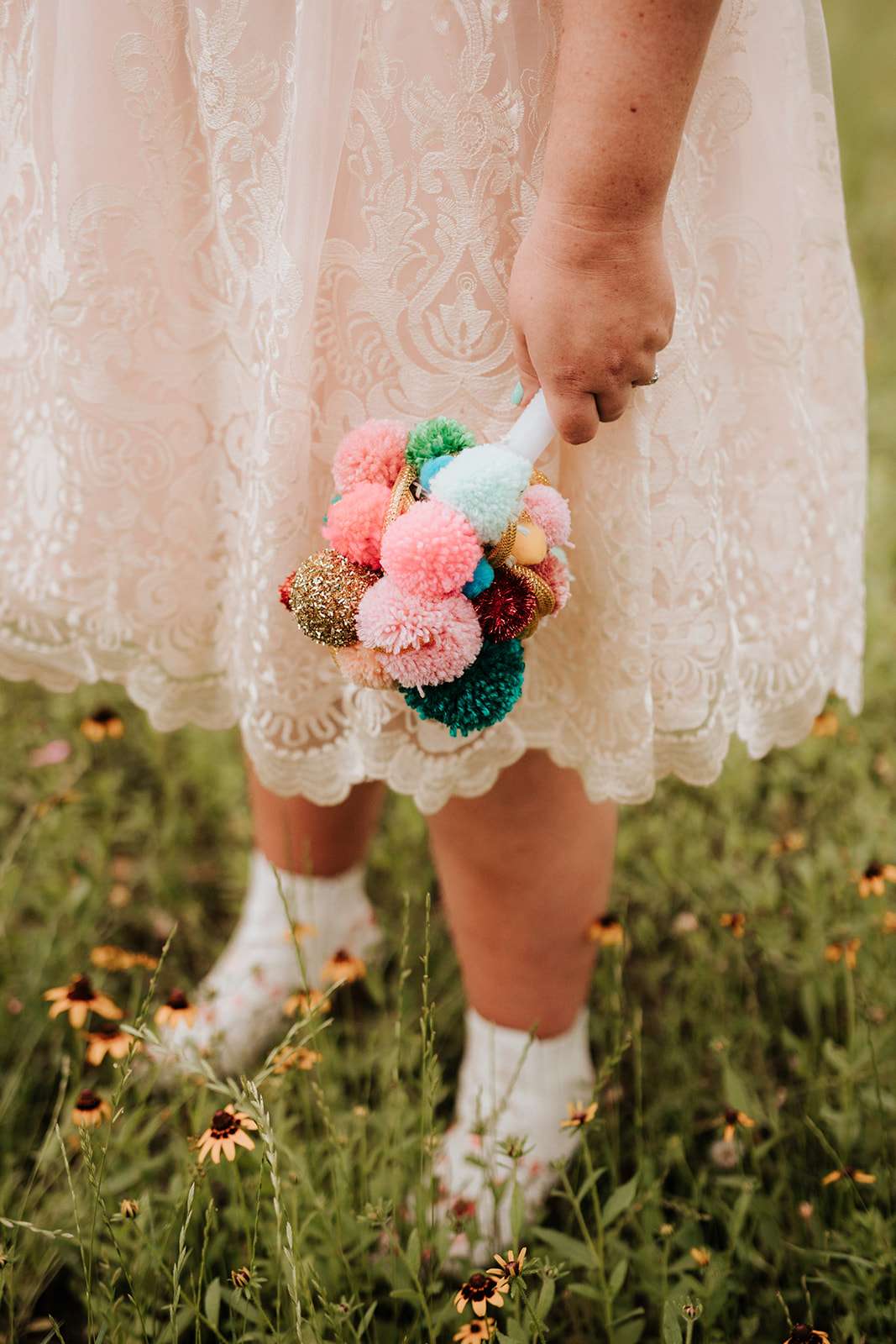 "It helped that I tried on my dress a few times with friends, who were so encouraging and loving. Reflected in their eyes, I saw a beautiful woman doing things exactly her way. That was such a gift! Some other tips that helped me along the way were to look at beautiful pictures of other plus sized brides on Rock n Roll Bride and elsewhere, to have a wedding mantra (ours was' feel the love'), and to listen to lots of Lizzo! In the end, the experience of planning and having a wedding helped me love myself and Sam even more than I did before!"
"We loved wedding planning", she concluded, "I loved crafting and hunting for deals. I loved making colour-coded spreadsheets. I loved reading wedding blogs, getting RSVPs by mail and dancing to our playlists. We both loved taste testing our decadent food and cakes, of course!"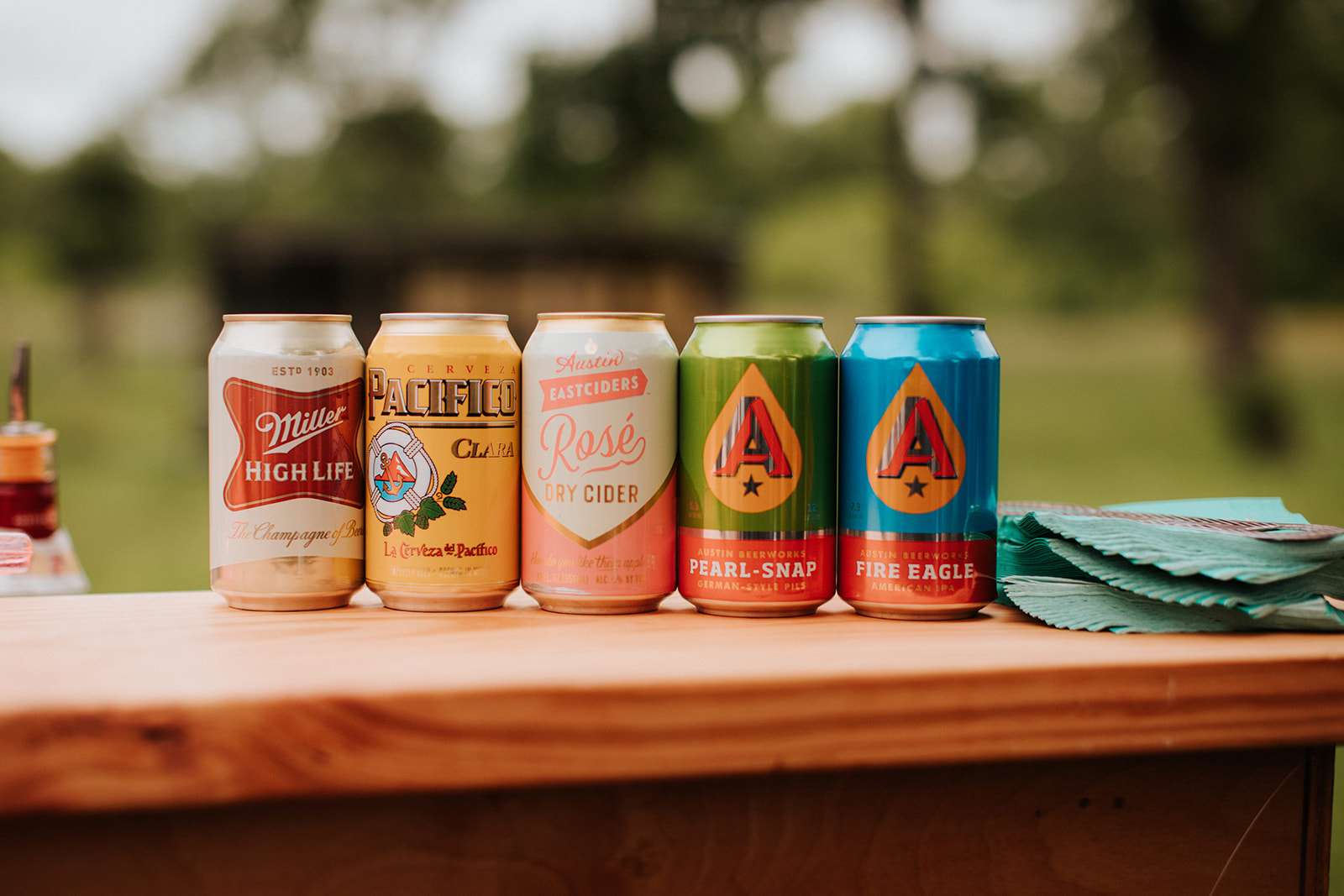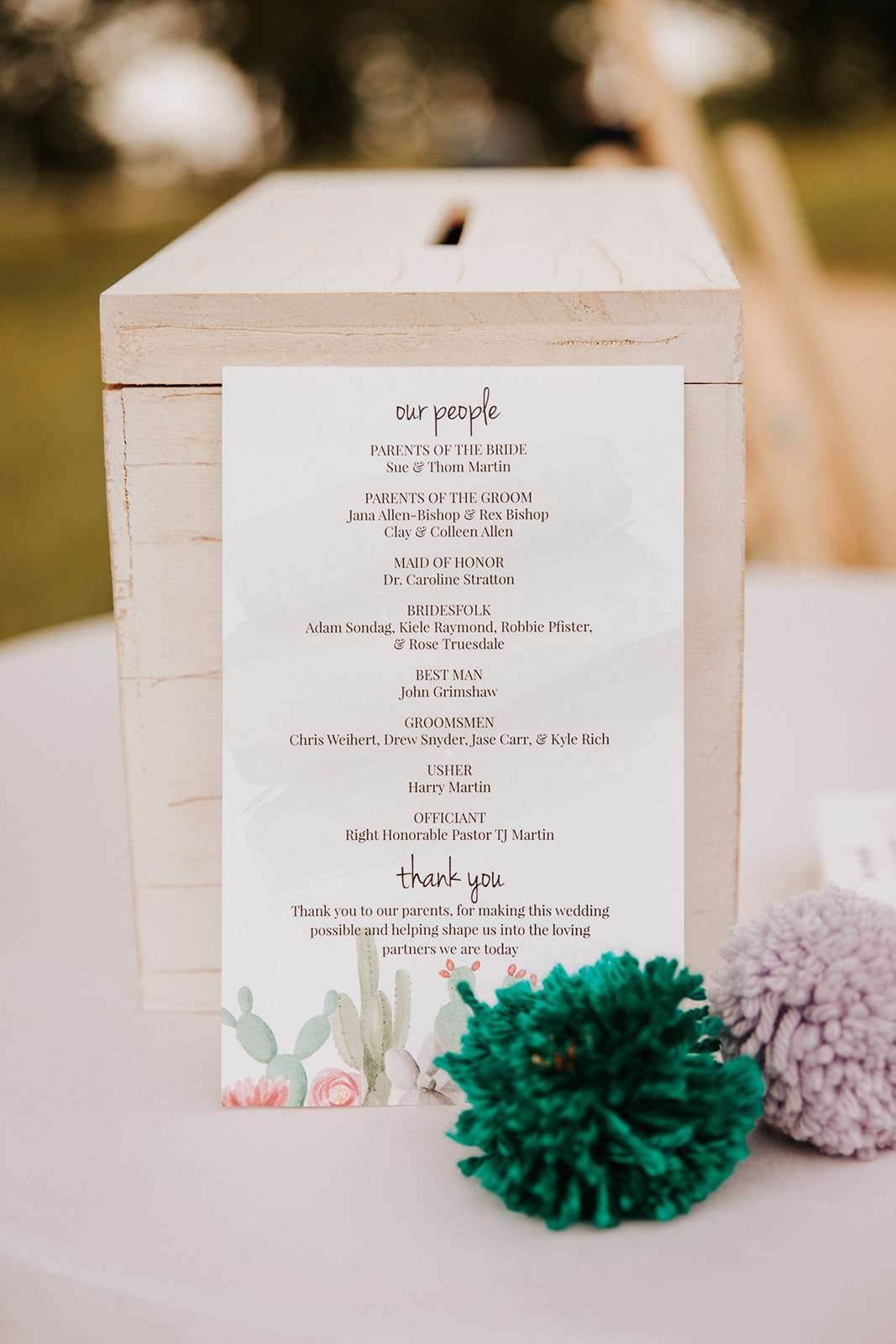 "The hardest part was the last two weeks. Everyone came out of the woodwork with expectations, favours to ask and changes to make. I felt a lot of pressure to be 'chill' and to not to be called a bridezilla (which, by the way, is an insanely misogynistic term!) The day before the wedding was my closest thing to a meltdown. I had been up since 3am and realised the tables were smaller than expected, but was too tired to problem solve. I took a walk with my bridesmaid, took a shower and breathed deeply, and then I was ready to make some changes. Luckily, Sam was a mercifully calm partner through that last push!"