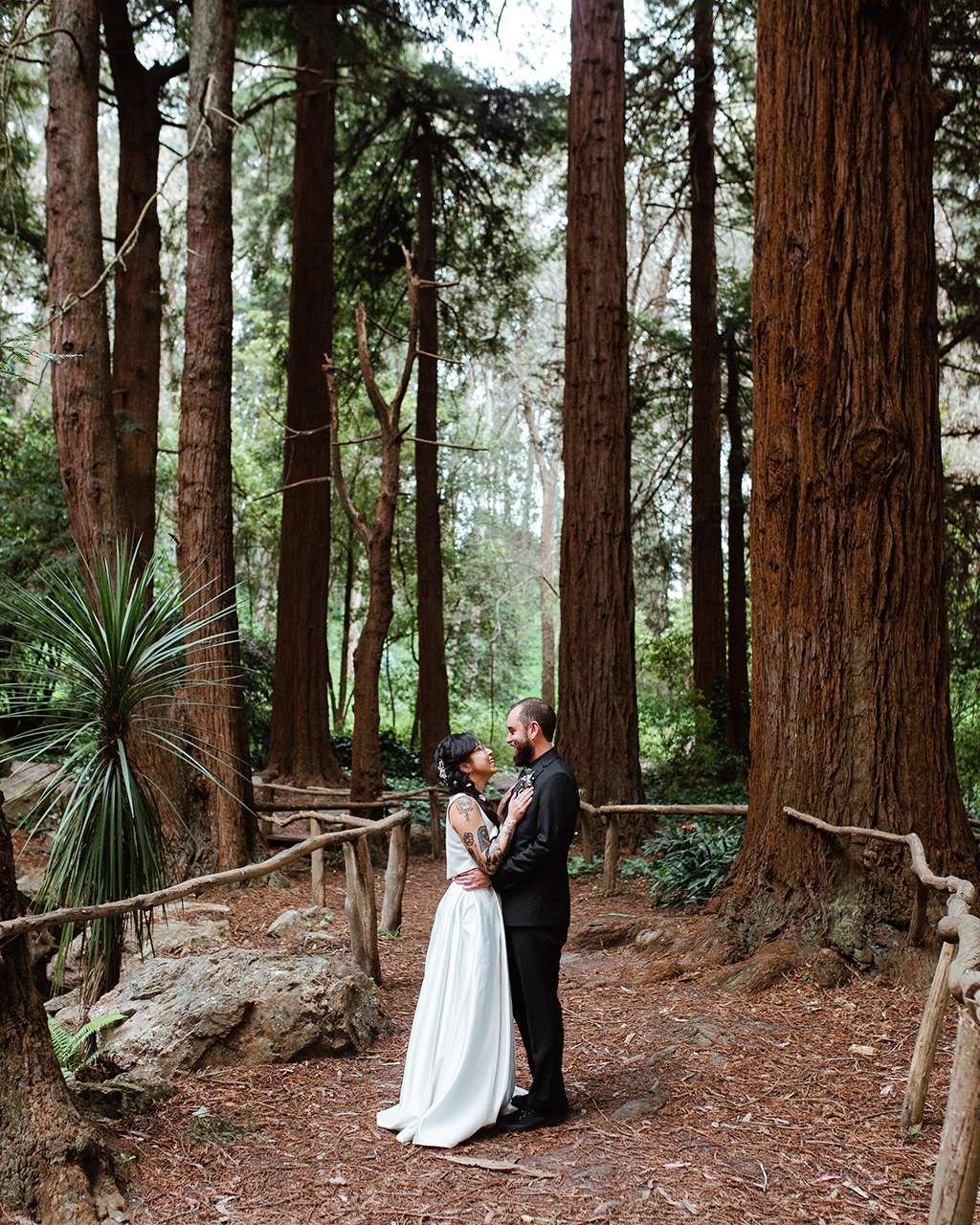 Scott and Jackie's main aim with their May 4th wedding was to stay true to what they love and care about. They grew to love camping together and got engaged while on a cross-country road trip, and that became the core of the theme – made by hand, a little rough around the edges, mismatched, down to earth, but most importantly to them – a hella good time!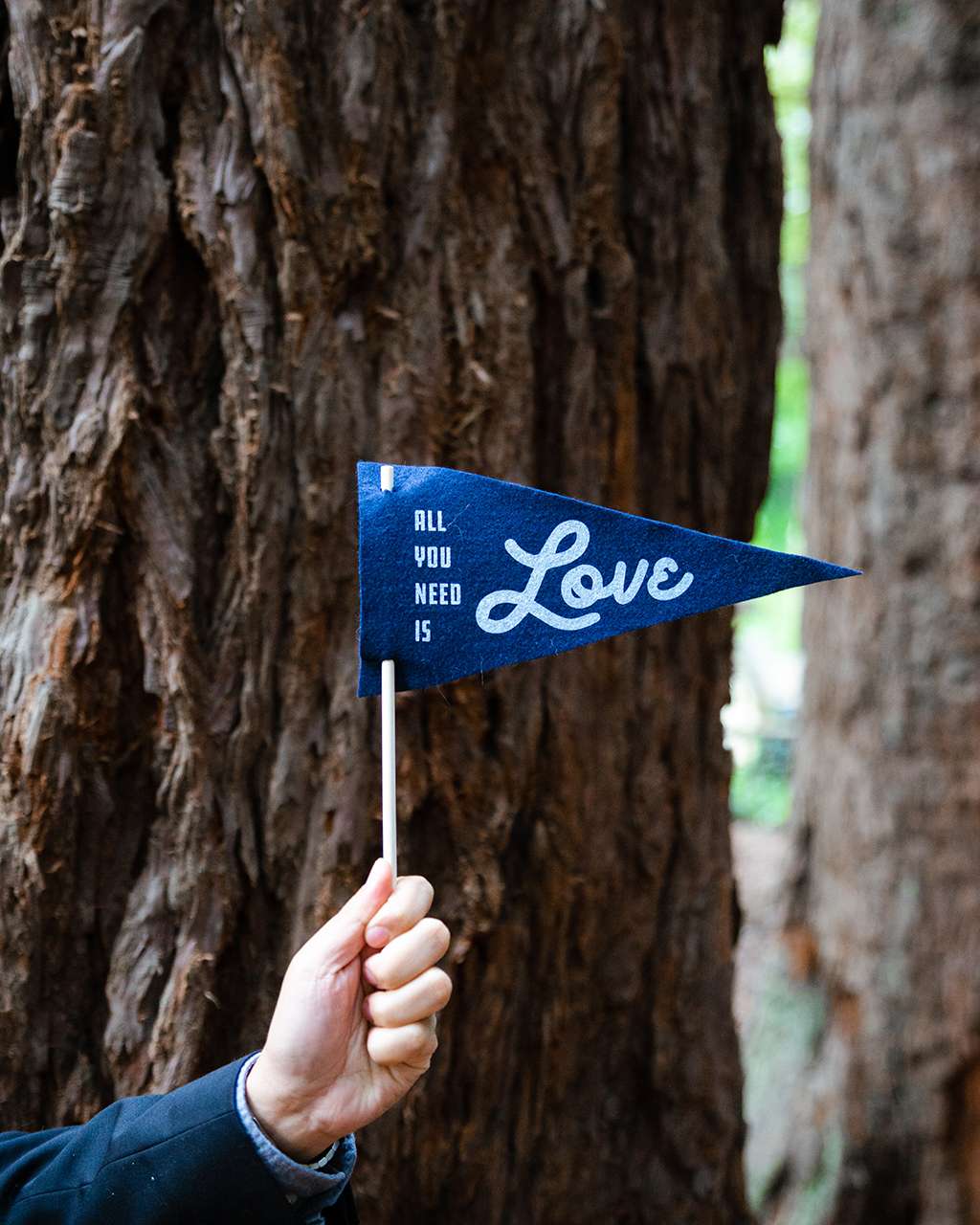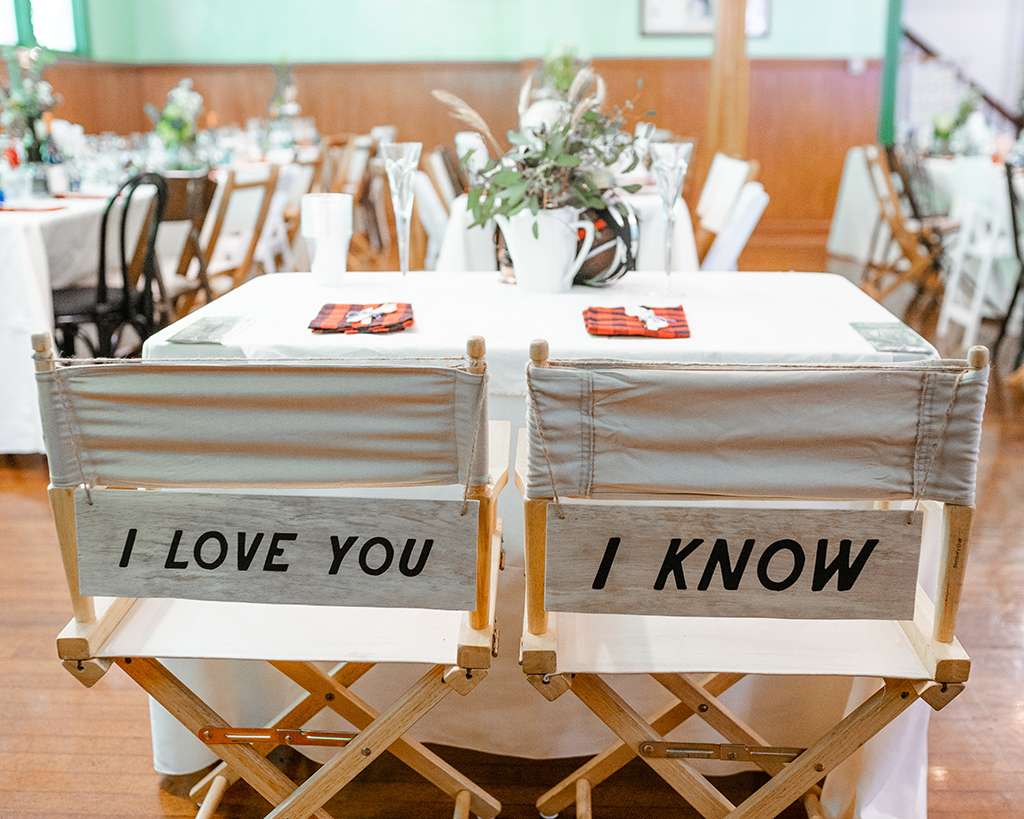 When planning their day, they made a pact – anything that felt contrived, they would nix, and replace it with something that felt more like them instead. They served pies instead of traditional wedding cake; they had no groomsmen or bridal party, just their loved ones showing up for them. They held a spontaneous parking-lot party instead of a first dance and embodied a true to form DIY attitude. They didn't hire a planner or coordinator and did everything themselves!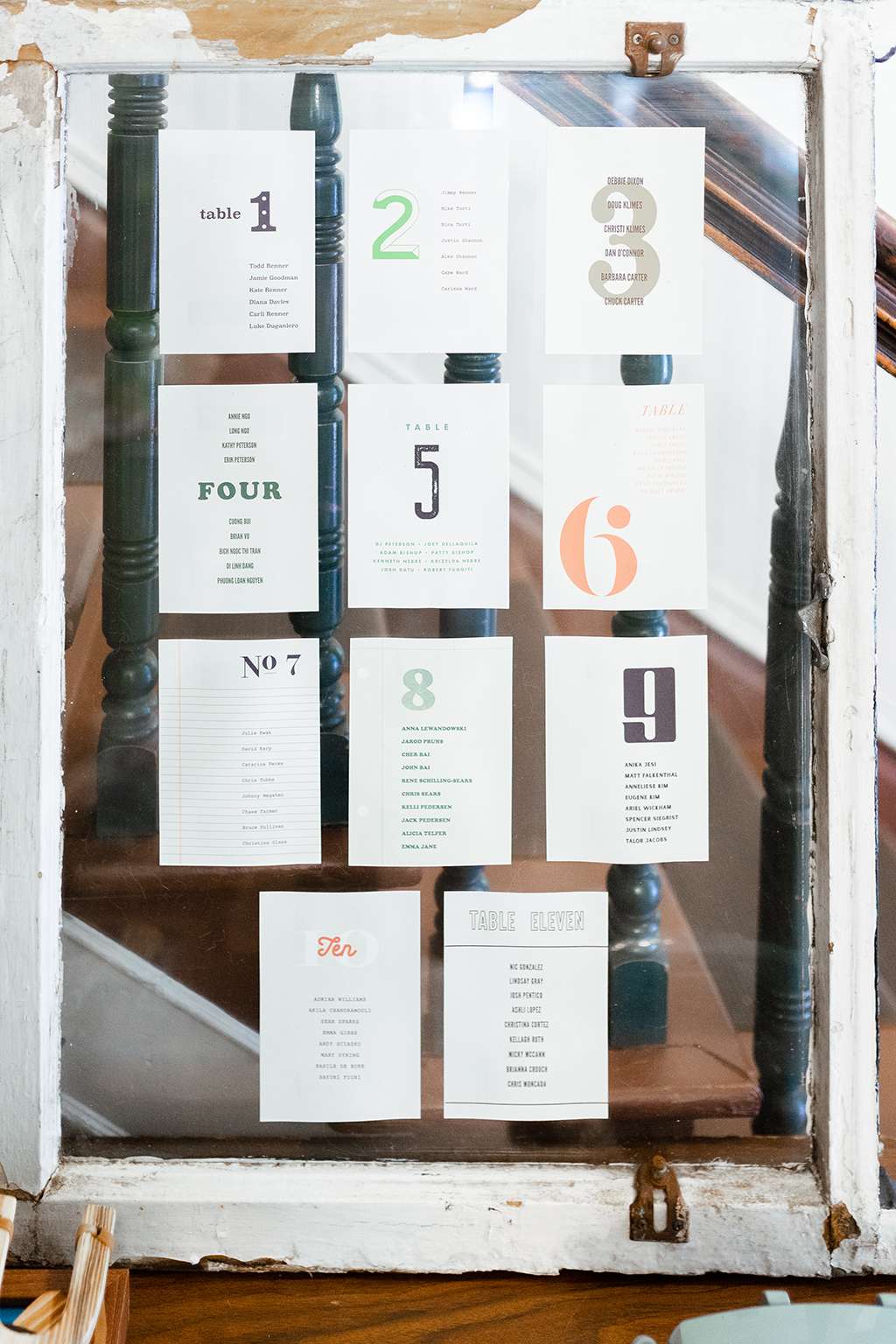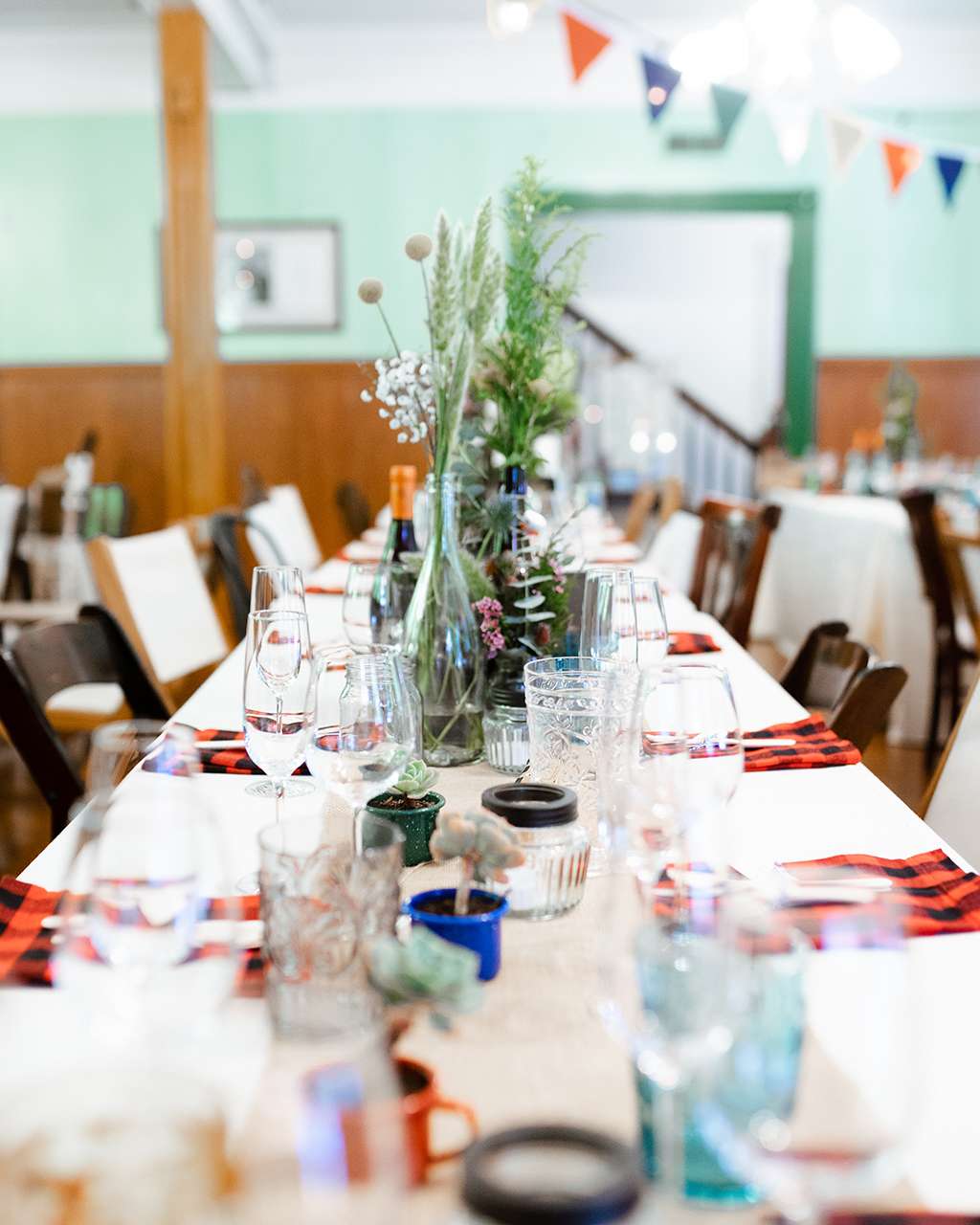 Their love or horror movies manifested into the skeletons and reminders of death. Their love of having a good time manifested itself into Scott's Bar, a special groom-bartended happy hour. Their love of California and its bounty was expressed through the venue's tall redwood and eucalyptus tress and its' spirit through their weed bar. Their love of pop culture (namely, music, The Goonies, and Scott's obsession with Star Wars) manifested itself in the date, the jukebox, the speeches, the decor, and the swag.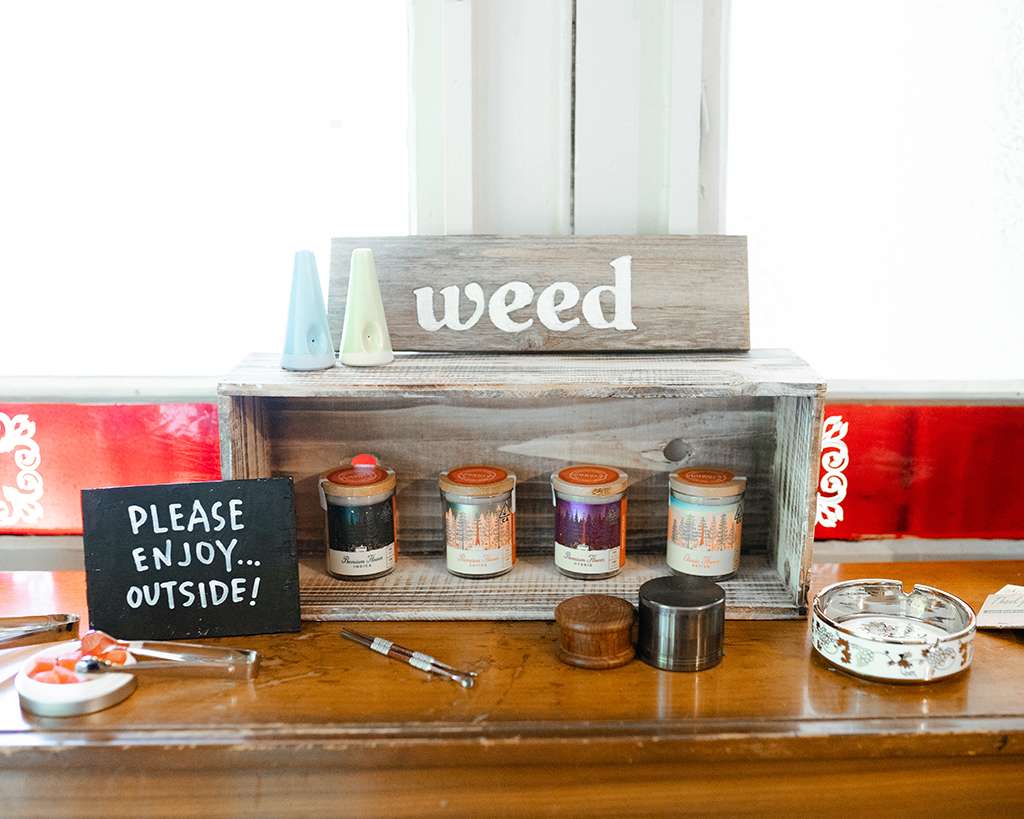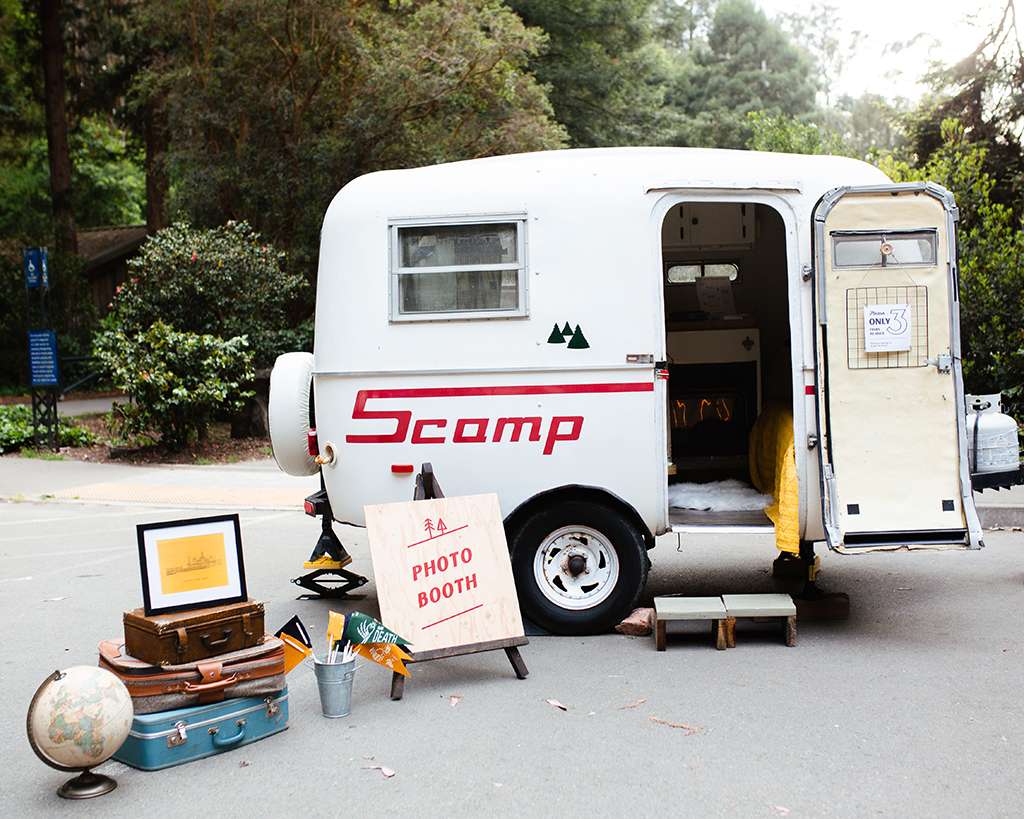 Everything generally had a colour / mismatched vibe, so they made sure all the designed elements of their day were consistent to help tie everything together. Jackie designed all the stationery, the signage, posters, table numbers, menus and built the website. Scott screen-printed the signs, stationery, coasters, tote bags and t-shirts to give away like it was a sporting event. They made welcome signs by screen-printing pieces of cheap wood. They made felt pennants and buttons for people to take home.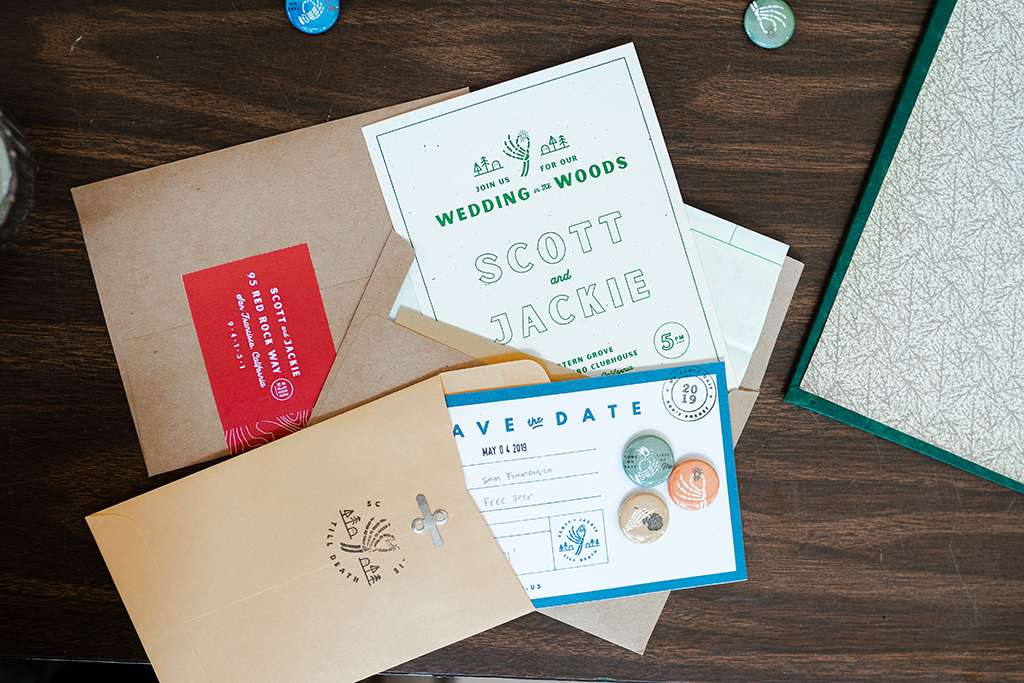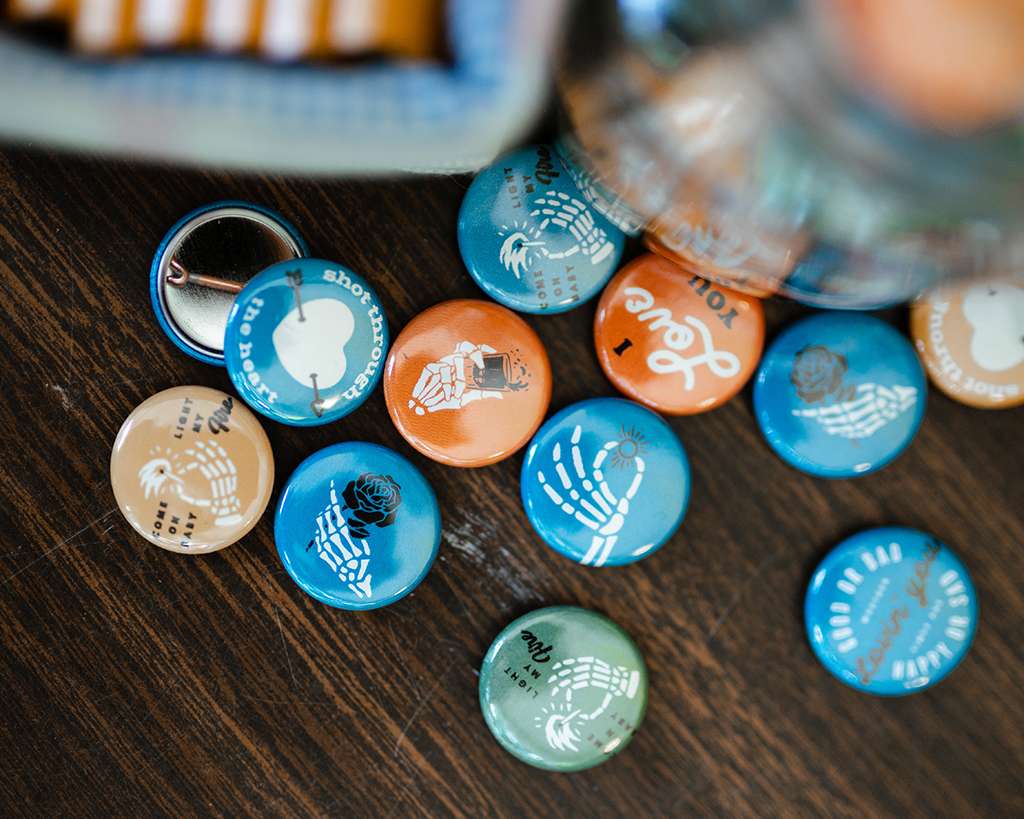 Friends and family even got involved in the efforts, with Jackie's dad building A-frames for signage and planter boxes that he filled with homegrown succulents, and helped to root succulent favours for everyone. They spent about $200 at the San Francisco Flower Market the day before the wedding and had friends style the mixed flowers and filler into dozens of glass bottles and jars that they had been collecting and upcycling from wine, beer, oils and sauces for the past year. "It was a lot in retrospect," said Jackie, "but spread out over time it was really fun to do. We're so pleased with how it all turned out and how all the details really came together."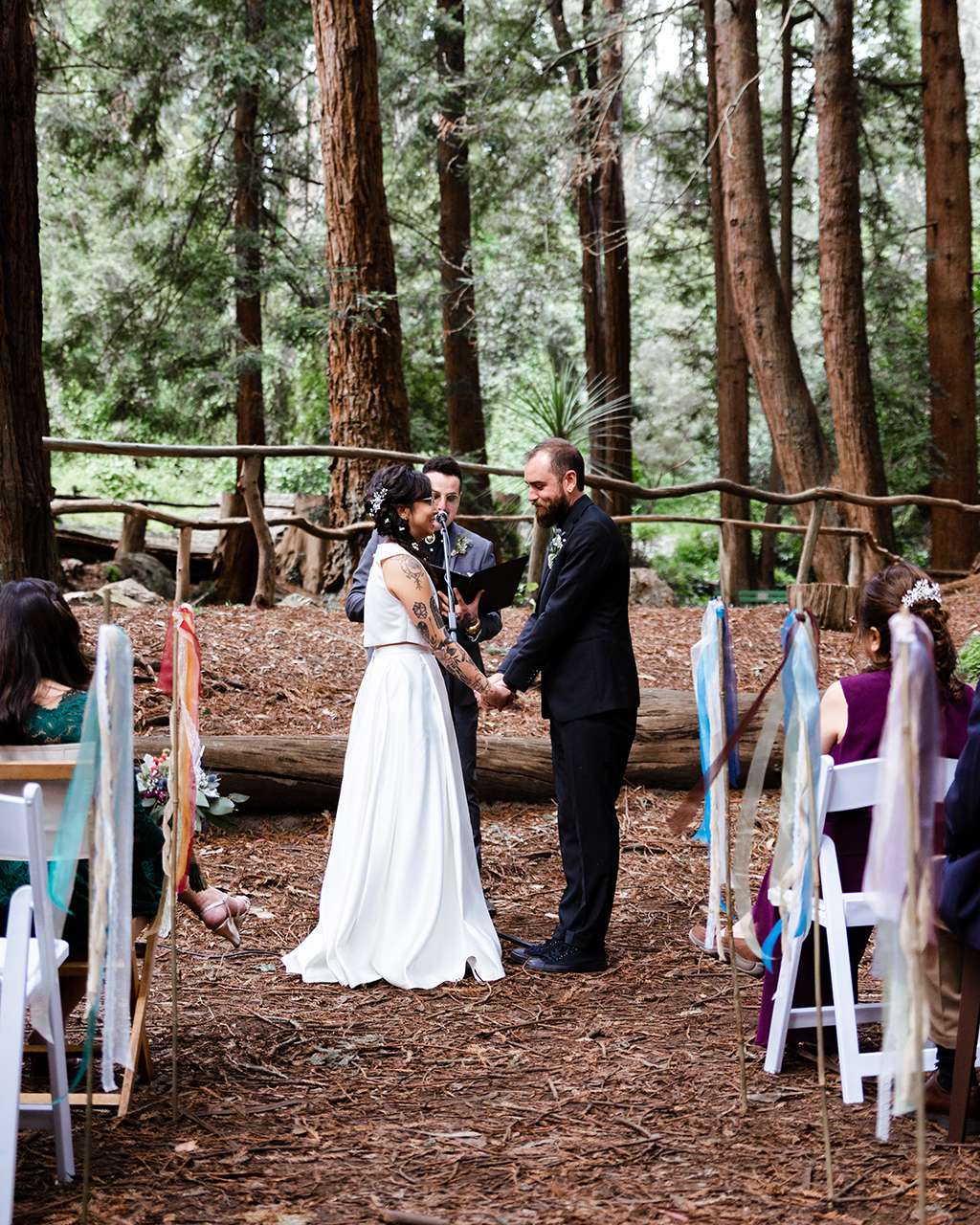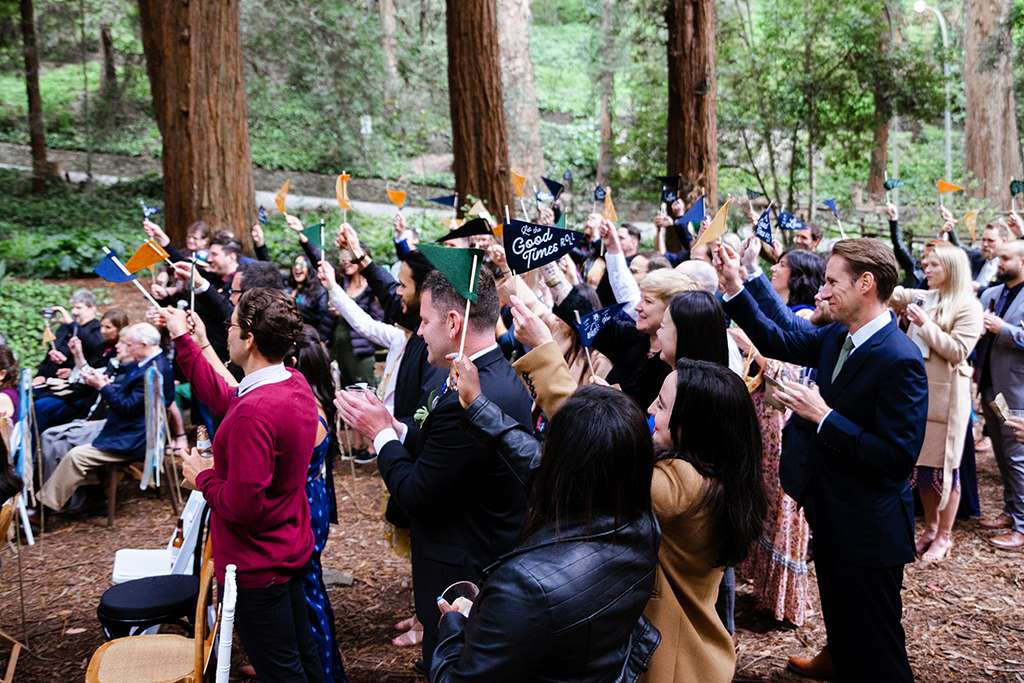 As well as DIY-ing basically everything, the couple managed to stretch their $10,000 budget by getting married at a non-traditional wedding venue – the city-operated park was about 30% of the cost of other San Francisco venues that they looked into. It came with some trade-offs: A few more rules to comply with that normal, and the fact that they had to do absolutely everything themselves… but they were down for the challenge!
They stocked a self-serve bar to save money, and took advantage of the wonderfully talented people in their lives – Jackie's sister did her make up, Scott's brother catered the whole wedding and friends and family came and set up everything with them the morning of. They had people pitch in in small ways and it really amounted to being way more special, and they were more than happy to be involved.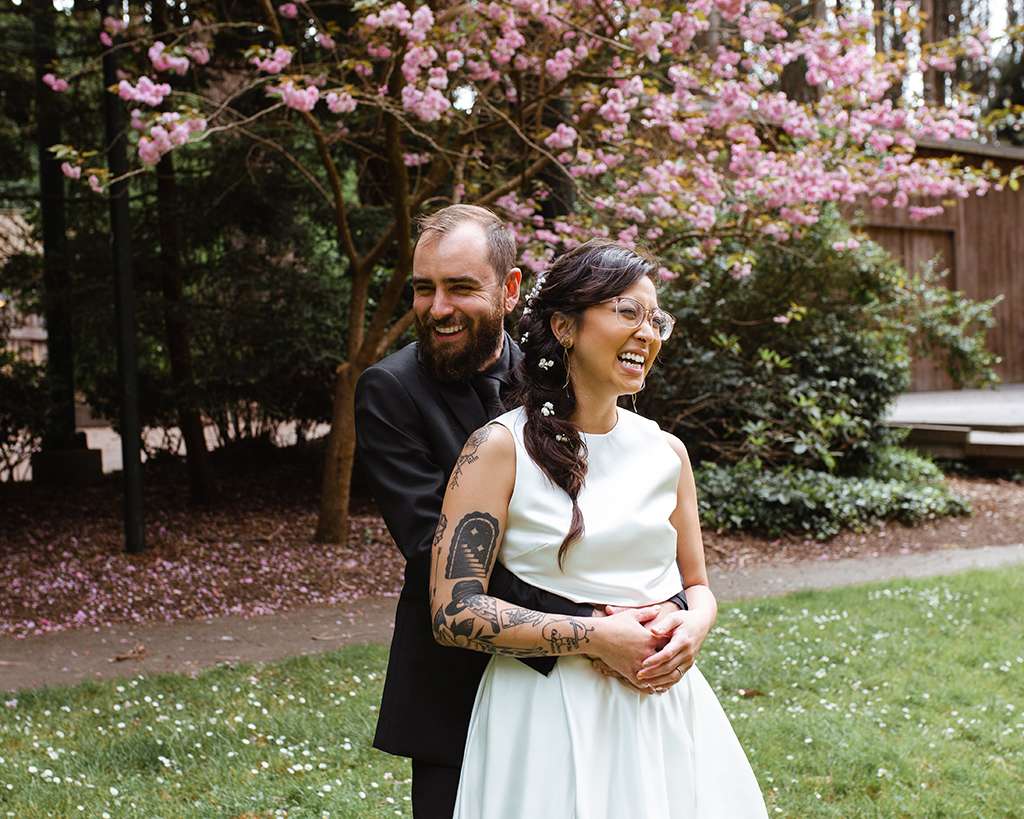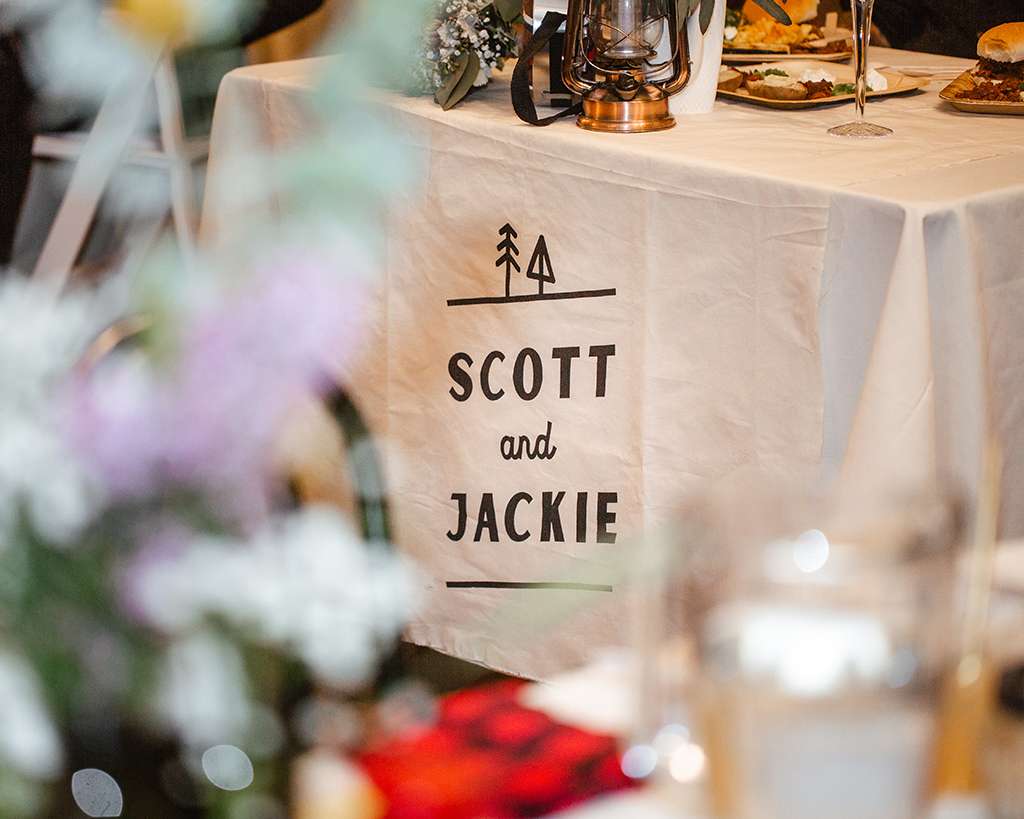 Scott and Jackie's ceremony kicked off with a bucket of beers and a pile of blankets so their friends and family could enjoy a cold one while staying warm in true camp-out style. Jackie walked out with both her parents. They were married by a close friend which made the whole thing so much more comfortable, casual and familial – the last thing the couple wanted was a stuffy wedding being orated from a stranger giving long speeches and running through awkward rituals. They wrote and exchanged personal vows, including a planned homage to Star Wars. Their family threw confetti and waved pennant flags, and once they got to the end of the aisle they grabbed cold beers and gave them a good swig!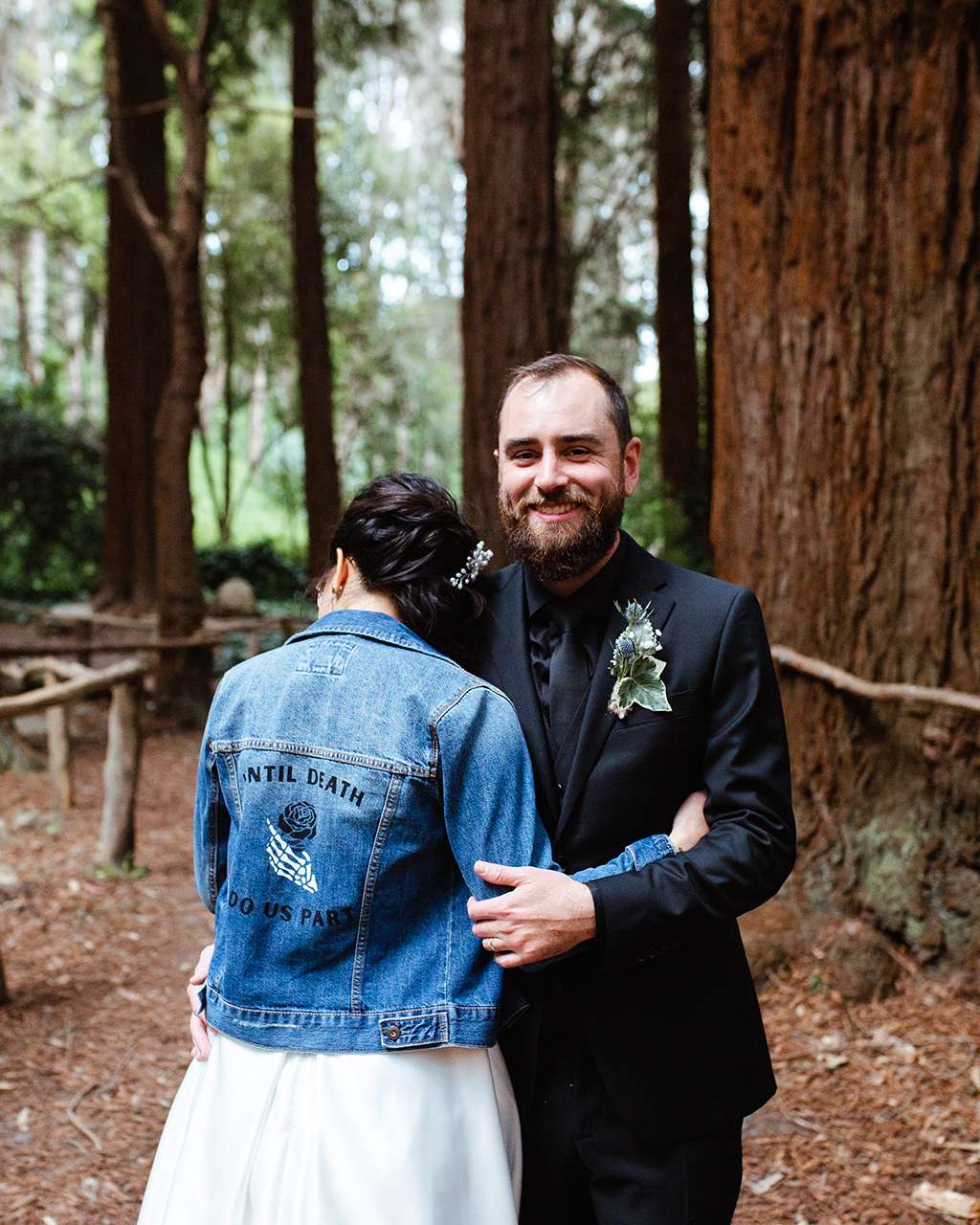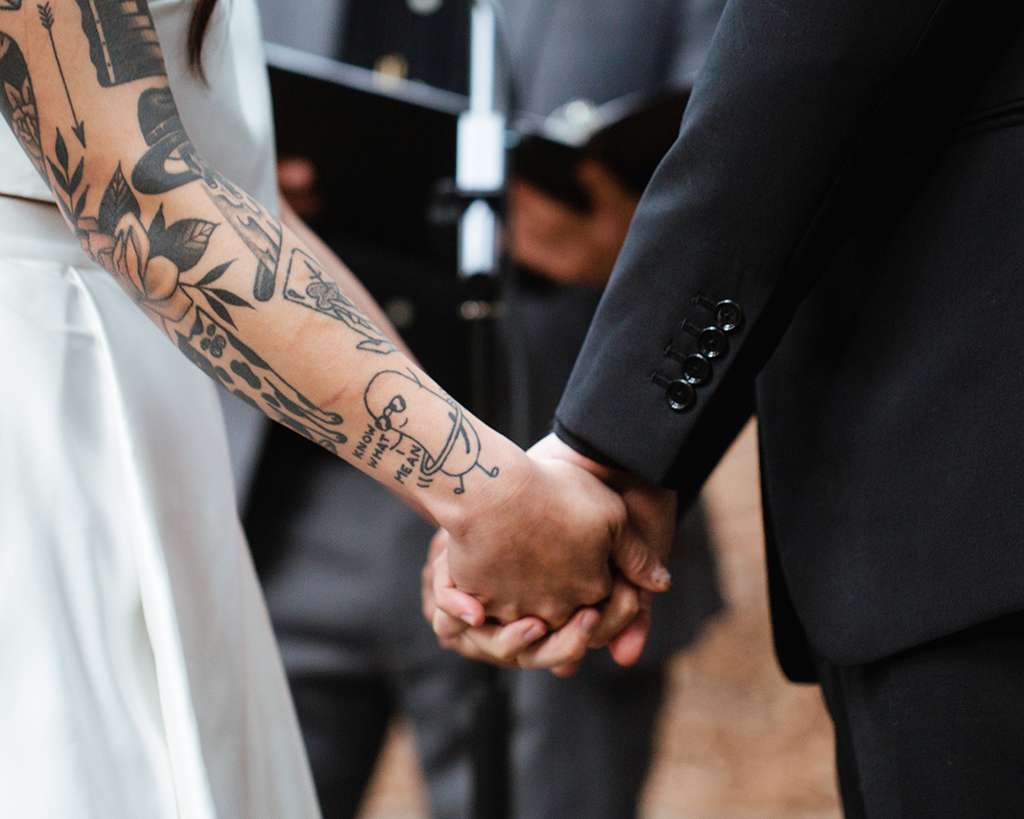 "The best thing about planning our wedding was how fun it was to work on something together," said Jackie. "To have an idea and say out loud 'what if we did this?' and then get all excited and giddy about it and go forth making it together. It is totally possible to do it yourself, and have fun while doing it. We had a lot of doubts about whether we could actually pull it off, not being wedding planners or having ever thrown a party like this, but in the end, it wasn't even that crazy, hard, or expensive. In fact it made it that much more memorable; that every ounce of our soul and hard work was pored into the best day of our lives. And to see everyone show up for us and it all to come together was just the icing on the cake."