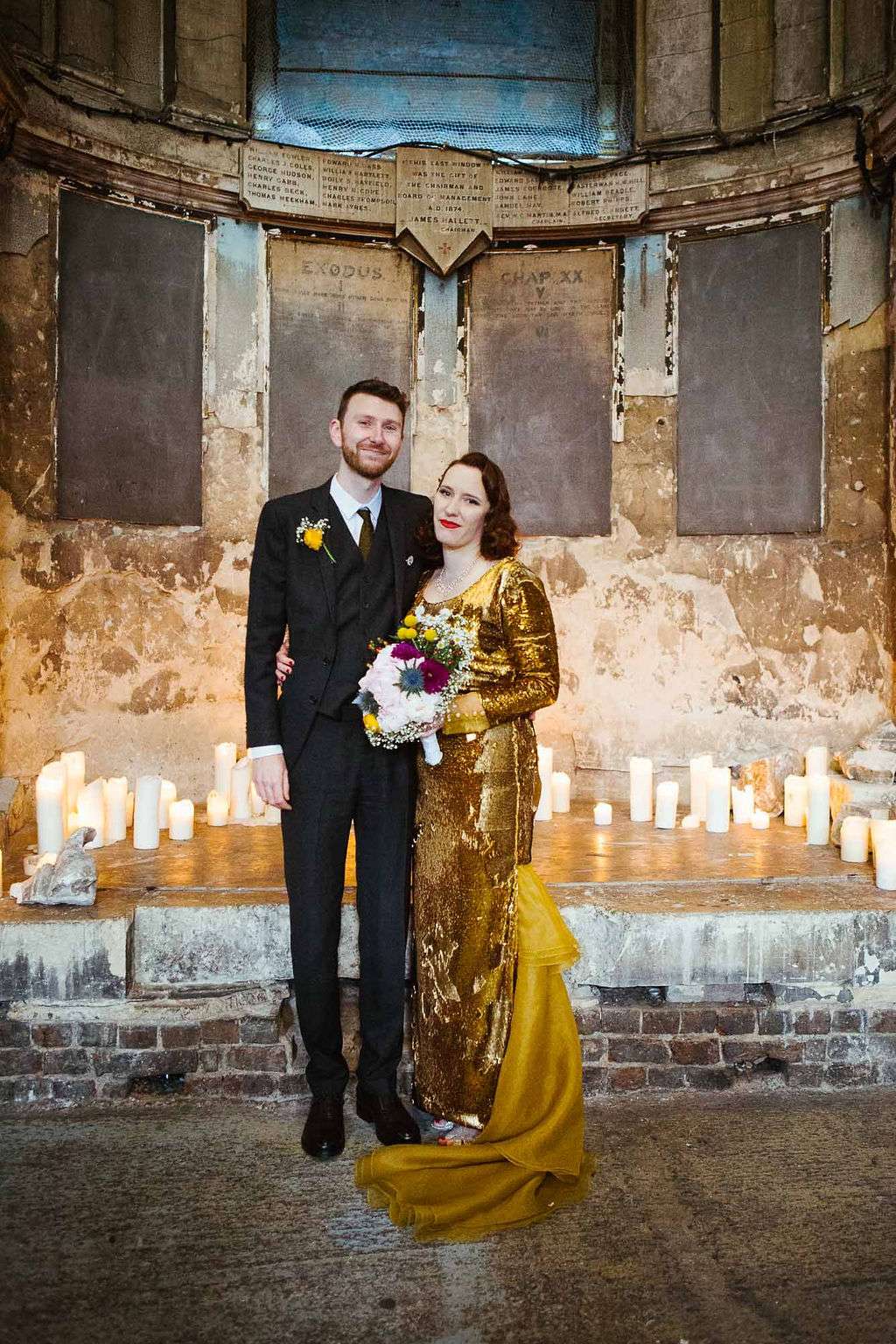 Emily and Elliott's M.O. for their wedding day was to keep everything low budget and low stress – not two things that often go hand in hand with wedding planning! Early on, though, they decided that they wanted to keep things very simple, with very little pomp and ceremony – just loads of love and laughter.
With a £6,000 budget. they knew they wanted to keep things local – as they met, live and love in south London it would've felt wrong for them to do it anywhere else! They held their reception at Asylum Chapel in Peckham and moved onto The Ivy House pub in Nunhead afterwards for hot dogs, chips and plenty of dancing.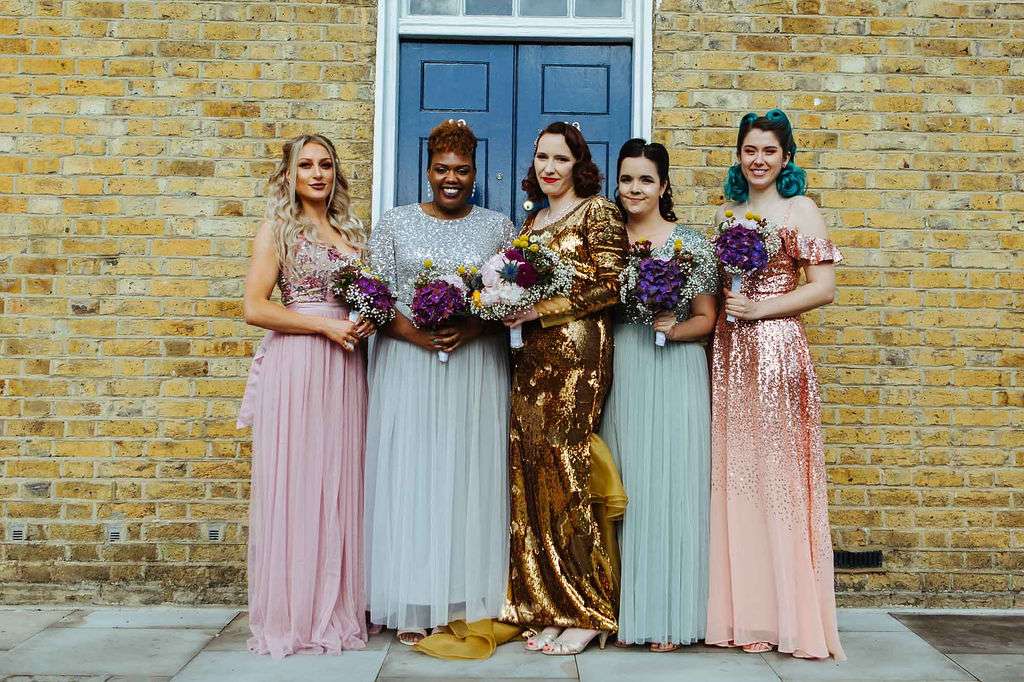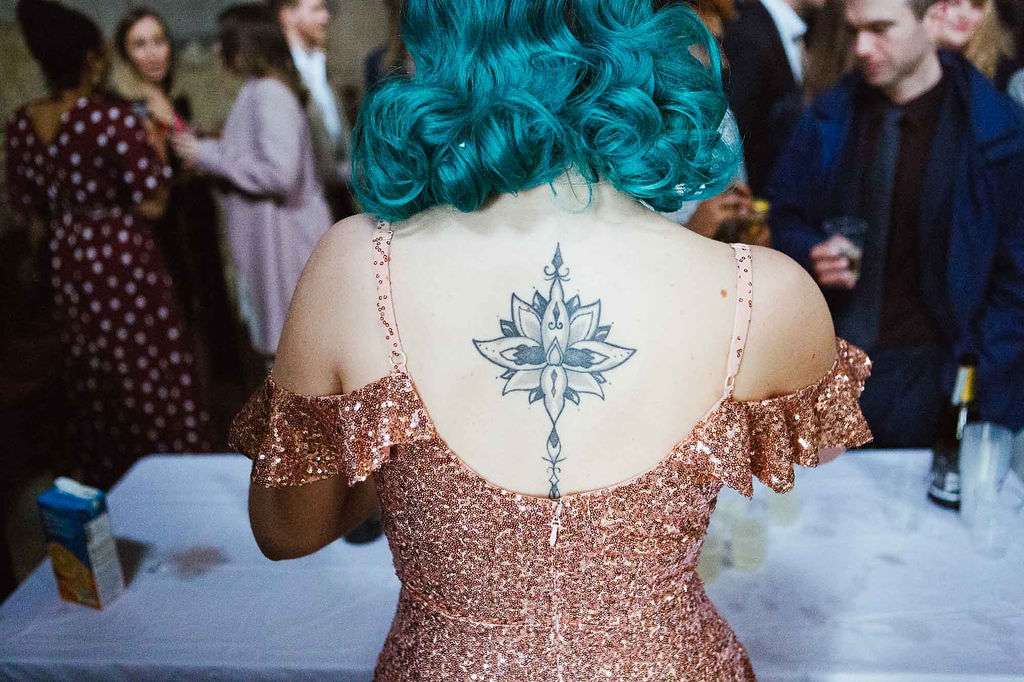 Emily is in love with 1930s to 1950s fashion and all the glitz and glamour that old school Hollywood entails. She knew a fluffy white dress just wasn't going to cut it for her, but was nervous to abandon tradition at first. After a visit to a bridal boutique to try on traditional dresses confirmed her suspicions, she tried on an amazing sequin dress last and whilst, being white the colour was wrong, the sparkles had her at hello. Furious searching online for something similar in a different colour was fruitless, so she made the snap decision to get something similar made on Etsy.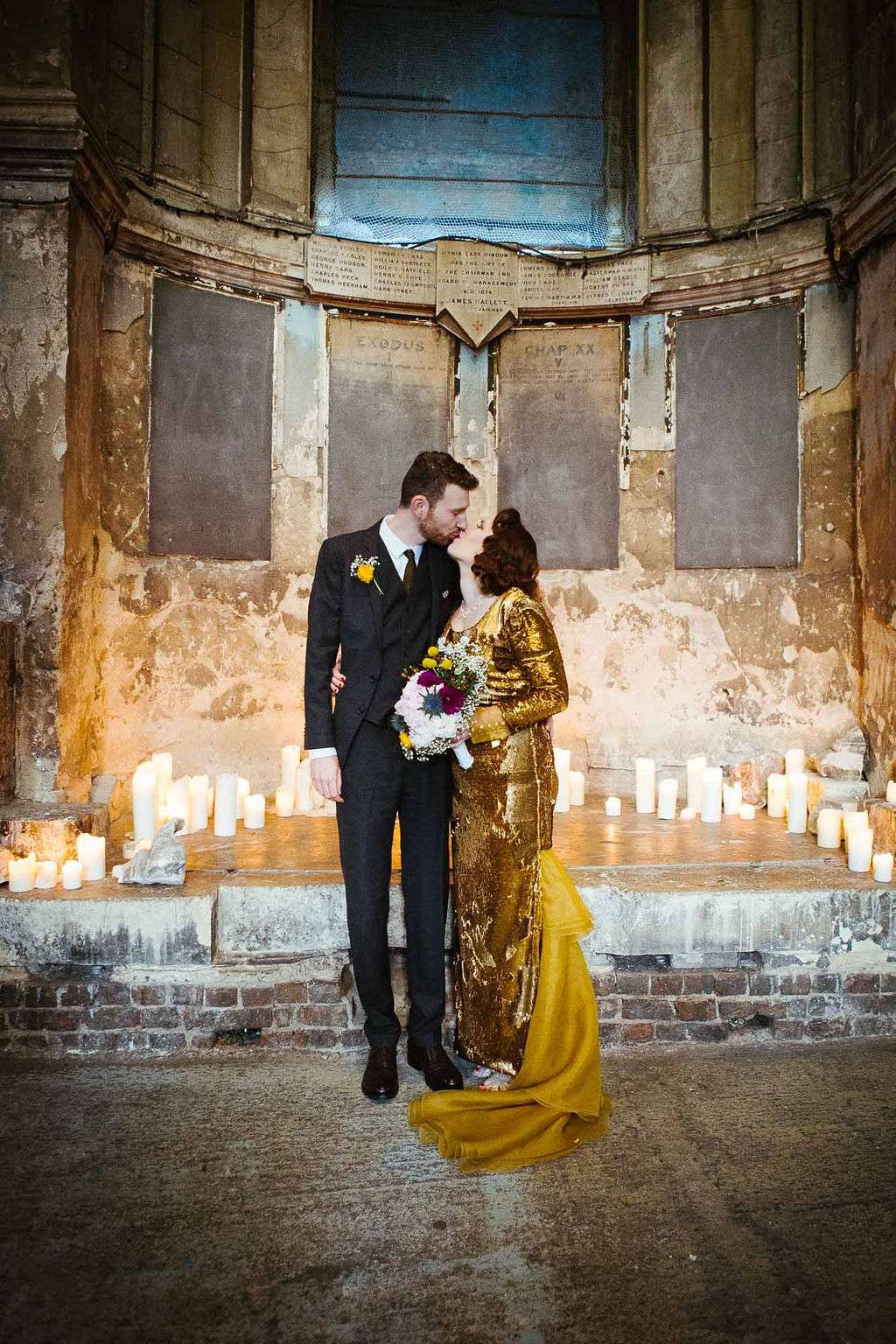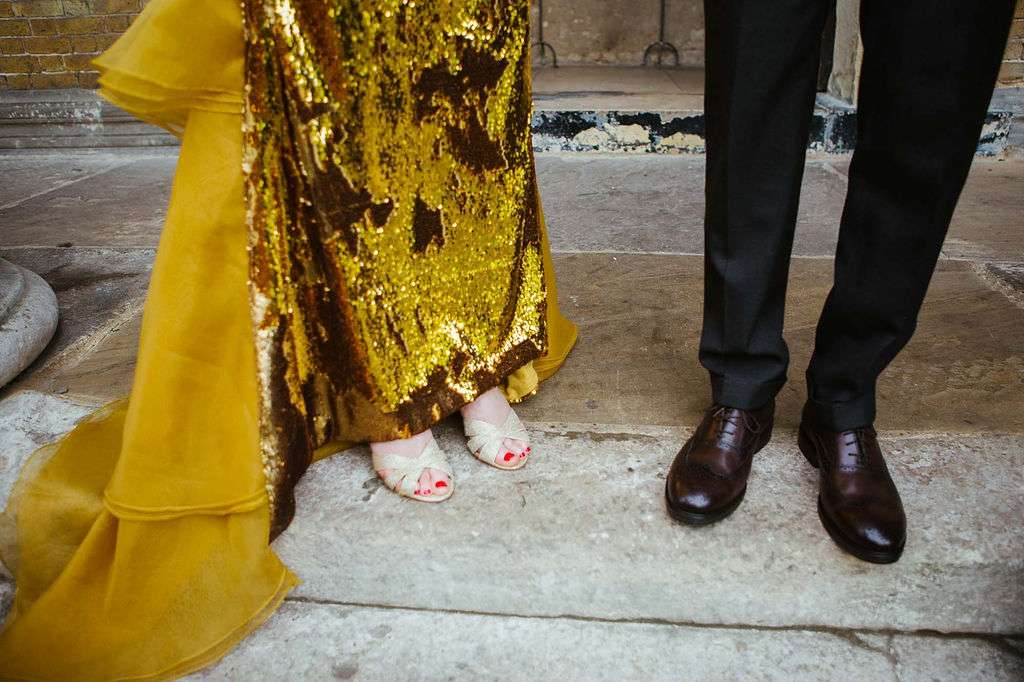 "It was a risk with plenty of hiccups," said Emily. "It arrived pretty late (a week before the wedding!) and very, very large. Quite frankly it was looking like a disaster, but thanks to some magic alterations, it all came together literally two days before the wedding!" As last minute as the dress, she paired it with a pair of vintage style heels from New Look, and jewellery from Claire's Accessories.
The bridesmaids, given the brief of something they felt comfortable in in silver, stone or pink, wore high street, too – from ASOS and Goddiva. "My bridesmaids are so beautifully unique, I was never going to stick them in the same dress!" said Emily.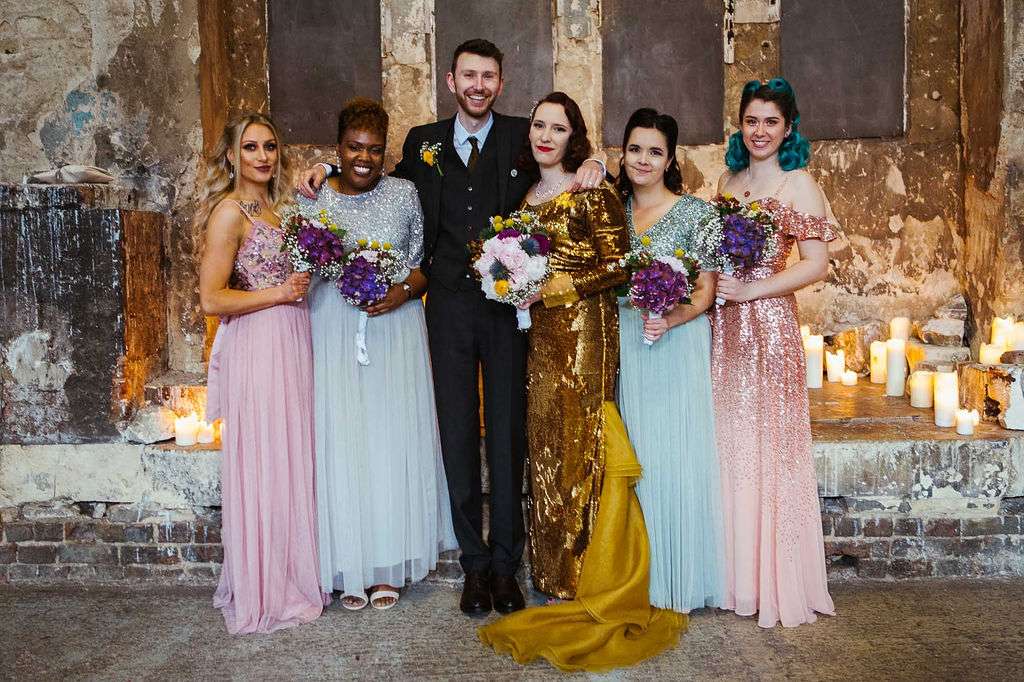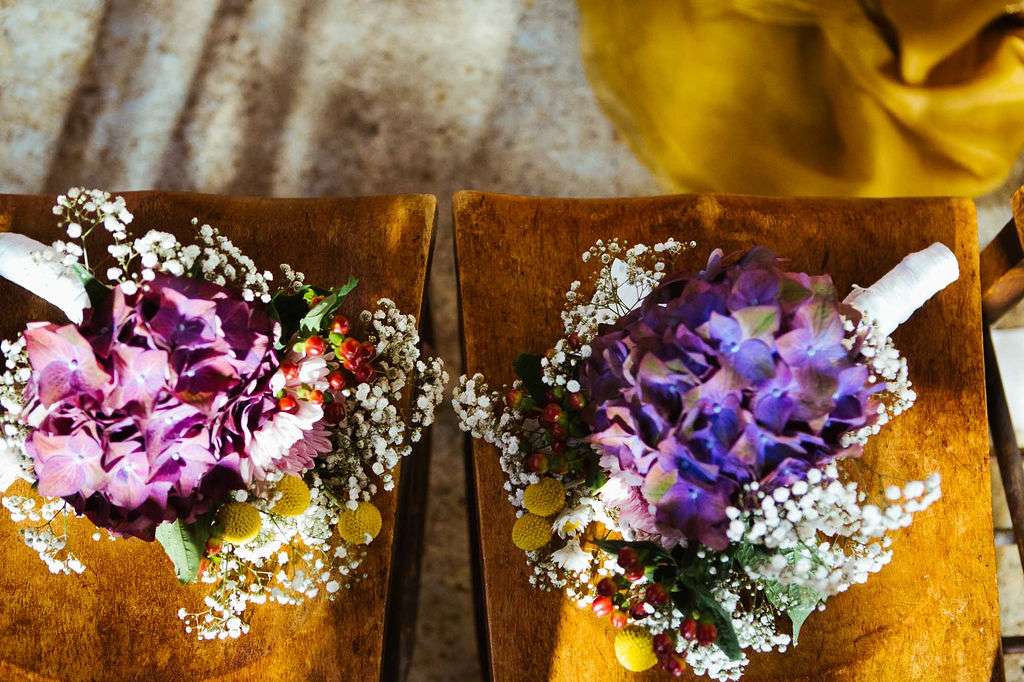 Emily and Elliott live just round the corner from New Covent Garden Market and had always wanted to go, so at 4am on the Thursday before the wedding and armed with £150 they managed to craft four bridesmaids bouquets, Emily's bouquet, six boutonnieres and loads extra for decorations for the pub. "We had no idea what we were doing," said Emily, "and just grabbed what looked like enough. My superstar Dad orchestrated the whole arranging – he did a phenomenal job!"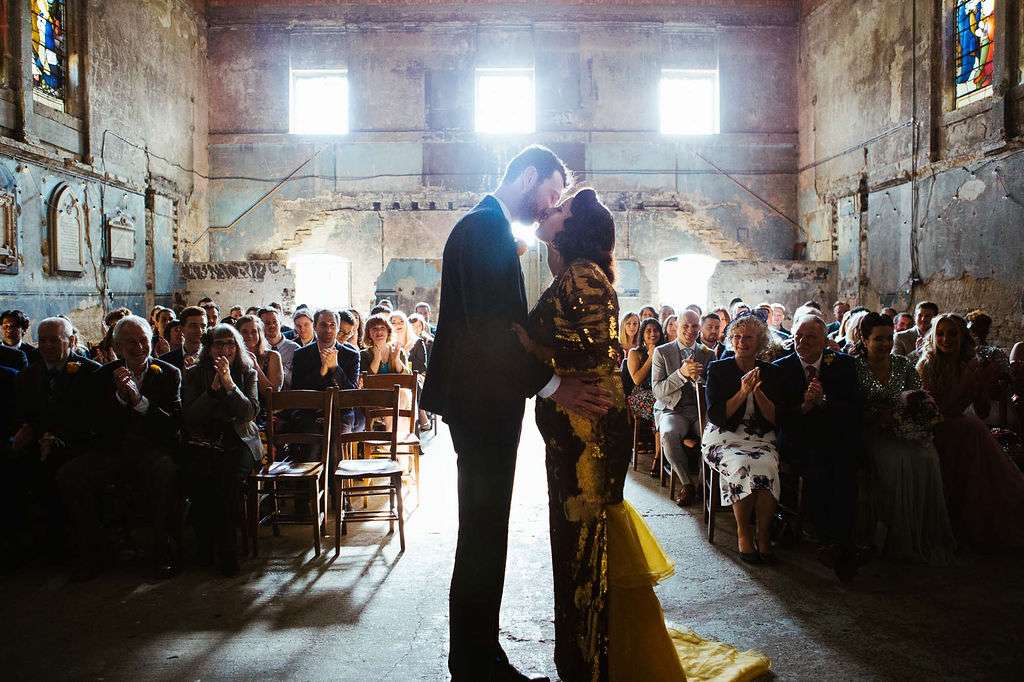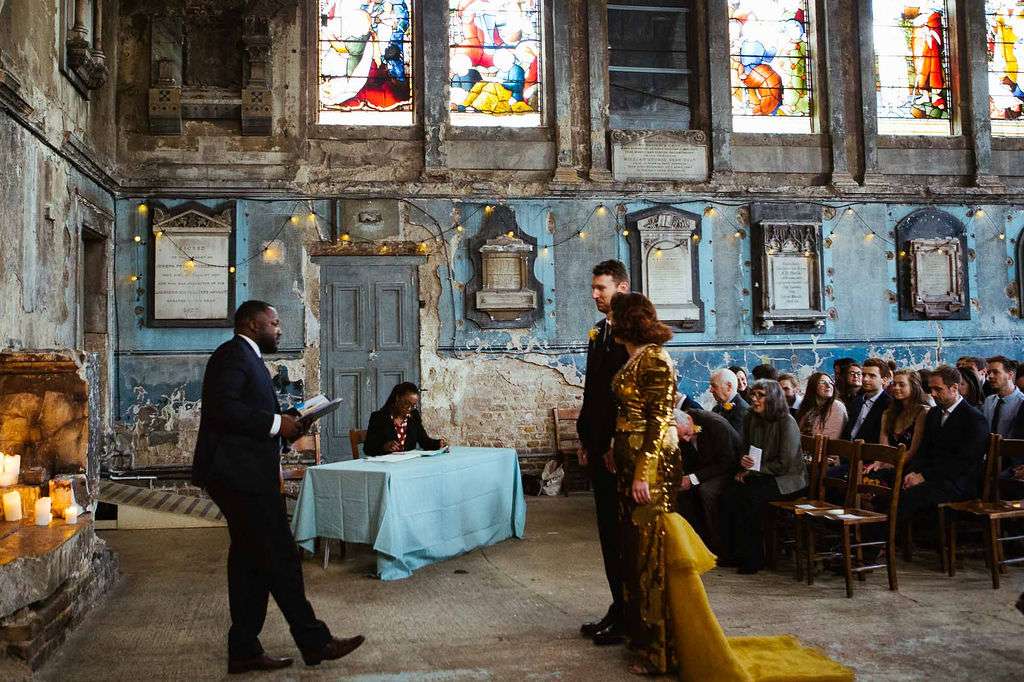 As Asylum needs no decoration, they let it's stunning beauty shine through and only used the candles that the venue provided as decoration. For The Ivyhouse, Emily handmade metres of rainbow wool tassel bunting and decorated the tables simply with jam jars filled with lights and flowers.
For their ceremony, they wanted a couple of short but poignant readings – a sonnet from Emily's favourite poet Pablo Neruda and a fierce, fearless testament to love by Maya Angelou, Touched by an Angel. Emily and Elliott walked up the aisle together, a decision her dad was enormously proud of. "He didn't begrudge not giving me away at all – like me, he agrees, I am not his property to hand over. Walking up the aisle with Elliott was so romantic and put me completely at ease."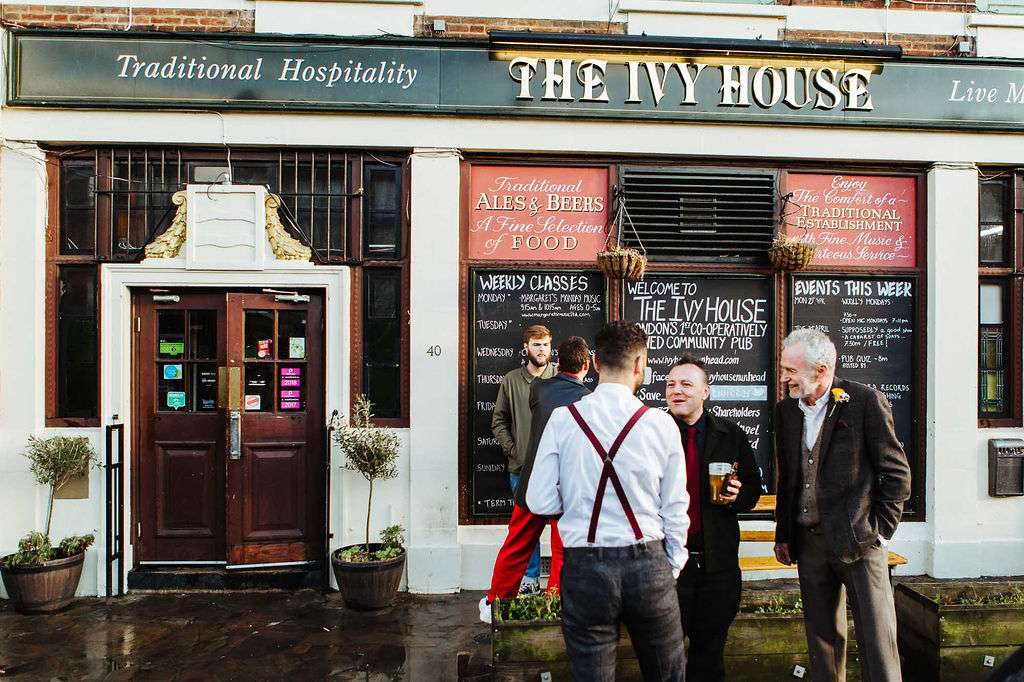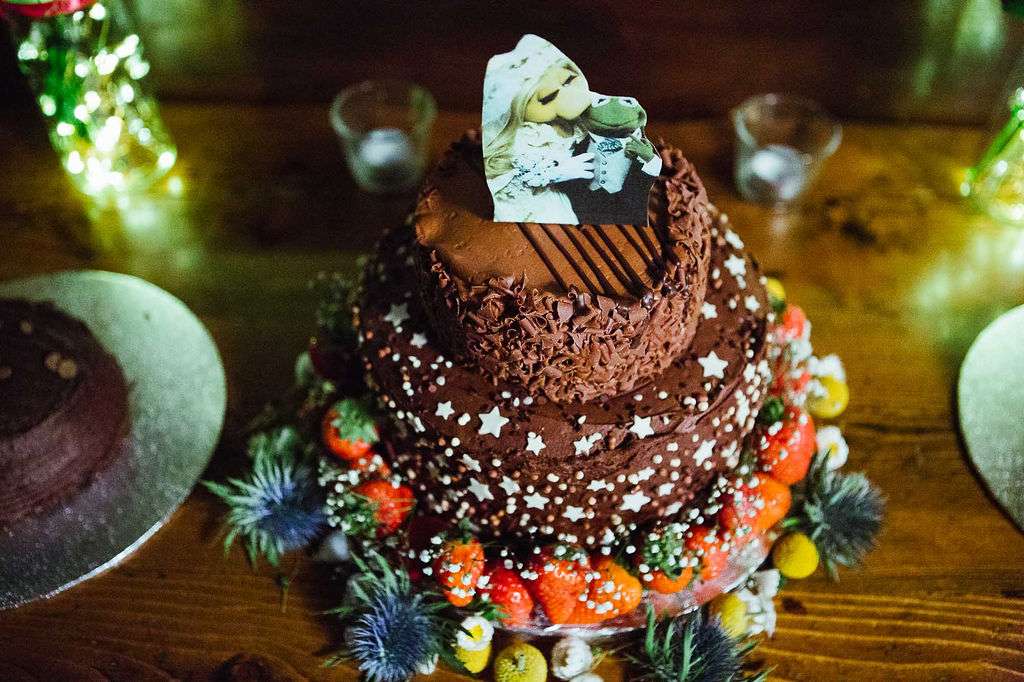 "The best thing about our wedding," said Emily, "was doing things our way. We DIY'd everything – email invites, decorations, cake, all of it – it was so personal, and I loved the effort and hard work so many of our family and friends put in together. It felt so communal and like it was everyone's day."