Please excuse me for one second while I FREAK OUT over this wedding. Seph and Jason completely epitomise what Rock n Roll Bride is all about, and no it doesn't matter one little bit that there's no 'bride' in sight! The single thing that makes this wedding awesome AF is them… Oh and the fact that Seph wore goddamn crystal embellished stilettos for the day and looked way better in them than most women I know… Oh and all the Mean Girls references. OK OK there are many, many things that make this wedding slay my entire existence and I KNOW you're going to love it to.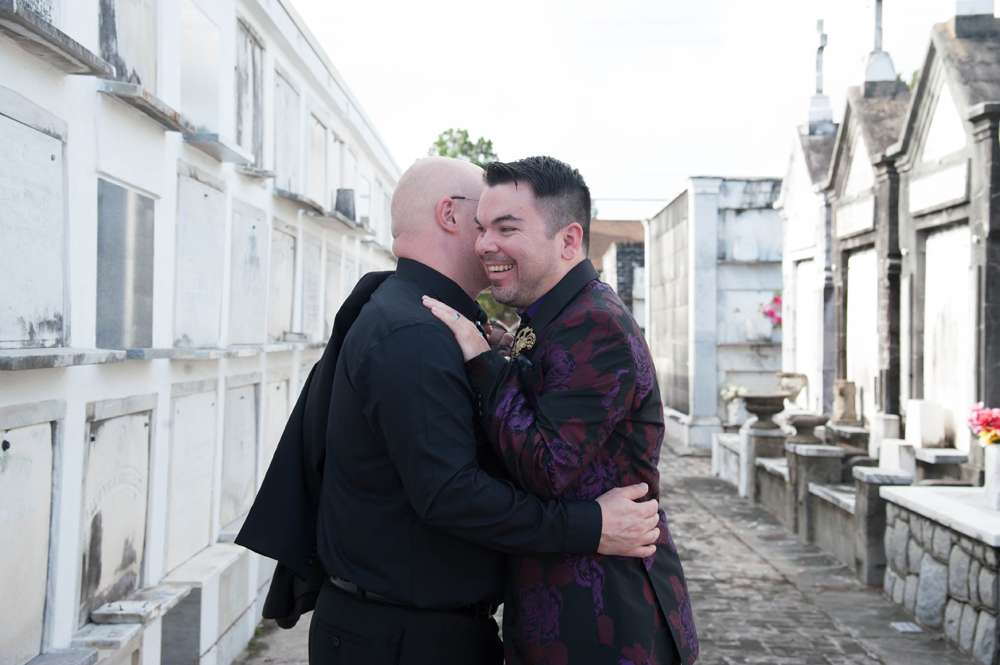 Seph and Jason met on a blind date… but it wasn't actually their date at all! "I was on a blind date at a midnight showering of a Harry Potter movie… with someone else!", laughed Seph. "The guy I was with knew Jason and said hi to him and they talked for a bit. The next day I got a message on Myspace (yes that's how long ago this was) from Jason. We started talking then we went to the movies for our first date. Many movies later he asked me to marry him. We had our first non-legal wedding on Halloween in 2009 at a movie theatre in my hometown. Then in 2015 when it became legal for us to get married we decided we wanted to do it again, for real this time."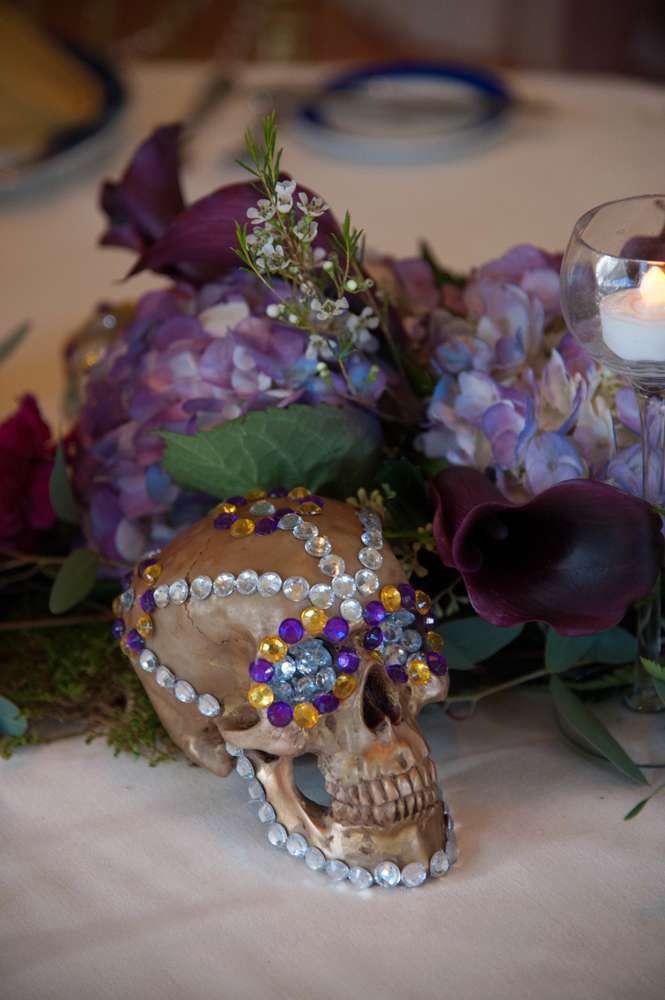 They wanted their day to have a masquerade ball and an enchanted garden feel. "It was like something you would have seen in an episode of Pretty Little Liars. If you watch the show you know what episode I'm talking about. We wanted dark, deep colours and purple. Since we had it on October 3rd, I used that as a jumping off for all the stationery and signage at the wedding. Mean Girls is one of my favourite movies so everything that I could sneak Mean Girls into I did!" The table names were Mean Girls quotes and their guest book was – what else? – a Burn Book!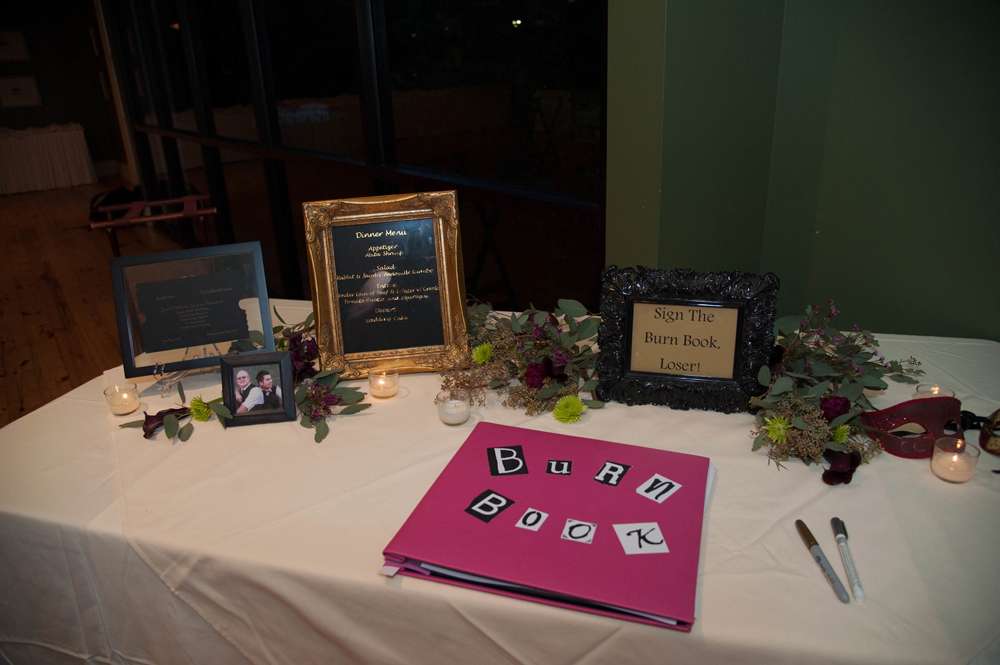 Seph's jacket came from Tallia Orange and his killer heels were by Antonio Melani. Jason's suit was Men's Wearhouse which he paired with a silk skull and crossbones tie! "Jason wanted to look classic so he stuck with his black suit, we added some fun with a tie that had skulls on it", Seph explained. "We both wore bat skull boutonnieres that we found on Etsy – I mean what's more Rock n Roll than that!? For my outfit I knew I wanted something with colour. I originally had a grey suit but I took it back. I then had a black jacket with some grey pattern on it… but I took that one back as well. I finally found the purple patterned jacket online. As for my shoes, I knew it was the one thing I could do to make me feel like a princess. I'm not a simple person and I wanted something that would be different and make me feel special. After the wedding, when family or friends were asked about why I wore those shoes, some of them simply said 'You don't know Seph that well do you?!'"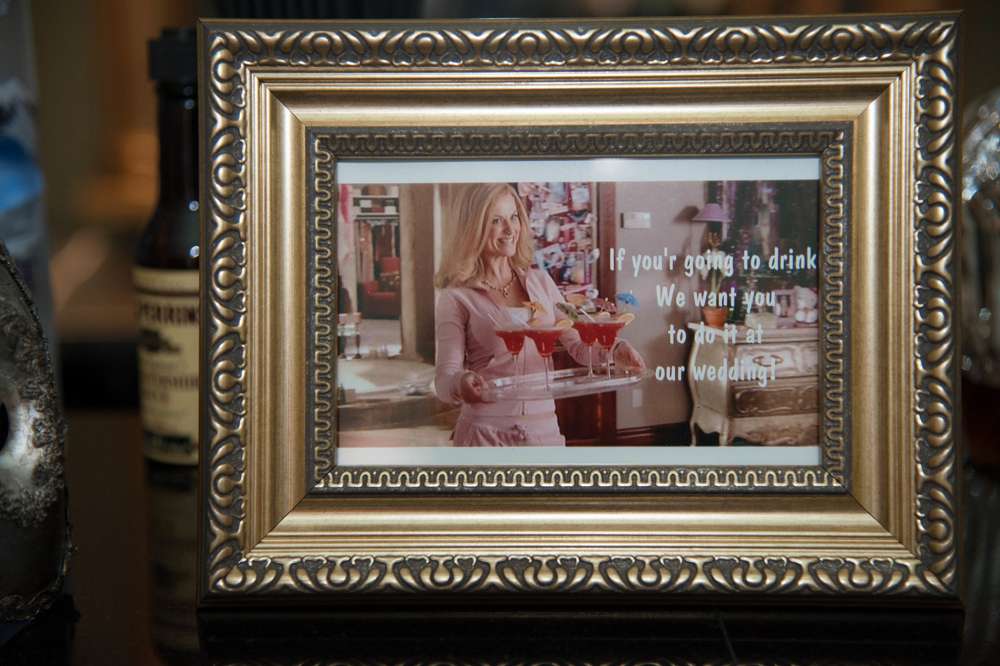 And do the handsome couple have any advice for future brides and grooms? "Have fun, this is YOUR DAY!! If the cake is wrong, the flowers aren't perfect or you rip your pants – just take a minute and let it go! It doesn't matter in the end. We weren't happy with how our cake looked AT ALL but at the end of the day it tasted great!"